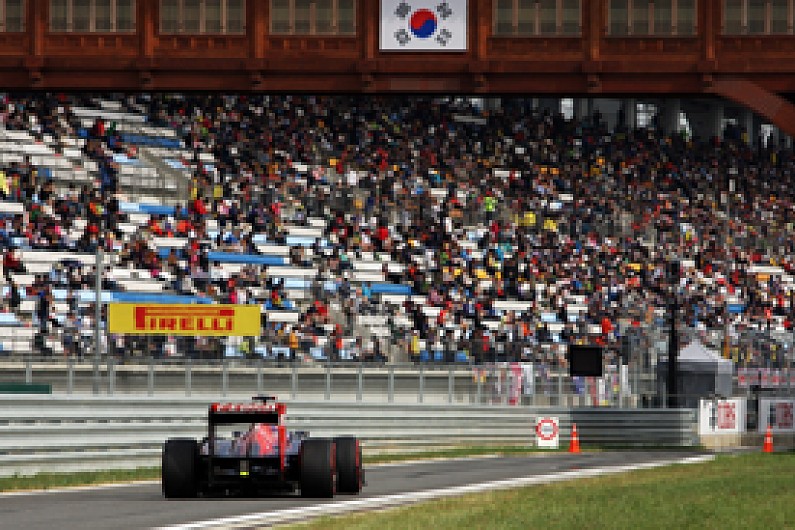 Daniel Ricciardo expects to receive a gearbox-change penalty for the Korean Grand Prix after his qualifying problems.
The Australian's Toro Rosso ground to a halt at the end of Q2 with what the team now believes was a driveshaft issue.
He was 16th fastest but reckons he will now start 21st.
"It looks like it was driveshaft-related. Unfortunately it look like they're probably going to have to get into the gearbox and make sure everything's OK so it looks like I'll probably start five places further back," Ricciardo told AUTOSPORT.
Jean-Eric Vergne and Ricciardo were sixth and seventh in Q1. The latter said the car had top-10 potential but that his lap was not going to be quite that good even before the failure. Vergne rued a mistake after ending up 17th.
"After Q1 it looked promising. We could've had a crack at Q3," Ricciardo said.
"But looking at the lap up until then, I don't think we would've been in Q3. I don't think we would've got the time we wanted out of that second set [of tyres].
"We maybe could've had a crack at Pastor [Maldonado] and Paul [di Resta]. If we couldn't have got them, it would've been very, very close."
Despite potentially starting on row 11, Ricciardo remains upbeat about Toro Rosso's progress.
"The overall qualifying result isn't really what we wanted, but in Q1 we definitely showed good signs today," he said.
"It was looking more promising so that's positive and it backs up the last few weekends.
"Tomorrow should be interesting."