Maria de Villota has made her first public appearance following her life-threatening testing accident back in July, during a press conference in which she revealed the full extent of her injuries, in Madrid on Thursday.
The Spaniard spent a month in hospital after crashing into an articulated trailer while carrying out a straightline test for Marussia at Duxford Aerodrome.
De Villota, 32, lost her right eye in the accident, as well as the senses of smell and taste and suffered significant damage to her skull.
It was revealed during the press conference attended by AUTOSPORT on Thursday that the she lost cranial mass and that she is to undergo further surgery in the future.
Doctors revealed an image of what her skull looked like after the crash [see image below].
De Villota admitted she has gained a new perspective on life, and said she was reluctant to accept she had lost her eye at first.
"One of the surgeons who had operated on me came up to me and said 'Maria, we saved your life,'" she said. "'I don't know if you remember you had a big accident but you are here with us. It's been hard, but we are happy we saved your life. But we need to tell you you have lost your eye.'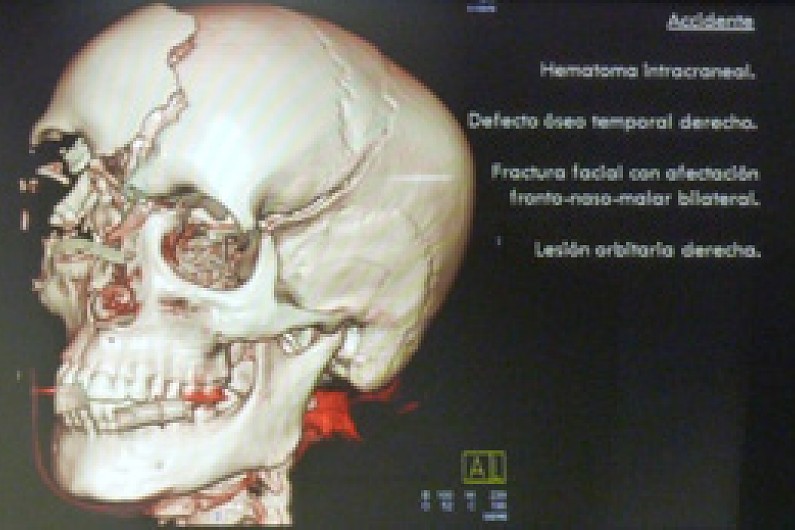 "In that moment, I asked the surgeon: 'Do you need both hands to operate?' and he said yes, and I said "Well, I'm a Formula 1 driver and I need both eyes.'
"And I told the poor man that it was my decision [to remove the eye], as if the poor man had a choice to do something."
"But then you realise it is something unprecedented, that you are feeling fine, and you realise that you see more than before. Because, before the accident, I only saw Formula 1, inside a car, competing, and I didn't see what was really important in life. At that point I wasn't appreciating the biggest thing, which was the person who had saved me.
"So this eye has made me find the way again and I'm seeing it that way. And this new opportunity I'm going to live it at 100 per cent."
De Villota insisted she had been overwhelmed by the messages of support received from all around the world.
"When I saw myself I thought 'Who is going to love me looking like this?' But since then I've realised they have loved more than in a whole life.
"I have enough love to cover this life and the next."
She made it clear she wanted to stay involved in motorsports in one way or another, but said at the moment she is saving her strength to recover as much as possible.
"I'm focusing on the operations I have left, and I want to be 100 percent ready," she said. "I still don't know what I'm going to do."
Autosport has produced a standalone special magazine to celebrate our 70th birthday. All current print subscribers will receive a copy for free. To order your copy of the 196-page Autosport 70th Anniversary issue, please go to: autosport.com/autosport70th