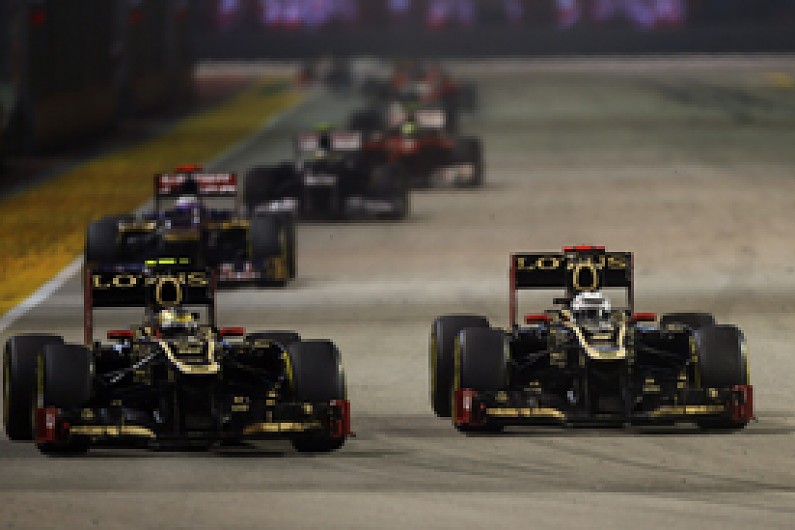 Romain Grosjean is ready to help Lotus team-mate Kimi Raikkonen in the Formula 1 World Championship if the situation arises.
The Finn is third in the standings with six races to go, although he is already 45 points behind Fernando Alonso, having been the only driver in the top seven who is yet to win a race.
Grosjean is over 100 points off the championship lead and says it is only logical to do all he can to help Raikkonen.
"Until Spa we had fair racing, but from now on it's logical," said Grosjean.
"Kimi is fighting in front of the championship and I don't have many hopes in terms of position. I could be seventh if I score good points, but Kimi is still at the front.
"So yes, I would let him by every time we need and we know that it will be fair play from race one next year again. It's not being number one or two, it's about being intelligent and think about the team."
The Frenchman insisted he is only focusing on doing the best possible in the remaining races before he start to worry about his future in F1.
"At the moment we are at Suzuka and the main concern is to have a good race, not to think about the contract.
"If I do my job well here there's no reason for me to change. Let's do the job on the race track and then I'll start to think about next year."
The Lotus driver, whose team struggled to match the pace of its rivals at the previous race in Singapore, is hopeful Suzuka will bring about his outfit return to form.
"Singapore was a bit of a different track, but hopefully we should find out competitiveness back," said Grosjean. "We have a few parts as well, but you never know until you are on track.
"We thought we would be good in Singapore and after Friday we were 'oh, that's not going to be the case'.
"Hopefully it will be better. The track should suit us, but again, we have to see once we put the car on track if it's true."