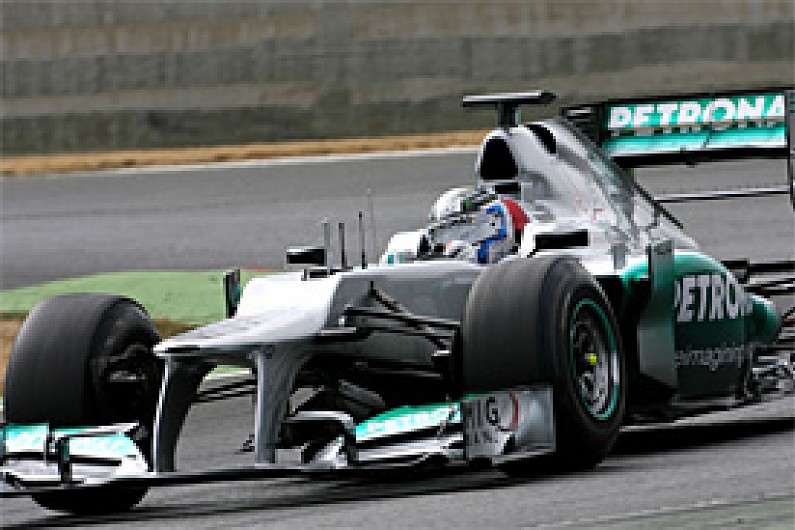 Sam Bird says it is still too early to judge the performance of the Mercedes updates following the first day of testing at Magny-Cours.
Mercedes introduced new Coanda-effect exhausts in the morning of the first day of work and then tested the squad's new double-DRS.
Bird completed a total of 95 laps and finished slowest of the three drivers on track as the team focused on collecting data rather than on evaluating the performance of the new elements.
The British driver admitted it was still too early to know how well the upgrades were working.
"It's still early days," Bird told AUTOSPORT. "It was the first day we ran these new parts and it was about data collection.
"On Wednesday it will maybe be more performance based, but so far so good."
Bird said the decision on whether the team races the new elements in the Singapore Grand Prix is likely to be made after today's session.
"That question is not to be answered today. That question may be answered tomorrow (Wednesday) in the evening," he said when asked if the updates would be raced next week.
The Briton was very pleased with his performance during the day, in his return to Formula 1 action since last year's test at Abu Dhabi.
"It was very good. I was very happy. I completed all the laps. I think the performance level was good. I think I drove well, and it's great to be back in the car."
Sabrina Beaudoin is a French motorsport journalist who covers Formula 1 online. You can follow her on Twitter at @Sabriiico