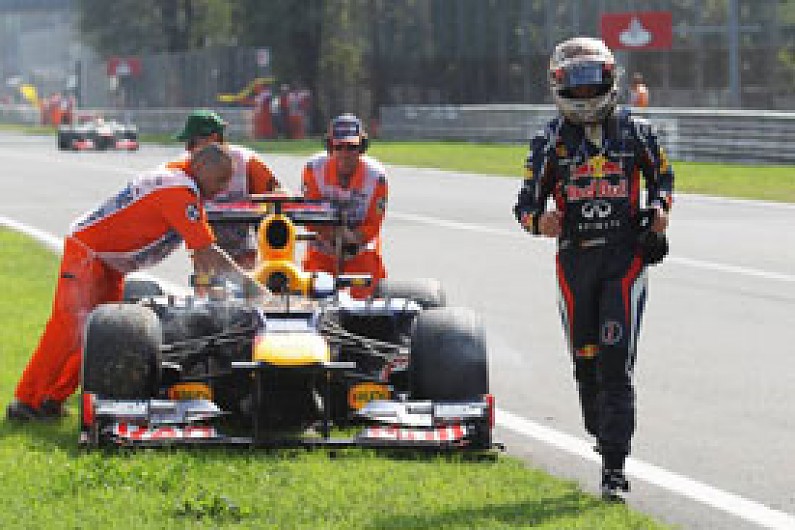 Renault suspects that track characteristics might have been a factor in the alternator failures that hit Sebastian Vettel at the Italian Grand Prix.

As investigations continue at Renault's Viry-Chatillon base in France to find out exactly what has gone wrong, the engine firm's deputy managing director Rob White believes that the parts may be overheating at low revs.

That could explain why the alternator issues only came to light at Valencia and Monza, as both have low speed corners.
AUTOSPORT understands that the first alternator issue came to light over the Monaco GP weekend where there are also very slow corners.
This factor means there will be added urgency to get the matter sorted before the next race on the tight Singapore circuit.

"Our investigations after Valencia revealed potential overheating problems at low RPM," said White. "We developed a revised alternator that was validated on the test bench and trialled at Spa by Red Bull and Lotus - the teams that suffered the issues in Valencia - and no issues were found.
"The fundamental change was to lengthen the alternator stator and rotor by 10mm to increase its electrical power generation capacity where current demand exceeded the alternator's capacity to supply.

"With this new spec we can deliver around 30 per cent more current to try to address the problems at low RPM."

Despite suspecting that low revs are putting a strain on the alternators, White still says there is no firm answer on what the problem is.

"In each case it was a brand new example of the new spec," he added. "After the incidents in FP3 and qualifying, we changed the alternators on the Red Bull of Vettel and the Lotus of d'Ambrosio. The race incident was therefore a further early life failure.
"Other parts have achieved much higher mileages; it is therefore a priority to discern the significant differences between the two. The situation is not acceptable; we must address the problem for Singapore."

White says Renault's options for Singapore are reverting to an old specification design or trying to come up with a brand new part.