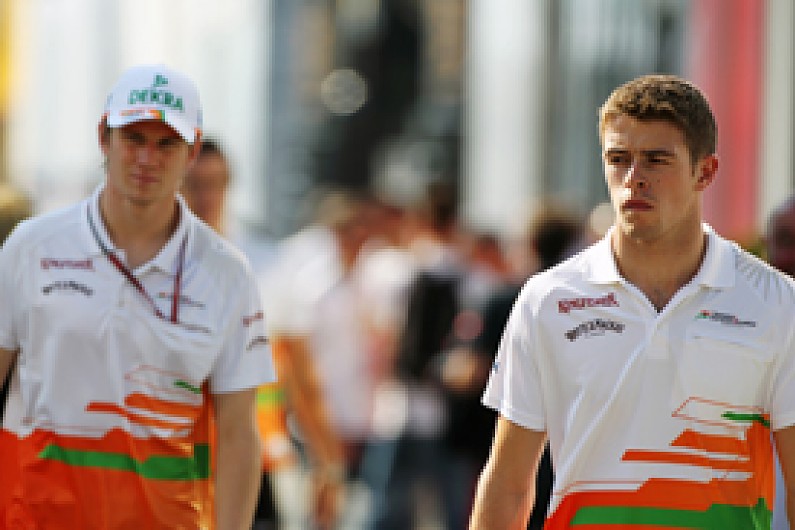 Force India will not stand in the way of its drivers if they are offered deals at bigger teams for next year - as long as it receives suitable compensation.
The Silverstone-based outfit has contracts with both Nico Hulkenberg and Paul di Resta for 2013, but both men have been linked with potential vacancies at Ferrari, McLaren and Mercedes.
Bob Fernley, Force India's deputy team principal, says that it would be unwise for his squad to block any good opportunity his drivers got - but it is up to rival outfits to make an offer first.
"Our line-up is done," he told AUTOSPORT about Force India's driver situation for 2013. "Our drivers are with us long term so it is not an issue. If there is any movement in drivers it is not something we will initiate.
"While we don't want to lose Paul or Nico, they are two super young drivers. Equally we will not force a driver to stay because then he will not have his heart in it.
"So if we have an offer coming in from one of the big four we have got to work with them, and our deal has to be a commercial settlement because while they get the benefit of what we have done - we have to be pragmatic.
"Vijay [Mallya, team principal] has been open with that all along. We are not there to limit our drivers moving forward, but we would get in the way if they were going sideways."
Hulkenberg has been strongly linked with a move to Ferrari next year if the outfit elects to not keep Felipe Massa, while di Resta is understood to be on the list of contenders at both Mercedes and McLaren if they find themselves in need of a new driver for 2013.
Fernley said Force India would seriously consider any offer from the top teams.
"We have good relationships up the pitlane," he said. "Mercedes are our partners; McLaren are our partners and with Ferrari we have a great relationship with Jules [Bianchi]. So why would we not listen?
"If anything were going to happen it would happen between Vijay, Ross [Brawn], Stefano [Domenicali] or Martin [Whitmarsh]."