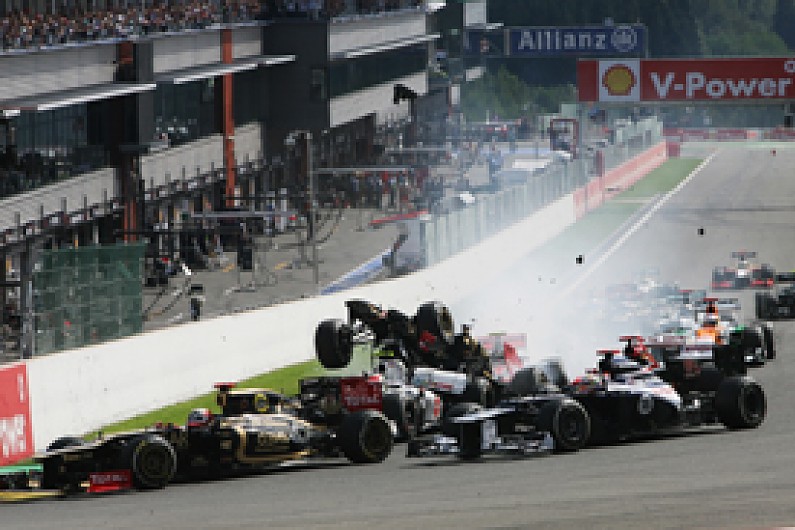 Lotus boss Eric Boullier hopes that Romain Grosjean learns lessons from the errors he has made this season, in the wake of his one-race ban.
Grosjean will be forced to miss the Italian Grand Prix after stewards deemed his involvement in a startline crash in Belgium was a "serious" breach of the regulations.
Although Boullier believes that the punishment was "severe", he reckons that Grosjean will go forward aware of what he needs to change to avoid future dramas.
Asked if he felt ultimately that the ban will help make Grosjean think about what he is doing, Boullier said: "I can only say yes, I hope so. Obviously the penalty is done to make people understand what they did.
"So the penalty can help him learn to do better in the future and I am happy about that."
Grosjean has been involved in seven early race incidents this year - in Australia, Malaysia, Spain, Monaco, Britain, Germany and Belgium.
Boullier says that he will have to sit down for talks with the Frenchman to try and help him avoid getting involved in further crashes.
"He was not responsible for seven incidents," he said. "He was involved in seven incidents, which is different.
"But obviously being in the wrong place is not good; and that means we have to keep working and talking, which is more talking I think, about the reason why he is in the wrong place."
He added: "I guess part of the problem is that he wants to do it. He is somebody who is a perfectionist and wants to do really well and deliver really well, and I think he needs to just understand.
"And he will learn even more if he does not put too much pressure on himself at the start of the race."
Boullier said he was undecided whether Grosjean would attend the Italian GP, even though he would not be driving.
"He is part of the team, he should be there and that is it," he said.