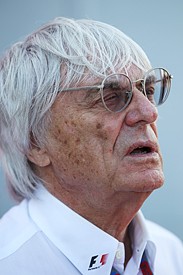 Formula 1 supremo Bernie Ecclestone says the Grand Prix of America in New Jersey is highly unlikely to take place next year.
When asked by the BBC if the race would happen in 2013, Ecclestone replied: "No. Definitely, no."
The city secured a 10-year deal to host the grand prix from next year, and construction of the circuit has already begun in selected areas.
"We'll have to see, I need to go and have another look," added Ecclestone. "What I've seen up to now, and what's been going on, I'm not quite as sure as they are. If they can get it completed, and confirm to us it will be done, for sure they'll be on the calendar."
When asked if he was worried that the event will be ready in time, he said: "Yeah. Exactly."
He added: "I think everybody wants us to be there, it seems that all the politicians are happy, I don't think from that point of view there is any problem. If they get the place finished the way we want it, then I'm sure there'll be a big difference, but I don't think they will."
World champion Sebastian Vettel sampled the planned route of the circuit after the Canadian Grand Prix and the Red Bull driver said in Valencia on Thursday that organisers had not made much progress with the track.
"The circuit is not anywhere near close to being ready, but as I said it would be great," he said. "I think you can do a lot in one year. It was exactly one year since I last went to New York. They are building the Freedom Tower in Manhattan, and it's nearly done.
"If they can do that in one year, it shouldn't be a big problem to lay some Tarmac and put some fences up."
Ecclestone also denied speculation that the 2013 calendar will have 23 races, saying the plan is to keep 20 like this season.
"Not at the moment, no," he said of rumours about plans to have 23 races from next year.
Autosport has produced a standalone special magazine to celebrate our 70th birthday. All current print subscribers will receive a copy for free. To order your copy of the 196-page Autosport 70th Anniversary issue, please go to: autosport.com/autosport70th