10 things we learned at the 2023 Bahrain Grand Prix
A dominant victory from Max Verstappen meant the 2023 Formula 1 season begun much as 2022 finished, but away from the one-sided fight at the front there were plenty of talking points from the curtain-raiser in Bahrain. Autosport picks out 10 things we learned from the weekend, as Aston Martin delivered on its promise and expected challengers floundered
Now that the Bahrain Grand Prix is in the books, the 2023 Formula 1 season is officially up and running. Behind the one-way traffic at the front of the field, as Max Verstappen picked up from where he left off last season, the overall pecking order has been refreshed.
Ferrari's Charles Leclerc was denied a podium owing to reliability concerns, paving the way for Fernando Alonso's scintillating drive to third as Lawrence Stroll's heavy investment into the Aston Martin team now shows signs of paying off. In the meantime, Mercedes appears to be a team in need of a contemplative session of skimming rocks by a lake, as its car concept has cast doubt among the ranks.
There's also new battles emerging further down the field, with McLaren facing reliability headaches and Alpine failing to deliver on its pre-season promise. There's lots of things that the F1 fraternity has learned from the season opener at Sakhir; as is customary, here's 10 of them...
1. Verstappen dominance delivers hammer blow to 2023 competition
Verstappen was in a different league from the rest of the field, and hopes of a close title fight appear to be short-lived
Photo by: Red Bull Content Pool
All told, the ultimate 12-second gap between Verstappen and Sergio Perez at the chequered flag probably flattered the Mexican. The Dutchman barely had to climb out of second gear to put the rest of the field to the sword and, once he'd built his initial 10-second lead over Leclerc following the first round of pitstops, he could afford to cruise around like a luxury liner upon a serene ocean.
For those who hoped that the cost cap and wind tunnel variables could equalise the field, those dreams were promptly shattered. Verstappen was a league above everyone else, while Perez spent far too long on his overhaul of Leclerc to present any kind of intra-team challenge to his twice-minted championship winning team-mate.
There are small positives for those hoping for any signs of competition. Red Bull managed to keep two sets of soft tyres aside for the race, while the rest of the grid had double-dipped on the hard compound having been wary of the high degradation associated with the Bahrain circuit.
PLUS: The critical Red Bull tyre tactic Ferrari couldn't copy in Bahrain GP
Without a battle to fight, Verstappen simply had to hit his target lap times rather than fritter away tyre life in the heat of battle. In that hypothetical instance, the soft might not have been quite so durable. Not that Mercedes' George Russell shared any such threads of optimism.
"Red Bull has got this championship sewn up," he sighed. "I don't think anyone is going to be fighting with them this year. I expect they should win every single race this season. That is my bet."
2. Ferrari blindsided by power unit unreliability
Leclerc was on course for third when he was left stranded by engine failure
Photo by: Sam Bloxham / Motorsport Images
Four years ago in Bahrain, Leclerc infamously hit the radio button to report "something strange with the engine" while leading in his second race for Ferrari. A fuel injection system issue left the Monegasque a cylinder short, which tore away his hopes of a maiden victory.
In 2023, Leclerc was on for a third-place finish in a race that had become progressively lonelier once he'd lost second to Perez. As he approached Turn 13 on the 40th lap, Leclerc suddenly lost drive. This time, there was no evidence of a lingering problem that became progressively worse; the lights went out, and nobody was home.
A one-off, perhaps, but in the context of an earlier issue where Ferrari had to replace the battery pack on board his SF-23 pre-race, the Scuderia appears to have tapped into an unwanted vein of unreliability. Before it even considers indulging in the need to panic, Ferrari will conduct its investigations – and new team principal Frederic Vasseur explained that Leclerc's retirement had confounded the team's expectations.
"We never expected to have something like this," Vasseur mused after the race. "[This is] the first time that we had it and we didn't face the same issue at all during the 6000, 7000km that we did with the engine in the testing with the three teams [Ferrari, plus Alfa Romeo and Haas] and we didn't develop the same issue on the dyno. But we need to do a full investigation to have an answer."
3. Aston Martin breaks clear of midfield, leapfrogs Mercedes
Alonso showed his form in practice was no fluke as he pounced on Mercedes' struggles and picked off Sainz for third late on
Photo by: Mark Sutton / Motorsport Images
"Hype train" is one of those idiosyncratic pieces of online phraseology that has somehow entered the spoken-word lexicon and, without wishing to sound like a grouch, it's become hackneyed of late. Ahead of the 2023 season, it has been frequently prefixed by "Aston Martin" across the social media stratosphere, such was the anticipation surrounding the Silverstone squad in testing.
The suggestion was that the British Racing Green machines could theoretically surpass the likes of Alpine and McLaren, and occupy the 'best-of-the-rest' ground that the former teams had held a duopoly on in recent seasons. Aston Martin's leadership team attempted to play down expectations, but the team had shown signs of an ascent under the technical guidance of ex-Red Bull aero chief Dan Fallows during testing.
Now that the music has stopped, the AMR23 appears to have not only bridged the gap between the midfield and the top three, but it has also surpassed it. Picking up from its heady progress last season where it transformed the ninth-fastest car into a contender for sixth in the constructors' standings, Aston Martin has continued that rate of development. Crucially, the car has all the key attributes to succeed: it's quick, stuffed to the gunwales with downforce, and pliable in the hands of the drivers. "This is a lovely car to drive," Alonso exclaimed over the radio while en route to third place in Bahrain.
With a podium finish ticked off the bucket list, the question now will be one of development. If the AMR23 is receptive to a clear and defined upgrade path, there's a chance the team can prove Russell's assessment of a Red Bull clean sweep wrong. It's up to the engineers to make the magic happen.
4. 22 years on from his debut, Alonso is still world class
F1's most experienced driver ever showed he still possesses the traits that took him to two world titles with a tigerish drive to the podium
Photo by: Steven Tee / Motorsport Images
The first lap of the Bahrain Grand Prix was messy for Alonso. In the opening array of corners, the Mercedes duo nipped past the 41-year-old, who swung across Turn 4 and ended up making contact with team-mate Lance Stroll at the apex. Now seventh, Alonso settled in for the long haul and watched the Mercedes of George Russell ahead intently, making a note of the degradation that began to afflict the black car.
It came in to play later; Alonso moved past Russell after the first flurry of stops and had caught Hamilton by the second phase of pit-bothering antics. A first tilt at Turn 4 didn't quite work for Alonso, as he was met with a slap of oversteer that allowed Hamilton to repass, but that only set up the next lap's sensation.
There, Alonso placed his car into Turn 8 to get a wider line, and hit the gas to draw along the outside Hamilton in the curved run of track before Turn 10. The Briton was pulled to the outer line to take the normal way into the corner, giving Alonso an inch of space to cut in and mount his overtake in an unconventional arena.
PLUS: Bahrain Grand Prix Driver Ratings 2023
Sainz was next on Alonso's hitlist, and although another Turn 4 overtake attempt ended in the most fleeting of contact between the two, the Oviedo native considered a reprisal of his move on Hamilton into Turn 10 – but Sainz was too aware of his compatriot's intentions. But the Aston's traction proved irresistible, and Alonso cemented his first podium since Qatar 2021 with a slam-dunk pass into the next corner.
After years in the wilderness with McLaren and Alpine, Alonso seems to have finally struck gold with his career choices – and crucially, he's still got it.
5. Stroll's desire cannot be questioned again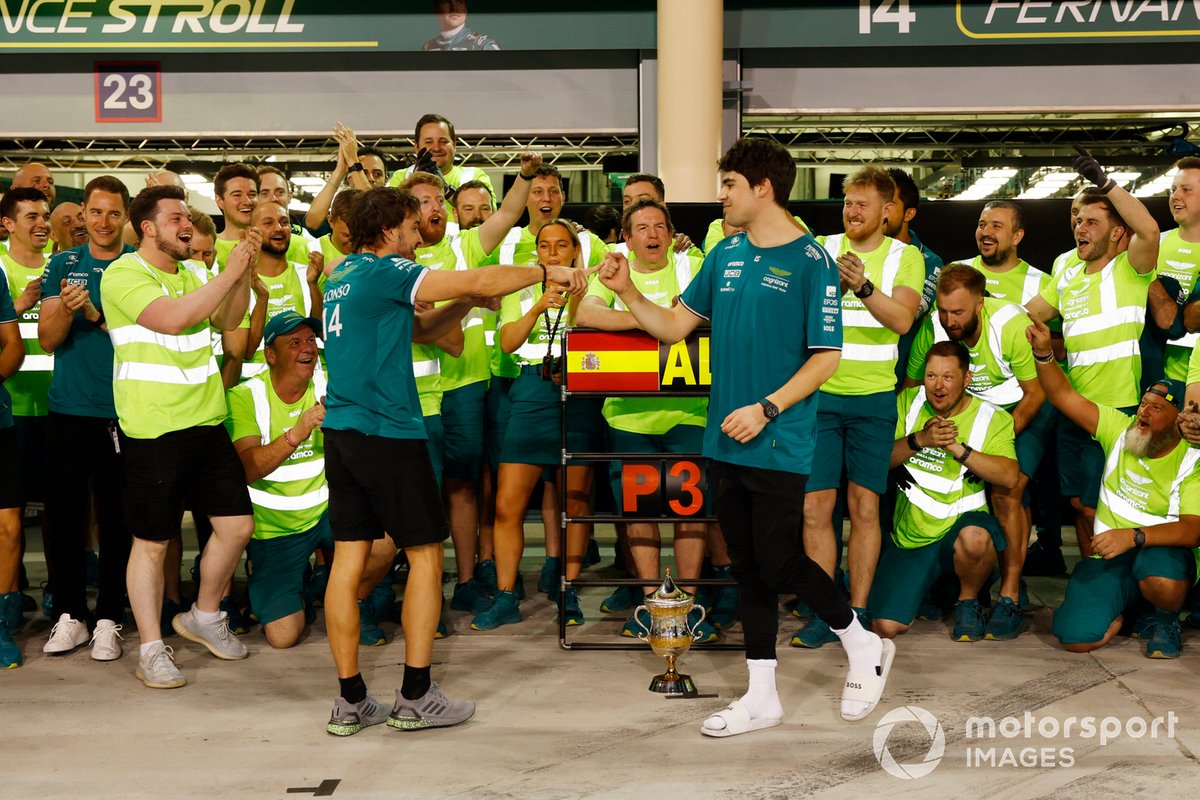 A gritty drive to sixth earned Stroll great praise
Photo by: Zak Mauger / Motorsport Images
Given the nature of his way into F1 and the way he's stayed in the paddock, Lance Stroll has had to bat off numerous accusations throughout his career. Detractors would suggest that the Canadian is not really all that invested in being an F1 driver, and that he's only there because of his dad's money/team ownership. His stellar drive in Bahrain fresh off the treatment table should ultimately quell such questions.
After his pre-season mountain biking accident, Stroll broke both wrists and needed an operation on his right one, causing him to miss pre-season testing. Doctors reckoned he'd be back in Australia in the best-case scenario, as the Canadian struggled with mobility in his hands, but after days of rehab he was sufficiently fit to fly in Bahrain's season opener. His health was still a concern and, through practice, he had to drive one-handed through some of the tighter corners as he wasn't at full strength. Making it to the end of the race would have been quite the feat.
To qualify eighth and then pass the likes of George Russell on the way to a sixth-place finish? Exemplary. Even taking Aston Martin's devilishly quick car into context, that Stroll managed to hang on despite the pain in his wrists worsening in the final 20 laps showed the grit and determination that the Montreal-born driver has in his locker. Alonso labelled his team-mate "a f***ing hero", and it's hard to disagree with his assessment.
6. Mercedes loses faith in car concept
Will Mercedes ditch its car philosophy to move it further away from the likes of Alfa Romeo in the mid-pack?
Photo by: Alfa Romeo
Much of Mercedes' 2022 development was spent on addressing the key fundamental issues that plagued the W13, namely its proclivity to bounce and porpoise like a flailing fish washed up on the shore. The team persisted in its belief that its car concept had heaps of potential that remained untapped and, if it could just stamp out the vertical movement, it reckoned it could start to fight for victories more regularly once more.
The W14 is the culmination of that development; it no longer bounces, and it has had all the ailments that the previous car was afflicted with cured. And yet, it's still not on the pace. Set-up tweaks in practice ensured that the carbon black machines were more competitive prospects by qualifying, but a lack of downforce has left drivers Hamilton and Russell once again singing from the same damning hymn sheet. "We are not where we want to be," was their collective analysis.
It seems that the Mercedes team has lost its religion, and now feels that the promise of a rainbow at the end of a storm was a false idol.
"I don't think this package is going to be competitive eventually," team boss Toto Wolff conceded. "We gave it our best shot all over the winter, and now we just need to all regroup and sit down with the engineers, who are totally not dogmatic about anything. There are no holy cows and we need to decide what is the development direction that we want to pursue, in order to be competitive to win races."
What that new direction will look like given the limited confines of in-season development in modern F1 is anyone's guess. Decisions will have to be swift, however, as F1's Big Three now has a green interloper threatening to nudge Mercedes out of the box seats.
7. Alpine's hopes of lonely midfield peak appear misplaced
After securing fourth in the standings last year and being vocal in its confidence of making gains, Alpine had a disappointing weekend
Photo by: Alpine
While Alpine team principal Otmar Szafnauer was keen to outlay his "cautious optimism" with the Anglo-French squad's new car, the noises from the team suggested that it was confident it could pull away from the midfield pack and monopolise the space between Mercedes and the rest of the field.
With McLaren's struggles in testing, it suggested that Alpine would have a better run of things in 2023, particularly as it had worked on the powertrain reliability issues that had ravaged its points haul last season. Instead, it's one of many teams to have been leapfrogged by Aston Martin, and barely looked any better than some of its midfield rivals in Bahrain.
Circumstances admittedly masked Alpine's true race pace, as Pierre Gasly had to enact a recovery drive from the back of the grid to claim ninth, while Esteban Ocon hoovered up penalties like it was going out of style. But qualifying was ultimately disappointing, and although it appears to have an edge over the AlphaTauri and Alfa Romeo squads on pure pace, early optimism could hint at a dash of complacency in the ranks.
Jeddah will offer a clearer picture of Alpine's true standing in the order, but events in Bahrain will offer the team much needed food for thought.
8. Keep an eye on the lower midfield battle
A tough race for Hulkenberg is explained by his front wing damage - at present nobody stands out as the obvious tail-ender
Photo by: Zak Mauger / Motorsport Images
A truism of F1 is that there's usually one backmarker team that frequently props up the rest, usually as a result of a shortfall in resources. However, the cost cap has done some of the job it promised by placing all 10 teams on more equal footing, and Bahrain's race has suggested that there's no real standout 'tail-end Charlie' in the 2023 field.
Williams had expected to fill that role again this year but surprised even itself with a strong turn of pace, which left Alex Albon disappointed not to have a shot at making Q3. Its FW45 has the straight-line speed advantage its predecessor boasted, but seems to be a more complete prospect this time around.
Although Haas was off-colour in the race pace stakes, Kevin Magnussen's sub-optimal strategy and Nico Hulkenberg's broken wing were mitigating factors in the American team's inability to challenge for points. The German nosed his way into the final part of qualifying, showing that the VF-23 is hardly troubled by outright speed.
It's early days at AlphaTauri too; although Bahrain's pace was middling at best, it seems to be receptive to the improvements that Yuki Tsunoda and Nyck de Vries have asked for, and the AT04s can easily mix it with the cars around them.
Alfa Romeo isn't too far up the road either, while McLaren's troubled weekend still offered glimpses of potential. The Woking squad has planned updates for Baku, where it hopes it can turn around a difficult start to life for its MCL60.
9. Early reliability concerns are hurting McLaren
Both McLarens were hampered by unreliability - only Norris made it to the finish after several lengthy delays
Photo by: Andy Hone / Motorsport Images
Oscar Piastri's maiden F1 race lasted a mere 13 laps, before an electronics issue resigned him to an early bath despite a steering wheel switch. In the meantime, Lando Norris earned six stamps on his pitlane loyalty card during the Bahrain Grand Prix, with a pneumatic leak necessitating frequent top-ups to the air tank to ensure the engine valves could continue to function.
Team principal Andrea Stella explained that the team had been able to identify the issues, which appeared to be isolated problems exclusive to each car.
"The steering wheel change didn't fix the problem [for Piastri] because the electronic damage is further down the line around the steering column," Stella revealed. "It was a problem with the harness probably. We are investigating; not fixable in a short time.
"There was a pneumatic pressure leak on Lando's car. We discovered this leak relatively soon in the race. And then we knew that it was possible only to do 10, 11 laps each time before having to refill. We decided to stay in the race, we decided to try and stay at least within one lap from the leader within the last 10 laps. Then if there's a safety car, try and see if there was an opportunity."
The team had earlier contended with problems with its front wheel deflectors during testing, which appeared to chafe with the rest of the wheel assembly. Regardless, Stella felt that there was hope amid a difficult weekend, and that McLaren should challenge for points on a more felicitous weekend.
"The race was more encouraging than I would have expected," he said. "I thought before coming here, Q3 was difficult. But also points would have been difficult. But actually today, we could see they were up for grabs more easily than I thought."
10. Sargeant majors in three-way rookie battle
Sargeant narrowly missed out on a progression to Q2, setting the same time as Norris in 15th but only after the McLaren man
Photo by: Williams
With Piastri hampered by his electrical issues, that left just two rookies to showcase their abilities to a new audience. De Vries, on his 'proper' debut following his impressive one-off for Williams last year, had a clean race but was a smidgen away from team-mate Tsunoda in the 2023 season's opening bout. Plus, the decision not to pit him towards the end meant that he was forced to contend with aging hard tyres, which left him vulnerable among the soft-shod rivals in his neck of the woods.
One of those was Logan Sargeant, brought into Williams to replace Nicholas Latifi. The American seemed like an immediate upgrade over Latifi and was close to Albon's pace from the get-go, finishing an impressive 12th at the first time of asking. Dave Robson, the team's head of vehicle performance, noted that Sargeant "didn't make a single mistake, was measured in attack and good with his tyres," which offers an encouraging platform for the Floridian to build from.
When McLaren gets up and running, Piastri should be the box-office hit from the three newcomers, but Sargeant has rightly earned the plaudits from the first round.
Sargeant was accomplished on his debut for Williams, despite missing out on points
Photo by: Andy Hone / Motorsport Images
Subscribe and access Autosport.com with your ad-blocker.
From Formula 1 to MotoGP we report straight from the paddock because we love our sport, just like you. In order to keep delivering our expert journalism, our website uses advertising. Still, we want to give you the opportunity to enjoy an ad-free and tracker-free website and to continue using your adblocker.
Become a subscriber.
Disable your adblocker.