Formula 1 was in trouble heading into the 2014 Bahrain Grand Prix, its 900th world championship race.
It was two events into its bold new, environmentally-aware, turbocharged hybrid engine era - and those first two events had been, in the eyes of many, rubbish.
Single-team domination courtesy of Mercedes. Quiet engines that sounded "shit" according to grumpy world champion Sebastian Vettel. Drivers so focused on conserving fuel that they spent races cruising around well off the pace in a display Ferrari president Luca di Montezemolo declared "taxi-cab racing".
Bernie Ecclestone was adamant change was required.
"I don't think the way things are at the moment are acceptable to the public," he said, as a crunch meeting was arranged in the Bahrain paddock. "People buying tickets to come here expect to see what Formula 1 used to be."
He declared the new engines "fantastic" and "without doubt incredible" for their power/economy balance, but made clear: "I don't think it is F1 business. They should do it in touring cars or something - not in F1."
Bahrain 2014, the first Sakhir night race, didn't change perceptions of 'new F1' entirely. But it did show what was possible under the new rules, as Mercedes team-mates Lewis Hamilton and Nico Rosberg went head to head in the best lead battle in years - one that also set the tone for three fractious years as championship rivals, and silenced any talk of major changes to those controversial new rules.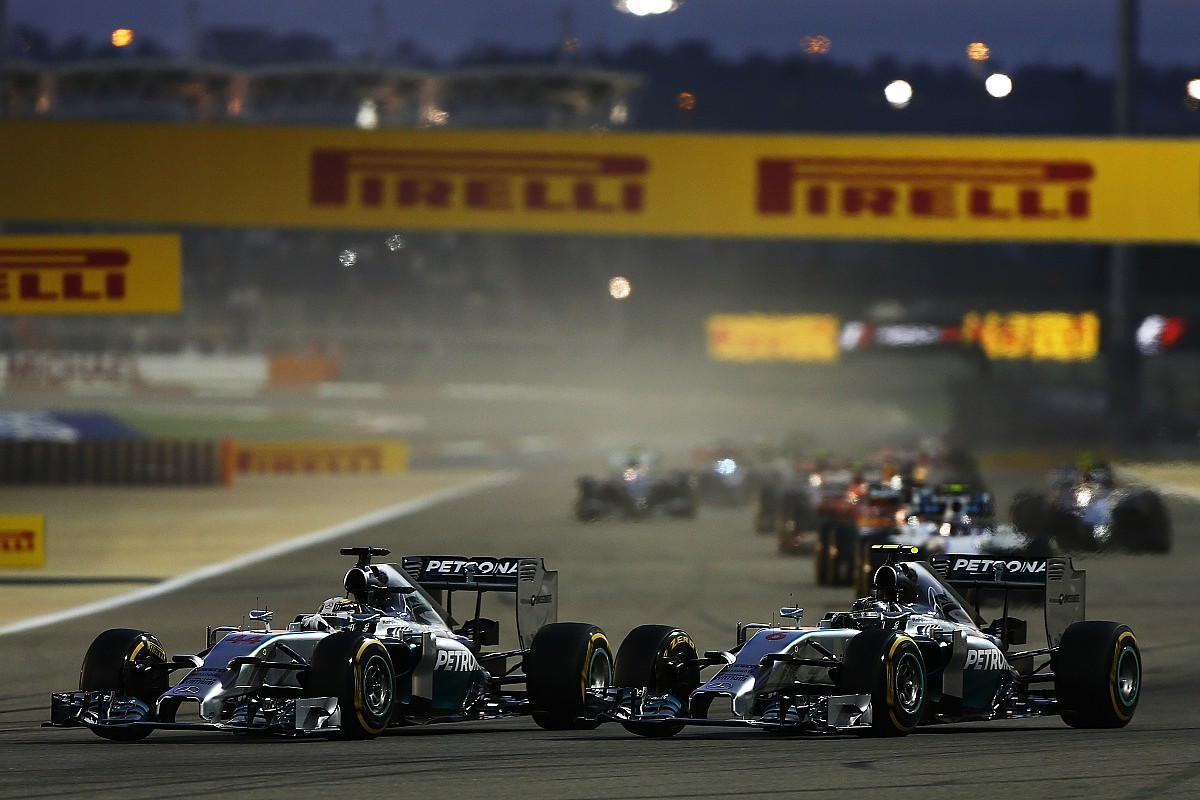 The Hamilton versus Rosberg era begins
Proven world champion Hamilton was generally expected to see off Rosberg when he was reunited with his former karting team-mate at Mercedes in 2013 following Michael Schumacher's second retirement. It wasn't anywhere near that straightforward, but Hamilton appeared to gain the upper hand as he settled into the team and he ended his first Mercedes season 18 points and two places ahead of Rosberg in fourth in the standings - albeit with just one GP win to his team-mate's two.
Mercedes had been pouring its resources into preparing for F1's engine rules revolution and it was clear from pre-season testing that it would be extremely hard to beat in 2014.
So it proved - but by round three in Bahrain it was Rosberg leading the championship, not Hamilton.
Though Hamilton had taken pole for both races so far, with Rosberg starting third each time behind a Red Bull, the Briton had retired early in Australia as Rosberg dominated. Hamilton then comfortably led Rosberg in a Mercedes one-two in Malaysia but that left him 18 points behind still.
The relationship between Hamilton and Rosberg was already very much in the spotlight, and Hamilton's response when quizzed about it by Autosport in the Bahrain build-up was telling:
"It's very simple. People are constantly talking about us being friends and all that stuff," he said.
"Nico and myself I'm sure, as everyone, can count our friends on one hand.
"Nico doesn't come in those five friends I have, and I don't come in the five friends that he has.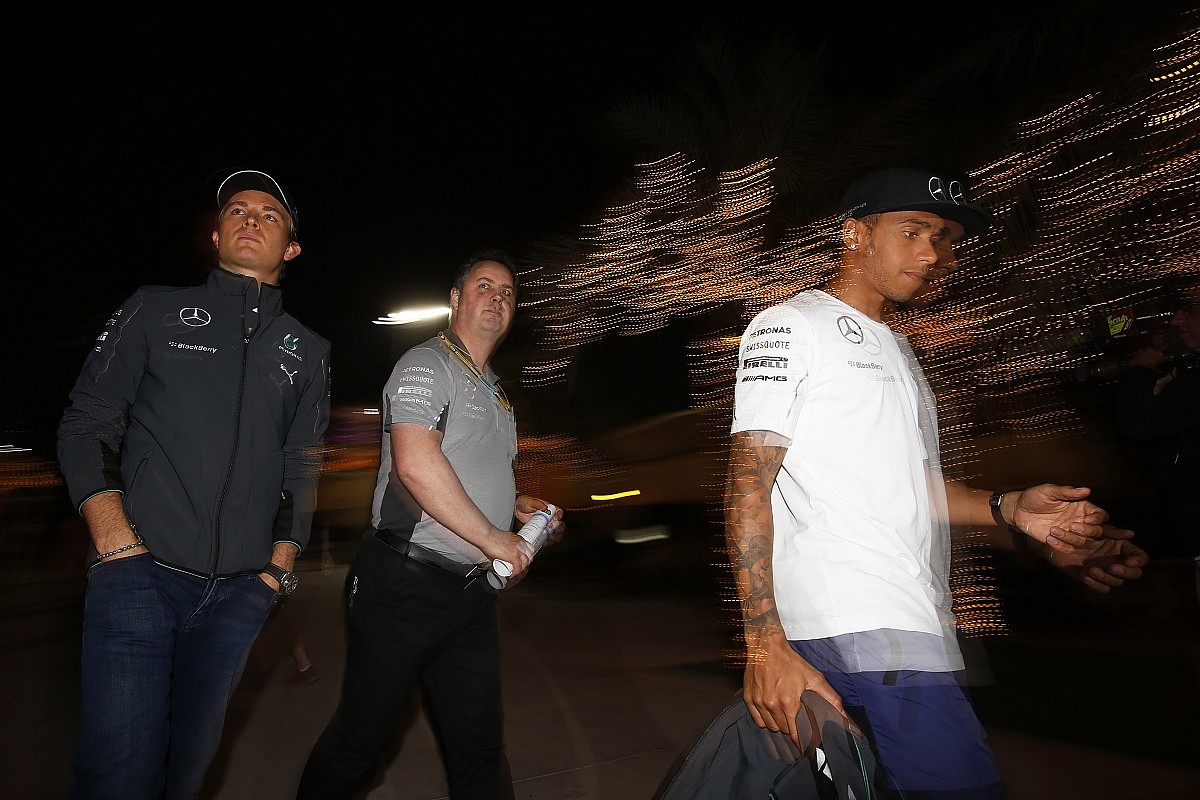 "We're colleagues. We've known each other a long time, longer than probably any other drivers [on the grid] have known each other, but we have a great amount of respect, we work in the same team, we have a great working relationship.
"We have [had] since we were kids. We've been team-mates fighting for a championship in the past in karting, so it's no different from then as it is now."
Hamilton was quickest in all three practice sessions, but Rosberg beat him on the first Q3 runs and he then had a lock-up on his second lap. Rosberg was informed and backed off, pole secure on a day when Mercedes' nearest rival - the Williams of Valtteri Bottas - was a second adrift in third.
Starting grid - F1's 900th GP, Bahrain 2014
| Pos | Driver | Team | Car | Time | Gap |
| --- | --- | --- | --- | --- | --- |
| 1 | Nico Rosberg | Mercedes AMG Petronas F1 Team | Mercedes | 1m33.185s | - |
| 2 | Lewis Hamilton | Mercedes AMG Petronas F1 Team | Mercedes | 1m33.464s | 0.279s |
| 3 | Valtteri Bottas | Williams Martini Racing | Williams/Mercedes | 1m34.247s | 1.062s |
| 4 | Sergio Perez | Sahara Force India F1 Team | Force India/Mercedes | 1m34.346s | 1.161s |
| 5 | Kimi Raikkonen | Scuderia Ferrari | Ferrari | 1m34.368s | 1.183s |
| 6 | Jenson Button | McLaren Mercedes | McLaren/Mercedes | 1m34.387s | 1.202s |
| 7 | Felipe Massa | Williams Martini Racing | Williams/Mercedes | 1m34.511s | 1.326s |
| 8 | Kevin Magnussen | McLaren Mercedes | McLaren/Mercedes | 1m34.712s | 1.527s |
| 9 | Fernando Alonso | Scuderia Ferrari | Ferrari | 1m34.992s | 1.807s |
| 10 | Sebastian Vettel | Infiniti Red Bull Racing | Red Bull/Renault | 1m34.985s | 1.800s |
| 11 | Nico Hulkenberg | Sahara Force India F1 Team | Force India/Mercedes | 1m35.116s | - |
| 12 | Daniil Kvyat | Scuderia Toro Rosso | Toro Rosso/Renault | 1m35.145s | - |
| 13 | Daniel Ricciardo | Infiniti Red Bull Racing | Red Bull/Renault | 1m34.051s | - |
| 14 | Jean-Eric Vergne | Scuderia Toro Rosso | Toro Rosso/Renault | 1m35.286s | - |
| 15 | Esteban Gutierrez | Sauber F1 Team | Sauber/Ferrari | 1m35.891s | - |
| 16 | Romain Grosjean | Lotus F1 Team | Lotus/Renault | 1m35.908s | - |
| 17 | Pastor Maldonado | Lotus F1 Team | Lotus/Renault | 1m36.663s | - |
| 18 | Kamui Kobayashi | Caterham F1 Team | Caterham/Renault | 1m37.085s | - |
| 19 | Jules Bianchi | Marussia F1 Team | Marussia/Ferrari | 1m37.310s | - |
| 20 | Marcus Ericsson | Caterham F1 Team | Caterham/Renault | 1m37.875s | - |
| 21 | Max Chilton | Marussia F1 Team | Marussia/Ferrari | 1m37.913s | - |
| 22 | Adrian Sutil | Sauber F1 Team | Sauber/Ferrari | 1m36.840s | - |
Then on race day, Rosberg lost that advantage immediately. Edd Straw takes up the story in his Autosport report:
Rosberg's launch was not a bad one, it was just that Hamilton's was better and the 2008 world champion reached Turn 1 just ahead and with the inside line. Rosberg had to give best.
He tried to wrest the initiative back at Turn 4 on that opening lap, but Hamilton was having none of it. He defended, forcing Rosberg wide on the exit to consolidate his position. Advantage Hamilton.
It wasn't race over, though. The Mercedes drivers would each do two stints on the soft tyre and one on the medium, with the driver running second at the first stops having the option to go onto the medium for the middle stint and then the faster soft tyre at the end.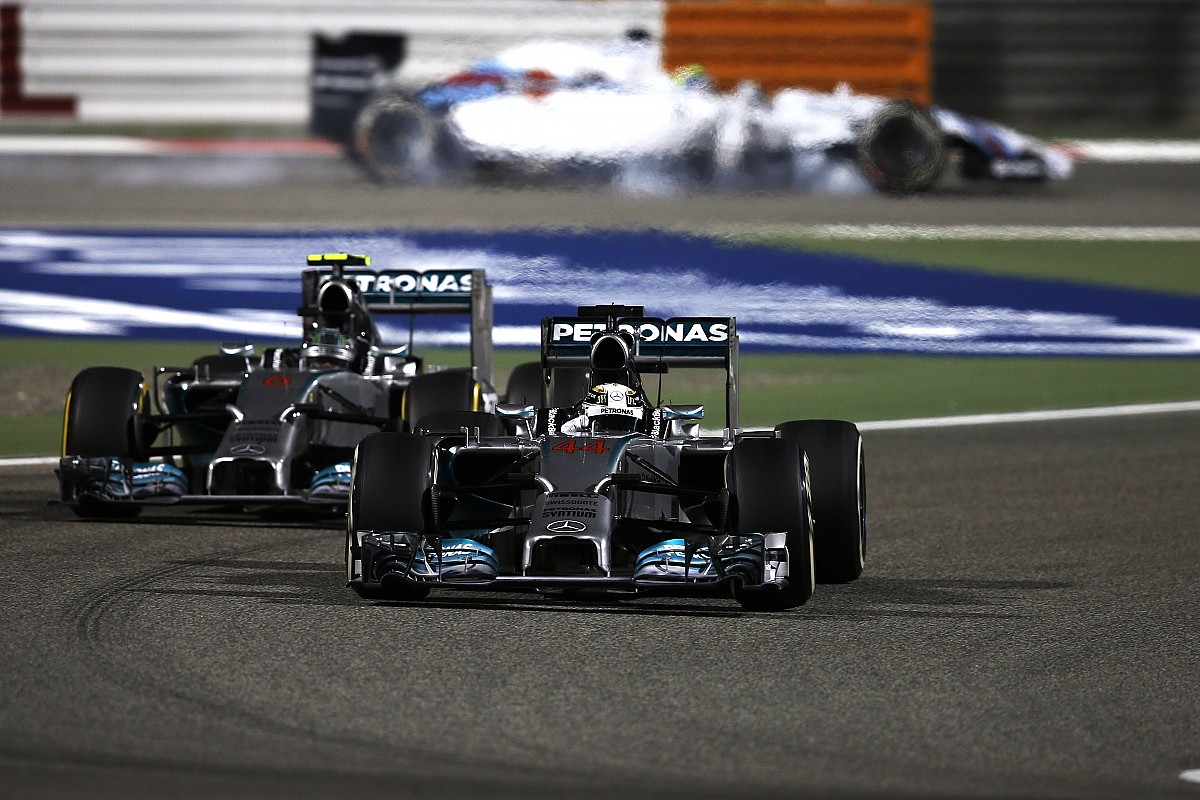 Not that Rosberg was relying on winning this one by strategy:
Rosberg made his move on lap 18, sending his Mercedes up the inside. But he couldn't make it stick. Hamilton cut back, the pair came close enough to touching that everyone on the Mercedes pitwall must have held their breath.
The following lap gave a snapshot that might come to define the whole championship battle. Again, Rosberg went to the inside, but this time both drivers locked up. They made the corner, Hamilton again cut back and carried good exit speed, although Rosberg attacked again on the outside of Turn 4.
Just as he was earlier in the race, Rosberg was crowded out at the exit. Hamilton pitted at the end of that lap and the die was cast. Rosberg was on the alternate strategy.
As expected, Rosberg lost time to Hamilton on the harder tyre in the middle of the race. Mercedes felt he would've caught up again with two or three laps to go once they swapped rubber. But then a safety car, prompted by Pastor Maldonado tipping Esteban Gutierrez into a roll, meant instead Hamilton and Rosberg went into the final 11 laps nose to tail - with Rosberg on the faster tyre. The fight was on.
Both were politely reminded over the radio that it might be a good idea not to drive into each other, but other than that they were free to race. They did race, hard. They did not drive into each other, just.
Rosberg's strategy was simple. Save up the maximum available energy to focus his efforts on a big attack. With the regulations allowing a total of 4MJ of electrical energy to be deployed on a given lap, but only permitting half of that to be harvested by the MGU-K on top of whatever you could stash from the MGU-H mounted on the turbo. That, potentially combined with the absolute maximum permitted fuel flow, could give Rosberg an advantage.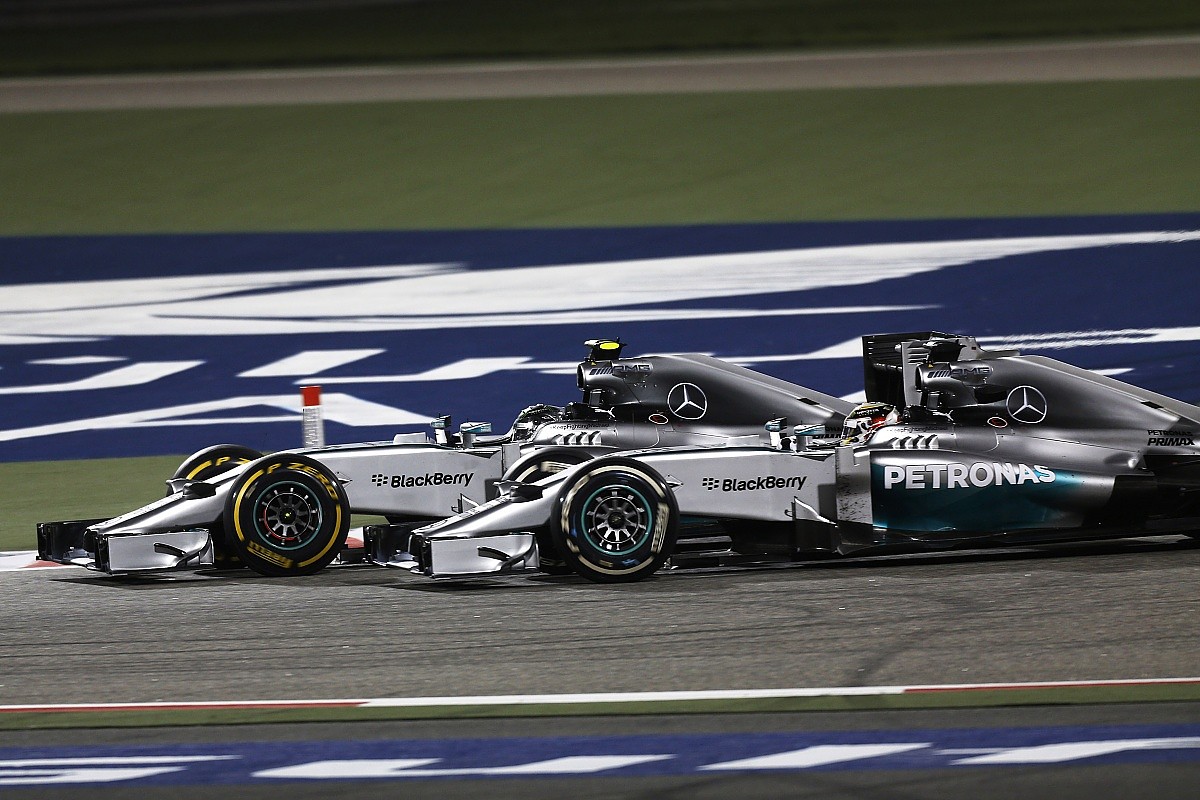 Twice, he attacked into Turn 1, but twice Hamilton managed to outwit him. After all, with each side of the Mercedes garage able to see what the other is doing, his all-guns-blazing attack was noticed and responded to.
Rosberg's big attack came on lap 52, diving up the inside of Turn 1. Hamilton again cut back inside, but their battle continued all the way to Turn 4.
Again, Hamilton squeezed Rosberg off the track - hard but fair - with the German keeping his foot in but unable to make his move stick. He had another go with a late lunge a lap later, but Hamilton effortlessly cut back again to retake the lead. By then, any energy advantage Rosberg had built was gone.
It was a superb performance by Hamilton. In that final stint, he was on the slower tyre, he had been robbed of the cushion he had built in the middle of the race and on top of all that was fractionally slower on raw pace than Rosberg. What he did have was track position and he defended beautifully.
The interesting question is what might have happened had Rosberg held the lead at the start or made one of his two moves at the end of the first stint stick. Were the roles reversed, would Hamilton have lived up to his reputation as a great overtaker and made the difference, or would track position have prevailed?
Impossible to say, but while Rosberg was happy to attack, there were a couple of times where he might just have been tempted to keep his foot in had he been battling with any driver other than his team-mate. While he didn't exactly give a quarter, perhaps he did give an eighth.
It was an important victory for Hamilton, but also an important performance by Rosberg.
"Winning the race is the greatest thing, you are happy, but deep down inside I didn't have the pace today," said Hamilton afterwards.
"So we have to learn and find out why that was. A lot of the advantages I had in the last race, Nico found them when we came here. He did better than me and I have to see if I can improve."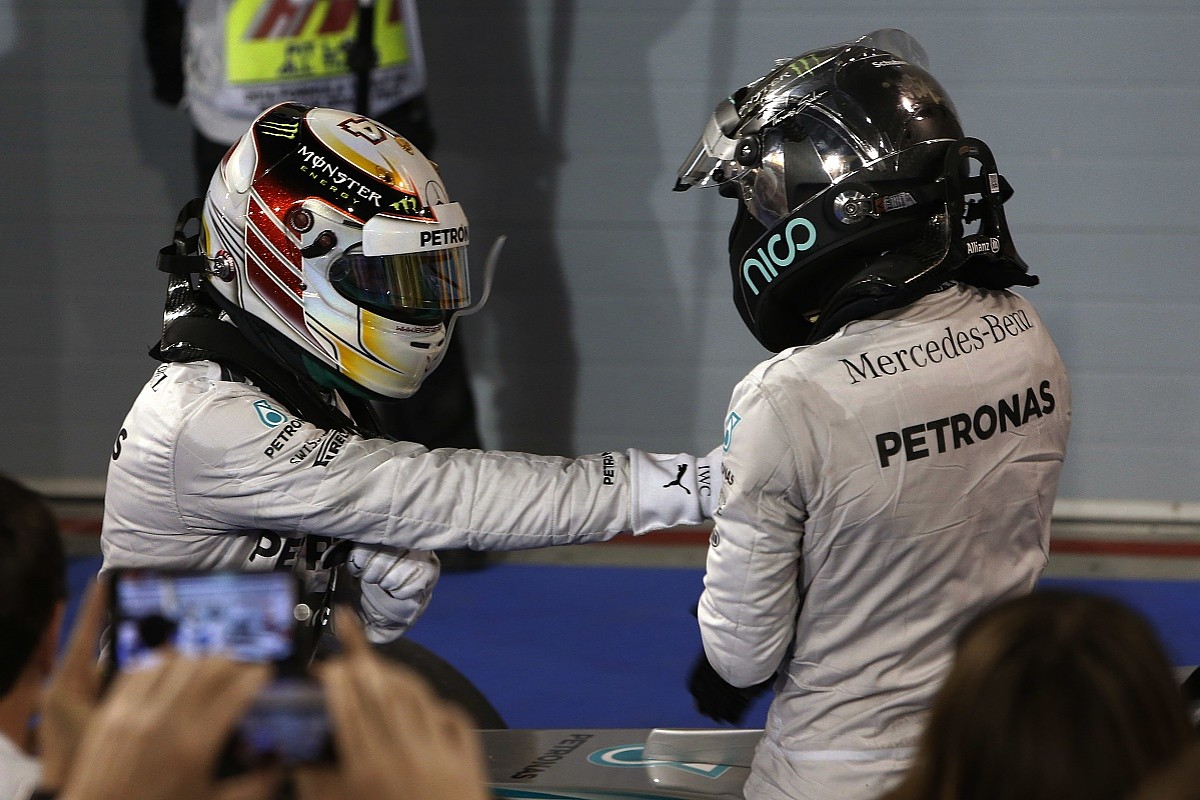 But even though Hamilton felt Rosberg "did better", Rosberg still lost. Straw's race analysis emphasised just how much that might ultimately hurt him:
Nico Rosberg could live with finishing second to Lewis Hamilton in Malaysia a week ago. Then, he was outperformed by his team-mate on every level. So he did what he always does: regroup, analyse, understand, improve - much to the frustration of Hamilton, who took every opportunity to highlight how much his team-mate had gained from studying his data during the intervening week...
But in Bahrain, defeat was not so easy to take. With the world championship battle a two-horse race - and judging by the rate at which the battling Mercedes duo dropped the chasing pack after the final safety car (24 seconds in just 11 laps) it will remain that way - pressing home your advantage on a given weekend is essential. Rosberg had the strongest hand in a dramatic Bahrain Grand Prix, but didn't play it right and lost out in a thrilling battle.
Bahrain proved to be the second win of a streak of four that took Hamilton into a temporary championship lead. He lost it again and had to hunt Rosberg back down in what turned out to be an excellent season-long battle that Hamilton's final championship-winning margin of 67 points did no justice to. Rosberg retiring from what turned out to be F1's only double points finale was costly.
The Hamilton/Rosberg intra-team Mercedes battle raged on for two more years after that, until Rosberg finally prevailed in 2016 - and then dramatically retired just days later.
A very Maldonado cameo
Maldonado had the misfortune to be the first particularly crash-prone F1 driver of the social media era - not that racing pre-Twitter had really helped the reputations of the likes of Andrea de Cesaris many years earlier.
His shock 2012 Spanish GP win for Williams and his GP2 title proved that there was more to Maldonado than crash memes, but his role in the 900th race was more typical of his contribution to F1 as he set up the safety car that triggered the best of the Mercedes battle by sending Gutierrez flying into a roll. That Maldonado's Lotus was rejoining from a pitstop when it launched the Sauber added to the comedy.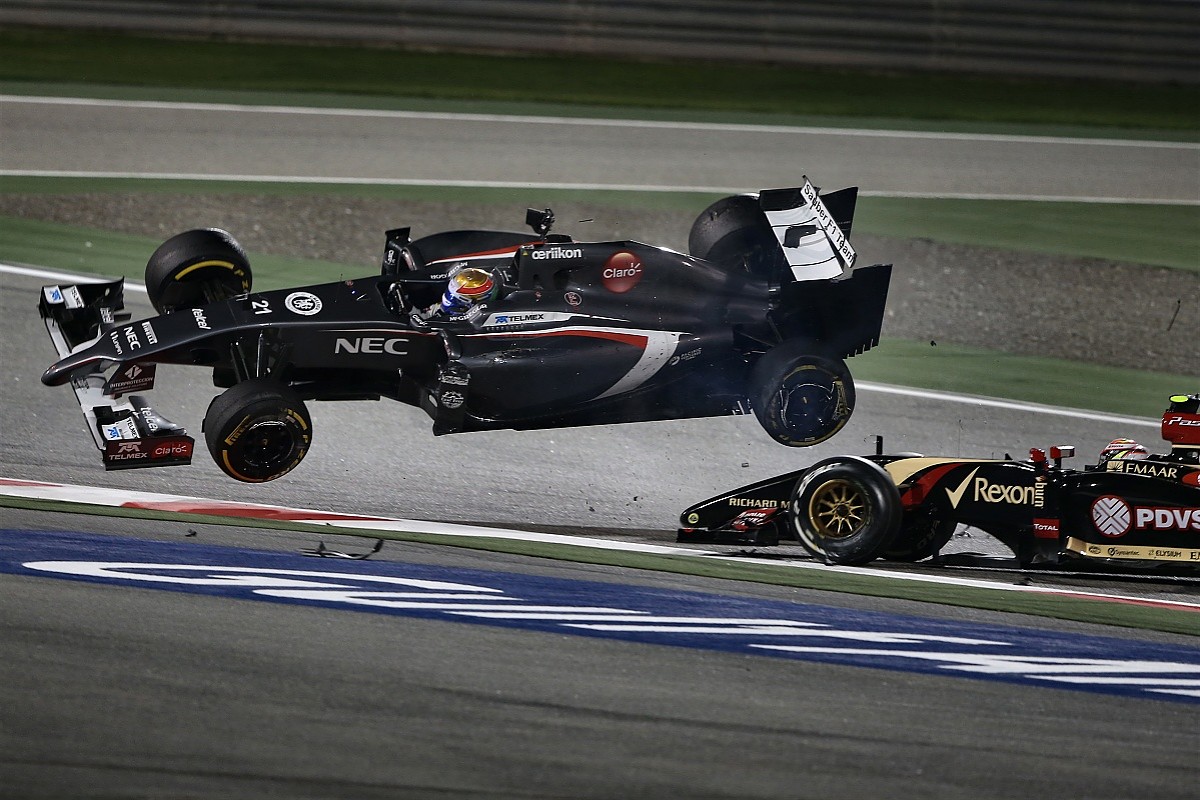 Maldonado received a 10-second stop/go penalty, three penalty points on his licence - the most awarded for a single incident since the system was introduced - and a five-place grid penalty for the next race in China.
He was deeply unimpressed with that, saying the penalty system meant "you cannot race, you need to only stay on track and wait for problems".
Maldonado added: "We are racing drivers and we are always taking risks. If you are competitors and you can overtake, you need to take risks - but at the same point the rules are going against the spectaculars.
"Ten years ago everyone was fighting and touching each other, because there were no penalties. Now we need to adapt ourselves."
He said his incident with Gutierrez was "a soft crash" that was exaggerated because the low noses of the 2014 aero rules launched the Sauber.
"I didn't expect him to fly like that," Maldonado said.
Ferrari and Alonso heading for divorce

In Mercedes' wake in Bahrain, its customer team Force India was the main protagonist in a podium battle that was almost as spectacular as the lead fight.
Sergio Perez ultimately made it to the rostrum after a tough battle with Force India team-mate Nico Hulkenberg, with Red Bull newcomer Daniel Ricciardo getting between them as he impressed by outperforming team-mate Vettel again and with a feisty race charge. Vettel was sixth, followed by duelling Williams pair Felipe Massa and Bottas.
The Ferraris were way down in ninth and 10th. Coming into the weekend, Fernando Alonso had insisted the team might still be a title factor, despite a poor start to the season, arguing "it is a very young car" and "the potential is there and there is no question that we think that in Abu Dhabi we will be in the fight".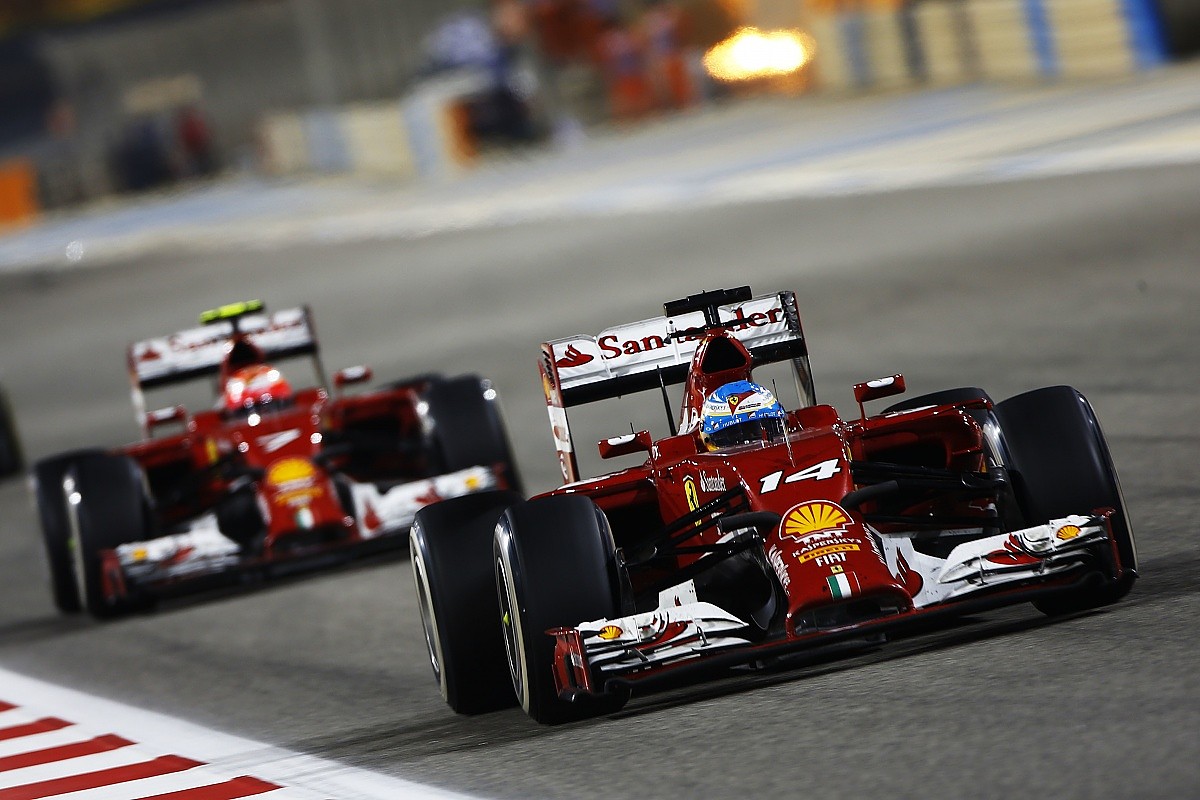 In Bahrain, Ferrari certainly wasn't in the fight - as Straw's report emphasised:
If there were any taxi cabs in the Bahrain GP, it was the Ferraris of Fernando Alonso and Kimi Raikkonen, two world champions who came home ninth and 10th on merit.
Certainly, given the F14 T's lack of power a pedestrian might have fancied their chances of flagging one down from trackside. The Ferrari was brisk enough to sit in among the cars ahead at some points in the race, but simply did not have the pace to do much more.
Alonso raised his arm from the cockpit, shaking his fist in mock celebration as he crossed the line. Now in his fifth year with Ferrari and with a third world championship as far away as ever, he was perhaps one of the few that could take no enjoyment from a stunning grand prix.
And by Abu Dhabi, Alonso was saying farewell to Ferrari after five title-free years and heading to the new hope of McLaren-Honda...
Results - F1's 900th GP, Bahrain 2014
| Pos | Driver | Team | Car | Laps | Gap |
| --- | --- | --- | --- | --- | --- |
| 1 | Lewis Hamilton | Mercedes AMG Petronas F1 Team | Mercedes | 57 | 1h39m42.743s |
| 2 | Nico Rosberg | Mercedes AMG Petronas F1 Team | Mercedes | 57 | 1.085s |
| 3 | Sergio Perez | Sahara Force India F1 Team | Force India/Mercedes | 57 | 24.067s |
| 4 | Daniel Ricciardo | Infiniti Red Bull Racing | Red Bull/Renault | 57 | 24.489s |
| 5 | Nico Hulkenberg | Sahara Force India F1 Team | Force India/Mercedes | 57 | 28.654s |
| 6 | Sebastian Vettel | Infiniti Red Bull Racing | Red Bull/Renault | 57 | 29.879s |
| 7 | Felipe Massa | Williams Martini Racing | Williams/Mercedes | 57 | 31.265s |
| 8 | Valtteri Bottas | Williams Martini Racing | Williams/Mercedes | 57 | 31.876s |
| 9 | Fernando Alonso | Scuderia Ferrari | Ferrari | 57 | 32.595s |
| 10 | Kimi Raikkonen | Scuderia Ferrari | Ferrari | 57 | 33.462s |
| 11 | Daniil Kvyat | Scuderia Toro Rosso | Toro Rosso/Renault | 57 | 41.342s |
| 12 | Romain Grosjean | Lotus F1 Team | Lotus/Renault | 57 | 43.143s |
| 13 | Max Chilton | Marussia F1 Team | Marussia/Ferrari | 57 | 59.909s |
| 14 | Pastor Maldonado | Lotus F1 Team | Lotus/Renault | 57 | 1m02.803s |
| 15 | Kamui Kobayashi | Caterham F1 Team | Caterham/Renault | 57 | 1m27.900s |
| 16 | Jules Bianchi | Marussia F1 Team | Marussia/Ferrari | 56 | 1 Lap |
| 17 | Jenson Button | McLaren Mercedes | McLaren/Mercedes | 55 | Clutch |
| - | Kevin Magnussen | McLaren Mercedes | McLaren/Mercedes | 40 | Clutch |
| - | Esteban Gutierrez | Sauber F1 Team | Sauber/Ferrari | 39 | Collision |
| - | Marcus Ericsson | Caterham F1 Team | Caterham/Renault | 33 | Oil leak |
| - | Jean-Eric Vergne | Scuderia Toro Rosso | Toro Rosso/Renault | 18 | Collision |
| - | Adrian Sutil | Sauber F1 Team | Sauber/Ferrari | 17 | Collision |