Fernando Alonso has just bowed out of Formula 1 - for now - so this is an appropriate moment to ponder the double champion's best drives.
Given the number of superb performances Alonso packed into his 311 starts, putting this list together was no easy task. Even Alonso's tally of 32 wins and 97 podiums doesn't cover all his great drives, some of which were in distinctly average machinery and yielded relatively few championship points.
For this top 10 we considered the quality of the cars at his disposal, the circumstances of the races, and the views of some of those involved.
10. 2008 Japanese GP
Renault R28
Started: 4th
Result: 1st
Following his troubled first season at McLaren, Alonso returned to Renault. The R28 was not a title contender, but won two races - the controversial 'crashgate' Singapore GP and the Fuji contest two weeks later.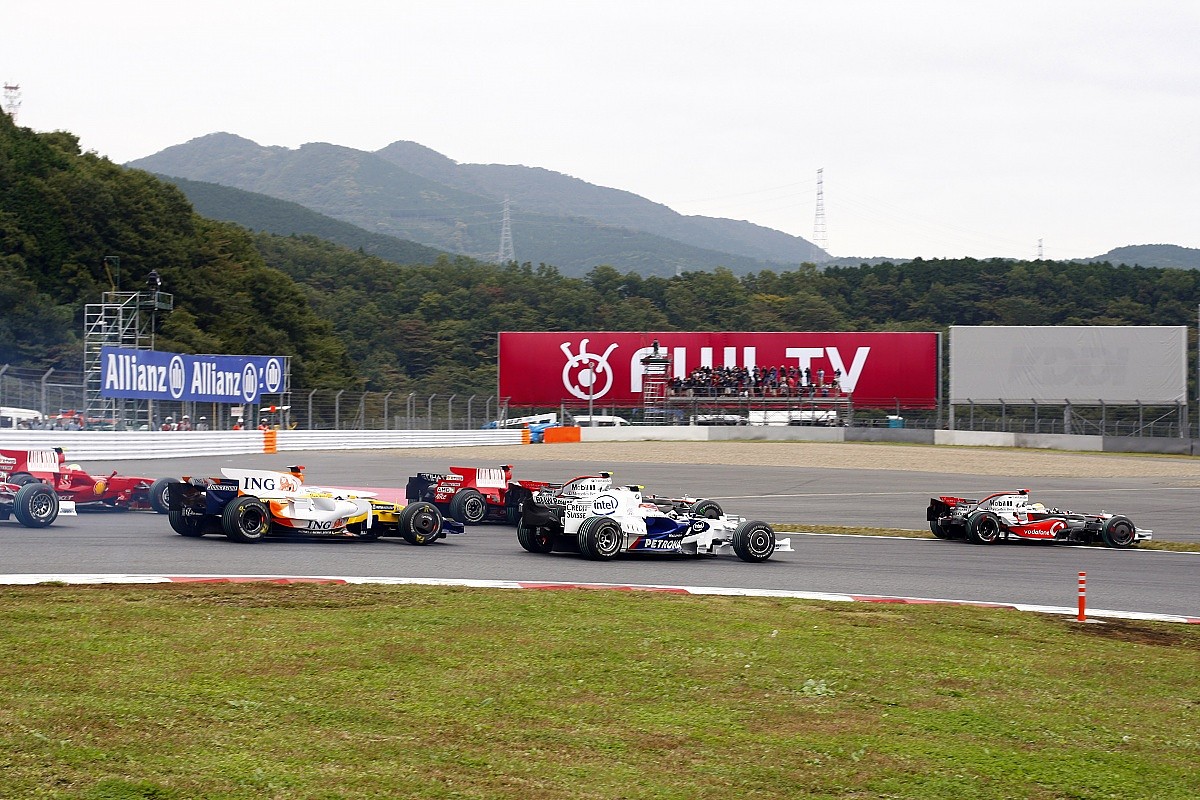 An error at the first corner by Lewis Hamilton (above), embroiled in a championship fight with Ferrari's Felipe Massa, provided an opportunity. Beaten away from the line by Kimi Raikkonen, Hamilton tried to retaliate down the inside but locked up, ran wide and carried Raikkonen and Massa with him.
Robert Kubica's BMW Sauber - up from row three - emerged in the lead, chased by Alonso. While Hamilton and the Ferraris were caught up in their own sub-race (a clash with Massa spun Hamilton around on lap two) the top two took control, though Heikki Kovalainen's McLaren remained a threat until an engine failure after just 16 laps.
As the first stops approached, Alonso became proactive. "Over the radio, moments before his first pitstop, he told - not asked - the team to short-fuel him to jump the BMW Sauber," wrote Autosport's Edd Straw.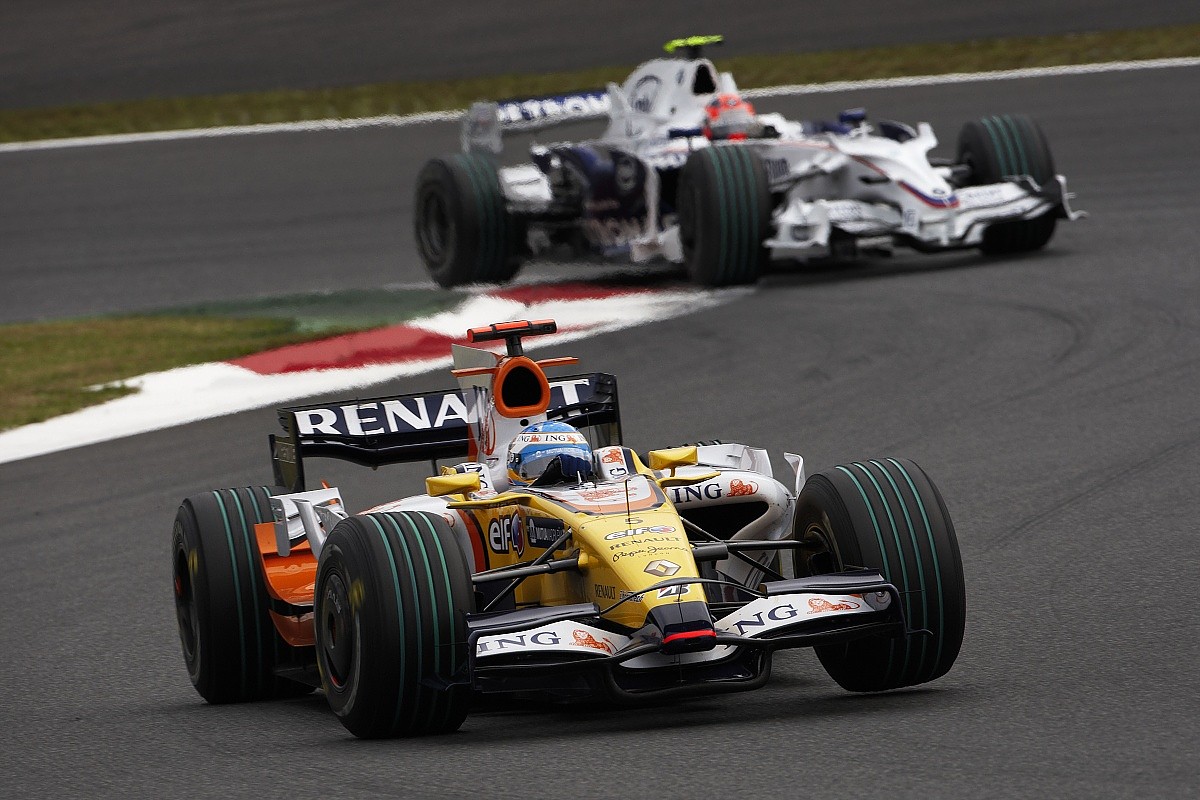 Now Alonso set about building the five-second gap required before the second stops. "This race was winnable and Alonso had decided he was going to win it," reported Mark Hughes.
"By the time he pitted again on the 43rd lap, he was 13s clear after a stunning sequence of on-the-limit laps. There was nothing to stop him now."
9. 2018 Azerbaijan GP
McLaren MCL33
Started: 12th
Result: 7th
Several of Alonso's 2018 drives were candidates for this list - his drive to seventh in Singapore scored a 10/10 in our driver ratings - and it's the race in Azerbaijan, which Alonso described afterwards as "the best race of my life", that gets the nod.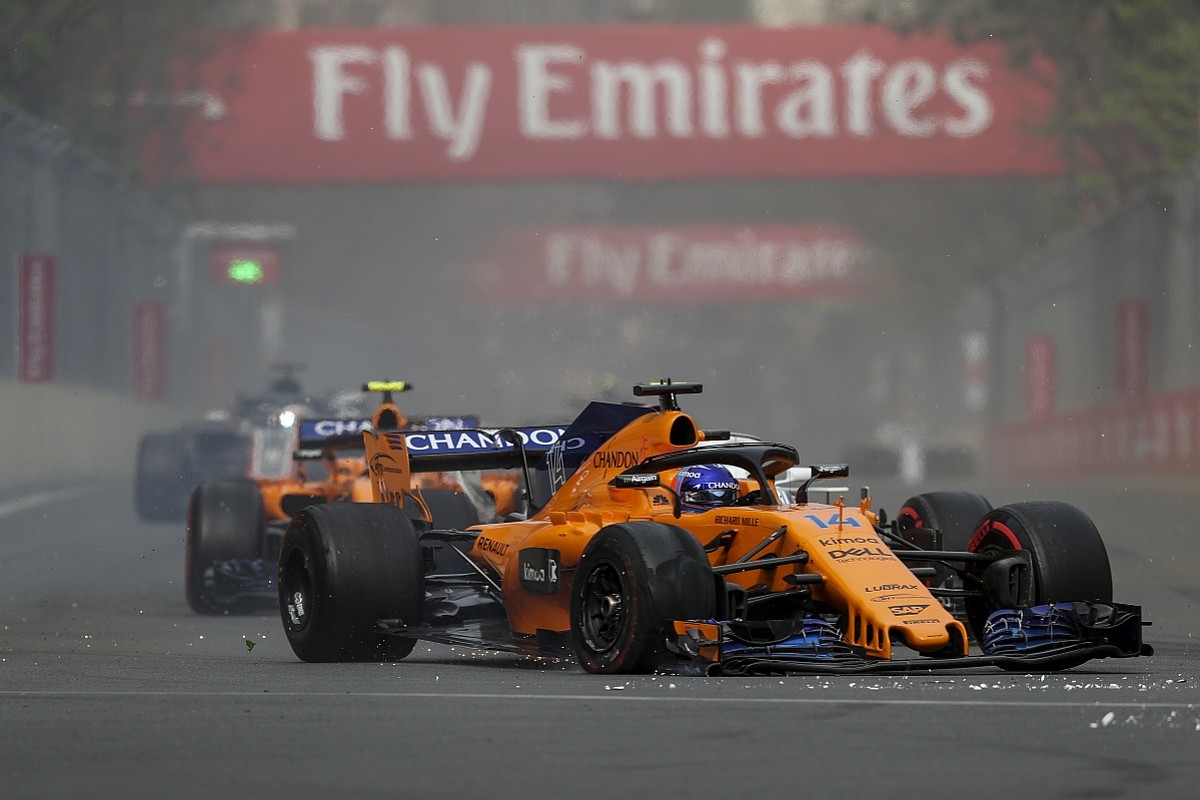 Alonso started 12th, but was involved in a clash with Sergey Sirotkin's Williams that left the McLaren with floor damage and punctures on both right-side tyres. Remarkably, Alonso dragged it back to the pits.
After a safety car period, he was 17th and immediately started picking people off. He kept up his pace and snatched seventh from Lance Stroll on the final lap. It was a fine example of Alonso adapting to a damaged car and pressing on regardless.
"You will never predict beforehand what is going to happen and how you will drive a car with 50 or 100 less points of downforce," said Alonso. "We fought for every tenth, every lap, close to the walls all race long.
"These points were a miracle."
8. 2011 British GP
Ferrari 150 Italia
Started: 3rd
Result: 1st
"Awesome Alonso," said Autosport's cover of what proved to be his only victory in 2011. In a season dominated by Red Bull, it was Alonso and McLaren's Jenson Button who put up the strongest resistance, and a rule change gave Ferrari a chance at Silverstone.
Off-throttle blowing of the diffuser was temporarily banned ahead of the British GP and, armed updates to his 150 Italia, Alonso qualified third, just 0.117s off Mark Webber's polesitting Red Bull.
Sebastian Vettel jumped Webber at the start, with Alonso chasing on a track that was wet in some places, dry in others. While Vettel pulled clear, Alonso threatened Webber more as the track dried.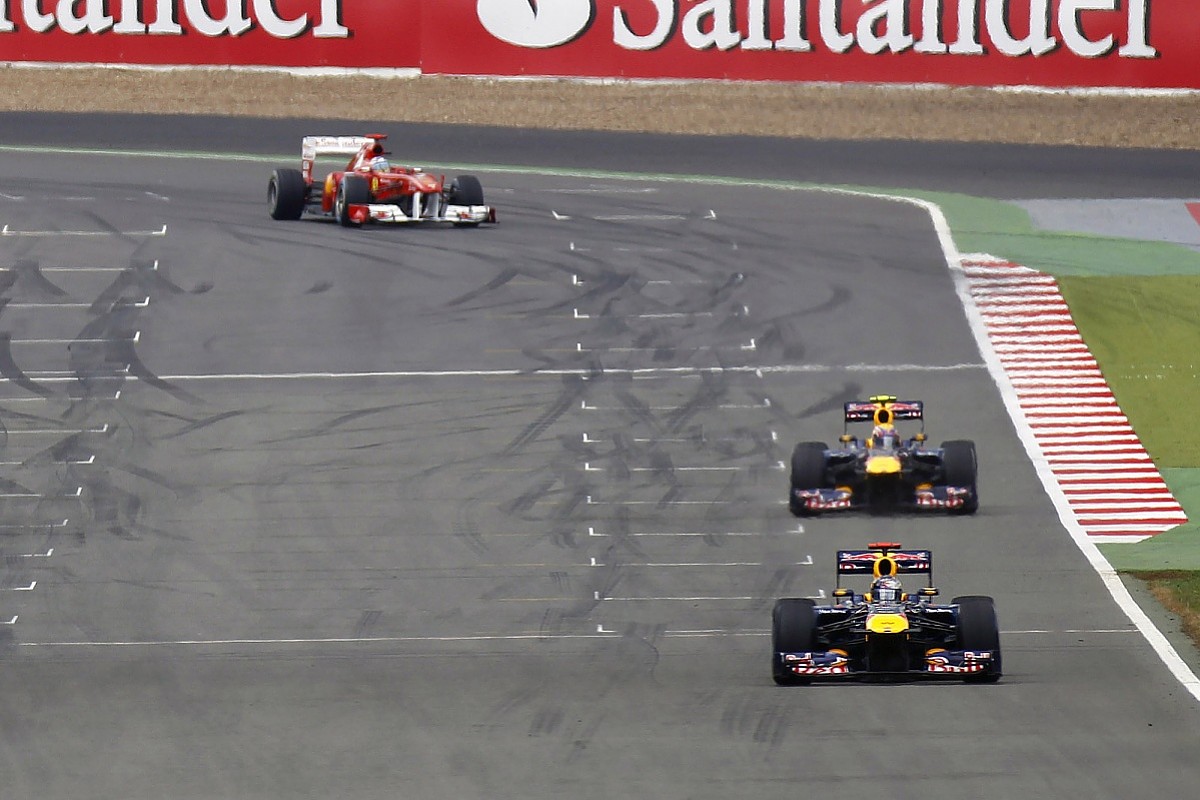 Webber and Alonso pitted for slicks after 12 laps of the 52, while Vettel came in a lap later and retained his lead. The Ferrari was generally slower at the start of a stint but got faster later and Alonso briefly lost out to Hamilton's McLaren.
But Hamilton couldn't get away and Alonso came back at him. With the Ferrari all over his gearbox, Hamilton pitted for new rubber at the end of lap 24, releasing Alonso. Now third, Alonso started closing on the Red Bulls.
Webber stopped on lap 26, Vettel and Alonso on lap 27. Remarkably, both Red Bull stops were slow and Alonso jumped the pair. Such had been his pace before the stops, he also got out ahead of Hamilton and now led - narrowly. Just over 4s covered the top four.
As Hamilton had to back off to save fuel while defending from the Red Bulls, Alonso pressed home his advantage. Just 10 laps after the stops he was 9.9s clear.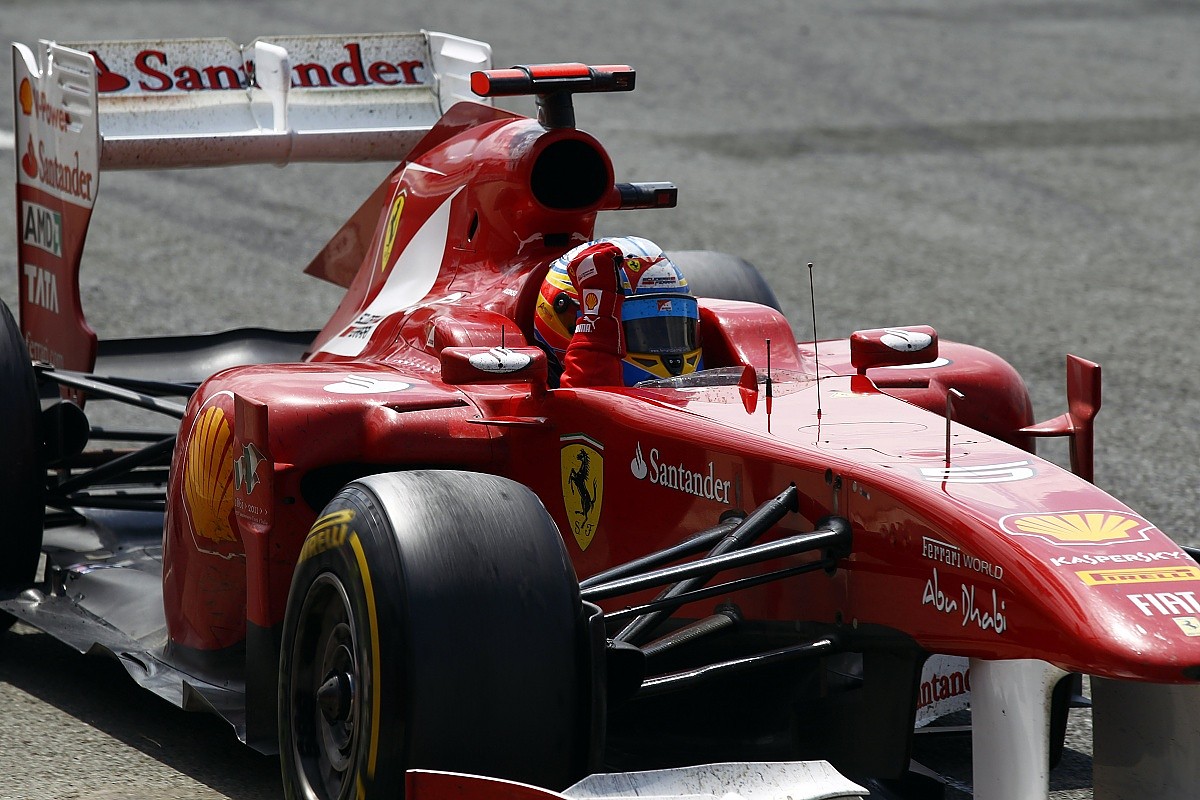 Sixty years to the week after Ferrari's first world championship victory, Alonso secured its 216th, coming home 16.5s ahead of Vettel.
"Give the Spaniard a sniff of victory and he seizes it," reckoned Straw, who gave Alonso 10/10 in Autosport's driver ratings. "Red Bull's pit problems helped, but it was Alonso who forced his advantage mercilessly."
7. 2012 Malaysian GP
Ferrari F2012
Started: 8th
Result: 1st
Ferrari's 2012 contender was not one of its best, but Alonso managed to haul it into title contention during one of the great F1 campaigns. The first of his three wins that season came in round two at Sepang, with a little help from the weather.
Rain arrived 10 minutes before the race start. It was heavy enough to force most drivers onto intermediate rubber, and it then intensified, requiring a switch to wets before conditions demanded a safety car period - and, finally, a red flag.
By this time Alonso was fifth. And after everyone pitted for inters when racing resumed, he led, having scrapped wheel-to-wheel with Sergio Perez's Sauber.
Perez became Alonso's biggest threat. Both drew away from Hamilton's McLaren.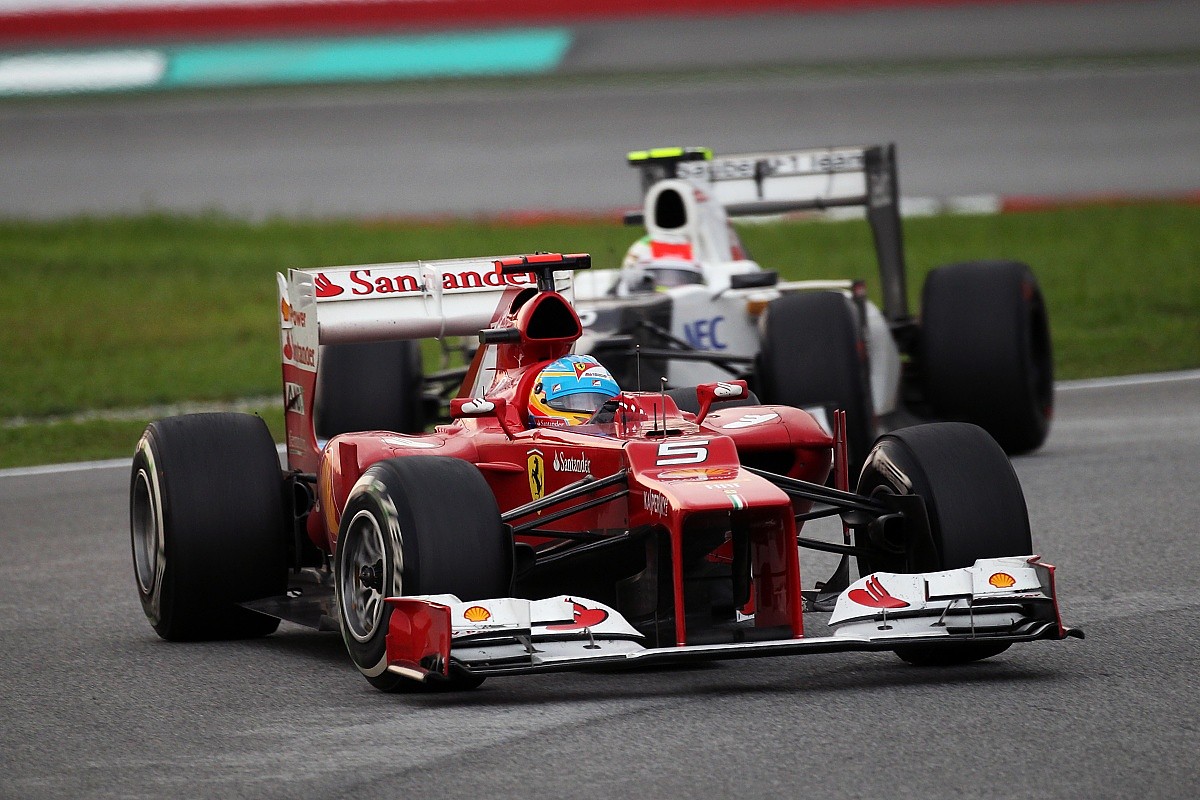 After losing out early in the stint Perez closed in, but then Sauber appeared to blow it. The Mexican lost six seconds when he was left out for an extra lap when everyone else switched to dry tyres. But Perez kept coming and underlined the fact that, on this day, the Sauber C31 was simply faster than the Ferrari F2012.
The Ferrari's telemetry had also stopped working, requiring Alonso to engage in a continuous dialogue with the pitwall. With seven laps to go Perez was just 0.6s behind the Ferrari, but then he made a mistake and ran wide, losing five seconds.
Whether that was because Sauber's radio message - "be careful, be careful, we need this position" - was a coded instruction or not is open to debate. But it gave Alonso the breathing space he needed to take his 28th F1 victory.
Despite the unusual rival in this case, Alonso's win was still one against the run of play. Team-mate Massa finished 15th.
Hughes described it as "a quite fabulous performance," while Straw pointed to the 1.3s deficit the Ferrari had to the pacesetting McLarens in qualifying: "He won a race in a car that, frankly, had no business to."
6. 2003 Spanish GP
Renault R23
Started: 3rd
Result: 2nd
"Schuey v Alonso - It's F1's newest head-to-head," said Autosport's front cover.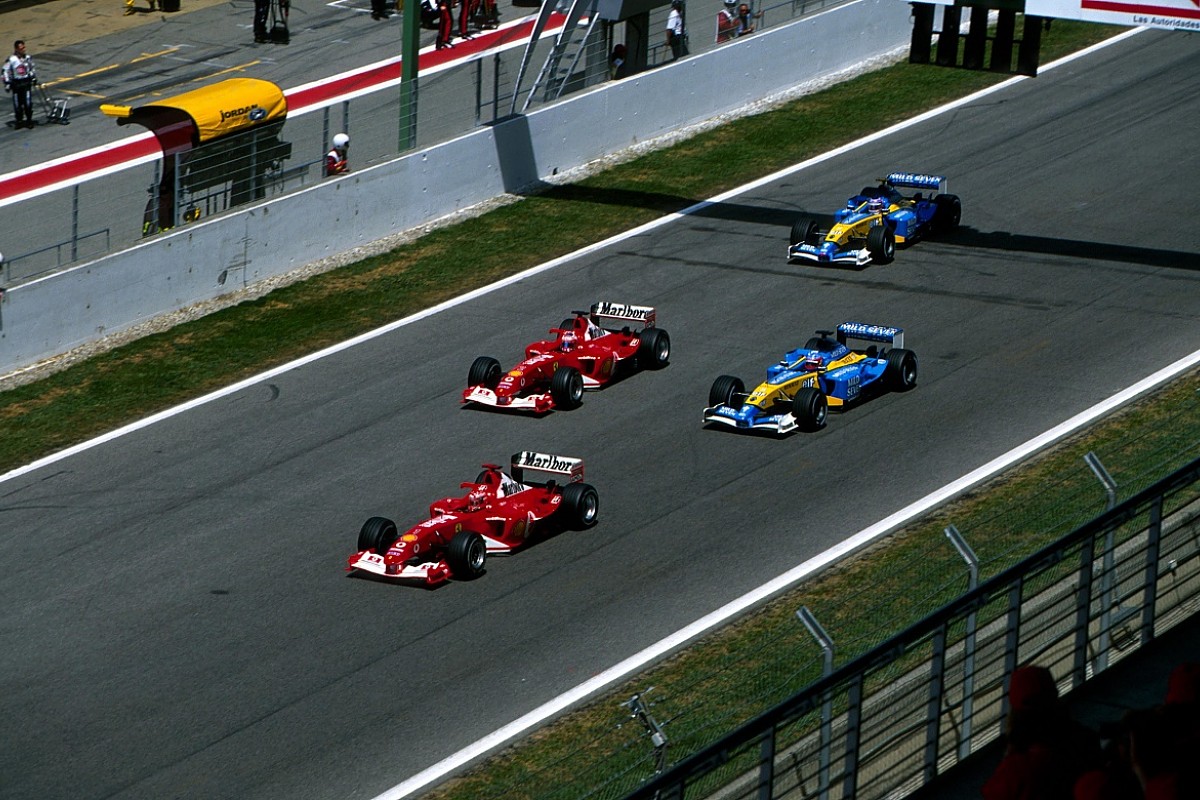 In front of his home crowd, Alonso almost jumped the two new Ferrari F2003-GAs of Michael Schumacher and Rubens Barrichello at the start (pictured), but a straightline deficit (the Renault was 9mph down through the speed traps) meant it was a red one-two into the first corner. Posting a series of incredible laps around the first pitstops enabled Alonso to jump Barrichello, and he then chased after Schumacher.
Alonso's Michelins were working well, helping to make up for the Renault's estimated shortfall of 85bhp, and he was able to keep Bridgestone-shod Schumacher under pressure.
While the Bridgestones were generally better at the start of a stint (though that didn't prevent Alonso managing faster laps than Schuey on two of the three out-laps), Schumacher was able to build a small buffer. The Ferrari ace was helped further after the second stops when Alonso was held up behind Ralf Schumacher's Williams.
Alonso closed during the final stint, but Michael kept him at arm's length to take victory. Alonso still beat Barrichello by more than 12 seconds and the next-best Michelin runner was almost a minute behind. It had been the sort of relentless run that would become an Alonso hallmark, in only his 21st F1 race.
"Until two laps from the end, when Schumacher had obviously controlled the threat, Alonso did not one lazy lap; every single one of them was on the edge," reported Hughes. "Furthermore, all three of his in-laps were quicker than Schuey's.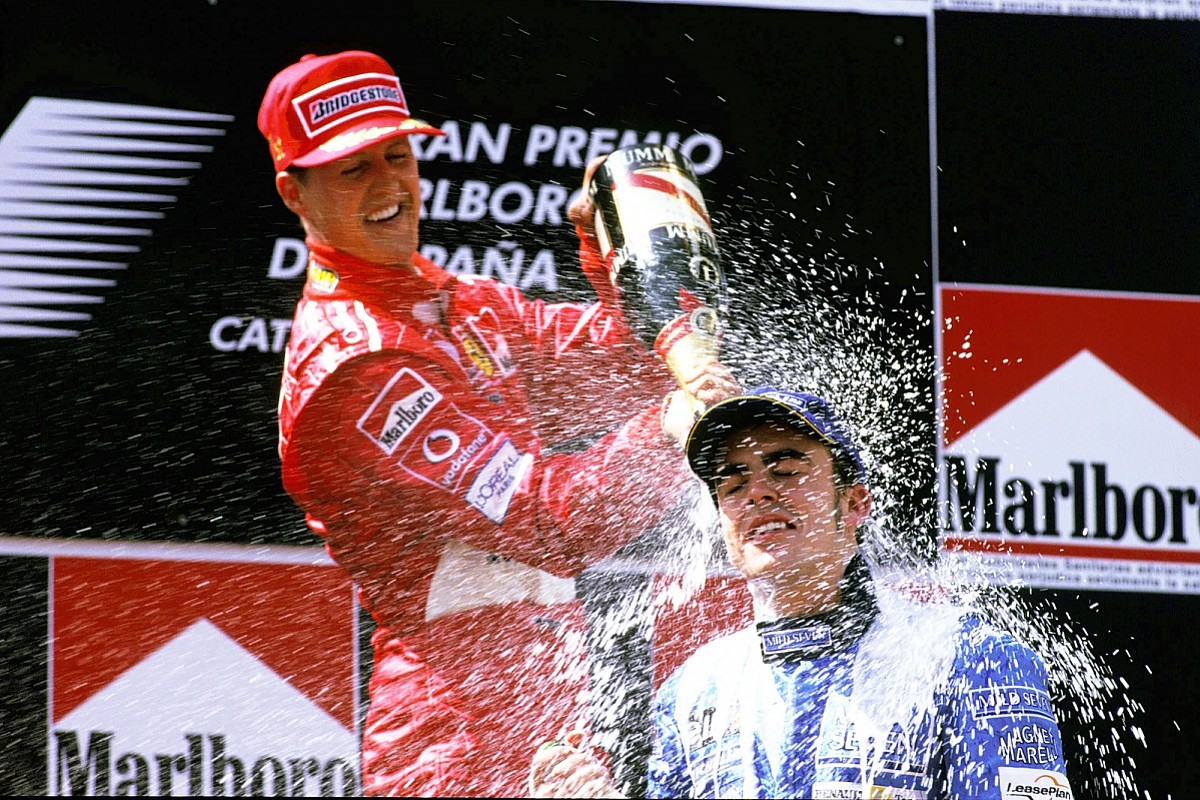 "This just might have been the race when Schumacher inwardly confirmed the identity of his eventual successor."
Alonso's first F1 win came almost four months later in Hungary, but this was a better performance. The Spanish drive earned Alonso a 10/10 in Autosport's driver ratings, his later Hungaroring victory 'only' nine.
5. 2007 European GP
McLaren MP4-22
Started 2nd
Result: 1st
"Race of the year" and "world champ plays rain to perfection" was how Autosport described Alonso's late victory, which came amid the McLaren-Ferrari spy scandal and Hamilton's sensational rookie season.
The wins generally went with whichever of the MP4-22 and Ferrari F2007 was better suited to the particular circuit, but the Nurburgring was perhaps the exception.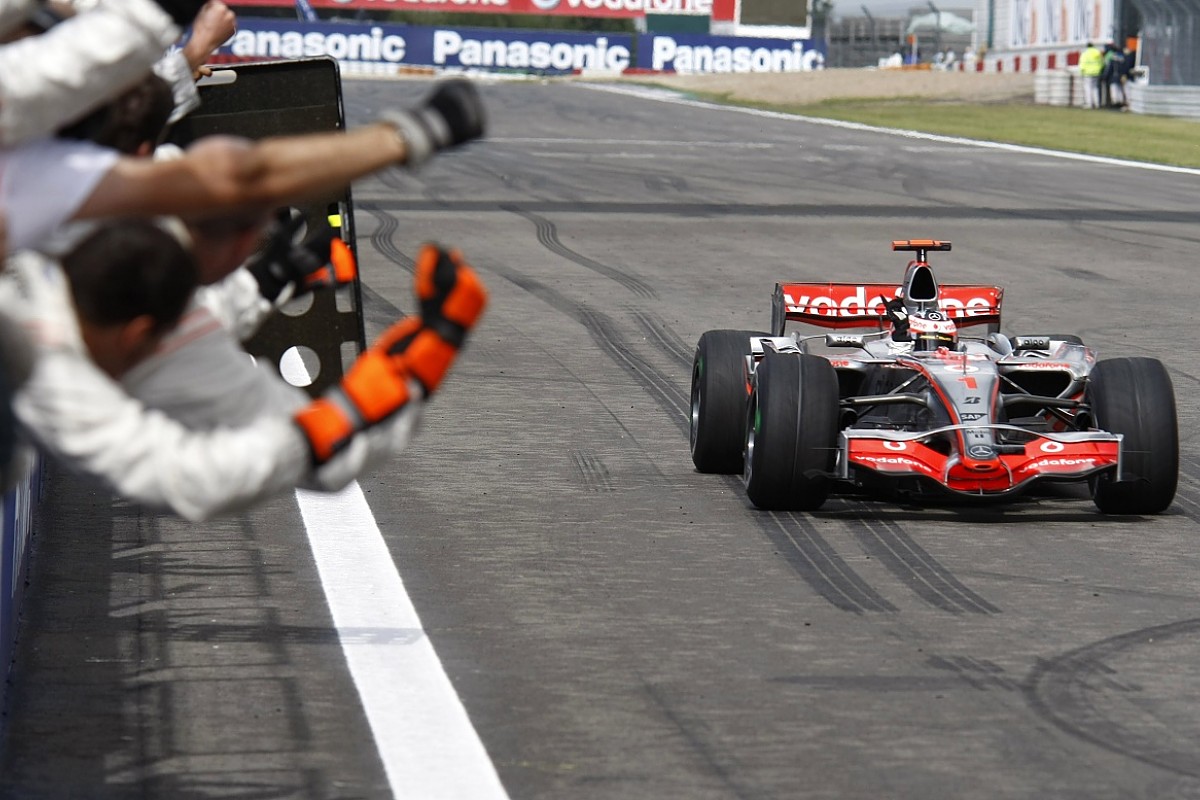 Raikkonen qualified on pole for Ferrari, but Alonso just pipped Massa to avoid an all-red front row. Hamilton started 10th after a high-speed crash in qualifying because of a wheel problem.
A downpour just as the race began caused chaos - and even allowed F1 debutant Markus Winkelhock's intermediate-shod Spyker to lead for a time. Hamilton was one caught up in the drama, picking up a puncture after being hit by Kubica's spinning BMW Sauber.
Most cars pitted at the end of lap one, Raikkonen continuing because he slid wide. As the rain worsened, cars flew off the road, including the rapid Button and Hamilton. The race was red-flagged, leaving Winkelhock leading from Massa and Alonso.
Everyone chose intermediates for the restart, and Massa and Alonso soon overcame Winkelhock. After 12 laps both came in to switch to dry-weather tyres.
McLaren couldn't adjust Alonso's front wing, costing him time and resulting in a compromised set-up. "It left him with a more oversteery balance than ideal," wrote Hughes in our report. "As the dry phase of the race got underway, Massa began to gradually ease away at the front."
Alonso's front wing was successfully adjusted at his next stop - on lap 38 - and he nibbled away at the eight-second gap, but Massa still seemed in control. Until rain returned with eight laps to go.
Massa and Alonso both dived in for another tyre change on lap 53, the gap now down to 3.5s. The Ferrari, which didn't tend to keep its tyre temperature in wet conditions as well as the McLaren, was a tricky proposition in the wet and Massa fell back towards Alonso. By the end of lap 55 they were together.
Alonso got a run on Massa exiting Turn 4. With the Ferrari on the inside approaching Turn 5, Alonso went around the outside. Massa slid wide and touched the McLaren, but Alonso was through and on his way to a victory against the odds.
4. 2005 Japanese GP
Renault R25
Started: 16th
Result: 3rd
Having stated "today wasn't a day to fight" on his way to securing his first world crown at Interlagos, Alonso was in much more combative mood next time out at Suzuka. The race is largely remembered for Raikkonen's last-gasp victory, but Alonso was just as impressive.
Thanks to the lottery of a rain-hit single-lap qualifying session, Alonso lined up 16th, with outgoing world champion Michael Schumacher 14th and Raikkonen's McLaren 17th.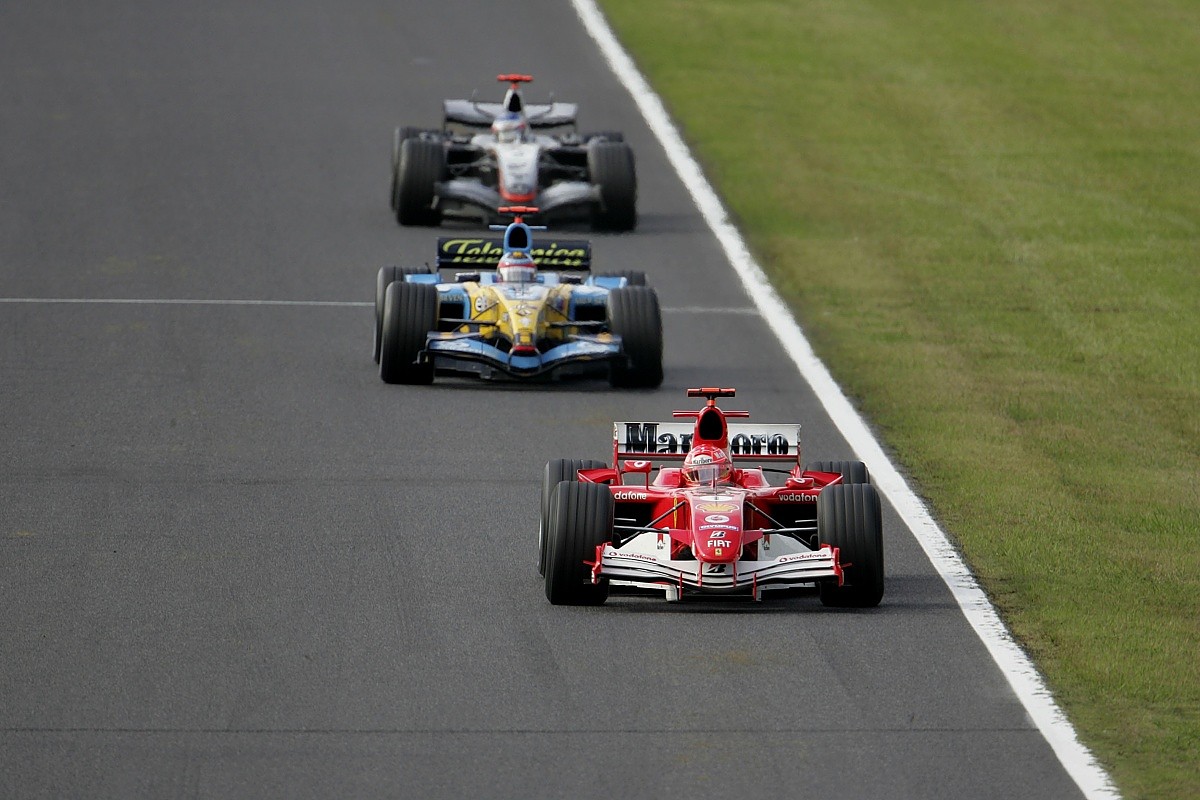 All three made brilliant progress on the first lap: Schumacher came round in seventh, Alonso in eighth and Raikkonen in 12th. "That was a product of bold, incisive racecraft," reckoned Hughes, though Alonso had run across the chicane while battling Jacques Villeneuve's Sauber.
They were then helped by Juan Pablo Montoya crashing his McLaren and bringing out the safety car. At the restart, Schumacher jumped Christian Klien, but when Alonso tried to overtake the Red Bull at the chicane, Klien braked late and the Renault took to the runoff. Alonso backed off to allow Klien back ahead, then slipstreamed past on the start/finish straight.
He chased off after Schumacher, only to have to slow down when race director Charlie Whiting decided Alonso had to hand the place back. The team protested - and won its case - but by then Alonso had already allowed Klien back through...
Alonso was soon by once more and catching Schumacher. On lap 20 of 53, Alonso got into the Ferrari's slipstream exiting Spoon Curve, and Schumacher moved to the left to cover the inside for the fast-approaching 130R left-hander. Alonso switched to the right and drove clean around the outside.
His entry speed was 206mph. "It was risky, but there was nothing to lose today," said Alonso.
But the Ferrari was fuelled to run longer than the Renault, so Schumacher jumped ahead again at the first round of stops. In fact, Alonso briefly fell back to eighth, a legacy of the time lost during the Klien debacle.
"The slower traffic he dropped into after his stop - which he would otherwise have avoided - cost him around nine seconds in the five laps after rejoining," reported Hughes. "It was this that not only allowed Schumacher back in front but also for Raikkonen to get ahead of the Renault for the first time."
Alonso cut through the traffic once more and, after 29 laps, was on the tail of Raikkonen, as the McLaren pressured Schumacher. Kimi soon made it past the Ferrari and Alonso didn't waste much time either.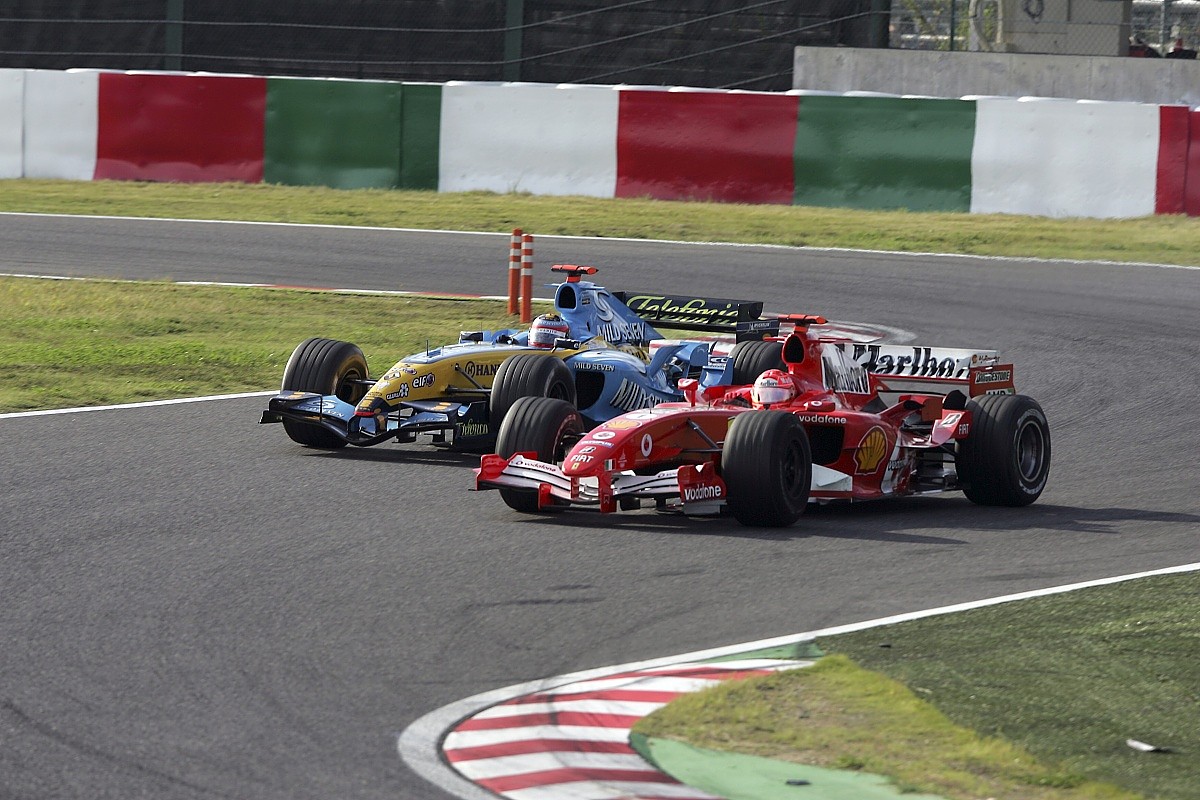 "He did it beautifully, dummying Michael into thinking he was trying to pass at the chicane [pictured], forcing Schuey to run wide there, making the Ferrari slow onto the straight as they began lap 33," wrote Hughes. "It was then relatively simple for Alonso to cut around the outside on the approach to Turn 1."
With Raikkonen up the road, Alonso continued his charge. He overtook Button's BAR and closed on the Williams of Webber. On lap 49 he attacked on the run to Turn 1.
"Webber moved right to discourage him, leaving him not quite a car's width," said Hughes. "It was a hard, no-compromising move and almost anyone but Alonso would have capitulated. Instead, he simply took some grass as well. He was through, with yet another breathtaking demonstration of the art of passing."
While Raikkonen secured his famous last-gasp victory, Alonso took third. He had made 14 overtaking moves to Raikkonen's 11 and the Renault's fastest lap was just 0.059s slower than the McLaren driver's - and nearly a second faster than anyone else's.
3. 2006 Hungarian GP
Renault R26
Started: 15th
Result: Retired
This race is best-known for Button finally breaking his F1 duck, but it could have been one of Alonso's finest wins.
Thanks to a two-second qualifying penalty, Alonso started on row eight. Also penalty-afflicted were Michael Schumacher (11th) and Button (14th).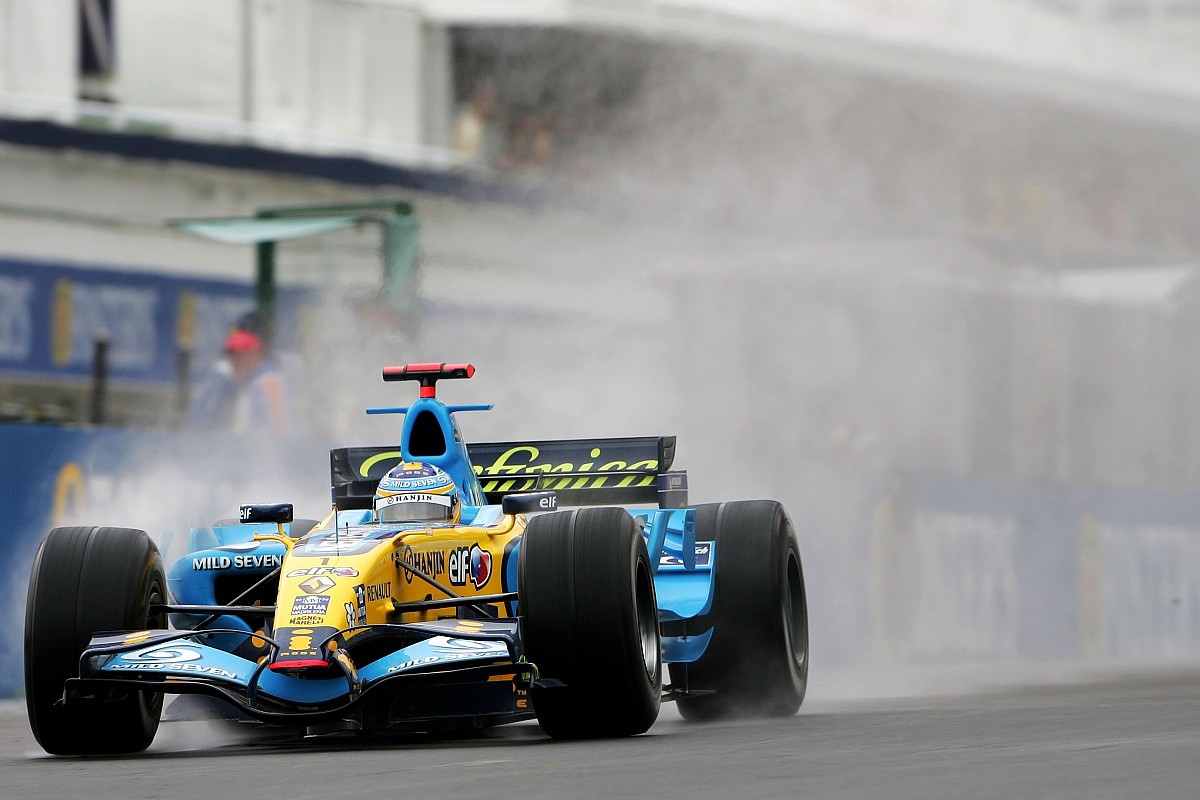 In the tricky conditions on race day the Michelin intermediate tyre proved much better than the Bridgestone equivalent, but even so Alonso's progress was remarkable. He was up to sixth by the end of lap one - five spots ahead of the similarly Michelin-shod Button - despite Massa's attempts to intimidate him into the final turn.
Renault team-mate Giancarlo Fisichella allowed Alonso past on the next tour and Alonso quickly closed on Schumacher - already up to fourth and the best of the Bridgestone runners. Schumacher defended hard, but Alonso used his extra grip to go around the outside of the Ferrari at the Turn 5 right-hander.
Up ahead, Barrichello's extreme wets were already overheating and he pitted at the end of lap five. Alonso was now third and ready to challenge the McLarens of Raikkonen and Pedro de la Rosa.
De la Rosa held off the Renault for some time, but the McLaren stopped first, on lap 16 of 70, allowing Alonso to get within 7s of leader Raikkonen before the Finn came in next time around.
Button came in at the same time, having risen to fourth before the pitstops began, but Alonso stayed out. He kept increasing his lead over Raikkonen, sometimes by as much as three seconds per lap. The margin was 39s when Raikkonen clashed with Vitantonio Liuzzi's Toro Rosso, bringing out the safety car and allowing Alonso to make his stop, though eradicating his lead.
Since de la Rosa had also gone to the pits, Button was now second. After the restart at the end of lap 31, Button's Honda (fuelled slightly less than the Renault) initially lost ground in traffic but then started to edge towards Alonso. After 43 laps they were together, 20s clear of de la Rosa.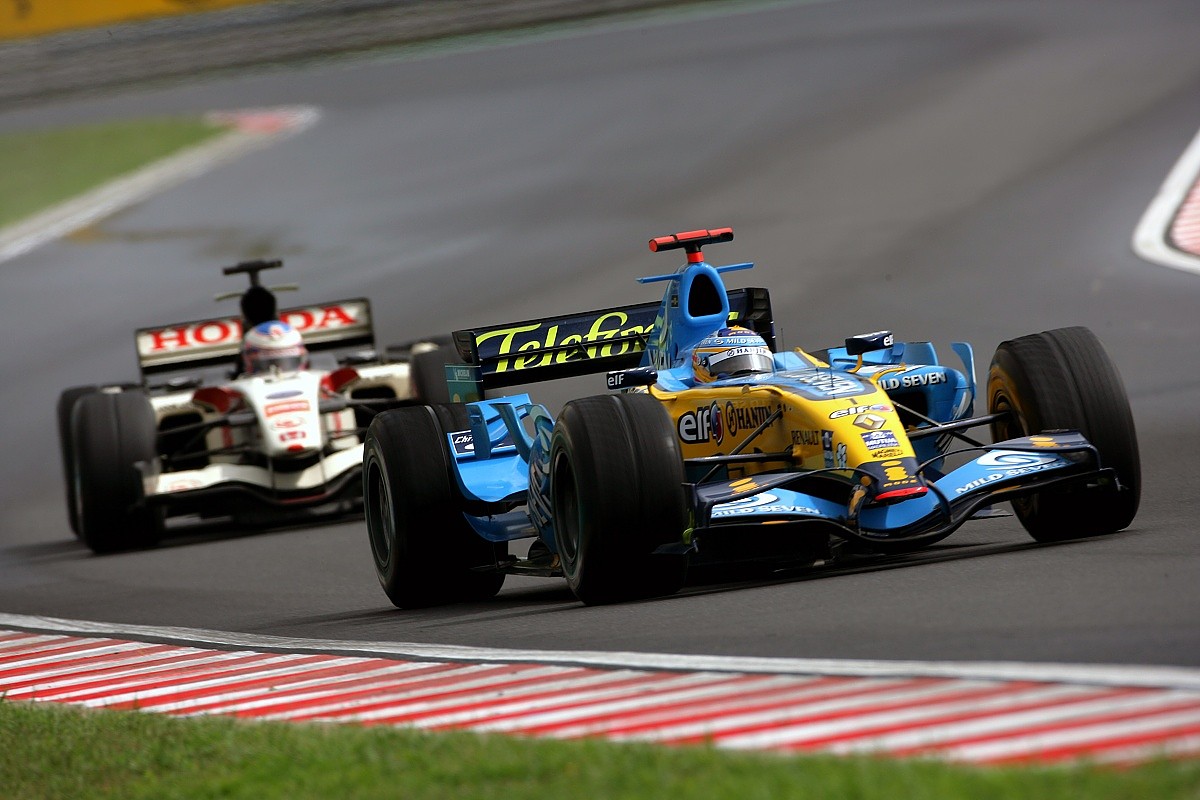 Button, who had to stop earlier than Alonso, couldn't wait for the track to dry. He pitted on lap 46 and stayed on the same intermediate rubber, being short-fuelled in the expectation he would be in again soon for dry tyres.
"Honda was effectively settling for a safe second rather than trying for a risky win," reckoned Hughes. But the team was to receive a bonus.
Alonso pitted at the end of lap 51 and went straight on to dry tyres. This should have been the final step on the way to a special win, but instead the right-rear wheel came loose and spat Alonso off on the out-lap, ending his race.
"A faulty wheel-locking mechanism cost him what would have been a brilliant victory," wrote Hughes.
It was arguably Alonso's finest wet-weather drive.
2. 2005 San Marino GP
Renault R25
Started: 2nd
Result: 1st
Perhaps more than any other race, this represents a changing of the guard. Or at least, that Alonso was worthy of taking over Michael Schumacher's mantle as world champion.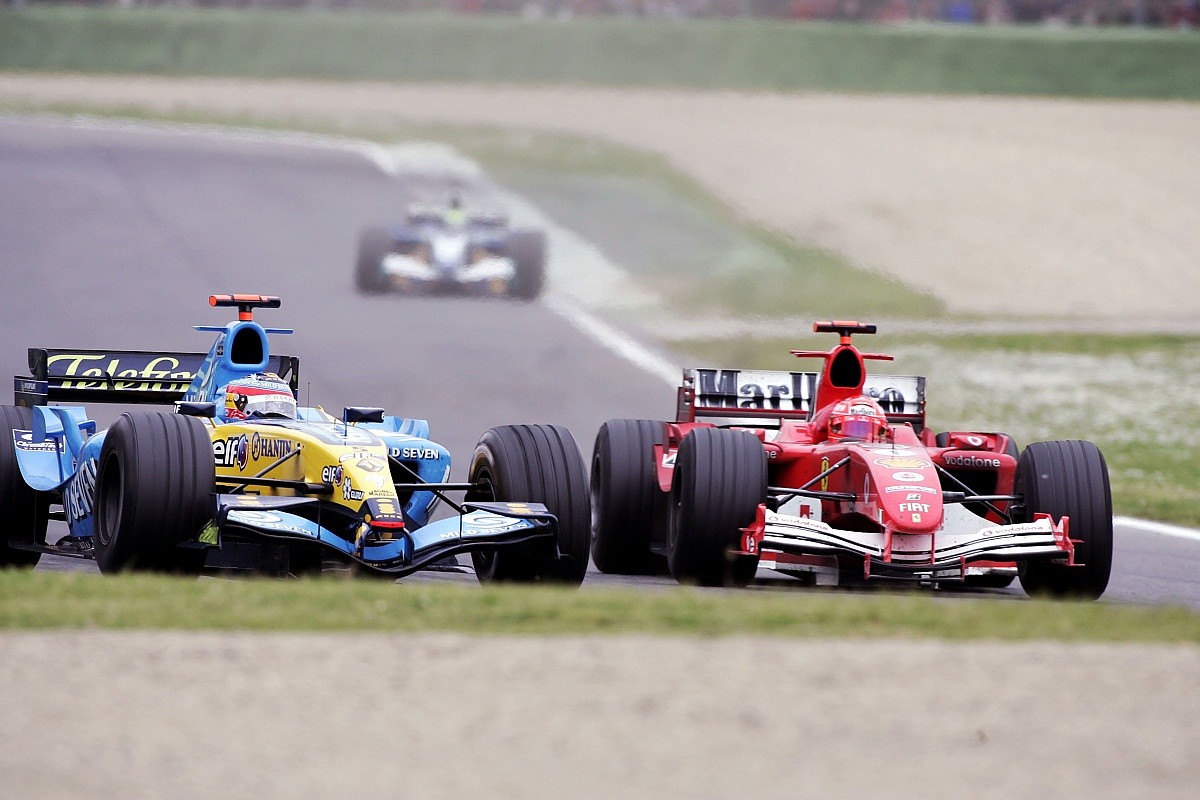 This was the year of GPs being run on one set of tyres. A trait of the Bridgestones used by Ferrari was that they sometimes didn't come up to temperature for qualifying but did provide excellent race pace.
The San Marino GP at Imola, where Bridgestone brought a new tyre construction, was an extreme example. Schumacher qualified 13th, but then stormed through the field in the race, with a fastest lap 1.2s quicker than the next best. He would have won but for a superb defensive drive from Alonso.
Before the tense duel at the end, Raikkonen's McLaren had looked set to disappear into the distance from pole until it stopped with driveshaft failure on lap nine. That put Alonso's Renault into the lead.
Just before the first stops, Schumacher was still only 10th, 36s behind Alonso. But once in clean air, he unleashed the Ferrari's pace - to such a degree that he leaped to third once the first pitstops had been completed.
Schumacher caught Button's BAR at more than a second per lap and snatched second place in traffic. After the second round of stops, the Ferrari was a little more than a second behind Alonso - and so, for the final 11 laps of the 62, Alonso had the seven-time world champion all over him.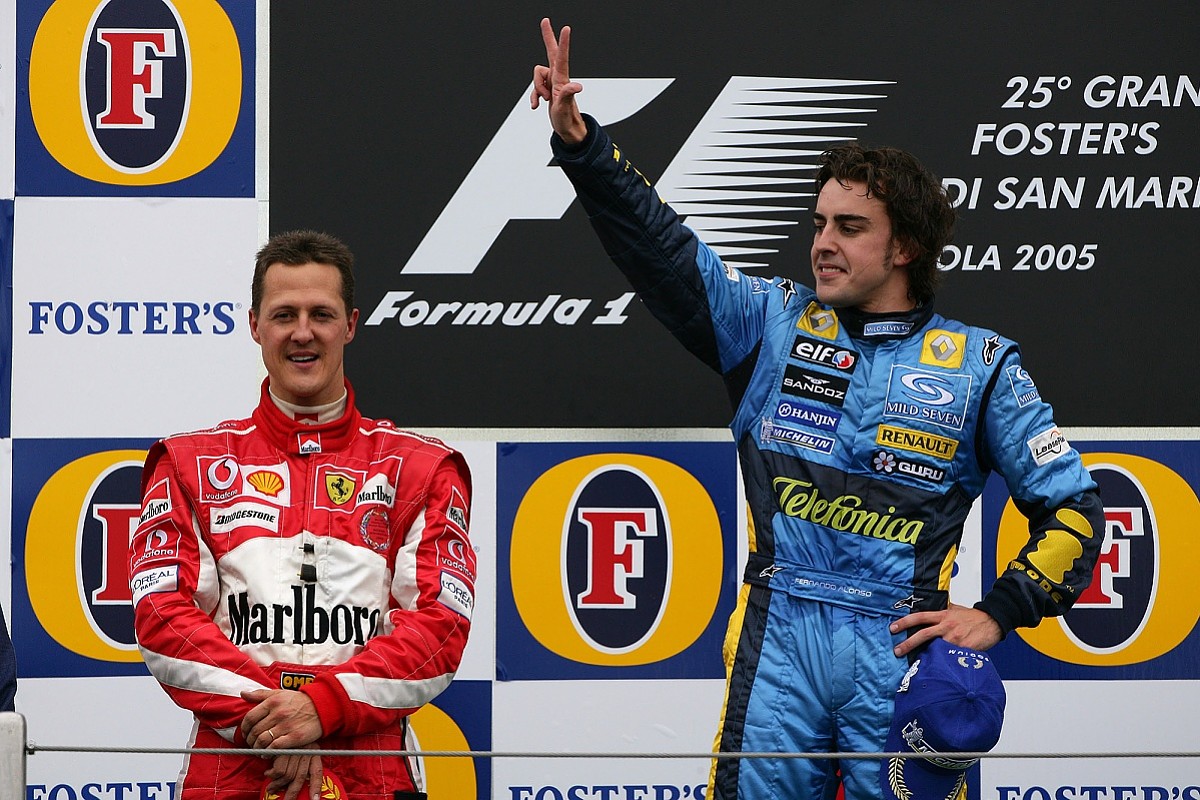 Alonso was running with the same engine he'd used to win in the heat of Bahrain and had to use reduced revs, and his Michelin degradation was higher than that of Schumacher's Bridgestones. But somehow Alonso crossed the line 0.2s ahead. It was a statement of intent.
"The Ferrari was at least a second per lap faster, but critically the Renault had superior slow-corner traction," reported Hughes. "Alonso was playing his cards perfectly."
Schumacher didn't disagree. "The only problem was that he never really gave me an opportunity to overtake," he said. "He didn't make a single mistake."
1. 2012 European GP
Ferrari F2012
Started: 11th
Result: 1st
There were so many strong candidates for this list that you could make a case for not having this at number one. He certainly needed a slice of luck, but his 2012 drive at Valencia was Alonso at his street-fighting, swashbuckling best, and it's a race he has referred to over the years as one of which he is especially proud.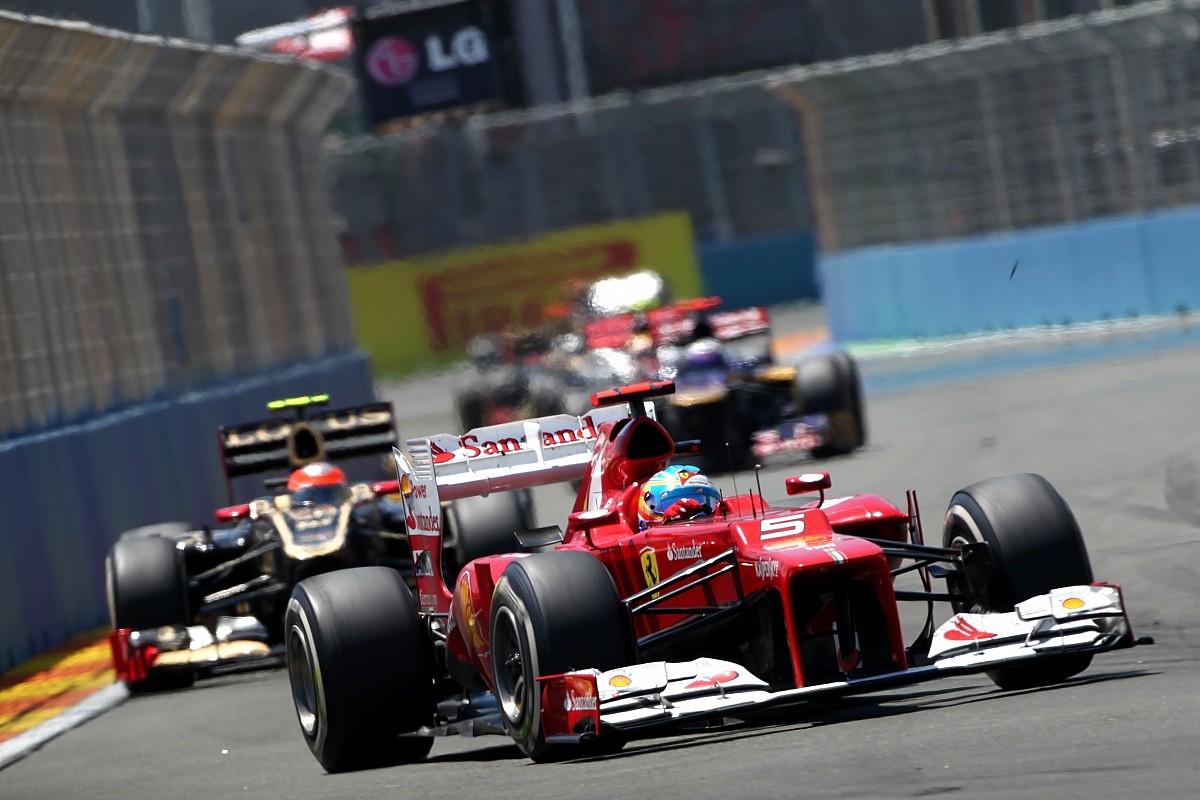 While Vettel took a dominant pole in his revised Red Bull - by 0.324s - the Ferraris narrowly failed to make it into Q3 and Alonso lined up 11th.
Vettel controlled the early stages. Alonso jumped three places on the opening lap, and Button's McLaren was one of the victims. "Alonso had been prepared to risk a lot in those early moments," reckoned Hughes.
On lap 12 of 57, Alonso made it by Nico Hulkenberg's Force India for seventh and he got a big bonus at the first pitstops. Kamui Kobayashi (Sauber), Raikkonen (Lotus) and Pastor Maldonado (Williams) had slow stops and Alonso jumped all three.
His next - and crucial - task was to pass several cars attempting a one-stop strategy (and therefore not obligingly pitting out of his way). He achieved that, rising to fourth.
When a Kovalainen/Jean-Eric Vergne clash brought out the safety car and triggered more stops, Alonso gained another place thanks to problems during Hamilton's tyre change.
At the restart, Alonso "timed his move to perfection" to go around the outside of Romain Grosjean's Lotus to snatch second, "his raw desire and audacity very much on display", said Hughes.
Second to the apparently unbeatable Vettel would have been a great result from 11th, but Alonso got a big bonus later on the same lap when alternator failure forced the Red Bull out.
So Alonso had the lead after 34 laps, but Grosjean wasn't done. The Lotus attacked, but Alonso held firm before he got a reprieve when another Renault-related alternator problem ended Grosjean's challenge.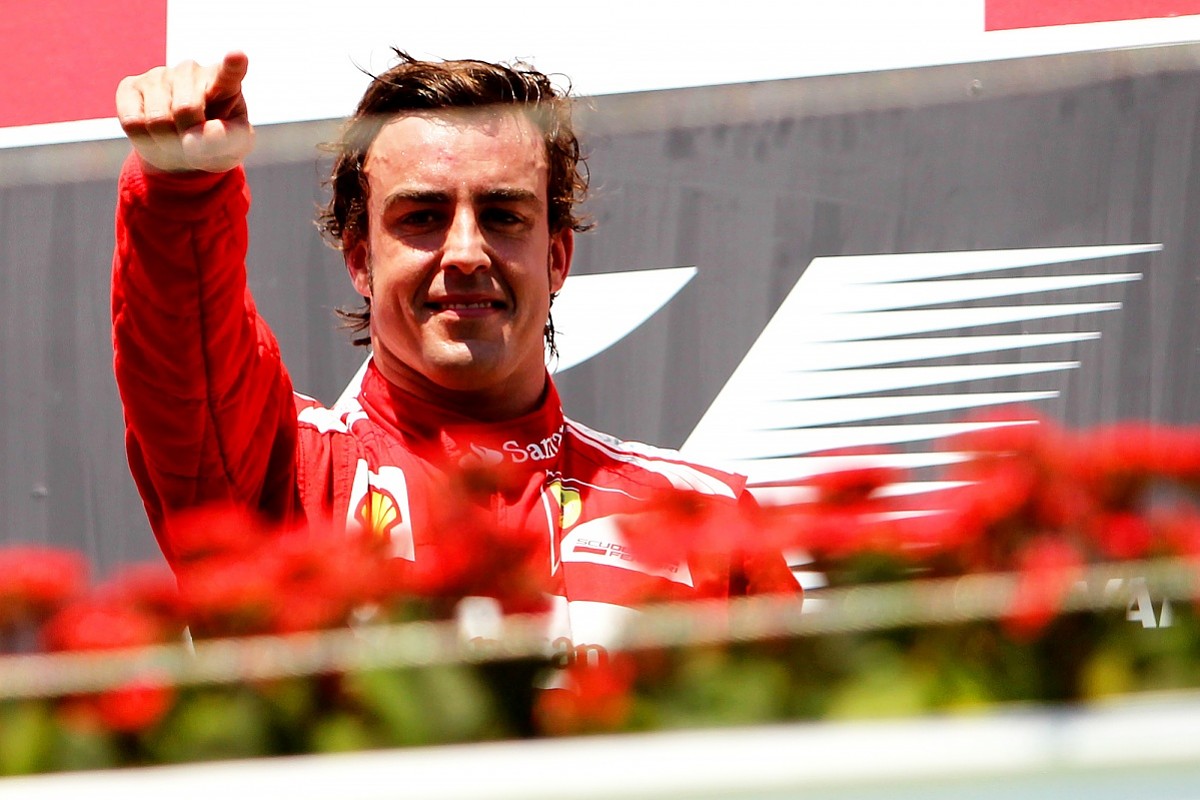 With eight laps to go, Alonso was concerned about his rear tyres having fallen off the cliff, but his closest rivals were in the same situation and he stayed out, crossing the line 6.4s clear of Raikkonen.
His emotional celebration with his home crowd showed how much the win meant to him.
An early warning shot
Alonso impressed during his first year in F1, driving for the minnow Minardi team. The squad almost didn't make it on to the grid in 2001 and had to use the ageing Cosworth engine, reckoned to be 160bhp down and 30kg heavier than the best in the field.
At Suzuka for the Japanese GP season finale, Alonso was pleased to qualify the PS01B 18th out of 22, but things were even better in the race.
Hughes described Alonso's run to 11th as "one of the drives of the afternoon", while team boss Paul Stoddart said it was "a great drive".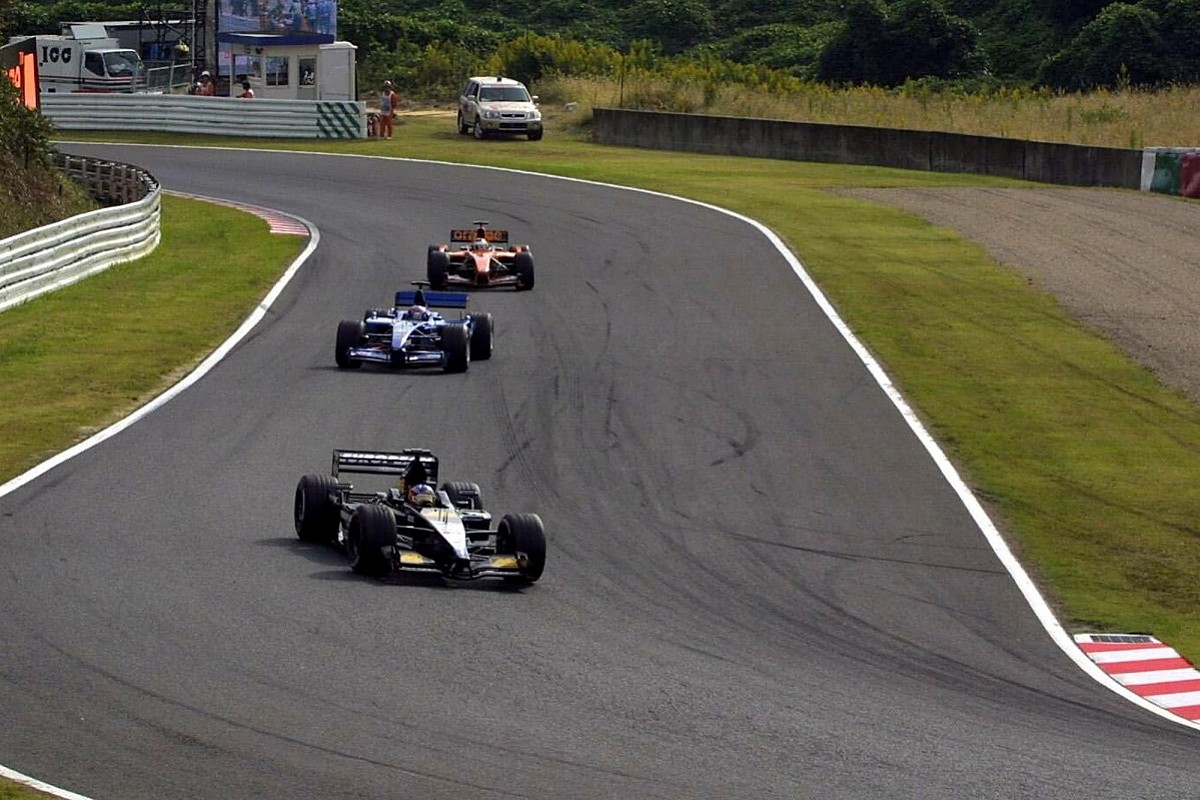 "Among those classified behind him were Heinz-Harald Frentzen's Prost, a BAR-Honda and both Arrows," continued Hughes. "If this went unnoticed, it shouldn't have done."
Alonso finished two laps ahead of team-mate Alex Yoong, and his best lap was 3.8s faster than Yoong's.
He declared it "my best race of this first season in Formula 1" and "a fine outcome". His relentless never-say-die style was already becoming apparent.