Graham Hill is one of motorsport's legends, having won the Formula 1 world championship, the Indianapolis 500 and the Le Mans 24 Hours.
Fifty years ago this week, Hill secured his second F1 world title at the Mexican Grand Prix, so now seems a good time for Autosport to pick out his finest drives.
In putting together this list, we considered Hill's own views, the accounts of journalists, the machinery and opposition involved, and the circumstances surrounding the races.
10 1964 Reims 12 Hours
Ferrari 250 LM
Started: 4th
Result: 1st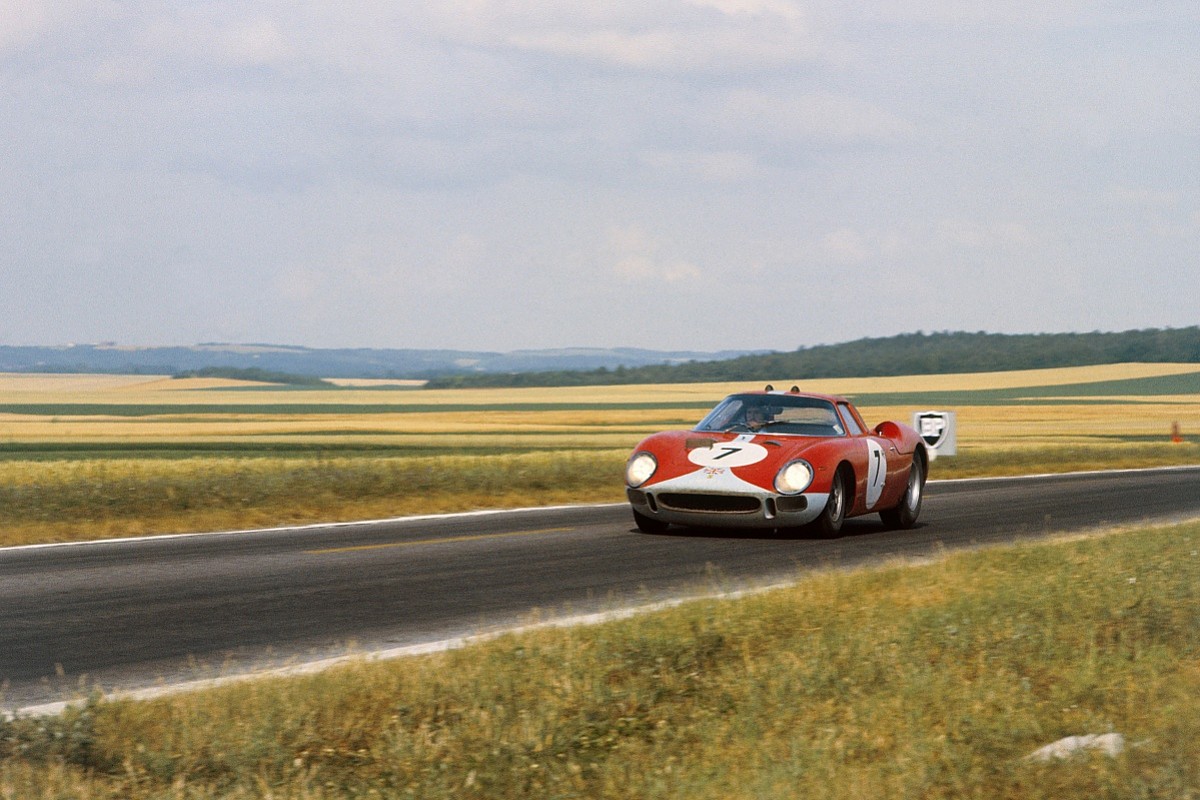 John Surtees beat the two fastest Ford GTs to pole with Luigi Chinetti's North American Racing Team Ferrari 250 LM, but fourth-place starter Hill was also in the mix with his similar 3.3-litre Ferrari run by Colonel Ronnie Hoare's Maranello Concessionaires equipe.
Hill led the Fords of Richie Ginther and Bruce McLaren, plus Surtees, in an early scrap. McLaren was soon delayed in traffic, leaving a fierce fight between the leading trio.
"Ginther's Ford was slightly quicker down the straight, but on acceleration from Thillois and Muizon the five-speed gearbox of the Ferrari gave them the advantage," reckoned Autosport's Bill Gavin, who also pointed out that only 1.3 seconds covered the three after the first hour.
In his 1969 book Life at the Limit, Hill wrote: "We had an almighty thrash in the dark with speeds of up to 180mph - on this very narrow road. With all this slipstreaming going on, you had to be careful that the draught from the other cars didn't unsettle your car.
"We were having a tremendous race. It was really an exciting fight and motor racing par excellence. It was also pretty hair-raising."
Ginther was forced out with a broken crown wheel and pinion, but for much of the next 10 hours, Hill and Jo Bonnier battled Surtees/Lorenzo Bandini.
After the final stops, Surtees resumed 75s behind Bonnier and started closing in. But with 50 minutes to go, the NART Ferrari suffered a front-left tyre failure, allowing Hill/Bonnier to take an unrepresentative one-lap winning margin.
"It was a most exciting race and one of those unforgettable experiences," said Hill, who had recorded the first of his three consecutive 1964 world sportscar victories.
9 1966 Indianapolis 500
Lola T90
Started: 15th
Result: 1st
One of Hill's most famous drives came when he won the Indianapolis 500 as a rookie.
Other commitments meant Hill wasn't there for the start of the Month of May and much of practice was about learning the idiosyncrasies of the Brickyard and sorting the car. Hill therefore lined up on row five.
His first job in the race was to escape a multi-car accident. "All hell was let loose within the closely packed bunch of 33 cars accelerating like mad," said Hill in Life at the Limit. "I was having to take avoiding action, weaving in and out among the flying wheels, castings, radius rods and other debris.
"I managed to get through this whirling mass of destruction before the gate finally closed - I and another chap who followed on my tail were the last cars to get clear."
Unsurprisingly, the race was stopped, with Hill 13th for the restart thanks to 11 cars being beyond repair.
Hill felt the Lola's rollbar was too stiff, but as others hit trouble he moved up the order. Mario Andretti led before his engine dropped a valve, 1965 winner Jim Clark spun twice while in front, then long-time leader Lloyd Ruby was black-flagged for dropping oil.
Shortly after that Hill took Clark for second, but still victory seemed to be going elsewhere: Mecom Lola team-mate and fellow rookie Jackie Stewart looked uncatchable up front.
Then Stewart's oil pressure vanished and Hill came through to win. He had led just 10 of the 200 laps and only four cars completed the 500 miles.
"I was very fortunate to win," reckoned Hill, while Autosport reporter Skip Lange concluded that "neither skill nor planning nor fortitude played a determining role" in the result of a crazy event. But Hill had avoided mistakes and now had two-thirds of motorsport's unofficial triple crown.
8 1972 Le Mans 24 Hours
Matra MS670
Started: 2nd
Result: 1st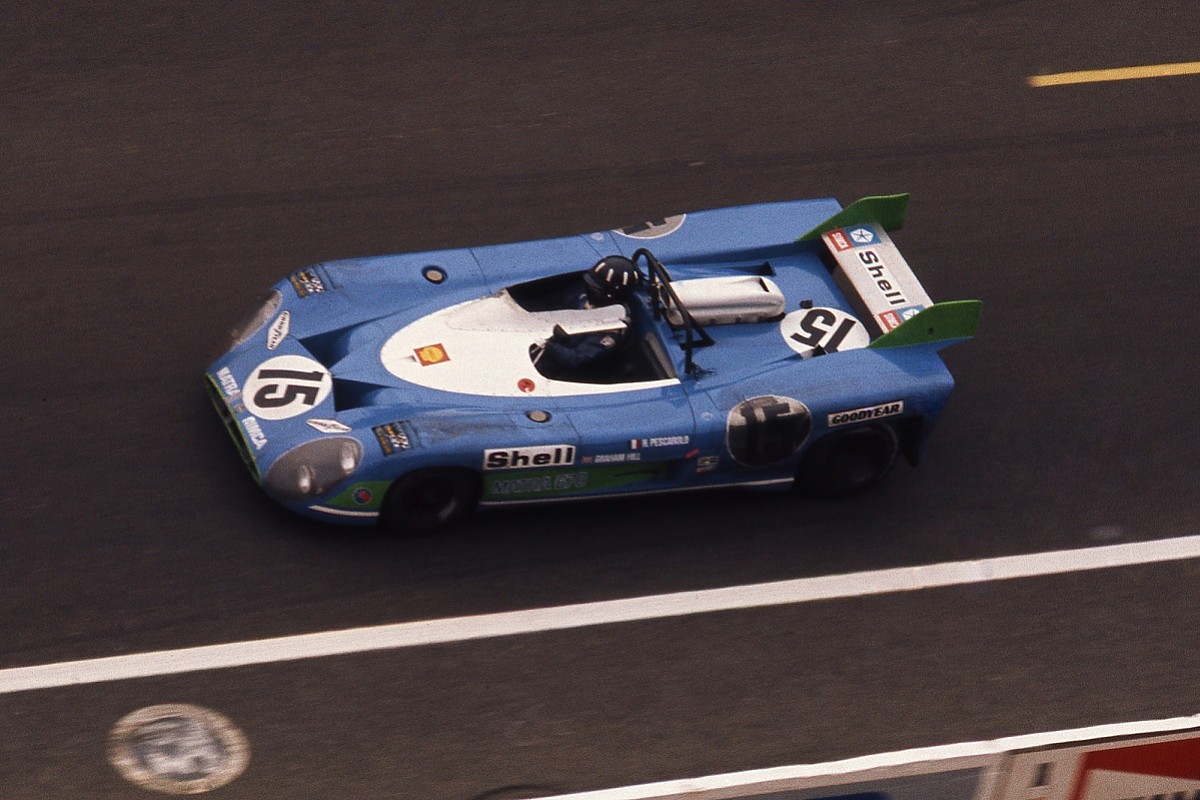 The race that completed Hill's triple crown, which for the man himself was winning the F1 world championship, the Indy 500 and Le Mans.
Hill hadn't contested the 24 Hours since 1966 and his co-driver Henri Pescarolo was not initially enthused at being partnered with an 'old man'. But Hill was impressed with both the team and the V12-engined Matra. He realised he had a real chance to win and rose to the occasion.
Bonnier's Lola managed to grab the lead early on and Rolf Stommelen's Alfa Romeo challenged too, but in reality the race was an all-Matra affair. And specifically a battle between Hill/Pescarolo and Francois Cevert/Howden Ganley, after the early retirement of the Chris Amon/Jean-Pierre Beltoise example with engine failure.
The advantage swung back and forth between the two blue cars, and Hill's charge when the rain arrived was particularly noteworthy.
"We had a lap time we had to respect and were not allowed to fight between us, but the only time it was not possible to control the drivers was when it was raining," recalled Pescarolo in a 2012 interview for Autosport. "The conditions during the night were very difficult and it was the time he chose to really attack."
Shortly before midday on Sunday, Ganley pitted with water in the electrics, then he clashed with a backmarker.
Hill/Pescarolo were left to take victory by 10 laps. The death of Hill's friend and former team-mate Bonnier after contact with a backmarker took the shine off the event, but Hill had earned his unique place in history.
7 1968 Spanish GP, Jarama
Lotus 49
Started: 6th
Result: 1st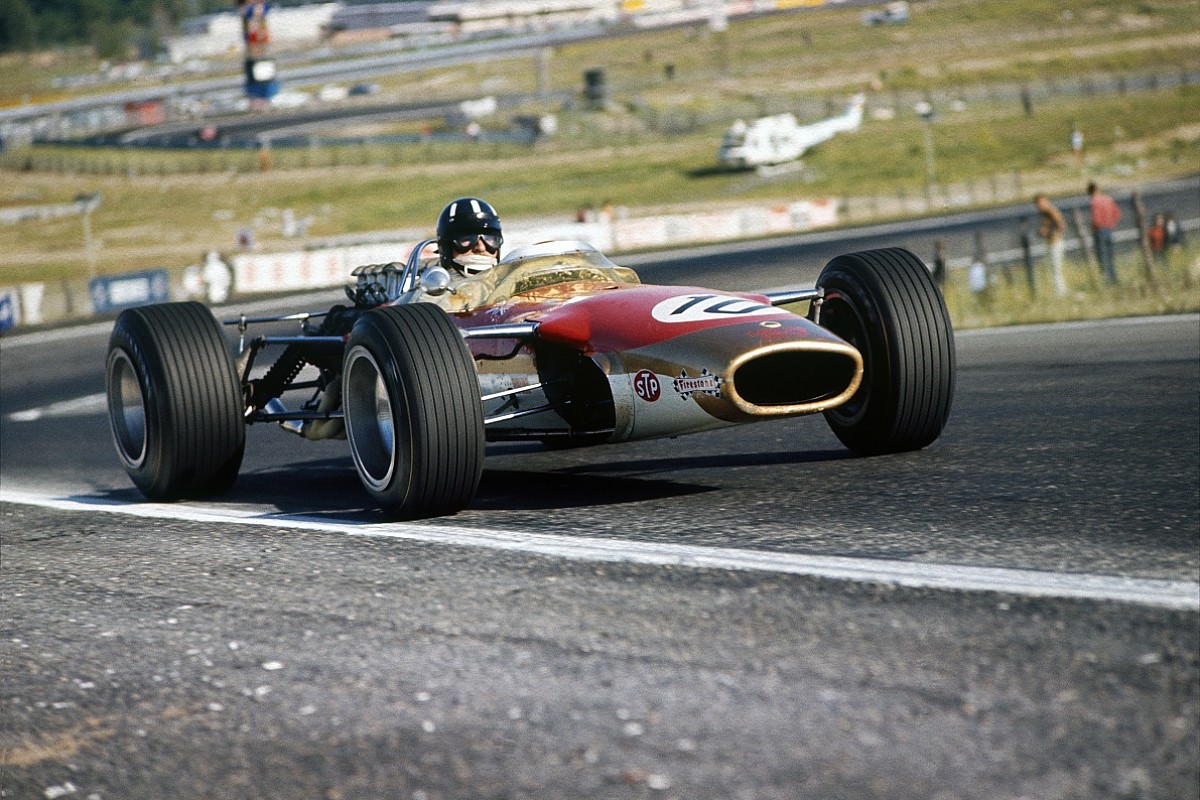 This makes the list not because it was a great race, but because of Hill's incredible personal resolve in the wake of team-mate Clark's death at Hockenheim the month before. With team boss Colin Chapman absent, it was Hill who picked up the beleaguered Lotus squad in difficult circumstances.
In Graham, written with Neil Ewart, Hill said: "The Lotus team was in despair and Colin Chapman seriously considered giving up racing. The next GP was the Spanish. It made me more determined than ever to go out and win that one."
Three drivers led before Hill got to the front and the 13-car race should have been won by Chris Amon's Ferrari. The New Zealander was more than 20s ahead of Hill when fuel-pump issues struck.
Hill took the lead with 33 laps to go and went on to score one of his most important wins.
"I think that victory made Colin and Lotus think it was worth carrying on," added Hill. "Colin said he would continue until the end of the year and see how he felt about things then. I'm glad he did, otherwise I wouldn't have won the championship.
"I was terribly upset over Jimmy's death but, as a racing driver, I couldn't allow my emotions to come through. If I did I would have been lost and unable to cope."
6 1968 Mexican GP, Mexico City
Lotus 49B
Started: 3rd
Result: 1st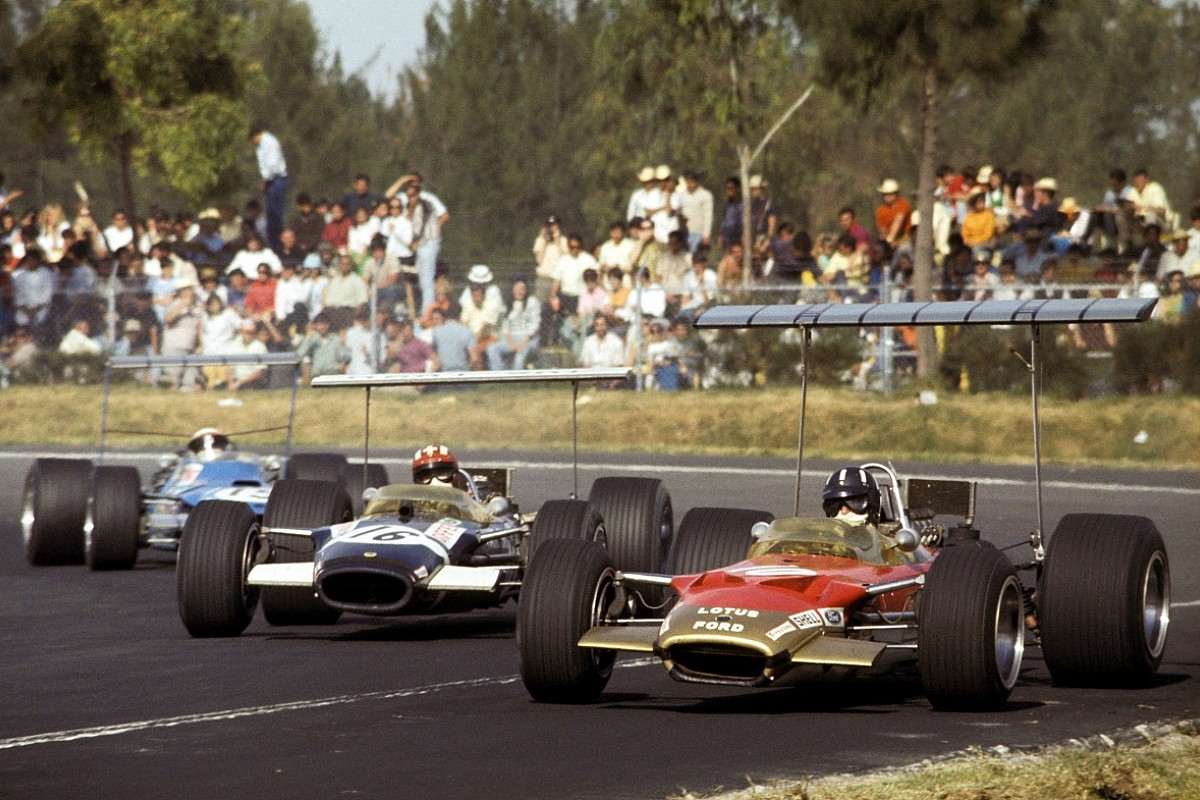 Hill wasn't the fastest driver of 1968, but given the emotional turmoil at Lotus, his dogged determination had kept him in contention. That included hauling his compromised 49B to the finish more than once, most notably to fourth in Canada despite the discovery of a buckled driveshaft before the start and the top engine mountings starting to pull out of the monocoque during the race.
He arrived at the Mexico City finale with three points in hand over Stewart and six over Denny Hulme.
Hill shot through from row two to lead at the start. Stewart, up from seventh, passed him on lap five, while poleman Jo Siffert's Rob Walker-run Lotus closed on both. By the time he joined them, Hill was back ahead despite the Matra's apparent straightline speed advantage and things looked good when Siffert dived by Stewart.
The blue Lotus then took the lead, which was fine for Hill as long as he stayed ahead of Stewart. Then Siffert's throttle linkage came adrift, handing the lead back to Hill, with Stewart right behind.
Hill absorbed the pressure of Stewart's "war of nerves", as Autosport put it, until the Matra started struggling - not enough fuel was reaching the engine at high revs. Hill was left to cruise, but he almost hit drama in the closing moments, with the lapped and battling Pedro Rodriguez and Hill's team-mate Jackie Oliver just behind him.
"Out of the corner of my eye I could see Rodriguez arriving with tyres smoking," wrote Hill in Life at the Limit. "I did a big swerve and he just missed me, leaving me scrabbling round the outside of the corner. It had been a near thing."
But Hill survived to secure his second world title with his 13th world championship race victory.
5 1962 BRDC International Trophy, Silverstone
BRM P57
Started: 1st
Result: 1st
Although yet to win a world championship grand prix, Clark and his Lotus 24 started as favourites for this non-points paying race at Silverstone. Hill pipped Clark to pole, but in slippery conditions the Lotus took the early initiative.
After a slow start, Hill moved into second on lap three, but he could do nothing about Clark's early charge. The BRM started to lose its vertical exhaust pipes and briefly ceded second to the Lola of Surtees, but Hill was soon back ahead.
Clark was around 25s ahead until Hill ­- "hurtling the BRM around" according to Autosport - started to catch him in the closing stages. With two laps to go the gap was still 6s, but Hill gained 4s on the penultimate tour and poor Lotus communication left the leader vulnerable.
"The last lap will be talked about for years to come," said Autosport's Gregor Grant. "Clark arrived at Club among one or two slower cars and swept up Abbey Curve to what he thought was victory. Meanwhile, Hill had threaded his way past the same cars and howled up Abbey closing all the way on Clark.
"Hill's BRM hurtled over the line in what looked like a photo-finish, arriving almost sideways in that last, desperate effort. No one could have been more astonished than Clark."
In Life at the Limit, Hill wrote: "On the last lap going through Abbey I could see that I was really gaining and the finishing line was only just at the exit of the next corner, the very fast Woodcote.
"I was going to go through on the inside, but as soon as he realised what I was up to, he shut the gate. So I whipped the BRM round to the other side and went straight round the outside of him. Unfortunately, the track was only dry on the proper line and I had to go right into the wet. I crossed the finish line in a big broadside and pipped him by about a car's length or less.
"It was a fantastic finish, one of the most thrilling I've ever had. To beat Clark and Lotus at the same time made it doubly a pleasure, though I did feel a tiny bit sorry for Jimmy."
The Lotus had led 51 of the race's 52 laps, but Hill snatched victory in the final yards in a finish that Autosport described as "almost unparalleled in Formula 1 racing". And Hill followed it up a week later with his first world championship success in the Dutch GP.
4 1971 Jochen Rindt Memorial Trophy, Thruxton Formula 2
Brabham BT36
Started: 2nd
Result: 1st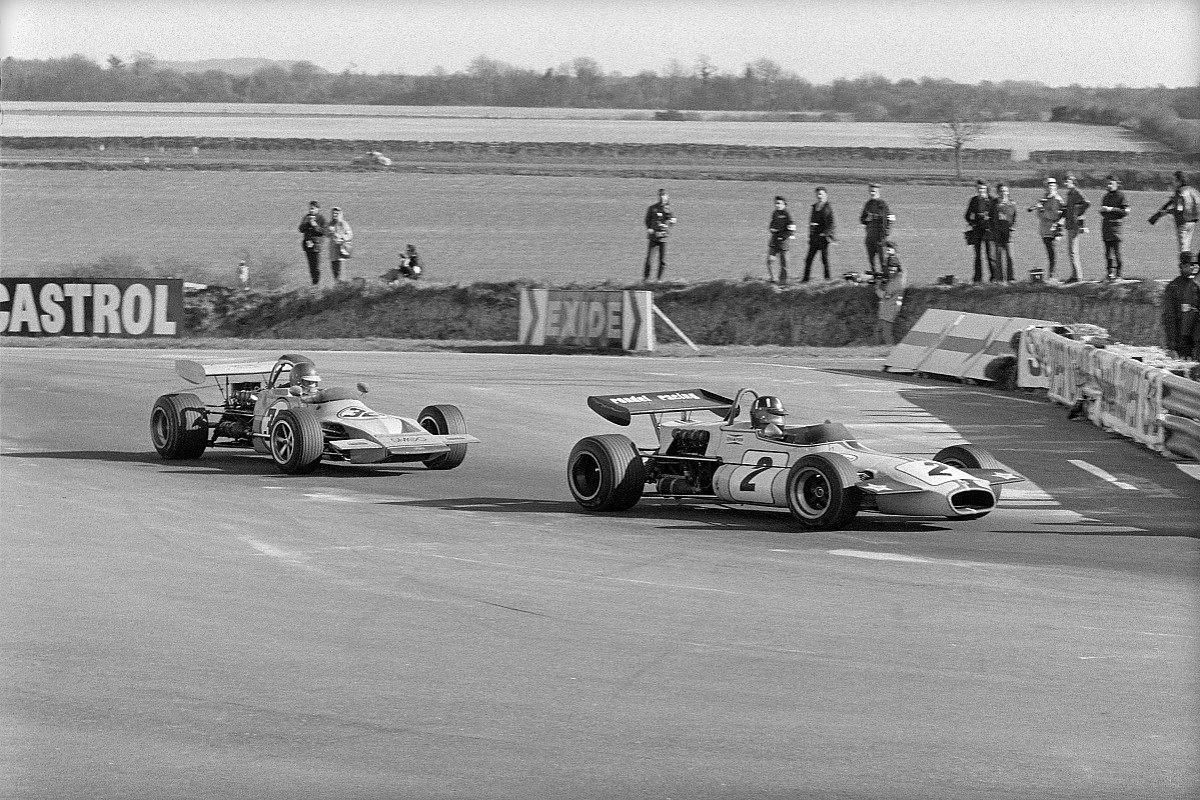 Ronnie Peterson was one of motorsport's most exciting new talents when he arrived at Thruxton for the second round of the 1971 European F2 campaign. But he wouldn't be the only star of the weekend.
Hill, by then 42 years old, took pole for his heat in one of Rondel Racing's Brabhams, while 27-year-old Peterson (works March 712M) was the quickest qualifier for heat two, 0.2s faster than Hill's benchmark.
Reine Wisell's Lotus grabbed the lead of heat one initially, but Hill took the lead on lap five and pulled away. Wisell later retired with an electrical problem and Hill took a comfortable victory, more than 10s clear of Derek Bell.
Peterson was also beaten away at the start of his heat. He overcame Hill's team-mate Tim Schenken at the chicane on lap seven to take the lead, but then his March got stuck in fifth gear and he had to settle for second behind Henri Pescarolo's similar machine.
Hill made a fine start to lead Pescarolo and Peterson in the 50-lap final, though Pescarolo soon found a way by. When the Frenchman's engine blew just two tours later, Hill was left with a small lead over Peterson.
"The backmarkers were giving the leaders quite a lot of trouble when being lapped," said Simon Taylor in Autosport's report. "Tetsu Ikuzawa nearly caused a nasty [crash] when he shut the door on Hill in the chicane and it needed all Graham's skill to hold his sliding car."
With Hill's exhaust pipe also coming adrift, Peterson caught the Brabham. "Hill remained unruffled and never gave Peterson a gap," added Taylor.
Not, at least, until the closing stages. In his book SuperSwede, written with Peterson, Alan Henry wrote that "there was no doubt that Hill was driving brilliantly" but reckoned Peterson was well-placed to beat him.
The March got a good run approaching the chicane and finally sliced by. Peterson's timing seemed perfect, but he was then delayed in a misunderstanding with backmarker Jeremy Richardson on the final lap.
Hill took his chance and held on to win by just 0.6s from the rising star, with both drivers equalling their qualifying times. It was Hill's first win on home soil since 1967 and was arguably the most competitive drive of his post-1969 United States GP crash career.
3 1960 British GP, Silverstone
BRM P48
Started: 2nd
Result: Retired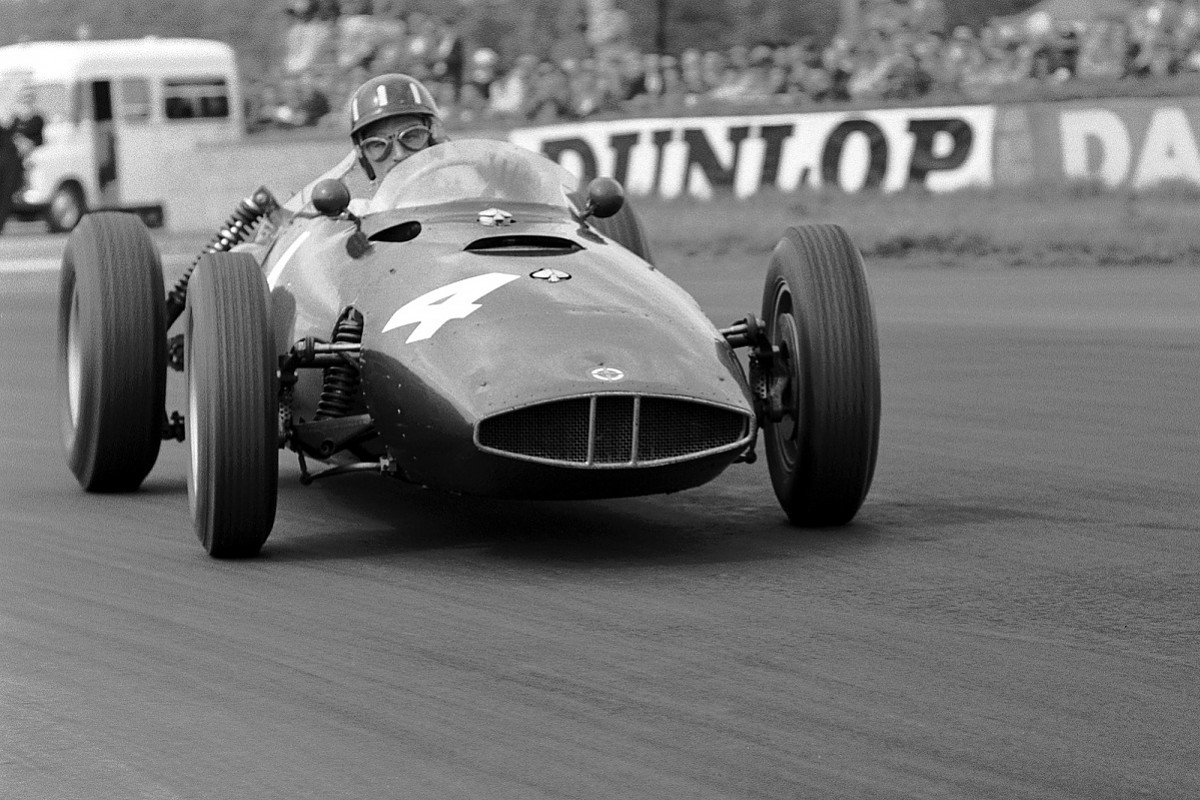 Hill's luck at his home GP was appalling. He came close to winning the British GP on several occasions and scored four podiums, but always fell short. His 1960 effort was probably his best.
Hill stalled his BRM at the start, was hit by Tony Brooks's Cooper and was the 23rd of the 24 starters to get away. While polesitter and reigning world champion Jack Brabham led, Hill began a fightback that took him to 11th after five laps.
"Naturally I was a bit narked at making such a stupid mistake and drove probably one of my best races ever," reckoned Hill in Life at the Limit.
Autosport agreed. "The BRM man was driving a terrific race, lapping at over a second quicker than Brabham," said Grant in our report. "With every lap he moved nearer and nearer to the leaders. The advance of the BRM was nothing short of phenomenal."
Just before half distance of the 77-lapper, Hill passed Innes Ireland for second place and, despite briefly losing time in traffic, closed on the leading Cooper.
Hill snatched the lead on lap 55 and set the fastest lap - 0.6s faster than anyone else - on the very next tour. "Graham countered Brabham's every move and was giving the most polished exhibition of driving in his entire career," wrote Grant.
The BRM led for 17 laps and, though Brabham kept him in sight, looked set to win.
"Jack was beginning to hot things up when I noticed that the brake pedal pressure was beginning to disappear," wrote Hill. "The rear brake was a single disc working off the gearbox. As it was out of the airstream, it tended to get too hot; the seal melted and fluid could escape.
"I realised that when there was no more fluid left, I would have no rear brakes left, lock up the front and go straight on somewhere!"
With six laps to go, Hill came upon two backmarkers approaching Copse and, with Brabham still close, had to make a quick decision. "Either I could go by the two cars and get into the corner before they did or sit behind them and lose time - perhaps sufficient for Jack to pass," recalled Hill. "I decided to overtake them under braking, but I arrived just a bit too quickly and the brakes weren't up to it."
Then BRM spun and couldn't restart. Brabham swept through to win while Hill recorded one of his six retirements of the 1960 campaign.
Although it was a driving error that put Hill out, Autosport was in no doubt about his performance: "It was one of those determined efforts which make motor racing the most attractive of all sports. Hill made the race and if that is the sort of racing that modern GP cars produce then promoters will have little difficulty in attracting the crowds."
Even Jim Clark, one of Hill's victims during the race, mentioned the drive in his 1964 book Jim Clark - At the wheel, describing it as "one of the best races of his life".
2 1962 German GP, Nurburgring
BRM P57
Started: 2nd
Result: 1st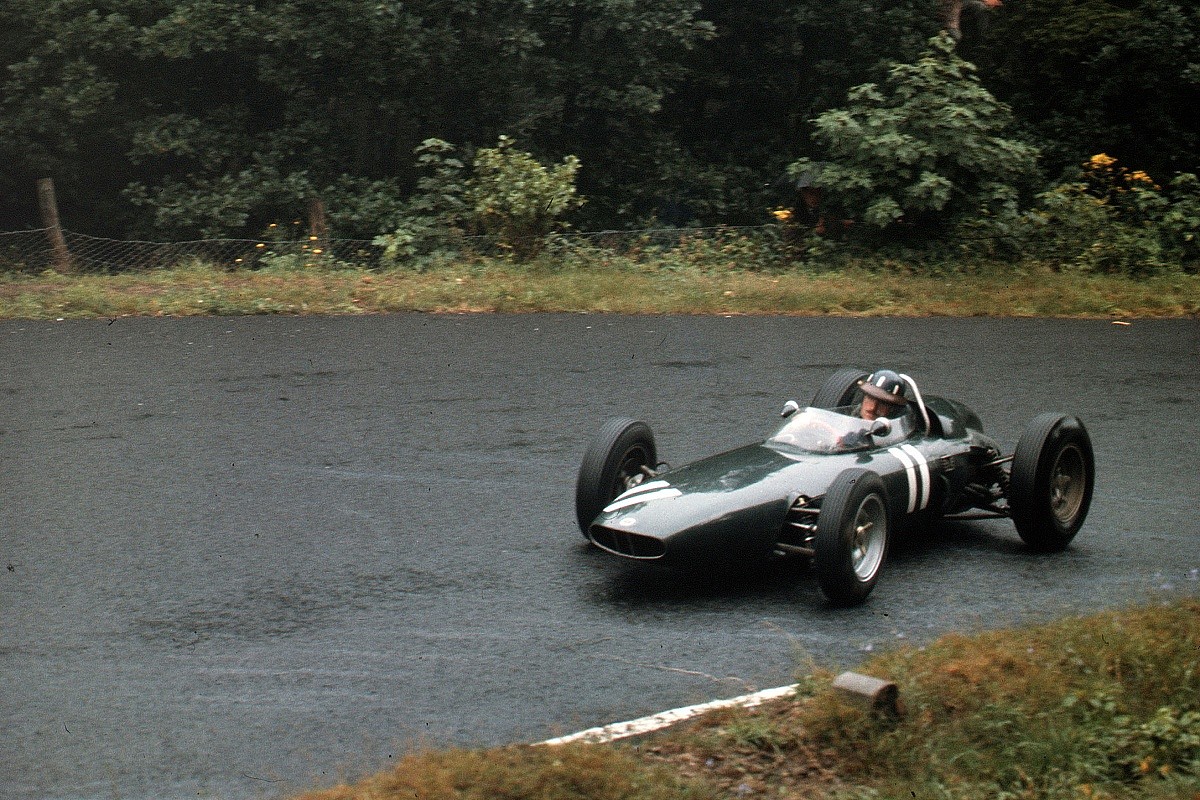 One of the great forgotten races, the 1962 German GP on the mighty Nurburgring featured a fight for victory between three greats. And Hill won.
His weekend didn't start smoothly, though. There was drama in practice when his new BRM was wrecked in an accident caused by an onboard TV camera falling off Carel Godin de Beaufort's Porsche.
"I appeared round a hedge doing something like 120-130mph when I saw a rather large black object in the middle of the road," described Hill in Life at the Limit.
"I was unable to avoid it because of the speed. It pierced the oil tank, oil got onto my back wheels and I spun round and went into a ditch - tearing off wheels and suspension bits. I strained my neck and my chest, arm and shoulder muscles and I was a bit bruised."
Hill had to switch to an older P57 for the rest of the weekend. Polesitter Dan Gurney's Porsche led initially, but on lap three of the 15 Hill - who had removed both front and rear anti-roll bars - took the lead. Surtees (Lola) snatched second two tours later, but all three remained in contention.
Despite constant pressure, Hill crossed the line just 2.5s ahead of Surtees and 4.4s in front of Gurney after almost 2h40m.
It was a success Hill always rated: "It was a classic race as far as I was concerned - the pressure was tremendous, the conditions foul; I'd had a particularly nasty experience in practice that was enough to put anybody off for a whole year and I was delighted to think that it hadn't done so and that I was able to come out on top in another car.
"It was probably one of the most tiring races I ever competed in."
1 1965 Monaco GP
BRM P261
Started: 1st
Result: 1st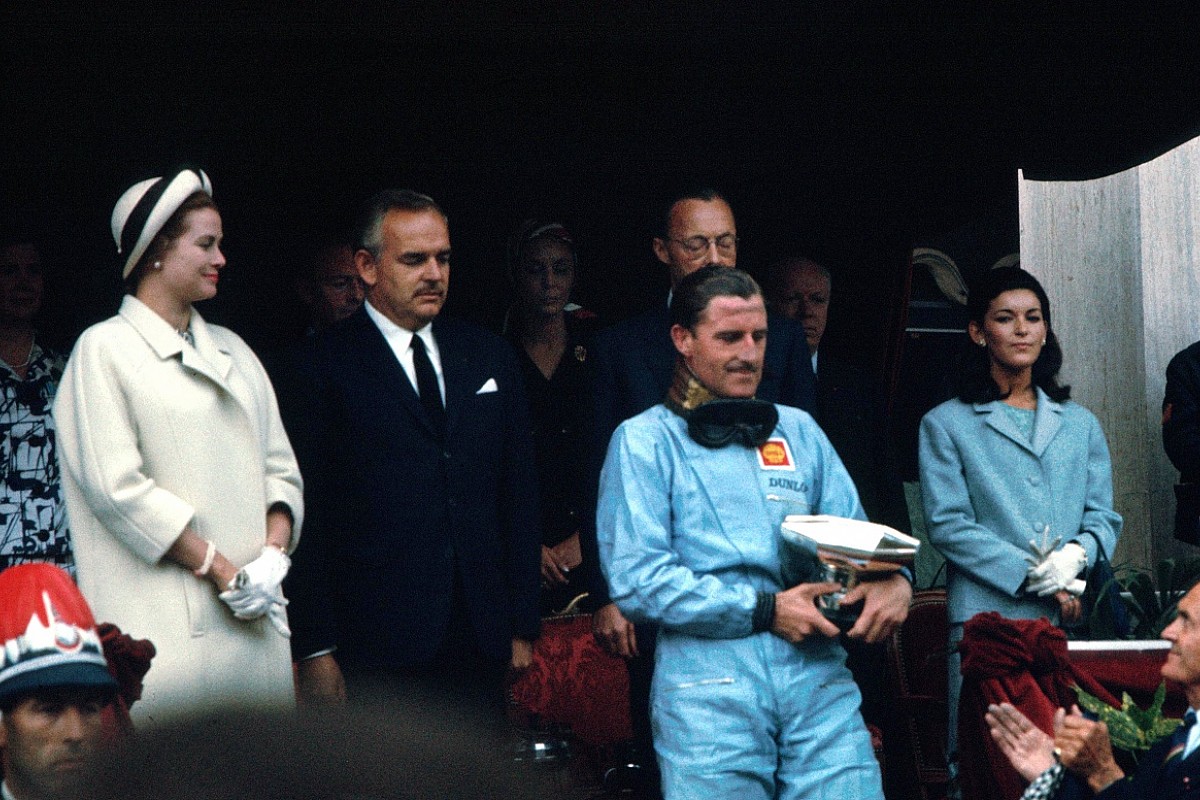 Autosport claimed this was "probably the greatest of post-war motor races". Despite the excellence of his German GP drive, it also seems right that a Monaco GP should top five-time winner Hill's list.
In the absence of Lotus and Clark - busy winning the Indy 500 - Hill was a reluctant favourite and beat Brabham and F1 rookie Stewart to pole. The BRMs pulled clear and Hill had a small cushion when things went wrong on lap 25 of 100.
"I saw Bob Anderson in his Brabham literally creeping down towards the chicane," described Hill in Life at the Limit. "I had seen no flag and no signals or anything. All I could see as I blasted over the hill - in that fleeting second that you get to make a decision - was that he was going to be occupying the chicane at about the same time I wanted to flash through it doing about 95mph.
"There was only one thing I could do: I just stood on the brakes as hard as I could, locking them up."
Hill went down the escape road before finally came to a stop, jumped out and pushed the car back onto the track. He set off, but by then Stewart had taken the lead and Hill had fallen to fifth.
Then Stewart spun and waved Hill through. The more experienced BRM man set off after the Ferraris of Surtees and Bandini, with all three moving up a spot when leader Brabham retired with engine failure.
"The Londoner's progress was meteoric," enthused Grant in Autosport. "Using all his immense skill, he was steadily cutting down the gap."
Just after half-distance, Hill overtook Surtees and closed on Bandini. But the leading Ferrari proved tricky to pass.
"In the end I got Bandini at the same place as I got Surtees - on the short straight going down the hill towards Mirabeau after leaving Casino Square," explained Hill. "I managed to come round Casino Square just that little bit better, holding a tighter line, and I got down the inside of both of them under braking."
Bandini fought hard, with all three leaders going under the lap record, before Surtees took second and piled on more pressure. But Hill held on and even edged away. He ended up taking victory by more than a minute when Surtees ran out of fuel on the final lap.
"It was a tremendous race and I think that this with the 1962 German GP were probably my best races ever," said Hill. "I don't think I have ever felt quite like it before - a tremendous feeling of peace, serenity and fulfilment."
He also said that he wished "Jim had been there to see it", perhaps hinting at the only doubt that can be cast over this as his greatest drive.
That didn't diminish the race in the eyes of Autosport founding editor Grant. The week after his report, he wrote a piece underlining what he thought of Hill's drive: "The incredible fightback will go down in history as one of the finest individual defeats of all time, as stirring as Fangio's Nurburgring chase of Peter Collins and Mike Hawthorn [in 1957].
"Some wonder what would have been the outcome had Clark and Gurney been there. I would venture to suggest that the result would have been the same, for on that day no one would have beaten Hill."