Formula 1 offers a lot to road car manufacturers in terms of its global reach, the number of eyeballs that tune in to watch races, and the marketing efforts possible around such a high-profile sport. But offset that by the hundreds of millions it costs to compete at the top level - how can it be worth it? How can racing in F1 improve the breed in 2017?
An interesting case study is Renault, and its alliance with Nissan. The Japanese marque's luxury brand, which first appeared in the United States, is Infiniti - whose name you currently see emblazoned on the RS17.
It produces some very nice road cars, from saloons to SUVs via a swoopy-styled coupe, the Q60. When you get past the £40,000 mark at your dealer, the Q60 gets very sporty: turbocharged with four-wheel drive, and it makes a selling point of underfloor aerodynamics along with 400bhp on tap. You can certainly see an F1 fan might want that on his driveway.
Previously, Infiniti was a title sponsor of Red Bull Racing from 2013-15, a deal that was generally reckoned to be in the region of $40million per year. Infiniti's global director for motorsport Tommaso Volpe explains why it has switched its allegiance to Renault's works F1 team, and why it thinks F1 is a good place to be in general.
"As an automotive manufacturer we enjoyed the exposure of Formula 1 as a sponsor with Red Bull, but we wanted to have a technical involvement in the sport," he says. "Infiniti already had good experience in performance hybrid technology. We have always used hybrid as a power booster, not as a consumption-saving technology, so it was in our DNA."
Volpe says the new agreement goes well beyond what it had with Red Bull, and involves a true harmonisation of engineering staff - rather than a 'stickers on a racing car' deal.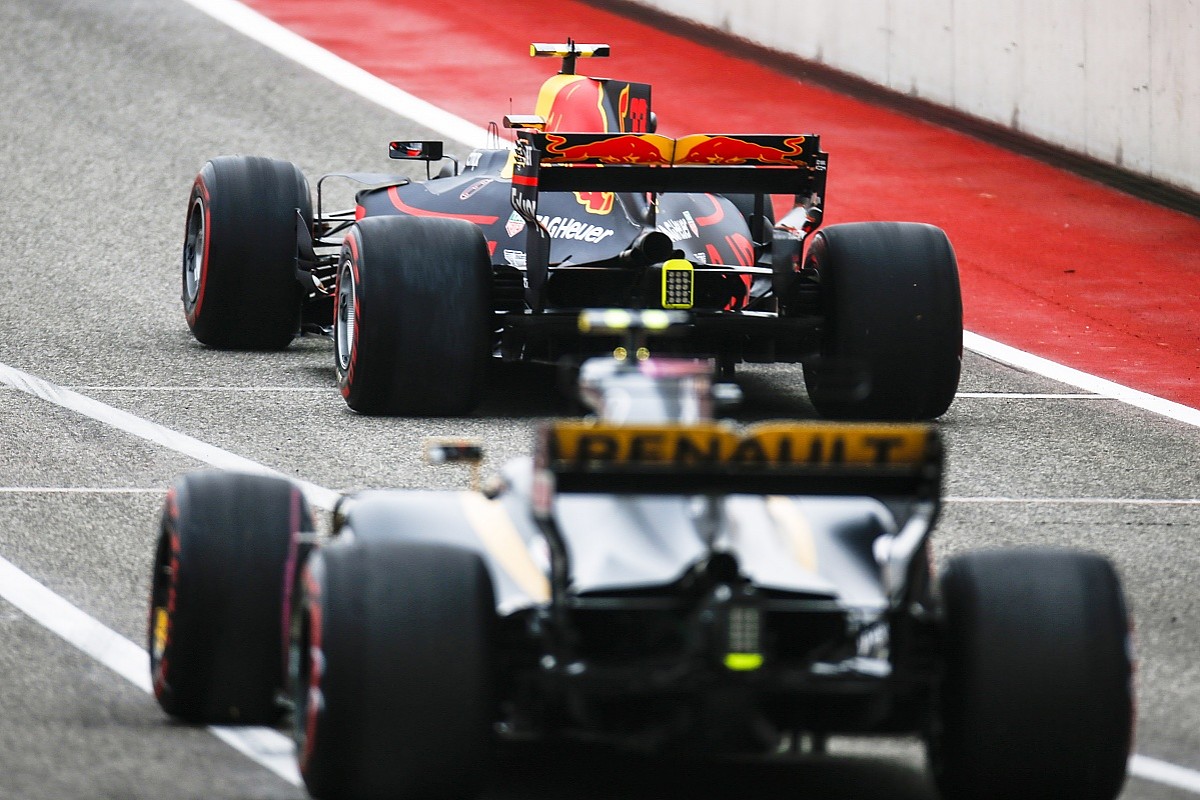 "With Red Bull we did a limited-edition FX car with Sebastian Vettel as test driver, but it's true we had strong limitations because of our role with the team as a sponsor," he says.
"The main limitation was, when you work with a third-party company, you are always very protective in terms of your technology. The good news with our partnership [with Renault] is that we're part of the same corporation, we give them all the data about our Q60 without a problem.
"On the industrial side, it's a €5billion synergy across the road-car business, so there is no problem to share data now. This unleashed the possibility for technical collaboration much more.
"So when Renault started its F1 team, we found an agreement to support Renault in the co-development of its energy-recovery hybrid technology. And we transferred some of our hybrid expert engineers from Japan to France, to develop together the F1 system with Renault. Every year we are increasing the numbers of these engineers moving from Japan, but we won't disclose the numbers. But it's a genuine project.
"As a manufacturer, electrification is a subject we cannot ignore. It is coming, and it's the future of automotive powertrains. Entering F1 gave us an invaluable possibility to gain experience from Renault and to transfer it in the future into our core business."
From Renault Sport's side, its managing director Cyril Abiteboul says it's crucial that F1 retains this road-relevance factor to keep a brand like Infiniti involved and backing his team.
"We constantly monitor and try to optimise which brand of the Renault-Nissan alliance is involved in which category and for what purpose, keeping always the technical synergies at a maximum level," says Abiteboul. "The cost of motorsport is so high that we constantly need to leverage the investment that is made.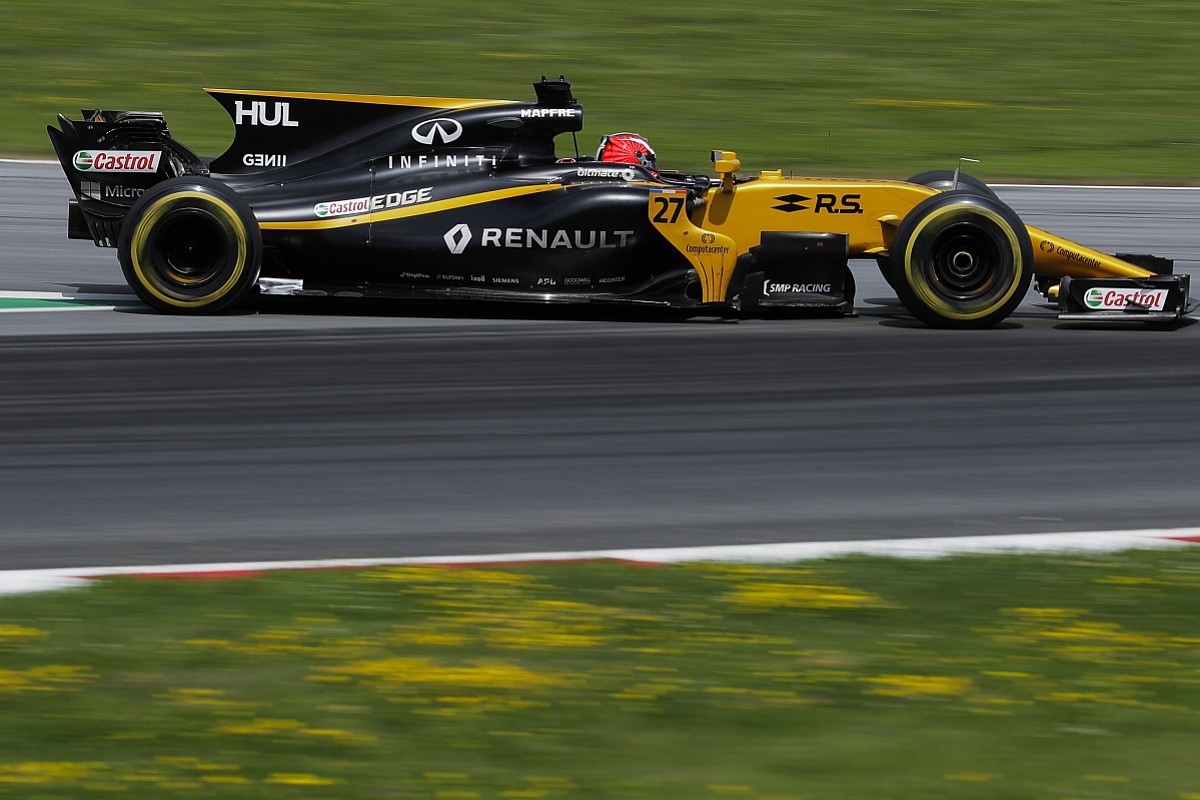 "What's fantastic is that the direction that things are going from a regulation perspective means you can share the technology between Formula 1 and Formula E. All of these categories need some form of sustainability and fuel efficiency messaging. Therefore, we can share."
In terms of the physical set-up, it means extra resource has been added from Infiniti into the Renault F1 operation.
Abiteboul explains: "The way we are structured is that there is one engineering group of people - chassis and engine - that are working on a number of programmes. Infiniti has injected some resources into that, and there is a number of projects: Formula 1, Formula E, diversifications like the road car application of F1 technology. But it is the same group of people, in the same place."
"The object will be to try to reconcile the show and the technology. Liberty will have to make a decision, and someone will be unhappy"
Renault F1 boss Cyril Abiteboul
Infiniti has taken this partnership to the next level with the launch of the Project Black S at this year's Geneva Motor Show, a concept that could lead to a new generation of ERS-equipped high-performance road cars.
Volpe says: "The Project Black S is our step further after the F1 collaboration. We are developing a hybrid technology very similar to F1, implementing it in our Q60 coupe. It will use the current V6 bi-turbo engine with 400bhp, on top of which the hybrid will develop more power and immediate torque. The same engineers who work in F1 in France are producing our Q60 powertrain, the Project Black S.
"It is a very strategic partnership for us: it gives us high-level R&D for our core business, and there's a lot of synergy on the industrial side."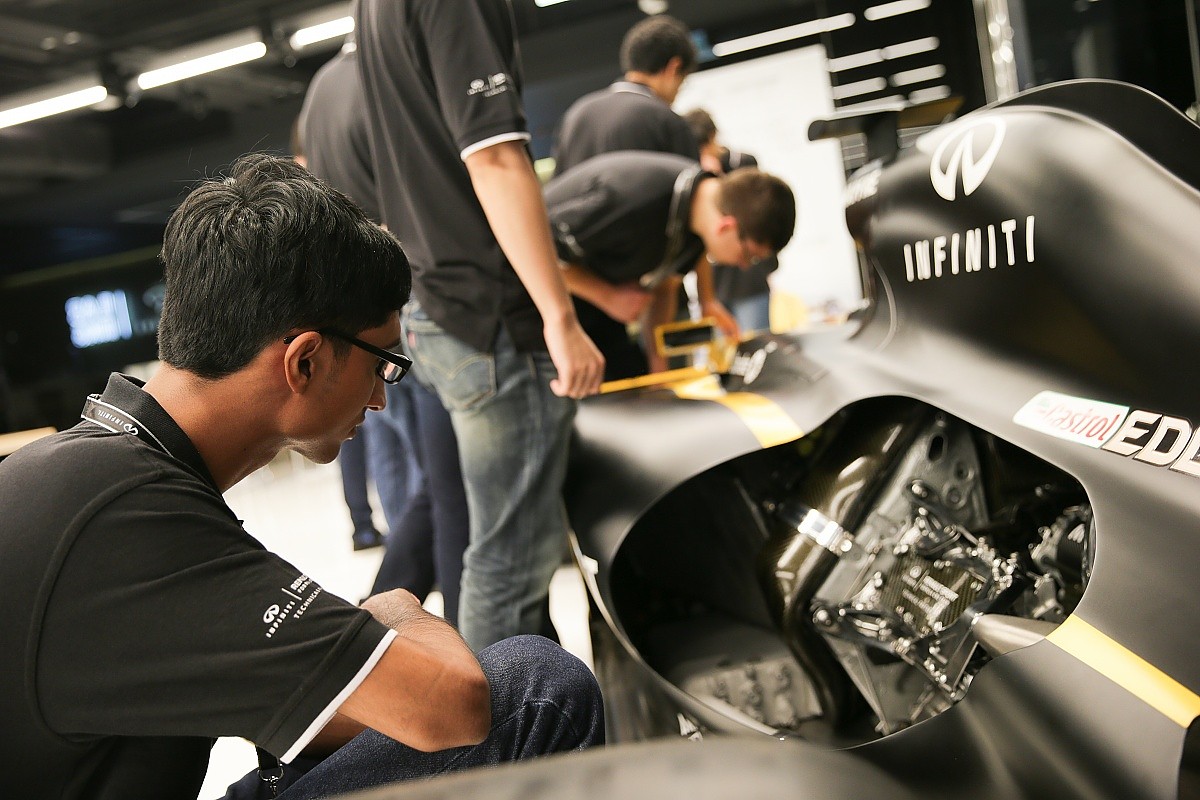 But here's the $400m question: how can you reconcile what fans want - in terms of a noisier engine - with the requirements of the automotive sector and Infiniti's agenda? We posed that to Abiteboul.
"It's difficult, and I'm not going to say that it's not because so far we've not found the magic formula," he admits. "In order to absorb the cost of the technology involved in F1, you need to have leading global brands that are interested in not only the exposure, the show and entertainment, but also in the technological messaging of F1.
"If you look at every single sponsor on our shirts, they are here for the technological and sustainability messaging. So if we suddenly go for a regulation that takes away the fuel or energy efficiency of F1, those people might leave. Infiniti, BP Castrol, Microsoft and so forth - we need to keep them happy.
"But, at the same time, F1 is for the fan. So it's really a complex balancing exercise that is difficult to reach. In my opinion, it's all about cycles.
"With the normally-aspirated V8, we were too old-fashioned, too old-school. F1 had lost contact with the automotive industry. Maybe with this current generation of engine we went a step too far, so we went to another extreme."
So with the 2021 engine regulation debate at a critical phase right now, which way is it going to go?
"The object, I guess, will be to try to reconcile those two elements: the show and the technology," says Abiteboul. "Having said that, it's one thing to talk about it, but to actually find the engine architecture that will achieve both objectives is really difficult. Liberty will have to make a decision, and someone will be unhappy."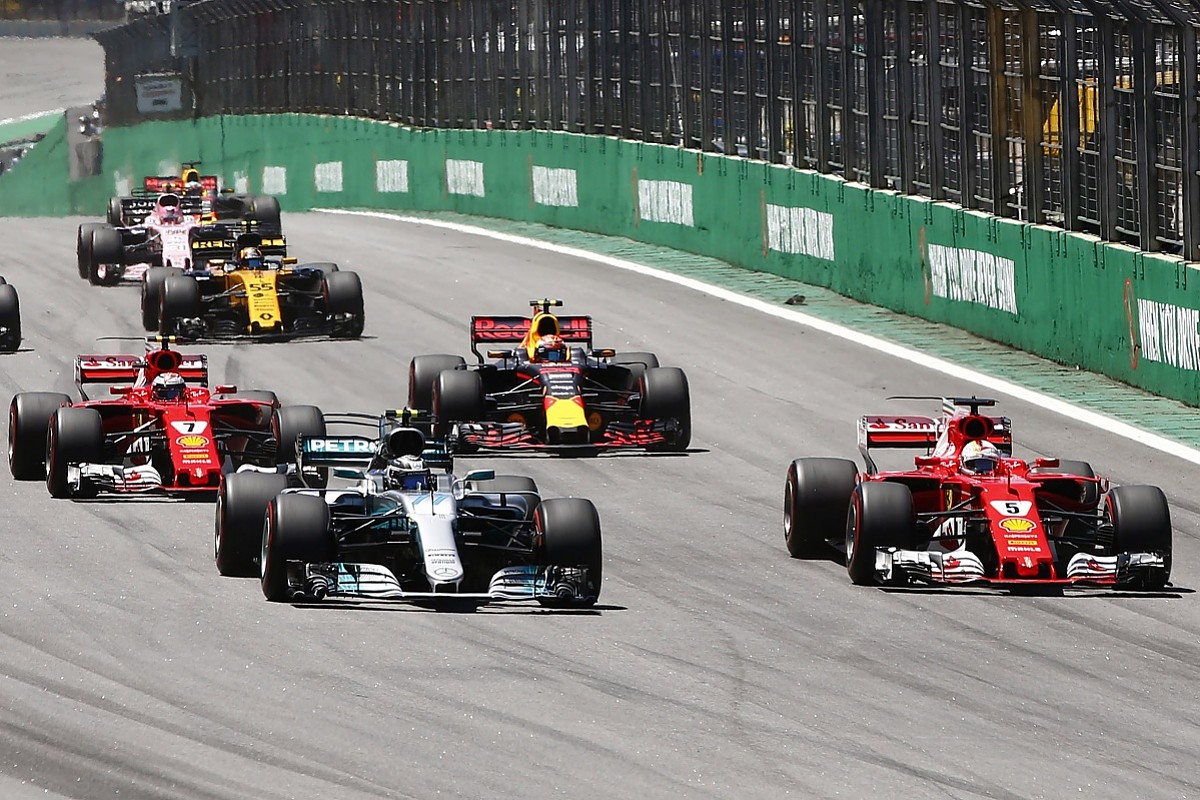 Getting back to the road-relevance topic, Volpe outlines that it's of utmost importance that F1 retains its cutting-edge hybrid systems, and says his planned Black S model will mirror the F1 powertrain's architecture.
"It will be a very similar system," he says. "At the moment, in any road-legal car, you only have kinetic energy recovery from braking. What we are taking from Formula 1 is the double hybrid system, so the recovery from the heat of the turbo as well as kinetic. In the Q60 that will be a little more complicated because we have two turbos. So we will have two ERS-Hs.
"Then the other thing we need to mirror from Formula 1 is a control unit, which is a very sophisticated computer. Of course, we can't replicate that level, but we want to have a very intelligent hybrid system.
"So it won't be a brutal performance, like F1. We aim to have a very credible 0-60 figure to be in the club of a performance car, but what we're aiming at the most is the intelligence of the hybrid system - so the driver will be able to set at least two or three modes of driving, either maximising performance or recovery, the same way [F1 units] have different settings for qualifying and the race."
So this is how technology transfer from hybrid-era F1 to road cars remains possible today, albeit with a concept car that has yet to grace any showroom just yet.
Whether that's worth the risk of alienating the fans seeking old-school raw, wheel-to-wheel entertainment remains the unanswered question.