To the viewers and fans, Formula 1 must appear fairly confusing. As far as I'm concerned, after over four decades involved in the sport in one way or another, it's getting even more so.
To take an obvious visual example that we can all see, let's look at track limits.
Over the years, we've had many types of circuit safety systems. These have ranged from open grass and asphalt run-offs to circuits lined with trees, straw bales, catchfencing, gravel traps - all of them were considered to be cutting edge technology in their day.
The current trend is for a hard surface with plenty of run-off space. This is great for ensuring cars are not lost from the race when a driver makes a mistake. And it's also great for safety, with plenty of time for speed to be scrubbed off before any impact with the barriers.
But it does open the door to drivers exceeding track limits deliberately.
The problem here is that over the season there has been no consistent management of this.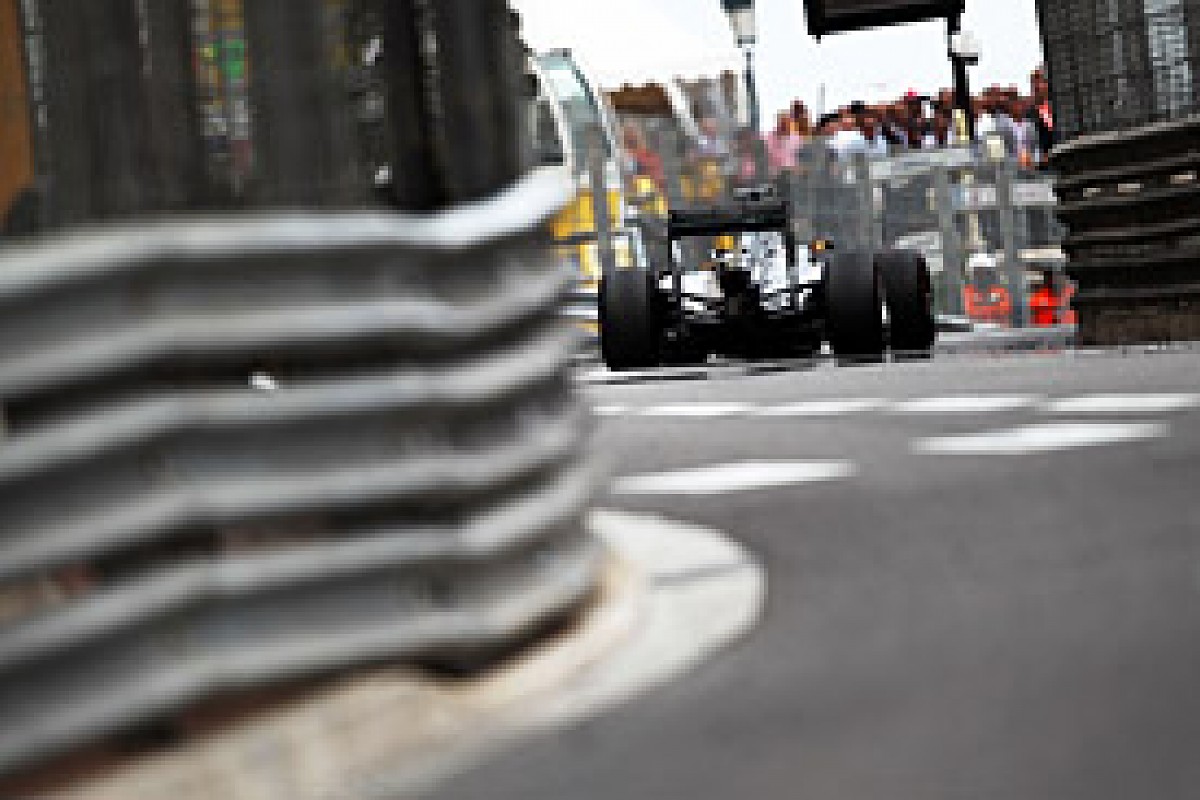 There's no room for messing about with track limits in Monaco © XPB
How can the viewer have any idea why in one race someone will get a drive-through penalty or their laptime deleted for going wide - for example at the penultimate corner in Austria - and the next race nothing for a similar action at a different turn?
We race in Monaco, which is lined with Armco barriers. We race in Singapore and for the majority of the circuit, this is also Armco-lined.
On these circuits drivers have to stay within track limits or they will pay a heavy price. My question is why can this not be compulsory everywhere?
We have a white line around the perimeter of all of the circuits and a car must have at least part of two of its wheels on the black bit inside that line.
This can be easily policed by the drivers and teams themselves, and the definition of the rule should be 'if a driver runs over this white line he should not gain an advantage'.
An advantage is simple to identify. At the end of the lap when he or she ran wide, if they are closer to the car in front or further ahead of the car behind, or if the run-off allowed them to pass a car, then they must slow - with immediate effect - to put themselves in a negative position.
This can be done over the radio from the team to the driver, or by the driver themselves. Easy. If any driver ignores it then, and only then, the FIA has to step in and enforce the rule.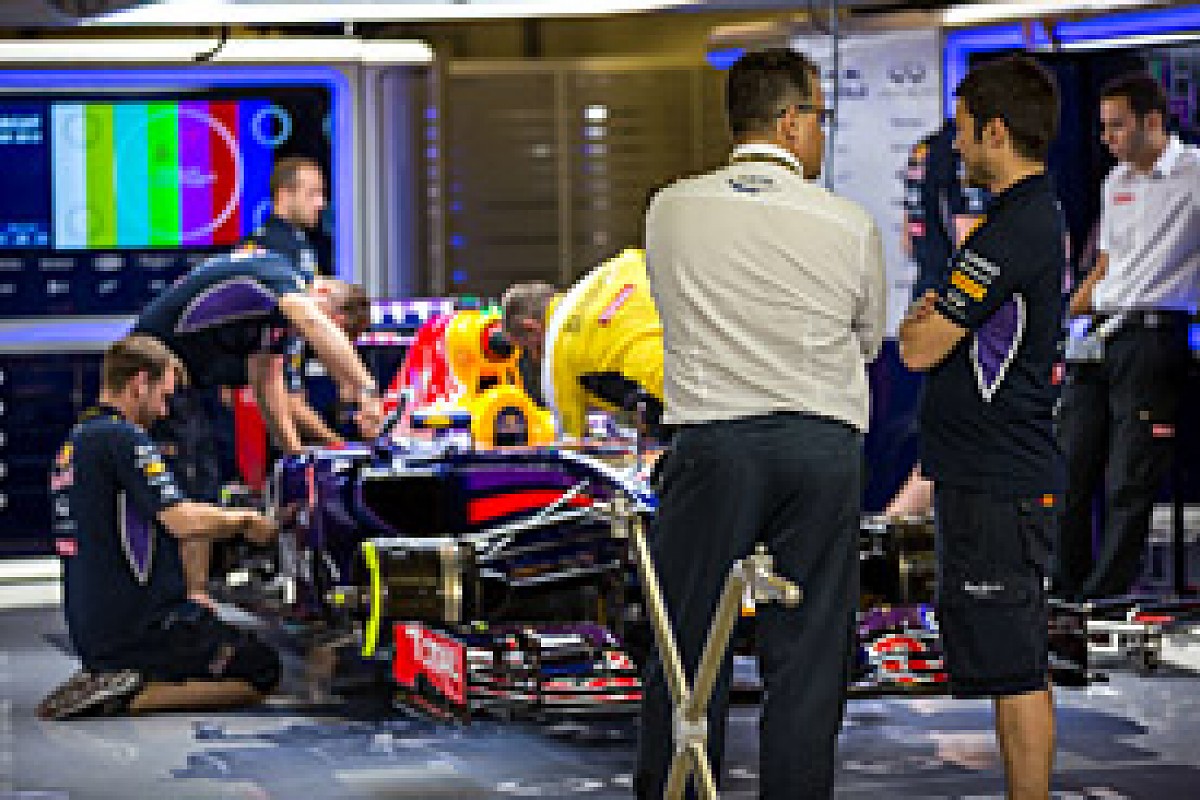 FIA scrutineers examine the Red Bull in Abu Dhabi © XPB
The reason for setting out this example is that everyone, and I believe that includes the majority of the teams, wants F1 to be run, and to be seen to be run, on a level playing field.
The inconsistencies we've seen this year bring doubt into everyone's mind that this is actually so.
The disqualification of Red Bull after Abu Dhabi Grand Prix qualifying for having a design that allowed the front wing to flex is much more serious.
The reason to want a flexing wing is simple. Most F1 cars understeer in slow and medium corners, and if you increase the front wing angle to combat this, the car will oversteer or overwork the rear tyres in high-speed corners.
So a front wing that deflects when the aerodynamic load gets higher helps in both situations: you have the extra front grip in slow corners and reduce the front grip at high speed, protecting the rear tyres.
The rules clearly state in technical regulation 3.15 that bodywork must be rigidly secured to the car. Rigidly secured means not having any degree of freedom.
The bodywork must remain immobile in relation to the sprung part of the car.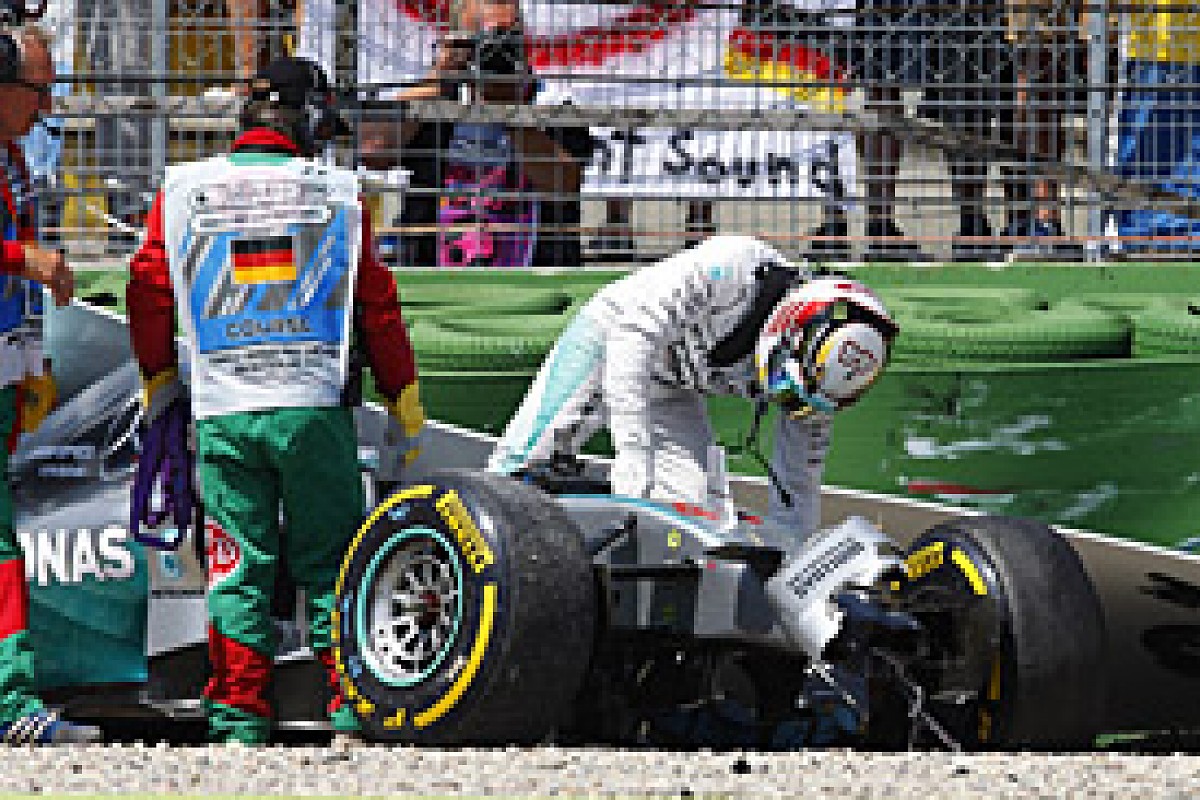 Mercedes had to change car spec after qualifying in Germany © LAT
Everything flexes at some point or another but having engineered in a springing system to allow this to happen is a clear and intentional breach of this regulation.
The FIA then - and this is what confuses me - eliminated Red Bull's qualifying times, and, since the cars had run fast enough times during the other practice sessions, sent them to the back of the grid.
These practice times were also set while the cars were illegal, and the cars were - in theory - still able to start the race in that form.
The regulations also clearly state that if you have to change anything after the start of qualifying, which is when the cars go into parc ferme, these parts must be similar in mass, inertia and function as the original, otherwise you have changed the specification of the car and must start from the pitlane.
There is no way anyone could argue that making Red Bull's front wing comply with the regulations was not a change of function. In the end the cars did start from the pitlane, with the front wing/nose assembly indeed considered different in function.
But as we saw in Germany, when Mercedes changed braking material (not for any legality reasons, it must be stressed), there is precedent for parts to be changed for ones produced by a completely different supplier without starting from the pits. So the waters could have been muddied in Red Bull's case.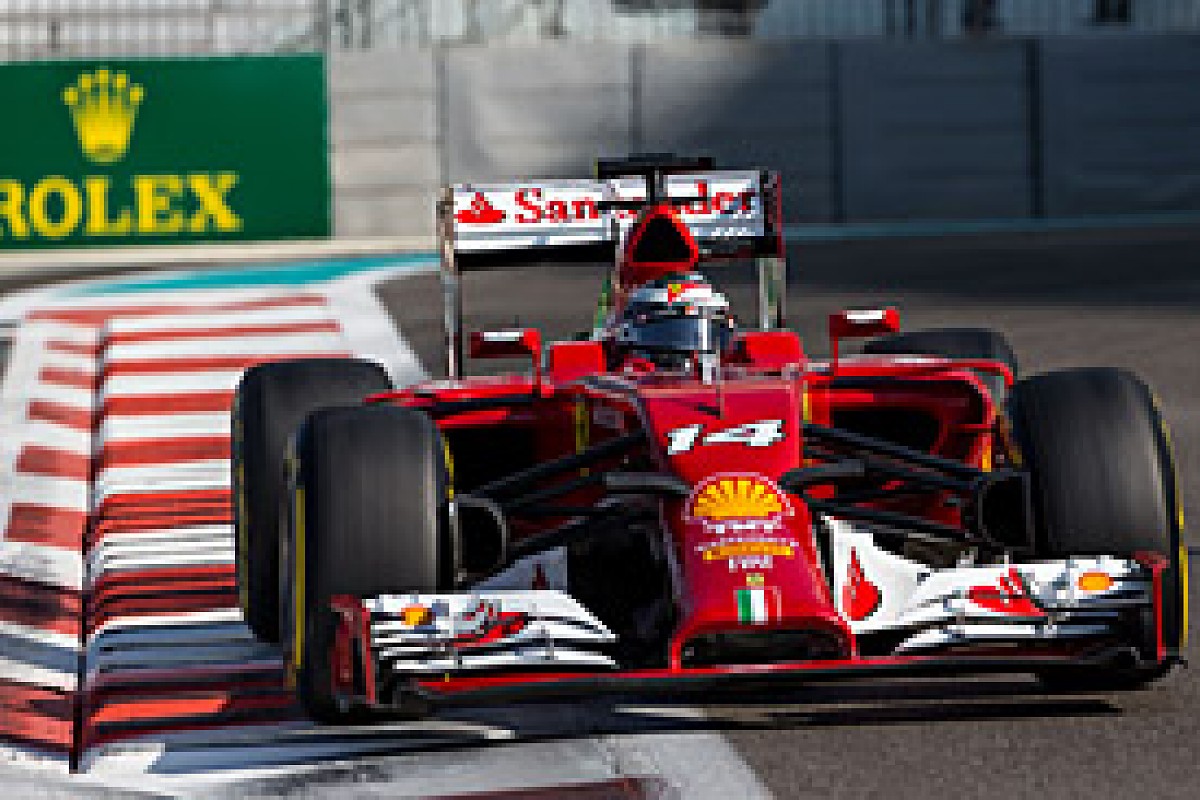 Red Bull insists it's not the only wing offender © XPB
Red Bull's main justification for this infringement was that others were doing it. I have looked through video recordings and, rating the teams from 1 to 10 according to how much flexibility there is, my gradings of wing movement would be:
Red Bull 10 (in pre-race spec)
Ferrari 7 (but not well controlled)
Williams, Mercedes, McLaren 2
Toro Rosso 1
So I don't agree with Red Bull's argument here.
My view is that more draconian punishments need to be handed out to eliminate this sort of thing. Otherwise it just escalates.
If I had anything to do with it, Red Bull would have been immediately eliminated from the event for running an illegal car and then allowed to start from the pitlane if and when it could prove the car complied with the regulations in its entirety.
The technical and sporting regulations below would give me the right to do this:
Technical regulations article 2.4: "Automobiles must comply with these regulations in their entirety at all times during an event."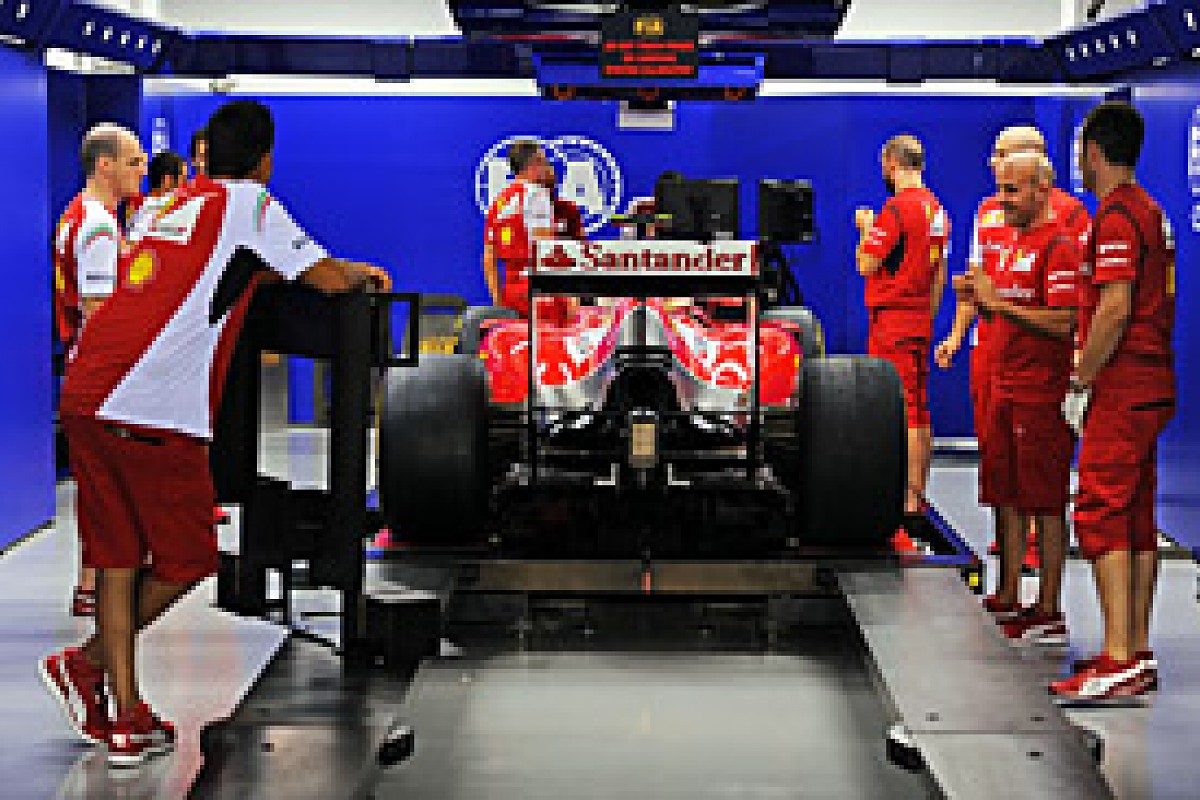 The regulations allow for firm action to be taken if scrutineers find discrepancies © XPB
Technical regulations article 2.7: "It is the duty of each competitor to satisfy the FIA technical delegate and the stewards of the meeting that his automobile complies with these regulations in their entirety at all times during an event.
"The design of the car, its components and systems shall, with the exception of safety features, demonstrate their compliance with these regulations by means of physical inspection of hardware or materials. No mechanical design may rely upon software inspection as a means of ensuring its compliance."
Sporting regulations article 3.2: "Competitors must ensure that their cars comply with the conditions of eligibility and safety throughout practice and the race."
Sporting regulations article 3.3: "The presentation of a car for scrutineering will be deemed an implicit statement of conformity."
Overall, I believe we have far too many regulations and they are not policed correctly or consistently.
This needs to be addressed quickly, otherwise viewers and fans will start to question the fairness of the sport.
I don't want Formula 1 to turn into a motorsport version of WWE wrestling but, if fairness and clarity cannot be seen throughout the sport, then that is the ultimate destination.
And since Daniel Riccardo had a great drive from the pits to fourth on Sunday, perhaps things don't have to be as trick as Red Bull thinks they do?