Once again the sale of Formula 1's commercial rights is in the news, what with the Daily Express - to which Bernie Ecclestone has an inside line - in the build-up to the British Grand Prix weekend suggesting the sport's beleaguered ringmaster could purchase back the rights that he originally acquired on behalf of his family at a bargain basement price, and subsequently resold thrice over.

Following Ecclestone's strident criticism of F1 2014-style this writer originally concluded that a buy-back could be on the cards, and that Ecclestone was simply suppressing the price through his somewhat bewildering comments. After all, whoever heard of a CEO so publicly criticising his own show?

However, the story brought swift denials via media members close to Ecclestone - and again there was a grain of logic: who, after all, would wish to purchase into a company with as many product flaws as he maintained F1 currently had?

Thus it was rather mystifying to read that Ecclestone could again control F1's rights in his personal capacity as opposed to being a hired hand operating on behalf of current majority owner CVC Capital Partners. What could lie behind this volte-face?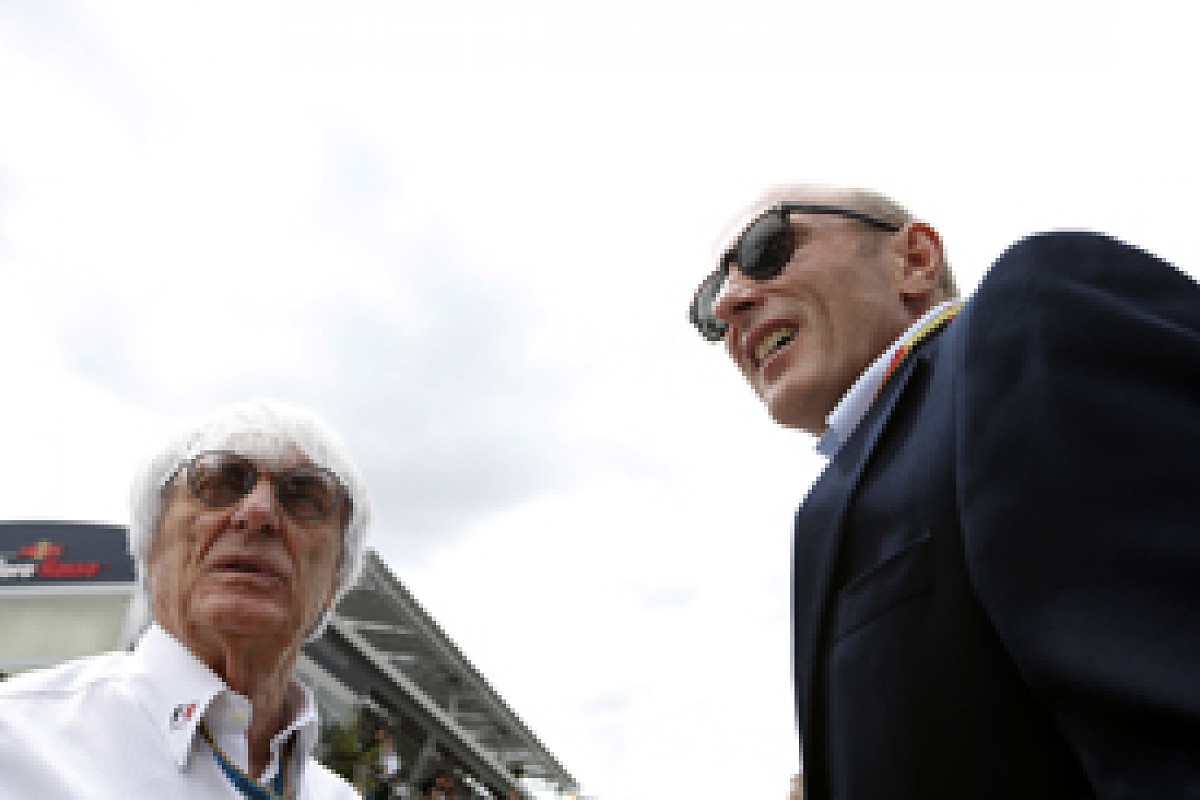 Ecclestone and Donald MacKenzie, who led negotiations when CVC bought a stake in F1 © LAT
Still, the news caused paddock chatter to hit overdrive - even if said interview was allegedly conducted a fortnight earlier - and many wondered whether the interview had been planted, being linked to CVC's threats of dismissing Ecclestone should the verdict in Munich, where he is fighting charges of embezzlement, go against him. One cannot, after all, be fired if one owns the company regardless of judicial outcome...
However, given that a number of potential purchasers have recently emerged, could buy-back talks form part of a master strategy from the seasoned negotiator, one aimed at inflating the stock price by increasing the (perceived) pool of interested parties?

With Ecclestone personally holding 5.3 per cent and his family's Bambino Trust controlling 8.5 per cent, even a 10 per cent premium on a multi-billion dollar sale would keep both his rather extravagant daughters in gold-plate tapped mansions and expensive shoes for many years to come.

CVC's modus operandi has long followed a strategy of acquire (usually via leveraged loans), restructure, sell-off (a portion), list (the remainder). Samsonite luggage, German chemical giant Evonik and Belgium's B-Post provide three lucrative examples of this approach; CVC's record is, though, equally littered with abject failures.

Traditionally the entire cycle, from stock acquisition through Initial Purchase Offer, takes seven to 10 years. However, CVC's F1 IPO plans were twice scuppered: first by a bearish stock-market climate, then by confirmation that Ecclestone would indeed be charged by Munich prosecutors for his alleged role in the Gerhard Gribkowsky affair.

This matter saw the former German banker, charged with responsibility for state-owned Bayern Landesbank's former 47 per cent in F1's rights, jailed for eight years for embezzlement. He implicated Ecclestone, who, the German alleges, bribed him to facilitate the sale of the banks' stock to CVC.