"It sucks, the way I'm not able to race these guys," said Lewis Hamilton immediately after beating Sebastian Vettel's Red Bull and Romain Grosjean's Lotus to pole. "We'll just have to do the best we can tomorrow."
It was said in the expectation of a race spent going backwards through the pack, trying to keep the Mercedes' rear-tyre temperatures under control. "If we win tomorrow it will be a miracle."
Yet there he stood atop the podium, Kimi Raikkonen to his right, Vettel on his left, after a quite brilliant performance in response to finding that the Merc could hang onto its tyre performance just as well as anything else.
OK, he maybe had the odd lucky break, in that the expected challenges from Vettel and Grosjean were derailed by them encountering the long-running harder-tyred McLaren of Jenson Button at the crucial moment, but on the other hand Lewis himself had encountered the Button buffer upon rejoining after his first stop.
He had dealt with Button comfortably, surging past him in the DRS zone into Turn 1 a lap later, helped by the Merc's much stronger end-of-straight speed.
That was the crucial move of his race, the one that turned his advantage from 1.7s to more like 10s, as Vettel and Grosjean were subsequently queued behind the McLaren until it stopped many laps later.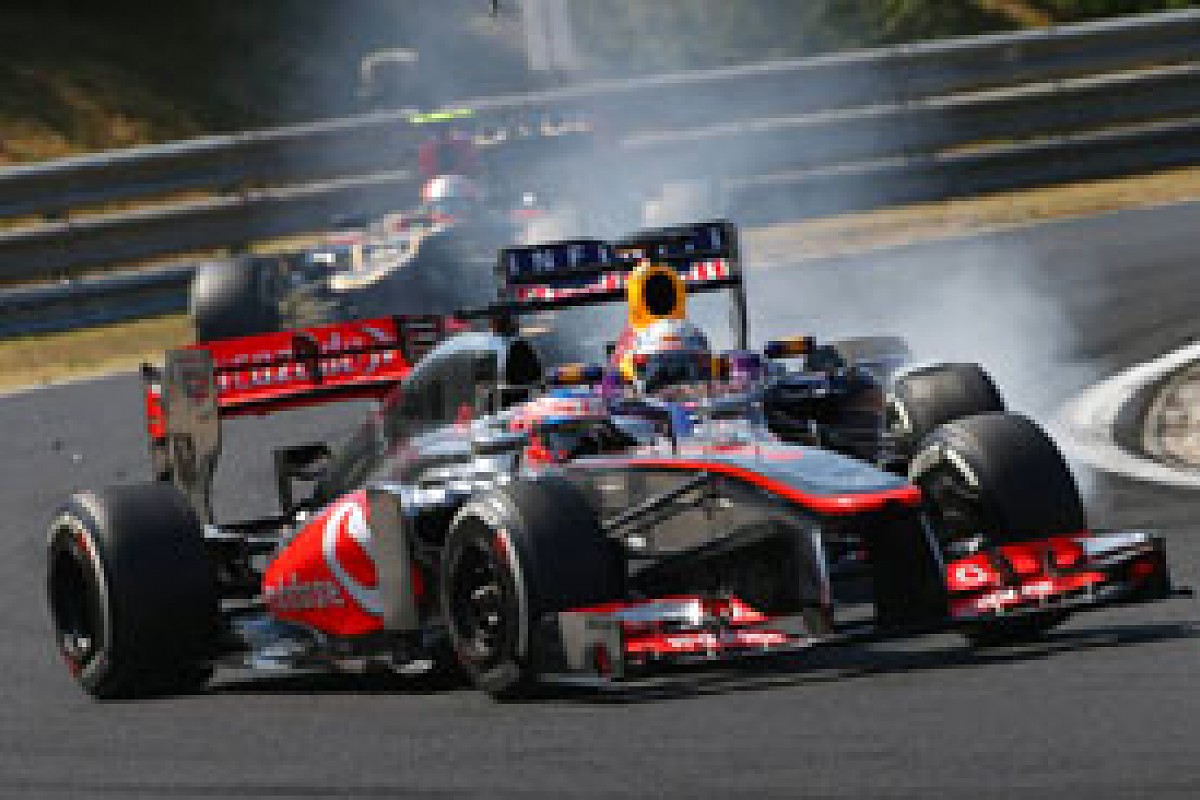 Vettel and Grosjean lost time bottled up behind Button's McLaren © XPB
Even so, what evidence was there that, even had the Red Bull and Lotus cleared Button, they would have had the pace to smother the supposedly tyre-eating Mercedes? Who knows how that Merc may have reacted had Lewis needed to stretch its elastic around the stops?
But there was nothing in its performance pattern to suggest it was hovering around the critical rear-tyre-temperature threshold - or that its tyre usage was worse than the Red Bull's.
"I'd say [Mercedes] have definitely found something," said Pirelli's Paul Hembery. "Track temperatures in the 50s around this place are just about the worst scenario you could imagine for the sort of problems they have been suffering with."
This whole car/aero/tyre-usage conundrum is a combination puzzle deeply more complex than a Rubik's cube and with no provable answer.
But the best evidence suggests that reverting to the less-grippy 2012-construction front tyre - their sidewalls don't flex as much, don't absorb as much load, thereby dragging the contact patch across the surface with more force - helped Mercedes, calmed the sudden transition of load from its over-grippy front to rears that didn't overheat as a result.
There was a modified front wing and associated tweaks, but these were not specifically targeted at better tyre usage. The change of tyre itself seemed to have cost Merc a little bit of qualifying performance in exchange for rear tyres that no longer ran 20-deg C too hot after a few laps.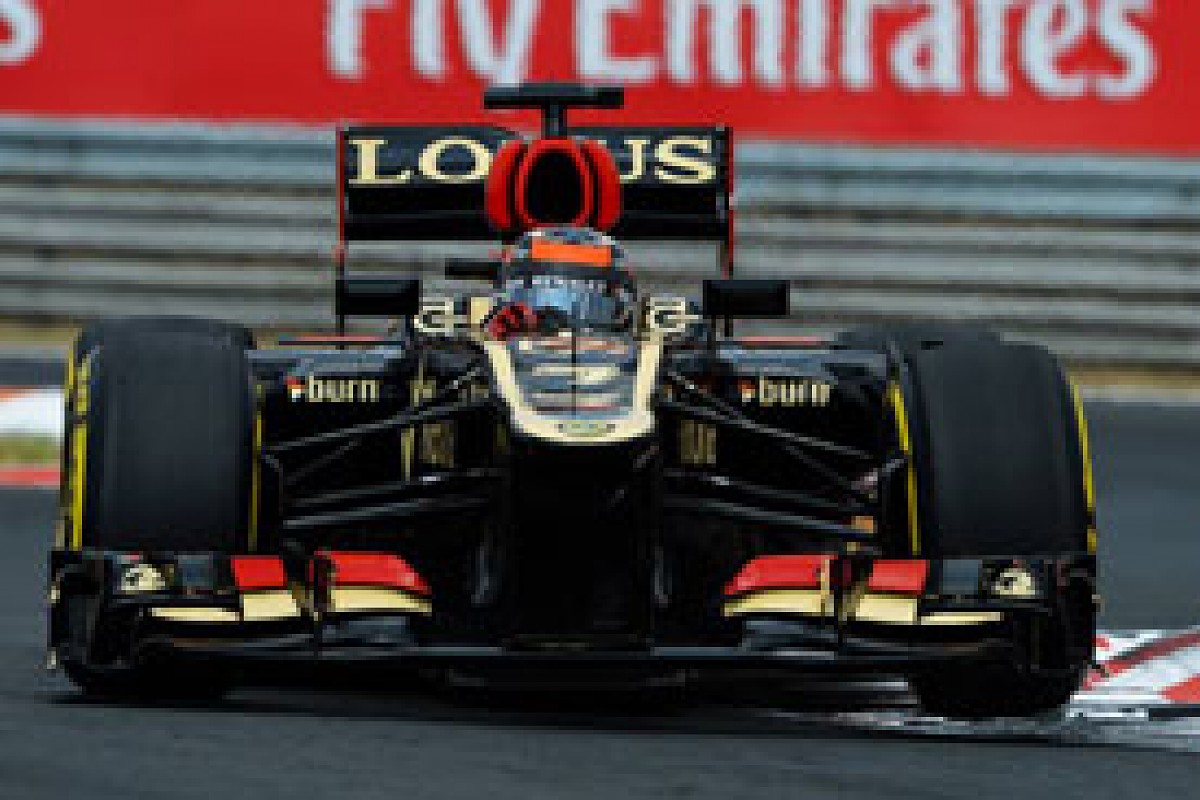 Raikkonen was able to utilise a two-stop strategy to secure second © XPB
The Lotus evidently still had the best tyre usage - Raikkonen's second place came after a two-stop race that entailed a long final stint, while the other frontrunners went for the safer three-stop - and maybe the combination of those traits and Grosjean's pace could have won him the race had he not been foiled by the track-position advantage bought by Hamilton's pole, exactly as was the case here one year ago.
Grosjean ultimately finished only sixth, but he lit this race up with a thrillingly high-octane performance, though one which included a couple of penalties.
Pre-race, it wasn't just Hamilton who thought he was going to be sinking back down the field, and the real contest was expected to be that between Vettel and Grosjean.
So as the Mercedes got off the line unchallenged, there was a real edge to the game of chicken that pair played as Vettel squeezed the faster-starting Grosjean over to the left. They accelerated up through the gears, flat in top now, with Seb still leaning on the Lotus until its front wheels were actually between the Red Bull's fronts and rears, almost touching the sidepods.
It was a potentially lethal game, but Grosjean's resolve remained, and as Turn 1 loomed Vettel turned in and Grosjean hung on around the outside, a brief stab of opposite lock losing the momentum and finally forcing the conceding of second place to Vettel.
Nico Rosberg's Mercedes was right with them through the turn, but his lifting off to avoid contact had allowed Fernando Alonso the advantage of momentum.
As they raced down the hill towards the steeply falling Turn 2 Rosberg covered the inside, and the Ferrari sliced past the Merc at a completely different rate and even ran around the outside of Grosjean.
Again, Romain was steely in his defence, hanging the Ferrari out to dry, Fernando wrestling it over the kerbs, and as he rejoined so he delayed Rosberg. This gave Felipe Massa the chance to dive the Ferrari inside for the closely following Turn 3.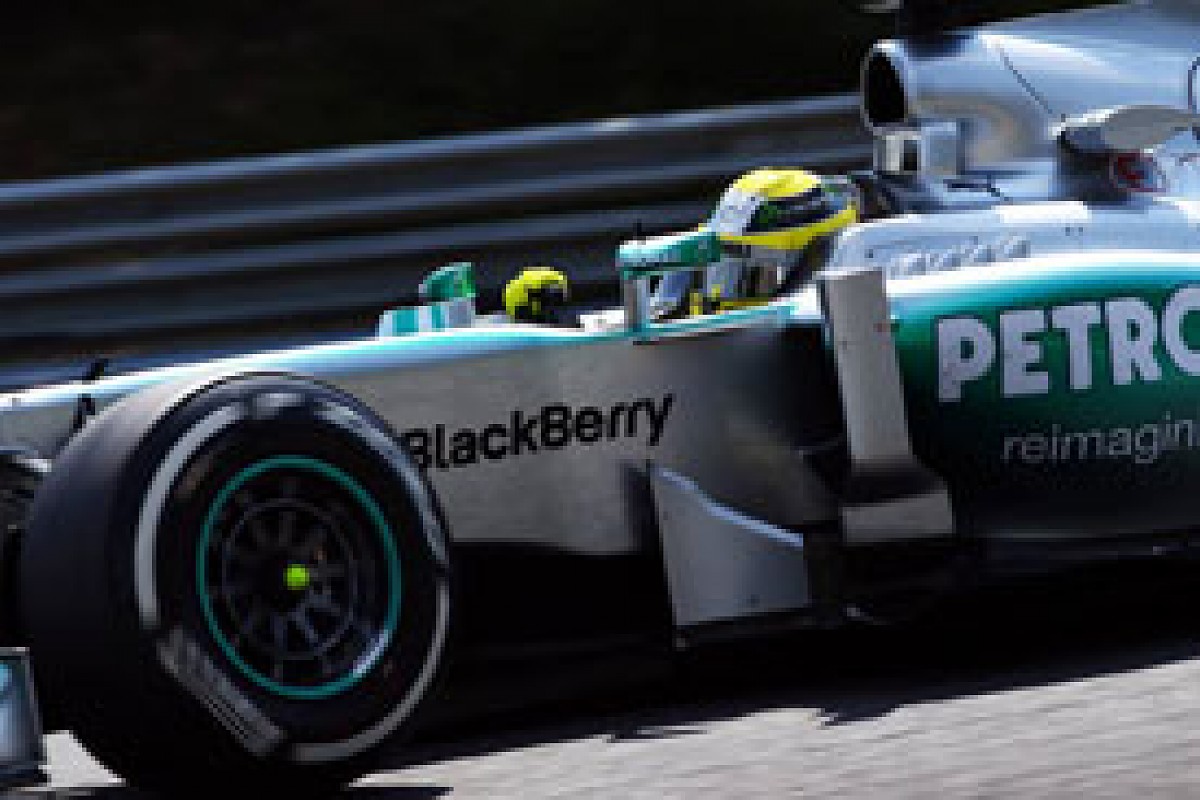 Rosberg was a victim of the opening-lap melee, falling from fourth to 12th © XPB
Nico tried to shut the door before realising it was too late and running wide out onto the Tarmac run-off, allowing Raikkonen past.
Kimi was then taken by surprise at Massa's early lifting-off for the fast uphill blind of Turn 4, locked up and ran wide on the exit, allowing Rosberg to stream by once more, now on the outside approach of the long loop of Turn 5.
From alongside Massa, Nico attempted to turn in, only to make contact with the Ferrari's front-wing endplate and veer sharp left in avoidance. This lost him momentum yet again and allowed Mark Webber's Red Bull, Button's fast-starting McLaren and several others to zap past before he was back up to speed.
From fourth to 12th, it wasn't the greatest first lap of Rosberg's career and it would come to define his day. He would spend a long, hot afternoon fighting with Pastor Maldonado's Williams before his engine blew a fiery farewell just six laps from the end.
Hamilton was 1.1s clear of Vettel by the end of the first lap and was surprised: "I thought they'd be on my tail and killing me, but I realised that actually it wasn't too bad." He wasn't yet thinking of the win and didn't feel it wise to try to build the gap, and the Red Bull closed back up, even got itself within DRS range.
But with the Red Bull suffering a substantial straightline speed shortfall to the Merc down the pit straight, even DRS wasn't going to get Seb by. As they crossed the start/finish line shortly after the final turn the Merc and Red Bull were each doing 156mph.
By the time they screamed through the speed trap before the braking zone the Merc had accelerated by a further 33mph, the Red Bull only by 27mph. Lewis was safe for now - especially when Vettel then came under attack from Grosjean.
The leading trio quickly put distance on Alonso, with Massa following, endplate flapping and holding at bay Raikkonen. Fernando was finding the Ferrari was not its previous self. He had no doubts as to why.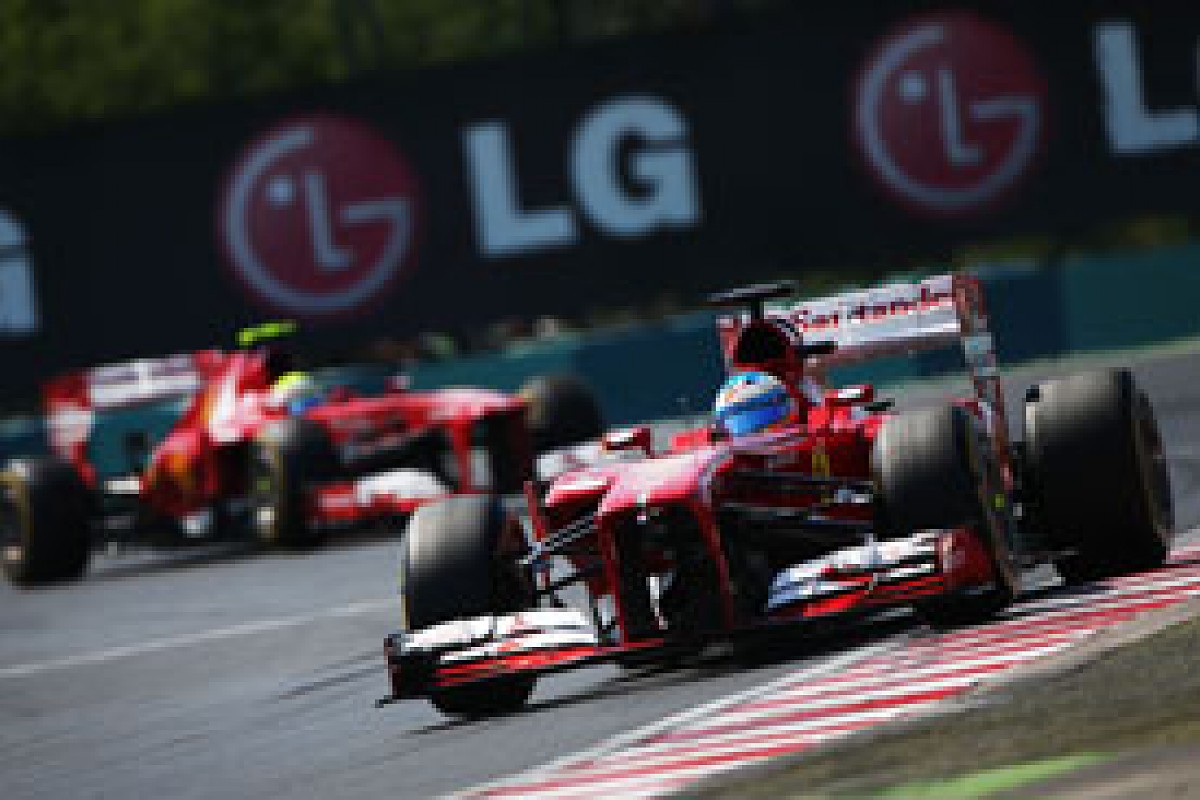 Alonso believes F1's new rubber has hurt Ferrari © LAT
"With the previous tyres our car had tyre use like the Lotus. With these it's more like the high-degradation tyres."
For a time Alonso had being using DRS every time he heard the signal that it was enabled. But the system had not been changed from its qualifying to race setting, meaning it could be used even when not within 1s of the car in front.
Once the team saw this on the telemetry, it instructed him to only use it when they told him to. According to the FIA it gained him only one second over the race and the team was merely fined.
The soft tyre that the top eight had all started on had fairly serious graining of the left-front and was reckoned to be good only for around 10-12 laps. This defined most of the frontrunners as having to stop three times, as a two-stop would impose stint lengths of around 30 laps each on the remaining primes.
What this big step between the compounds also meant was that when the frontrunners made their stops they were not able to clear the leading prime runners, something made more certain by the long 21s a pitstop would typically lose because of the new blanket limit of 80km/h in the pitlane.
Lewis was just beginning to feel the rears go away as he made for the pits on lap nine. On went the fresh primes and out he went after just 3s, coming out just as Button's seventh-placed hard-tyred McLaren went by. Neck and neck they went up to Turn 1, with Jenson on his warm rubber taking the initiative.
Hamilton was not going to be able to take advantage of his fresh tyres during this crucial out-lap. "I thought, 'Oh, that's just my luck,'" recalled Lewis, "and I was expecting Seb to come out of the pits ahead of me at any time."
Ordinarily, on the previous tyres, that's what might have been expected to happen; the Red Bull would have had enough life left in the rubber to leapfrog ahead as Lewis was stuck behind the slower car.
And that's what was expected at Red Bull too as Vettel was unleashed. The plan was to stay out an extra two laps, to be sure of clearing Button. But that's not how it played out.
For one thing, Hamilton wasn't stuck behind the McLaren for long. At the end of his out-lap, on his still-grippy tyres, he lined himself up perfectly out of the final turn, slingshotting out of there with way more traction than the old-tyred Button, getting onto KERS and DRS and slipstreaming effortlessly by down the inside into Turn 1.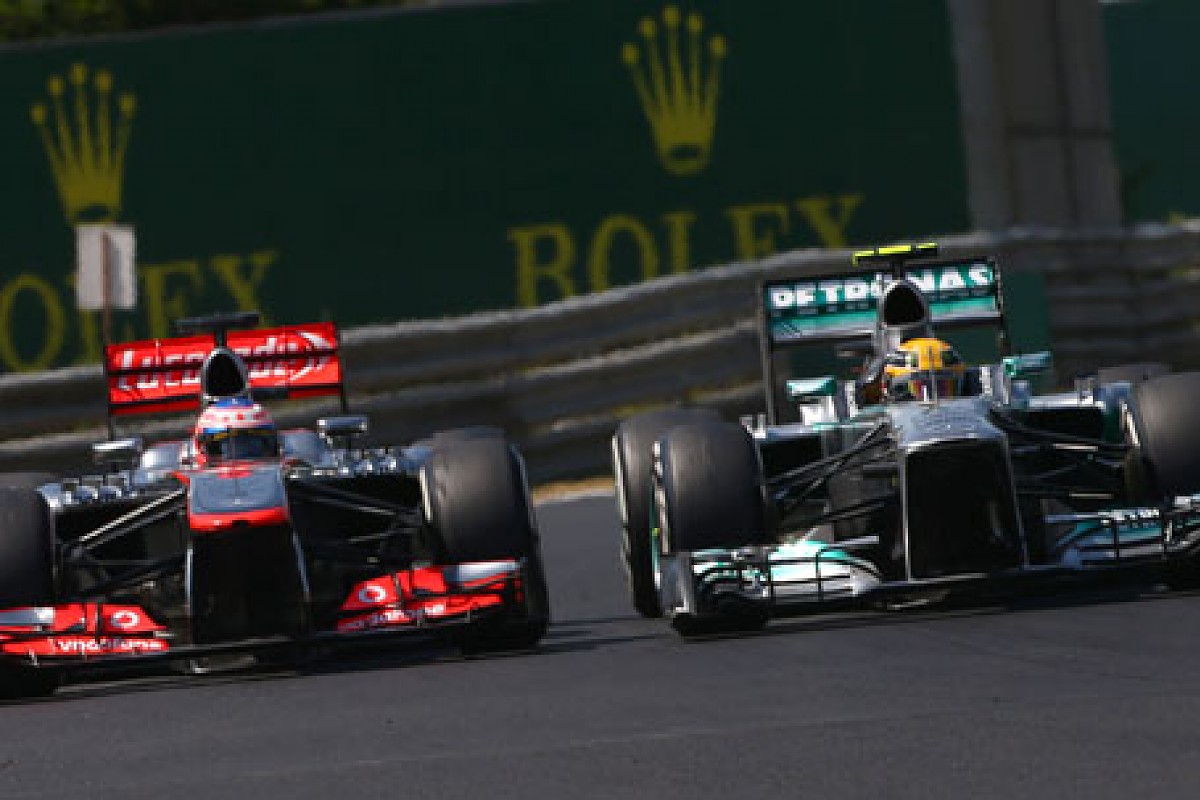 For another, Vettel's pace wasn't as good as he'd been expecting; his old tyres were on their way out. Having been doing high 1m27s behind Hamilton, Vettel's clean air flyer was just 1m28.5s.
That was still around 0.5s faster than Button was going and, had he been able to maintain that pace on his in-lap, he'd still have come out ahead. But he couldn't: the fronts were finished and his in-lap was a full second slower than Hamilton's.
The Red Bull stop was mega-quick at 2.6s, but as Seb trailed down that pitlane to rejoin, the Merc was long gone and the McLaren went by too. Lewis looked in his mirrors later in the lap, saw the Red Bull behind the McLaren and for the first time began to believe.
There was still one threat though: Grosjean. He'd been all over the back of Vettel as Seb had struggled for those last couple of laps and Lotus recalled just how much pace he'd been able to unleash once he was in the lead at the Nurburgring.
So with nothing to lose - Grosjean was well clear of Alonso - Lotus kept him out for a couple of laps longer even than Vettel. But he could manage no better than a 1m28.5s too and his in-lap was just as slow as Vettel's. He exited behind the Red Bull, both of them now stuck at Button's pace and set to be there for another 11 laps, their straightline speed not strong enough to allow them to do what Lewis had been able to.
That trapped the narrative of this race firmly in Hamilton's favour, trading off tyre management against pulling out the gap over his entangled rivals.
Lotus had performed a double-shuffle pitstop, bringing Raikkonen in on the same lap as Grosjean to prevent further delay on old rubber. But at this point, Kimi was converted to a two-stop. He rejoined still behind Massa, but would soon pass the Ferrari.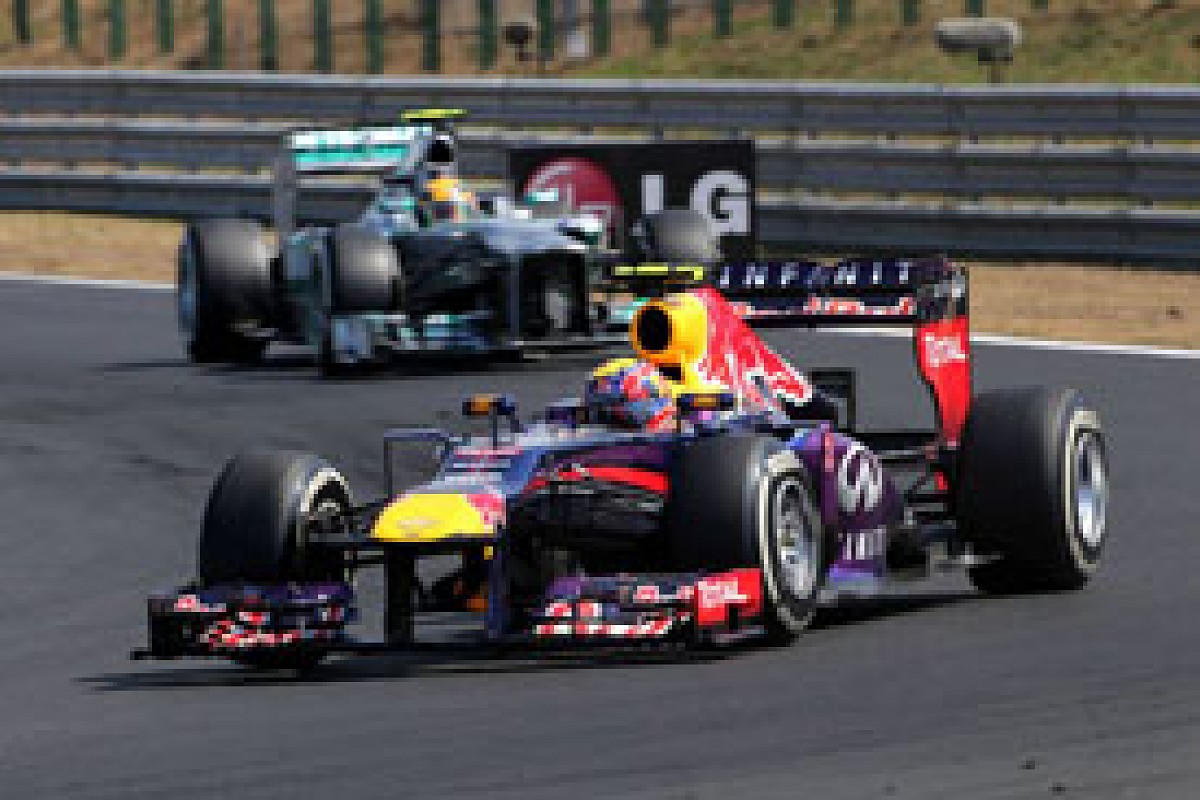 A prime-shod Webber took over at the front of the race © LAT
Leading the race now was the long-running prime-tyred Webber, still maintaining a good pace around 5s ahead of Hamilton.
Even the cooling demands of the hot day played into Hamilton's hands. After a couple of laps in Button's slipstream Vettel was told to get out of there, as his engine temperatures were heading in the wrong direction.
The Mercedes was using a new cooling package and, although Hamilton's wasn't being tested as thoroughly as the Red Bull's given that he was in clear air, Rosberg's was. It was fine.
Having given up on trying to pass Button by slipstreaming on the pit straight, Vettel was attacking now on the new second DRS zone, down to Turn 2. With Grosjean looking on from close quarters it was getting a little hectic.
A couple of times Vettel tried there and on lap 17 he slid into the back of the McLaren, damaging the right-hand side of his front wing. Still there was no way through and now Seb could feel the understeer from the wing damage. Could he go onto extra-boost KERS?
"No, we cannot have high-power KERS," came the radio reply. It wasn't only engines and components that were getting rather heated. With Alonso getting within reach of their group too, Grosjean was all over the Red Bull, but Vettel's defence was uncompromising. Something had to give.
It happened on lap 24. Webber had just pitted from the lead and rejoined on Alonso's tail as Vettel got a run on Button through Turns 4-5, the McLaren struggling badly with traction on tyres that had now done 27 laps including qualifying.
Button was a sitting duck once Vettel had forced his way through on the inside exit of the looping Turn 5. Pushed off-line he was passed also by Grosjean, with Alonso also there looking to pounce.
As the Lotus and McLaren raced up to the chicane side-by-side, Grosjean had the corner. What he did next was clumsy. Assuming Button to have surrendered, he simply squeezed left to take up the normal racing line for the approach to the right-hander. But Jenson was still there.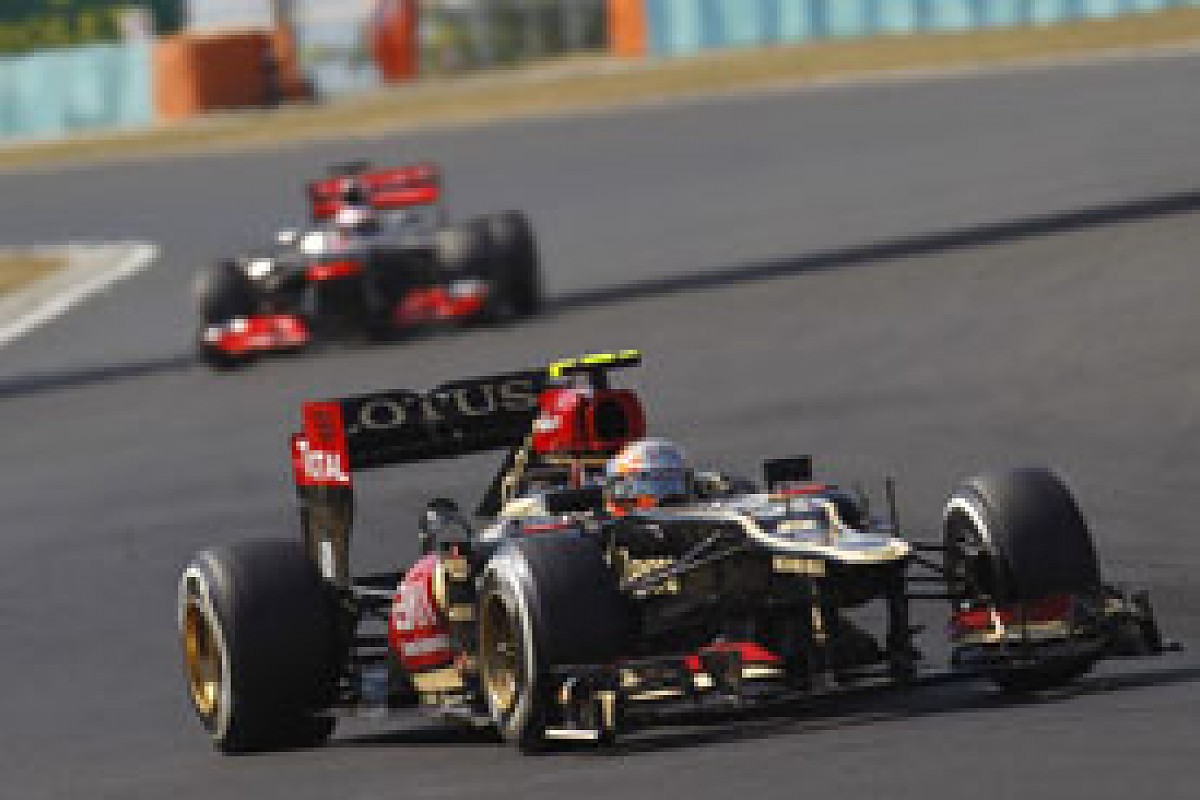 Grosjean passed Button after needless contact... © LAT
"I couldn't go any more left," as he put it. They touched and Grosjean elected to take the escape road, rejoining still ahead. Alonso powered past the McLaren on the exit of the turn and Button made his way to the pits for a fresh set of primes and a damage check.
It was a surprise to see Grosjean pit on the next lap, just 12 laps after his first stop. "It was to jump him ahead of Vettel," explained Lotus engineering chief Alan Permane.
Indeed, his pace on new tyres would be better than Vettel could manage on much older tyres, and Red Bull was reluctant to respond as it would mean too long a final stint.
But for Grosjean there was soon the small matter of having to dispense with Massa (due to run for a while yet) in order to be able to keep pulling out the time on Vettel.
By the 28th lap Grosjean was right with Massa, hassling him on the run down to Turn 2 and compromising his line through 3, the Ferrari not getting the power down well out of there.
Flying up the hill the Lotus had much the better momentum. But Turn 4 - fifth gear, 130mph, blind exit, one line - is not a passing place. What was Romain to do with all this better momentum? If we'd just seen the worst of him in his clumsy clash with Button, we were now about to see him at his breathtaking best. He was going to use that momentum by going around the outside of Massa through Turn 4.
As it became clear that he was about to commit to the move there was thrill and dread. An interlocked wheel here would have been a somersaulting disaster, yet he pulled the crazy, scary move off without a blink or a second thought. At home, his wife was waiting to give birth to their baby.
Obviously, Grosjean needed a bit of exit kerb and more to do it, and his inner wheels did stray marginally over the white lines that define the circuit's limits. Technically, he had overtaken by leaving the track. But it seemed churlish to use the regulation on this occasion just because it was there.
This was one of those rare moments when the raw bare-knuckle essence of the sport was briefly revealed, like Alonso at 130R in 2005 or Webber at Eau Rouge 2011. But he'd transgressed. The stewards were looking into it, as they were his earlier incident with Button.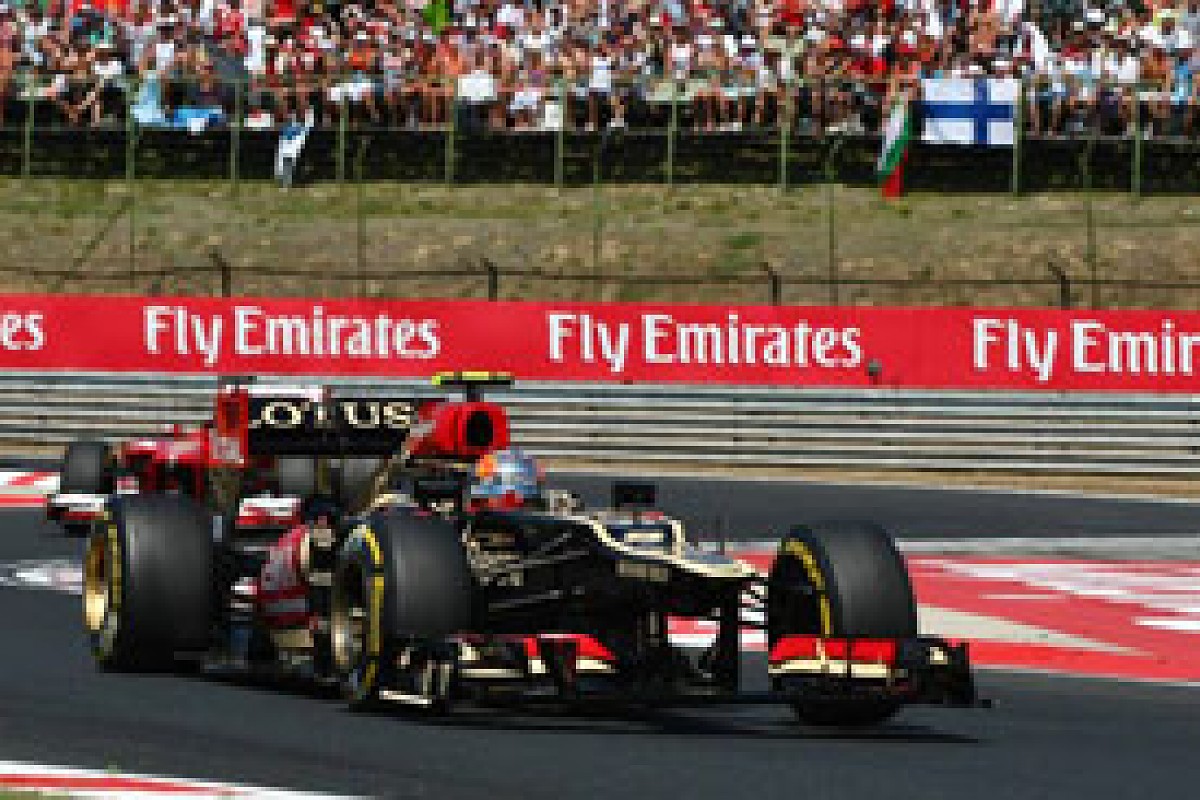 ...but then pulled off a sensational move around the outside of Massa at Turn 4 © XPB
For now, Grosjean's progress went unchecked. Detached from all the Grosjean adrenalin, Hamilton's day was passing serenely by. His lead from Vettel was over 12s. Vettel in turn was 5s clear of Alonso, the Ferrari under big pressure from Webber.
As Hamilton rejoined from his second stop on lap 31, he did so right behind their struggle. Through the final corner of lap 33, Hamilton looked up Webber's inside just as Mark chopped across and they almost touched.
Lewis wanted by before too much longer and he did it three corners later, simply aiming the Merc up the inside at Turn 3 and giving Mark the choice of surrendering or going off. Webber had to take to the escape road.
Next lap, Vettel and Alonso, separated by around 7s, made their second stops, giving Lewis clear air in which to enjoy his perfect day. Seb came out right on two-stopping Button's tail yet again.
He had been comprehensively leapfrogged by Grosjean for second and was also vulnerable now to the two-stopping Lotus of Raikkonen - and maybe even team-mate Webber, who had exited around 8s behind Vettel but would be sure to be quick in his short final stint on softs.
Grosjean served a drive-through on lap 37, for his move on Massa. This dropped him to fifth, behind Alonso. All that was left in determining the order behind the dominant Hamilton was the playing out of the two and three-stop strategies.
Raikkonen was in for his second and final stop on lap 42, having kept less than a pitstop adrift of everyone but Hamilton. He was sure to emerge in second, but could he then keep those tyres alive for 28 laps?
Grosjean was in for his third and final stop five laps later. At 3.6s it was a little slow - because he'd missed his marks. It meant he exited behind Button when he'd otherwise have cleared the McLaren. Button had already made his final stop, so Grosjean would have to pass him on track again - which he did into Turn 2 on lap 50, just another little detail in his blurred afternoon.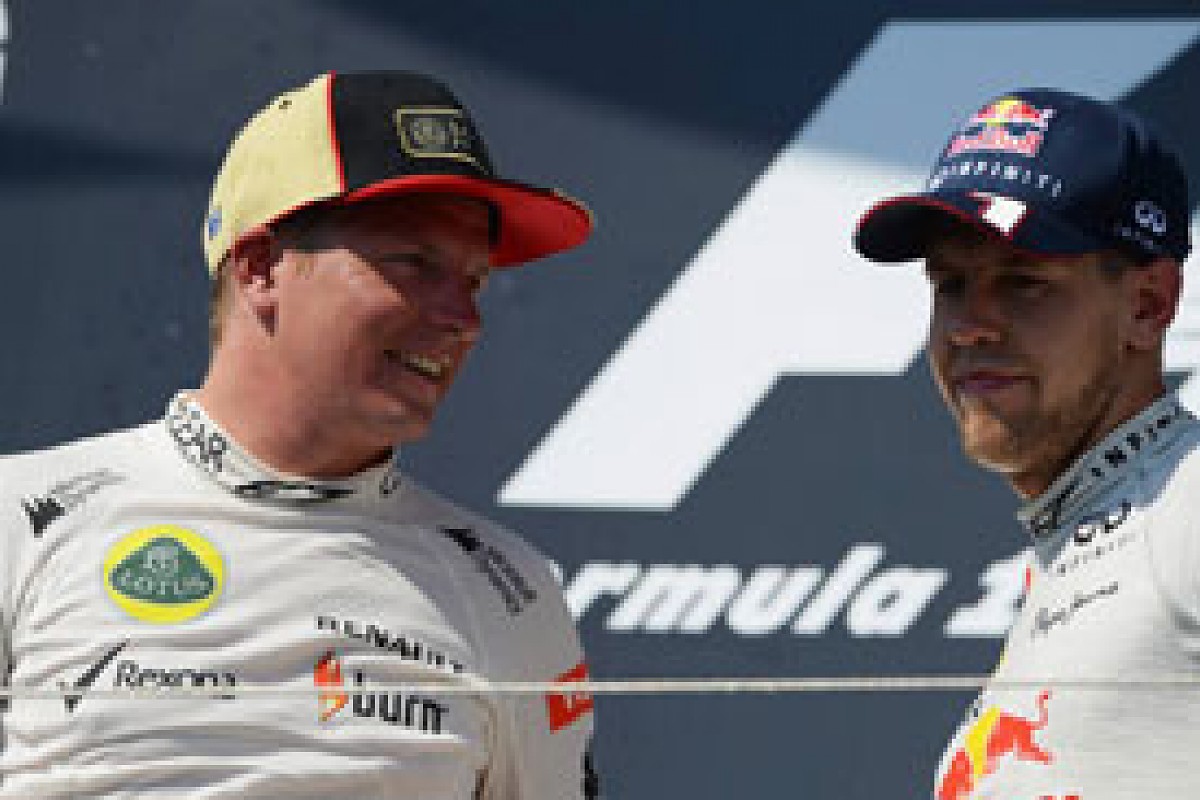 Raikkonen and Vettel, on differing strategies, ensured a tense finish © XPB
At just this time Hamilton peeled in for his final stop, giving Vettel a few laps in the lead before he too was in.
He rejoined around 3s behind Raikkonen, but on much newer tyres and with 15 laps to go. The charge began.
Webber, meanwhile, who'd run very long in order to give a short final stint on the quick-wearing softs, came in from second on the 59th lap, with 11 to go, and rejoined 12s behind Vettel.
Even on softs that were initially over 1.5s faster, he was going to be hard-pressed to improve on fourth - a good effort in the qualifying-compromised circumstances.
Alonso and Grosjean followed a few seconds behind, where they would finish ahead of Button, Massa, Sergio Perez's McLaren and Maldonado.
Vettel's chase of Raikkonen gave a thrilling race a suitably thrilling climax. Seb was driving out of his skin in closing the gap, Raikkonen's pace surprisingly good on tyres so old.
With four laps to go Vettel got a run on the Lotus out of Turn 3 and, as they rushed up to 4, for a moment it looked like Vettel might be about to try the 'Grosjean move' on Kimi.
But Raikkonen was having none of it, squeezing him out on the entry, preventing him having the outside line. Seb complained about it on the radio, but in the more reasonable light out of the car had calmed down enough to accept it was 'just racing'. The place was Kimi's.
But the race was Hamilton's, his first for Mercedes. Miracles can happen.