When the revived McLaren-Honda partnership was officially announced in a hastily arranged Tokyo press conference in May, much was made of the continuation of its legacy.
After all, this hugely successful alliance won four drivers' and four constructors' championships, not to mention 44 grands prix from 1988-1992.
Such expectations can go two ways, and because of Honda's involvement the watching world will expect strong performances straight out of the box, even after giving Ferrari, Mercedes and Renault a whole year's advantage by joining in 2015, the second season of the new 1.6-litre turbocharged V6 engine regulations.
Honda's hopes are high too and it's exactly those new regs that have brought about the return.
"We have been watching closely the F1 regulation changes and the movements in the racing world," says Yasuhisa Arai, a well-regarded Honda 'lifer' who has climbed to the rank of senior managing officer and director of Honda R&D and chief officer of motorsports.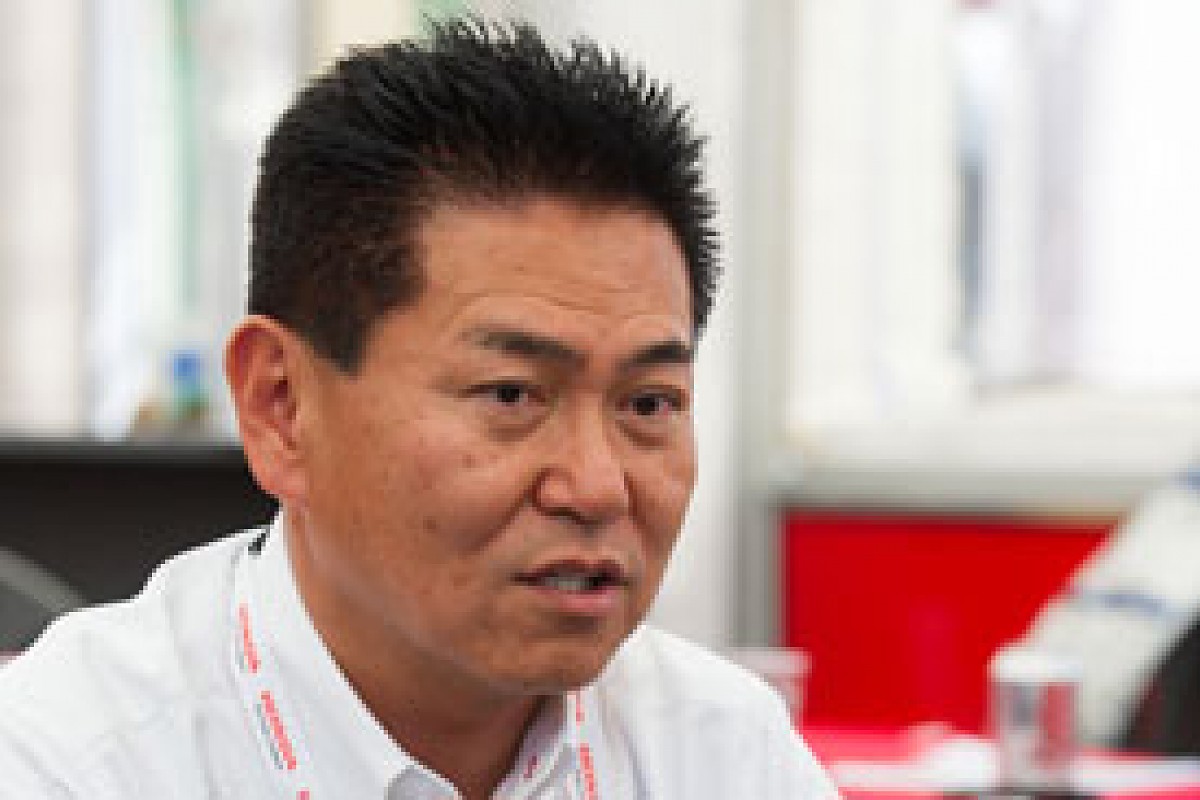 Yasuhisa Arai, the man who planned Honda's F1 return © Paul Harmer
"The new regulations that will be introduced in 2014 triggered Honda to decide to come back to F1.
"We felt that the environmental technology and F1, the pinnacle of motorsport, are converging to create this new racing. It is this good, positive direction that inspired us to come back."
Nevertheless, Honda's previous three distinct forays into grand prix racing have been a mixed bag. Every time, expectations have been sky-high, but while its second coming was glorious, the other two were underwhelming.
Its first appearance, as a full works team from 1964-1968 (although it came close to entering as an engine-supplier to all-conquering Lotus instead), yielded two victories and the second of those - John Surtees at Monza in '67 - was with a chassis called a Honda but produced by Lola, hence the 'Hondola' moniker.
In 2000, it returned again, initially as engine supplier to BAR (and for two years, Jordan) before taking over the Brackley-based squad. After two dismal seasons and amid a backdrop of global economic crisis, Honda pulled out.
Its nine-year stint had yielded just a sole win for Jenson Button in the 2006 Hungarian Grand Prix, not to mention pound-for-pound two of the worst F1 cars made in the shape of the '07 and '08 machines.
To add insult to injury, the continuation team, Brawn, went on to win both championships in '09, with Mercedes power in a chassis created using Honda funding before the whole team was sold to the German manufacturer.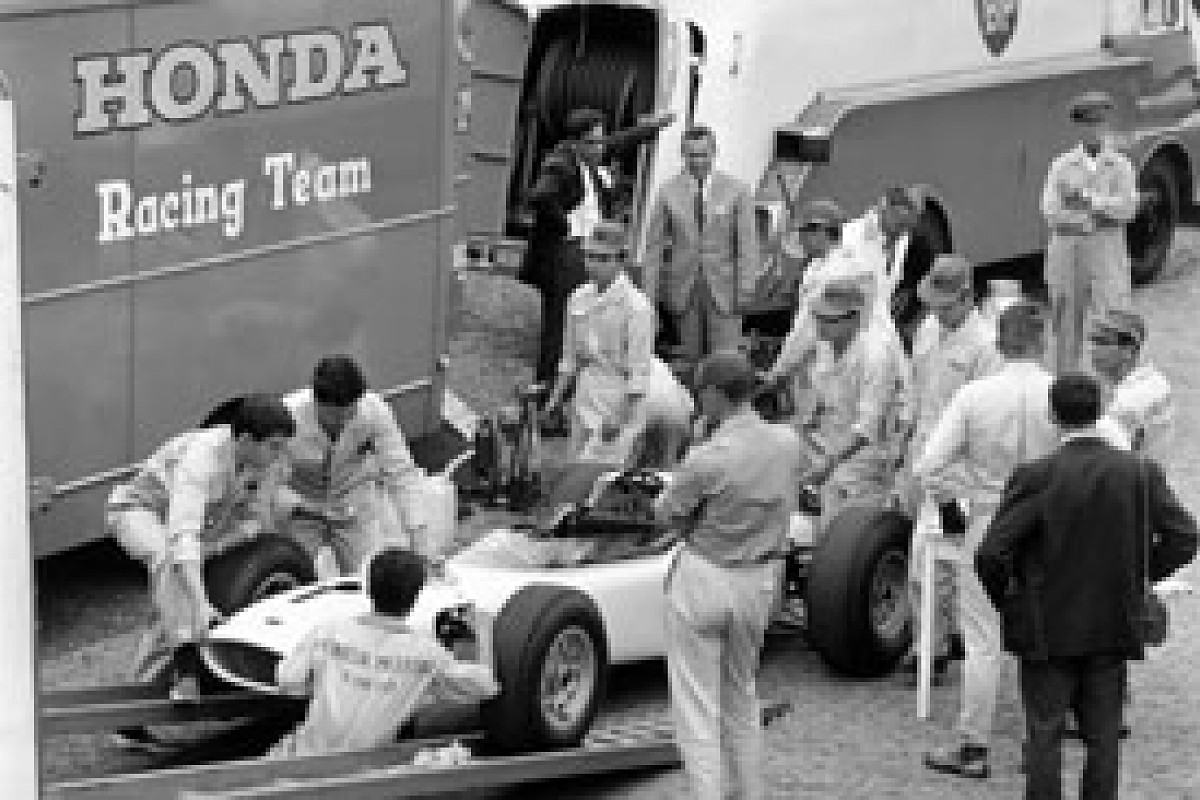 Honda's F1 history began in the 1964 German Grand Prix © LAT
In short, success in not guaranteed. For all the prestige Honda carries as a car marker worldwide, not to mention its qualities as an engine producer, simply turning up with an 'H' on the engine is no guarantee of success.
But failure is not an option after Honda's experiences last time round, so even internally expectations are high. After all, Honda is all about engines. And engines are exactly what F1 is going to be all about in the coming years.
Arai stresses the company very much sees its place as being in F1: "When we withdrew from Formula 1 last time, we were in a way forced to withdraw because of the very difficult financial situation placed on Honda at that time as a company.
"It was not because we wanted to withdraw, we were forced into it. We needed to make sure we were able to sustain the operation of the company first and foremost and had to choose the option of withdrawal from F1 racing.
"In terms of the direction of where automotive technology should go, it is the right direction for F1. The energy management in particular is something that is placed upon an automotive manufacturer as a challenge to solve.
"F1 gives us a new challenge to balance the speed with achieving these environmental technologies."
So that's the big picture stuff out of the way. Let's get down to detail. Last week, Honda announced it was establishing a base of operations in Milton Keynes, which will be shared with marque tuning specialists Mugen.
But this is not where the design magic will happen. Instead, that will all be based in the state-of-the-art Honda research and development facility in Tochigi in Japan.
The identity of this project is very much in-house. It will be Honda engineers, Honda technology and Honda brainpower that decides whether or not the revival of McLaren-Honda will be a success, at least on the engine side.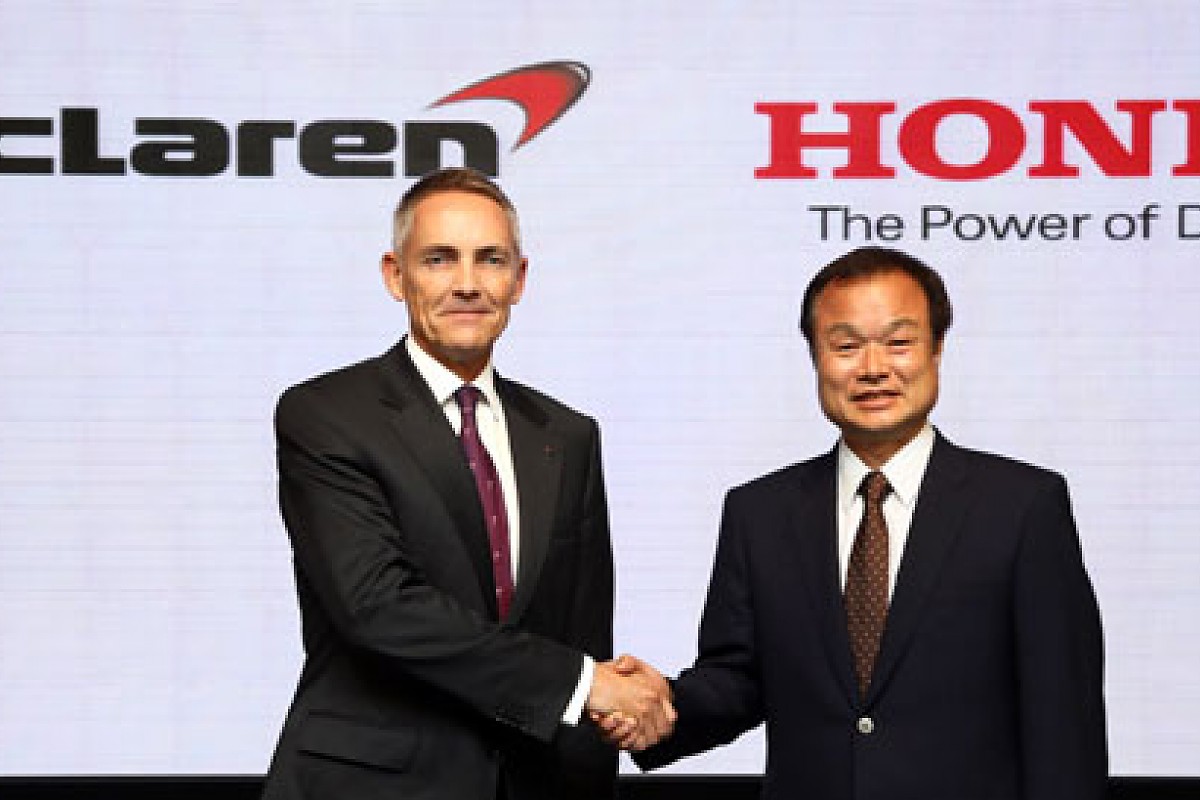 "The design work and the testing will be conducted by Honda R&D," explains Arai. "As for the role of Milton Keynes, it's going to be the focus of the racing activity operations. So their activities are going to include the rebuilding of the engines and also the final testing."
This is very much an in-house Honda project. Gilles Simon, former Ferrari engine supremo and the FIA's engine specialist during the formulation of the new regulations, has been involved but only as a consultant. He remains involved to this day, albeit with no design role at Honda.
It was a canny move to bring in a man steeped in the conception of the new rules and who had done plenty of thinking about the new engine concept, but again it's no guaranteed short cut on the path to grand prix glory.
"It is true that Gilles Simon was involved in formulating the regulations in the FIA and it is true that we have been receiving some advice in terms of the technological directions," says Arai.
"But it doesn't mean that Gilles Simon is based in R&D and getting involved with other areas such as design or specification. In terms of design and specification, it is Honda that is fully responsible and he is not directly involved in that."
As for individual personnel, Honda is not recruiting extensively. While its Milton Keynes European operations base is likely to involve some UK-based engine specialists, recruiting at Honda's R&D base Tochigi in Japan will only be driven by the need to fill gaps in expertise.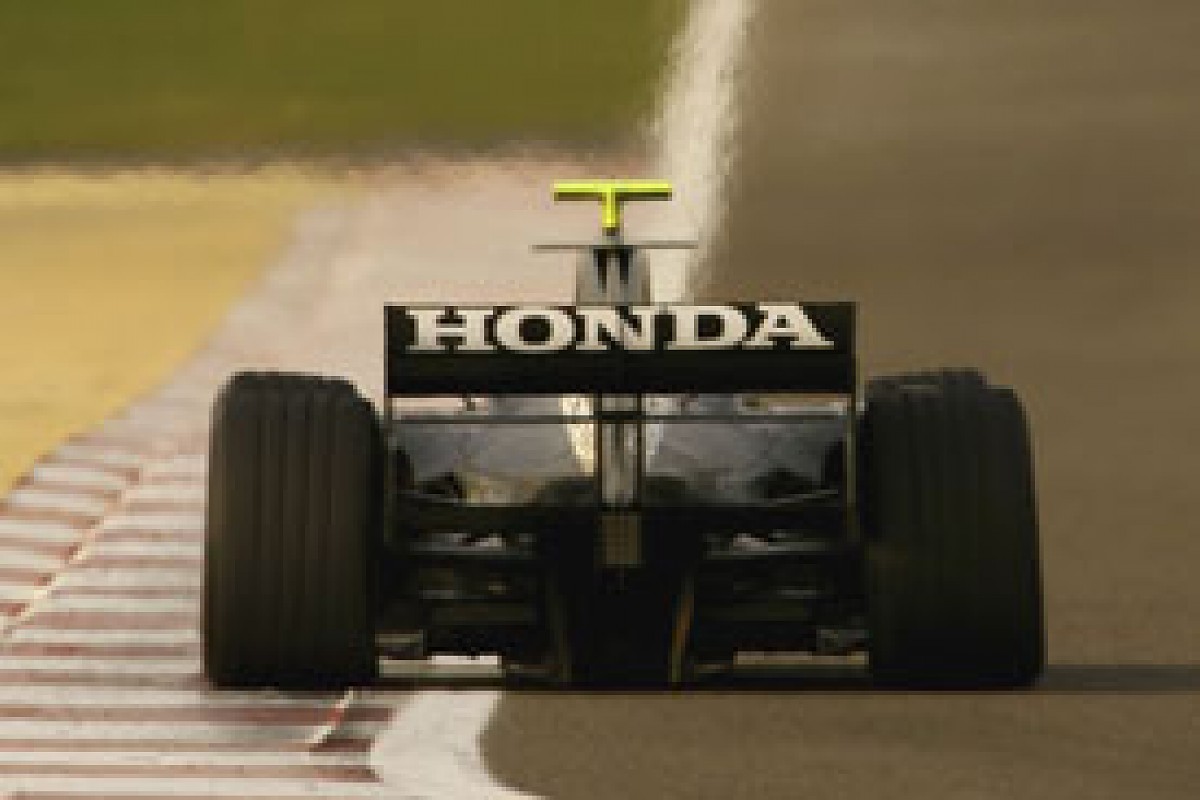 Honda is not recruiting heavily for its F1 return in 2015 © LAT
Honda has extensive experience of both F1 engine development and the kind of green technology being incorporated into the engine, so it's unlikely there will be vast gaps.
"We are not taking an active approach to employing new personnel," says Arai. "But it is going to require a wide range of technologies so, where necessary, we may have to scout somebody if we find that some particular expertise or knowledge is necessary. But we don't have a concrete plan to do that at the moment.
"The new regulations are going to give us an opportunity to use all the knowledge, expertise and experience that we have accumulated as Honda.
"However, it also gives us the challenge where we are going to have to explore new aspects of technology as well. So it's going to be case-by-case. If necessary, we are going to consider recruiting new personnel."
Development is already well underway. But while Honda is known to have been doing preliminary work on the new engine formula for some time, Arai stresses it is still early days.
Last week, AUTOSPORT revealed the first fire-up of the internal combustion engine itself is scheduled to take place in the autumn, but this is only part of the package now more accurately described as the 'power unit'.
Honda is more concerned about the energy recovery systems, harnessing both kinetic energy from braking (MGU-K) and heat energy from the turbo (MGU-H).
The harvesting of this energy is just part of the equation, with the storage and, in particular, the deployment strategies for this power being crucial.
It's an area in which Honda prides itself as being a market leader. When it comes to racing post-2013 style, with its 100kg-per-race fuel limit and restrictions on fuel flow, management of this recovered energy is going to be key.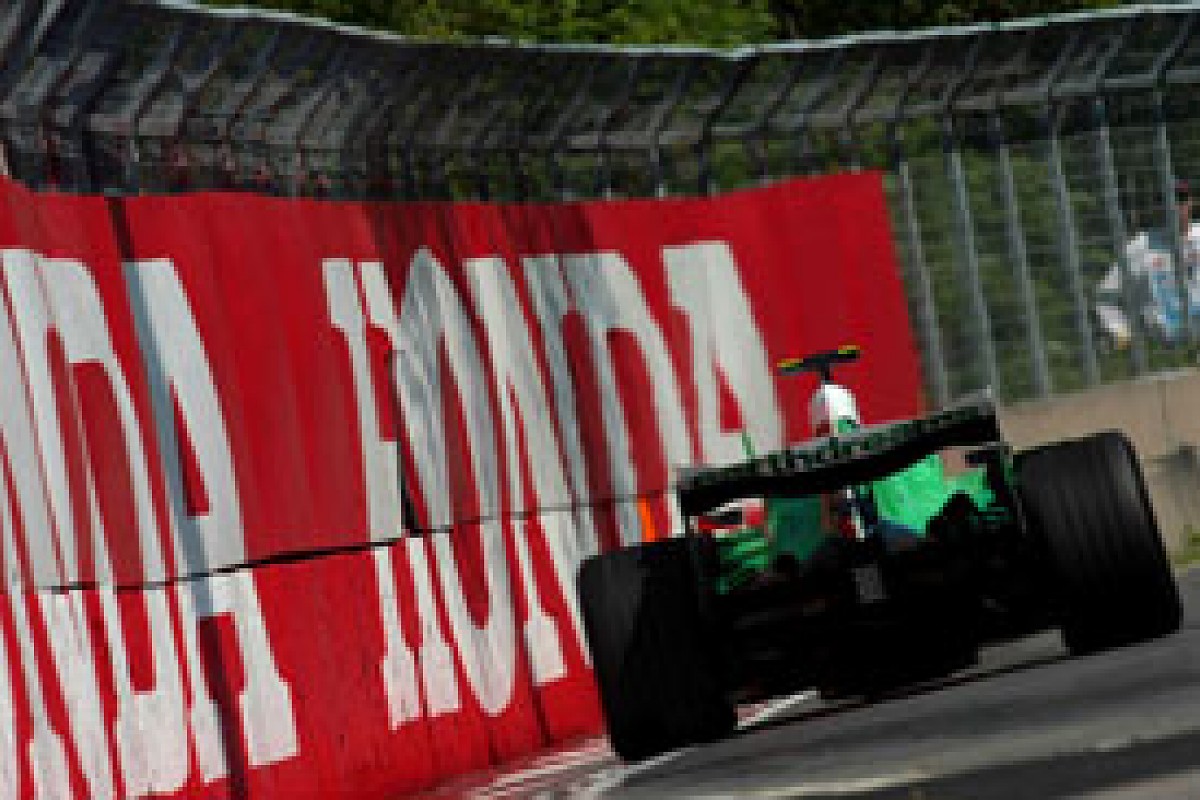 Harvesting of energy is just one of the new equations Honda will have to deal with © LAT
"It is still at the initial stage," says Arai. "We made the announcement in the middle of May that Honda has decided to come back to F1 and we have just started the design work. We are now making the decisions for some of the details, so we have just started to embark upon this.
"It is going to involve lots of technical elements, so it's not just talking about the engine. We have to make sure the engine works with the engine management. To be a good power unit, we have to make sure all parts work together.
"We are scheduled to have a fire-up around autumn. Of course, in addition to the engine unit, we are going to have components like the ERS and the battery, so in order for us to test it as a system it is probably going to take another year or so."
The elephant in the room when it comes to Honda's return is the timing. The new regulations come on stream at the start of 2014; Honda does not join the grid until 2015. The question is, why?
Honda's official position is that it's simply a result of when the decision to return was made. It's certainly plausible, particularly given the amount of to-ing and fro-ing over the engine regulations.
After all, the engine configuration was not finalised until June 2011, with the mooted four-cylinder units replaced by V6s. Also, the introduction of the new engine was, until the same month, planned for 2013.
No wonder it proved difficult to persuade any manufacturer newcomers to commit to joining F1.
Given Honda's proud history of designing and building F1 test cars and running them around Japanese tracks, it was no surprise many floated the idea that 2014 would be all about testing and developing the engine in the real world, be it in a genuine F1 car or a test hack.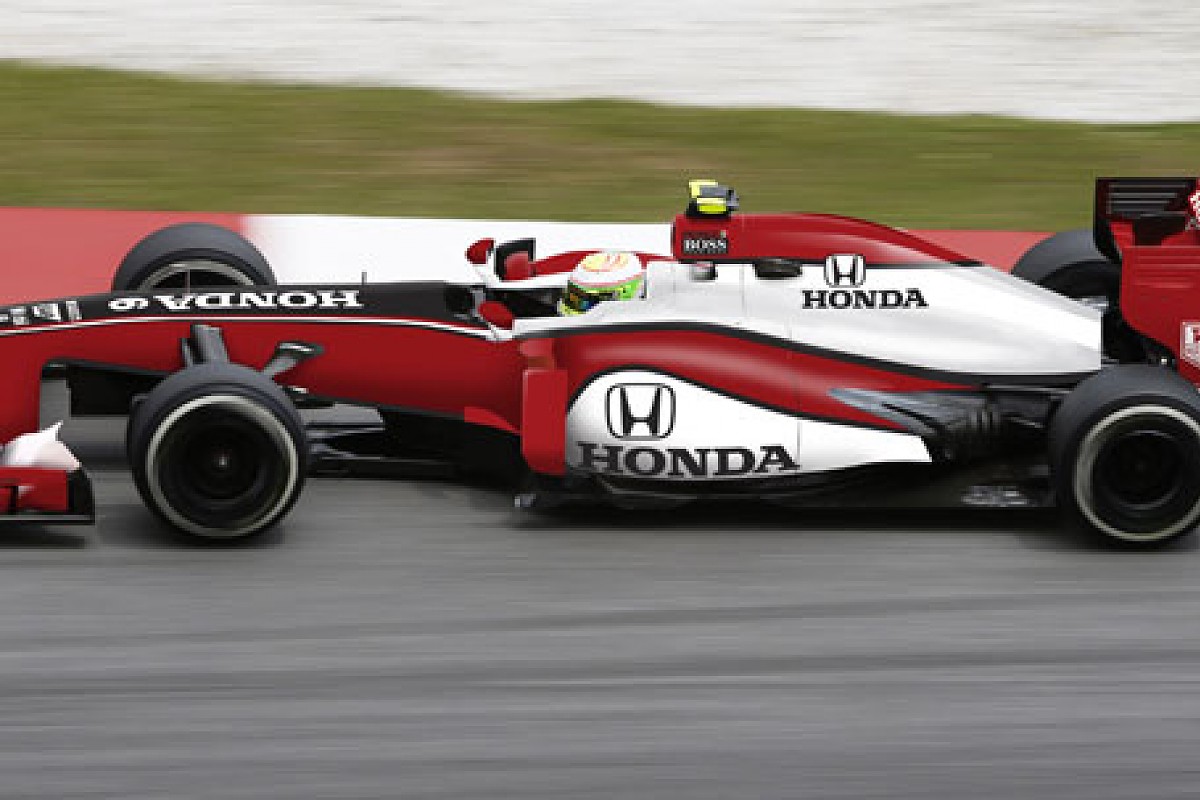 Honda has scotched this, with Arai confirming there are no such plans. What's more, he suggests running the engine in the real world is unnecessary given the quality of bench testing equipment, a view shared by his opposite numbers heading up F1 engine projects.
There are also potential upsides to being on the outside looking in for the first season of racing. On balance, coming in late could prove to be a neutral decision - one which is either declared a masterstroke or a blunder depending on how Honda's return goes.
That said, it would be a mistake to underestimate the lead-times involved in such projects and the development direction of the Honda engine will long since have been set when the 2014 season starts. Hence it cannot simply react to what others are doing.
Arai also believes that, even though there are restrictions on the development path of an engine, with freedom to change the specification gradually tightening up over the coming years, catching up will not be a major problem.
"We have both advantages and disadvantages," says Arai of starting to race a year after the rest. "In terms of the advantages, we can say that it is going to give us enough time to spend on designing and developing the engine. Particularly, I find the ERS very challenging.
"It's true that we are in the position where we will be able to observe the various experiences that other manufacturers will go through in the 2014 season so, in that way, it will give us a good benefit.
"However, we would only be able to observe what happens on the circuit. While we can observe other teams maybe struggling or having other issues, we can only see how they deal with the challenges and see the performance updates.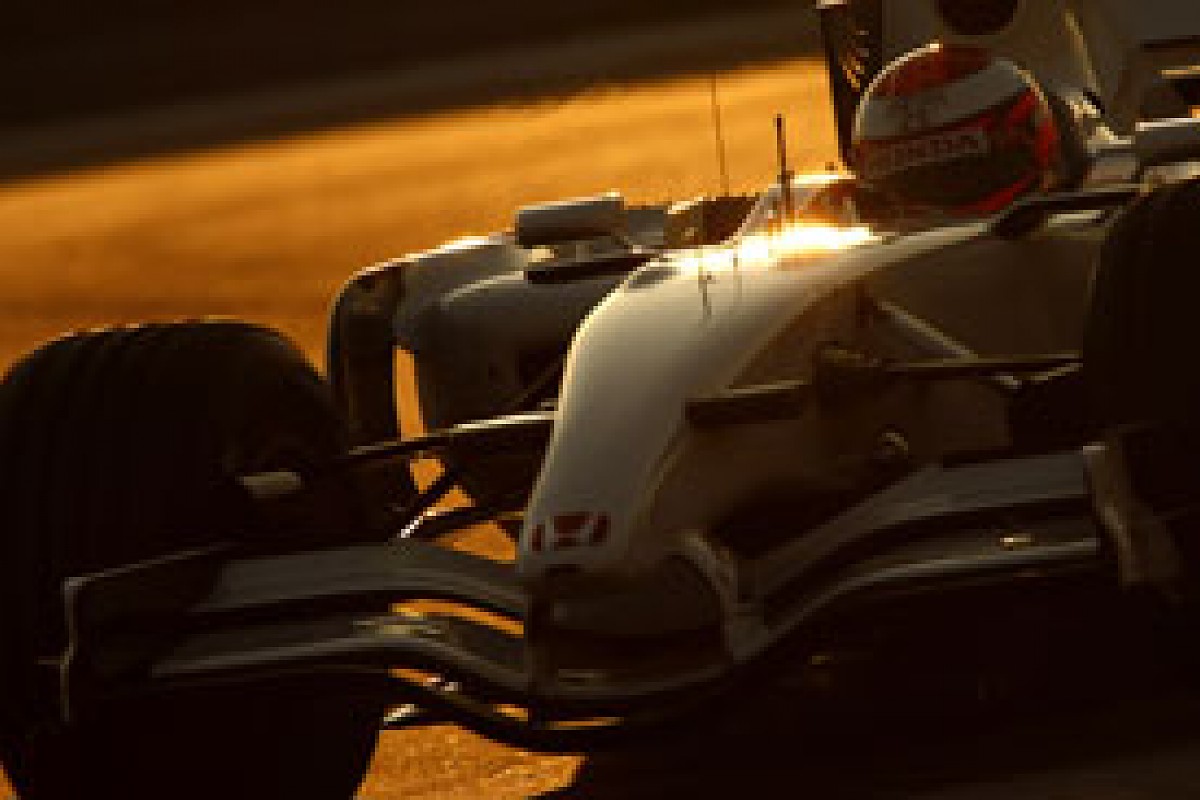 Honda won't hit the track until 2015 © LAT
"But as for how they did it, it is in our imagination. It's going to give us some challenges in that sense.
"So as for the disadvantages, even though we will be involved from 2015, next year we won't be able to look at the field where things are happening. Also, we won't have the opportunity to do packaging work with the car itself.
"According to the new regulations, it's going to give manufacturers a freedom in how they develop their engines. They will be able to accumulate experience of using the engine throughout the season, so it's giving them an advantage in that sense.
"But I don't think it is going to give us a particular disadvantage as we develop the engine itself."
The other vital part of the equation is McLaren. Although the Woking squad is struggling this year, it is an obvious choice of team for Honda to pair up with.
Memories of past glories are all well and good, but Honda will have committed to this partnership because of what McLaren is, not because of what it was, and it should guarantee that its engines will be in grand prix cars capable of challenging for top results from the off.
What the past success does show is the cultures of the two companies are compatible. With Japanese corporate culture not being to everyone's taste in Europe, that is vital.
"Back in 1988, as McLaren-Honda we were able to take 15 victories out of 16 races," says Arai. "Since then, we have developed the business relationship between McLaren and Honda.
"Our passion for victory is synthesised together and the way we are looking forward is very much the same. That makes McLaren a very important partner for Honda.
"It's very significant that we mutually respect the work processes within each other's companies and also our ways of thinking."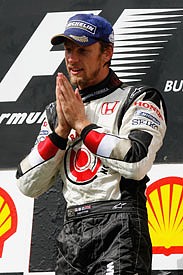 Button gave Honda the only win of its last nine-year stint © Getty
It will be with a sense of relief that Honda does not have to involve itself with building and running a car. This is, historically, where it has struggled in the past; almost all of its success has come purely as an engine supplier.
That said, the competition in terms of engines today is going to be more intense than the field Honda faced in the second half of the 1980s.
Remember, in '88, the last year of turbocharged engines in F1 before next year, its sole credible rival was Ferrari. The rest of the turbo brigade was made up of Megatron (ex-BMW units), Osella (ex-Alfa Romeo) and Zakspeed.
Mercedes, Ferrari and Renault are, collectively, far more potent opposition.
"We are not thinking about getting involved in chassis development," confirms Arai. "This time, we are only thinking about supplying the power unit which will include engine and ERS.
"Regarding the race management, what we learned by getting involved last time is that we haven't come to the point where we are able to fulfil that role of developing the chassis and also do the race management and also the manufacture of the engines. That is quite challenging.
"Therefore, we decided it is going to be optimum that McLaren, who are experts in chassis development and race management, focus on those elements, while Honda is going to concentrate on developing the power unit, which is our speciality.
"By combining that together, it's going to work as a team in the best possible way."
On paper, it sounds perfect. Honda expects; McLaren expects; the watching world expects. So what are the chances of McLaren-Honda being winners straight out of the box, just as they were in the 1988 season-opening Brazilian GP?
Realistically, it's hard to imagine it being so successful so quickly as in 1988. After all, the Honda engine bolted into the McLaren was based on five years' work since the Japanese manufacturer returned to the sport with Spirit in '83.
But in the long-term, this alliance has all the ingredients to be a success.
"I can say that I am confident enough, but I have not reached a conviction yet," says Arai of whether he expects immediate success.
"I'm hoping that in the next year-and-a-half, I'm going to reach the stage where I have unshakable conviction! So please, have great expectations... and great support."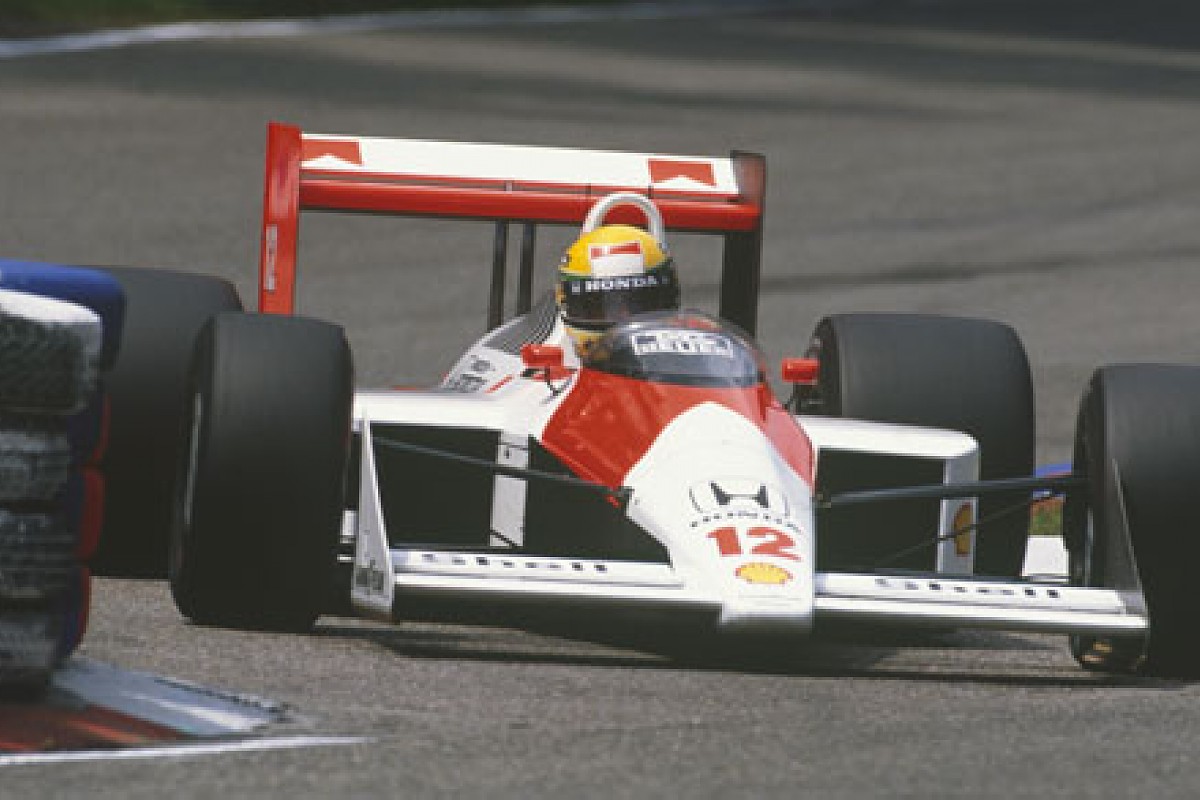 Working both ways: technology transfer and F1
As soon as talk turns to engine manufacturers in F1, the phrase that pays is 'technology transfer'.
Grand prix cars today are far too complicated and specialised for specific components simply to be taken off them and bolted onto the average production car, but given that increased road relevance was one of the key mandates of the new engine regulations, Honda's arrival is a sign that the sport is on the right track.
Honda's board would never have signed off what is going to be a massive investment were there not justifiable technological reasons for doing so.
Yasuhisa Arai, who has had experience of working on hybrid technology in Honda production cars, believes that this technology transfer can also be a two-way street.
"We can think about two scenarios," he says. "Just as F1 technology can be transferred to mass production cars, so production technologies can be transferred to the F1 car.
"For example, when heat recovery technology is used in F1, it can be transferred into mass production vehicles.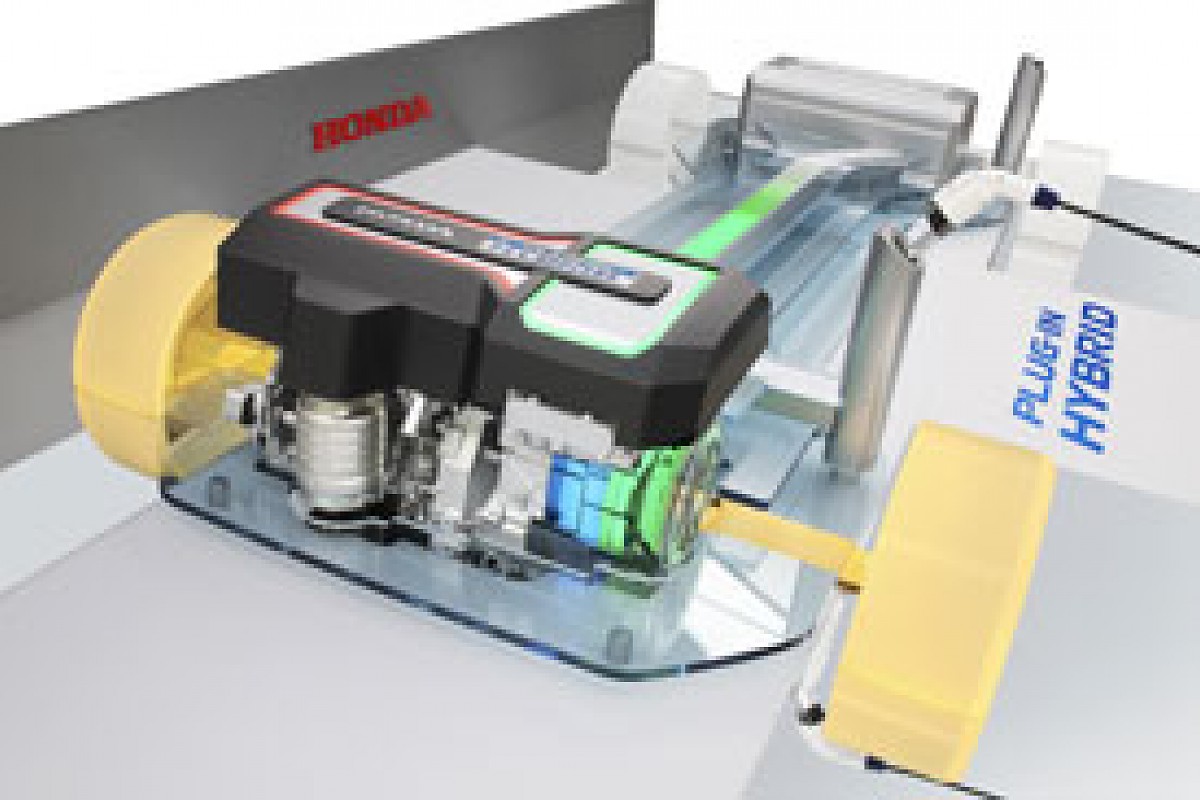 Honda hopes its hybrid expertise will plug straight into F1
"I have been involved in developing mass production vehicles myself and this heat regeneration system is something that all the engineers are fascinated with and want to challenge ourselves with.
"I'm sure this new technology developed in F1 will eventually be translated into mass production cars.
"One the other hand, in terms of the hybrid technology there is already a good energy management system within the mass production cars, so we expect to see that technology transferred to F1."
This could potentially be Honda's trump card. Renault and Mercedes both have experience of hybrid technology in their road cars, but Honda came early to the hybrid party and has accumulated vast experience of the technology.
As for Ferrari, as president Luca di Montezemolo so often points out, it's not a company famed for eco-friendly motoring, meaning it faces the biggest challenge of all.