The British Grand Prix was not the first time the left side of Romain Grosjean's Lotus has made contact with the right of Mark Webber's Red Bull to the detriment of the Australian.
But this was no reprise of Suzuka 2012, which led to the Webber storming into the Lotus hospitality unit to give Grosjean a forceful piece of his mind.
Nonetheless, the knee-jerk reactions followed, with some automatically blaming the Franco-Swiss pilot for what happened based purely on his identity. In reality, it was an unfortunate racing accident in which Grosjean did a fine job to minimise the unavoidable contact after becoming sandwiched between Webber and Jenson Button's McLaren.
Grosjean came into this season with a lot to prove. Some questioned Lotus's decision to keep him on, but the raw material is too tantalising to discard so quickly.
This year was always destined to be the one that shaped the former GP2 champion's grand prix destiny. On paper, the signs point more to 'break' than to 'make' so far.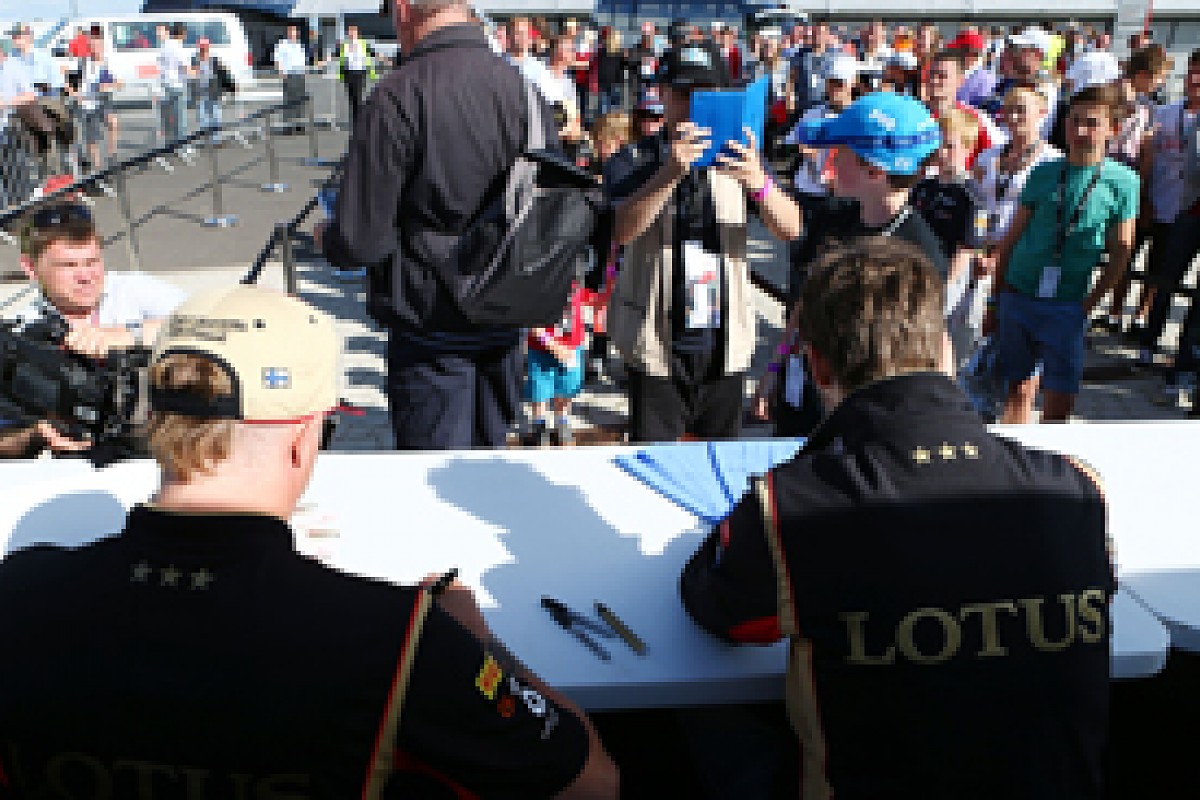 Grosjean trails team-mate Raikkonen by 72 points © XPB
Grosjean has just 26 points compared to team-mate Kimi Raikkonen's haul of 98. Aside from his one podium finish in Bahrain, there have been only minor points places. He has gone scoreless in the last four races, which includes his Monaco catastrophe, a weekend of multiple crashes.
Of the seven teams running two drivers who have scored, his points haul is the least impressive relative to his team-mate. Good as Raikkonen is, scoring at a shade over a quarter of the rate is not up to scratch.
Best-matched team-mates in terms of points
(higher scorer in brackets)
1 Nico Rosberg (Lewis Hamilton) 92.1 per cent
2 Daniel Ricciardo (Jean-Eric Vergne) 84.6 per cent
3 Mark Webber (Sebastian Vettel) 65.9 per cent
4 Adrian Sutil (Paul di Resta) 63.9 per cent
5 Felipe Massa (Fernando Alonso) 51.4 per cent
6 Sergio Perez (Jenson Button) 48.0 per cent
7 Romain Grosjean (Kimi Raikkonen) 26.5 per cent
But while Grosjean came into this season with his long-term position very much under review, a situation that has not yet changed, he is still in the car. The question is some have been asking is why? Despite the shaky numbers, Grosjean is, for now, still there for a good reason.
Some have suggested self-interest on the part of team principal Eric Boullier, who is often described as Grosjean's manager. While it's not a completely misleading phrase, it does mis-represent their relationship. To be precise, Boullier is in charge of Gravity Sports Management, Genii's driver stable. Wearing both his team principal hat and his Gravity hat, Boullier's sole interest in Grosjean is that he's a driver of rare promise. And he's right, even if that promise might never be realised.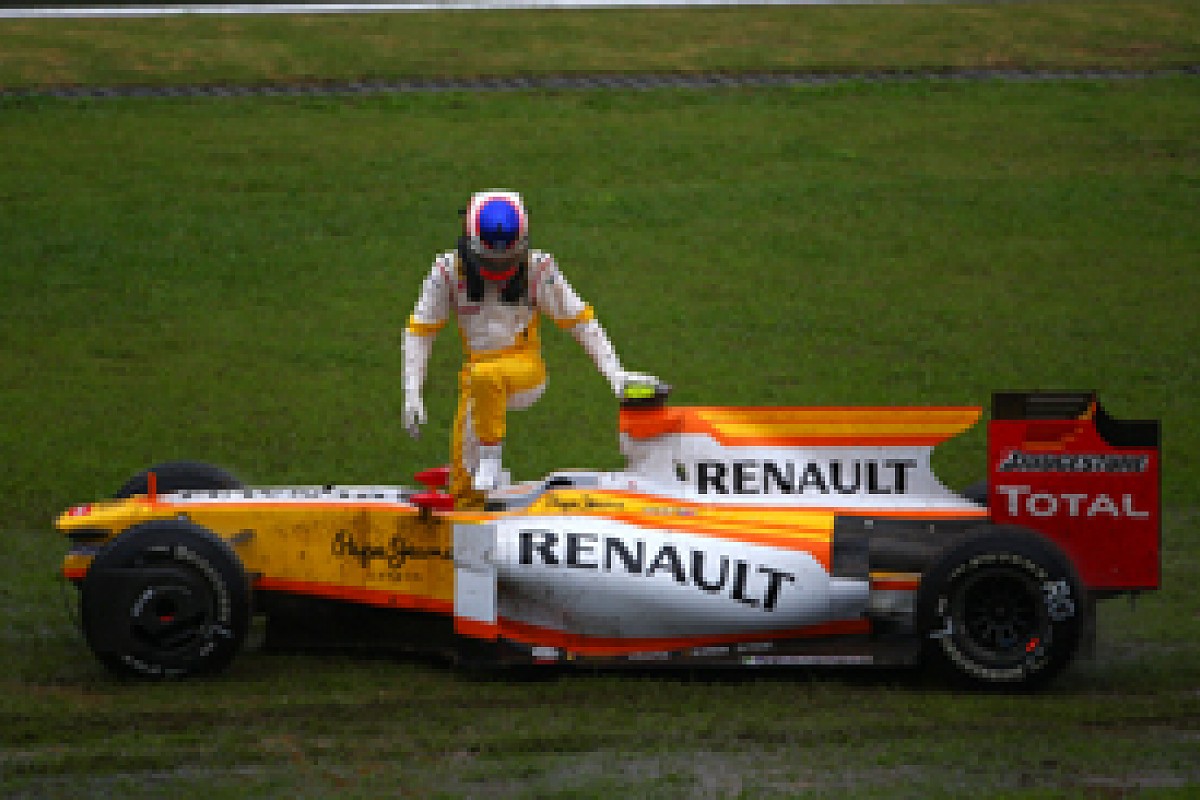 Boullier has already sacked Grosjean from the Enstone team once © XPB
"People keep saying this, but I am not his manager," explains Boullier, who was on nodding terms with Grosjean before becoming team boss at Enstone and then having to sack him as his first official contact!
"I run the company on behalf of Genii that develops drivers. It's very important to clear this up."
Boullier goes on to explain exactly why he is willing to persevere with Grosjean, who now has 34 grand prix starts under his belt. His argument is convincing, not least because it tallies precisely with my own reading of Grosjean's prodigious potential, which has so far only occasionally been delivered on in F1. Certainly, Boullier has made all the right moves to create the conditions for Grosjean to blossom.
"My only reason to try [with Grosjean] at least until I am sure there is no way to deliver is that Romain is a very rare driver," says Boullier. "I have worked in the junior categories from the lowest levels up to GP2 and I have rarely met a driver this fast. The media keeps asking why support him, but everyone in the pitlane knows how talented he is and how rare it is to find such a driver.
"If he can do it [fulfil his potential] it will be the sporting jackpot for us. We will have somebody extraordinary who can win races and championships for us. If he cannot, he cannot. But we have to try it."
You could read Boullier's comments as an admission of the gamble in persevering with Grosjean. Certainly, it now does seem to be more of a question of whether Grosjean can realise his potential in F1 rather than when.
The Monaco GP weekend, where Grosjean was quick but suffered two big crashes, another car-damaging brush with the barrier and then rear-ended Daniel Ricciardo's Toro Rosso in the race, was enough to make even the staunchest supporter of Grosjean question whether it will ever come together. Chances are, Boullier felt the same way.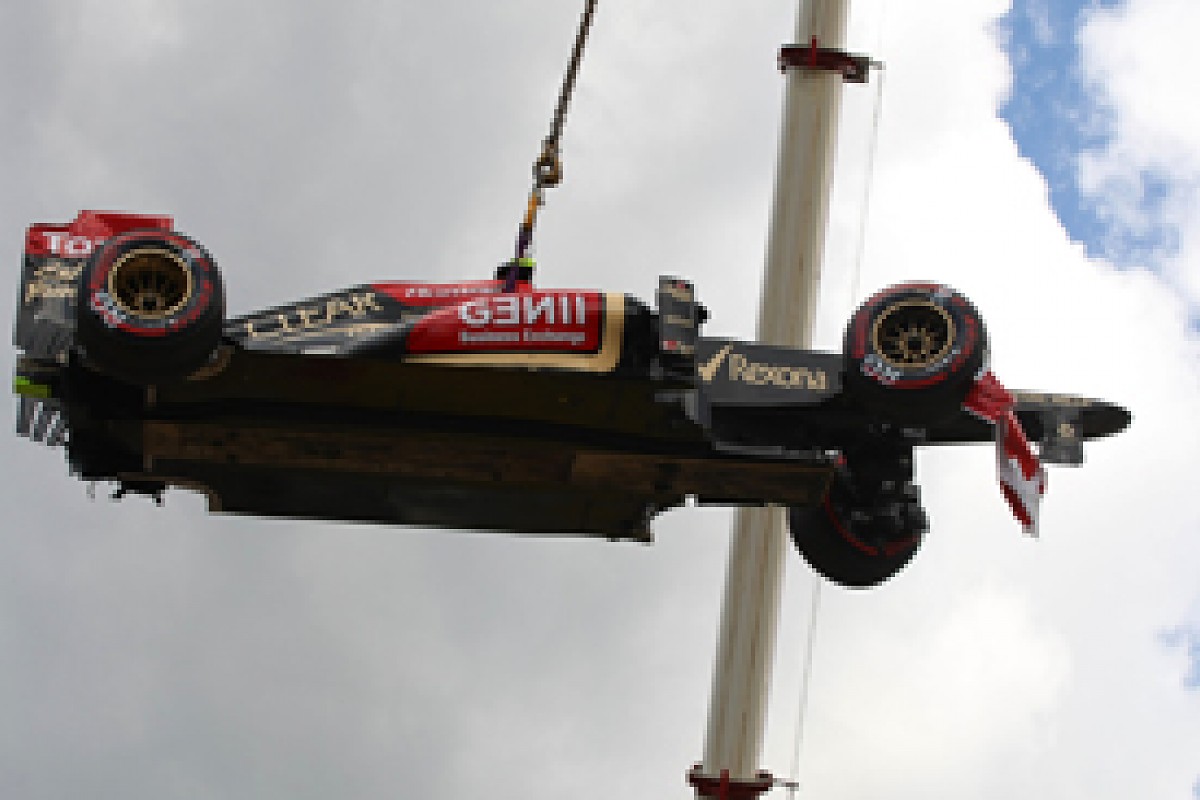 Monaco was a messy weekend for Grosjean © XPB
"It's still not black or white," says Boullier of the conclusions you can draw from Grosjean's 2013 performances. "You can see that he has got rid of last year's issues, that is positive. The consequence was that in the first three races he was a bit too conservative. But Bahrain was like a switch was turned on.
"Barcelona was a shame because it was not his fault he had a suspension issue. Without that, he would have been on the podium. Being in Kimi's slipstream is not bad, it's what we expect him to do. Monaco was clearly a mess and then in qualifying in Canada, he got trapped by yellow flags and rain and that was it.
"Definitely, he has improved from last year. When you get hurt, it's difficult to keep moving but it's where we see the real champion [credentials]. Romain has, in some ways, impressed me because he put his difficult first year behind him. But he needs to do another step, to believe that he can achieve wins and world championships in F1. That will change his state of mind."
At Silverstone, Grosjean again failed to score but there were some encouraging signs. He outqualified Raikkonen for the first time since last year's United States GP (albeit by only seven-thousandths of a second), ran with him for the first half of the race before being unlucky with traffic and then having to retire after being hobbled by a front wing problem.
The question is, can he deliver consistently? The trouble is, you could make a compelling case that super-fast Grosjean and mistake-free Grosjean are two very different animals. Watch him trackside and it's clear he is living on his wits at times, with myriad steering inputs and corrections.
Could it be his pace is generated by driving right on the edge, which can inevitably lead to blunders? But ask Boullier if the speed and consistency are mutually exclusive and he gives an emphatic answer: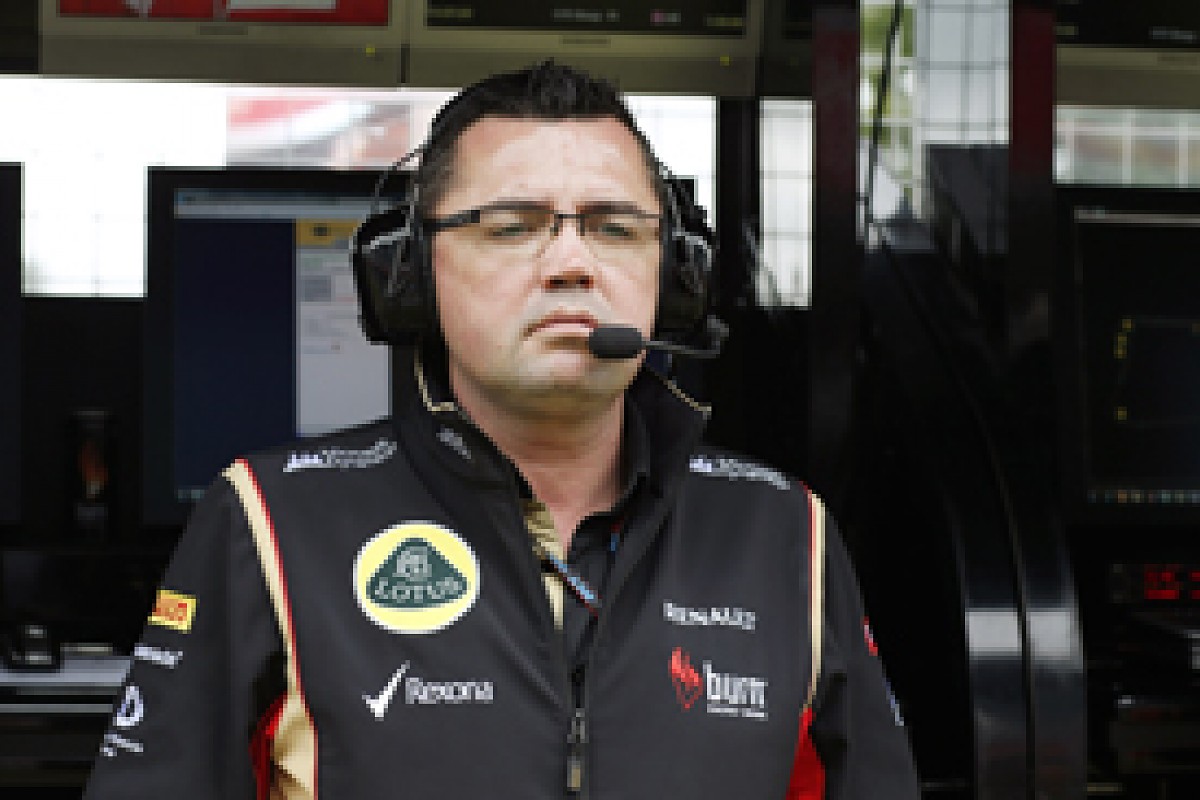 Boullier believes in Grosjean © LAT
"No, I don't think it is. F1 is such a demanding sport. To deliver, you need to commit totally. You can't allow yourself to face any interference from the outside, be it private, friends, media. This is where Romain needs to take one more step."
This has been a running theme. Last year, when Grosjean was banned from the Italian GP for triggering a first-corner crash at Spa, Boullier talked the need to minimise the distractions that had made things harder for Grosjean. It all adds up. Talent is a dangerous shorthand for a multitude of qualities in an elite sportsperson and it's clear the key to Grosjean's real battle is in the neurological realm. He continues to be assisted by a sports psychologist, but perhaps the answer lies in taking a leaf out of Raikkonen's unique book of calm.
Certainly, it seems his early-season complaints about car problems were at least partly caused by over-thinking set-up work and Grosjean creating a muddiness of direction.
"When you want to achieve something very strongly and you focus on the essential points," says Boullier. "He was perhaps taking too many points into consideration. He should do things like his team-mate, focus on the main points and the rest will follow.
"You need to control your destiny. You need to focus. It's about putting the blinkers on."
Grosjean cannot afford to spent too much time achieving this. Boullier and Lotus will give Grosjean every chance to fulfil his potential, but if he the switch hasn't been flicked by the end of the year it is unlikely he will be given another chance.
But whether or not Grosjean does deliver on his prpomise, the Lotus team's decision to persevere with him will have been correct, not least because Raikkonen clearly respects his team-mate's pace, ensuring that the 2007 world champion won't become complacent in his position as team-leader.
"There are not many drivers like Romain," says Boullier. "He is one of the very rare diamonds who we still need to polish.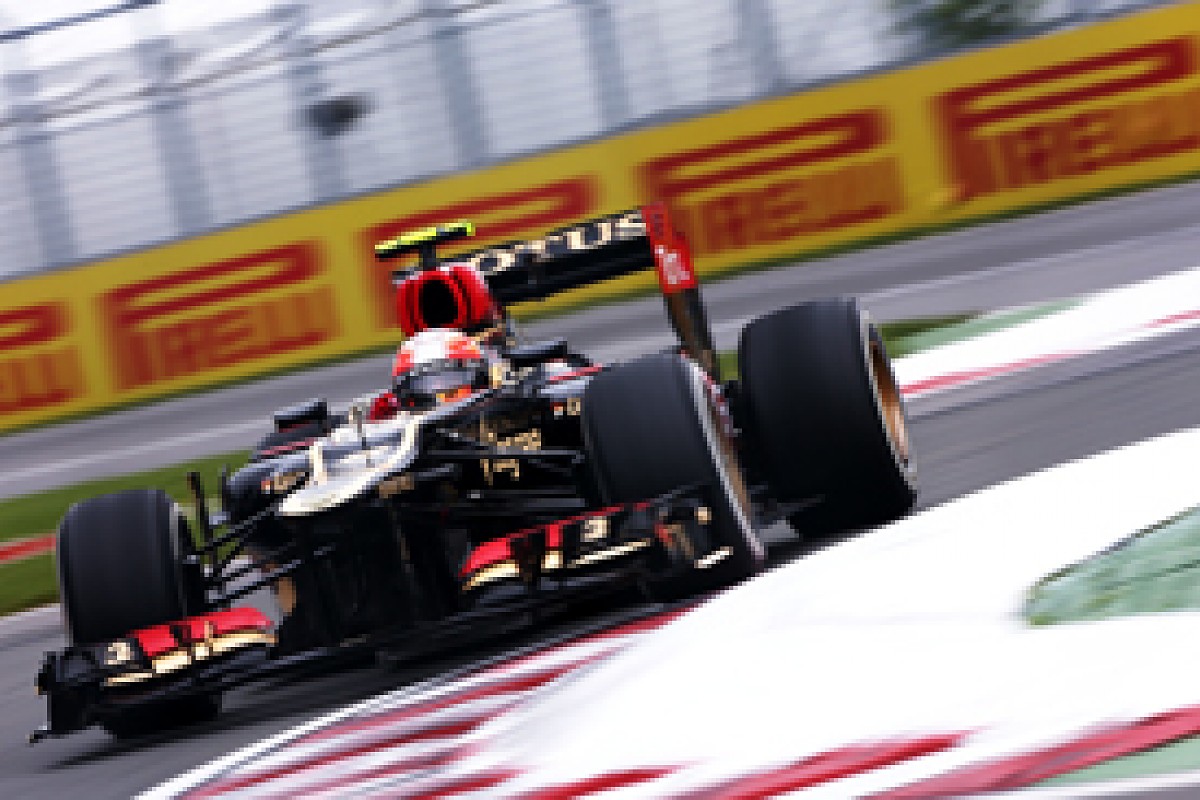 Grosjean's raw speed is not in doubt © LAT
"We will not keep supporting him for many years if he doesn't deliver. He needs to deliver but most of the issues he faces come from his head. He needs to stand up and get the maturity and self-confidence that any champion needs to have.
"He has won all the championships that he has gone for, so he knows how to do it. Maybe then he was more talented than the rest of the field, but even at F1 level he is talented enough to be world champion.
"He needs to exploit his talent and forget about any fears."
On the current trajectory, there is a point that is rapidly approaching where Lotus will accept it is not going to happen and give up on Grosjean in favour of a proven quantity who, while not being the same quality of raw material, is more effective at fulfilling the potential they have.
Grosjean has been here before. After being dropped by the then-Renault team at the end of 2009, he was cast out of single-seaters and in F1 oblivion. He had the mental strength to come back then and needs to again on the biggest stage. Over the past 18 months, we've seen glimpses of what Grosjean is capable of. Now he has to show it regularly. Four times, he has stood on the podium, so that proves he can do it, but he must become a regular visitor.
Can he? Certainly.
Will he? Maybe.
But the clock is ticking.