Nigel Mansell was never shy about playing to the gallery, regularly claiming home support was worth significant lap time to him at Silverstone or Brands Hatch.
In his autobiography, written in association with James Allen and well worth reading, he claimed "racing in front of my home crowd is worth at least a second a lap."
Such lines have been attributed to Mansell repeatedly, with the time gained seemingly varying between a quarter-of-a-second and two seconds depending on how he was getting on at any given moment. But is there anything in it?
Clearly, the idea that home support is literally worth lap time is fatuous. The laws of physics remain the same whether you're racing in front of 100,000 Brits or a handful of Koreans. No matter how hard the home crowd cheers, it won't increase engine power or a car's grip.
But in the case of Mansell, it's clear he revelled in having the crowd on his side. Five of his grand prix victories came on home soil, with his maiden win in the 1985 European GP at Brands Hatch augmenting his quartet of victories in the British GP proper. He won home races at a rate of 38.4 per cent against a win rate of 16.7 per cent (31 in 187 starts).
The question is, why should that be? 'Home advantage' is the usual answer, but that phrase is shorthand for a whole confluence of factors. Simply stating that Mansell won at home a lot isn't proof of anything. If it was, we could also read something into his 33 per cent win rate in the French GP.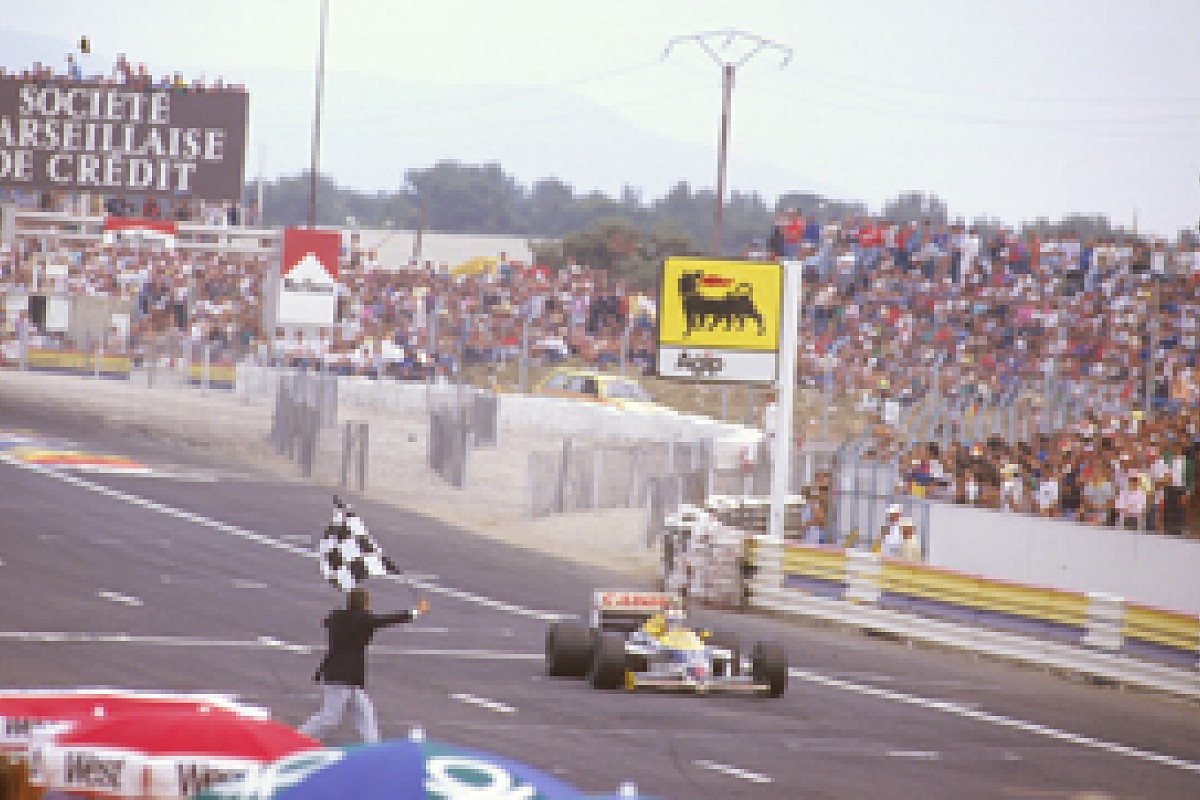 Mansell was famed for home success in Britain, but he won in France a lot too © LAT
There are plenty of studies into home field advantage in sports. This is not intended as a summary of them or any kind of meta-analysis. For more detailed understanding of these studies, do a Google Advanced Scholar search and take a look at some of the fascinating work done in this field.
But, to sum up the usual findings, home advantage is usually talked about in several key areas. First of those is that, quite literally, you are at home. In the case of a football team, this affects the dynamic of the game dramatically. Not only does it influence the tactics of both sides, but the noise of the crowd is usually reckoned to make referees subconsciously more favourable to the home side.
None of that really applies to motorsport, but factors such as circuit knowledge do. Track knowledge is often vastly overstated. Take Paul di Resta, for example. His pre-F1 racing experience at Silverstone stretched to three races in Formula Renault 2000, all on the International circuit configuration. Combined with his two British GP starts, he has five starts there to his name. That's hardly a home advantage. By contrast, he has raced 17 times at Hockenheim!
In the 21st century, track knowledge is relatively even throughout the field. Occasionally, there are trick wet weather lines that a track specialist might be able to pull out of the bag - Eddie Irvine at Suzuka is a good example of this - but in the normal course of things, home advantage by track knowledge is of negligible influence; a tiny factor at best.
Another influence often cited in studies that doesn't really apply to Formula 1 is the need to travel. Granted, if you are having to travel a significant distance to play a football match, that's not going to be a slight disadvantage over the home side. But in F1, everyone has to travel to a greater or lesser extent. Silverstone is hardly on the doorstep of Monaco resident Lewis Hamilton, after all.
The more interesting issue is the presence of the crowd. Mansell sometimes claimed he could see and hear the support from the cockpit, but the likes of di Resta, Hamilton and Jenson Button regularly scotch that idea. But it is conceivable that the mere fact of being in front of your home crowd affects a driver psychologically - although that can be for better or for worse.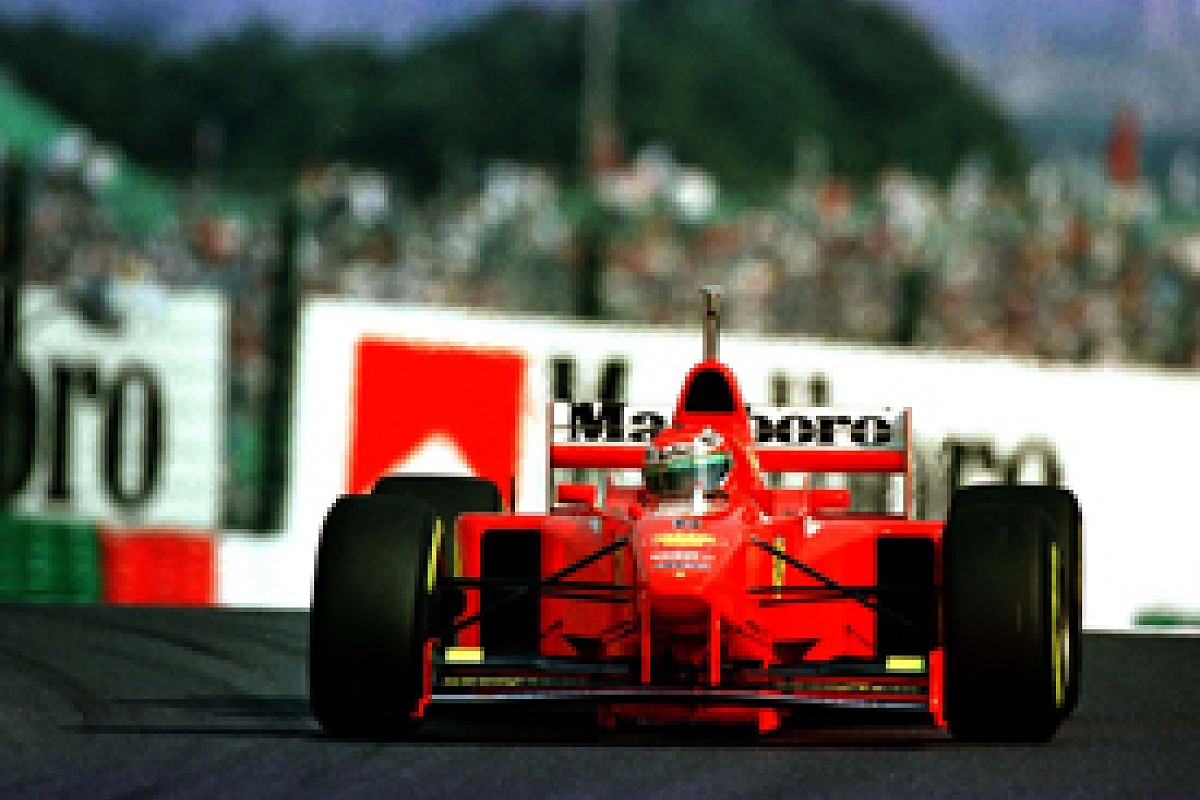 For Irvine, 'home' advantage came not at Silverstone, but at Suzuka, due to his pre-F1 background in Japanese racing © LAT
Mansell always talked about revelling in the pressure and the expectation of the British crowd. He felt a responsibility to deliver, which manifested itself in some storming performances at Silverstone in particular. In 1987, he chased down and passed Williams team-mate Nelson Piquet from a seemingly hopeless position and five years later, at the peak of Mansell-mania, claimed pole position by 1.9 seconds.
Think about that for a minute... 1.9 seconds. Not only was that testament to the might of the Williams-Renault FW14B, but even team-mate Riccardo Patrese, no slouch, was astonished by the lap.
To delve into what might or might not be going on inside a driver's head is often a fool's errand, but given Mansell so often carried a me-against-the-world mindset, perhaps having such clear support on home soil ensured that he did not talk himself out of performing to his best?
By contrast, a driver like Mark Webber, who has generally struggled on home soil and never made the podium, seems to be dragged down by the expectation. Perhaps Button (zero podiums in 13 British GP starts) has the same problem. The fact his two most impressive race drives at Silverstone, to fifth in his debut year, and to fourth from 14th on the grid in 2010, came when expectations were relatively low supports that.
Casting the net a little further, there is mild support for the idea that British drivers in particular revel on home soil.
F1 DRIVER WIN RATES BY NATIONALITY, OVERALL VERSUS HOME SOIL
Based on the 885 world championship races held to date. Statistics based upon any race held in a country (for example, Germany includes European and Luxembourg GPs).
Britain
Overall win rate: 25.5 per cent
Home win rate: 33.3 per cent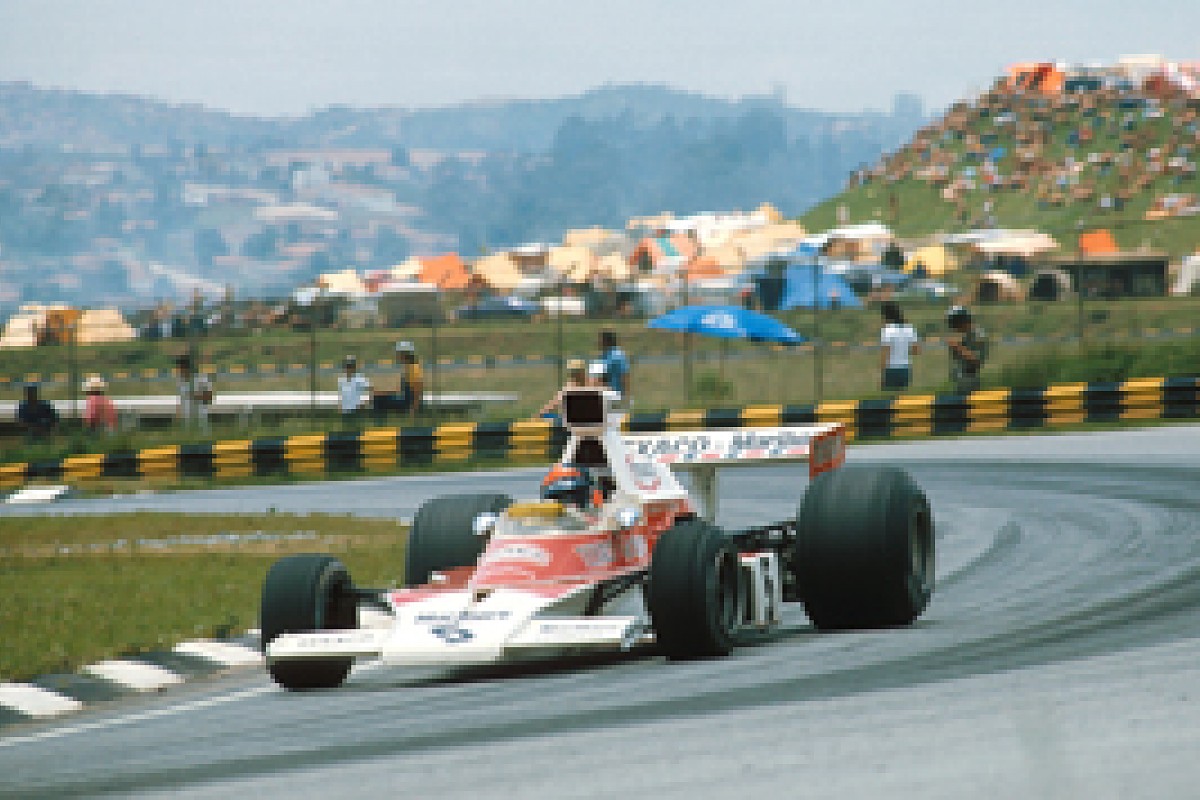 Emerson Fittipaldi heads for a home win at Interlagos in 1974 © LAT
Germany
Overall win rate: 15.1 per cent
Home win rate: 15.3 per cent
Brazil
Overall win rate: 11.4 per cent
Home win rate: 22.5 per cent
France
Overall win rate: 8.9 per cent
Home win rate: 14.6 per cent
Italy
Overall win rate: 4.9 per cent
Home win rate: 4.5 per cent
Austria
Overall win rate: 4.6 per cent
Home win rate: 3.8 per cent
There are a few interesting trends revealed here, although several caveats have to be added. The sample size for home races is relatively small in all cases, meaning that it's difficult to argue they are necessarily statistically significant. But even so, it's clear that British drivers have an affinity for their home race.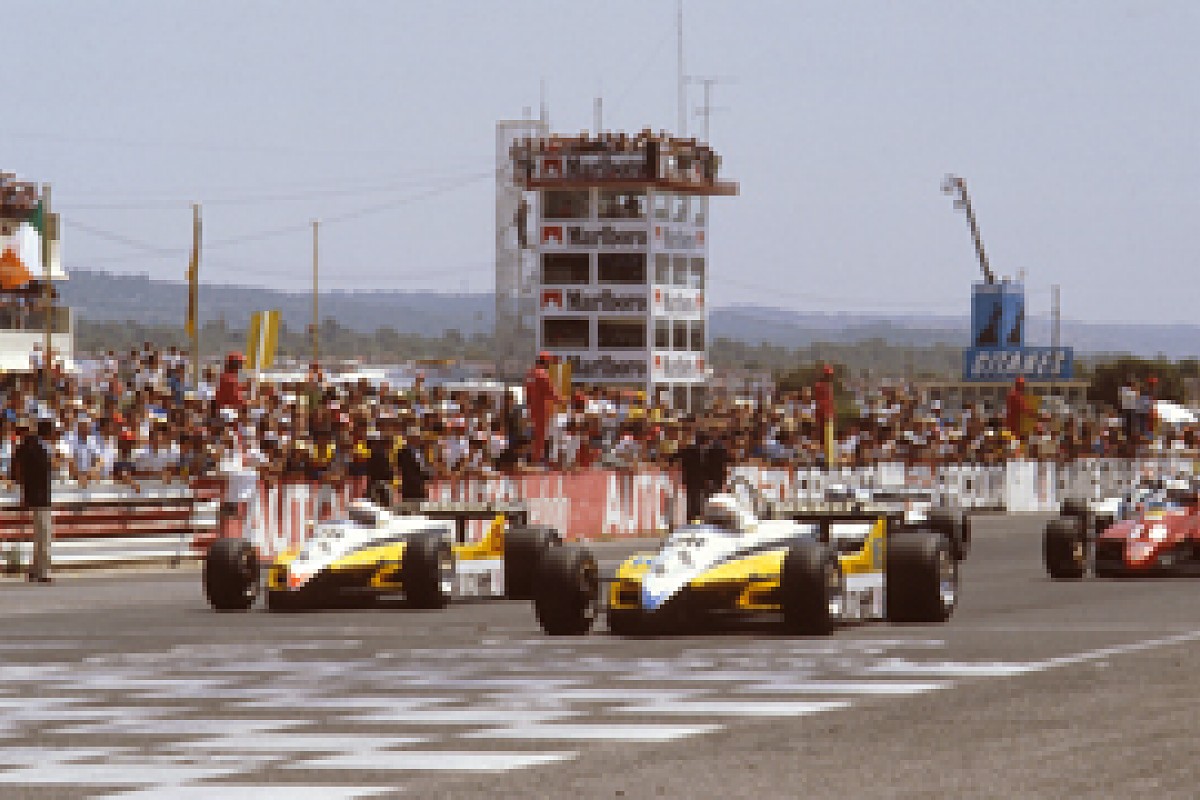 Renault prized home victory, and Rene Arnoux and Alain Prost obliged in 1982 © LAT
Likewise the French. Alain Prost is largely responsible for this, and unquestionably he was more motivated to win the French GP than any other and, particularly in the second half of his career, was less willing to settle for banking points there. Renault, too, knew how important this race was and would leave no nut untightened in ensuring that its cars had the best chance of holding together, helping Prost, Rene Arnoux and Jean-Pierre Jabouille to wins.
Brazilians, too, appear to go well at home. But much of the disparity between overall win rate and home win rate is closed if you cut out the 221 world championship races held before Brazil finally joined the calendar in 1973 (making the win-rate 15.2 per cent).
The Brazil numbers are a warning of the dangers of statistical misinterpretation as, in fact, Ayrton Senna famously struggled to win at home and didn't do so until 1991. Equally, Rubens Barrichello was famous for his failure to triumph in Brazil.
Germany, Italy and Austria, meanwhile, have little difference between their home victory rate and overall win rate.
In real terms, there will be no tangible factors helping Hamilton, di Resta, Button and Max Chilton at Silverstone this weekend.
But the evidence does hint there could be a small effect of racing on home ground. But it's not about track knowledge and certainly doesn't allow a car to find an extra half a per cent of grip in qualifying.
Any effect is surely down almost exclusively to how a driver reacts mentally to the knowledge they are on home soil. In Mansell's case, this clearly helped him to ensure he performed to the maximum of his ability.
But for others, that expectation can be crushing.
A reminder, once again, that when it comes to elite sport, psychological factors can be decisive.