RED BULL TERRITORY
There's one thing we have to keep in mind about Silverstone that influences all the other data: since 2009, the British track has become Red Bull territory.
It's scored three wins and three poles out of four, and missed only one podium out of eight total starts, when Sebastian Vettel got a puncture on the opening lap of the 2010 race, nevertheless managing to finish seventh.
Red Bull's qualifying performances in these four years were equally impressive, as its drivers started from the front row six times out of eight and never qualified below the fourth spot.
One final note: no one was able to overtake the Red Bulls here in the last four years.
DRIVERS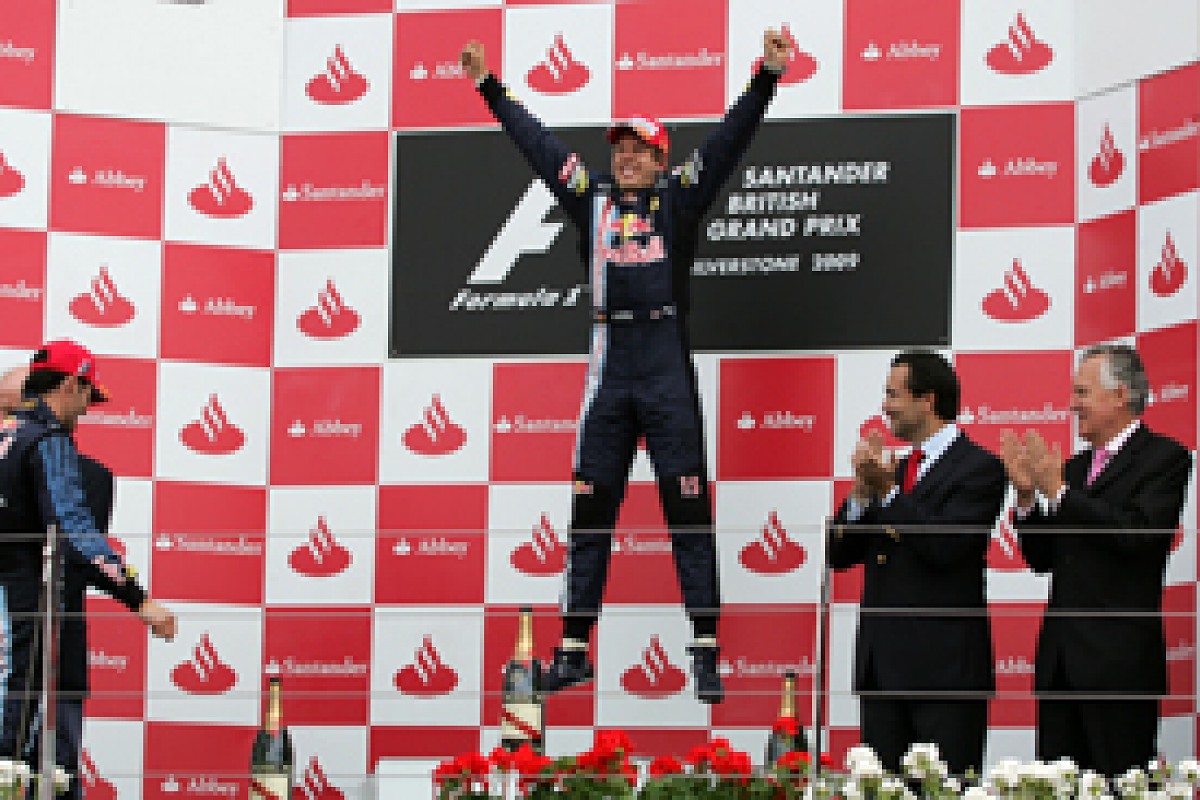 Vettel's 2009 British GP win was his first F1 triumph in the dry © XPB
• Sebastian Vettel recorded the pole/fastest lap/win hat-trick here in 2009, was second in '11 and third in '12. He had worse luck in his other showings, as first-lap collisions dented his performances: he retired in '08 and was seventh in '10. Seb was on pole here in 2009-10 and, with Red Bull, has always started in the first four spots.
• Mark Webber has won twice here, in 2010 and '12 (the latter his last victory to date), and has an active podium Silverstone streak that started in 2009. His qualifying performances are equally impressive: since 2008 he's always managed a spot in the top three, starting from pole in 2011.
At Silverstone, Webber and Fernando Alonso will match Nelson Piquet for race starts with 204, entering the all-time top-10 (Rubens Barrichello is on top at 322).
• Fernando Alonso won here in 2006 and '11 and started from pole three times: 2005-06 and '12. Last year he was a likely winner, but Webber passed him five laps before the end and the Spaniard finished second.
It's one of the three times he lost the lead here: in 2005 he was passed by Juan Pablo Montoya at the start and followed him home in second, while in 2007 he was outfoxed by Kimi Raikkonen at the pitstops, and again had to settle for the runner-up spot.
Alonso missed a top-10 grid spot here only in his Minardi year (2001) and is 8-3 up against his team-mates in qualifying, unbeaten since 2008. Silverstone is the track where Alonso recorded his last fastest race lap to date, two years ago.
• Felipe Massa has the same scoreboard here as at the recent Canadian Grand Prix: he's never started from the front row, and never finished on the podium. For Silverstone, he adds the fact that he's never led the race. His best result is fourth, both in qualifying (2006, '11) and in the race (2009, '12). He has never retired in his 10 races at Silverstone.
• This is one of the seven tracks where Jenson Button has never been on the podium (the others are Yeongam and Austin among the current circuits, then the A1-Ring, Fuji, Indianapolis and Magny-Cours among past venues he's raced at in F1). His best result is fourth, scored in 2004 and '10. He has never led his home grand prix.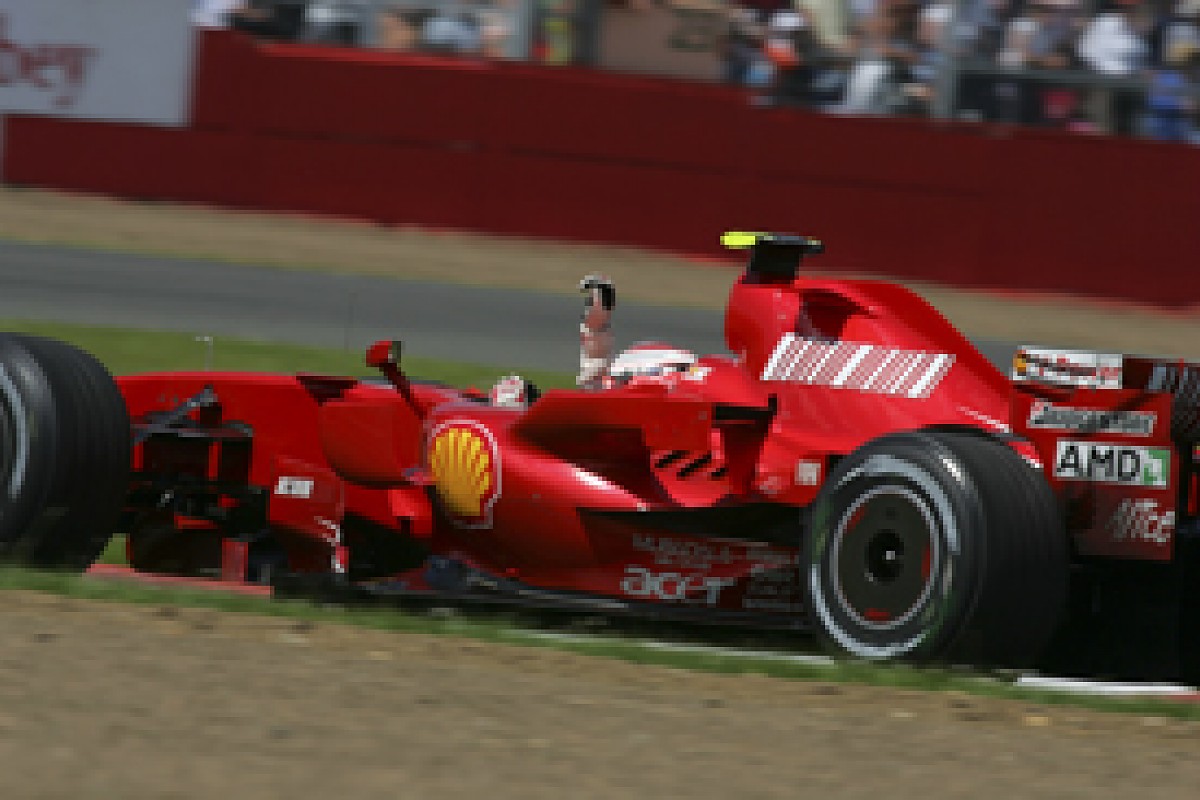 Raikkonen won at Silverstone for Ferrari in 2007 © LAT
• Sergio Perez has yet to qualifying in the top 10 at Silverstone, was seventh two years ago and was running seventh also last year when he was taken out by Pastor Maldonado.
• Kimi Raikkonen was able to outfox both McLarens in the pits in the 2007 race, going on to win the race for Ferrari, the last of his five podiums in sequence here.
He was also on pole in 2004 and has been able to start from the top 10 every year since 2006. This record could be even better, but he had to change his engine in 2005, when he had set the second-fastest qualifying time, dropping to 12th. Without that penalty, he would have always qualified in the top 10 here and his score against his team-mates would be 10-0. Raikkonen posted the fastest race lap four times here.
• Nico Rosberg was able to start from the top 10 and finish in the points only in 2009-11 at Silverstone. Last year he was hampered by a pitstop issue.
• Lewis Hamilton won here in 2008, was second in '10 and third in '07, the year when he started from pole position. He only failed to qualify in the top 10 and score points at Silverstone in 2009.
• Paul di Resta has never scored points in his home race, despite two top-10 starts: two years ago he entered the pits when his crew wasn't ready for him and then clashed with Sebastien Buemi, while last year Romain Grosjean clashed with him on the opening lap, damaging his floor.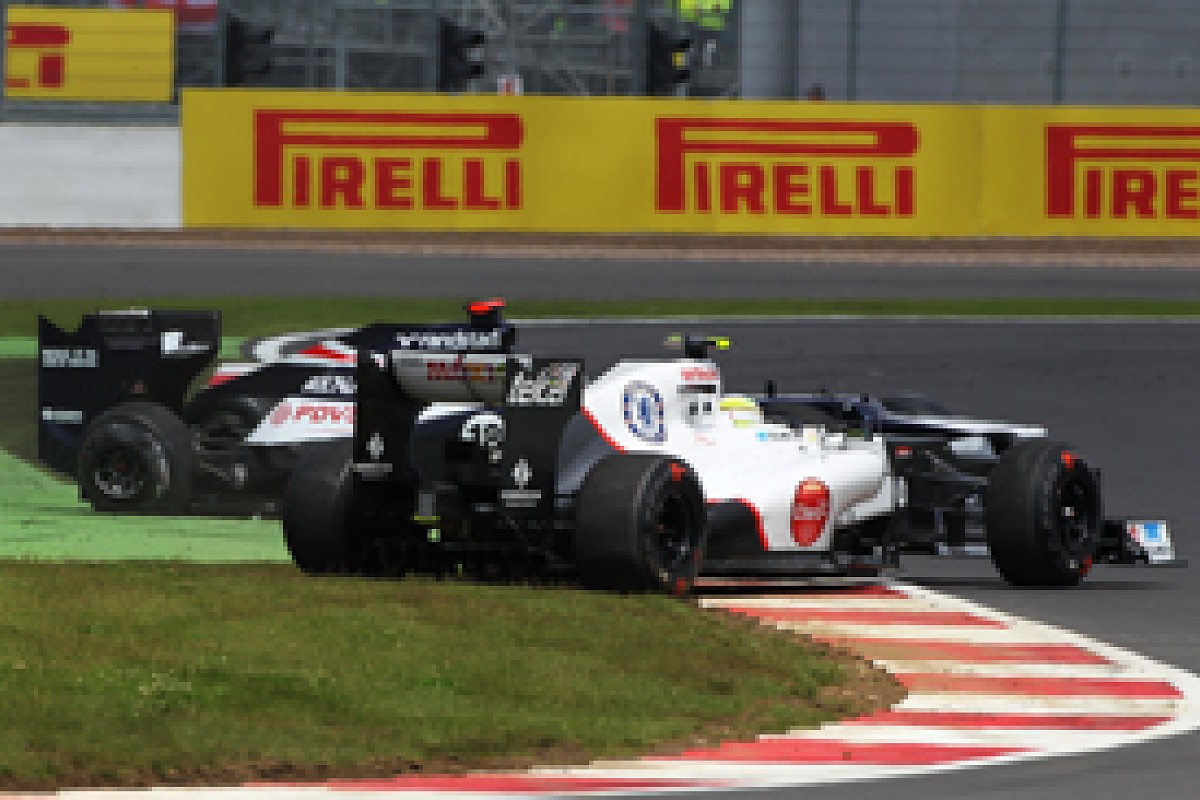 Perez and Maldonado tangled last year © XPB
• Adrian Sutil counts only one points finish out of five here: eighth in 2010.
• Pastor Maldonado has qualified twice in seventh place, but has never scored points here: two years ago he finished 14th and last year was 16th after a collision with Perez.
TEAMS
• Ferrari counts 16 wins in the British Grand Prix, to McLaren's 14. As stated above, the recent Red Bull dominance has left little to the opposition and in the last five years it has been on the podium only twice: a win in 2011 and second place last year, both with Alonso.
• McLaren has suffered the same fate as Ferrari in the last five years -just a win (2008) and a second (2010), with Lewis Hamilton.
• Lotus hasn't climbed on the podium at Silverstone since Alonso's win back in 2006, when the Enstone team was still Renault.
• Mercedes has scored one podium here since its return to racing: a third by Rosberg in 2010. In 12 entries, it has never retired from the British Grand Prix.
• Williams will hold its 600 grands prix celebration at a track where it last reached the podium 10 years ago with Juan Pablo Montoya (second, pictured below). In the last two years it has scored points only with Bruno Senna, who was ninth last year.
• The same applies to Sauber: in the last two years it's scored only with Perez, who was seventh in 2011.
• Force India has scored points at Silverstone only once: in 2010 with Sutil (eighth).
• Toro Rosso has scored only one point here, in 2011 with Jaime Alguersuari (10th). Only Vettel has been able to take a Toro Rosso into the top 10 on the grid: in 2008 he started from eighth.