Sebastian Vettel and Red Bull finally added a Montreal victory to their record, and got closer to some legendary team/driver combinations' victory stats along the way, but for McLaren, Canada marked a painful low as its points string came to an end.
RACE
• This year's Canadian Grand Prix gave Sebastian Vettel his 29th victory and Red Bull its 37th - neither had won in Montreal before. Vettel has now won at 18 circuits, one less than Fernando Alonso, who leads this ranking among current drivers.
• Vettel has taken 28 of his 29 wins with Red Bull, which is the same number of victories Nigel Mansell had with Williams. It's also the fourth highest victory score for a driver/team combination. At the top is Michael Schumacher, with 72 wins for Ferrari, then Ayrton Senna with 35 for McLaren and Alain Prost with 30, again for McLaren.
• In Montreal, Alonso posted his 90th podium finish, which is 10 more than Ayrton Senna achieved. Lewis Hamilton has now had 52, and is in 11th place overall for podiums, while Vettel now has 51 podiums (50 with Red Bull), equalling Mika Hakkinen at 12th in the standings.
• Alonso's second place in Montreal was only Ferrari's second podium in Canada in the post-Schumacher era. The other was Alonso's third place back in 2010.
• Hamilton's track record in Canada was either to win (three times) or crash (twice). He has now added finishing third to that pattern. Hamilton's team, Mercedes, had never finished on the podium here before last weekend - its best result had been a fourth with Schumacher two years ago.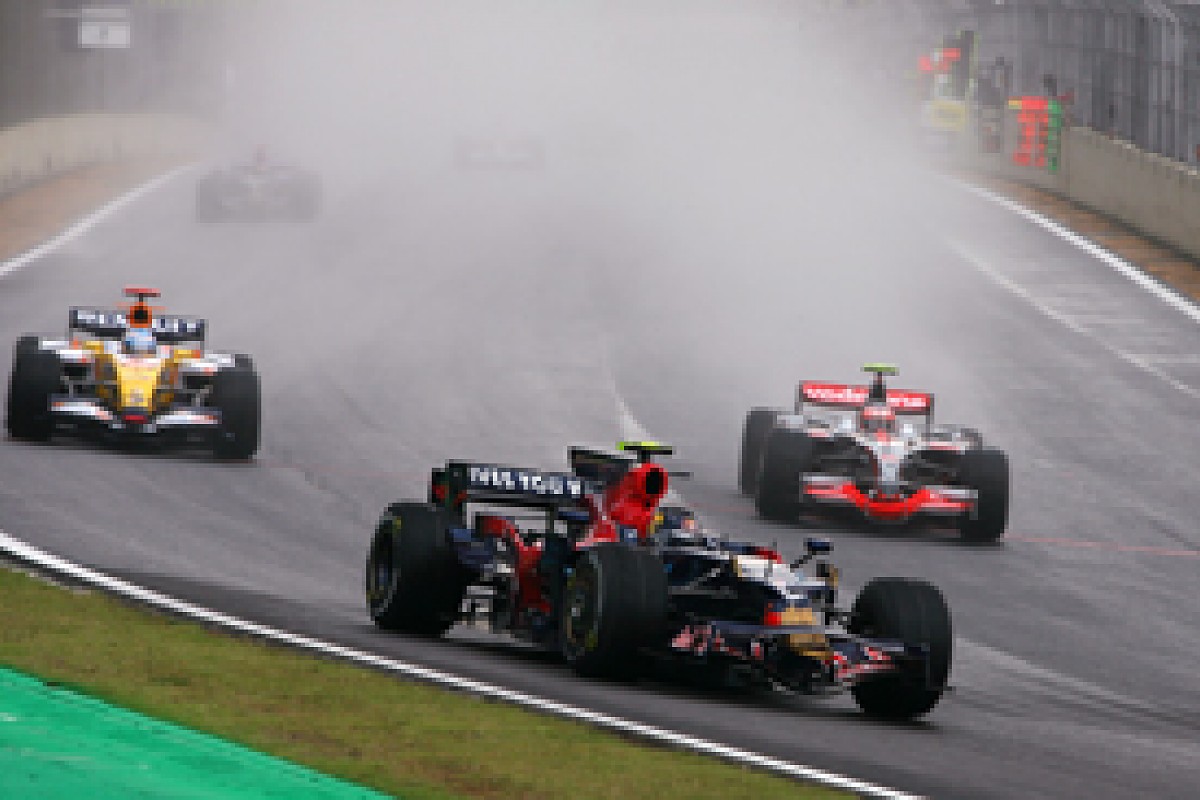 Vettel's fourth in Brazil in 2008 was Toro Rosso's last top-six finish before Vergne's Canada result © XPB
• Sixth in Canada was an F1 career best result for Jean-Eric Vergne. The Frenchman is only the third driver to ever finish in the top six for Toro Rosso. Sebastian Vettel did it eight times (including the team's only win in Italy in 2008), and Vitantonio Liuzzi once, in the 2007 Chinese GP. Montreal was the best result for Toro Rosso since the 2008 Brazilian GP when Vettel finished fourth.
• For the first time in his career Paul di Resta has been in the points for five straight races. His team, Force India, celebrated its 100th race in style, with both cars in the points (Adrian Sutil finished 10th).
• Kimi Raikkonen has now scored points in 120 races, and in Canada equalled the all-time best run of consecutive points finishes, 24, set by Schumacher from Hungary in 2001 to Malaysia in 2003.
• McLaren, meanwhile, finished 11th and 12th in Montreal, putting an end to its record streak of races in the points (64). Ferrari is now equal second in this category, with 55 scoring races. That's the same number of victories the team recorded from Malaysia 1999 to Malaysia 2003.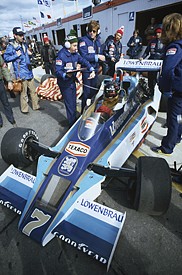 McLaren also had a poor Canadian GP in 1978 © LAT
• McLaren's decline is significant: both its cars missing out on a top-10 grid spot and a points finish had not happened since the 2009 British GP, where Hamilton was 18th on grid and 16th in the race, and Heikki Kovalainen qualified 13th and crashed out. In terms of the team's track record in Montreal, this was the first time since 1978 that neither car qualified in the top 10 nor finished in the points. Patrick Tambay was 17th on the grid and finished eighth and James Hunt qualified 19th and spun off in the race.
• Sergio Perez finished 11th for the 11th time in an F1 career that so far consists of 44 GPs.
• For Jenson Button Canada was his seventh straight race without a podium. That's his worst drought since his final year with the Honda team in 2008, when he scored only three points (a sixth place in Spain).
• Mark Webber took his 15th fastest lap in Montreal, which puts him on the same number as Jackie Stewart and Clay Regazzoni. Webber set his time on the penultimate lap, only moments after Alonso had recorded what he thought would be fastest. Webber's time was only 0.021 seconds quicker than the Spaniard's, and robbed Ferrari of its first fastest lap since the 2011 Hungarian GP.
• Four straight races without points is Sauber's worst run since 2010, when it didn't score in the first six races (the team was called BMW Sauber at the time).
QUALIFYING
• Sebastian Vettel took his 39th pole position in Canada, while Red Bull's total reached 49. Vettel has been on pole for the past three races in Montreal, equalling Lewis Hamilton's three poles in 2007-08 and '10.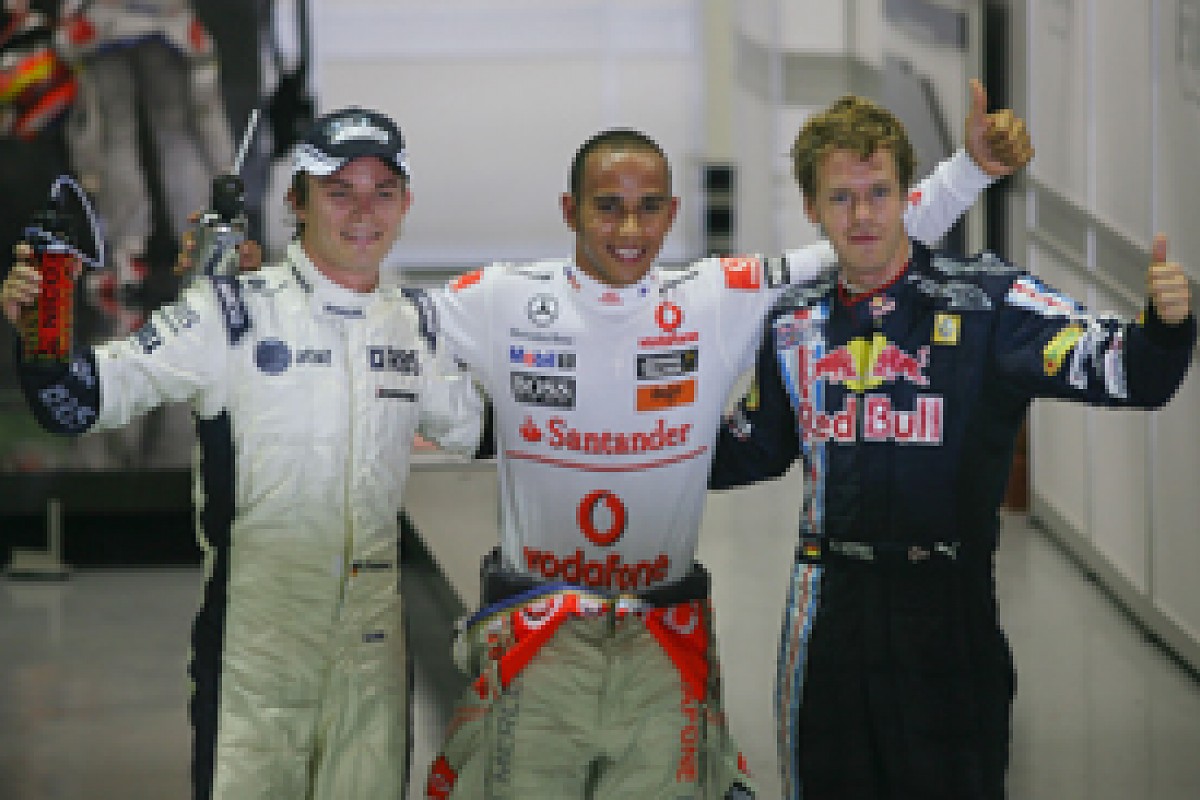 Singapore 2009 was the first time Hamilton and Vettel lined up together on a grand prix front row © XPB
• Hamilton shared the front row with Vettel for the 16th time in Canada. For 12 of these races the German has started from pole. Since the start of the 2010 season, Hamilton has been second to a Red Bull on the grid no fewer than 15 times. This year is the first time a Mercedes has ever started from the front row in Canada.
• Valtteri Bottas' unexpected third place on the Montreal grid was his best starting spot of his F1 career, and the first time a 2013 rookie has reached the third qualifying segment. This was also the first time this year that Williams had reached Q3. Bottas faded in the race and finished outside the points. So far this year none of the five rookies has scored.
• After three straight poles, fourth place on the grid in Canada was surely a disappointing result for Nico Rosberg. Nevertheless, it's his best grid spot so far for this race (he has twice been fifth before).
• Fernando Alonso equalled one of his worst personal streaks in Canada. In not one of the past 17 races has he started from the front row. In his first season in F1, with Minardi (17 races), his best grid spot was a 17th. He then switched to Renault for 2003 and scored his maiden pole in his second race for the French team. Since then, he has had only one other 17-race period without a front-row start - from the 2009 European GP to the '10 British GP.
• A bad qualifying day for Ferrari in Canada was completed by Felipe Massa. He was forced to start 16th after smashing his car into the barriers. It's the first time a Ferrari has missed out on a top-10 grid spot in Montreal since 2005, when Rubens Barrichello had a gearbox problem and lined up 20th. Massa's qualifying record against his team-mates at this track is an appalling 0-10.
• Jean-Eric Vergne improved on his previous best grid spot, set last time out. He was 10th in Monaco, but rose to seventh here. Toro Rosso had never qualified in the top 10 in Canada before, and took both its cars into Q3 for the first time since the 2011 Indian GP.
• McLaren, which had won the previous three Canadian GPs, didn't get either of its cars into the third qualifying stint - the first time that has happened since the 2010 Malaysian GP, which was also hit by rain.
• Romain Grosjean's 22nd place on the grid was his lowest in F1. The Frenchman failed to get past Q1 for only the second time in the past two seasons.