If Saturday had been all about how the weather rewarded sharp reactions in the pitlane and out on track, Sunday was all about pure car performance. Sebastian Vettel and Red Bull were the only ones to excel at both challenges and duly dominated, taking any competitive sting out of an event that was later overshadowed by the tragic news that a track worker had been killed in an incident while helping to recover the crashed Sauber of Esteban Gutierrez.
After a teasing overcast start to the day, blue sky began to break through for the first time all weekend late on Sunday morning. By 2pm the track temperature was up to a relatively heady 29 degrees C, having hovered at between 15-20 in the few dry periods of previous track action.
This completely changed the performance patterns between the two tyre compounds. "The medium hadn't really worked through the practice sessions," explained Pirelli's Paul Hembery, "and the super-soft had emerged as the favoured tyre. As the temperatures came up beyond about 25 degrees, we were sort of expecting the advantage to switch."
Yet there's nothing engineers dislike more than lack of preparation and making choices based on no evidence. They'd had very little to work with anyway, their dry practice running having been compressed into 1.5 hours rather than the usual 4.5. So to expect them to surrender what precious data they had and go for a hunch instead was asking a lot.
But with qualifying having been run in the wet, and tyre choice being completely free even for the top 10, hindsight suggests throwing all that previous data away as irrelevant, and that starting on the medium would have been the thing to do. Yet only four cars were so equipped, all of them down near the back of the grid. Paul di Resta's Force India was one of those and, in his subsequent sparkling drive from 17th to seventh, stopping only once, he just underlined what was also evident throughout the field: this was a day in which previous data meant nothing.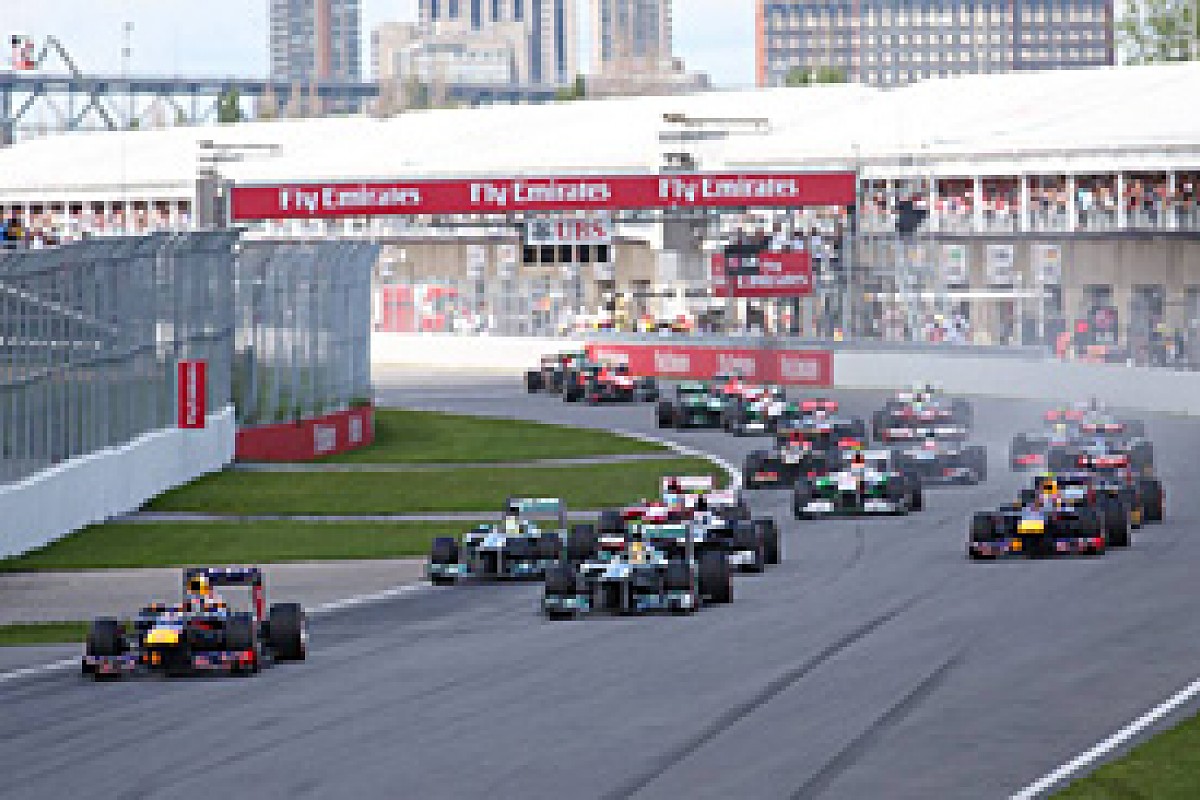 Vettel flew off the start and never looked back © XPB
The medium turned out to be faster and more durable than the super-soft. But with almost everyone making the same conservative choice of starting on the super-soft, Red Bull and Vettel were free to simply express the performance of the RB9 without interruption, cushioned from the only likely threat - Fernando Alonso's Ferrari - by the slower race day cars that lay between them on the grid.
These delayed Alonso's arrival up to second place long enough for Vettel to have a stranglehold on the race. A couple of close shaves with the walls and a quick trip over the Turn 1 grass were just minor dramas and only emphasised just how unusually hard the tyres were allowing him to push by 2013 standards. Perhaps for that very reason, the Red Bull had a clear advantage.
It was like a 2011 race in the early stages, with Vettel in scalded-cat mode, two seconds clear of Lewis Hamilton's Mercedes at the end of the opening lap. With Valtteri Bottas's brilliantly-qualified Williams on the second row of the grid there was a bunch of drivers in faster cars intent on clearing him at the earliest possible moment, and Bottas was actually quite compliant in this.
Nico Rosberg's Mercedes went around his outside in Turn 1 to slot into third, Mark Webber's Red Bull doing the same at Turn 2.
Bottas then had Alonso harrying him hard, the Ferrari scrabbling around his outside out of Turn 7 and running ahead but on the outside as they ran flat-out down to the braking zone for the tight right-left flick of 8-9, Valtteri sitting it out on the inside and prevailing. But he was just delaying the inevitable - and not for very long. The Ferrari got out of the hairpin better, tucked into the Williams's slipstream and zapped easily past. That straight is plenty long though, giving Bottas the opportunity to slipstream him back, Fernando having to get defensive to keep him behind as they approached the chicane.
Vettel was long gone, his advantage only magnified in that the two cars behind him were both Mercs, with Hamilton and Rosberg very aware of the need to not stress their rear tyres. The W04 is still inducing rear temperatures 20 degrees higher than almost all the other cars, for reasons the team has not got to the bottom of. Hamilton this weekend seemed to have devised a better technique than Rosberg in keeping up a reasonable pace while controlling the stress on the rears and as such he was edging away from him - but still falling ever further behind Vettel.
Rosberg's enforced slow pace was dropping Webber and the closely following Alonso ever-further behind. By the time of Webber's lap-12 stop, he would be already 14s off the lead. This was all playing beautifully into Vettel's hands, the advantage he had bought himself in qualifying only aggregating.
"We weren't sure if it was going to be a one-stop or a two," he explained. "I felt I had more pace in the beginning of the race, and it's difficult to foresee what's happening later on, when you swap tyres, and also in terms of range - how far we were going to get on each set of tyres.
"So all these things you don't know, so it's good to have a little bit of time in hand, which was the reason I pushed very hard in the beginning. Obviously it was clear quickly after the first stint that we had a good gap and controlled it."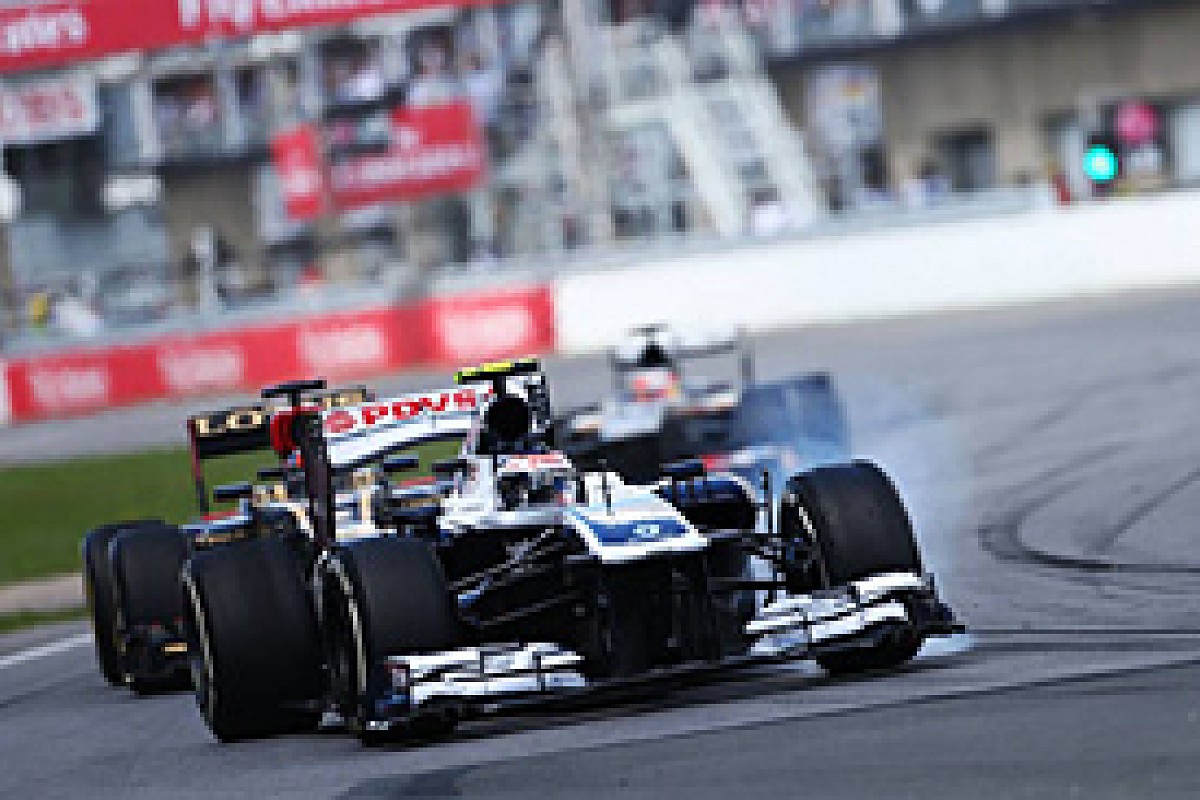 Bottas starred in qualifying, but could do nothing in the race © XPB
Dry-track reality was imposing itself on Bottas. Running around 3.5s per lap slower than Vettel, the Williams ensured the pack was further separated into blocks.
Lined up behind it, capable of going much faster, was the Toro Rosso of Jean-Eric Vergne, who on the sixth lap finally forced his way through around the outside of Turn 1, using the second DRS zone to good effect. The compromised line this forced upon Bottas made him vulnerable to the following Force India of Adrian Sutil, who was a little overanxious in trying to pass at Turn 3 without being quite close enough and spun.
Vergne's team-mate Daniel Ricciardo was one of those to pass Sutil as he recovered, but reported that "just four laps after passing Sutil the car was oversteering like crazy. I just couldn't manage the tyres today." Yet Vergne in the sister Toro Rosso was managing fine, helped by the fact that Bottas had been trapping the pack, allowing the Frenchman to set his own pace without compromising his line or running close behind other cars - both crucial in keeping the super-softs from running too hot.
Rosberg was by now struggling badly with that very challenge. Having run the first few laps within around 0.7s of Vettel's pace, by the ninth lap he was over 1.3s slower.
The following Webber - without the straightline speed to pass even with DRS - was frustrated and came in for his first stop. Mercedes needed to respond the following lap with Rosberg and was concerned that, even if he managed to get out still ahead, he might not be able to get fresh mediums immediately up to temperature and would thereby be vulnerable. So he was fitted with another set of super-softs.
He emerged only just in front of the Red Bull and was able to keep it behind, but it meant his middle stint was about to be compromised, as almost everyone else switched to the mediums at their stops.

Vettel and Alonso were in on the 16th lap, giving Hamilton - doing a great job in keeping the Merc's rear tyres in shape - a temporary lead as he ran until the end of lap 19. He rejoined back in second but 10.9s behind the imperious Vettel. During the first, option-tyred, stint Hamilton had lost just 0.5s per lap to the Red Bull. In the longer second stint, now on the primes, Lewis would average just 0.28s off, though with the proviso that Vettel almost certainly had pace in hand and was just controlling a comfortable gap.
Hamilton's position was being flattered and would continue to be for as long as Rosberg was fending off Webber and Alonso. By the 27th lap, with Rosberg struggling more than ever to keep his rear-tyre temperatures in check - especially difficult to do when also trying to defend, when it's vital to get out of the slow corners as quickly as possible - Webber was all over him and a couple of times was crossed up under braking for the final chicane as Nico squeezed him over to the left.
But Mark finally made it work in the DRS zone on lap 30, Rosberg getting off line through the chicane as a result, this then allowing Alonso to get a run on him in the second DRS zone and swoop around his outside through Turn 1.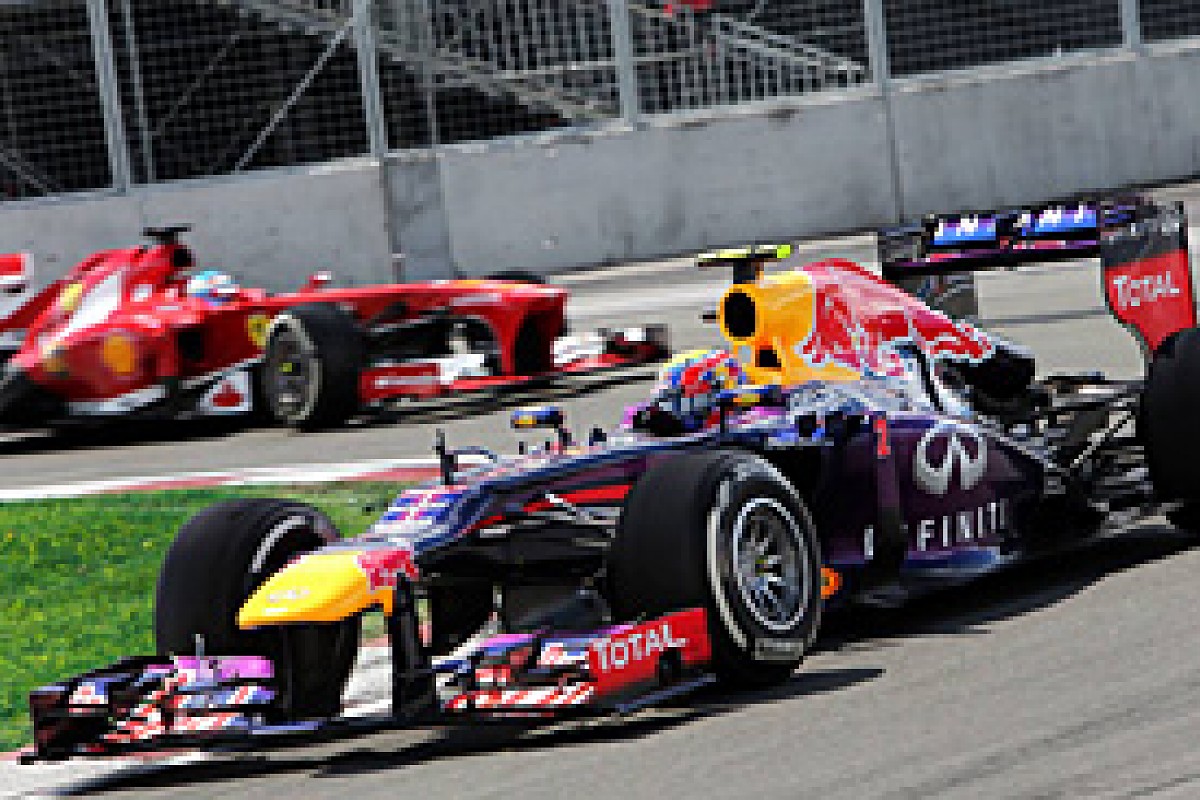 Webber was left out of the podium in the end © XPB
Webber then began pulling away from Alonso for a few laps. His next target was Hamilton, 9s up the road, with 40 laps still to go. Lewis's DRS wasn't functioning perfectly and he wasn't always able therefore to maximise lapping of backmarkers.
As the stint went on, so Alonso's Ferrari began to look better against the Red Bull and, as Webber was nuzzling into Hamilton's advantage, Alonso was gradually hauling them both in.
On the 36th lap Webber was approaching the Caterham of Giedo van der Garde at the hairpin. They each misunderstood what the other was about to do: van der Garde had gone in a bit deep and was sorting out the consequences, thinking that Webber would come by him on the exit of the turn. Webber's senses were attuned to the Caterham getting out of the way, and when it began running deep he assumed it was making way for him.
Van der Garde turned in but Webber was already there; the Red Bull's front-left upper winglet side was snapped off against the Caterham and van der Garde would later be awarded a drive-through.
Webber continued to press on and, although there was obviously an aero loss, it was apparently made up for with an improvement in balance, as Mark was soon setting personal bests in his continued chase of Hamilton. Red Bull monitored his progress and tried to decide if it should suffer the delay of fitting a new wing at his next stop, but concluded that the enhanced aero would not in the remaining distance pay for the 10s it would cost.
His laps before and after the incident make interesting reading: 1m18.7s, 1m18.4s, 1m18.8s, 1m18.5s, 1m18.5s. Then the incident and resultant slow lap. Then 1m18.1s, 1m17.9s, 1m17.8s! Only Alonso was going quicker, and just barely.
Fernando was at his relentless best, hassling the Red Bull around the outside of Turn 7 on the 42nd lap, getting a run going down to the following chicane but not quite nailing it. That move foiled, Fernando was then intent on getting to the DRS-detection point on the approach to the hairpin less than 1s behind. Webber was a little messy coming out of there on account of the compromise Alonso had forced upon him, obliging him to be defensive up to the final chicane.
With a slow exit from there, he was easy meat as Alonso again used the DRS and KERS, getting him the momentum to go clean around Webber's outside through Turn 1, Mark briefly locking an inside front to avoid contact. Alonso was now third.
Behind that dice, Rosberg's race was now a lonely one. After being passed by Webber and Alonso he'd quickly dropped back. Those options were soon past their best, and he'd been in for his second stop as early as lap 31. Some distance behind him was Vergne, doing a great job to run the Toro Rosso sixth on merit.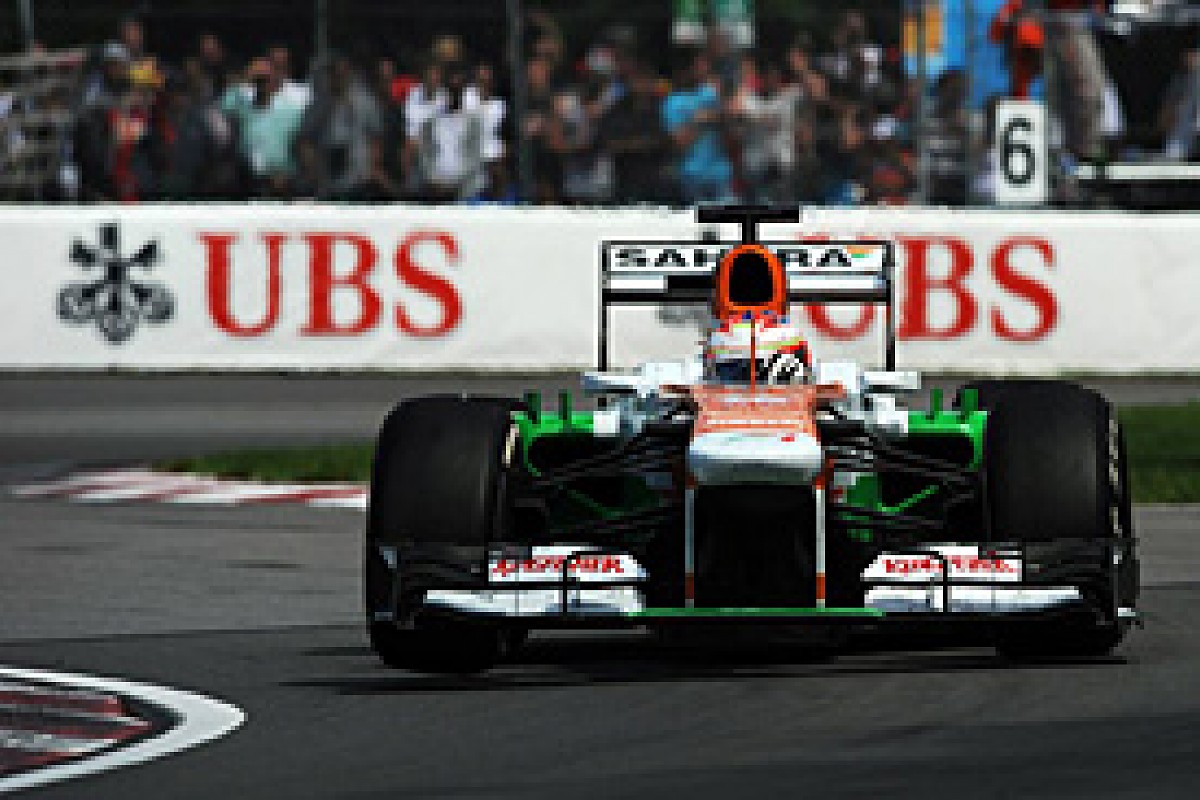 Di Resta made his tyres last longer than anyone © XPB
Di Resta and the Lotus of Romain Grosjean had yet to stop, having started on primes from near the back, and they'd risen to seventh and eighth respectively. he fact that the super-softs of the others had imposed relatively early stops and that the prime tyre was actually faster in these temperatures than the option had moved them beyond leapfrogging range of the midfield.
Grosjean would fade after his lap-43 stop, his super-softs quickly graining and obliging an early second stop that would drop him out of the points.
But di Resta would keep going on his original rubber until lap 56, with just 14 to go, late enough that he wouldn't need another pitstop and allowing him to hang onto that seventh place.
Kimi Raikkonen was another to one-stop, albeit the other way around to di Resta and using the super-soft for a relatively short first stint. He was troubled by a brake issue and by the Lotus's dislike of the combination of a smooth asphalt surface and the super-soft tyre. It was never fast, but he scrabbled by the oversteering Ricciardo and would later fight out the lower points with Felipe Massa.
After being passed by Alonso, Webber had managed to stay within reach of him and on the 46th lap made for the pits for his second stop in an attempt at undercutting him. Ferrari responded by bringing its man in next time around and he got out comfortably ahead.
Hamilton, who was still well clear of the Ferrari, came in next and emerged still around 8s ahead of Fernando. Vettel peeled in from the lead for his second and final stop a lap later and got out without losing the lead, Hamilton 18.5s behind.
Third-placed Alonso clinically used the Ferrari's gentler use of the tyres to quickly cut into Hamilton's advantage, and the longer the stint went on the stronger the Ferrari looked as it left Webber behind.
Vettel, meanwhile, overcooked Turn 1 on lap 52, taking to the grass rather than risking a spin. It took a couple of laps to get back into the groove. He'd earlier had a very close shave with the Turn 4 wall - and it was clear he was taking no prisoners.
Rosberg had flat-spotted his primes while running a lonely fifth. But he was sufficiently clear of Vergne that, with 13 laps to go, he could afford an unplanned third stop without losing a place.
Vergne was taking full advantage of the underperformance of a couple of key teams: Lotus and McLaren. Just as the Lotus didn't seem to like the track surface and tyre, the McLaren was upset by the circuit's bumps and its traction demands. Sergio Perez and Jenson Button, on two and one-stop strategies respectively, ran outside the points places and would wind up 11th and 12th.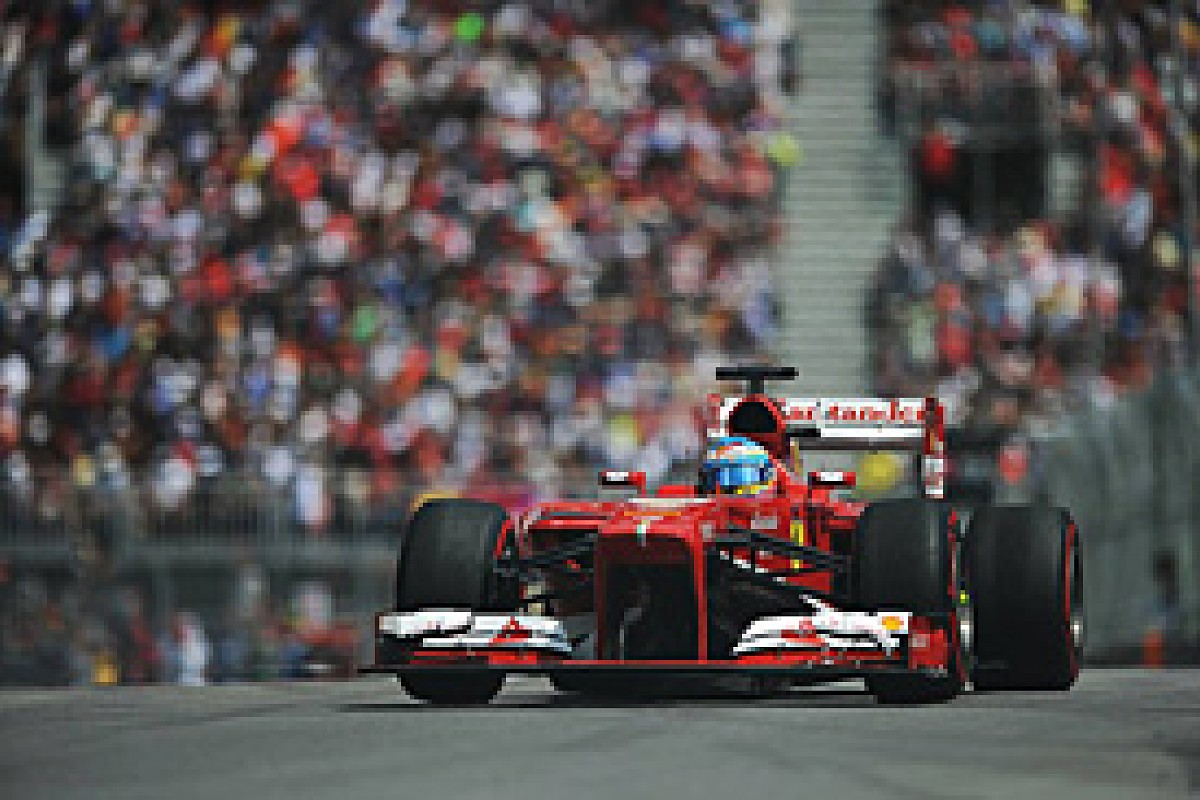 Alonso climbed from sixth to second © XPB
Alonso was within striking range of Hamilton with 11 laps to go, and Lewis was fully on his mettle, screaming into the radio for blue flags whenever backmarkers loomed. For four laps Hamilton managed to hold Alonso back, but couldn't resist the tide forever. The Ferrari used the second DRS zone to go around the Merc's outside through Turn 1, Lewis hanging on to make it thrillingly close between the Merc's right front and the Ferrari's left rear.
Alonso was finally up to second, but there only seven laps left and Vettel was almost 20s clear. Game over. "Sebastian deserved it," he said after following the Red Bull past the chequer. "They had great pace on both Saturday and Sunday and that made the difference. We have not had a dry-weather pole since 2010."
Vettel was about to underline the true extent of his pace, setting a couple of purple sector times on the very last lap. "Get him under control," demanded team boss Christian Horner of Vettel's race engineer Guillaume Rocquelin. "Senna, Monaco 1988," said 'Rocky' into the radio after the first of those fastest sector times. "Yeah, OK," said Seb - then proceeded to deliver another one! He backed off for the final sector, ensuring that team-mate Webber's penultimate lap stood as the race's fastest. It was at least some consolation for a hard fourth place.
Hamilton, in a difficult place this weekend for reasons unconnected with the car or team, was relatively unimpressed with third, feeling that he just couldn't compete with a Ferrari that had so much more grip in the low-speed corners and through the crucial hairpin.
He felt he'd still not found the braking feel he craves either, the Mercedes just not giving the pedal feel that was perfect for him at McLaren, when he shared with his team-mate the exclusive use of Akebono calipers. "It was under braking that Fernando was able to catch me," he said. "I still need to improve."
Vergne and di Resta were much happier with their respective sixth and seventh, the Scot's performance just underlining how most of the field had what turned out to be the wrong tyre strategy.
Raikkonen on his old rubber was easy prey for the recovering Massa, the Ferrari taking over eighth place with a lap to go. Sutil took the final point. Despite a spin and an early stop he was 40s clear of the Williams of third qualifier Bottas in 14th. That was the true pace of the car, just emphasising the quality of the job he'd done the day before.
Esteban Gutierrez was finding the Sauber very difficult and had been forced into a late stop with just six laps to go. Pushing hard as he left the pits, he locked up over the bump at Turn 1 and went off into the barriers. It was in recovering the Sauber that the volunteer track worker was killed. The whys and wherefores of the race suddenly did not seem important.