RACE
• Nico Rosberg's second Formula 1 race win came on the same track where his father won his second one, 30 years earlier. It was May 15, 1983 when Keke won for Williams ahead of Nelson Piquet and Alain Prost. Nico had been waiting for a podium finish since last year's Monaco race. His maiden win had come in China last year, again from pole and with his team-mate starting alongside him.
• A relief for Mercedes: a fourth straight pole and no win would have brought back memories of the 2002 Williams, with which Montoya nailed five poles from Monaco to France but never made it onto the top step of the podium.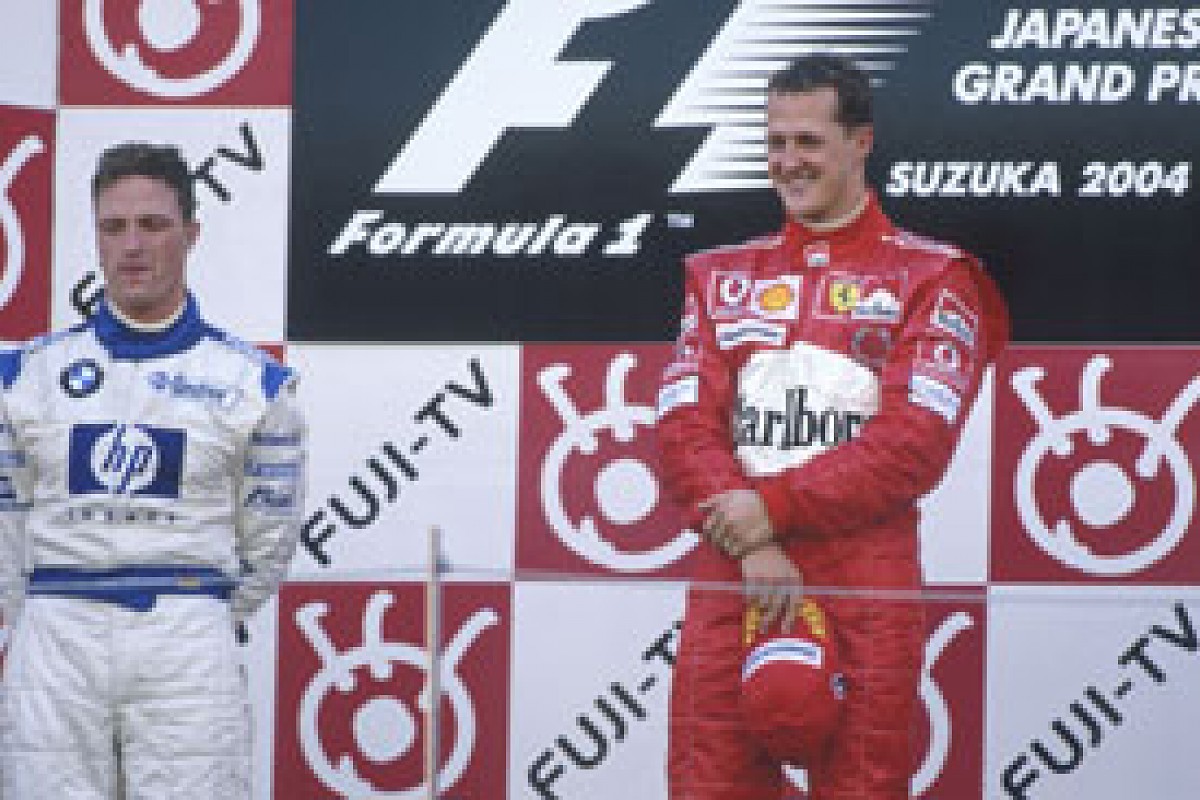 Before Monaco, the last German 1-2 came in the 2004 Japanese GP © LAT
• Rosberg and Sebastian Vettel recorded a German one-two for the first time since the 2004 Japanese Grand Prix, when the Schumacher brothers did the same, Michael leading Ralf at the flag.
• Rosberg's victory ended a string of 16 straight races won only by world champions.
• It was a 50th career podium for Vettel, making him the 13th driver to reach this goal. He recorded his 18th fastest race lap (his third in the last four races), equalling David Coulthard in 15th in the all-time list.
• For the first time this year Vettel didn't lead a single race lap. We also had only one race leader, Rosberg, for the first time since Vettel's Japan-Korea-India domination last year. After this race Rosberg has led exactly 200 laps in F1 out of the 7041 he has completed.
• Red Bull placed both cars on the podium for the first time since Malaysia. In Monaco they count six podiums from their last eight starts.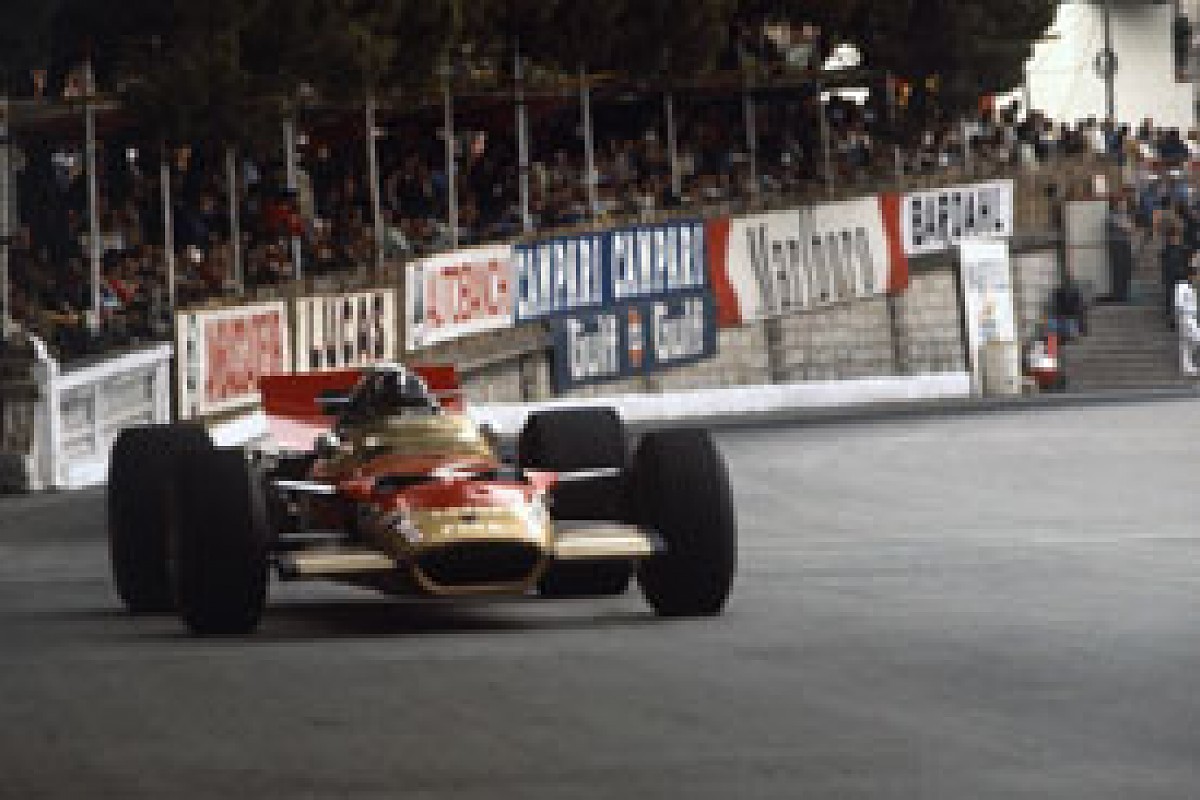 Mark Webber now matches Graham Hill's podium count. Hill's last came in Monaco in 1969 © LAT
• It was a 36th career podium for Mark Webber, the same as Graham Hill and Felipe Massa, at 20th in the all-time list.
• Lewis Hamilton's fourth place is his best result here since his win back in 2008.
• Adrian Sutil hasn't recorded a fifth place since the 2010 Belgian Grand Prix. In his career he fared better only in the 2009 Italian Grand Prix, when he was fourth.
• Fernando Alonso, winner of the Spanish Grand Prix, could have become the first driver to win Monaco with three different teams. Instead, Ferrari extended its drought of Monaco wins one more year. It last won with Michael Schumacher in 2001, so is closing on its record barren Monaco runs of 1982 to '96 and 1956 to '74.
• The limit for Jean-Eric Vergne seems to be eighth place at the moment. It's his best career result, and he's obtained it five times.
• Kimi Raikkonen, with a last-lap pass on Nico Hulkenberg, equalled the second-longest points streak in Formula 1 history, 23 races, the same as Alonso achieved from Europe 2011 to Hungary '12. In Canada Raikkonen will go for the top one of 24, recorded by Michael Schumacher from the 2001 Hungarian Grand Prix to the 2003 Malaysian race.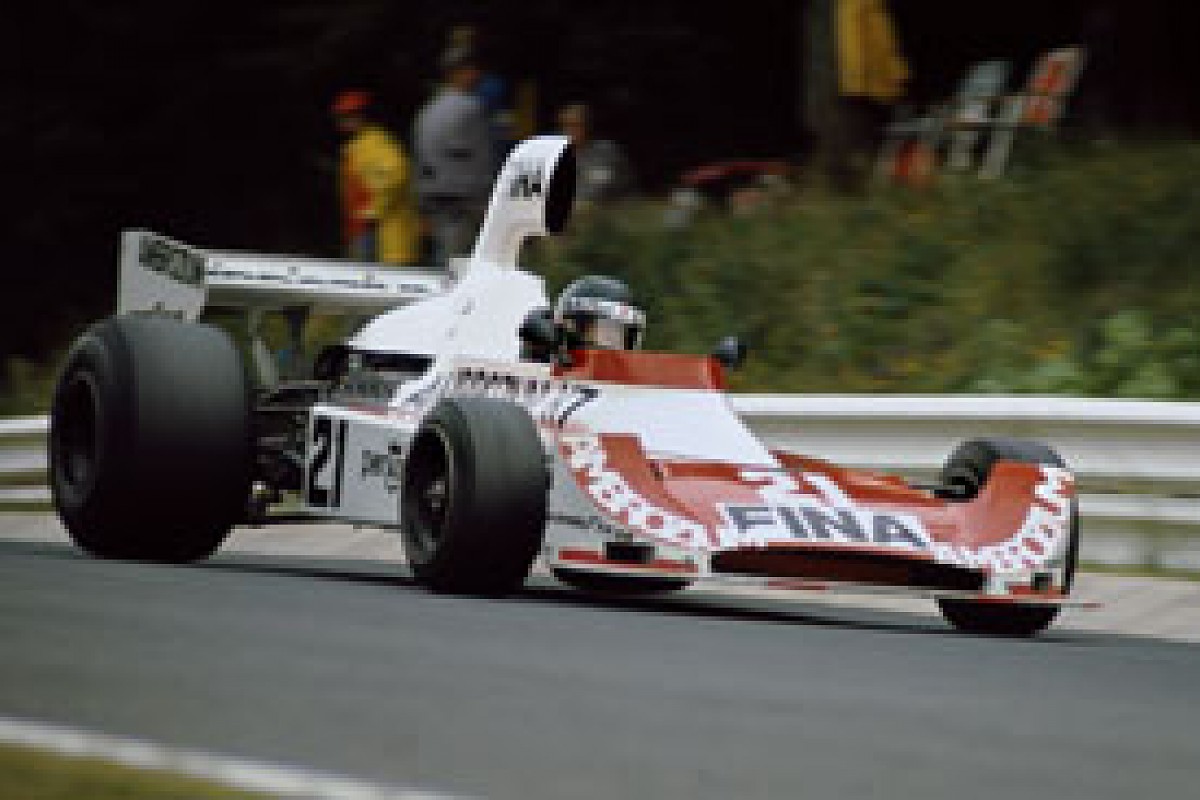 Jacques Laffite finally ended Williams's pointless 1975 run in Germany © LAT
• Six races and no points for the Williams team, its worst start to a season since 1975, its first year, when it scored only in the 11th race.
• It was a best career result for Max Chilton as he took 14th.
• For the first time in his F1 career Daniel Ricciardo retired due to a race accident. Pastor Maldonado, on the other hand, recorded his third accident retirement in as many Monaco GPs.
• Felipe Massa recorded his first retirement in 24 straight races. His last retirement had been in the 2012 Australian Grand Prix in an accident with Bruno Senna. Curiously, this was the first time that Massa had not been able to score when starting from 21st or lower. In the five previous occasions when he had started so low, he had always scored points (Malaysia and Monaco 2006, Australia 2007, Malaysia and Singapore 2010).
• For the first time this season the safety car was deployed.
• Jules Bianchi's brake-induced crash was the first retirement of the season for Marussia, the only team that had both its cars classified in the first five races of the season.
QUALIFYING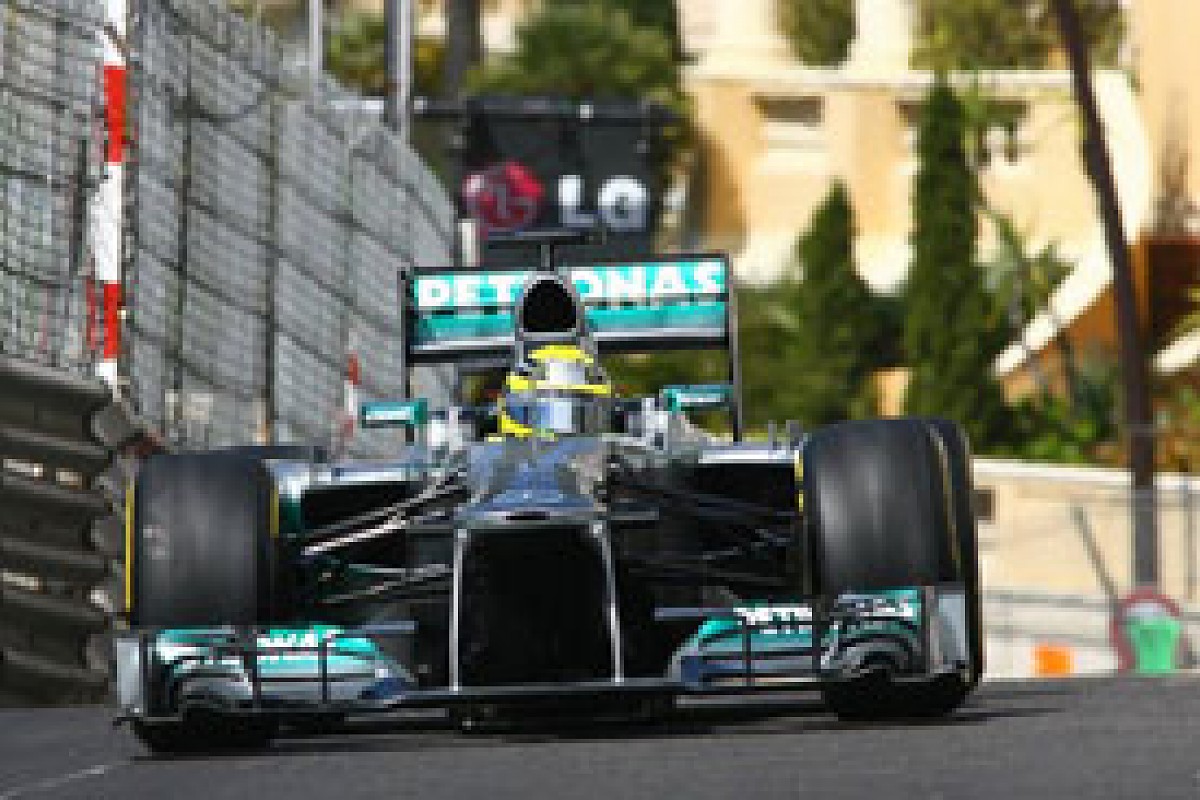 Rosberg's pole was Mercedes' fourth in a row, its best ever sequence © XPB
• Nico Rosberg posted his third straight pole, elevating Mercedes' current string to four, the best in its history. It recorded the first front-row lockout in Monaco since Ferrari's in 2008. Mercedes is the only team to qualify both its car in the top 10 for every race this season.
• Lewis Hamilton was beaten three straight times in qualifying by a team-mate for the first time since the 2010 season (Australia to China, against Button).
• Twelve straight races in the top-10 in qualifying for Kimi Raikkonen, his best string since 2008 (Malaysia-Belgium).
• The sixth place in the grid was Fernando Alonso's worst result this year, while Perez, seventh right behind him, recorded his season best.
• Best career performance for Jean-Eric Vergne in 10th. He is the first driver to qualify a Toro Rosso in the top 10 on the Monaco track.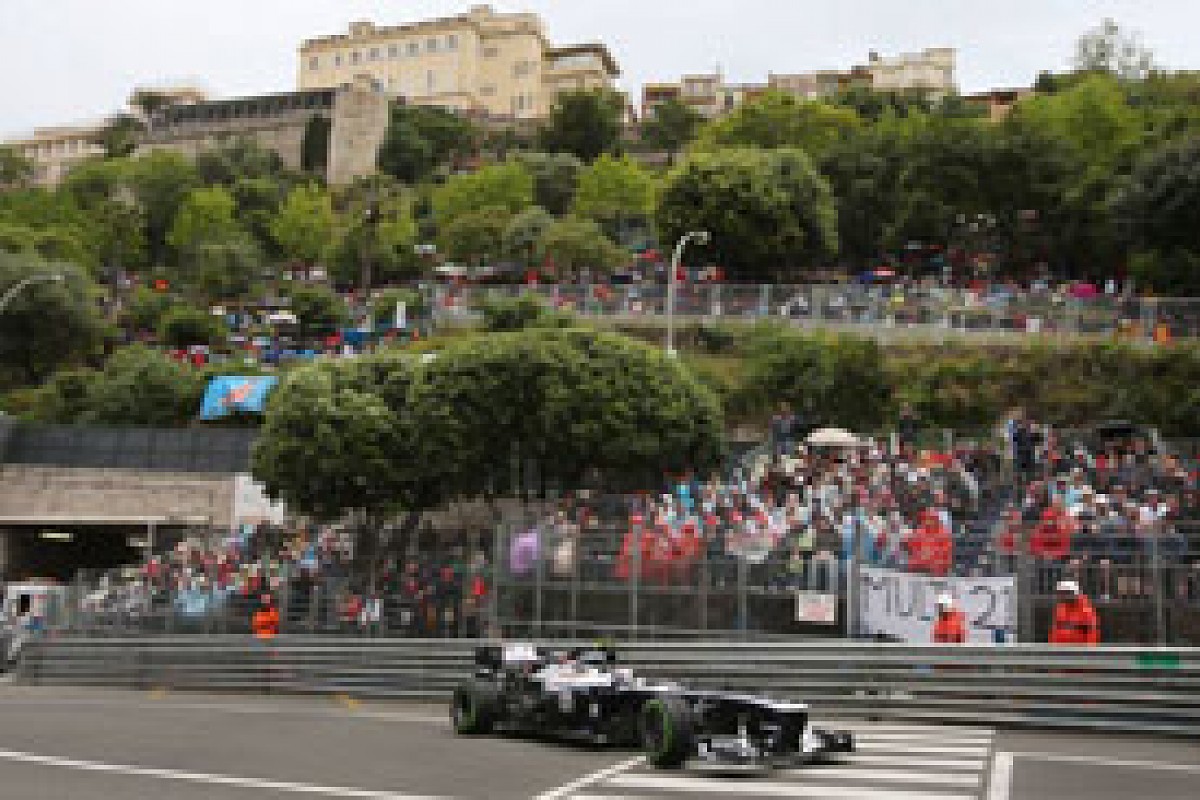 Bottas was a career-best 14th in qualifying © XPB
• Valtteri Bottas, 14th, recorded his career best as well. For the first time this season both Williams reached the Q2 segment.
• Giedo van der Garde also scored a career best grid spot in 15th. A Caterham (formerly Lotus) had not been as high as 15th on the grid since the 2011 Spanish Grand Prix.
• For the first time in his career, Paul di Resta was dropped in Q1. Force India lost a car in Q1 for the first time since the 2012 Italian Grand Prix, when Hulkenberg had a gearbox problem.
• For the first time this year both Ferrari and Force India had a car eliminated in the first qualifying stint.