It was a lot sunnier than the last time a Rosberg won in Monaco, two years before Nico was even born. Thirty years have passed, the hair has greyed, but Keke was around on Sunday to watch his boy produce a start-to-finish demonstration of superiority every bit as resounding as his own. In another nice historical parallel, it was Nico's second career victory, just as it had been Keke's.
After winning the 1982 championship, Rosberg Sr's Formula 1 career eventually hit a brick wall in the form of a team-mate called Alain Prost - who was here to conduct the podium interviews - and, coming into this season, many wondered if his son's might stall against Lewis Hamilton.
As it's turning out, Hamilton's stature has only highlighted the level of Nico's performances - much, one senses, to the bemusement of Lewis. "I expected Nico to be this fast," he said. "I just didn't expect to be this slow."
But Hamilton did play a crucial part in the Mercedes team's victory. Not through racing as a tail gunner, as had been feared, but through qualifying on the front row and holding off Sebastian Vettel's Red Bull into Ste Devote off the startline. With Rosberg maintaining the advantage of pole, despite a fairly poor start, the foundations were now in place for Mercedes to control this race.
It was the manner of that control that surprised some. The idea of using Hamilton to hold back the pack while Rosberg gave himself a big enough cushion for strategic flexibility was rejected: "To do that you'd need a tortoise and a hare and I don't think we have a tortoise in our driver line-up," said team boss Ross Brawn of an option that would have guaranteed internal disruption and resentment.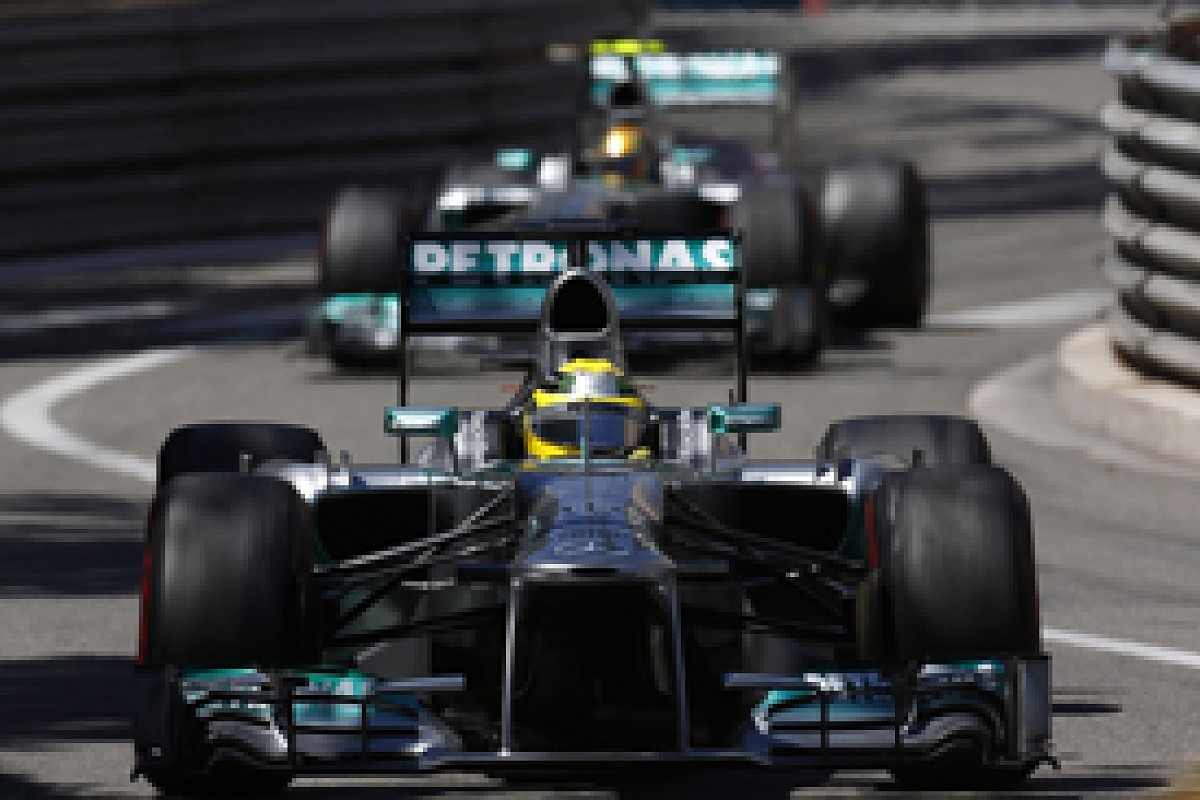 Mercedes did not want to use either driver as a 'tortoise' © LAT
This is a very different driver-team dynamic to that of Brawn's Ferrari years. To do that would also have required Nico to run perhaps harder than the team felt comfortable with in the early laps on a heavy fuel load.
"It's only two weeks since we finished 70 seconds behind the winner after starting from pole," Rosberg repeatedly reminded everyone. "We have improved a few things but the tyre-use problem is still there."
With such questions still hanging over its tyre usage, the challenge Mercedes potentially faced was that any quick cars that were easier on the rubber could make their first stops early and force Merc to respond in order to avoid being leapfrogged by the undercut.
Once Mercedes had done that to protect its track position, it would then be consigned to a very long second stint if it was trying to one-stop, leaving it as a sitting duck late in the race to the car easier on its tyres, whether that be a Red Bull, Kimi Raikkonen's Lotus or Fernando Alonso's Ferrari. Or, maybe even worse, be forced onto a two-stop strategy while the other car could remain on a one.
Any cars running close behind the Mercs would thereby be looking to stop as soon as there was a good gap to drop into, Rosberg would have to pit in response the following lap, would come out ahead thanks to the buffer Hamilton had provided, but then be left potentially defenceless later on. And it would badly compromise Hamilton's race too, just to complete his misery.
But there was a way around all that at a track where passing is so unfeasible. The answer was to drive around at backmarker pace, thereby keeping the field completely bunched and preventing any gap opening up for a Vettel or any other likely lad to drop into, thereby locking almost everyone into a stalemate one-stop. That was the Mercedes gameplan.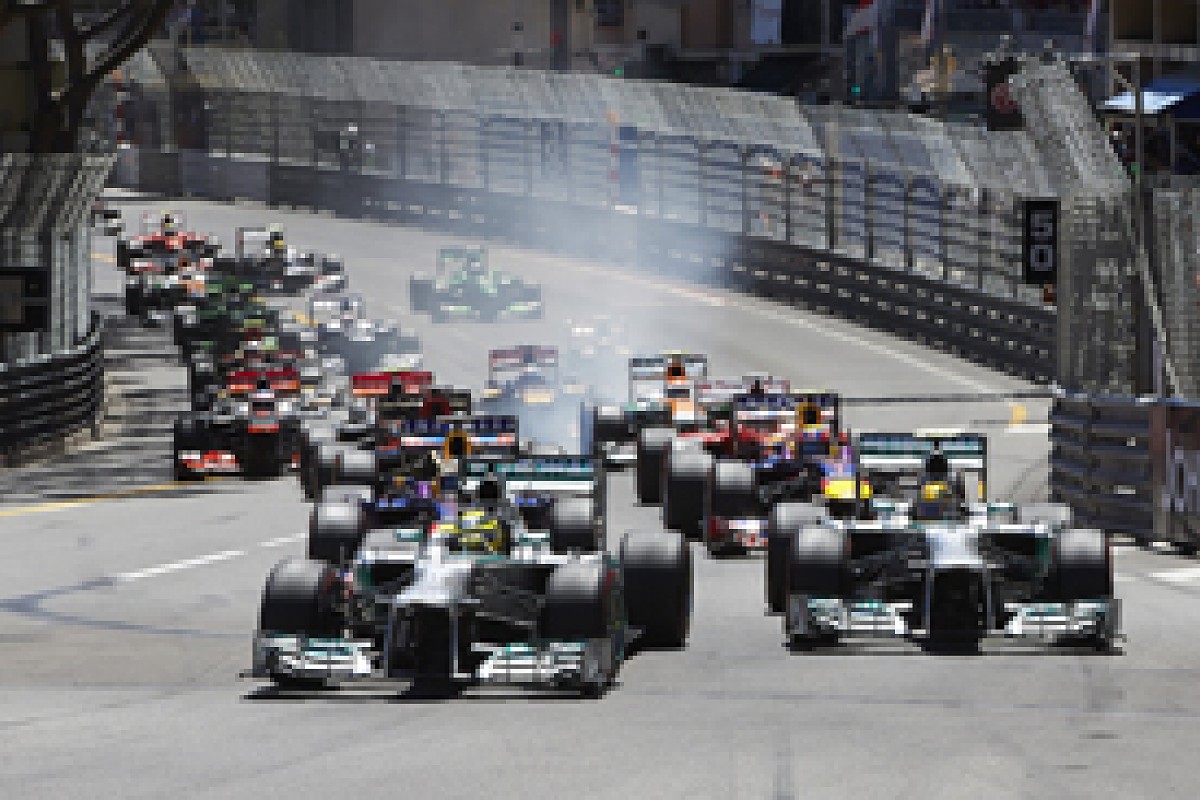 There was no space for the fast-starting Red Bulls to achieve anything © LAT
The Red Bulls had burst away from row two with much more alacrity than the Mercs from the front, but the run to Ste Devote was simply too short to use that to advantage, Vettel having to back off to avoid hitting the back of Hamilton as he veered across. With Mark Webber getting involved too it was all rather crowded, but the front six retained grid order, Fernando Alonso's Ferrari snapping at the heels of Kimi Raikkonen's fifth-placed Lotus as the snaking pack screamed up the hill towards Massenet and the casino.
Failing to get by Hamilton off the grid had been a blow to Vettel's plans of trying to win this race, and on the first lap, with everything still fluid, he was looking to hustle his way by the Mercedes, tucking in tight as they raced down the hill from Casino, pulling out from behind into Mirabeau, briefly locking a wheel before tucking back in.
Four places behind Vettel, the two McLarens were taking up where they left off in Bahrain. Jenson Button got partly down the inside of Sergio Perez, who was having none of it and fairly brutally cut across Button's bows. As they continued their squabble, Adrian Sutil poked the Force India's nose inside Button partway through the hairpin and got only a bit of front-wing endplate damage for his troubles.
Further back, Giedo van der Garde smashed his Caterham into the back of Pastor Maldonado's Williams and, like Maldonado, trailed pitwards with damage, all his good qualifying work undone.
Vettel bobbed around in Hamilton's mirrors through that opening lap, tucked into his slipstream through the fast, dark kink in the tunnel. He remained glued to him as they burst into the Mediterranean light, over the crest and the heavy braking for the harbour chicane, through the dauntingly fast Tabac, wheels almost skimming the harbour wall as they raced by the yachts, through the screaming left-right entry to the swimming-pool section, daylight beneath wheels as they bounced over the kerbs, through the twisting curve into Rascasse and the dipping Noghes, kinking onto the pit straight.
Rosberg flashed by his watching father 1.2s in the lead as Hamilton watched his mirrors. On the second lap Vettel got a better exit from the chicane and made for the inside line, Hamilton moving the same way to defend.
It was now obvious there was going to be no way past and all Vettel was doing in trying to force the issue was using up his tyre life. Even the enabling of DRS down the pit straight made no difference. It had dawned on Seb by now what the Mercedes strategy was going to be: "Usually you expect two Silver Arrows in front of you, but today they were like two buses going for a cruise."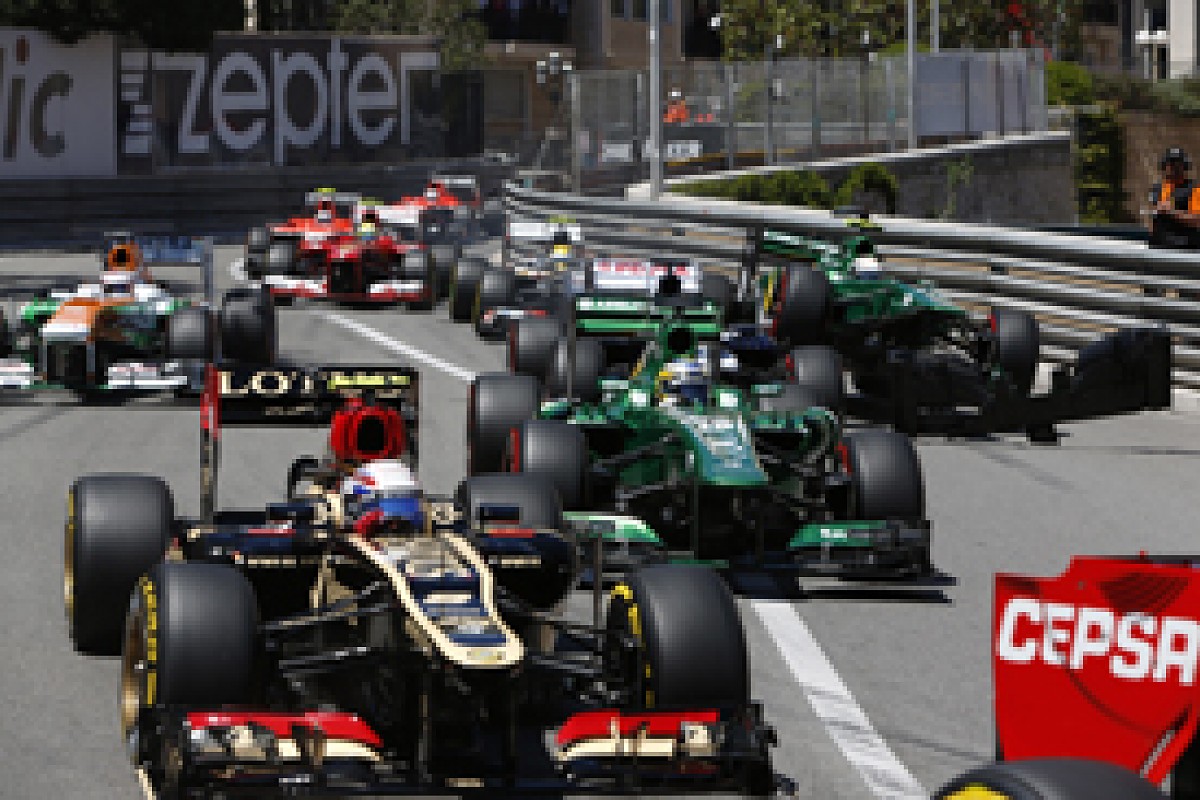 After pitting for repairs following this shunt, van der Garde was briefly the fastest man on track - by miles © LAT
Indeed. The two Mercs at the head of the field were lapping no quicker than the Marussias at the back. In fact, van der Garde's Caterham, making up on ground lost at its stop, was lapping almost 2s quicker... The gameplan was very clear very early. The whole field could drive at the pace Rosberg was setting, so no gaps were opening up. Merc was effectively blocking Red Bull, Lotus or Ferrari from trying to force them in too early and leaving them with too long to go on their next sets of tyres.
Button got a move going on Perez into the chicane, got his nose ahead, but Perez took to the escape area to stay in front.
"I know he's my team-mate," said Jenson, "but I wasn't going to let him get away with that. You go across there and you have to surrender the place, so I radioed in." The FIA duly decreed that Button must be allowed by and the switch came on the ninth lap. This was for seventh and eighth places and even so far into the race they were still less than 10s adrift of the lead, such was the slow pace.
But ever so gradually the field was beginning to spread. Webber had dropped off team-mate Vettel's tail and Alonso had likewise stopped giving Raikkonen hassle, in both cases so as to preserve their tyres.
Queued up behind Alonso were the two McLarens, Sutil, Jean-Eric Vergne's Toro Rosso and Nico Hulkenberg's Sauber, but then a gap as Valtteri Bottas dropped away in his Williams, attempting to control creeping rear-tyre temperatures. By around lap 20 the accumulated gaps were just beginning to create a space that Vettel, Webber or Raikkonen might drop into.
The strategists looking at this were mindful that Daniel Ricciardo's Toro Rosso and the closely following Lotus of Romain Grosjean were on the tougher prime tyre (soft), good for maybe 10 extra laps over the option (super-soft) worn by those ahead. Although there was a gap behind them for Merc's would-be challengers to fall into, there would be no need for Merc to respond if that challenge ran aground boxed in behind a long-running prime user.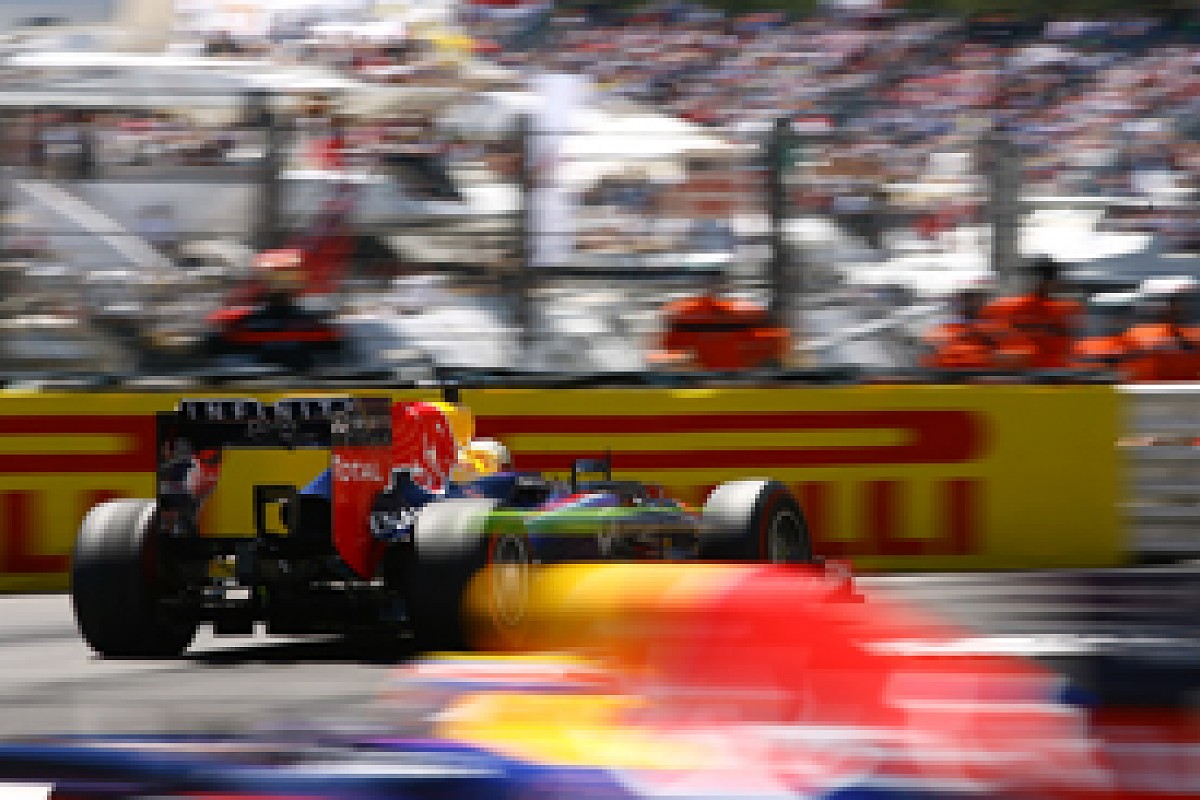 Red Bull hoped to pull something off during the pitstops © XPB
By lap 26, both Vettel and Webber were far enough ahead to be able to clear not just the prime-tyre users but also Bottas if they stopped. Red Bull chose Webber as the guinea pig to see if Mercedes would be tempted to respond. He came in at the end of the lap and exited in front of the Williams, and was now on fresh primes.
Rosberg and Hamilton continued to circulate at the front. Merc wasn't taking the bait - and the reason for that could be seen in Webber's sector times; they weren't actually all that quick. The harder tyre was proving reluctant to come immediately up to temperature and his first flying lap was only a 1m21.6s, actually slower than the Mercedes drivers - who had suddenly upped their pace - were going. At this point, with the Webber gamble having bust, Mark was instructed to revert to tyre-preservation mode. Had he ignored that, he would likely have jumped Vettel, at least.
Webber's stop triggered Lotus into bringing in Raikkonen and McLaren into pitting Button, each fitted with a new set of primes. Alonso pitted on lap 28, exiting still behind Raikkonen. Now locked into one-stops, all these tyres would need to last 50 or more laps. At this pace that was not as challenging as it sounded.
For all that the sight and sound of 20-odd F1 cars around Monaco cannot fail to be stirring and dramatic, this was a race failing to come alight. The only prospect of it doing so, with everyone now apparently locked into the same strategy, would be if by the closing laps some cars' tyres were not holding up as well as others'.
But then even that vague hope receded when, beginning the 29th lap, Felipe Massa - having been able to make little progress from the back in his Ferrari - suffered a near-identical accident to that of Saturday morning. Having made its first stop a couple of laps earlier, the car again ground out over a bump where the road kinks right on the approach to Ste Devote, the front wheels again locked - and again remained locked, the car unable to respond to the steering. He hit the wall on the left just as hard as before, and bounced off there into a secondary impact at Ste Devote itself.
It had seemed inconceivable enough that Felipe had simply frozen on the brake pedal the first time and the idea that, forewarned by that accident, he could have made the exact same error again just did not stack up. Ferrari was investigating the cause at the time of writing, having admitted that its initial diagnosis of driver error on Saturday may not have been accurate.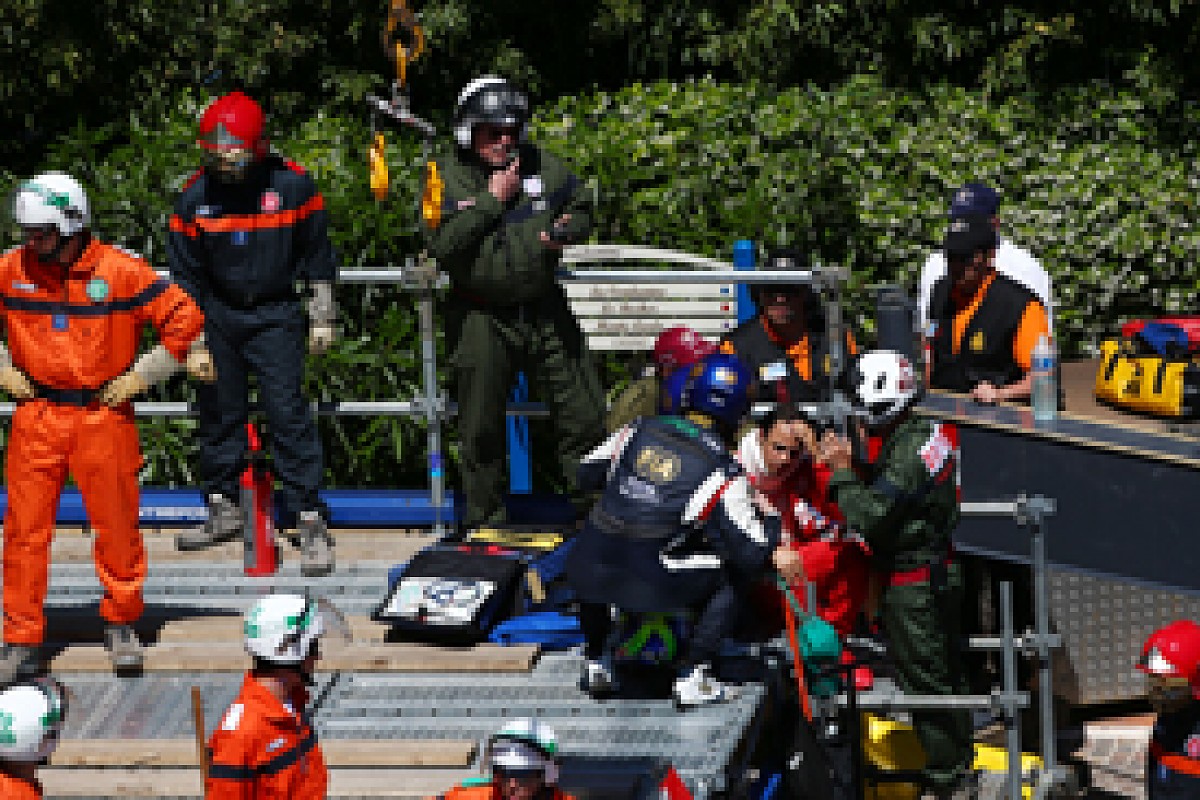 Massa required medical attention after his crash © XPB
Upon seeing the accident, Red Bull prepared to bring Vettel in, but then aborted as it seemed there was not going to be a safety car. A lap later the team decided to bring him in anyway and he got going again just as the safety car was finally released as Massa was carefully removed from the car and put in a neck brace.
The timing of the safety car's release meant it spent quite some time waiting to pick up the leader. The Mercs were already a long way around the lap when it came out, so had less distance to do than anyone else at the slow delta time everyone is required to adhere to in these situations. But Vettel was not far behind, and also ahead of the safety car. Rosberg was able to get in and back out still ahead of the Red Bull. But it all went wrong for Hamilton.
Mercedes needed to bring Hamilton in on the same lap as Rosberg to prevent him losing an entire lap at safety car delta speed, so he was instructed to drop back six seconds - the time necessary to service Rosberg and bring Hamilton's tyres out. Lewis overdid the delay, losing more like 11s. It was enough for both Vettel and Webber to leapfrog him.
For eight laps the safety car was followed by Rosberg, Vettel, Webber, Hamilton, Raikkonen, Alonso, Button, Perez, Sutil, Vergne and the others. The evidence of the tyres removed from Vettel's car at the stops suggested he was not in great shape with tyre durability and would need to eke out the life of these ones, even at this slow pace. So perhaps he wouldn't have had the late pace to punish Mercedes anyway.
Upon the lap 39 restart Rosberg was gone, pulling out 1.9s by the end of the lap. Like Webber earlier, Vettel was struggling to get the prime tyre instantly switched on, not a problem the Mercedes suffered with.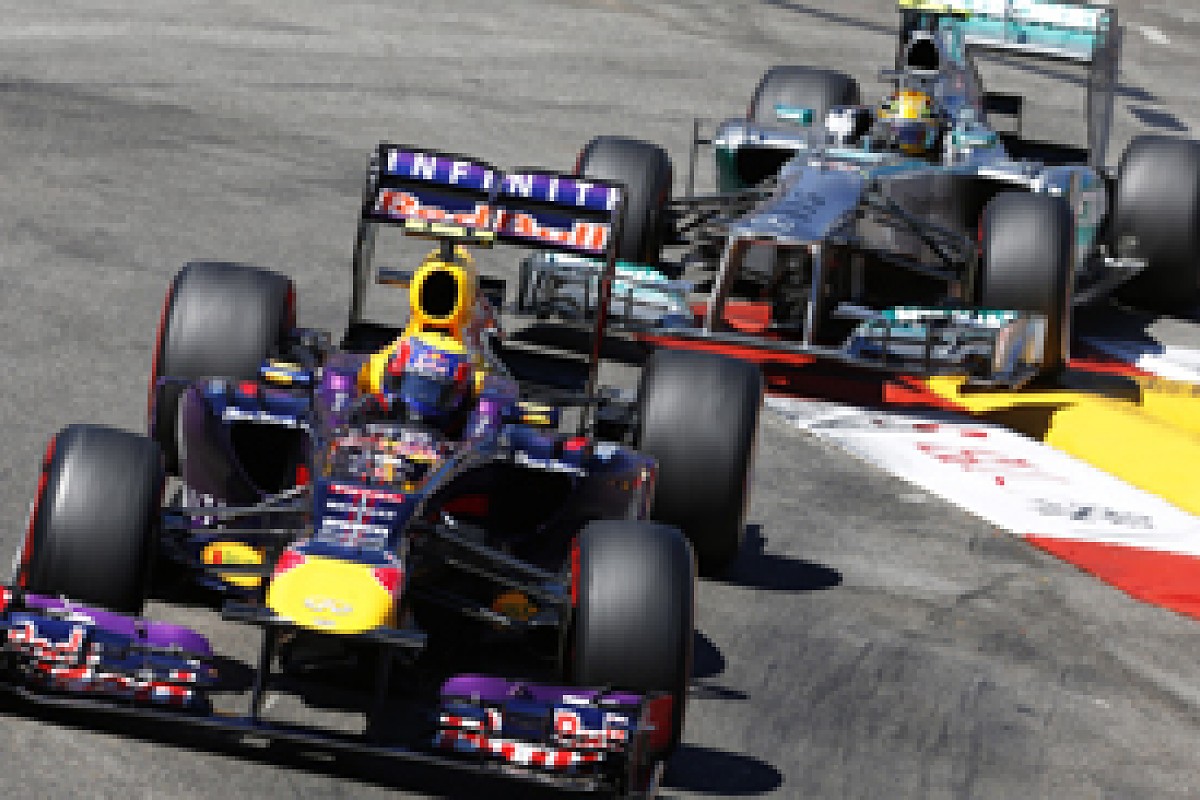 Hamilton tried hard to pass Webber © LAT
Webber was defending hard from Hamilton, taking the inside line out of the chicane to keep him back on the first lap of the restart, and next time through Lewis made an audacious pounce to the inside at Rascasse. Webber hung on around the outside, only just ahead and from there turned in across the Mercedes' bows into Noghes.
"I had to give him room," recalled Mark. "I think experience helps in those scenarios. I thought he might tap me... I could just see him in the mirror. I thought, 'Mmm, he's in there somewhere,' but I had to give him the room and then thank God we got round somehow."
Soon afterwards came the inevitable words over Hamilton's radio about how he now needed to preserve his tyres. "I'm trying to pass," Lewis pointed out, before then reluctantly doing as he was being guided to. It's an odd sort of racing, this...
By the time DRS was enabled once more, Rosberg was 2s clear and pulling away from Vettel, who now had a seven-car queue behind him. In that queue Button tried to go down Alonso's inside into the hairpin, but they touched on the exit, the Ferrari snapping into a little slide.
With Button still regathering himself from that as they raced through the tunnel and down to the chicane, Perez pounced, putting a perfect wheel-locking, on-the-limit braking move on his team-mate, down the inside.
A couple of laps later Perez tried the same move on Alonso, but it only half worked. Fernando had to steer out onto the escape zone to avoid contact, in much the same way as Perez had earlier done to stay ahead of Button. The stewards were looking into whether Alonso should be required to surrender the place, but then their attention was diverted elsewhere. There had been another big accident.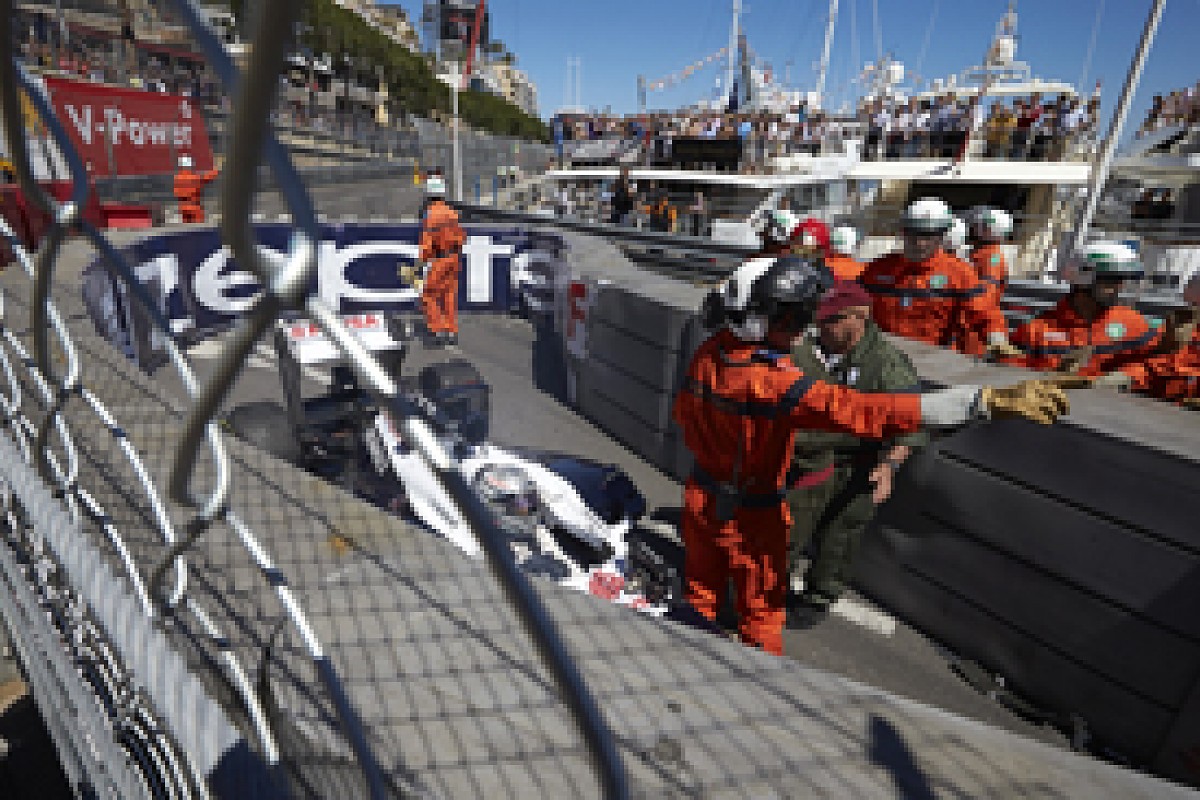 Maldonado's crash mangled the barriers © LAT
Max Chilton's Marussia was accelerating between the harbour chicane and Tabac, on the inside line, with Maldonado bearing down on him. As the Williams got alongside on the outside Chilton didn't appear to judge the available room as he began to move right for the corner approach.
Maldonado was left with nowhere to go, squeezed between the barrier and a Marussia wheel, which catapulted him into the air and hard into the 'SAFER' barrier on Tabac's outside. The barrier unwrapped itself around the car, blocking most of the track. The race was red-flagged, with 33 laps still to go. Maldonado was mercifully OK, with just scratches and bruises.
The cars lined up on the grid as the barrier was repaired. The sporting regulations state that tyres can be changed during this time, so making the prospect of any late tyre-degradation-related place changing even more remote as everyone switched to fresher tyres. Most chose to fit a set of options for their quicker warm-up performance, with only Raikkonen and Sutil of the top 10 going for primes.
After 20 minutes the race got underway once more, with a single safety car lap, during which time Alonso surrendered his sixth place to Perez, as per FIA orders. As the safety car pulled off Rosberg was again supreme in his control of the restart, pulling out over 1s again on Vettel. Hamilton got racy again, looking down the inside of Webber into Ste Devote, before pulling back into line. A lap later he tried it with DRS but still it didn't work.
Vettel again had a queue behind him and this time Sutil repeated his earlier dive at the hairpin on Button; it was a beautifully judged move that worked by millimetres.
A couple of places further up in that queue on the 52nd lap, Perez picked his favourite spot of the harbour chicane to put a move on Raikkonen - but this was less well judged. Leaving his braking just too late, he was forced onto the run-off himself, obliging Raikkonen to do the same to avoid contact, the Lotus snapping sideways as Kimi got his elbows out keeping Perez behind on the short straight out of there.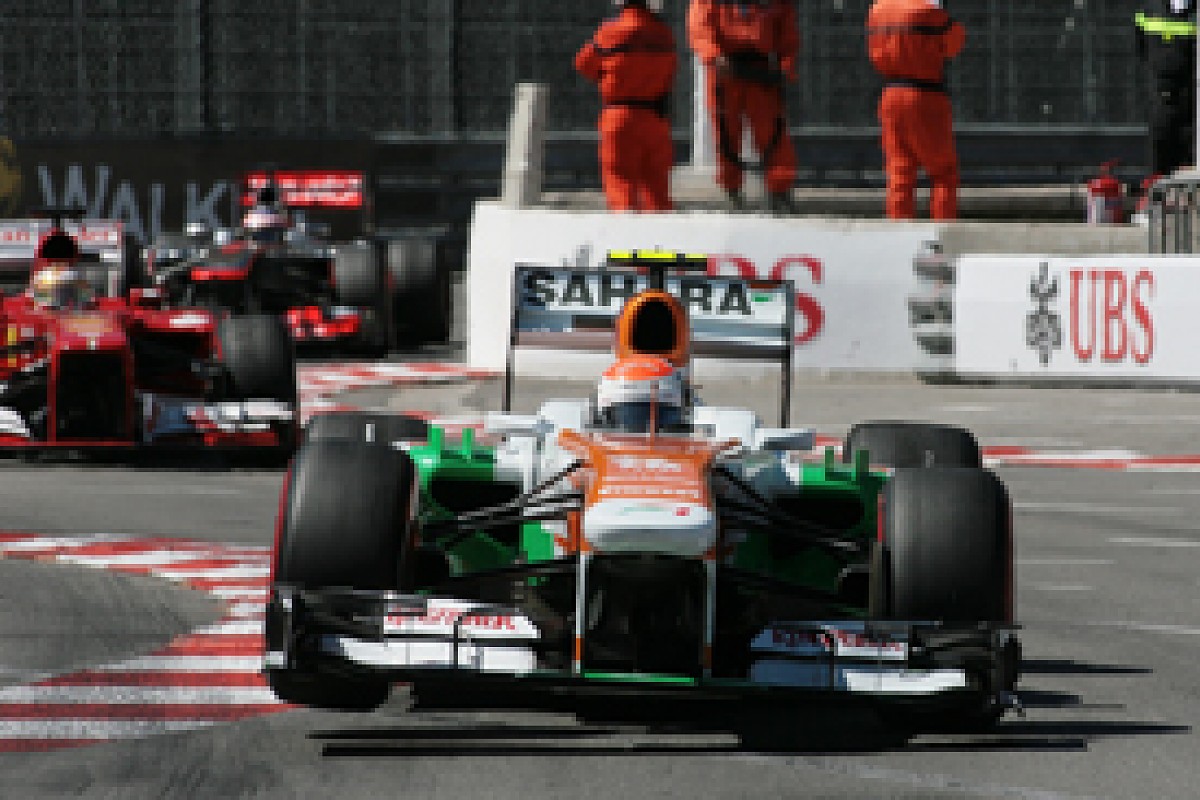 Sutil was taking no prisoners © XPB
While Rosberg continued his perfect drive, edging out a few tenths each lap on the Red Bulls, Sutil wasn't finished yet and on lap 57 he repeated his hairpin move on Alonso for seventh.
"They are the sort of moves you can try when you don't have to think of the championship," said Fernando. "I made them myself in 2008/09. You have nothing to lose. But you cannot have that approach when you are driving for the championship. I saw him coming in my mirrors and I had the choice either to let him by or crash."
The Ferrari had not been at its best for the last 20-odd laps. A piece of Perez's front wing had damaged the floor, costing around 30-40 points of downforce (around 0.3s-worth) and in addition for 10 of those laps a plastic bag had been caught in the front wing.
On the 63rd lap the safety car was triggered again as Grosjean was caught by surprise at where Ricciardo braked for the chicane. The Lotus hit the back of the Toro Rosso, wheels interlocked, another airborne car, carbon debris everywhere. It was Romain's third accident of the weekend.
Racing got underway with 11 laps to go, and Rosberg pulled out his lead all over again as Hamilton struggled with graining fronts.
A lap after the restart Perez made a yet more marginal move on Raikkonen that got him pincered into the wall - though he continued unabated - and which punctured the Lotus's tyre. As Kimi hobbled to the pits, it created a scrap behind, giving Button the opportunity to slide up the inside of Alonso.
Perez's brakes were damaged in the Raikkonen incident and after going straight on at the chicane with five laps to go he slid wide into Rascasse and was passed by Sutil, Button and Alonso before pulling over to retire. Vergne flashed by too, now up to eighth.
Rosberg had plenty in hand even when Vettel decided to let rip with his customary late fastest lap. The Mercedes crossed the line to take a victory that was definitely less swashbuckling than Keke's had been.
But this is not a format of racing suited to swashbucklers. Tyre preservation is everything - something with which Hulkenberg would concur after trying to hang onto his ninth place on the final lap on rear tyres down to the steel belt. He was therefore easy meat for Force India's Paul di Resta and the recovering Raikkonen.