After a very difficult race at Barcelona, Mercedes' Toto Wolff said of his team's prospects for Monaco: "In a way it would be bad news for us if we won at Monaco - because it might disguise the underlying problem".
That problem being the rear-tyre temperatures the team has struggled with all year, despite scintillating one-lap pace.
The challenges in Monaco for a tyre are totally different to those of Barcelona. Typically, it is rear-tyre wear rather than temperature that defines the limitation. The tyres are not under the sort of sustained lateral load that induces the heat that the Mercs have problems shedding. But they are under repeated low-gear acceleration stress, hence the heavy wear.
So the question for the team coming into Monaco was: could it keep the rear wear low enough to allow it to do the preferred one-stop strategy?
The signs after Thursday practice were that the great one-lap pace is very much intact, despite it having concentrated on long runs on the option super-soft tyre, and that the long-run durability looks promising.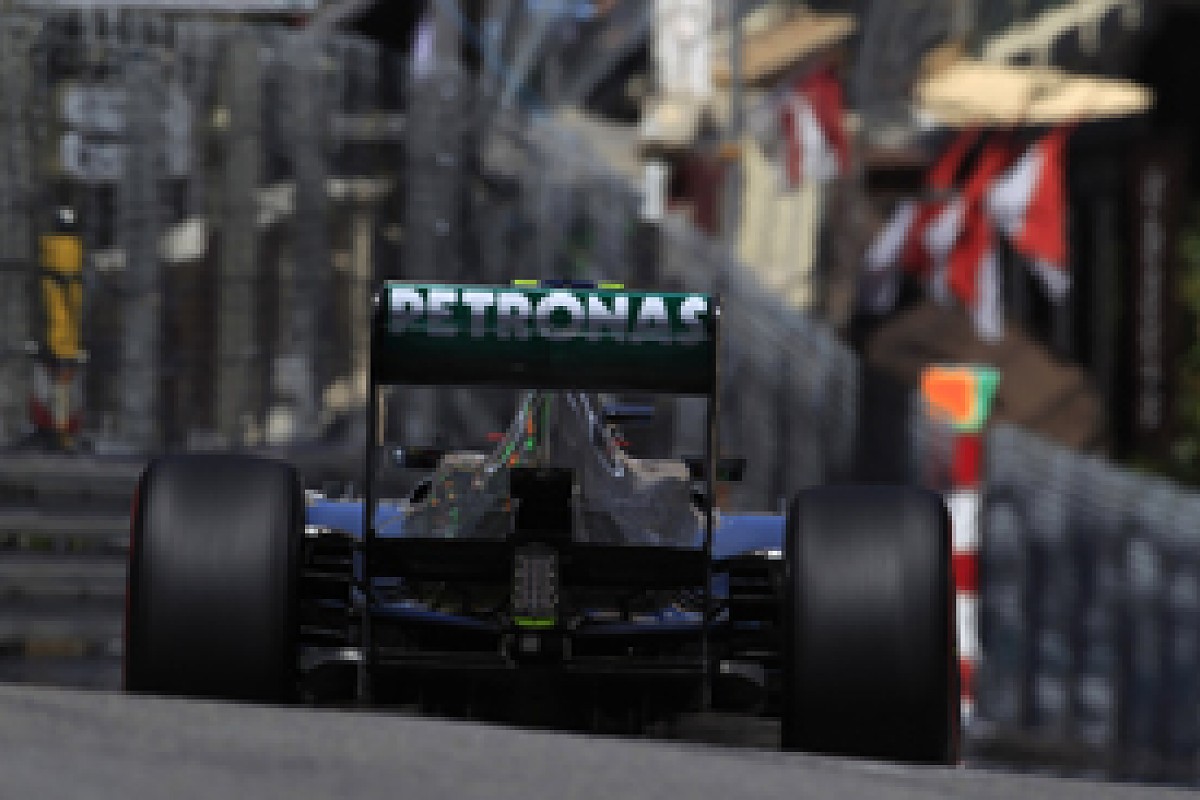 Practice suggests Mercedes has a shot at keeping its tyres alive © LAT
Both Nico Rosberg and Lewis Hamilton completed stints of over 20 laps on the super-softs. Rosberg appeared to be able to hold the pace for a few laps longer than Hamilton, but even Lewis was not in desperate trouble by the end of what was a very long run.
To do a one-stop strategy would probably require an opening stint on the super-softs of around 28 laps, leaving the prime tyres to do the second, 50-lap stint.
If Merc is making the super-soft last for 20 laps on a Thursday, it's quite feasible that with some track-surface progression by Sunday, that target could be met.
If so, given the car's one-lap pace, its prospects are surely high. The intriguing thing would be if it can lock out the front row. It would be in the perfect position to use the second driver to play rear gunner for the leader, holding back the others for a time while the leader escaped, giving him great tactical flexibility.
In such a situation, even if the leader did need to convert to a two-stop, he might have the necessary gap for that not to lose him the race - if the second guy was prepared to do that.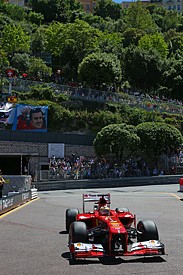 Alonso could be the best-placed to deny Mercedes pole © XPB
It was something current Merc team principal Ross Brawn was keen to try in Monaco during his Ferrari years with Michael Schumacher and Rubens Barrichello, but the plan floundered with Barrichello not being able to get on the front row whenever Schumacher managed to.
Will Mercedes be telling its drivers before qualifying that in the highly feasible event of them qualifying one-two, the second driver will have to work for the first? It's certainly not something that could be reasonably asked afterwards.
Looking to the others, it's the usual suspects: Ferrari, Lotus, Red Bull. None of them made long runs anything like as long as those of Mercedes, therefore making direct comparison impossible.
But on one-lap pace Fernando Alonso appeared to be the closest match. He did not get in a properly clean lap but even so was close to the Merc pair.
On long runs, the three cars appeared quite evenly matched. On the option tyres, Raikkonen did a 12-lap run (taking out the odd traffic lap) that averaged out at 1m20.57s, while Vettel did a 10-lap run that averaged 1m20.6s.
Alonso's long option run was longer than this at 15 laps, so his average of 1m20.77s is probably roughly comparable.
But this is the one race where long-run pace may turn out to be not so important. Especially if Ross Brawn can get to try what he'd never quite been in a position to at Ferrari.
Let's see if Toto's 'problem' of winning at Monaco will unfold.