ALL-TIME RECORDS
The Spanish Grand Prix featured three major milestones:
1) Sebastian Vettel ran his 56th straight race without retiring as a result of an accident, equalling Nick Heidfeld's record, set between the 2006 French GP and the 2009 Italian GP. The last time Vettel crashed out of a race was when he clashed with his Red Bull team-mate Mark Webber in Turkey three years ago.
2) Kimi Raikkonen saw the chequered flag for the 33rd time in a row, equalling Heidfeld's tally (2007 Chinese GP to Italy 2009).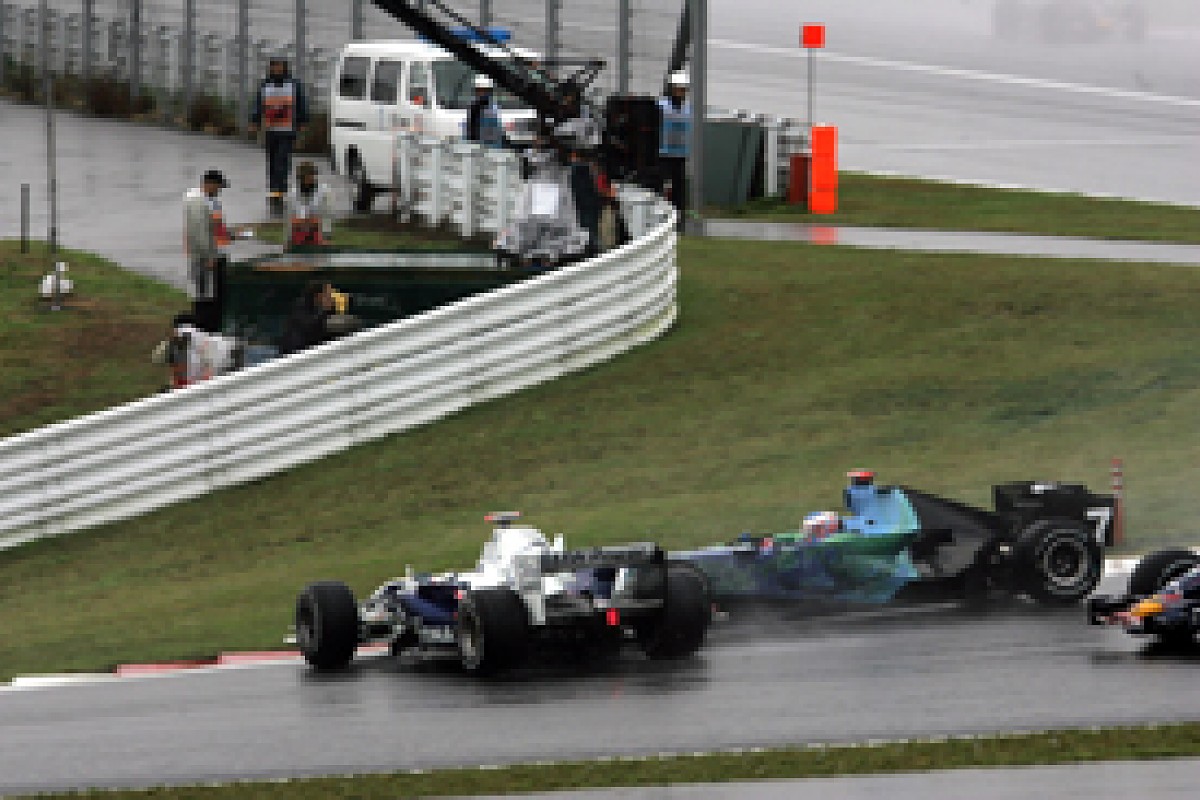 Heidfeld's BMW survived this tangle with Button's Honda, but expired late on at Fuji - creating a statistical conundrum © LAT
This statistic is, however, open to debate: Kimi's races are not consecutive (eight are from 2009, the rest from 2012-13) due to his F1 sabbatical, plus Heidfeld's record of classifications actually extends to 41 races, from the 2007 French GP. In the 2007 Japanese race he retired so did not take the flag, but was officially classified as he had completed a sufficient percentage of the race distance.
3) Fernando Alonso is the first driver to nail 60 straight races without retiring as a result of a mechanical failure, the last time being an engine problem in the 2010 Malaysian GP.
RACE
• This was Alonso's 32nd win, his 11th for Ferrari, the same number as his team-mate Felipe Massa.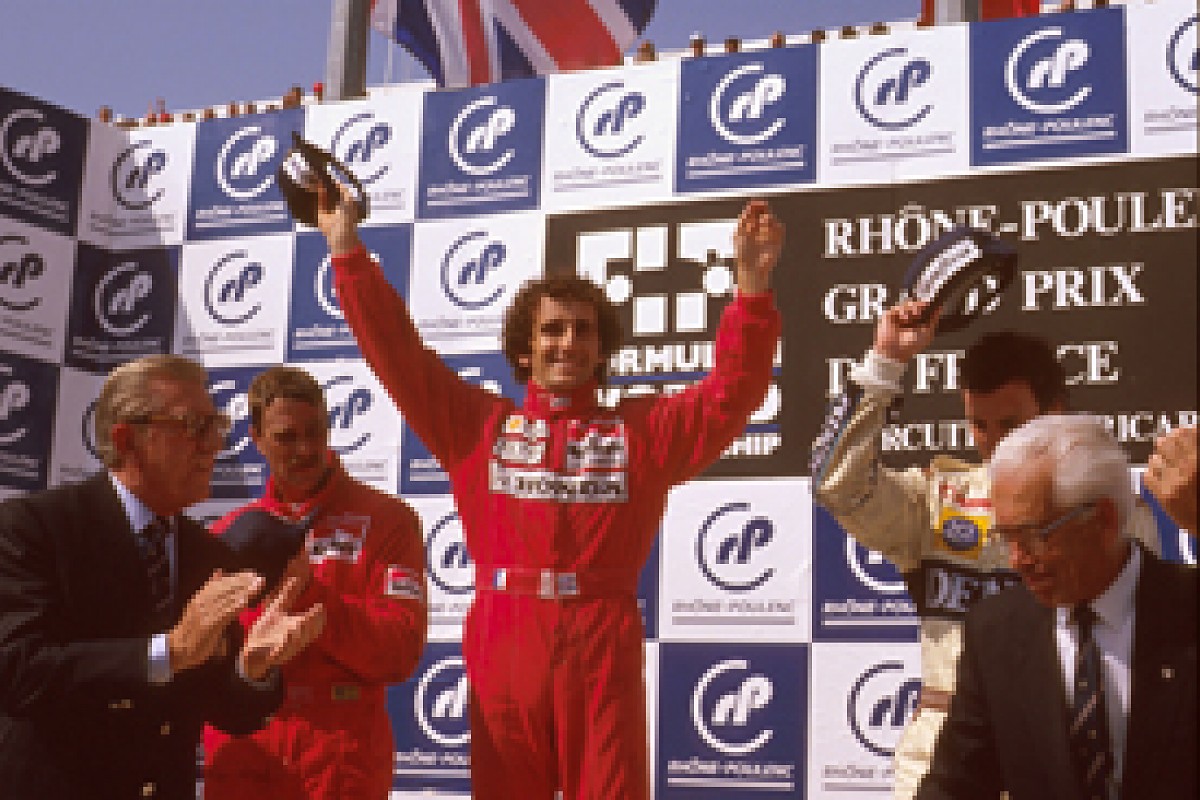 When it comes to home podiums, Prost is F1's top local-crowd pleaser © LAT
Alonso scored his seventh podium in his home grand prix (specifically the Spanish race, not including the European round held in Valencia), the same number of podiums recorded by Michael Schumacher in the German GP. The driver with most podiums in his home race is Alain Prost, with 11 in the French GP.
• Alonso is the first driver to win at the Circuit de Catalunya from fifth place on the grid. So far the wins have come from pole (17 times), the second spot (four times) and once from third (Schumacher in 1996).
• Massa scored his first podium finish of 2013. This is the first double podium for Ferrari this year, and the first at the demanding Catalunya track since 2008, when the red cars scored a double with Raikkonen and Massa. It was Felipe's 36th podium, putting him alongside Graham Hill in the 20th all-time spot.
• Massa made it onto the podium at Barcelona having started from ninth on the grid. This is the best comeback for a podium place here since Juan Pablo Montoya was second starting from 12th in 2001.
• Raikkonen was second for the third time in a row, one step closer to the all-time sequence of four, set by Nelson Piquet in 1987 (Monaco to Great Britain) and by Lewis Hamilton 20 years later, from Malaysia to Monaco.
• For the second time this year after Australia, Vettel finished in a lower position compared to his starting spot: in both cases he was either passed or outfoxed in the pitstops sequence by Alonso and Raikkonen. And this time Massa added himself to the list of those demoting Vettel.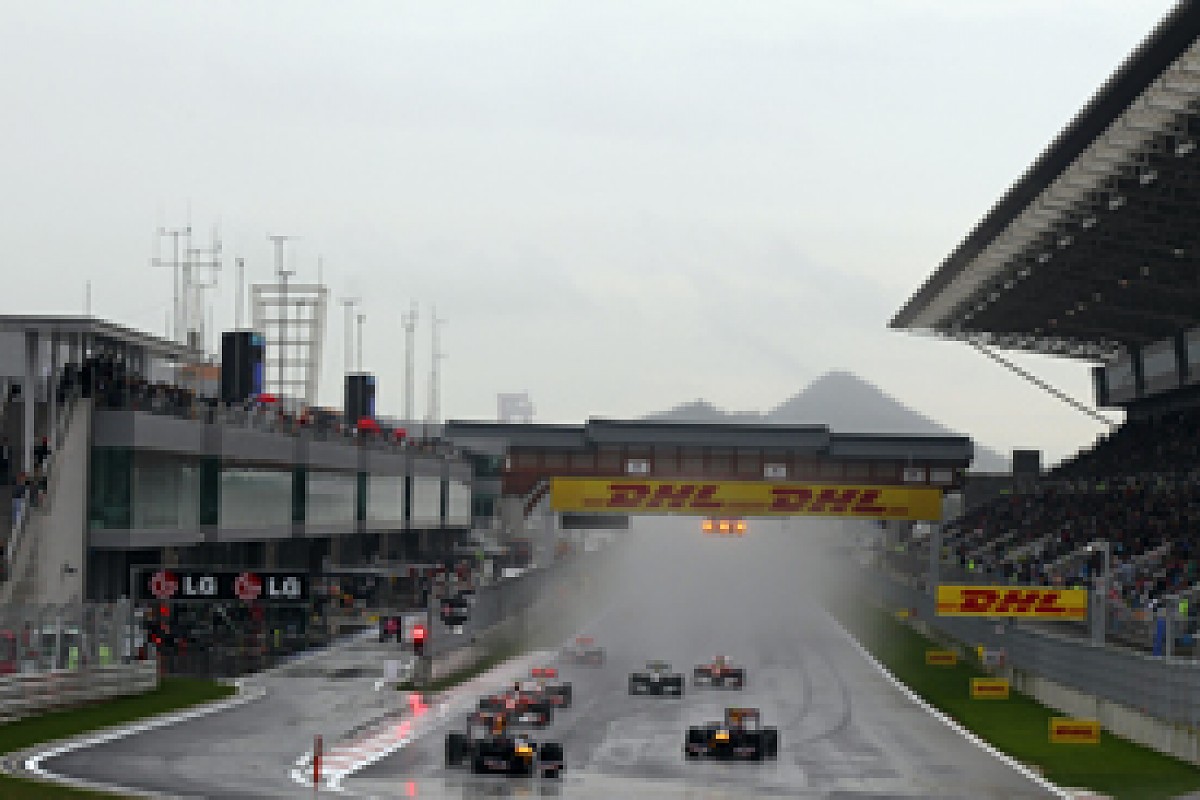 Korea 2010: Red Bull filled the front row but both cars would hit trouble © LAT
• A front-row lockout, yet no cars on the podium: this happened to Mercedes, with Nico Rosberg sixth and Lewis Hamilton 12th. The last team before the Silver Arrows with such a dubious honour was Red Bull in the 2010 Korean GP (Vettel suffered an engine failure and Webber crashed out).
• Another reading of Mercedes' poor race performance compared to qualifying is the fact that this was the team's third straight pole with no win. The last squad to record such a sequence was Red Bull, from Great Britain to Hungary in 2011.
• Hamilton finished lapped, without suffering mechanical failure or accident, for the first time since the 2009 British GP, and only the third time in his career. The other occasion was this same race, in 2009, when he similarly struggled for grip and downforce.
• It's the second time a Toro Rosso was able to score points here: Daniel Ricciardo finished 10th, the same position taken by Jaime Alguersuari in 2010.
• It was the maiden fastest lap for Esteban Gutierrez. At 21 years, nine months and seven days, he's the second youngest in history behind Rosberg (Bahrain 2006, 20 years, eight months and 13 days).
Gutierrez also led a race for the first time briefly during the pitstop sequence. He is only fifth in this ranking, Vettel holding the record at 20 years, two months and 27 days (2007 Japanese GP). The 2013 race-leaders' count is now up to 12 after five races. In 2012 there were 13 all year. Gutierrez's 11th place was his best race result so far.
• With Romain Grosjean's retirement, Lotus lost the achievement of being the only team that was able to put both cars in the points in every race this year. It was also the only team that had completed all scheduled race laps.
• Red Bull and Lotus have one thing in common: they both scored points nine times from 10 starts this year, and the only occasion when they didn't score was as a result of a right-rear corner problem on one of their cars. It happened to Webber in China and Grosjean in Spain.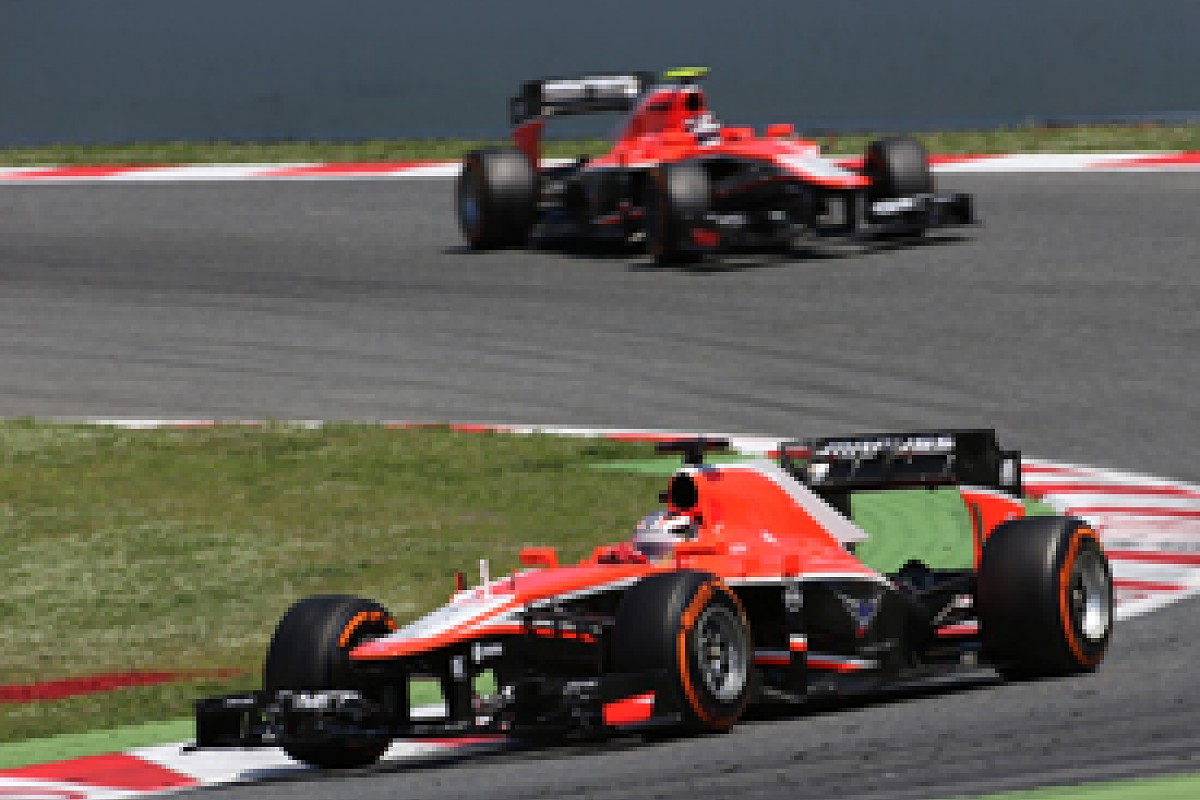 Marussia is proving very good at getting its cars to the flag © XPB
• A Caterham (Giedo van der Garde) retired for the first time since last year's British GP, when Vitaly Petrov's engine failed. Now the only team with both cars classified in every race this year is Marussia.
• The Spanish GP notched up the third highest number of pitstops, at 77. The record was set at Hungary 2011, at 88, followed by Turkey at 82.
QUALIFYING
• Rosberg scored his third career pole, his second in a row, which was the 120th for a German driver. With Hamilton's starting position in China, Mercedes now has a sequence of three poles, a feat its original incarnation also recorded once in 1955 (Netherlands, Great Britain and Italy).
• Hamilton posted his first front-row start at Barcelona. Among the circuits on the 2013 calendar, he has yet to start from the front only at Suzuka and Buddh. This was his 50th career front-row start, and his 60th straight appearance in the third qualifying session.
• Mercedes has locked out the front row four times in its history, twice before its first retirement from racing, in the Netherlands and Italy in 1955, when there were three cars on the front row (Juan Manuel Fangio, Stirling Moss and Karl Kling in both instances), and twice since it came back to racing: China '12, plus this Spanish GP.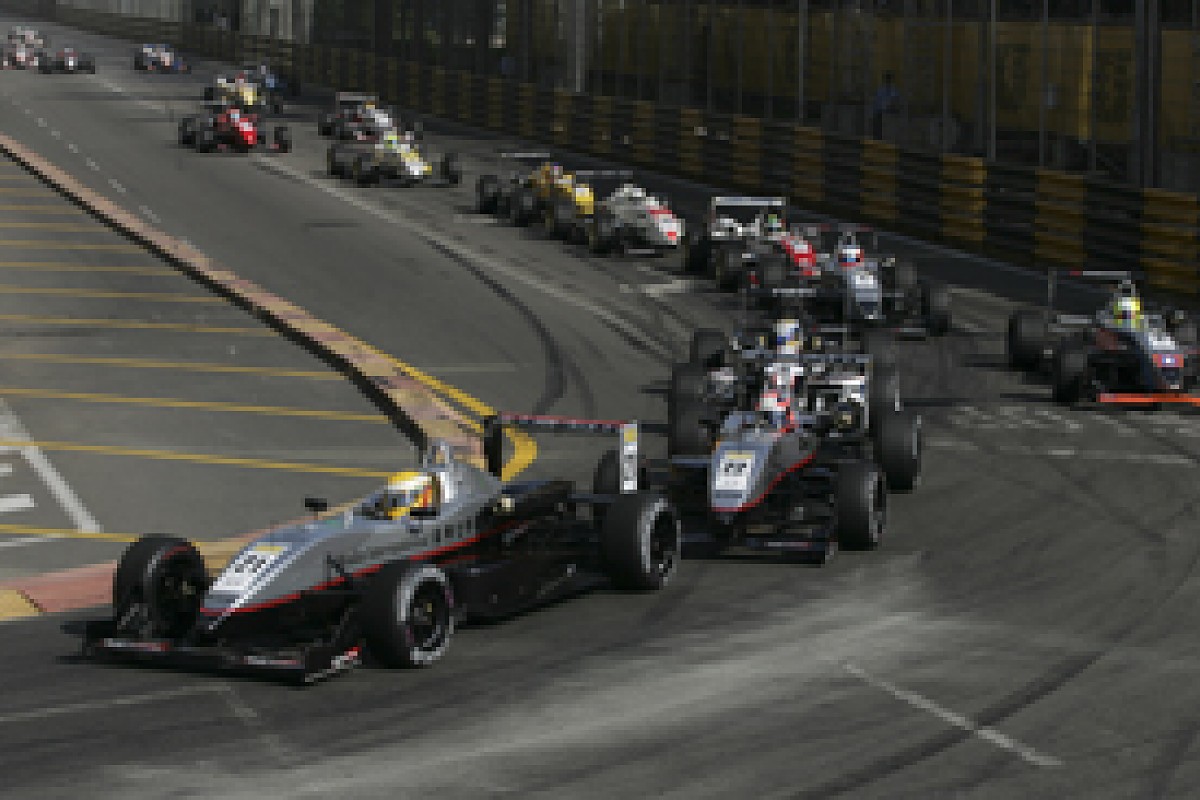 Macau 2004: Hamilton and Rosberg up front © LAT
• Rosberg and Hamilton shared a front row for the first time since the 2004 Macau Formula 3 race, when Lewis was the polesitter.
• Alonso qualified fifth after three straight third places. In his 63 races for Ferrari, he has never been able to nail four consecutive top-three starts.
• Grosjean has a unique pattern in this year's qualifying sessions: he has alternated a Q3 appearance with being the first to drop out in Q2. His qualifying spots were as follows: eighth, 11th, sixth, 11th, sixth.
• Massa (with or without the penalty received for impeding Webber) for the first time this year qualified a Ferrari below the fifth grid spot.
• Paul di Resta qualified a Force India in the Barcelona top 10 for the first time.
• Jean-Eric Vergne recorded his second-best career qualifying result, 12th, after the 11th he scored in his maiden race in Australia last year.
• Jenson Button missed out on a top-10 grid spot for the first time since Austin last year, and was beaten in qualifying for the first time this season by his team-mate Sergio Perez. At this track he qualified in a lower spot only in 2001, when he was 21st, with only the Minardi of Tarso Marques behind him.
• Last year's polesitter (and winner), Pastor Maldonado, was dropped in Q1 and ended up 17th on the grid.