This race was way simpler than it looked. The disorientation caused by 77 pitstops clouded a clear demonstration of Ferrari superiority in meeting the complex demands of Barcelona in the Pirelli era.
It had a car with a superior combination of pace and tyre usage, and it used that tool strategically perfectly, committing from the beginning to a four-stop plan on a day when most were hoping to three-stop but fell into a compromised four.
The rest was left to Fernando Alonso, brilliant in making progress from his third-row start and then simply metering out the car's performance. Once the last engine was switched off, the whole stadium echoed to the repeated three-syllable chant of his name.
The Circuit de Catalunya is one of the very toughest tracks on the calendar for the tyres and, coming right after the similarly demanding (though for different reasons) Bahrain track, the pattern of performance had certain similarities. For example, the league table of the top cars was very different between Saturday and Sunday, and Mercedes once again suffered the agony of falling from a great height, from qualifying dominance to race mediocrity.
Lotus was once again better in the race than qualifying and had the second-best race car, and Kimi Raikkonen duly converted this to second place, ahead of Felipe Massa's Ferrari.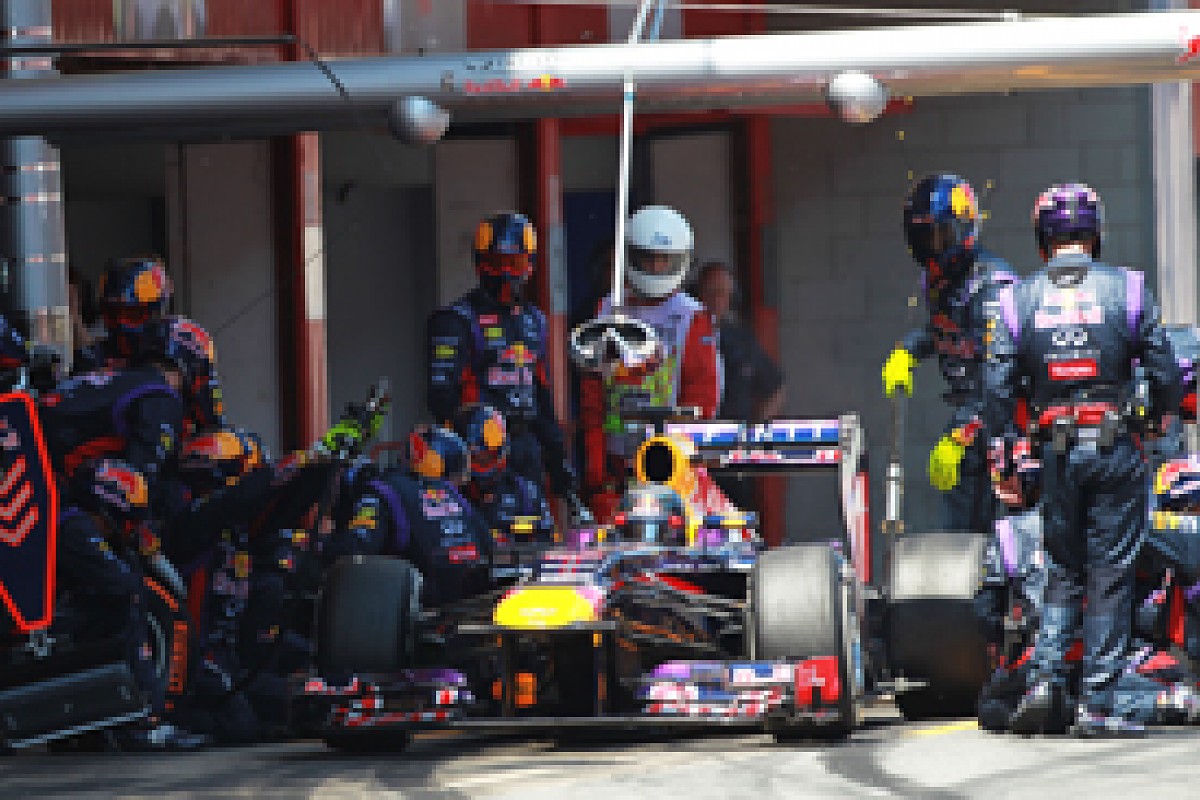 Vettel hoped for three pitstops but had to resort to four © LAT
But the status of Red Bull and Ferrari was transposed from Bahrain. Red Bull's three-stop strategy bust, meaning in hindsight that the timing of the stops was all wrong for the four-stop it was eventually forced onto. "It wouldn't have made any difference to the final result though," said team boss Christian Horner. "We were just too hard on the front-left."
As in China, drivers were on the radio asking if they should race the car gaining on them or whether it was on a different strategy. Here, Vettel received a surreal variation in the answer as Raikkonen closed on him: yes, he was racing the Lotus, but he should let it go! He should continue driving well off the pace to keep those tyre temperatures from spiralling quickly out of control.
Monitoring and control: it was what this race was all about, and both needed to be tighter even than usual. Never have the tyre-temperature sensors provided more crucial live information to teams. The fast-and-long Turn 3 and Turn 9 would instantly grain up the left-front, and pushing for the last tenth would disproportionately tear off the graining rubber, drastically reducing the stint length.
The Red Bull, in its DNA a car with an aggressively grippy front end, was taking way more out of that front-left even at moderate speed than the Ferrari or Lotus; the corners were just too long and fast for its tyre use. But even with drivers backing off enough to control the front graining, the classic Barcelona trait of the load switching to the rears once the grip reduced through a stint would then begin to overheat those rears. Once that happened they got into a runaway temperature increase and there was no bringing them back.
It was a conundrum Nico Rosberg was particularly well attuned to. After retaining the advantage of his pole position into Turn 1, with a canny bit of placement and earlier-than-anticipated braking that got the other Merc of Lewis Hamilton all locked up and off his case, he was immediately into conserve mode. Vettel swept across the front of Hamilton to go second into Turn 1.
The bunching up and loss of momentum caused to Vettel, Hamilton and Raikkonen by Rosberg's defensive tactics created the perfect opportunity for Alonso. His Ferrari had been its usual rocket self off the line but he was unable to convert that down to Turn 1 as he was held to the outside by Raikkonen.
As they then fell over themselves and Hamilton and Raikkonen hugged the defensive inside line of Turn 3, Alonso was able to use his greater momentum to sweep around the outside of the Lotus and the Mercedes, braving it out with Lewis, wheels almost touching, Alonso on the KERS button, the crowd going crazy.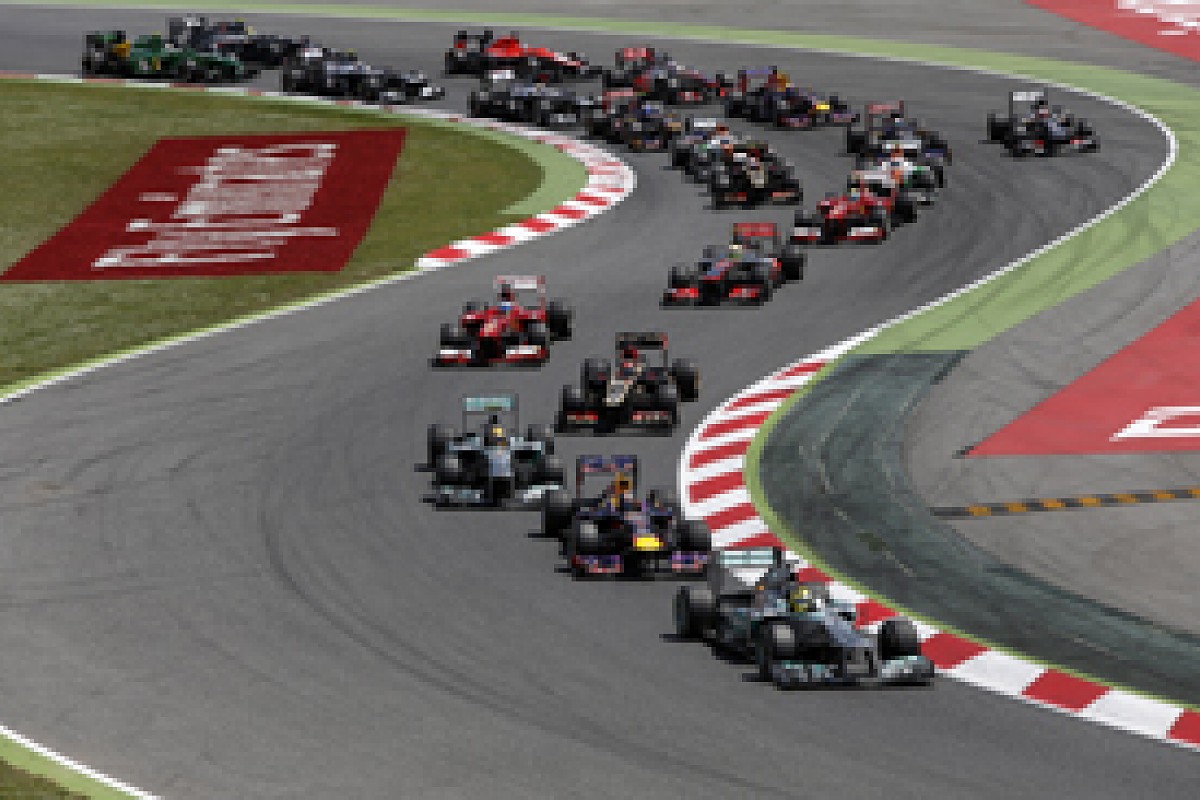 As Rosberg leads the start, Alonso prepares for a double round-the-outside move © LAT
It was the foundation of Alonso's day. He feinted this way and that behind Vettel as Seb did the same to Rosberg, but only for the first lap or so. After that, no one was up for an early fight on a heavy fuel load and super-sensitive rubber.
Rosberg's gentle early pace was all about anticipating and trying to head off tyre problems rather than actually experiencing them yet.
But this was extreme: his pace was 11s off his pole time, and only half of that is accounted for by the fuel weight. Driving at 5.5s off what was possible, in order to keep the rubber alive for the stint lengths necessary for a three-stop race, he was keeping the entire field bunched up. But no one seemed particularly keen to hurry him up, everyone sitting in line astern looking after their own tyres.
Massa dived inside Sergio Perez's McLaren at Turn 1 to take sixth place beginning lap two and quickly latched onto the back of Raikkonen. It was an important move for him, given that the McLaren was expected to be a hold-up once everyone's true pace began to play out.
What was that true pace? Ferrari's was better than anyone's, but Lotus had the least tyre degradation. That at least was Lotus's assessment after free practice.
"As far as we were concerned, this was always a three-stopping race for us," said the team's Alan Permane. "Four-stopping was about 4s faster over the distance, but with a much greater risk of getting caught in traffic. Besides, whichever of the two strategies we chose, we didn't believe we had the pace of Ferrari."
The Lotus's tyre usage also meant there was no ambiguity whatsoever about the softer option tyre being the preferred one, and the harder prime would be reserved for the final stint. At every other team, the option (medium) was thought to be more delicate and the prime (hard) was the preferred tyre. Alonso and Vettel, for example, would do 70 per cent of the distance on the hard compound.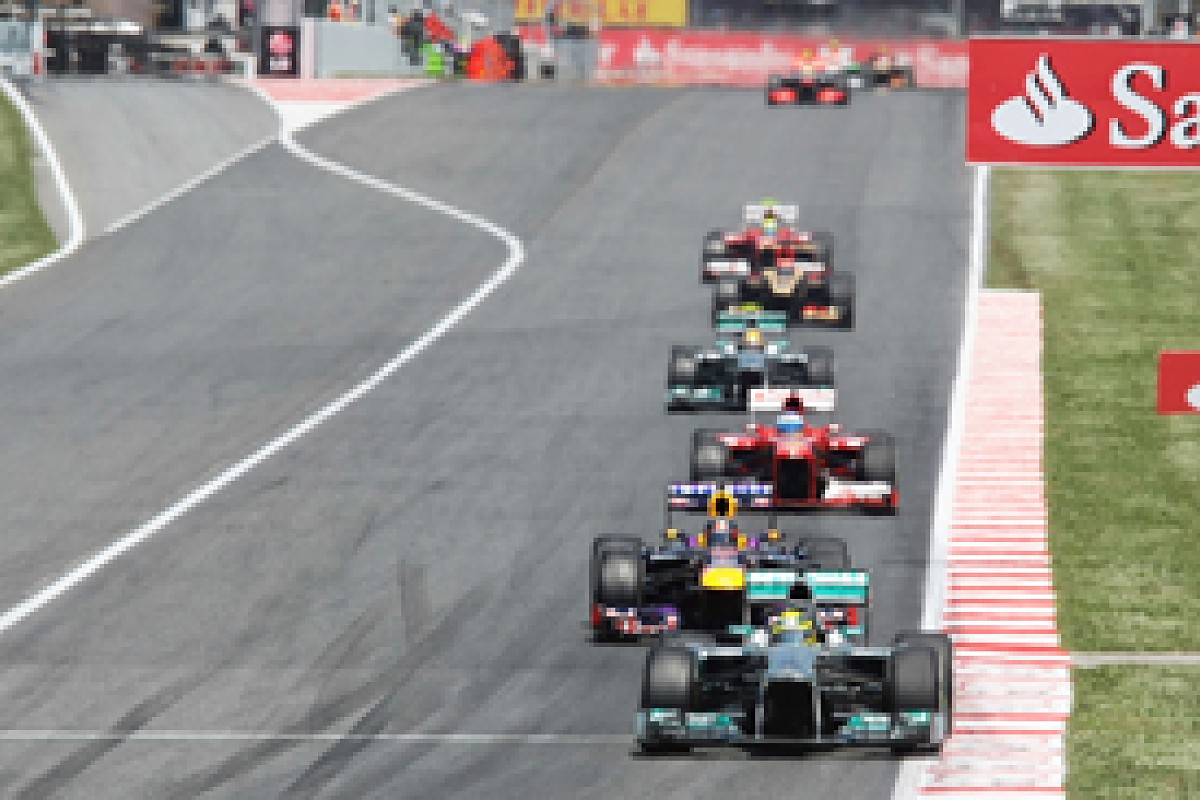 Rosberg dictated the pace at first © XPB
Mercedes was so certain of its preference that it had conducted all of qualifying on options, so as to give it three fresh sets of hards for the race, the same as Vettel. But the option was barely any faster, certainly not fast enough for Lotus's ability to make its rubber last.
But that Ferrari/Lotus pecking order would not make itself apparent during the first stint, the order frozen as it was by the tentative Rosberg-dictated pace.
Mercedes was not unduly pessimistic at this stage, at least not for Rosberg. Hamilton's first-corner lock-up had flat-spotted his fronts and he was soon falling back into the clutches of Raikkonen and Massa. But Rosberg had completed a very respectable-looking long run on Saturday morning that had Red Bull and others thinking that maybe Merc wasn't going to have a Bahrain repeat of rapid degradation after all. He continued lapping slowly, kept the tyres in shape.
At Lotus and Ferrari, they knew they could run a harder pace than this and still keep the tyres alive, but that required being in clean air. At Red Bull they were quite content to let Vettel follow in Rosberg's wheeltracks for now, as Vettel's long runs in practice had not been great.
Hamilton's problems had opened a bit of daylight between him and the lead trio, and this urged first Raikkonen (on lap seven) and then Massa (on lap eight, on the in-lap of his first stop) to outbrake him at the end of the back-straight DRS section into Turn 10. Lewis's afternoon of misery had barely even started.
Mark Webber had made an awful start and his Red Bull had completed the opening lap 11th. To jump him clear of the slower traffic he was stuck behind, Red Bull brought him in early, on lap seven. This put him on a four-stop. The plan for Vettel remained to three-stop. Meanwhile, Romain Grosjean had just dropped out of ninth, with a right-rear suspension failure in the Lotus suspected to have its origins in a driveshaft problem.
First of the leading trio in was the four-stopping Ferrari of Alonso at the end of the ninth lap. He was followed in a few seconds later by Hamilton, keen to get rid of those flat-spotted fronts. But a switch failure meant the Mercedes green light didn't trigger, Lewis losing a chunk of time before being urged out in a more traditional manner.
Alonso's early stop forced Mercedes and Red Bull to respond with Rosberg and Vettel on the next lap, for they could not know yet that Ferrari was four-stopping. This just increased Ferrari's advantage by extending the subsequent stint lengths of its rivals, and also by it jumping Alonso ahead of Vettel, the Ferrari exiting right on the tail of Rosberg and just ahead of the Red Bull's nose.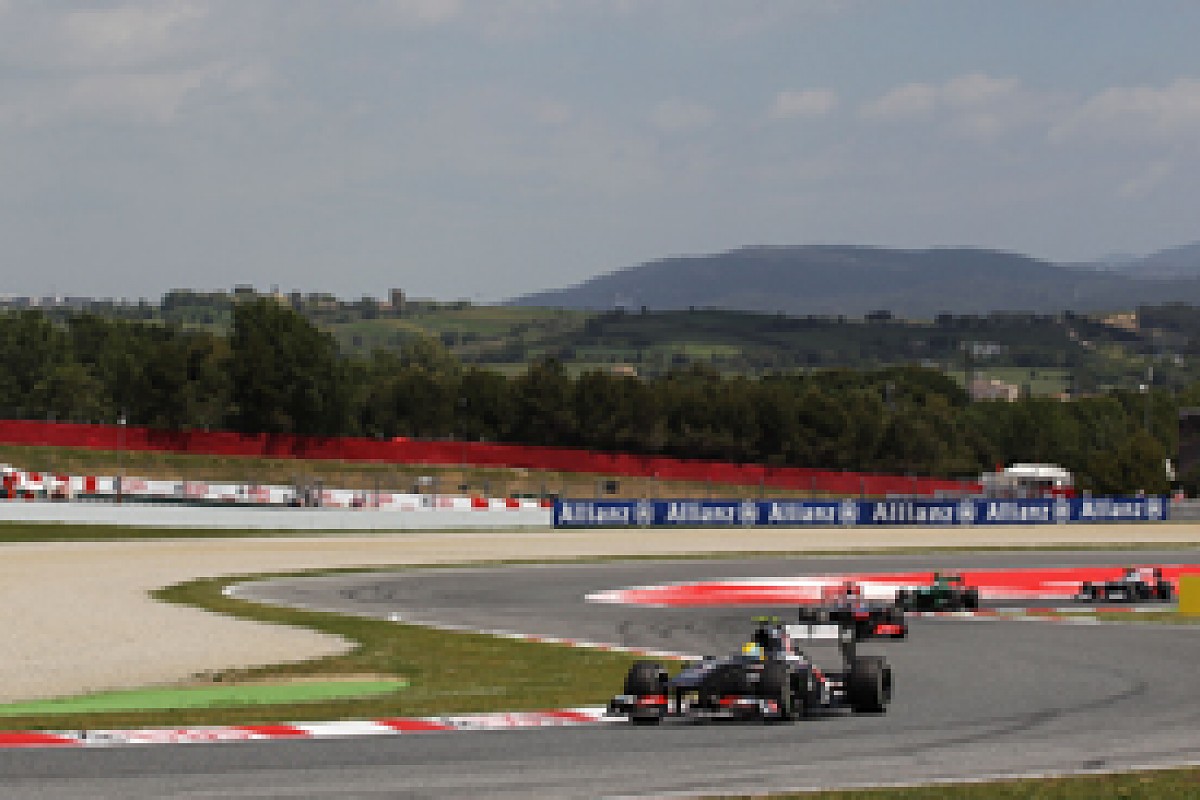 Gutierrez found himself in the lead for a spell © XPB
Raikkonen had also stopped on the 10th lap and, with most of the midfield having been in too, Esteban Gutierrez's yet-to-stop Sauber temporarily led the race, aided by the very small field spread that Rosberg's gentle pace had ensured.
With the first stint over, Rosberg led narrowly now from Alonso, and Nico now began to come under serious pressure for the first time. Vettel dropped off the back of their battle, under strict instructions to look after those brand-new prime tyres.
Alonso didn't need the same caution, Seb noticing just how hard he was now pushing through Turn 3. Massa's early stop had leapfrogged him over Raikkonen, while Webber's had jumped him past Paul di Resta's Force India and Perez to run seventh. Meanwhile, Hamilton had tumbled down the order after that long pitstop and now lay 10th, behind the Force India.
It was only a matter of time into the second stint before the rightful performance order put Alonso and Raikkonen at the front and, as Rosberg struggled now to defend from the Ferrari, so he triggered that fatal overheating of the rear tyres from which there's no recovery. It's an incredibly fine line to tread, to defend position while going slowly enough to preserve delicate rubber, and inevitably Rosberg eventually failed to tread it.
With his rears bubbling over the threshold of doom, his traction was poor out of the slow section at the end of lap 13, making him slow onto the straight - and Alonso pounced, KERS and DRS together sweeping him past the Mercedes early on the long straight with barely even the courtesy of a slipstream.
The crowd could be heard above the screaming pack of engines and, once Alonso was through, Vettel and Massa barged by too out of Turn 5, the Merc's rear tyres again spinning uselessly as he tried to put the power down, so damaging them even more. The dominant pole man of yesterday was now just an also ran.
Now Raikkonen - unique among the top runners in having had another set of options fitted at his first stop - needed to be past the slowing Mercedes too and it took him just a further couple of laps, going ahead into Turn 1 with the aid of DRS. He soon got himself onto the back of the Vettel-Massa train, but Alonso up front was now pulling away at around 0.5s per lap. Vettel continued to drive a very contained race, trying to limit the visible graining of the RB9's front-left.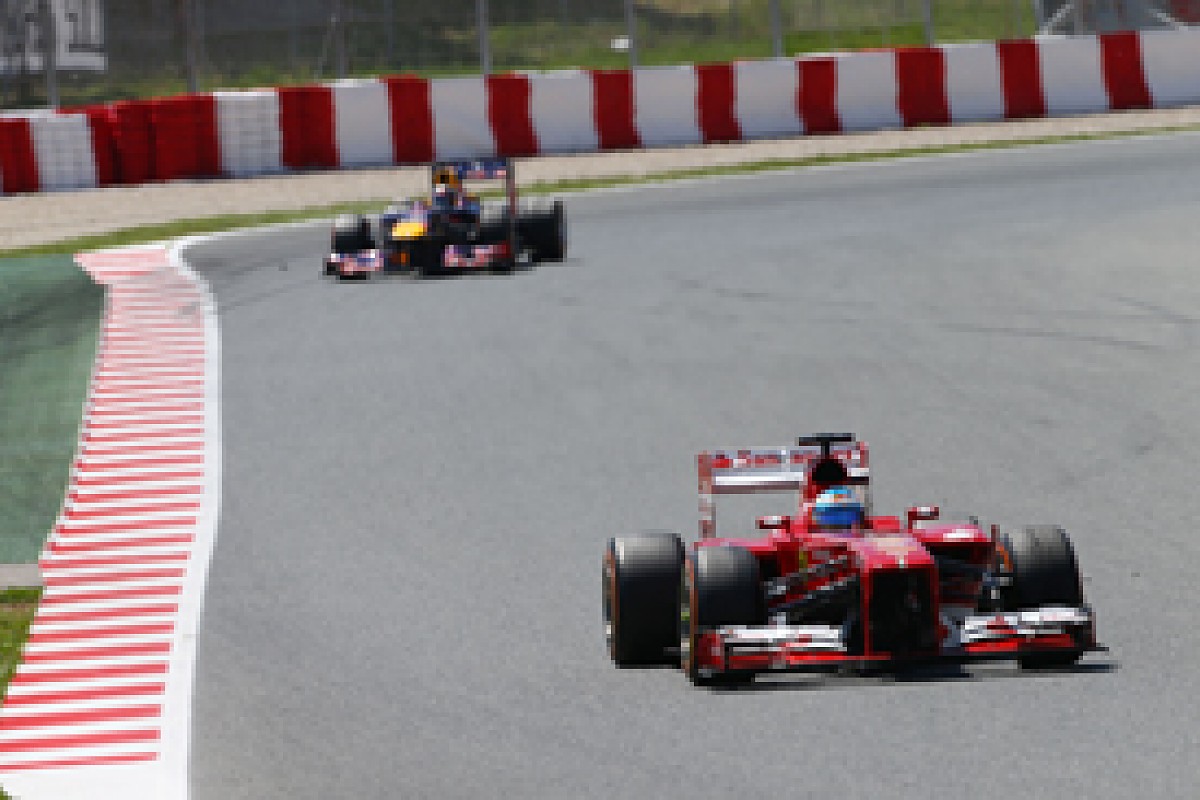 Once in clear air, Alonso was able to fly - within tyre limits, at least © XPB
With Massa and Raikkonen trapped at the pace dictated by Vettel, Alonso pressed home his advantage. His average during this stint was 1m28.8s, by far the strongest stint anyone made. Yet to put this in perspective, a translation of his qualifying time to the fuel load he was carrying now would have seen him lapping in 1m25.3s. The fastest man in the race was, in other words, lapping 3.5s slower than he could have been were he not having to eke out the tyre life.
"You know if you push 100 per cent maybe you kill the tyres," he admitted afterwards, "and from this point we just pushed around 90 per cent, so more or less normal driving in 2013."
His only realistic challenger now was Raikkonen, but Kimi continued to lose time trapped behind other cars. By the 24th lap, with Massa having already pitted for the second of his four stops, Vettel's tyres were critical and Raikkonen was all over him, surely about to pass, and Seb was rescued only by Red Bull calling him in for a fresh set of primes.
The team was still intending to get Seb through on a three-stop but, with 42 laps still to go, that meant an average of 21 laps on each of his next two sets of tyres. He'd managed 10 and 14 respectively on his first two sets. He would manage only 15 on these ones, and would have to be converted to a four-stop.
Before that happened, Raikkonen finally got by Vettel into Turn 1 on lap 33, with Seb's primes going away, Kimi's options still in great shape, Vettel told by his own engineer not to resist. This finally put the Lotus behind only the Ferraris, albeit with Massa not far enough clear of Raikkonen to 'buy' his extra pitstop.
The question was, could Kimi eat far enough into Alonso's lead to make it close when the Ferrari made its final stop? In short, no. The Ferraris made their penultimate stops together on lap 36, being sufficiently far spaced to allow a double-shuffle stop. Alonso came out right on Raikkonen's tail and three laps later swept effortlessly by, Fernando's new options more than a match for Raikkonen's 13-lap-old rubber. It was the final confirmation of Alonso's total command of the race.
Fernando continued to pull rapidly away, while Raikkonen was committed to running until the 45th lap. He exited half a minute behind the leader, who would need just 18s to make his fourth and final stop.
In between Raikkonen's third and final stop and the fourth pit visits of Massa and Vettel, the Lotus would cut its deficit to Massa from 8s to 3s and its advantage over Vettel from 7s to 10s.
Alonso came in for the final time on the 48th lap, rejoining still 8s ahead of the Lotus. It was two laps earlier than Ferrari had been planning: the sensors were warning of a slow puncture in a rear tyre.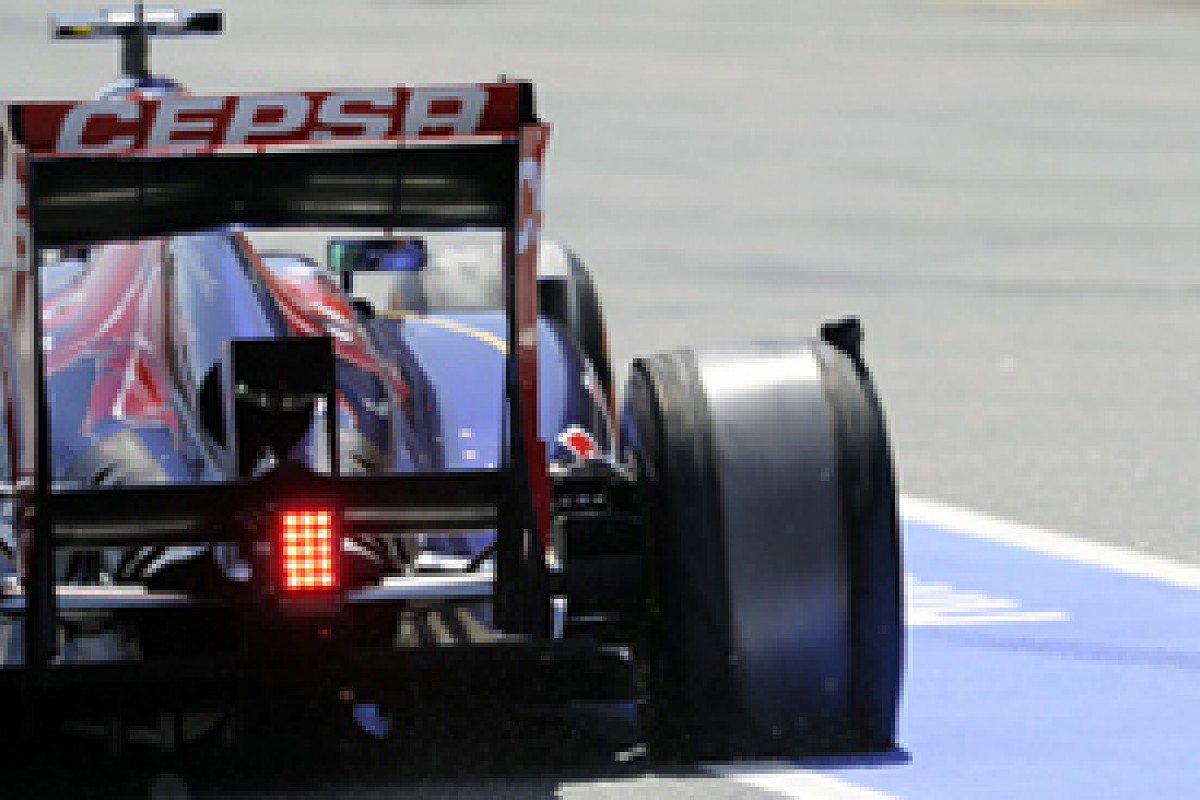 Vergne picked up tyre damage © LAT
"Had that happened with last year's tyres, he would have got a flat tyre straight away," said Pirelli's Paul Hembery. "But these ones have a steel belt, and where the puncture was allowed it to just leak slowly.
"The downside for us is that with this type of construction, when you stay out on a tyre damaged in this way it can cause a stress failure that then sees the tyre unwrap itself in a very visually dramatic way."
This had happened to the damaged tyre of Jean-Eric Vergne's Toro Rosso after incurring accident damage with Nico Hulkenberg's Sauber in the pits.
Massa and Vettel each made their fourth and final stops three laps after Alonso's, bringing Felipe out third, 16s adrift of Raikkonen. Vettel was fourth, a further 14s adrift. Massa was encouraged to have a go on his new tyres at cutting into Raikkonen's advantage, and did so for a few laps until those rear-tyre temperatures forced him to call off the attack.
Once the cars had got themselves lined up into approximately their correct Sunday performance order, the gaps between them spread.
Behind Vettel was the other Red Bull of Webber. Rosberg - lifting off massively through Turn 3 to keep the rubber alive - sank to sixth, defending hard for the last few laps to hold off di Resta's four-stopping Force India, while Jenson Button was kept busy in the final laps of his three-stop drive fending off four-stopping McLaren team-mate Perez, but as Sergio chased hard it was his rubber that ran out first. He made one last do-or-die attempt on the brakes at the end of the back-straight DRS zone on the final lap and locked up in a big way.
Just a couple of hundred metres behind the McLarens on the track was the crowd's darling, on the final lap of his victorious drive, Alonso having just lapped the final points scorer, Daniel Ricciardo's Toro Rosso.
A stop just 11 laps from the end, when the fuel load was light, and a new set of hards, gave 11th-place finisher Gutierrez the race's fastest lap. But that only emphasised how much the top guys were having to drive within themselves, to successfully play the 2013 rubber game.
It's a game Hamilton, for one, is not enjoying. The front-row starter finished 12th. "No grip, no pace at all," he said. "No matter if I drove fast or slow, it made no difference. It's one of the strangest feelings I've ever had."