The law of unintended consequences is a potent force in motorsport. Once an 'outlaw' sport, limited only by the available technology and rules running to a few sentences, layers of complexity have been added over the decades with every conceivable aspect regulated and defined.
Some changes have been made with the support of sound reasoning and in-depth research, some have been made on a whim and based on a false premise. Many of them have had a far wider-reaching effect than intended and changed the character of the sport.
Lewis Hamilton has brought one such unintended consequence into sharp focus. In an interview published this week by the Daily Mail, Hamilton complained drivers no longer pay the price for exceeding the limits of the track.
"In [Ayrton] Senna's day, if he went one foot over that kerb, it would be grass and he would spin and be penalised," said Hamilton. "He would be right on the limit, rather than over the limit and I respect that style of driving more.
"Now you can go beyond and get back because modern tracks have run-off areas. They used to be gravel. Hit that and your car was damaged or stuck. Now you can push beyond, go wide and come back on.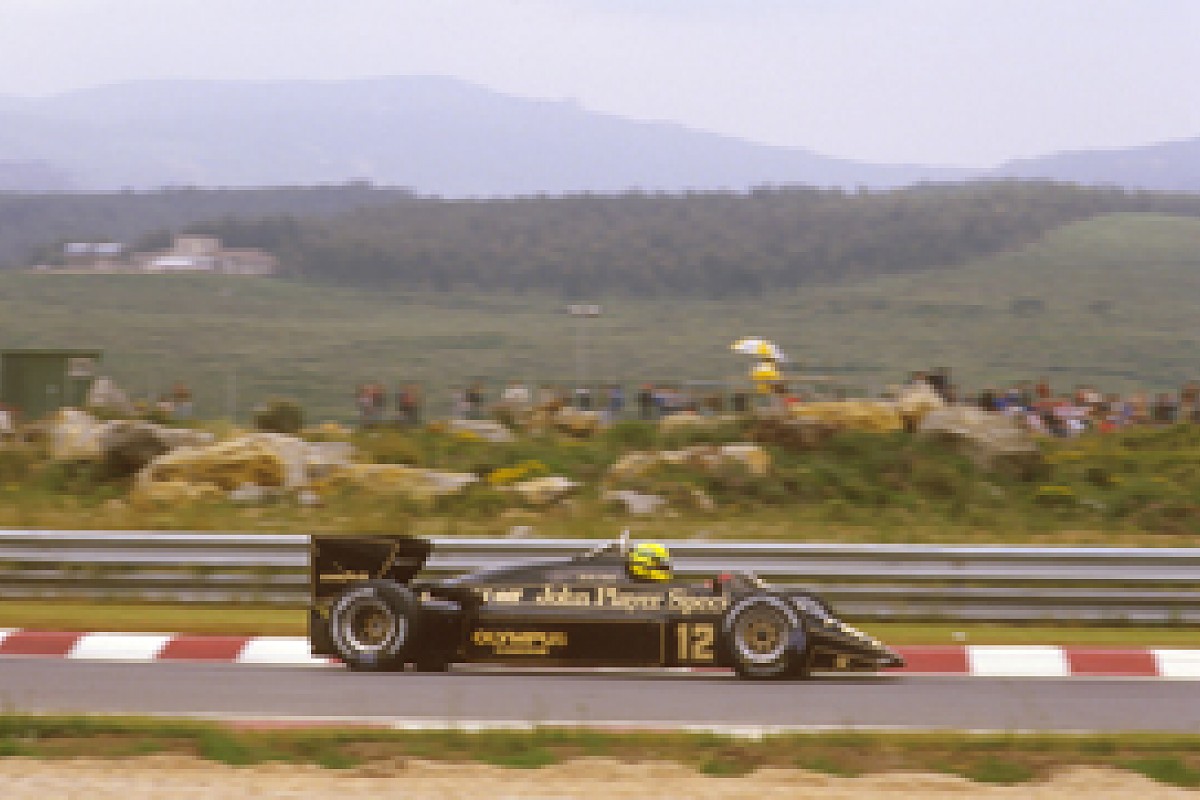 For Senna and his peers, grass, barriers and gravel awaited any mistakes © LAT
"I don't want people to pay by being hurt but losing time, or having the car stop; that's what racing is about."
The result of the laudable safety changes is that track limits simply aren't what they used to be.
Hamilton is not the only one to complain about this. Jackie Stewart is among those who have criticised the modern phenomenon of drivers getting away with mistakes not only without any serious consequences, but often without any time loss.
This has transformed the nature of driving. One of the defining characteristics of the great drivers is their ability to exist lap after lap on the limit.
As Hamilton points out, it also encourages drivers (he cites Sebastian Vettel, but he is far from the only one) to take liberties with track limits to find more time.
There is nothing wrong with doing this and Senna would have done exactly the same were he doing it today. Circuits, not the drivers, are the root of this problem.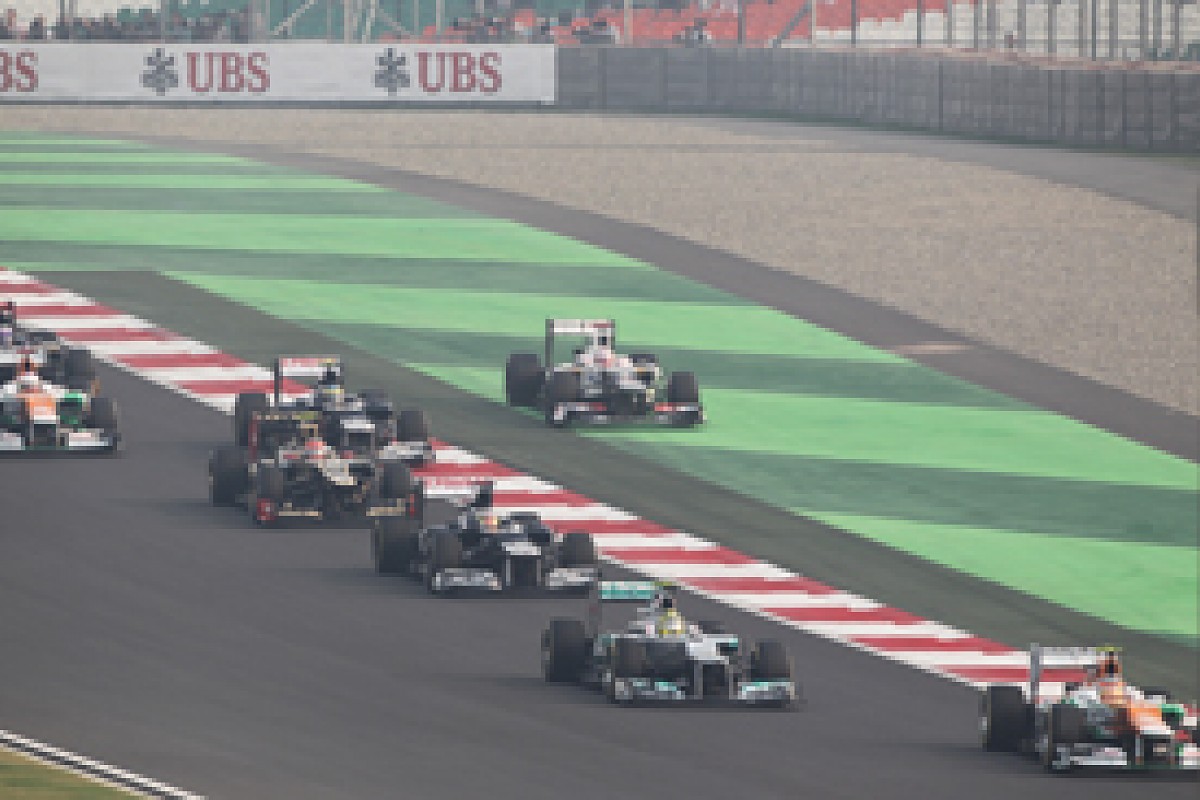 Asphalt run-offs give drivers more options when the track gets crowded © XPB
So far, so obvious. But the real question is how can tracks be designed to punish mistakes while simultaneously minimising accidents and impact speeds? This is far easier said than done and requires a forward-looking approach rather than wistfully demanding a return to the unsafe circuits of yore.
Clive Bowen is managing director of Apex Circuit Design. If you want to build a new track to the highest standards, you either go to Bowen or Hermann Tilke, so he is in the ideal position to explain a debate he describes as "very much ongoing".
"The current preferred FIA solution is a strip of Astroturf outside a kerb," says Bowen.
"One issue with it is that it needs to be managed and maintained. Once a bit of rubber is laid onto the Astroturf, the coefficient of friction increases markedly. This has two effects; the drivers get grip on the Astroturf and that grip forces the Astroturf to fail."
This is why you so often see drivers use the Astroturf strips as an extension of the track. It creates another problem. When wet, Astroturf is extremely slippery, meaning that the grip levels it offers will vary with conditions. That makes it unpopular with some drivers.
It's not that it's a bad solution, far from it, just that it perhaps isn't the perfect one.
Other materials have been tried. Bowen points out that Grasscrete, in which grass grows through a concrete lattice, offers "quite high grip" meaning that it does not address the problem of drivers using it as a track extension.
There are various other materials being looked at, including a 'wave form' kerb designed to destabilise the car and ensure time is lost without significantly increasing the prospect of an accident. But such a measure requires more testing to get right.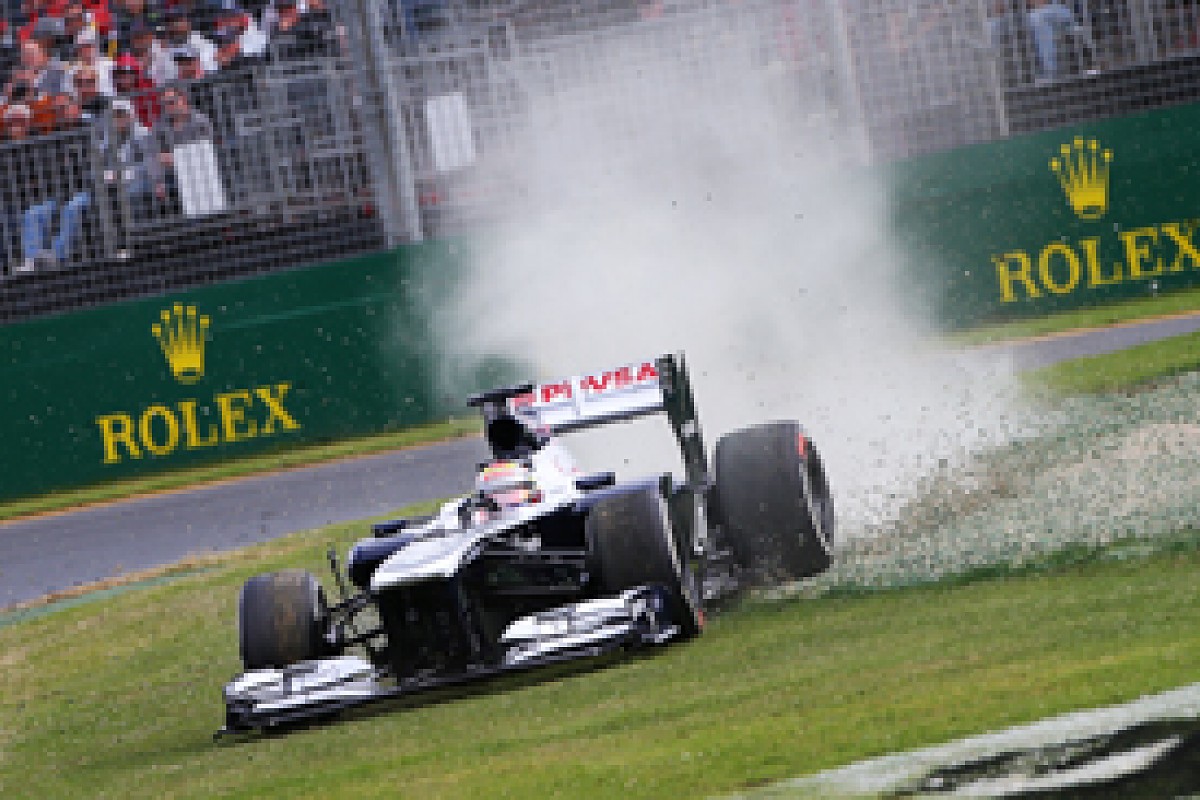 Running wide still has drawbacks in Melbourne © XPB
Equally, penalties for exceeding track limits are an unsatisfactory way of addressing this problem.
For now, while exploring other low-grip avenues in the hope of addressing just this problem, Bowen favours a more traditional approach - grass.
"Our preferred solution is a four-metre grass verge followed by asphalt," he says. "The grass is sufficient for the 'old school' effect of the driver needing to stay on the track.
"The purpose of the strip is a compromise. A grass strip behaves in a way the drivers understand. It is always low friction and often bumpy. The driver has to get off the grass to avoid total loss of control."
Needless to say, with safety remaining of paramount importance, this does raise other questions.
Adding four metres of grass might force run-off areas to be further extended to meet safety standards, while it would unquestionably increase the risk of a car spinning. This is not necessarily a problem provided the barriers and run-offs are correctly laid out.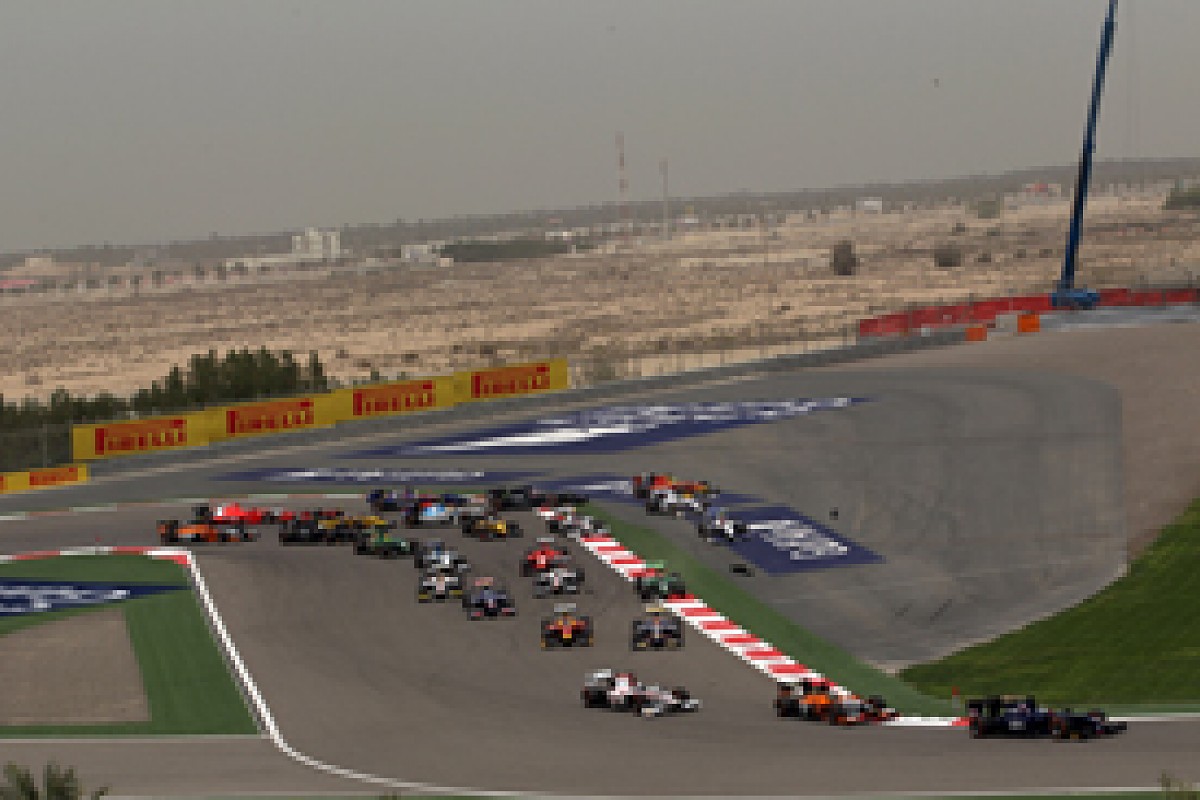 The GP2 generation have grown accustomed to asphalt run-off © XPB
This is only the most superficial of glimpses of the technological debate, but Bowen argues, compellingly, that track design is only the tip of the iceberg.
Circuits have increasingly embraced asphalt run-off in recent years at all levels, meaning that it will require a change of culture to tackle this problem.
"There is a generation of race driver now who doesn't really know how to deal with a mixed-medium run off," says Bowen. "Knowing there is virtually no consequence to running wide has made drivers think they are invincible.
"We are nurturing young drivers who don't know what to do if they encounter a low-grip surface."
Once the debate extends beyond circuit technology and safety standards, it becomes a much more complex argument this column can only scratch the surface of.
As Hamilton says, nobody wants to see drivers endangered by such a measure. The idea that risking life and limb is key to the appeal of motorsport is an anachronistic outlook better suited to the days of bread and circuses.
By definition, to ensure drivers lose time you must reduce grip or compromise momentum.
The former, in particular, is a contributing factor for accidents so there is no quick fix solution. But if drivers can be made to stick to the track limits without compromising safety, the sport must find it.
The time has come for the unintended consequences to be tackled.