"If what people claimed about Singapore was true, why did I fire Piquet? I had Fernando back and, for me, the second driver was not important."
Flamboyant marketer of knitwear, coach-firing owner of QPR and team principal of two title-winning F1 teams, Flavio Briatore, Italy's answer to Alan Sugar, fails to mince his words on a variety of subjects including pay drivers, Schumi's 'comeback', budget capping... and 'Crashgate'.
Although I have returned to Monaco for this interview, the venue is a complete contrast to last month's lunch with Mika Hakkinen. We have moved from one side of the Principality to the other: from pub grub to haute cuisine; from Rascasse to Portier; from a quiet and modest man with winning ways to an extrovert character with form of a different kind. Both have claimed world championships in the best possible way. But for Flavio Briatore, track history has been trumpeted and tainted in equal measure.
Briatore has won double championships with Michael Schumacher at Benetton and Fernando Alonso at Renault, marking each victory with the flamboyance to be expected of a hugely successful knitwear marketing man finding himself in the very different world of Formula 1 pomp and finery.
But his reputation was later tarnished by 'Crashgate', the scandal that emerged after Renault's Nelson Piquet Jr crashed his car at the 2008 Singapore Grand Prix to allow team-mate Fernando Alonso to win the race. In the furore that followed, Briatore was banned from F1 for life by the FIA, a penalty that was subsequently overthrown on appeal by the Tribunal de Grande Instance in France. The FIA threatened to appeal but an out-of-court agreement was reached.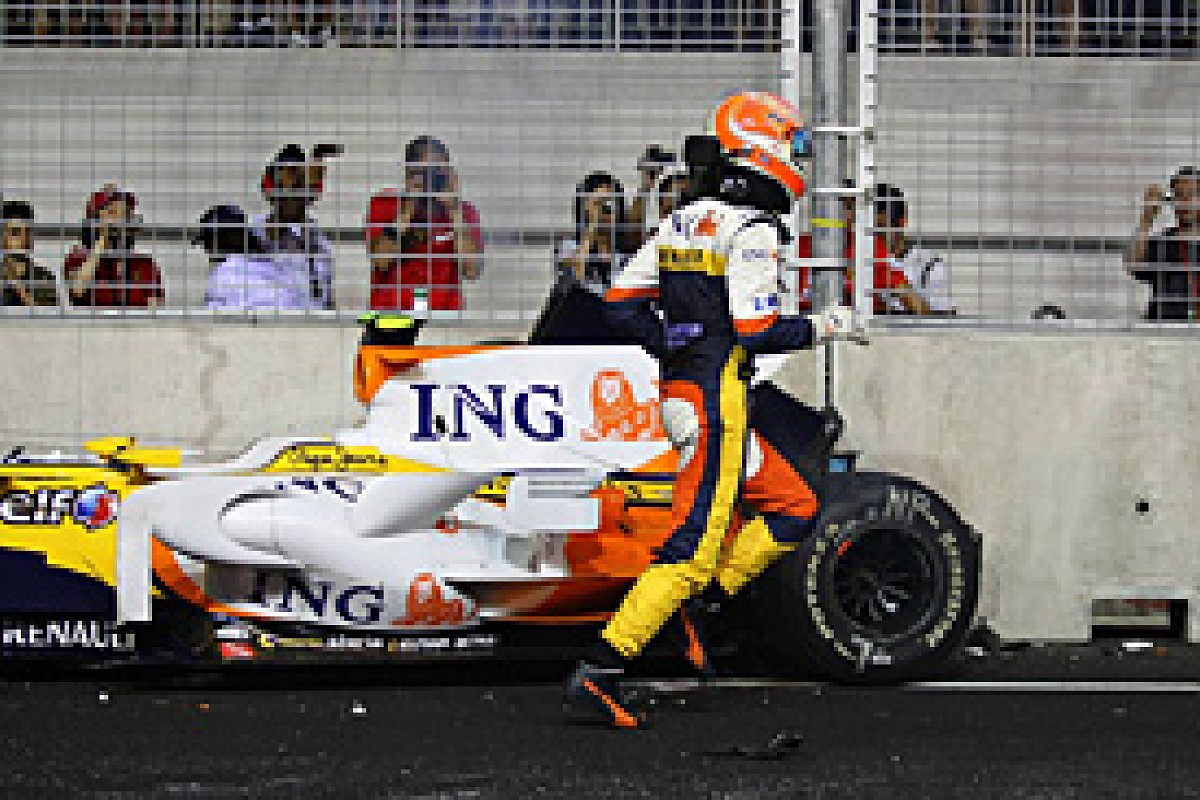 The 'Crashgate' scandal resulted in Briatore having to leave F1 © XPB
Briatore has not spoken about this nor, indeed, very much else motorsport-related over the past three years. Yet he has agreed to talk to F1 Racing, suggesting we meet in Cipriani, his high-end restaurant on Avenue Princess Grace.
The immaculate interior of Cipriani has a nautical theme. Yet far from sinking without trace, Briatore is swimming as strongly as ever - and is certainly not averse to making waves.
Maurice Hamilton: I hear you're a TV star now, doing The Apprentice in Italy. How's it going?
Flavio Briatore: Very well. We're doing another series in September. You can lose grip with the new generation very easily because you are talking always with the old guys. So this has been a fantastic experience for me.
MH: Is this the first time The Apprentice has been run in Italy?
FB: Yes. When we started, no one knew what it was but, after about two or three weeks, we suddenly had an audience of more than five million. The success of the show depends very much on the quality of the people, and that worked very well for us.
MH: When I watched the British series with Lord Sugar, I was often amazed at how stupid some of the contestants were. Did you find that?
FB: Yes. But you fire them as soon as possible. The people in the end were very strong, very competitive, very good people. The winner is working with us here in Monaco. He's a nice guy.
MH: How does it work? Do you think up the tests that the contestants have to complete?
FB: No, we are not involved so much in that. It's when we get to the boardroom that we [Briatore points to his long-suffering assistant, Patrizia Spinelli] really get going. It's just like normal business. This was the really interesting part because the right people were coming through. When we fired someone, it was not because the television people asked me to. The TV people wanted more girls, but we fired the girls immediately because they were no good at all. In the end it was very close. Everyone was trying to guess who would win. It was very popular in Italy. People were having dinner parties and inviting friends to come and watch the show.
MH: So it was good for your profile?
FB: Very good, yes. We got nominated for the Oscars of Italian TV - and came second. The winner was a comedian who has been doing this for 20 years. Sky cancelled most of their shows and all that's left is MasterChef, X Factor and The Apprentice. I enjoyed it, but in the end it was tiring because we were filming all day.
MH: So, what else are you doing?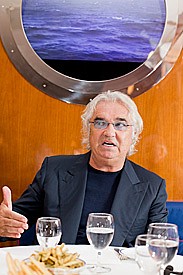 Flavio Briatore in his Cipriani restaurant
FB: Cipriani [restaurant], Billionaire [night clubs] and Billionaire clothing. We have 25 stores for Billionaire clothing. In the next six months that will go up to 35. The turnover is around €60 million. The shops are very successful. But only the clients decide if you are successful. We have two shops in London, in Sloane Street and Harrods. We are in Rome Airport, Dubai, Abu Dhabi, Russia, St Moritz, Saint-Tropez and Las Vegas.
MH: When you are doing all this, do you get time to keep in touch with F1?
FB: Yes, I am speaking to Bernie a lot. Every day I am talking to somebody from F1. I keep in contact all the time; I never miss anything.
MH: Did you find last year exciting? I know we've had discussions in the past about how you feel F1 should entertain above all else.
FB: Exciting, yes. But I think the problem F1 has at this moment is that three or four teams pay for their drivers and, with the rest, it is the driver who pays to race. We've talked about this many times and the problem is the same: the cost of running a team is astronomical. Whatever money the team takes from Bernie, they spend. I think it is split 60 per cent for the team and 40 per cent to FOM but, whichever way you split it, it makes no difference; the money is spent. And if the driver is paying, I'm not sure you end up with the best drivers in F1.
MH: But the way things are now, Formula 1 is just so incredibly competitive that the driver with money has to be quick as well.
FB: I know - but I have never seen a pay driver who is really quick. For the majority of the field, the driver is part of the budget. It never happened like this before. We paid our drivers at Benetton, maybe not so much, but we paid them. A team like Jordan paid at least one driver. Now it is very different.
MH: But do you not think that is due more to the global economic climate these days?
FB: OK, it is a big crisis worldwide, but I don't think F1 ever really felt that. Or they forgot there is a crisis. From what I understand, a lot of teams are struggling: a lot of teams. To have a healthy F1, you need to have healthy teams. During my time at Benetton, we produced a profit every year. And we invested that profit in the factory and the team. There was a waiting list of teams trying to get into F1; we had pre-qualifying at six o'clock in the morning; it was a business.
To develop anything in your business, you need to make a profit. The bigger the team, the bigger the profit. The team need to run with the money from the promoter and from Bernie. The sponsor is the plus; the sponsor brings the profit. This is why the driver is now part of the budget. In our budget, the driver was a cost. Now, excluding the top four teams, he is the income.
MH: I know you have always been keen on cutting costs. So what is your view on the change of engine formula next year which, initially anyway, is hugely expensive?
FB: I was fighting for ages to have the frozen engine spec. It was my idea: I pushed for it with Max Mosley and it went through. It was an incredible saving for everybody. I do not understand what is wrong with the present engine. F1 is incredibly close and competitive now. Why do we need to change the engine?
MH: The argument is that F1 needs to be seen to relate to road cars because of the need to show green credentials. Do you think motor racing should be doing that?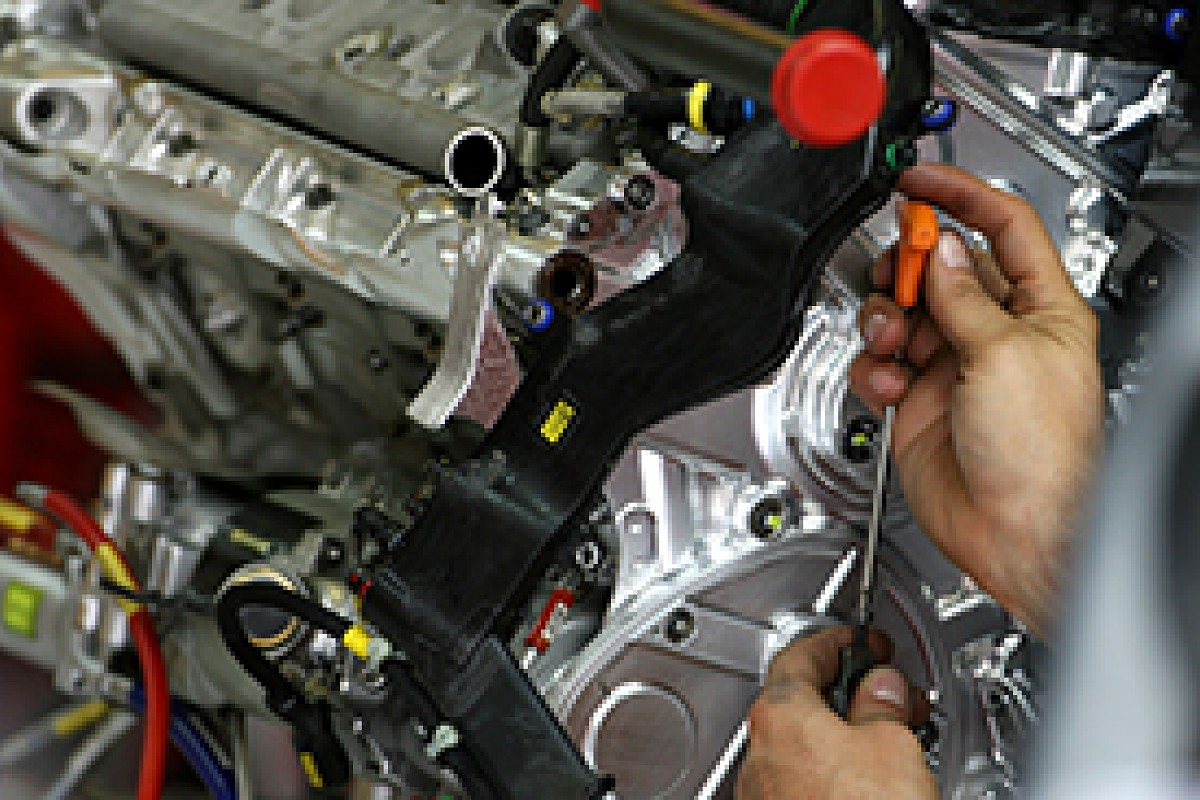 F1's new engines make no sense for Briatore © XPB
FB: If you watch DTM, you recognise the Audi from the Mercedes and so on. If you paint all the F1 cars black, you can't tell the McLaren from the Ferrari or the Force India. F1 is an event; a race. If you want to talk about the engine when marketing F1, maybe it is possible to do something. But, to be honest, I don't see why the engine in F1 should be linked to the road car. Spectators don't care about road cars. They care about the drivers and the fighting between them. Whatever engine you have, I believe that of 99.9 per cent of the spectators - excluding some old journalists like you, Maurizio... actually, there used to be about six or seven of the old British journalists and now everyone's gone; there just seems to be you!
MH: Yeah, thanks for that Flav...
FB: No, is good to have you here! But the point is, nobody cares. When we won a championship, nobody asked how many cylinders we had. All they wanted to talk about was the race. If it costs a team $50,000 or $100 million, the spectator doesn't care. If Ferrari spend $200,000 million, do you think the people care? For me, changing the engine is completely mad. There is nothing wrong with the engine we have now.
MH: I take it you feel as strongly as ever about the costs then, even though there is supposed to be a restriction on spending?
FB: You have Ferrari, Red Bull, McLaren and Mercedes with very important budgets. Then a few times last year you saw Lotus, with a very small budget, beat the big teams. And sometimes Sauber and Force India were in among the top four teams as well. I don't understand how engineers with a budget of $200 million must feel when a team with $90 million is faster. They should be devastated. That was the story with Benetton; we won the championship with much less money than other top teams.
MH: So you would be in favour of a budget cap?
FB: Of course. Why is it not possible to have a cap? The top teams already have an incredible amount of money. And then they talk about 170 people doing aerodynamics. It's not the drivers' world championship; it's the windtunnel world championship. OK, a team's income is very important. But however much money you get, you spend. It makes no difference. The worst word you can put in Formula 1 is 'budget'. The moment you tell people your budget is 10, the next day it's already spent.
MH: People complain that CVC Capital Partners take too much money out of the sport. Are you saying that should not be the argument because the teams get enough in any case?
FB: Absolutely. FOTA put some discipline into windtunnel use. So, if you do 300 hours or 50 hours in the windtunnel, what's the difference if it's the same for everybody? You are saving a lot of money. Nobody in Formula 1 thinks about the spectator; nobody cares about the people watching television.
MH: I remember when you first came into F1, you were amazed to find the teams were building cars just for qualifying...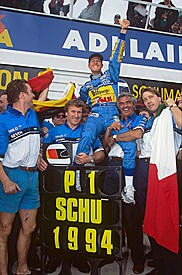 Briatore celebrates with Schumacher
FB: It was completely mad. When I arrived in Formula 1, I had come from the business world; I had not served an apprenticeship in racing and looked at F1 in a different way. Everyone was building a qualifying car, so there was no performance advantage any more. So, what was the point? Then, when we brought in parc ferme, people were saying: 'Ah, you ruin it!' But it was fantastic for the mechanics.
Everything we did was orientated towards what the spectator and the show didn't need. Do you remember, teams started to put screens across the front of the garages? That has to be the stupidest thing I ever saw in F1. You come to see racing cars - and we put a screen in front of the car. All this changed with FOTA.
MH: Talking about FOTA: do you remember in 2009, there was a meeting at Enstone...
FB: Two o'clock in the morning.
MH: Yes, and FOTA suddenly looked incredibly strong and there was talk of a breakaway series. How close did that come to happening?
FB: Very close. But we did not want to split with Bernie because we didn't have any problems with him; no problems with the commercial side. There was a lot of confusion. At the time we were complaining more about Max because we wanted more say in the running of the teams. We wanted to be part of the rulemaking and not to be told: 'This is the rule, take it or leave it.' I think FOTA did an amazing job. It was the first time we had controlled the costs, and it was unanimous.
MH: Why do you think it didn't work out for FOTA? What happened?
FB: For me it was Singapore ['Crashgate', which bridged 2008 and '09] and for Luca [di Montezemolo] it was when he resigned. And then Ron Dennis was gone. All the strong characters had moved on and the FIA and Bernie were back in charge. There was no problem with the commercial side because we had a contract. The problem was more with Max and the FIA because we wanted to be part of our own destiny; we wanted to be part of the rulemaking. This was the reason we had the big fight with Max.
The worst was when he said we had to enter the next year's world championship - normally you have until November - before or after Silverstone. Nobody applied and this was when Max made up an entry with strange team names. This made F1 look completely crazy. It was a pity because we had been working closely with Max on cost-cutting and, as I said, we had no problems with Bernie commercially. But because of the interference of the FIA, teams such as BMW and Toyota stopped. We could have done a lot of good in F1, especially with the costs.
MH: Do we need to bring more manufacturers back into the sport, such as Honda?
FB: Yes, but only if the cost of F1 is sensible. For me, that is about €120-150 million a year for a big team. F1 has been improving the show, making races more spectacular and entertaining. So, there is a good chance constructors will come back if the business is profitable - like it was when Benetton bought Toleman and you could do business. Why spend £60-£70m just to finish last all the time? You do stuff like that only if you are completely nuts. If there is no chance to be a top team or to win, the only certainty is that you will have the worst drivers.
MH: You mentioned Singapore 2008. The Tribunal de Grande Instance in Paris in early 2010 rejected the lifetime ban from Formula 1 that was imposed upon you by the FIA. How do you look back on all that?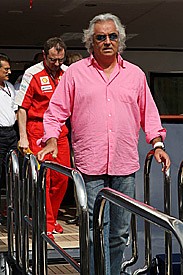 Briatore during a FOTA meeting in 2009 © XPB
FB: I feel the same. The court in Paris was very clear; I was not involved at all. That is what the letter said.
MH: Did they actually say that? Did they put those words into writing?
FB: Yes, it's official. There was no proof that I was involved in Singapore. Which is the reason I won in court. I've nothing more to say; I say it already at the time. If what people claimed about Singapore was true, then why did I fire Piquet in the middle of the next season? Why take that risk? Why not renew the contract because it would be 30 or 40 per cent less money and there would be no trouble if all this was true. I had Fernando back and, for me, the second driver was not important. I respect what was said in the court. After that, I have an agreement with Jean Todt that the FIA will not appeal. I stay away with no problem at all. I had the moral responsibility because I was in charge of the team. But now it is gone.
MH: Was that a very difficult time for you?
FB: Yes, but this was the time when I wanted to stop anyway. The year before I had wanted to stop but Fernando came back from McLaren, so it would not have been right for me to finish then. But I was happy to stop. F1 was finished for me at the time. For sure, it was hard because people treat you like a criminal. It was unfair. In the FIA investigation, they had this Witness X, but nobody knows who he was. Mr X was the proof, basically, but he never signed the statement. The FIA signed the statement - but he didn't. For me it was easier to say I respect exactly what the appeal court says and leave it at that. These things make you stronger. I had a fantastic time in F1. Now I have a fantastic time with my family. I'm very lucky because I have very good health. I'm not jealous. I don't have a vendetta with anyone; there is no drama. I enjoy myself and this is the most important thing.
MH: You certainly seem happy. I know you had cancer a few years ago. How is your health now?
FB: It's good because the cancer is gone.
MH: Did that change your view on life and what is important?
FB: For one week! It's human that you move on and forget. When you are in the hospital and before you go to surgery, you don't care about anything else; you just think you're going to die. Then after the recovery, one week everything changes and you go back to the way you were.
MH: So, would you like to come back to F1?
FB: No, I don't think so. Now I have a son, three years old; I'm working 20 hours a day for different businesses, different investments, different situations, both here and over in America; I'm very happy. This restaurant, for example, is the most popular in Monte Carlo. I was in Formula 1 for 20 years, won seven championships with two different teams, discovered the two big stars after Ayrton Senna: Schumi and Fernando. I know everything that's going on and I know to have a team at this moment makes no sense financially. So, there is no reason for me to come back to F1.
MH: I take it you watch the races in television?
FB: I still enjoy watching F1 and I think Sky have done an amazing job. But my belief is that we're losing a lot of viewers.
MH: Why do you think that is?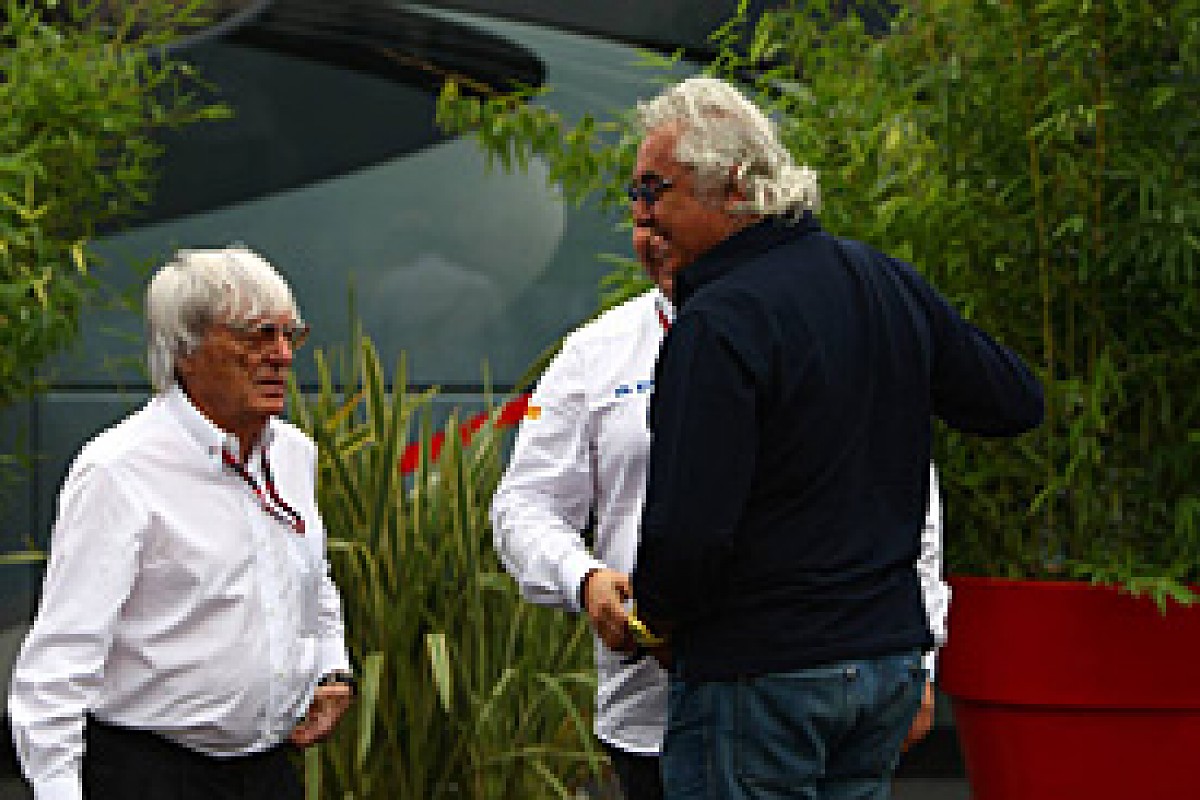 Briatore stays in touch with Ecclestone © XPB
FB: Because when you had free-to-air RAI or BBC, then I think the BBC had about six million viewers and Sky has a lot less. I think Bernie is doing the best he can under the circumstances because pay-TV has the money and the others don't. Bernie is doing a fantastic job because the income is good when the financial circumstances worldwide are not so good. Look at America: he did an incredible job there. And now we have India, Abu Dhabi - a new world.
MH: But at the expense of traditional races.
FB: Yes, fewer races in Europe; that is not good.
MH: Agreed, but these race promoters can't afford the high F1 costs.
FB: Yes, but if the teams spent less, then they would need less and the promoter would not have to pay so much. Then the promoter would have more money to actually promote the race; remember, these are difficult times for the promoters as well. It's simple; if the teams are spending 40 per cent less, everything else goes down by 40 per cent. Plus, the more similar the cars, the better the racing. Look, we call it the drivers' world championship. If you took 10 cars from GP2, painted them all yellow and put in the top 10 drivers, you would have an amazing race and you would see who is the best driver.
MH: But people will argue that F1 shouldn't be about everyone having the same car...
FB: But the chassis is not performance, so why not let everyone have the same chassis? Why are they spending a fortune channelling the air up and down, and this and that? OK, if you want to play around, you play around with the wings, like in our time. Now you have telemetry from the factory. This is ridiculous. You need to have 30 people in the factory supporting the race. Completely mad!
MH: I have to say I agree with that. Particularly as F1 is supposed to be containing costs.
FB: But it's not. Some teams are spending lots of money and, as I said, you have Kimi Raikkonen in a Lotus winning a race. Actually, I believe last year Lotus had the best car in F1.
MH: You may be right. Speaking of Raikkonen, do you think that Michael should have come back in 2010?
FB: No. Everyone was very excited in the beginning but I never felt that it was right. The world has changed from when, say, Alain Prost came back in 1993. He had a very strong car [Williams] but when Michael came back it was very difficult because you had Fernando, you had Hamilton, you had Jenson. And the Mercedes was not the best. I prefer to remember Schumi as a winner - not struggling to qualify and finishing ninth. It was not the image of somebody exceptional like Michael.
MH: When Fernando left Renault to go to McLaren in 2007, did that upset you? Was it a surprise?
Briatore says Schumacher was wrong to return to F1 © XPB
FB: Yes, because he didn't tell me immediately. I was disappointed because Fernando started with me from the beginning. I supported him always, through the difficult times, like when I put him in the car in place of Jenson. You guys thought I was mad. Jenson was an exceptional driver but, at the time, I believed Fernando was more special. I had nothing against the British or anyone else. This was the fact at the time. People said I did it because I was managing Fernando, but my job was to find the best available for Renault. It was the same with all the teams I had.
MH: Mention of that reminds me of the late Tom Walkinshaw, who ran the Ligier team for you. You were also together at Benetton, of course. What's your memory of Tom?
FB: We were partners for a long time in various ways over many years. He was a very tough guy but at no time did I have a problem with Tom. Never. He was always correct; a super guy. And he wanted to win; a guy from the same era as Ron Dennis, Frank Williams and Ken Tyrrell. If you are like them, you want to win.
MH: The first memory I have of you and Tom working together is when you took Michael Schumacher away from Eddie Jordan after Schumi made his F1 debut at Spa in 1991. What exactly happened there?
FB: We knew about Michael already because a friend of mine had been telling me about three drivers who were very quick: Karl Wendlinger, Heinz-Harald Frentzen and Schumacher. At the time, it looked like Frentzen was the quickest. So, why did I pick Schumi? Because, you will remember, Bertrand Gachot was put in jail and Eddie was looking for a driver for Belgium and he chose Schumacher. I was very interested to see if this guy was as good as my friend believed. After qualifying at Spa [Schumacher was P7 on the grid] I spoke to his manager, Willi Weber; he was very happy to talk with Benetton because Michael was on the way up. He told me Eddie wanted - I don't remember how much - money for the next race (Italian GP). His sponsor was Tic-Tac. I said: 'Don't worry. If Tic-Tac don't pay, you can race with me - for no money.' The day the money did not arrive from Tic-Tac, we signed the deal. We did not 'steal' anybody. We just signed a contract with a driver who was free to sign. There was a lot of bullshit in the newspapers. I signed the contract and had it been wrong I would have been taken to court.
This was important for Benetton, because we did not have the budget to pay top drivers. We thought our car was very good, but if you don't have the right driver you never know. So I had to find somebody young with enormous potential or pay someone like Gerhard Berger or Riccardo Patrese. But if I talk to people like that, they are laughing because they are saying: "You are Benetton, a T-shirt maker." So, this was the best way because we could have this guy, maybe growing with the team, and it cost me nothing.
MH: Bringing us up to date, tell me about your association with English football and owning Queens Park Rangers. Did you enjoy that?
FB: Not at all! It was a disaster. There was a lot of talk and people writing things that were wrong. We took QPR from the bottom of the championship. There was the four-year plan and we took them into the Premier League. I don't understand the fuss. We did it with not much money. After Bernie and I went away, leaving Mr Lakshmi Mittal and Mr Tony Fernandes to run the show and spend a lot of money, it's funny to see they still have six or seven players who were with us in the championship. I believe we did it quite well but, I tell you, it was no fun at all. You need to treat football like a full-time job and not like an investor. There were too many people; the manager, the assistant manager and, always, you are dealing with the agents. In the end, we sold it. Basta! [Enough].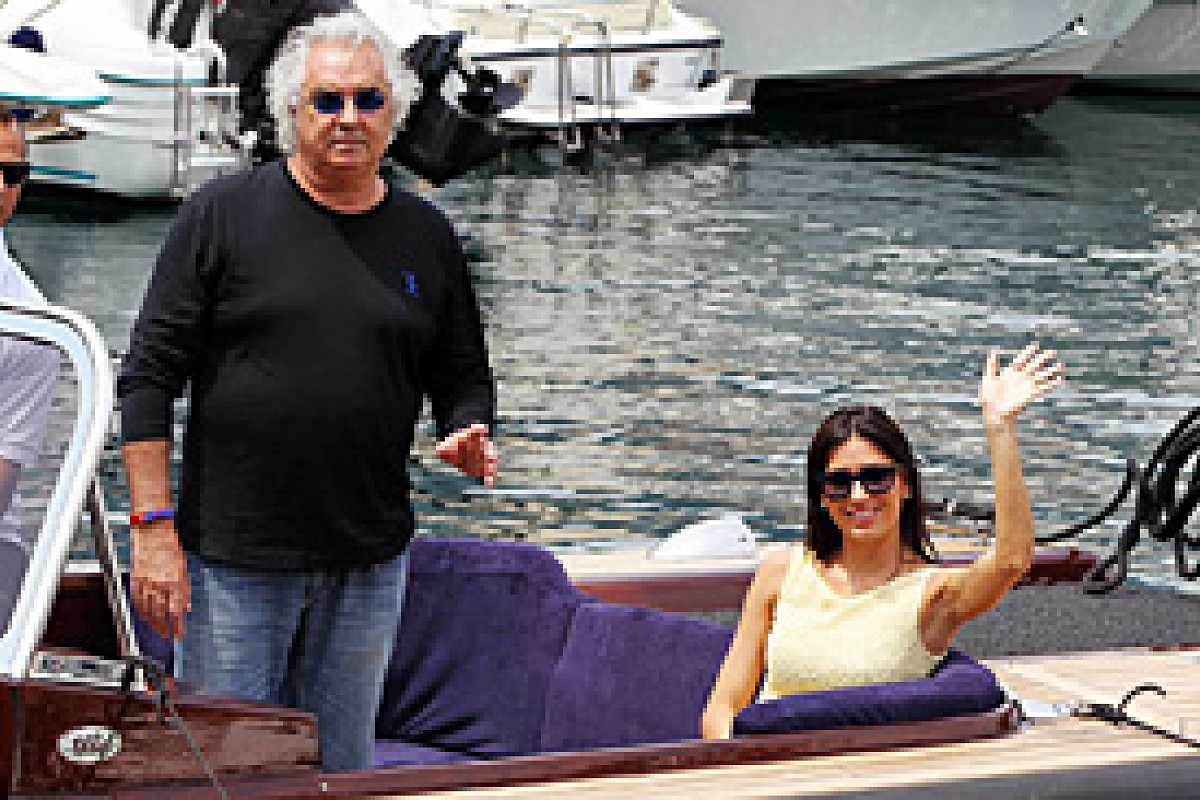 Briatore is enjoying life outside F1 © XPB
MH: You had quite a reputation for getting through managers...
FB: If you don't fire these coaches, you never go up. When you understand someone is not good enough to do the job, its better you fire them immediately rather than waste another six months. I felt we were going nowhere with these guys. In the end, we made it. The most important thing in sport is the result.
MH: Which brings us full circle. The first time I spoke to you was after you'd fired Johnny Herbert from Benetton in mid-1989 because you felt he couldn't do the job. I rang you to ask why. You said: "Because he's sick!" The British media were indignant, but you were right. And Johnny agrees because he had not recovered properly from terrible ankle and feet injuries [following an F3000 accident in August 1988].
FB: As I said before, I had no experience of motor racing. I see that every driver in F1 has two legs. Johnny has only one... if you know what I mean. So what do I do? Do I keep him? No, because it was a danger for him. It was not a question of being nice or not nice. I maybe saved him from another accident. That's the way it is.
MH: Indeed. You were never one to mince your words, Flavio. Good to see that hasn't changed. Thanks very much for your time. And for a superb dinner.
FB: You're welcome, Maurizio. I like to look after the old guys...