These days, it's commonplace to criticise measures such as the DRS and high-degradation rubber as contrivances designed to improve the show but that fly in the face of 'traditional' grand prix racing.
One of those traditions is starting the race with cars lined up in qualifying order. But it was not always that way. This week marks the 80th anniversary of the first top-line grand prix to be started with the grid dictated by laptimes set in practice rather than by lottery: the 1933 Monaco Grand Prix.
Then, it was Achille Varzi, the great rival of Tazio Nuvolari, who started from pole. The Italian is a driver all-too often overlooked when the names of the pre-war greats are reeled off, partly because his morphine addiction took its toll in the second half of the 1930s. But among his long list of achievements is being the first driver to win from an earned pole position in grand prix racing.
The idea for assembling the grid this way was not a pioneering one when it was adopted, but it has proved enduring. So much so that, for all the tinkering with the qualifying format over the years, the idea of not sticking to this system seems anathema to everything that is grand prix racing. Doubtless if qualifying were a new idea today, it too would be dismissed as "artificial".
But how would the sport have changed had the idea of starting the cars in pace order not caught on? Unquestionably, means would have been found to generate downforce less sensitive to the wake of another car because of the impossibility of leading from the front. If that sounds like a bold claim, remember that necessity really is the mother of invention, particularly among racing engineers.
Clearly, starting position by chance is an idea that does not have legs, but short-oval racing has a very different system.
There's an old mantra among those who compete in such categories that you haven't really won a race until you have done so from the back. Long-circuit racing's tendency to start the fastest man at the front is often mocked. After all, surely that gives an extra advantage to the person who really does not need it?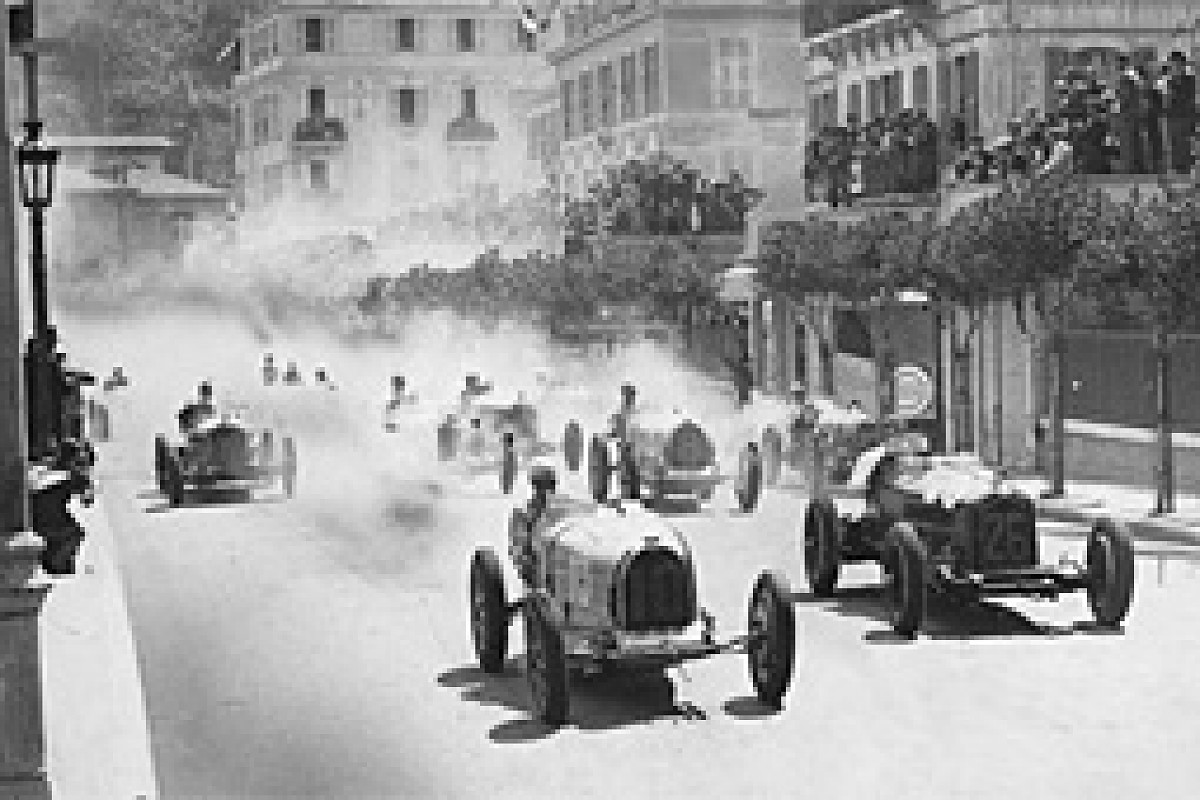 The start of the 1933 Monaco Grand Prix © LAT
By way of thought experiment, let's say that the latest innovation to spice up grand prix racing is to dispense with qualifying. Unless you want to give points for single-lap pace in a qualifying session that is then inverted - something that makes little sense - the grid order would have to be dictated by other means.
Reverse-championship order has its appeal, although early in the season this could create an unfortunate situation whereby a top driver in a quick car could retire from the first race of the year on the opening lap and start up front with a buffer of 15 cars between him and his realistic rivals.
Looking back to the short-oval world, you could make a case for classifying drivers in certain grades. Rookies always start at the back until they have reached a certain threshold of achievement and then the top drivers have to line up towards the back. Perhaps this system could run for the first four races of a season while the championship order settles down.
That would create an interesting grid for the Spanish Grand Prix, with Max Chilton and Giedo van der Garde potentially sharing the front row. Then again, all five rookies would probably have yet to earn their rookie stripes, relegating them to the back and producing this enticing grid.
EDD STRAW'S 'REVERSED' SPANISH GRAND PRIX GRID
 1. Charles Pic
 2. Pastor Maldonado
 3. Jean-Eric Vergne
 4. Nico Hulkenberg
 5. Daniel Ricciardo
 6. Adrian Sutil
 7. Sergio Perez
 8. Jenson Button
 9. Nico Rosberg
10. Paul di Resta
11. Romain Grosjean
12. Felipe Massa
13. Mark Webber
14. Fernando Alonso
15. Lewis Hamilton
16. Kimi Raikkonen
17. Sebastian Vettel
18. Max Chilton
19. Giedo van der Garde
20. Jules Bianchi
21. Esteban Gutierrez
22. Valtteri Bottas

With championship leaders Sebastian Vettel and Kimi Raikkonen down on the ninth and eighth rows respectively and Lewis Hamilton and Fernando Alonso up ahead, what a spectacle it would be to watch that quartet fight its way up the order. Particularly given that in this alternative reality, they are driving cars designed for the need to overtake, perhaps even without DRS assistance.
If this does not sound like an enticing prospect, just think back to what happened in arguably the greatest race of recent years: the 2005 Japanese Grand Prix, when Raikkonen won from 17th on the grid after a last-lap pass on Giancarlo Fisichella, while Alonso was third from 16th.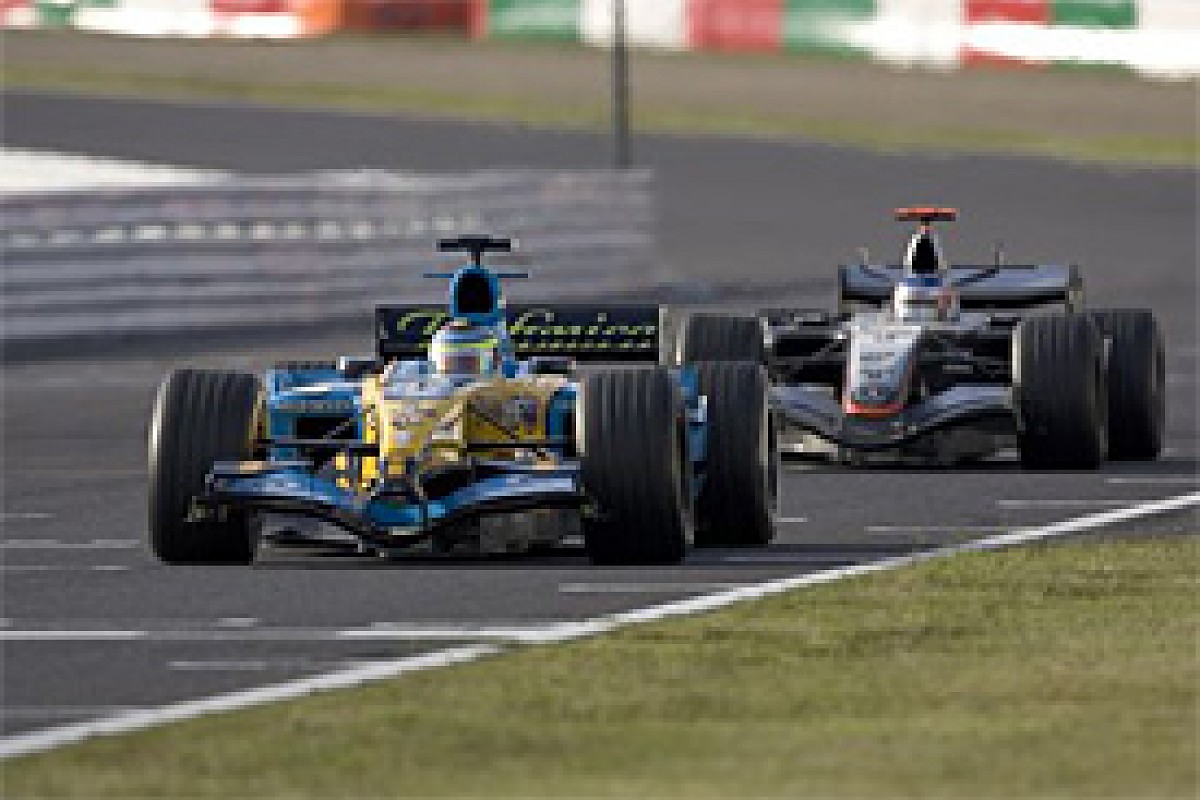 Raikkonen chases Fisichella during the 2005 Japanese GP © LAT
Realistically, qualifying is not going to be abandoned because it is so entrenched a concept that to do so would be seen as somewhat... artificial. I'm not even trying to make a case for doing so, even though the idea has its merits.
It would have myriad effects on the nature of the racing and potentially remove the need for measures such as the DRS and high-degradation rubber in one fell swoop thanks to the necessity of overtaking. Grand prix racing has always been the product of its self-generated rules framework, after all.
The point is that something that is now seen as an inviolable and an intrinsic part of grand prix racing was once a new idea. And it was an idea - an artificial measure - that changed the path of the sport for eight decades.