Inside Formula 1's bubble, the outside world seems barely to exist. You'd be forgiven for thinking the most important thing happening in Bahrain last weekend was the behaviour of the tyres.
It's still early season and the teams don't fully know how the 2013 Pirelli rubber works - not even the winners. Of course, they understand that thermal degradation of the rears was the key limitation around the hot-and-tough Sakhir track, with its slow-corner accelerations and the repeated heavy-braking/multiple-downshift zones.
But how you got yourself into the narrow sweet spot of car balance - on one side of which was a flawless victory achieved by Red Bull and Sebastian Vettel, and on the other a fall from pole to ninth such as that of Nico Rosberg's Mercedes - was not entirely clear.
"We were one second off pole in qualifying," said Force India's Paul di Resta after only narrowly losing out on a podium place, "yet I finished 20 seconds ahead of the car that set pole. Maybe our car likes the heat relative to the others. But on the other hand in China we were quicker when it was cool!"
There was lots to puzzle over in the heat of Bahrain. Not why we were here in a time of continuing domestic turmoil (we all know the answer to that one, and it begins with $).
But amid that question and all the others, we at least had a race, drivers fighting wheel to wheel for every inch of track, whether that be forcing the guy who's trying to pass you with DRS down to Turn 1 over towards the pit wall onto the dust and marbles, or on the run up to the tight right of Turn 4, where you might either dive down the inside or hang on around the outside, then try to be ahead before the other car hangs you out to dry over the exit kerbs.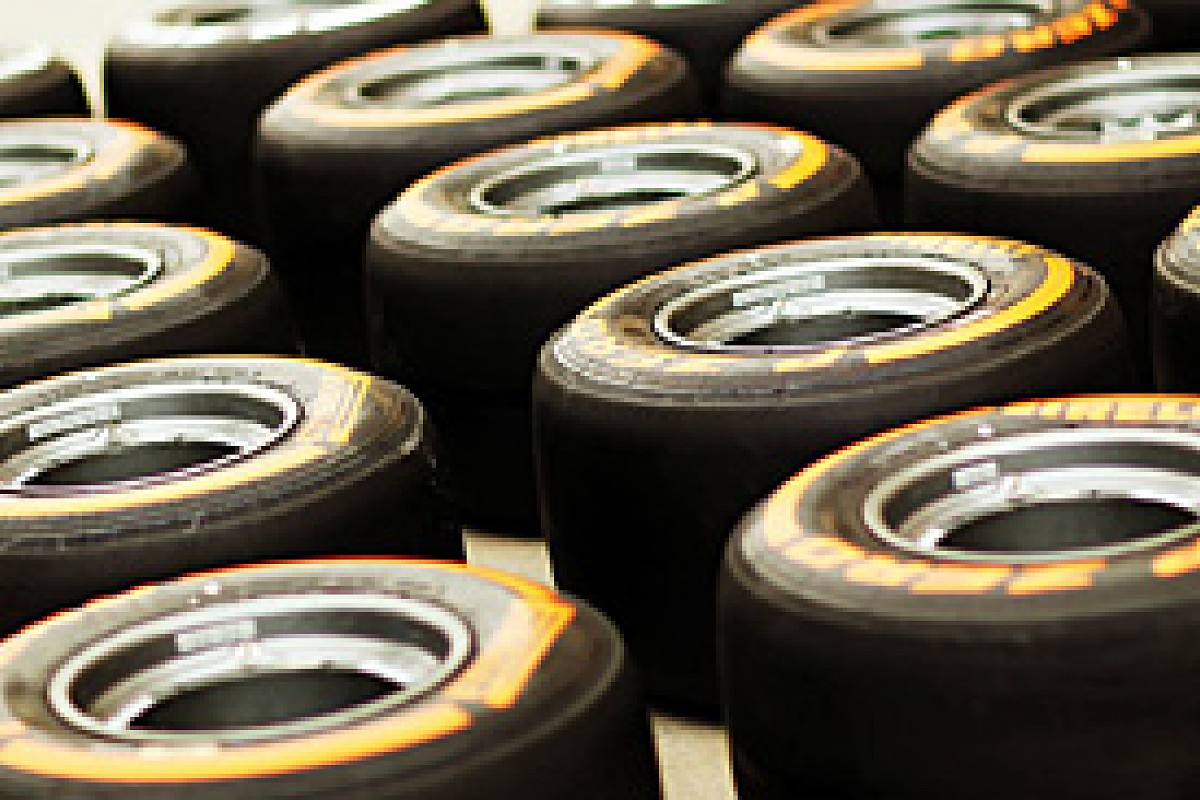 Bahrain was also about tyres © XPB
It's fantastically hard on brakes; not particularly hard on actual tyre wear, but very challenging in getting a decent duration of stint length before the rear rubber inevitably turns to mulch, whether that be on the medium or the hard.
The varying rates of this thermal degradation between cars gave big differences in performance and a variety of strategies, ranging from the two-stops of Kimi Raikkonen's Lotus and di Resta's Force India, the commonplace three-stop or the enforced four-stops of Nico Rosberg's Mercedes and Jenson Button's McLaren.
But here the drivers actually had to race each other, not like in China, where the strategies were so far apart that passes were not being defended as everyone concentrated only on lap time and stint length.
Here, in the dry desert heat, with the track temperature at 42C but already cooling thanks to the 3.30pm start, a strong pit-straight headwind whipping up, the dicing began immediately and just kept coming for the rest of the afternoon.
That headwind was significant in that it increased the advantage of DRS down the pit straight, leaving the car in front extra-vulnerable to being passed, slowed as it was by the wind. The other DRS zone, in the opposite direction on the shorter straight to Turn 11, saw virtually no action.
As Rosberg converted pole to the lead, Fernando Alonso's Ferrari swung assertively around the outside of Vettel into the first turn, side-by-side through there but ahead as they grinded through the switchback and up to Turn 4.
Di Resta prevailed over Felipe Massa's Ferrari for fourth, with Adrian Sutil in the other Force India going for the outside at T4 but being snagged by Massa as Felipe ran wide, the Ferrari's front-wing endplate instantly puncturing Adrian's right-rear.
Vettel's gameplan did not include running in third place, and the sheer desire on show as he outdragged Alonso out of Turn 4 to run alongside him for a high-speed game of chicken into the fourth-gear right-left funnel of 5-6 - where there's room only for one car - was breathtaking.
Alonso had no option but to yield as they charged down the hill, di Resta on their tail. Massa, damaged cascade endplate flapping around, held onto fifth from Mark Webber's Red Bull.
Sutil limped the long way back to the pits and rejoined almost a lap behind. But in clear air he was flying and, although all hope of a result was gone, he would complete the subsequent distance in a quicker time than the winner and set a best lap bettered only by Vettel. The Force Indias were working very well indeed around here.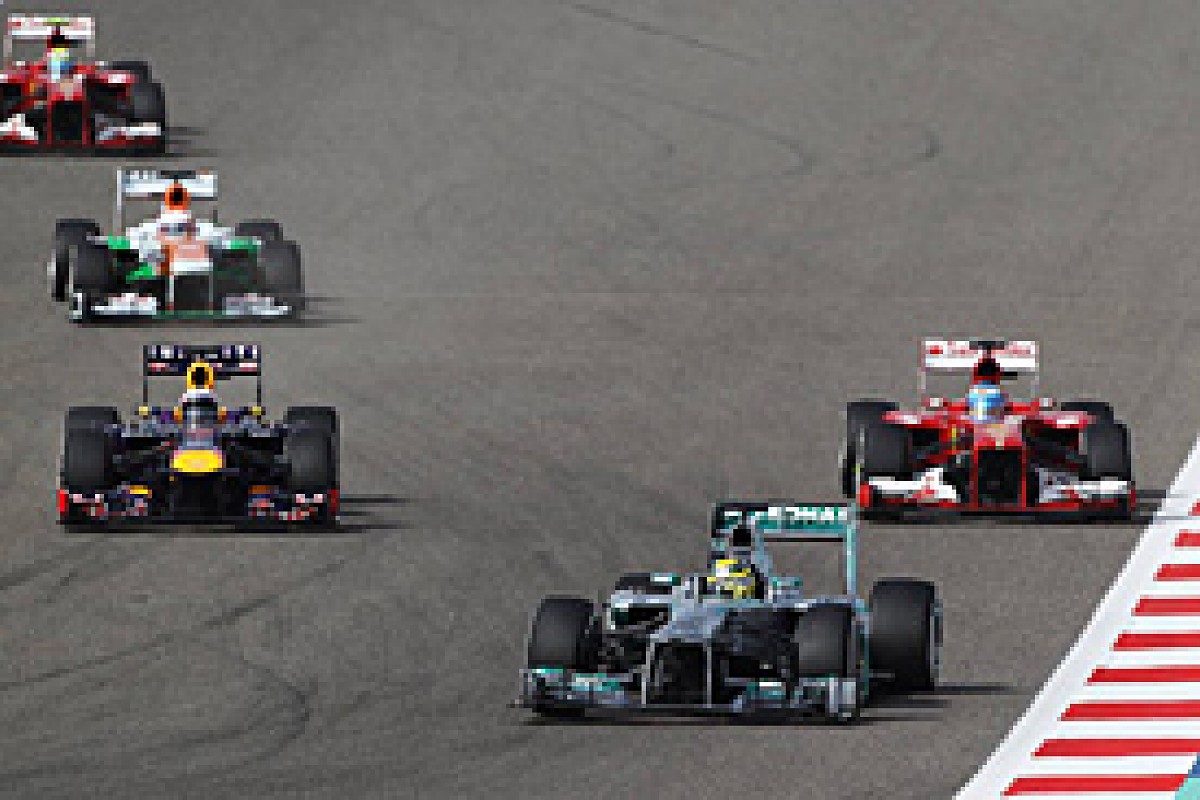 Vettel on the attack early on © XPB
As soon as he passed Alonso, Vettel could feel that he was being slowed by the leader. Inside the cockpit of the Mercedes, Rosberg felt the same.
"I could tell from Turn 3 and how much pressure they were putting on me that I was in trouble," he said. As they raced down the pit straight he defended the inside line from the Red Bull, with Alonso hovering around too.
They kept that pressure on and, up to the approach of Turn 4, Vettel was parallel on the outside. Rosberg somehow prevailed, but it was only a matter of time. The Merc's rear tyres were already too hot.
Behind the top six, Button sliced past Raikkonen up to Turn 4 and was followed through by Sergio Perez in the other McLaren. This was a surprise: the Lotus had looked the quickest car of all on Friday, the McLaren never anything other than mediocre. This seemed to be about tyre temperatures, the Lotus slow to heat the rubber up, the McLaren having no such trouble, in a brief phase before that became a liability and the Lotus came into its own.
Lotus had planned around a two-stop for Kimi ever since he hadn't qualified so well. "I think we'd have put him on a three if we'd been in the first couple of rows, because it's faster," said engineering chief Alan Permane. "But from P8 we needed to get out of phase with the others if we were to make progress."
Romain Grosjean in the sister Lotus had started on the hard tyre and the plan was to three-stop him, if only because he's invariably harder on the rears than Raikkonen. He went past Lewis Hamilton's Merc for 10th on the second lap to run in tandem with Kimi.
Lewis was suffering similarly to Rosberg with rear tyre temperatures and, as he circulated in the pack, he was instructed to go into fuel-save mode. Teams are going to the grid with as much as a 10 per cent deficit to the theoretical fuel load, knowing there will be phases when this can be clawed back.
On the third lap Vettel made his move on Rosberg stick. Red Bull team boss Christian Horner had pointed out to his driver on the grid that the 'undercut' at Turn 4 - where you approach from the outside, force the other car to turn in from the middle of the track and then, as it gets pulled out wide, you can slice across to the inside of the exit - had seemed to work well in the support races.
It was the same move he'd earlier pulled on Alonso and it worked again here. He quickly pulled away. "I knew it was essential to get into the lead quickly if I was to be able to control the race," said Vettel. "It allows you to manage the tyres." Three-stopping was the plan, as it was for most.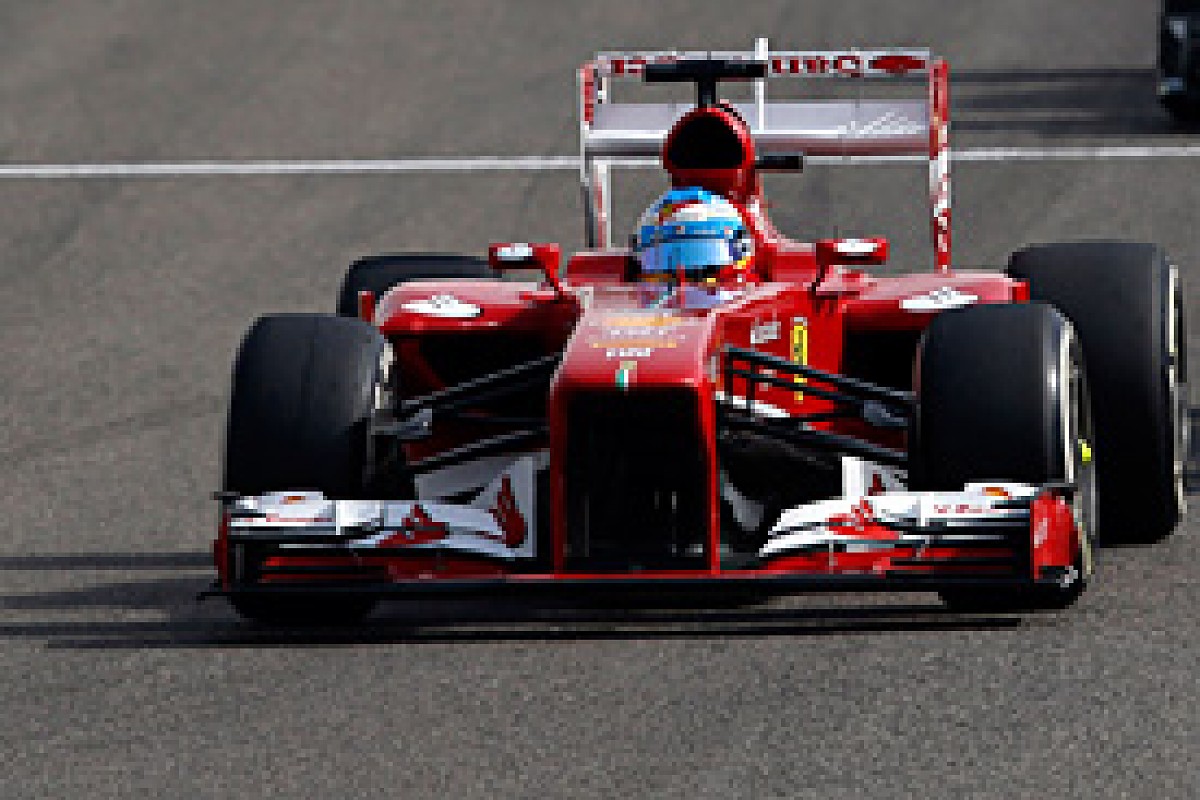 Alonso hit DRS problems early on © LAT
Rosberg now had his hands full with Alonso, the Ferrari using DRS to get marginally ahead into Turn 1, but with Nico hanging on for the inside of 2. Fernando eventually got by properly at Turn 5 on the fifth lap, but Vettel was already 3.5s clear and pulling away.
Rosberg continued to sink, coming under pressure now from di Resta, who with the aid of DRS went by into Turn 1 on the next lap. Massa, with his hard tyres, was next onto Rosberg's case.
As Massa challenged the Merc on the seventh lap, Ferrari team-mate Alonso felt the rear of his car lock up unexpectedly into Turn 10. "As I went through 11 it felt very light, and I thought my rear tyres must be going off and I radioed in," he explained, "but they could see it wasn't a tyre problem but my DRS."
The flap had somehow worked its way open and gone over-centre, giving him vastly reduced rear downforce. He pitted at the end of the lap and the tyres were changed as mechanics forced the flap back down again. On the out-lap he used it and it again stayed in the open position, requiring him to stop just one lap later for a repeat fettling.
He was now way down the order, but would race hard and fast for the remainder of the distance, setting a best lap just a couple of tenths adrift of Vettel's, without the 0.5s benefit of DRS that Seb had from lapping Daniel Ricciardo when he set his. But this hardly signifies that Alonso had the pace to have won. Vettel was barely stretched and had been pulling away from the Ferrari even before its problem. Di Resta now assumed second place.
While Vettel was using the clear track and free air to maintain pace, looking after the rubber, team-mate Webber - first in a seven-car queue behind the struggling Rosberg and without the straightline speed to pass in the DRS zone - was feeling the rears beginning to go. He was brought in early on lap eight in an attempt to spring him clear.
Mercedes responded by bringing in Rosberg from third next lap, and McLaren did the same with Button from fifth. This in turn triggered Ferrari into bringing Massa in on lap 10, thereby negating the potential longer-running advantage of having started on the hards.
Vettel pitted from the lead at the end of the 10th lap, rejoining fifth, just 3s ahead of Webber, who had benefited from the temporary boost of stopping two laps earlier. It had also got him ahead of Rosberg, who was 9s adrift of Vettel just eight laps after being passed by him.
Just behind, Button had similarly been able to leapfrog Massa, while a lap-eight Grosjean stop had got the second Lotus past Perez. Lotus hadn't originally intended to bring its man in so soon, but a piece of someone's front wing had lodged itself in Grosjean's radiator and rear brake duct and the temperatures were going up.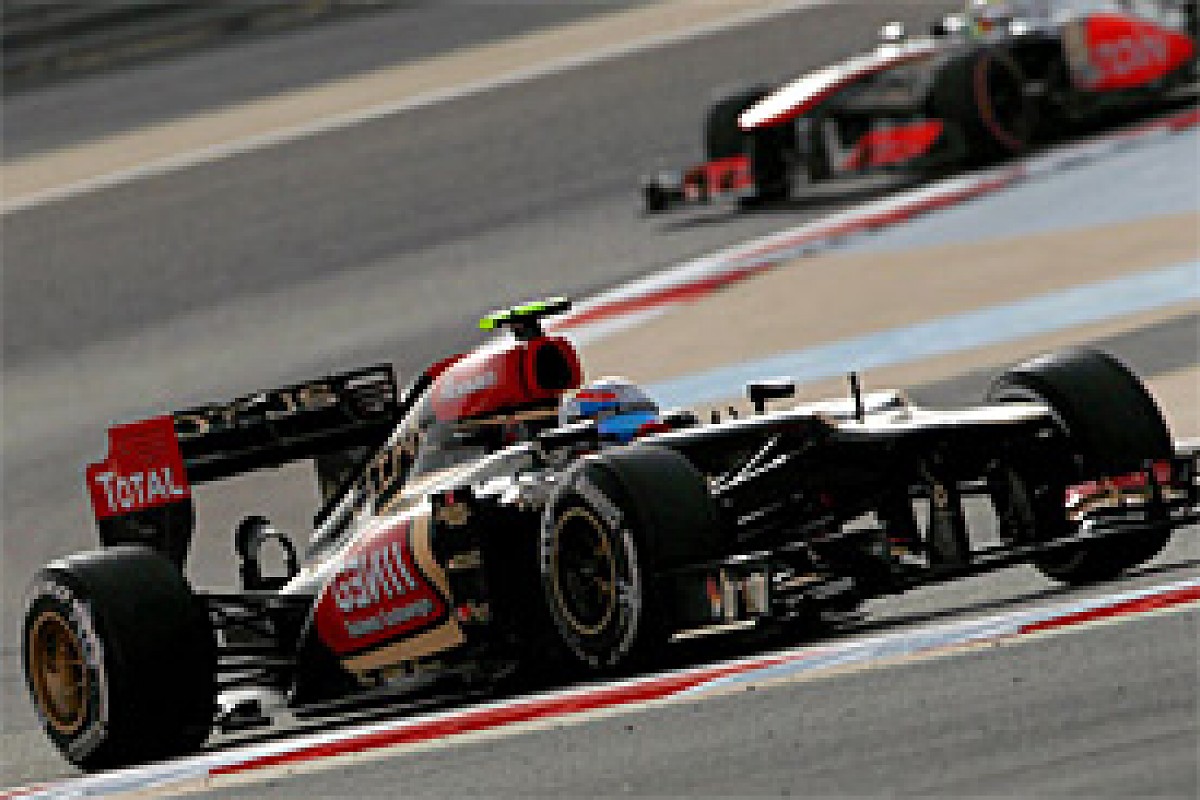 Grosjean charged from 11th on the grid © LAT
The leading two-stoppers - di Resta ahead by a decreasing margin from Raikkonen - temporarily led the race. Kimi was within 3s of the Force India before di Resta was brought in on the 14th lap, just as Vettel on his fresh tyres caught and passed Raikkonen to retake the lead.
Vettel had, in other words, already overcome Raikkonen's advantage of two rather than three-stopping, and it was only quarter-distance. Kimi stopped on lap 16, and rejoined well down the pack to begin a long middle stint that would see him progressively rise back through the order as the two and three-stop strategies wove into and out of each other.
The game was now defined. Vettel was out front going away, and the excellent tyre usage of the Lotus and Force India allowed Raikkonen and di Resta to emerge ahead of the scrapping three-stoppers as best of the rest. Furthermore, although Grosjean was three-stopping his Lotus, its lightness on its tyres allowed it to be plain faster than the Mercs, McLarens and Massa's Ferrari. Once he'd fought his way by them, he would emerge to challenge di Resta for the final podium place.
Massa would fall from the scrapping three-stop group when a right-rear tyre failed on lap 18, forcing an out-of-strategy pitstop. Pirelli was citing debris damage from a cut in the tread block. Yet it happened again to Massa on lap 36, this time from tyre-wall damage. In addition to Hamilton's Saturday failure, it left many brows furrowed.
As the race played out, the entertainment was largely provided by the duelling McLaren drivers. In each of the stints Perez was managing to preserve his rears better than Button, but Jenson initially had track position over him. Perez was brought in a lap before Button for the second stops, and this put Sergio ahead for the first time.
As they caught the descending Rosberg on lap 23 they each activated their DRS wings to surge by the Merc, but with Button trying to slice between them. It was impressive three-abreast stuff and they came out in the order of Perez-Button-Rosberg, with the recently stopped Webber just a couple of seconds ahead.
Button kept the pressure on his team-mate, and on the 27th lap used DRS into Turn 1 to get back ahead. "I'm sure it was Jenson's intention to beat Sergio every single time out," said team boss Martin Whitmarsh afterwards, and this move appeared to have restored the status quo. But Perez was having none of it. Taking note of Whitmarsh's recent advice that 'He needs to get his elbows out', Perez was in addition faster than Button as each stint progressed.
"I couldn't look after the rear tyres as well as him," Jenson explained. "It seems that when it's a temperature thing that's how it is. I remember here last year struggling with the same thing." But most of JB's comments were about his disapproval of Perez's aggression: "I don't expect to be banging wheels at 300km/h with anyone, let alone my team-mate."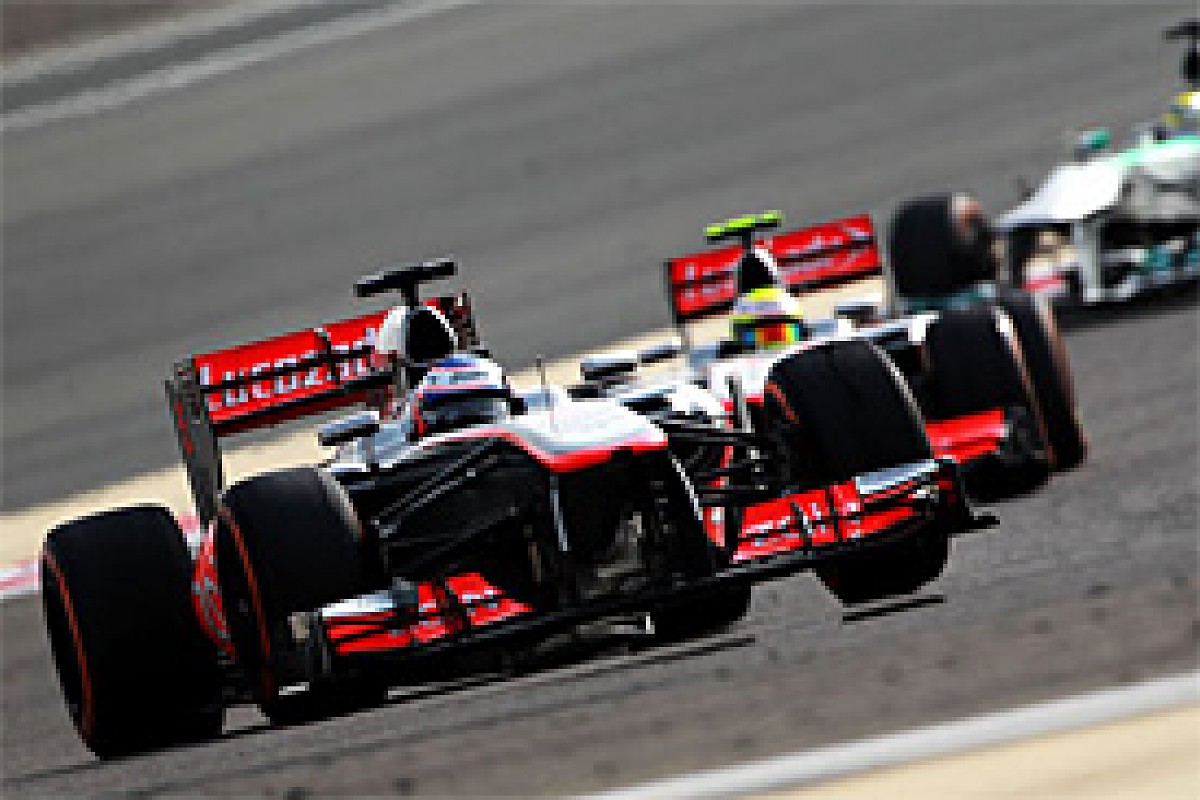 Button could do nothing to stop Perez © LAT
With his rears in better shape, Perez was coming back at Button by the 30th lap. They rounded Turns 1-2 side-by-side, with Jenson just managing to hang on. Up to Turn 4 Perez tried the undercut line but was just a little too eager to get on the throttle, his car a little too accelerative as Button struggled on his compromised line, and he hit the back of the other McLaren, shards of front wing flying off Perez's car. Button was on the radio saying they should 'calm him down'.
Two laps later Perez tried for the outside at Turn 3 and again at 4, Sergio this time trying to hang on around the outside all the way to the exit, Jenson holding him out wide on the bumpy, dusty stuff and staying ahead.
This made Perez vulnerable now to attack from the closely following Grosjean, and into lap 33 the McLaren and Lotus went into the first turn side by side. Perez chopped brutally across Grosjean, forcing Romain to get off the throttle urgently and almost spinning. Grosjean finally got through on the outside exit of Turn 4.
Meanwhile, Raikkonen had been cutting into di Resta's advantage in a repeat of the end of the previous stint, and this time simply surged by on the pit straight into second place with the aid of DRS.
Confident of being able to run the remaining 23 laps on a used set of hards, Lotus immediately brought Kimi in to insure against the risk of Force India doing the same and getting di Resta back ahead. "Why did you bring me in?" asked Raikkonen, not getting the tactical subtleties in the heat of the moment. "The tyres were still fine."
Raikkonen exited into clear air behind Hamilton, whose race was finally coming together. "I was able to manipulate the controls a bit," explained Lewis, "and into the second half I began to have a much better balance. Also my fuel was on schedule now."
Hamilton was in a tight little group, closely enough packed that several more places were ripe for the taking. Webber headed it from Button, Grosjean and Perez. As Grosjean squeezed ahead of Button through Turn 2, his Lotus with visibly more traction, so Button was left vulnerable once more to Perez, who managed to finally get ahead of his team-mate two corners later.
At this point, Button bailed out and made his third stop. Perez would continue for another five laps, ensuring he came out a few seconds behind Button, though not needing to do as many laps on his final set of tyres - and surely set therefore to clash again.
Webber was the first of that tight little group to pit, on lap 37. "Mark's rear deg was very high," explained Horner. "He did most of the [tactical] damage in the second stint, which he'd started very quickly but couldn't then get the range, forcing him to stop early. That just carried through and at one point we were even thinking we might have to four-stop him."
He came out just ahead of Rosberg, who tried to go by on the inside of Turn 2, only for Webber to turn in regardless, contact being made as Nico took to the kerbs. Webber was later reprimanded.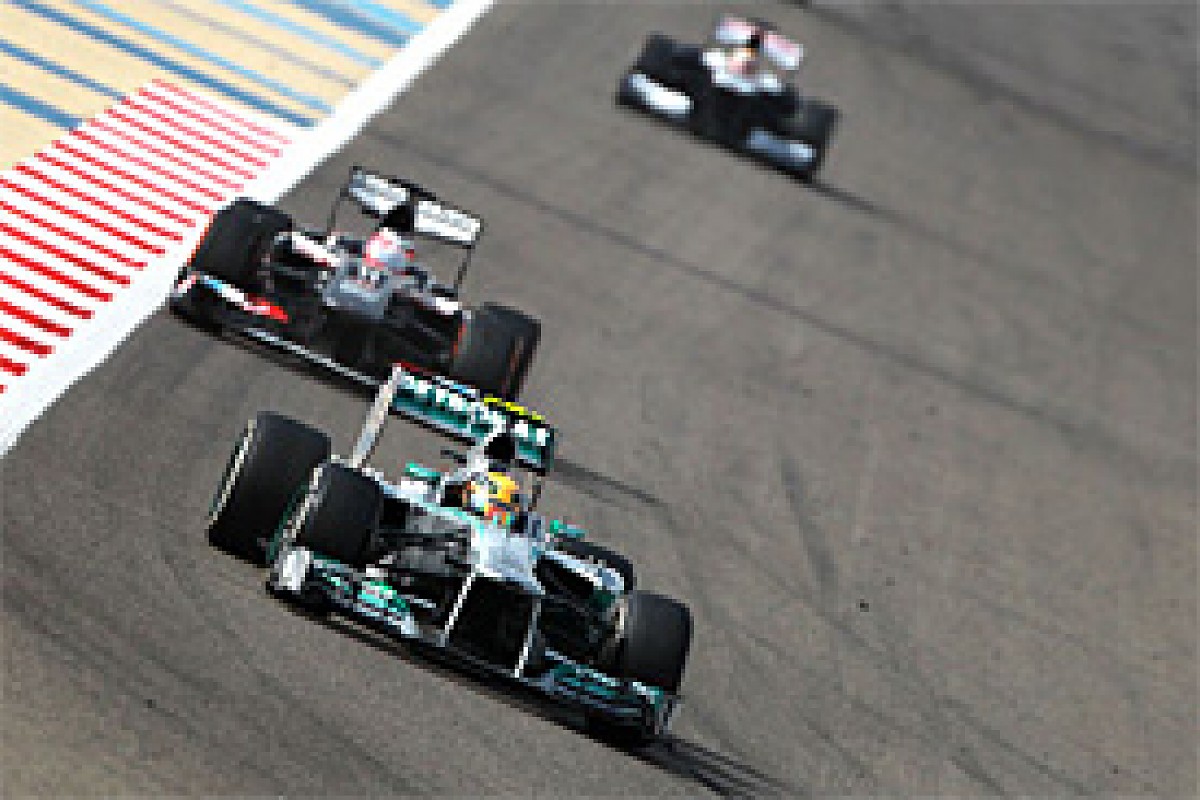 Hamilton made his strategy work © LAT
Webber still led this squabbling group after all had made their stops, in fourth place from Grosjean, Button, Rosberg, Hamilton and Perez. There was some fabulous judgement on display here - high-speed wheel-to-wheel passes, brief wisps of rubber smoke, the drivers in cockpits from which the extremities cannot be seen.
Webber, Button and Rosberg were artificially high within this pack, on account of their early stops. They were tactically doomed, too many remaining laps, not enough remaining tyre life.
Into lap 44 Grosjean passed Webber, and was finally set free. So quick was the Lotus, so recently had it stopped, so fresh its tyres, he was able to close rapidly on di Resta.
Rosberg was forced to pit for a fourth time at the end of the lap, allowing Hamilton to then attack and pass the limping Button. This put Perez right back on Button's tail, and on tyres five laps newer. The recovering Alonso was now right with them and, as Perez got ahead of Button through Turn 4, so Alonso was able to take advantage and dive past JB into Turn 8. Button was in for a fourth set of tyres (options) a lap later, exiting behind Rosberg in 10th.
All of which gave us the closing-stages spectacle of Grosjean's chase of di Resta, Hamilton's of Webber and Alonso's of Perez. Vettel, though, was serene in front, usually most of the pit straight ahead of Raikkonen.
With six laps to go, Grosjean was able to put a simple DRS pass on di Resta for third, Paul not fighting on tyres that were six laps older. The DRS-less Alonso now had Perez in his sights and tried for the outside of Turn 4, but was held out firmly over the dusty bumps. Alonso complained, but didn't try again. Webber and Hamilton, meanwhile, were swapping positions, sometimes at Turn 1, sometimes at 4.
All the while, Hamilton was weighing up where Mark's weaknesses were and he made the decisive pass with an old-fashioned left-right dummy into Turn 1 to begin the final lap. Off-line and out of rubber, Webber was demoted a further place by the take-no-prisoners Perez at Turn 4.
"That was much more than we were expecting," said an almost bemused Vettel, struggling to understand, just like all the rest.
"He was absolutely supreme today," said Horner of his winning driver. "We managed to get the balance just right for the conditions and he did a phenomenal job of managing the tyres. When you're in the window with the balance with these tyres, then you can have a dominant display. But that window is very, very fine and if you're outside of it you can be four or five-stopping."
Forklift trucks carried cargo out of the night-time paddock, and Formula 1 left town with its bubble intact.