The 2013 Bahrain Grand Prix appears to be a potentially fascinating contest, made all the more intriguing by Friday afternoon's practice runs not allowing a straight comparison between the two strongest-looking cars, the Lotus E21 and Ferrari F138.
Lotus conducted a thorough long-run simulation, with both Kimi Raikkonen and Romain Grosjean completing runs long enough to suggest they could do a two-stop race. The hard/medium combination of Pirelli rubber is nowhere near as marginal as last week's tyre choice in China.
Ferrari did not do a comparable programme, running shorter-duration laps and appeared also to be running less fuel.
Raikkonen headed the low-fuel times, marginally faster than Sebastian Vettel's Red Bull. Kimi made a small error on this lap but, on the other hand, ran later in the session when the track was faster.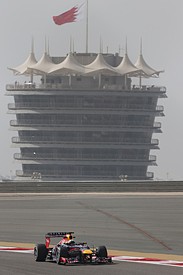 Vettel looks a good bet for pole but faces a harder race © XPB
It's clear that the Lotus could be in the fight for pole position, though perhaps Red Bull is still favourite for that particular accolade. Fernando Alonso was a couple of tenths adrift on low-fuel pace, but as ever should be there or thereabouts.
But switching to the long runs, the Red Bull appears to be losing tyre performance earlier than either Ferrari or Lotus. Vettel's medium-tyred long run began at around the same pace as Lotus's but he was fading after around seven laps. Raikkonen's times were still hanging on five laps after that.
Ferrari's long-run times were only 5s slower than its low-fuel efforts, compared with around 6s for most. This implies a fuel load as much as 25kg lower, perhaps simulating a second-stint fuel load rather than the opening-stint loads of Lotus and Red Bull.
Unfortunately for the purposes of comparisons, Alonso did his main long run on the hard tyre, while Felipe Massa on the medium. So taking the nine-lap core of Massa's run and comparing it with the first nine of 12 from Raikkonen, we get the following comparison:
Massa    Raikkonen  Difference

1m39.4s  1m39.9s    KR +0.5s
39.5s    39.7s      KR +0.2s
39.8s    40.5s      KR +0.7s
40.1s    40.4s      KR +0.3s
40.8s    40.3s      KR -0.5s
40.6s    40.4s      KR -0.2s
41.4s    40.7s      KR -0.7s
41.6s    40.8s      KR -0.8s

Total KR - 0.5s

So, even within the assumption of Ferrari running lighter, Raikkonen's Lotus comes out marginally ahead in this nine-lap comparison. Then again, we would need to bring in an Alonso factor.
In summary regarding Lotus versus Ferrari, the Enstone squad has revealed more of its hand - and it looks a very good hand. Ferrari may have a comparably good one, but the Scuderia has not fully shown it yet.
Red Bull could be hanging on to the battle, particularly if it can get track position by setting pole - which looks highly feasible. But staying there might be something of a stretch against two cars that appear to have a tyre-usage advantage.
Neither Massa nor Romain Grosjean appear to be performing at the same level in the desert as their respective team-mates so far. At Red Bull, Mark Webber's running was too interrupted by niggling problems to get a representative picture. Which leaves us with Raikkonen, Alonso and Vettel as the most likely frontrunners.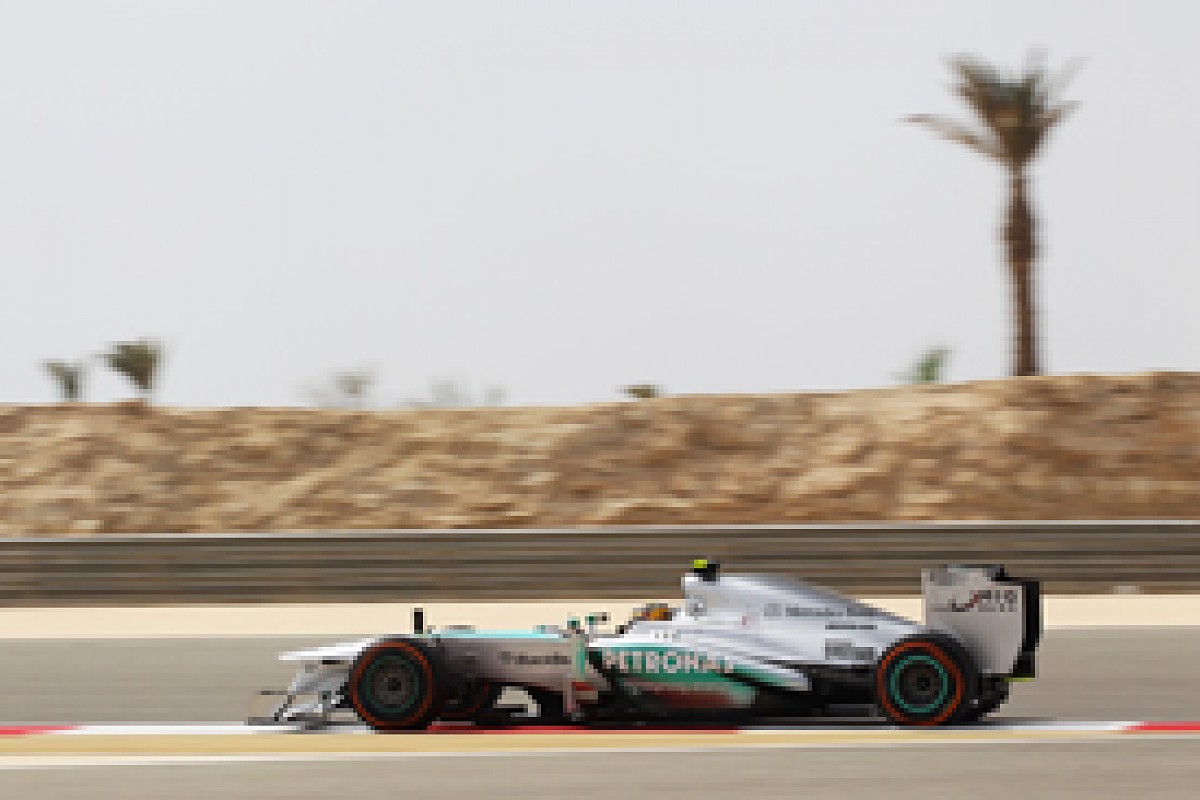 Mercedes is unlikely to be a frontrunner © XPB
Where does last week's pole-winner Mercedes figure in all this? It was around 0.5s adrift in low-fuel running and both Lewis Hamilton and Nico Rosberg then completed Raikkonen-length runs that were a long way off in both raw pace and tyre degradation. This looks set to be a difficult weekend for the Brackley boys.
Force India actually appears to be in stronger form than Mercedes in terms of long-run pace even though it would likely be a stretch to outqualify the silver cars. Out on track Paul di Resta and Adrian Sutil look very at home in a car with great balance and a lot of high-speed grip. This is a weekend of great opportunity for the team.
Given this, McLaren's Jenson Button and Sergio Perez may be struggling to make it into Q3. The car appears less happy here than in the previous two races and for the team those Barcelona upgrades cannot come quickly enough.