DRIVERS
• Sebastian Vettel has always fared well in Bahrain: he scored a clean-sweep pole/victory/fastest lap treble last year, leading for the whole race but for his pitstops.
He was also on course for victory in 2010 until a faulty spark plug relegated him to fourth (he had led the whole race from pole up to the failure) and in 2009 he had the pace to win, but had to settle for second. Since he joined Red Bull, he has always qualified in the top three and finished in the top four at Sakhir.
• Vettel's Red Bull team-mate Mark Webber has never been on the podium in Bahrain, his best result a fourth last year. He's never started on the front row either, his best grid spot being third last year.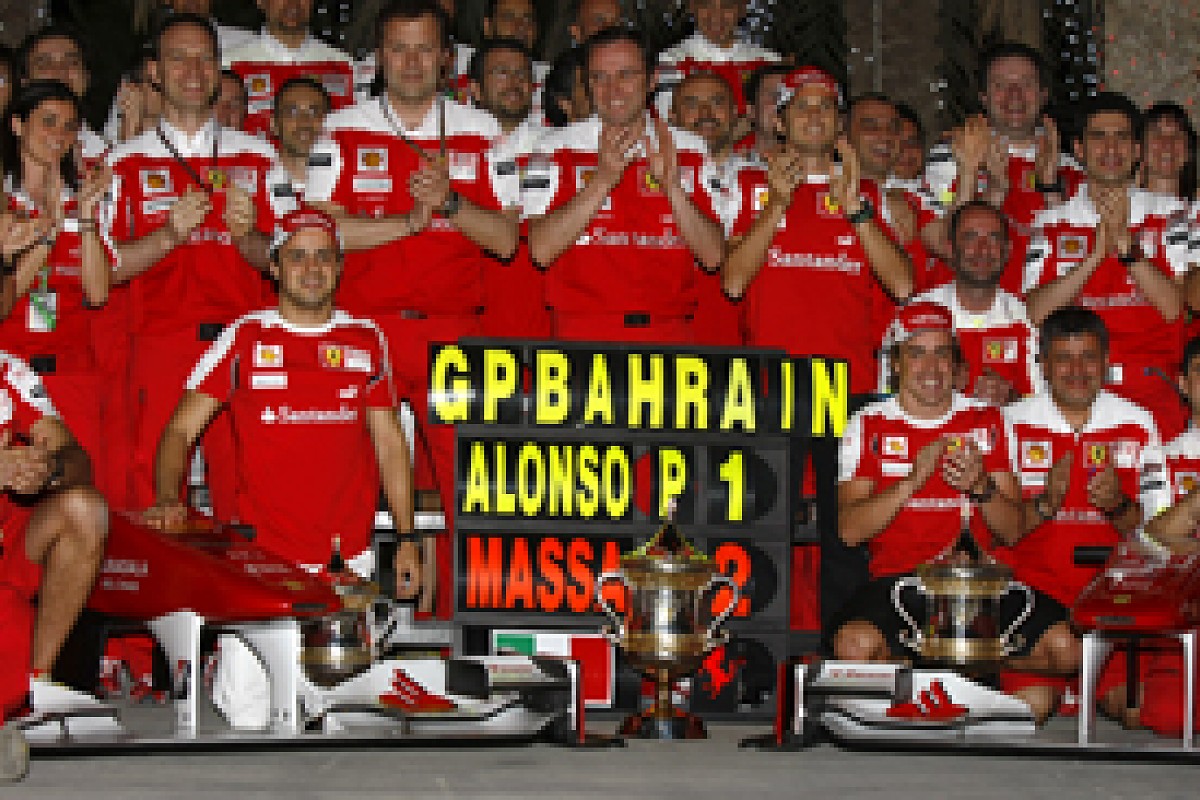 Alonso introduced himself to Ferrari by winning the 2010 Bahrain race on his debut in red © LAT
• Fernando Alonso is the king of Bahrain, the only driver who has won three times here (2005, '06, '10), but these are also his only podium finishes here. Last year he was only seventh, after a wild scrap with Nico Rosberg that prompted the FIA to clarify the rules about blocking. Fernando has missed out on a top-10 grid spot here only once - in 2004 - and the points only once, in '08.
• Felipe Massa is the only other driver who has won in Bahrain more than once: in 2007 and '08. He has also recorded the most front-row starts here, with four, although last year he posted his worst qualifying showing in Bahrain - 14th - and finished a lowly ninth.
• Jenson Button won the 2009 race, pipping the two Toyotas at the pitstops and was third in '04 - his only podium finishes here. In the past two races he wasn't able to fight for a podium spot: he was seventh in 2010 and retired from seventh last year with exhaust issues, a puncture and finally a broken differential. Jenson has retired four times out of eight Bahrain Grands Prix.
• Kimi Raikkonen has the record for most podium finishes in Bahrain, with five, all of them obtained in a unique way: he has always qualified behind his-team mate in the races (qualifying score 0-7). He has never won though, finishing second in 2008 and last year.
• In last year's race Romain Grosjean scored his maiden podium finish with third.
• Nico Rosberg has the distinctive record of having finished all his Bahrain races in the top 10 (six races). His best result is a fifth, obtained in the past two races. In 2006 he scored here his maiden fastest lap in his maiden grand prix, becoming the youngest driver to do so - a record that still stands.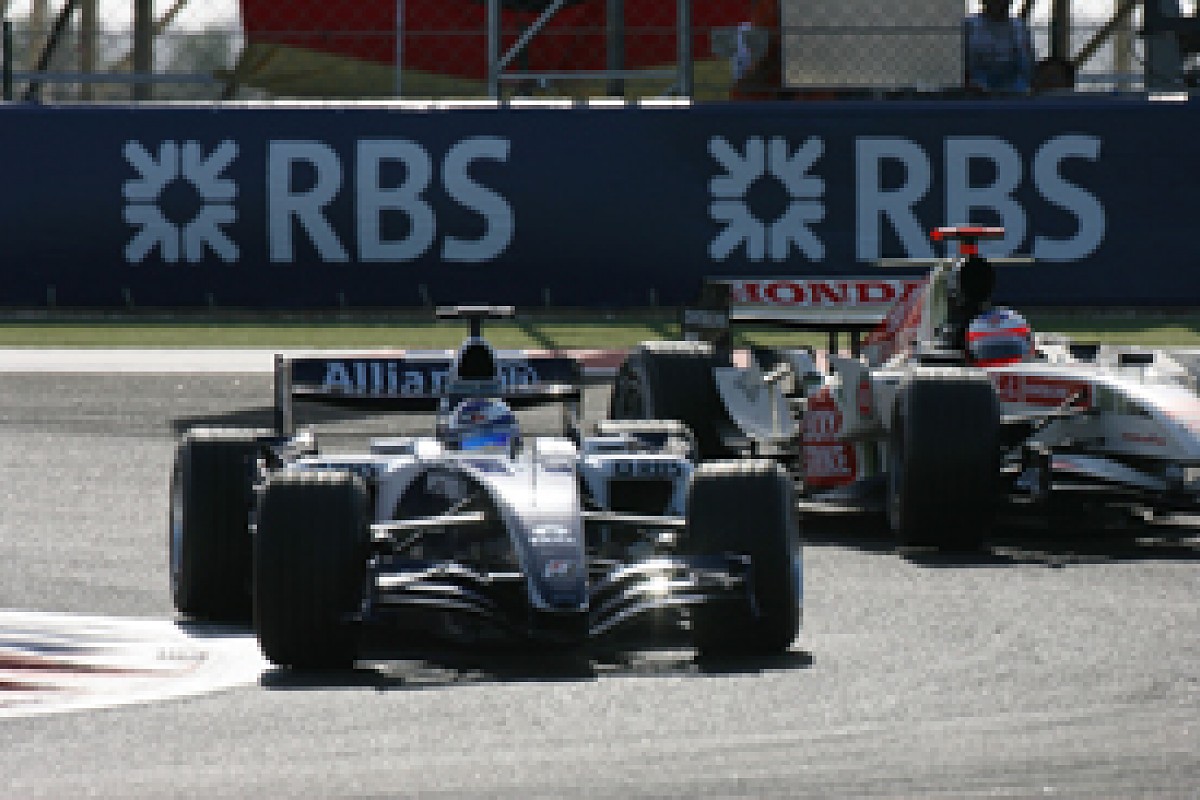 Rosberg began his F1 career with a record fastest lap in Bahrain as he came from last to seventh in his first grand prix © XPB
• It will be interesting to see how the qualifying battle between Rosberg and Lewis Hamilton develops in Bahrain, as they both have stunning records against their team-mates: Rosberg is 5-1 and Lewis is 5-0.
Hamilton has always qualified in the top five spots here, but has never taken a pole (he was second in '07 and last year). He has posted two podium finishes (second in '07 and third in '10) but has never won here.
• Paul di Resta is the only other driver beyond the aforementioned to have scored points in Bahrain, with a sixth-placed finish last year.
Excluding the 2013 rookies for obvious reasons, Nico Hulkenberg, Adrian Sutil, Pastor Maldonado, Jean-Eric Vergne, Daniel Ricciardo and Charles Pic are the other drivers who have raced here but never scored points.
TEAMS
• Red Bull took its first win of 2012 in last year's Bahrain GP, which was also its only success at the Sakhir circuit. Only Vettel has given the team a podium finish here - in 2009 and last year. A Red Bull has been on pole here for the past two races.
• Ferrari is the most successful team in Bahrain with four wins (Renault counts two), the most recent in 2010 with Alonso. Last year the Scuderia endured a difficult weekend, with Alonso only seventh and Massa ninth. Ferrari's last pole here came in 2007, courtesy of Massa.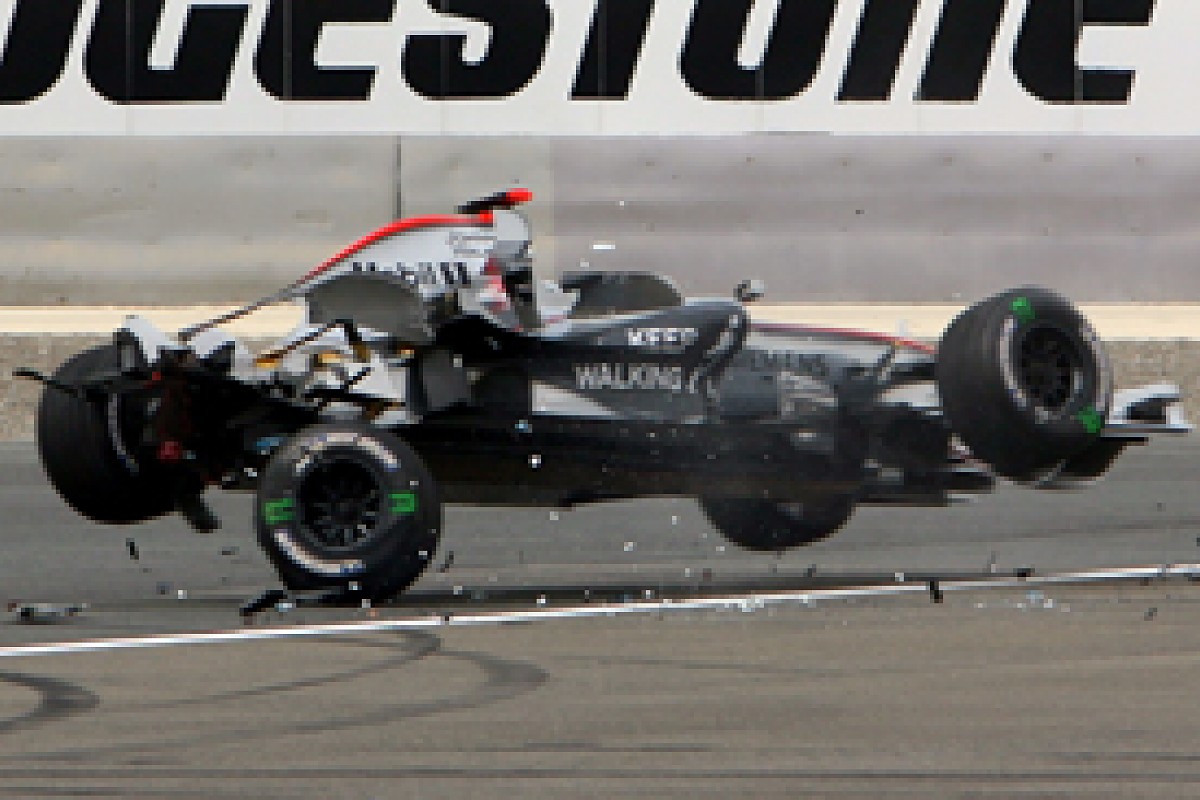 McLaren hasn't had a great time at Sakhir. This is Raikkonen crashing with suspension failure in qualifying in 2006 © XPB
• McLaren has won at 16 of the 19 circuits on the 2013 calendar. Only Bahrain, Buddh (India) and Yeongam (Korea) are missing from its victory tally. The team's best result at Sakhir was a second in 2007. Last year it suffered problems with both cars and managed only an eighth with Hamilton.
• Lotus managed to get two cars on the podium last year (Raikkonen second and Grosjean third). It also won as Renault in 2005 and '06 with Alonso.
• The best result for Mercedes here is a fifth, both in qualifying and in the races, obtained in the past two races.
OTHER
• No one has won the Bahrain GP from lower than the first four grid spots.
• No one has led the entire race in Bahrain: Vettel was in a position to do so in 2010 when his Red Bull suffered spark-plug failure.
• In the eight Bahrain GPs to date, nine different teams have finished on the podium: Ferrari (nine times), McLaren (4), Renault (2), Toyota (2), Red Bull (2), Lotus (2), BAR (1); BMW Sauber (1), Brawn (1).