Predictably, this column's unprecedented publication of some of the more secret aspects of Formula 1's finances caused an uproar. Equally predictably, the loudest squeals at last weekend's Chinese Grand Prix came from those with most to hide.
In the process, certain parties were suspected of having shared confidential information with this column, accusations that are, as will become clear, wholly unfounded - for the sport as a whole (operative word) only has itself to blame for leaks that have enabled a full picture of F1's finances to be constructed.
Lotus and, to a lesser degree, Marussia were allegedly finger-pointed, on the basis that they were used as prime examples of a thoroughly inequitable revenue distribution structure; Lotus being the only genuine championship contender among the disadvantaged six, and Marussia receiving absolutely zero recompense for contesting the championship.
But, really, would any journalist needing to protect their sources spill the beans in such blatant fashion?
There was a time when Formula 1 functioned as arguably the world's most secret society. In fact, it was said that Freemasons adhered to almost-F1 levels of secrecy. And that the original 1981 Concorde Agreement, the bipartite peace treatise signed to bring an end to the bitter FISA/FOCA internecine struggle over power and money (what else?!), was the most secret document on Mother Earth - Cold War, KGB and Kremlin at the time notwithstanding.
In that pre-Information Age, secrecy was easily maintained across the world. Documents were typed up from analogue dictation machines, with carbon paper providing flimsy, flawed copies. Photostat copiers were few and far between, and delivered hazy facsimiles of originals; 128kB computers were even scarcer, being restricted mainly to universities and military installations.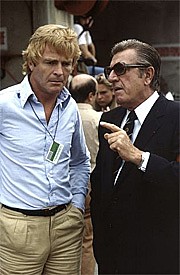 Max Mosley and Jean-Marie Balestre © LAT
In those pre-digital-duplicator days, once a page had been removed from a secretary's IMB golfball typewriter, the only trace of its existence was in bank vaults, unless the originator wished for copies, and even then the process was laborious. Twelve 'dittos'? Make a stencil using messy paste, twirl the handle a dozen times, destroy the stencil by smudging...
Perpetuating F1's secrecy was the then-structure of its teams. Virtually without exception teams were owned and dictatorially managed by individuals who had, in most instances, grown their operations, building backyard specials in lock-up garages before progressing up the ranks, from 500cc F3 through F2 to F1, scrounging engines and tyres as they awaited breakthrough.
They owned their teams, and ran them accordingly. If shareholders existed they were generally wives or engineers granted a few per cent to keep them sweet. In short, the buck stopped and started with team principals. Simple majority in Formula One Constructors' Association meetings sufficed; word was bond.
Drivers were hired hands, plugged in and out of cockpits like lightbulbs, while the constant presence of danger hardened team owners to death and tragedy; on average, they lost a driver per year. Against that, F1's politics were small beer.
Thus the original Concorde took 13 hours to negotiate, being signed by such as Colin Chapman (Lotus) Bernie Ecclestone (then Brabham owner, and FOCA chairman since 1979), Teddy Mayer (McLaren), Jackie Oliver (Arrows), Ken Tyrrell, Frank Williams etc on the one side, and the FISA president Jean-Marie Balestre on the other.
Once universal peace was made, Enzo Ferrari signed on behalf of the Scuderia - then majority owned by Fiat, but the Commendatore still ruled his eponymous team with an iron fist. Formidable men, one and all; beholden to none.
Subsequent Concordes were simple updates of the original, and again signatures were formalities once i's were dotted and t's crossed.
Until 1998, that is: Ecclestone acquired the sport's commercial rights (for, ultimately, 113 years) from the FIA, which had absorbed FISA and was now presided over by Max Mosley, barrister, mate of Ecclestone for 30 years, former team owner (March) and originator of Concorde. The game changed forever: Concorde went tripartite, while such as Chapman and Ferrari had passed on.
Mayer's successor Ron Dennis, Williams and Tyrrell invoked legal action against Ecclestone - they eventually lost, but won damages from their lawyers. Still the process took over a year to lock all teams in for a decade, with, again, most signatories being team owners: Frank Williams, Ron Dennis, Eddie Jordan, Alain Prost, Peter Sauber, Jackie Stewart, Tom Walkinshaw, Ken Tyrrell. Ferrari was represented by Luca di Montezemolo - very much his own man. Ecclestone? His family owned 100 per cent of F1's commercial rights.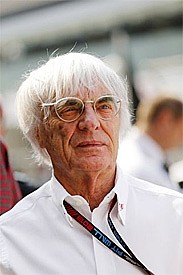 Bernie Ecclestone © LAT
Now consider the roll call during last Saturday's noon meeting in Shanghai: Ecclestone, as CEO of an entity in which he and his family trust now hold less than 14 per cent, plus 11 team principals: Christian Horner (Red Bull Racing), Stefano Domenicali (Ferrari), Martin Whitmarsh (McLaren), Eric Boullier (Lotus), Ross Brawn (Mercedes), Monisha Kaltenborn (Sauber), Robert Fernley (Force India), Claire Williams (self-explanatory), Franz Tost (Toro Rosso), Caterham (Cyril Abiteboul), John Booth (Marussia).
Not a single team owner among them, with, in fact, the holder of the biggest slice of his/her respective entity being Kaltenborn - 33 per cent?
Against such background, any wonder the latest formal Concorde, the 2010-12 covenant (officially known as the 2009 Concorde Agreement) took three years to not agree, its various drafts passing through a number of suits at no fewer than five motor manufacturers, plus teams of lawyers (many in-house) acting for virtually every team, including no fewer than four newcomers overawed by simply being invited to sit at F1's table?
At FIA level, working documents were shuttled about, with spin doctors on all three sides of the divide sprinkling (mis)information according to position. Lawyers across the Channel (and Atlantic in USF1's case) shuttled Q&As back and forth, against a background of acrimonious FIA elections. Agendas? Heck, most folk had two a day.
Tellingly, there was unparalleled team turnover during the first 10 years of this millennium, particularly at motor-manufacturer level. Tyrrell had already sold out to BAR, which sold to Honda, which became Brawn. Toyota popped in and out, as did BMW. Williams went public. Stewart sold to Jaguar, which became Red Bull Racing, with the drinks company (in partnership with former driver Gerhard Berger) also acquiring Minardi, now Toro Rosso.
As manufacturers exited, so they closed down F1 divisions. Whizz kids, many of whom were attracted by bright lights but did not have an intrinsic interest in F1 or its deeper workings, were granted sight (copies?) of Concorde, yet suddenly found themselves on the streets a fortnight before Christmas 2009. Loyalty? Secrecy? What's that?
Jordan mutated into Midland before a short-lived spell as Spyker. Still it was not finished: the Dutch sold to Vijay Mallya, with Force India's shareholding being further diluted by Sahara's 42.5 per cent buy-in. Brawn was acquired by Mercedes in a convoluted deal. BMW F1 Team reverted to plain Sauber after Munich's exit, while Ferrari took in, then dropped, Middle Eastern partners. McLaren garnered the support of the Bahraini royal family. Benetton became Renault became Lotus.
(These are just the successful transactions: consider all the tyre kickers and sniffers-about during that period, some or all of whom at some stage took more than a cursory peek at Concorde.)
Each step along the way, disclosures were made as part of due-diligence processes. After all, who sinks tens of millions into battling teams without proof of earnings? Conversely, each failed transaction left embittered parties. What do they - and in most instances multiple parties - owe F1?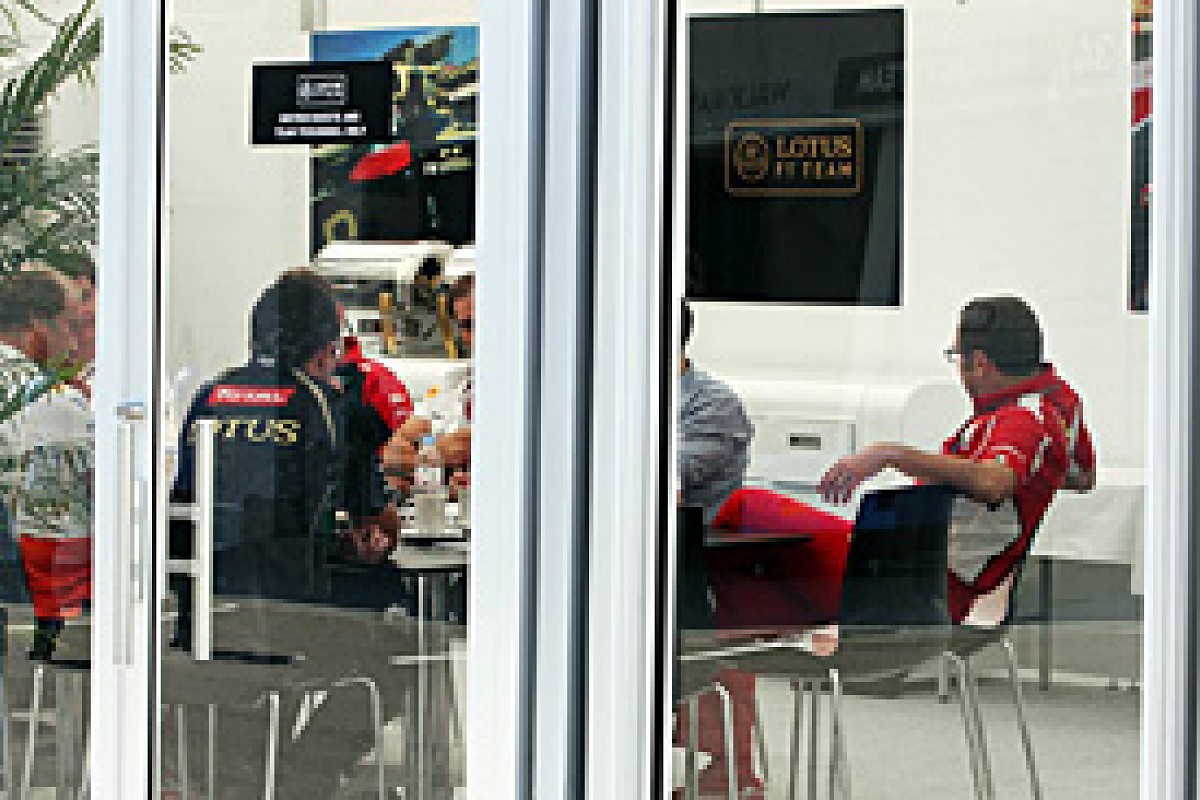 F1 team principals meeting © XPB
Of the four new teams, just two survive. Both have changed titles and shareholdings, while the ex-proprietors of USF1 and HRT (all four) owe the sport not a single secret.
Teams are being squeezed, with Business Class now being a no-no for all but senior management. Imagine how those sitting Cattle feel as they read about weddings costing 12 million bucks and mansions with gold-plated taps. True, revenge is a dish best enjoyed cold, but it does make for warm fuzzy feelings, whatever its temperature.
In the build-up to last month's Malaysian Grand Prix, a number of team financial officers participated in teleconferences; they did so again this week, during which common accounting systems were discussed. Could such matters be discussed without their having had sight of Concorde's various schedules? Make that another dozen folk with copies of strategic data.
In media briefings team bosses regularly referred to Columns 1, 2 and 3 - the revenue distribution tables contained within Schedule 10 of Concorde - and openly discussed the value of finishing within the top 10 in two out of three years. Hints dropped, statements made - for whatever reason - over a period of 10 or more years all contributed piece by piece towards the bigger picture.
Since that 1998 Concorde, the sport's ownership structure, too, changed. Where Ecclestone's family owned F1's commercial rights, these are now majority-owned by a bunch of venture capitalists and hedge funds, having passed through the hands of Muppet creators, media companies and a trio of banks (one of which was liquidated while another is embroiled in litigation with Ecclestone over who paid whom, what and why), with almost 20 parties now holding a slice.
In addition, F1 is associated with no fewer than five lawsuits (in three countries; on both sides of the Atlantic), with the full disclosures demanded by such processes. Further jigsaw pieces.
The disclosures required by F1's aborted Singapore Stock Exchange floatation have placed further (previously confidential) information in the public domain. Yes, although the 498-pages prospectus is far from a bedtime read, the information contained therein is invaluable, outlining as it does F1's revenue streams, turnover and profit projections. Gold dust, and available with a bit of effort...

But, if F1 has changed beyond all recognition in 10 short years, so too has the world - and, crucially, its approach to information, secrecy and excess. It's now cool to whistleblow, with informants being praised to high heaven and enriched beyond their wildest dreams.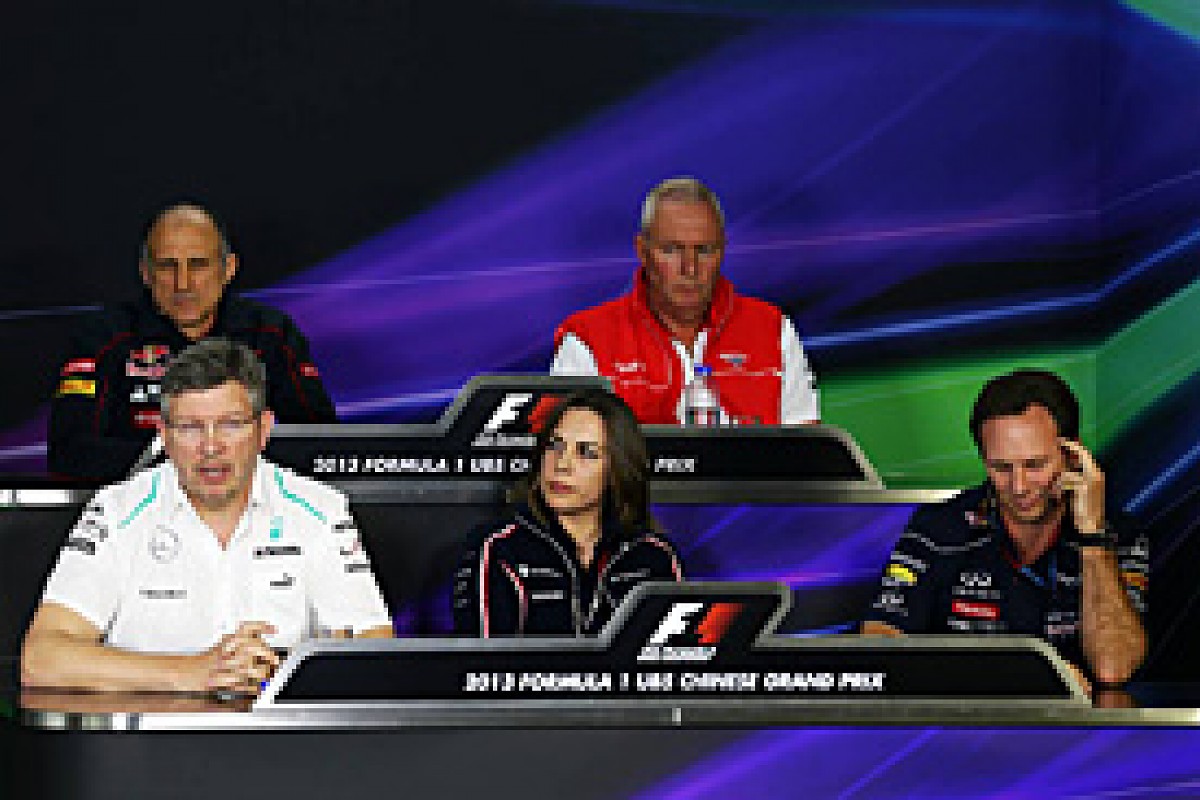 F1 bosses faces the media © XPB
A USB stick the size of a thimble can pack every single Concorde, the flotation prospectus, teams' financial statements going back 20 years (where applicable) and the minutes of every FIA World Motor Sport Council meeting ever held - and be just one per cent full. Equally, the information can be uploaded onto file-sharing websites in a flash.
Already the 1998 Concorde (with updates) is available on the internet; how much longer before the 2010-12 edition appears in full?
This column estimates that where a handful of individuals had sight of the original Concorde, the 2010-12 edition was seen by at least 20 times that, with some of the 250-odd individuals sharing at least snippets, if not whole schedules, either by design or dereliction. A question here, a supposition there, and ultimately, even over an extended period, the truth outs.
For example, after one team member innocuously stated that the revenue structure of the under-negotiation 2013-20 Concorde was much the same as provided for in previous covenants, it was the work of a moment to calculate payouts on the basis of projections in the flotation document. Yet some folk remain convinced there are moles in their midst.
Simply put, 80 per cent of F1's so-called secrets are in the public domain in some form or other, and 10 per cent can be obtained by questioning strategically. For example, this column last week at Shanghai received wind of an FIA letter regarding cost control, but had no proof that the letter existed. A question was posed in the Friday FIA press conference along the lines of "I believe..." In refusing to discuss the letter, the first respondent confirmed its existence. Thereafter obtaining further details was the work of a moment!
In this day and age, with F1's present commercial, sporting and operational structure, there simply are no secrets, only unpublished facts. Like nostalgia, secrecy ain't what it used to be.