After three grands prix, three different teams and drivers have registered victories. What happens in the desert heat of Bahrain this weekend may just prove to be the battle for championship-favourite status.
Aside from wildcard Mercedes, which certainly has a rapid car but has not been able to show the long-run pace needed to win so far, Red Bull, Lotus and Ferrari will likely slug it out to become the first double winner of 2013.
Arguably, it is Lotus that has the most at stake. A winner in Australia not on sheer pace, but thanks to tyre management, Kimi Raikkonen's second place at Shanghai after an underwhelming weekend in Malaysia has put him in a strong position in the standings.
The points positions are nothing more than a ghostly foretelling of what is to come. But, for the record, they are as follows:
1. Sebastian Vettel 52
2. Kimi Raikkonen 49
3. Fernando Alonso 43
4. Lewis Hamilton 40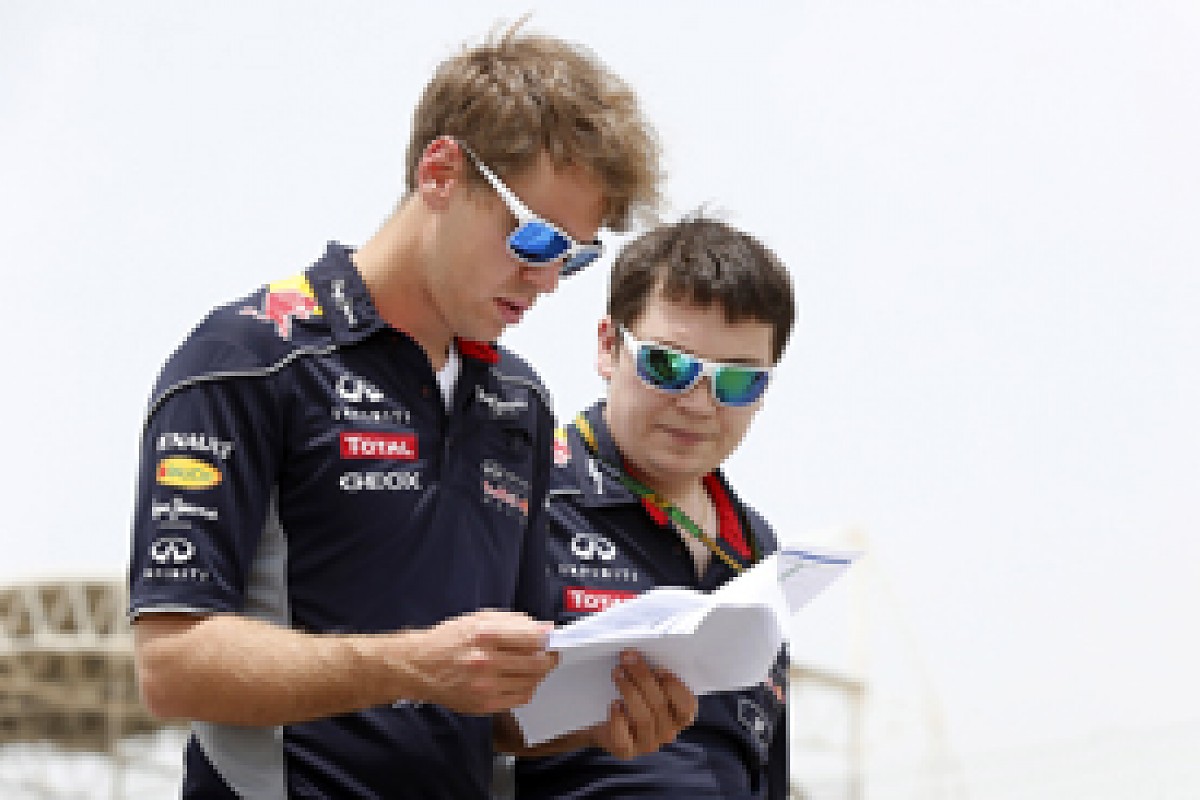 Vettel hasn't felt the need to consult the points yet © XPB
At the same stage last year, Lewis Hamilton and Jenson Button were first and second, which tells you everything you need to know about the predictive value of the current top four.
Asked about the points situation ahead of the start of the weekend, championship leader Sebastian Vettel's response was: "Err... actually, I don't know.
"I didn't look at the points. It is still too early to really pay attention. You don't have to be a genius to know that to score points is good for the championship and the higher up you finish the better it is! We've said many times going into this championship that it is going to be very tight and this is the first confirmation of that."
So to Lotus. The hot temperatures in Bahrain could help the gentle-on-its-rubber machine and with Raikkonen starting the season strongly, it's a great chance for him to underline his status as a bona fide championship threat.
Certainly, he is driving extremely well. At the same race last year, he unquestionably had a car capable of winning, but a disappointing qualifying, combined with a hesitant attack on Vettel when he really should have tried to make a move stick, left him to finish second.
But then, he was an undercooked returnee. Now, you could legitimately make a case for Raikkonen getting somewhere close to his McLaren-era best. The combination of him and a Lotus team capable of challenging for regular victories would be a formidable one. It is important for Lotus to make hay while the sun shines, literally when you take into account the expected weather this weekend.
Raikkonen himself, as usual, is making no predictions. A wise move considering just how tight it is at the top.
"There are four teams who have been in all the races more or less on the top, so one of those," said Raikkonen when asked who he expected to have the edge in Bahrain.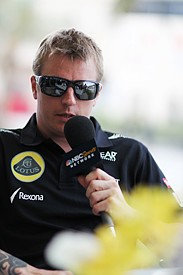 Is Raikkonen back to his very best? © XPB
"I have no idea, we might be good, we might not be good. Until we run tomorrow, we don't really know. I have no answers."
Key for Lotus will be qualifying pace. Starting higher up the grid has an obvious advantage in terms of track position, but more importantly any tyre life you 'waste' making up positions from where you start compromises the rest of your race.
But with the set-up window narrow, teams finding it easy to drop in and out of the sweet spot of the tyres and very high temperatures expected in Bahrain, it's not going to be simple.
"When you get it right, it's good," said Raikkonen of the car in qualifying trim. "When you don't there is not as much grip. It has not been easy to get it right. That's always the way in F1, it's never easy to get the best out of the cars on set-up and put it together for a single lap.
"In the first races, we had the weather and didn't show our speed and in the last race it was OK. [Qualifying well] should make the race easier but like we saw in the last race, I made a bad start..."
Raikkonen and Lotus could also do with Romain Grosjean in play. The Franco-Swiss driver bagged his first grand prix podium in Bahrain last year with a third place but has had a so-so start to this season.
Points in the first three races, including a finish ahead of Raikkonen in Malaysia, was a positive, but in both Australia and China he was fighting for scraps while Raikkonen was up front. An on/off mystery car problem has been cited and his chassis has been changed for this weekend, meaning that there are no more excuses.
While he has settled into a back-up role at the team of late, Grosjean has proved - during the first half of last season - that when he is on it he is a serious threat.
That gives Lotus one proven ace and a wildcard. It could prove a potent combination.