Fernando Alonso's 31st win puts him joint-fourth on the all-time winners' list with Nigel Mansell. It was the Spaniard's 10th win for Ferrari and marked the Scuderia's 220th win and 670th podium finish in Formula 1. The next man to chase is Ayrton Senna, on 41.
Alonso had waited 12 races for this win - his longest gap since he joined the team in 2010. For Ferrari this was the longest win drought since the 13 races between the 2005 French GP and the 2006 Australian GP.
Beyond the bare numbers, it's worth noting that this was the first win for Ferrari since the 2010 Italian GP that didn't involve rain (either in qualifying or in the race) or safety-car interventions.
Alonso also completed also his 58th straight race without a mechanical failure, equalling Michael Schumacher, who recorded the same streak from the 2001 Hungarian GP to the 2005 Malaysian GP. If he doesn't retire in Bahrain he will equal the all-time record set by Mark Webber from Japan 2009 to Abu Dhabi 2012.
RACE STATS
• Kimi Raikkonen posted his 20th straight points finish, his best career run thus far. He was able to take a Lotus (formerly Renault) onto the podium in China for the first time since 2006, when Alonso and Giancarlo Fisichella were second and third for Renault behind Schumacher's Ferrari.
• The race marked the 51st podium finish for Lewis Hamilton, who now matches Mika Hakkinen in 11th on the all-time list. It was the first time for three years (since Malaysia and China 2010) that a Mercedes has finished on the podium in back-to-back races and also the first time Hamilton has stood on the podium in back-to-back races since Australia and China last year (three in a row at the time).
• With fifth place, Jenson Button completed his set. He has finished the past five Chinese GP he has completed in the top five (winner in 2010, second last year, third in 2009, fourth in 2011), each time in a different position.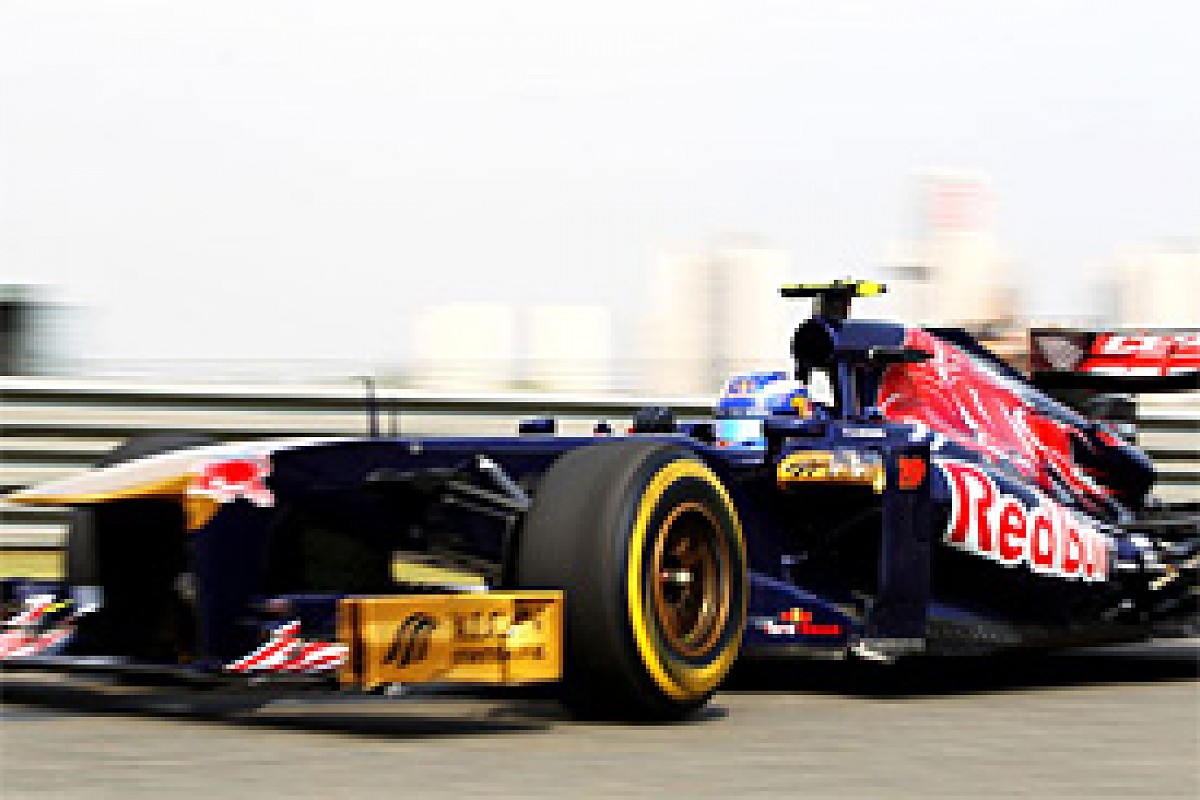 Ricciardo scored his best F1 result to date © LAT
• Seventh was the best career result for Daniel Ricciardo to date. Previously, he had finished ninth three times (Australia, Belgium and Singapore 2012). A Toro Rosso car hadn't finished in the points here since 2009.
• Paul di Resta gave Force India its first points finish in China with eighth place.
• For the third straight year, Sauber took 10th place, this time with Nico Hulkenberg.
• This was the second mechanical failure in three races for Nico Rosberg: he hasn't endured such bad luck since 2006, when he retired three times on the trot with mechanical gremlins from the Hungarian to the Italian GPs inclusive.
• This was the first retirement for Mark Webber in the Chinese GP. It's also the third consecutive time at Shanghai that a wheel has come loose after a pitstop, after Jaime Alguersuari (2011) and Schumacher (2012).
• Adrian Sutil was rammed by Esteban Gutierrez, continuing his bad luck in China. He has never finished in the points in six races there and has recorded three retirements for accidents or spins. In 2011 he had another close encounter with a Sauber as he was pushed off track by Sergio Perez while chasing a points finish.
• Nico Hulkenberg is the 10th different driver to lead a race this year. Last year we had 13 different leaders over the course of the season. As in Malaysia, there were nine lead changes, while in Australia there were 10. Six drivers led in China (Alonso, Hulkenberg, Button, Sebastian Vettel, Hamilton and Felipe Massa). In Australia there were seven.
• Sebastian Vettel scored the 30th fastest race lap for Red Bull, one shy of Renault, which occupies seventh on the all-time list. This was also the 120th fastest lap recorded by a German driver.
QUALIFYING STATS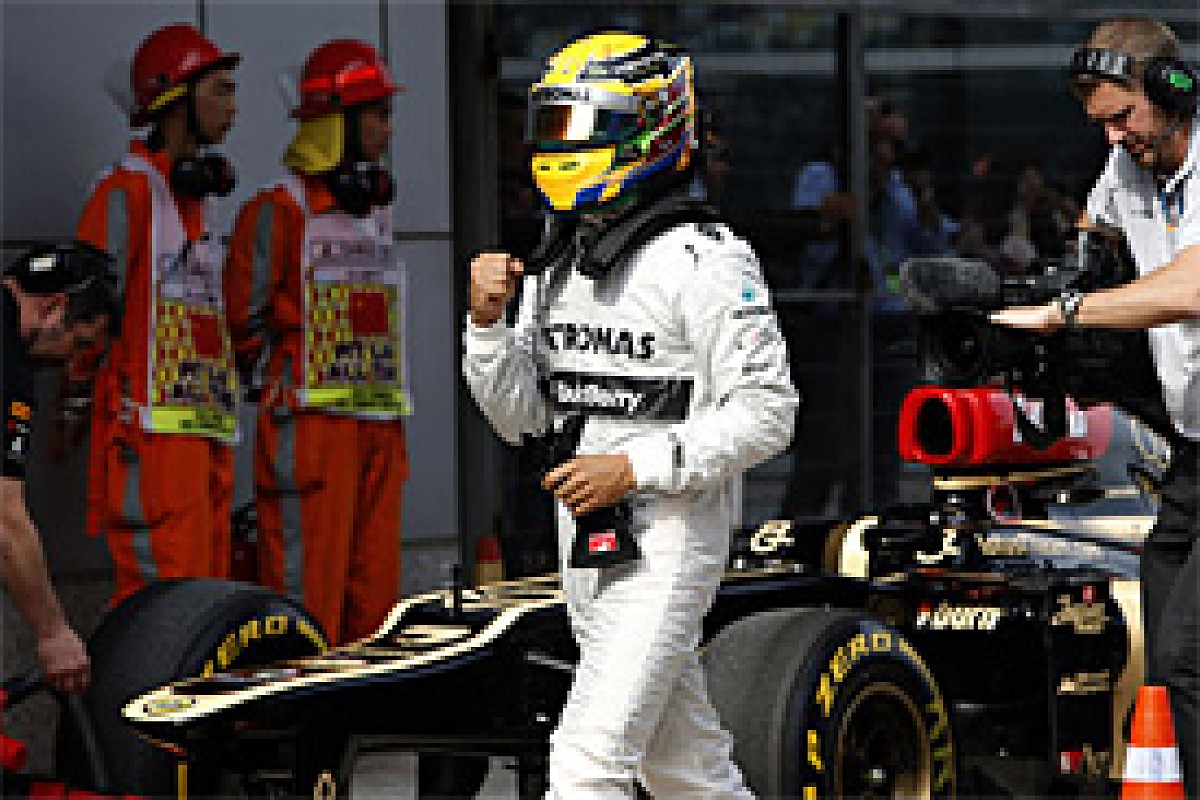 Hamilton needed just three races to get his first pole with Mercedes © LAT
• The 27th career pole for Lewis Hamilton was the 10th for the Mercedes team, after a wait of exactly one year (Rosberg, China 2012). This pole marked the third year in which Lewis clinching a top-10 (Q3) spot. He was disqualified from pole in Spain last year, but had nevertheless reached the top 10. That's 58 races in a row.
Among the current drivers, Hamilton has the highest Q3 percentage appearance - 90 per cent - having reached Q3 102 times out of 113 races. Alonso follows closely with 117 out of 131 (89 percent).
• This was the first front-row appearance for Kimi Raikkonen since his comeback to racing (and since the 2009 Monaco GP), a wait of 33 races for his 33rd front row. This race marked his 50th race without a pole position (France 2008).
• Curiously, Hamilton and Raikkonen have lined up alongside each other five times on the front row, always with Hamilton on pole. The last time before this one was in this same race in 2008.
• Fourth on the grid was Nico Rosberg's best qualifying effort since last year's Monaco GP (second).
• Daniel Ricciardo hadn't started from the top 10 since last year's Bahrain GP. Seventh spot is his second-best career result following that sixth in Sakhir.