Red Bull, Mercedes and Ferrari each have reason to feel very confident ahead of the Chinese Grand Prix after Friday afternoon practice suggested they're extremely closely matched on both qualifying and race pace.
The only nagging worry for those hoping for a close-run contest is whether or not Red Bull was disguising its true pace through running a heavier fuel load. It has happened before.
The other talking point to emerge from the afternoon's running - during which Felipe Massa's Ferrari headed the times from Kimi Raikkonen's Lotus, Fernando Alonso's Ferrari, Nico Rosberg's Mercedes and Mark Webber's Red Bull - was that the option soft tyre is going to wear extremely rapidly, but that over one lap it's around 1s quicker than the prime medium.
The top runners will be obliged to use the soft for Q3 and thereby be forced to start on a tyre that's expected to last maybe only another three or four laps before the front left is completely worn.
As in Australia, anyone starting just behind the top runners but on the more durable medium tyre stands a very good chance of leading the race, just as Adrian Sutil did in Melbourne, when the quick cars were forced to come in before they could pull away from the pack.
Button passes team-mate Sergio Perez's McLaren after the Mexican's pit accident © LAT
As things stand, this could be a good strategy for McLaren. Although the revised car (new front wing, new sidepod/exhaust layout that surrenders some Coke-bottle profile for enhanced exhaust-derived downforce) was generally felt to be an improvement, its one-lap pace appears to be as far away as in Malaysia, at around 0.8-0.9s.
However, that should still be good enough to get through to Q3. Surrendering any chance of then fighting for grid position with Red Bull, Mercedes, Ferrari or Lotus, a feasible plan might be to do the Q3 lap on the harder tyre and repeat what Sutil did in Australia.
Given that Jenson Button showed reasonable long-run pace on the medium tyre, this situation might just flatter the car - at least for a time. The delicate soft tyre will still have to go on at some stage - presumably for a very short final stint - and then it would likely fall back. The question would be by how much.
The precise order of the headline times is slightly misleading in that Massa, Raikkonen and Alonso did their soft-tyre laps some time after the others, when the track was probably faster.
Sebastian Vettel's Red Bull was baulked during his single low-fuel lap on the soft, as was Lewis Hamilton's Mercedes.
This leaves Rosberg's Mercedes lapping a couple of tenths faster than Webber's Red Bull, but with no real way of knowing where equivalent track and traffic conditions would put the Ferraris and Raikkonen relative to them.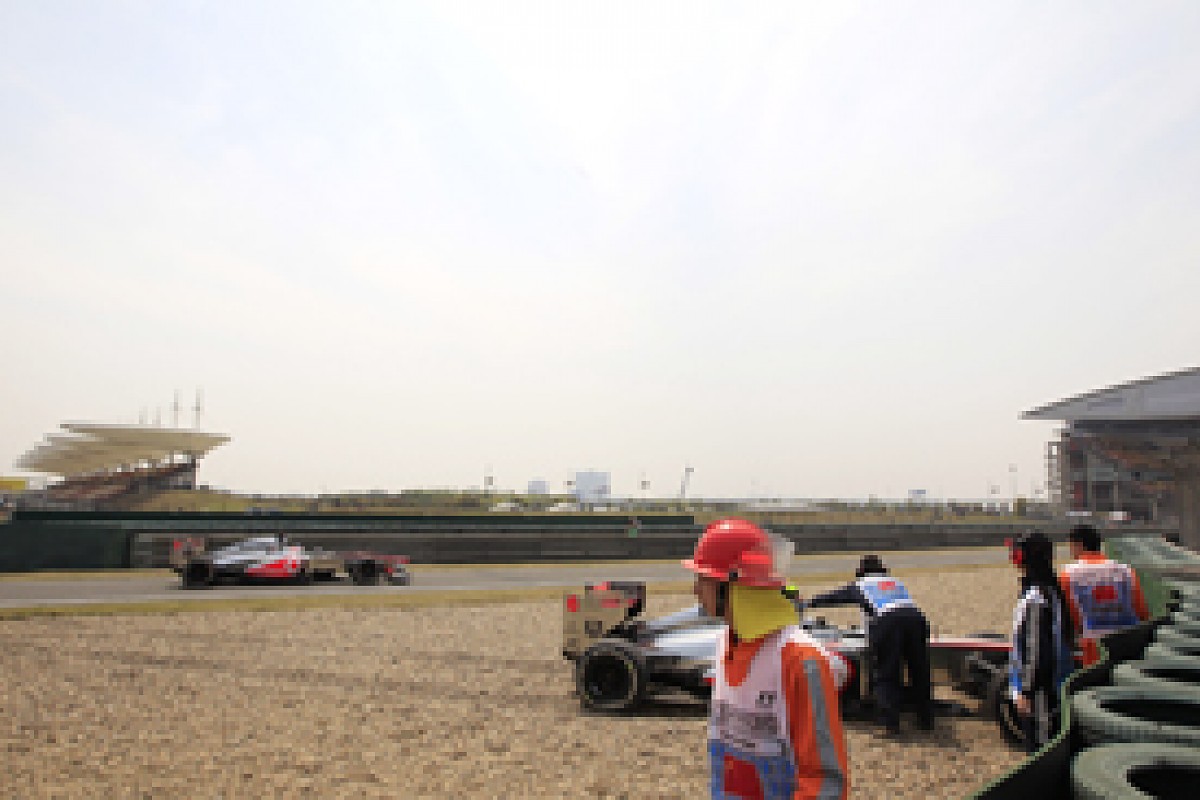 Alonso did not match Massa's headline pace © LAT
Alonso was Massa-quick in the first two sectors of his lap, then backed off in the final sector trying to get a feel for how hard the option tyre could be pushed. Most drivers were finding the grip of the fronts had gone by the final couple of corners.
Lotus, after struggling with a twitchy balance in the morning, found the car's sweet spot as the track temperatures came up in the afternoon - but only on the option tyre. On the medium it was unimpressive.
Unless the team can correct this, it's difficult to see how Raikkonen or Romain Grosjean can race with Red Bull, Ferrari or Mercedes. The one hope might be if its tyre usage allows it to do a two-stop race while the others are forced to three-stop. Traditionally the two strategies have been closely matched here - but three stops has usually held sway.
The long runs of Webber's Red Bull, Massa's Ferrari and the two Mercedes - all on the medium tyre - look very similar.
Vettel's run was interrupted by a front-wing adjustment and Button's by a tyre delamination after a bad lock-up. This put Button on a fresh set of mediums near the end of the session, probably flattering a run that appeared on the surface to be comparable with that of Alonso.
The prospect of a thrilling six-way contest could be defused if Red Bull was simply running heavier on Friday than its leading rivals. If that turns out to be the case, there's always the chance of another Vettel/Webber duel to liven things up.