FROM THE ARCHIVE: After Jules Bianchi's death on Friday night, we look back at the early impression he made in Formula 1 with EDD STRAW's April 2013 feature about his eye-catching first grands prix with Marussia

Jules Bianchi's prodigious pace for Marussia in the opening two races of this season seems to have taken the Formula 1 paddock by surprise. It shouldn't. While the Frenchman is perceived as an underachiever after failing to win the GP2 or Formula Renault 3.5 titles during his campaigns of the previous three seasons, his out-and-out speed has never been in doubt.
After all, this is a driver who was described by his ART Formula 3 race engineer, Theophile Gouzin, as "even quicker" than Sebastian Vettel in an interview with AUTOSPORT four years ago.
Far more impressive is the way Bianchi has dealt with being on the F1 grid. He is so far comfortably the most impressive of this season's five rookies.
He also doesn't expect to be at 100 per cent of his potential until May's Spanish Grand Prix, thanks to his late deal, so there is surely more to come.
Crucially, there has been no sign of the weakness under pressure that has sometimes blighted his previous seasons. Arguably, the low-pressure back-of-the-grid environment is the perfect place for his first season in F1.
Bianchi came close to landing a Force India drive, missing out to Adrian Sutil, but being in the thick of the intense fight for minor points positions may have made it more difficult for him to thrive.
"Maybe it's better to start in F1 with a bit less pressure, so you can just enjoy yourself, focus more on driving and get the experience," said Bianchi. "With the pressure before, some people said I didn't do well, but I think I did because I always finished in the top three [in his previous series].
"I made some mistakes, but every driver makes mistakes, even the best ones in F1."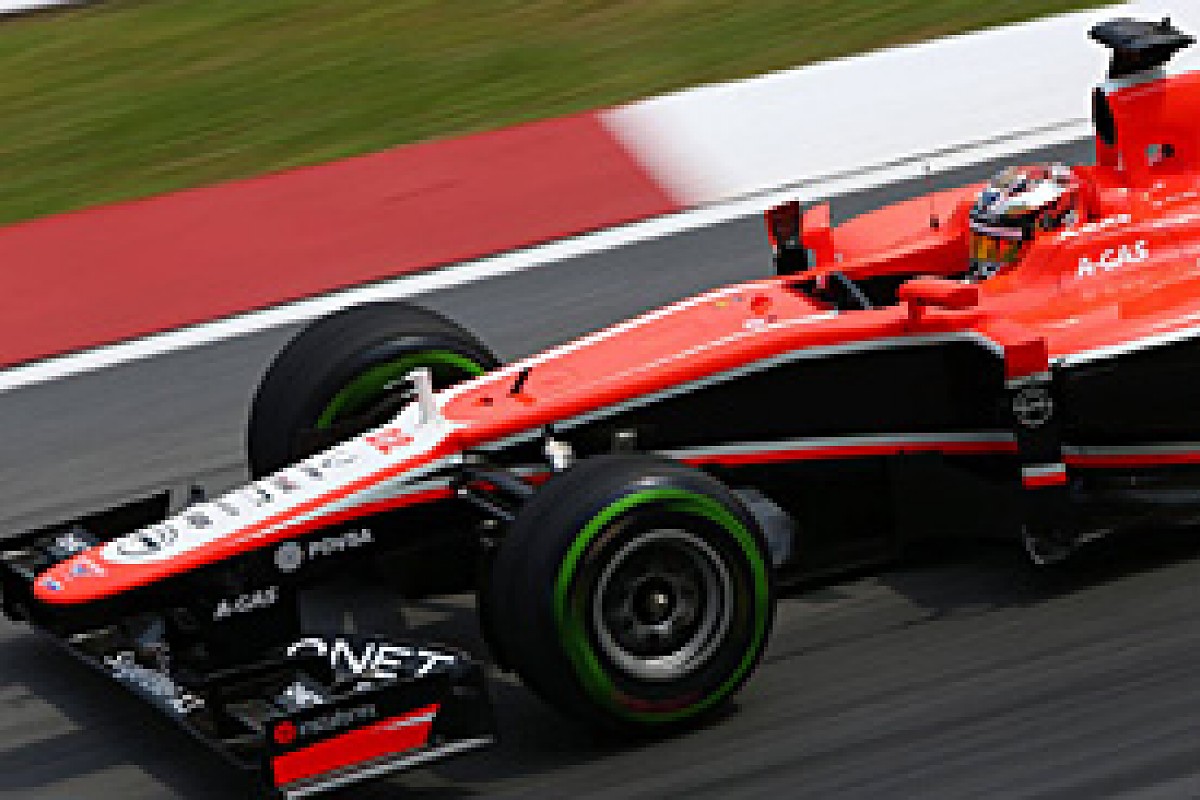 Bianchi's pace has surprised some people © XPB
Inevitably, this pressure-free environment will only last so long. Bianchi continues to be part of the Ferrari Driver Academy and is by default on the radar for a future race seat with the team.
If he continues to dominate the four-car battle between the Marussia and Caterham drivers at the back of the field and hassle the rear of the midfield pack, the 23-year-old will inevitably come into consideration for a better seat.
Bianchi is not admitting to any such aspirations. He insists he would be happy to remain with the improving Marussia next season. But he does have that desire to move up the grid.
"For the moment, my target is to have a very good season with Marussia, to learn and to be ready for next year," he said. "I need to learn the tracks because half of them I don't know. I have to learn everything about starts, pitstop procedures - it's all new. If I stay here, I will be happy, but we will see what we can do.
"Ferrari still look at me because I'm their driver. It's really important for me to do well and to show that they did a good job in choosing me. It's very good to be with a team like that. It's one of the best in F1, and it's always good to have their support. I hope we can do something in the future."
Key to Bianchi continuing to impress will be Marussia's cars matching or exceeding the development of the cars around him. The team is the smallest in F1, but it has had a clear advantage over Caterham in the first two GPs.
Bianchi's fastest lap in the Australian GP was only 1.180s off the best overall. While this was largely down to a combination of low fuel and super-soft rubber in his short final stint, it demonstrates that Marussia is improving.
More impressive is that, on average over a race distance, Bianchi has been only a minute behind the back of the midfield on merit.
Realistically, it will be difficult for Marussia to attack the midfield pack, where Williams is currently the straggler, but keeping it within sight is a realistic possibility.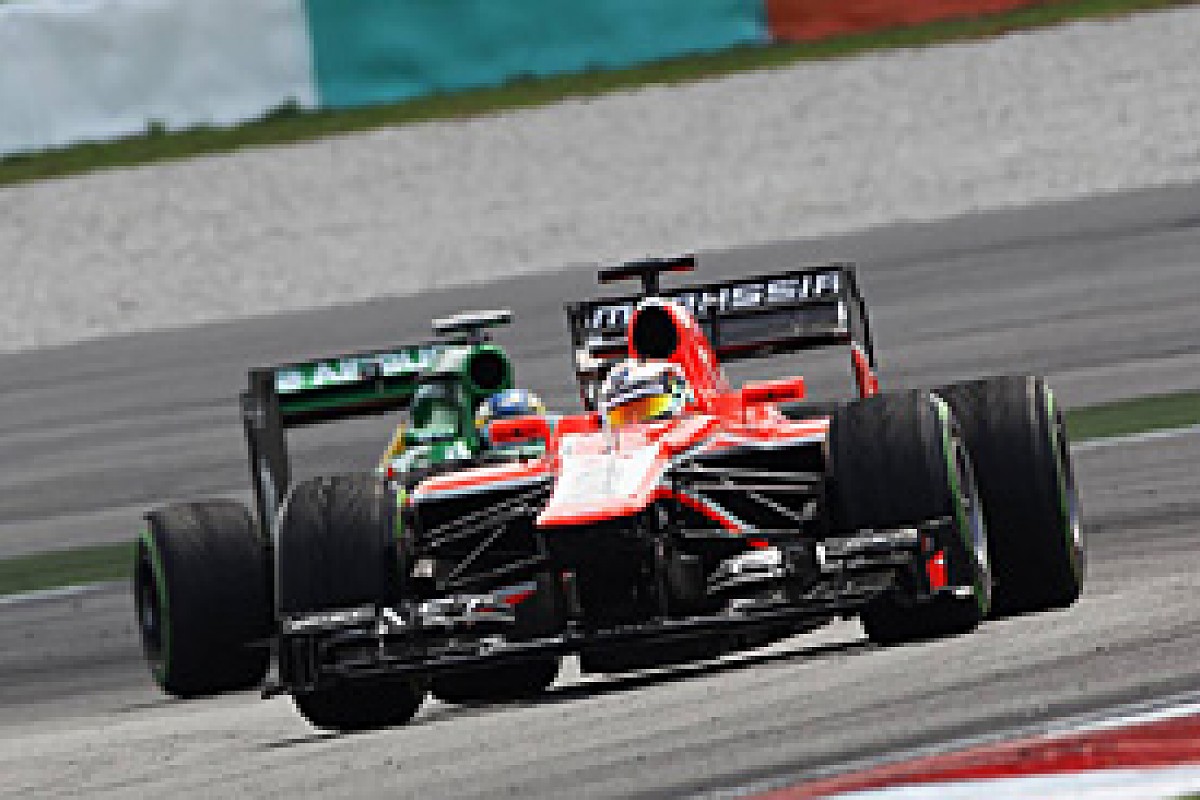 Bianchi has kept the Caterhams behind so far © XPB
"Our target is to stay in front of the Caterhams," said Bianchi. "But we will see if we can go with the other drivers in front in the midfield - why not?
"Marussia has made a massive improvement since last year, as has our engine supplier, Cosworth, which worked over the winter and now has much better engines, so we are able to fight a bit more closely with the midfield.
"We just have to tune the set-up more because it's a bit different from what I'm used to. As we didn't test much in Barcelona, it was difficult to arrive in Melbourne and be at 100 per cent.
"We also need to work on the aerodynamic side. Even though the team has made a massive improvement over last year, we still need more."
With Caterham planning a major car upgrade at the Spanish GP, Bianchi might not find it so easy to impress as the season goes on. However, if he can continue to drive as impressively as he has, there's no question several bigger teams will be interested in his services next year.