Don't let Force India's captive wheelnut catastrophe fool you; the Silverstone-based squad has made a mightily impressive start to the 2013 season. Even with that double-DNF, it holds fifth place in the constructors' championship.
Speculative tales of Force India's imminent demise have been doing the rounds amid the much-publicised travails of Vijay Mallya and the Sahara Group, which together own 85 per cent of the Silverstone-based squad.
Combined with uncertainty over its 2013 driver line-up, which was not finalised until the eve of the final pre-season test, many were queuing up to write off the team. But there are no signs of any problems on track and the team management is bullish about Force India's future.
The objectives for 2013 are lofty. Holding fifth is a long-shot for Force India, with sixth is perhaps a more realistic target given it has no business beating far bigger operations like Red Bull, Ferrari, Lotus, Mercedes and even struggling McLaren over a whole season. But the team's other target - a podium finish - seems eminently achievable, and deserved.
There have been a smattering of fourths, fifth and sixths in recent years, not to mention Nico Hulkenberg's run at victory in Brazil last year, but not since Giancarlo Fisichella's astonishing second place from pole position in Belgium in 2009 has a Force India driver stood on the podium. But the team has come a very long way since then and Adrian Sutil and Paul di Resta have shown a competitive turn of speed in the first two races of the season.
"The question is, can you get a podium on merit or are you doing it on opportunity?" asks Bob Fernley, Vijay Mallya's 'vicar on earth' at Force India as deputy team principal.
"We have moved a little bit closer to the merit side, but we are obviously not a Ferrari yet, or a Mercedes or a Red Bull and we don't have the same resources. But I think we've got their attention.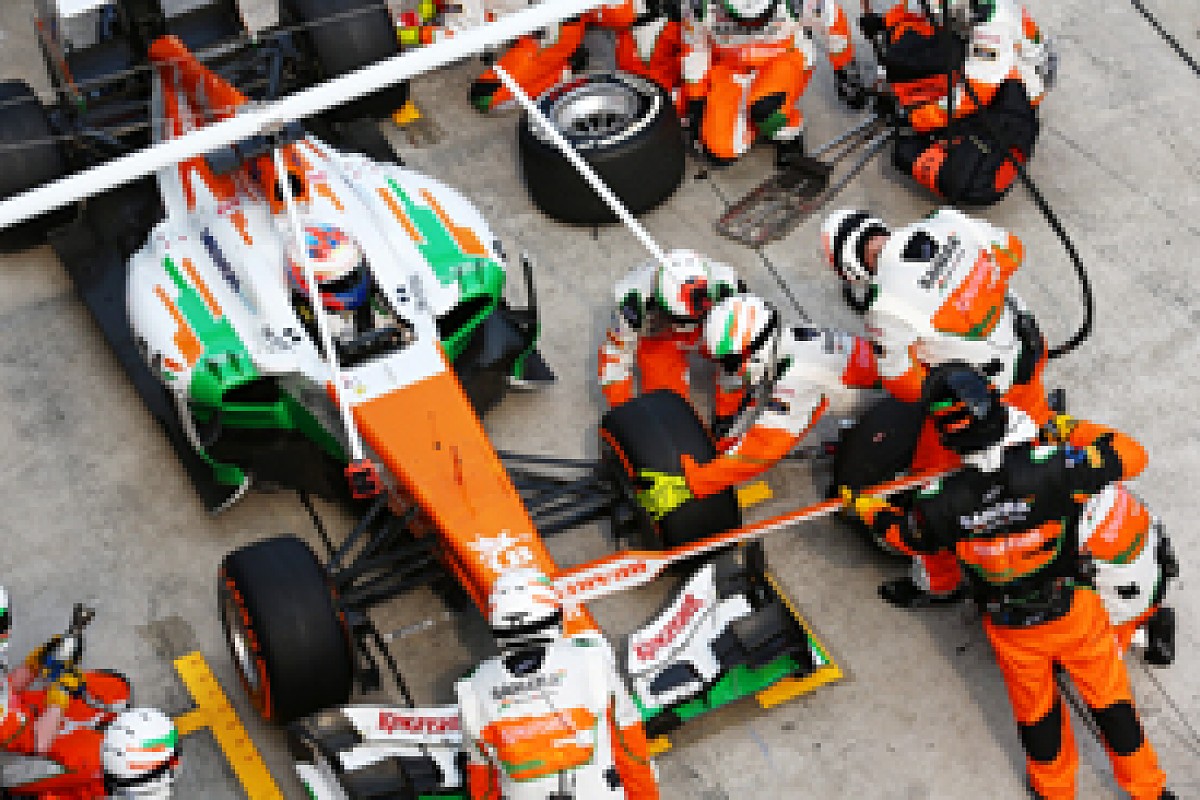 Pitstops ruined Force India's race at Sepang © XPB
"We should have won in Brazil last year, no question, and we certainly should have had a podium so that was a lost opportunity. The shareholders are putting in an awful lot of effort, personal effort as they want to see us climb onto the podium."
That Force India deserves to be taken seriously as a team potentially capable of a podium on merit this season is testament to a team that has become F1's great overachiever in recent years. That's why the lack of a podium hurts so much, with the likes of Sauber bagging three last year and having a couple of brushes with victory to hog the limelight.
The most significant contrast from the past two years for Force India is its strong start. In both 2011 and '12, it started relatively weakly before becoming increasingly competitive as the season went on. The aim is now to repeat this rate of improvement, but from a loftier starting point.
Certainly, the car looks competitive enough to score heavily after the wheelnut hiccup in Malaysia.
"After the first pitstops went majorly wrong, we sent out Paul and Adrian and they were charging through the field," says Fernley. "The two cars showed tremendous pace. We had top six pace without any issues."
"The weakness we have had over the last two seasons has been the slow start, but we have proved that the car is competitive straight out of the box. Hopefully, it will just get more competitive as it goes along because, historically, our ability to maintain development and continue to enhance performance has been very strong.
"What people didn't appreciate when we launched this car is that it is all-new. I don't think there are any carry-over items on it. There has been a lot of work on the mechanical side and when you do work on that, it impacts the aerodynamic side.
"What we looked as is the weaknesses of the car at the end of 2012 and we feel we have addressed a lot of them."
Particular attention has been paid to tyre management. Last year, Force India struggled with getting the best out of the Pirelli rubber during the first part of the season in particular. Briefly, at the Mugello test, the sweet spot was hit and the car suddenly found a dramatic turn of pace, but this wasn't repeatable.
This played a major role in its struggles in the first part of the year. Yet in Australia this year, both Sutil and di Resta were able to match tyre-friendly Lotus by two-stopping.
"We put an awful lot of effort into looking at how we managed the tyres because it's the major performance differentiator. We've got a reasonable understanding of it, although I don't think anybody is completely on top of it."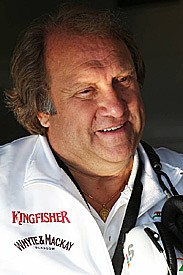 Bob Fernley © XPB
But the story on-track is only part of the picture. In the background, Fernley is working on a plan for how to allocate the £50 million being poured into the team by the shareholders. This is not simply a cash windfall to be sunk into its operational budget, but to be used to develop the team. As Fernley puts it, "it's about increasing the asset."
In recent years, Force India has gradually developed the facilities of a team that had suffered from under-investment in the declining days of Jordan and then through the Midland/Spyker era.
Since then, its CFD capacity has been developed, work has been done to refit the factory and, more recently, it has been working on its own simulator. Previously, it was limited to a few days a month in the McLaren simulator as part of its technical partnership with the Woking squad.
"We're in the process now of looking at how we are going to implement that [financial boost]," says Fernley. "It's a significant investment and therefore a significant programme and it requires six months or so to put the principles of what we are going to do together. That will be presented to the shareholders, which I expect to be doing around [the time of the] Monaco Grand Prix."
It appears likely the technical partnership with McLaren will continue. This has been central to Force India's progress in recent years. It's a credit to Mallya and Fernley that this exists at all, for it was very much a proposal they approached McLaren with and allowed it to focus greater resources on its aerodynamic programme.
In 2008, for example, Force India put a huge amount of effort into developing its own seamless-shift gearbox, which appeared mid-season and didn't do anything to haul it up the order. From 2009, it has used a McLaren-Mercedes drivetrain as good as anything on the grid. A far more cost-effective solution.
Late last year, there was some disquiet about this kind of technical partnership, with both Force India and Marussia facing some criticism for their deals. But Fernley has no doubts it can continue with its technical partnership under the proposed new Concorde Agreement. Provided, of course, a new contract is agreed.
"We are talking to them at the moment," said Fernley. "Everything that we do with McLaren and Mercedes is fully Concorde-compliant. We can continue with the programme and we are discussing that."
With the technical partnership expected to continue and a 2014 engine supply deal, most likely with Mercedes, set to be finalised soon, Force India heads into the V6 turbocharged era in far stronger shape than it was at the start of the current rules cycle.
The days when the Force Indias were a shoe-in on the back row of the grid are long gone.