Something had to give. Just like the 2010 Turkish Grand Prix, circumstance brought the ferocious competitive tension that's a part of Formula 1, but usually hidden, out into the open - and old unsettled scores and festering animosity came spilling out for all the world to see and hear.
None of this was apparent at the start, as Sebastian Vettel led the intermediate tyres-shod field into a damp first turn, the flash storm having passed, the track already beginning to dry fast.
The Ferraris veered towards each other, Lewis Hamilton's Mercedes went to their left, Mark Webber's Red Bull to their right. Fernando Alonso reached the tight downhill Turn 2 in second place, and was surprised at how Vettel seemed to almost stop at the apex. He clipped the back of the Red Bull, sliding him out wide and dislodging the Ferrari's front wing.
Webber, meanwhile, had sliced down past the Mercs and Felipe Massa's Ferrari and was now battling out second with Alonso, and would do for the rest of the lap, Fernando's sheer fighting spirit and the greasy surface keeping him in play.
Ferrari thought the only way it might rescue his weekend was to keep him out on the damaged wing for a couple of laps and then be first onto slicks, when the wing could be replaced. That was the only hope. As the wing then folded under the car at the end of the pit straight, trapping itself beneath the front wheels, so Alonso was just a passenger and he slewed into the Turn 1 gravel, having delayed Webber for all that first lap.
Vettel held the lead in a fraught start © LAT
Vettel - with a potential title rival now out of the race and his team-mate already 3.5 seconds behind - disappeared off into the humid Malaysia afternoon. That looked like being that, unless the Red Bulls destroyed their tyres. But that's not how it played out. Webber came back at Vettel and took control of the race, until...
Three of the biggest pains in Webber's world - the one-sided ferocity of Vettel's competitiveness, his protection within Red Bull and the very particular demands of racing on Pirelli tyres - all conspired to rob Mark of a victory he thought he'd already bought.
For one reason or another, days like Webber was enjoying until lap 46 are pretty rare - when he has taken on the world's best, seen off any number of challenges and emerged in front.
From the moment he placed himself beautifully through the opening sequence of turns to vault from fifth to second, he was doing everything right. The timing of his move from inters to slicks two laps later than Seb's was perfect, leapfrogging him to the front. His judging of pace against tyre life - particularly precarious on a Red Bull that's capable of more than saturating the latest Pirellis and inflicting an extra stop - was perfect.
Then, just before the third of four stops, with Vettel coming back at him, Mark was going slower than Seb, possibly trying to back him into the aggressively pursuing Mercedes of Lewis Hamilton.
"Mark is too slow," said Seb over the radio. "Get him out the way." On the very next lap Webber upped his pace by 0.3s. He wasn't slow; he was conserving. The fact that you cannot race flat-out on the Pirellis was beginning to build conflict out on track.
Later, after Seb had been leapfrogged for second by Hamilton as a result of Webber having backed him up, Mark contained the Mercedes threat, while still looking after those Pirellis. Then, Vettel used DRS to pass Hamilton and was looming back into Webber's world on the eve of the final stops.
He was aided by Red Bull having been obliged to bring Seb in the lap before Webber in response to Hamilton - Webber had exited the pits still just ahead, brawled through that first sequence of switchback turns, sidewalls almost touching, and prevailed.
Webber was leading the race after the final stops, the Mercedes threat receding as Hamilton desperately saved fuel, so team orders were imposed. 'Multi 21' both drivers were instructed, a code that essentially means turn everything down, cease racing, hold position, save the tyres. For Webber it was essentially job done, beautiful job; surely just a 13-lap cruise to the flag now.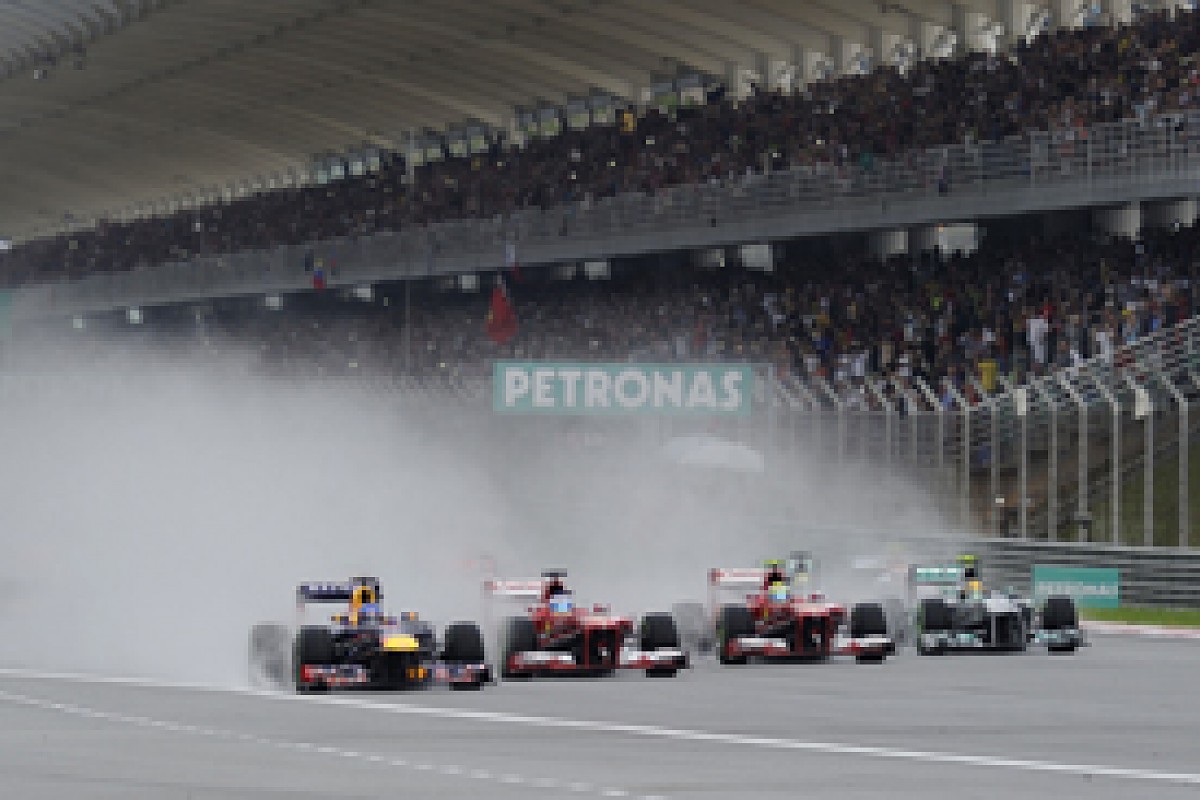 Webber is not a fan of the Pirelli era © XPB
But it wasn't as satisfying for him as it would once have been. He fell in love with an F1 that was all about pushing to the limit, seeing who could stretch furthest into those limits, the ultimate test of pure relentless, pummelling pace.
"You watch Rafa Nadal and Roger Federer play each other and it's playing with the lines, with precision for a five-set match," he said. "But we are driving at eight tenths, conserving our pace... The racing is completely around nursing and trying to make the tyres survive, and they are not conducive to driving a car on the limit. You don't see us pushing on the limit. Generally no drivers are really on the limit today."
Even before the incident on lap 46, which sent that tyre-nursing gripe into an altogether more controversial orbit, the subject had been a contentious one. The Red Bull RB9 has so much more fast-corner downforce than anything else that it's simply overwhelming a control tyre designed around equalising the field. Its tyre usage had proved disastrous during the long runs of Friday practice.
Team boss Christian Horner and technical chief Adrian Newey are very vexed about that, feeling that their rightful advantage for producing a faster car is being neutralised - just one more attempt at reining them in, part of a sequence that includes tougher flexibility tests, a limit on blown diffusers, extractor wheels and torque-limiting engine maps.
Horner has been pushing hard for Pirelli to provide something tougher in future races. His rivals - suspecting that it's only the current tyre that's keeping them anywhere near the Red Bull - laughed at the idea when Pirelli canvassed their views.
Webber is every bit as vexed as Horner about Pirelli, frustrated that his reward for aggressively pushing, using his physical strength, gaining time from standing harder on the brakes than anyone else, from the sheer competitive desire to push on, has now been nullified. Those demands have been replaced by finesse and conservation. But what's even worse, he'd grafted his whole career - 17 years - to get into a quick F1 car and just one year after he'd finally achieved that, Pirelli changed the game. As if it wasn't bad enough having to compete against a freakishly fast team-mate with in-team protection...
A similar story had been evolving at Mercedes. Nico Rosberg is emerging as a star of Pirelli-era racing, with a perfectly efficient style that minimises stressing the rubber while still maintaining formidable pace. Clear-thinking and massively motivated by the arrival of Lewis Hamilton and his reputation, he has actually been the faster Mercedes driver so far.
But he'd lost out to graining intermediates in qualifying and took until the third lap to clear the inters-graining Massa and the McLaren of Jenson Button. By the time he went around the outside of JB at Turn 4, Hamilton was already over 3s clear in third and taking the fight to the Red Bulls.
This too was reminiscent of Turkey 2010: Hamilton chasing the Red Bulls hard but eating into an aggressively light fuel load as he did so, taking a lot out of the tyres too. Just like Button at that race three years ago, Rosberg judged that he'd be better just economically hanging onto the back of that line rather than getting involved too early.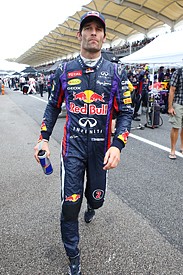 Webber's strategy played out perfectly © XPB
Vettel had initiated the stops, coming in at the end of lap five, too early as it turned out: inters would be faster than slicks for a couple of laps yet. Webber and Hamilton came in together on the seventh lap and got out with Mark now ahead of Seb, and with Hamilton's deficit to Vettel cut (even though Lewis had made a comedy interlude by briefly trying to stop at his old McLaren garage).
Rosberg had to wait until the eighth lap, but no matter: he was already well clear of the fifth-place battle. Early in each new stint Hamilton would attack, putting pressure on the Red Bulls, while Rosberg glided efficiently around saving fuel and tyres and staying in touch, but not getting so close that he would abuse that delicate rubber. He was lining himself up perfectly. "I could see them just ahead, I had the pace when needed and I felt I was fighting for the win," he would recall later, in a state of great disappointment.
Shadowing the lead trio like a below-the-radar menace, by the time he exited from his fourth and final stop Rosberg could see Hamilton's resources were spent. Lewis was in extreme fuel-saving mode and Rosberg was ready to make his move, to pick up the Mercedes baton in the chase of the Red Bulls.
It took only three laps before he was on Lewis' tail. Using DRS, he passed him down the back straight on lap 43. But Hamilton passed him back in similar fashion down the pit straight. On lap 44 the same, Nico ahead up to the final turn, Lewis retaliating down the pit straight. Then the call, the authoritative tones of Ross Brawn: "Nico, hold position behind Lewis."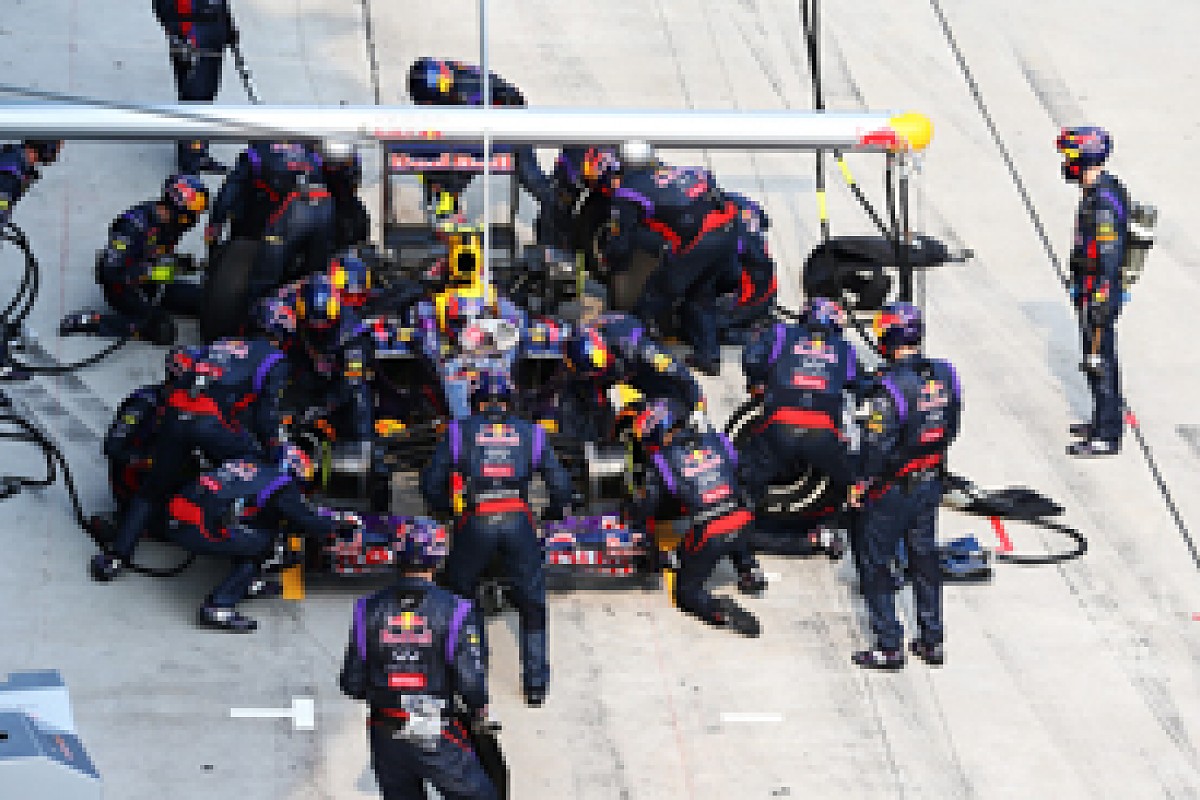 Rosberg and Hamilton went wheel to wheel several times before the team took control © LAT
"I can go so much faster, just let me past."
"Negative Nico. Lewis is doing the pace we've told him to."
"Yes, but what about the Red Bulls? We can push them. Maybe their tyres will go."
"Understood Nico. But maintain position."
He was furious, but he ultimately obeyed.
In the cockpit of Red Bull number 1 things weren't so clear-cut, Multi 21 or not. Some - in the Webber camp, admittedly - call him 'the smiling assassin' and there is in Vettel a disconnect between the giggly, open, fun guy out of the car and the ferocious, competitive animal inside it. He had not enjoyed it in the Brazil title-decider last year, when Webber's squeeze on him into the first turn triggered the choreography that had him facing the wrong way with a damaged car a few corners later. Nor when Webber was later fighting him for position and had to be told to move aside.
Losing the lead to Webber here, through pitting too early for slicks, was just one of those things, and Vettel had minimised the damage of that brilliantly. By the end of the out-lap he was fighting his way back past the group of cars that had swarmed past him as he'd struggled to bring the slicks up to temperature.
But what had happened on lap 26, when he felt Webber was trying to back him into Hamilton - and which did in fact result in Hamilton being able to briefly jump ahead of him at the third stops - surely reminded him of Turkey 2010. The build-up to their collision then had been Webber trying to back him towards Hamilton... So he used DRS to pass the fuel-saving Mercedes into lap 39, and Webber was 4.2s up ahead with 17 laps to go. There was history and animosity in this contest and the team management was going to be powerless to contain it.
Furthermore, Vettel was now on his new option tyres, saved from the day before by making one set last for both Q1 and Q2, whereas Webber had used up two sets. Webber was now on primes, and assuming he had the race won, 'Multi 21' and all that.
Vettel was in no mood for Multi 21. He was far from finished. Pitting the lap before Webber found him a big chunk of time and, as Mark had exited the pitlane going into lap 44, they were wheel-to-wheel, Webber aggressively holding him to the outside in Turn 1, chopping across him into 2 and staying ahead.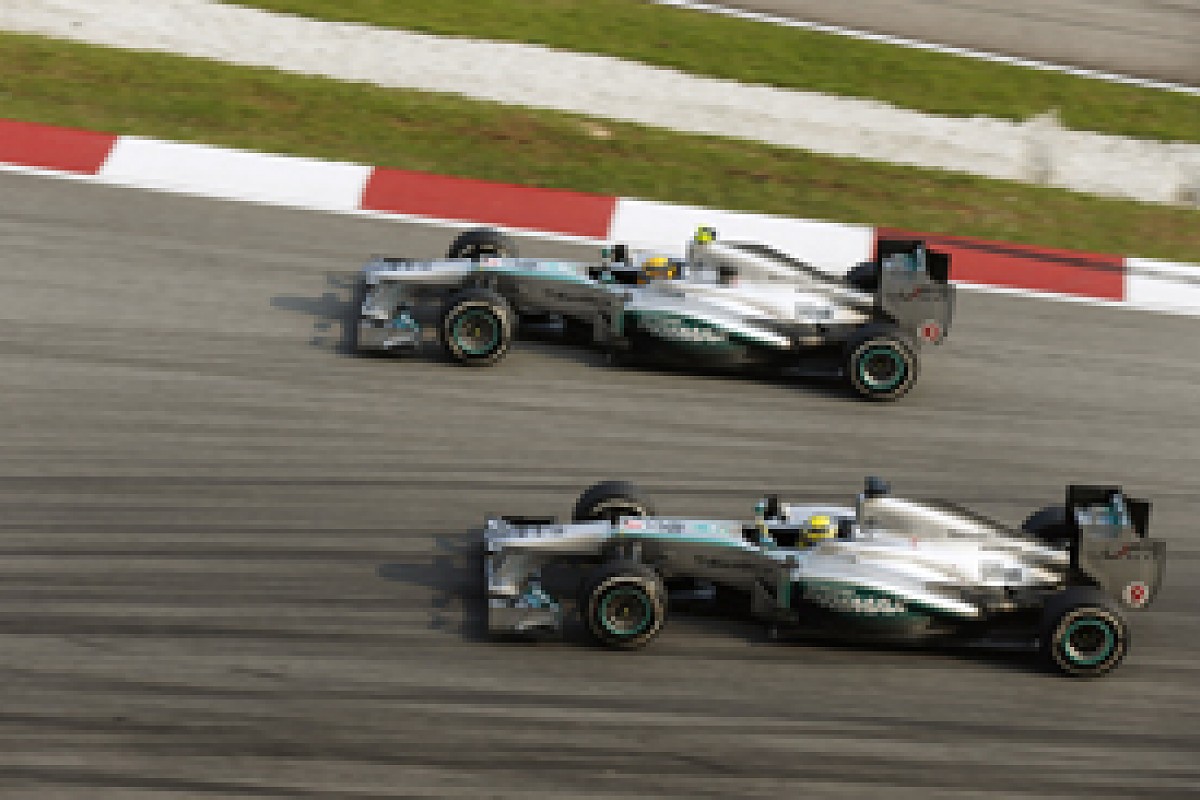 Vettel and Webber get close © XPB
"We issued the team instructions at this point," said Horner. "We were in a position to take maximum points for the team, these tyres are very delicate and we didn't want them racing and maybe screwing the tyres. The Mercs weren't all that far behind." (Mercs that, by Pirelli's own estimates, would be probably a lap behind, along with everyone else, if the Red Bulls could use their full performance advantage...).
Vettel wasn't listening, not even as Horner's voice replaced that of the race engineer on the radio as he continued to attack Webber: "Come on Seb; this is silly." Into lap 46 he got onto his KERS and DRS, aimed his car down the inside of Webber's towards the end of the pit straight, Webber squeezing him towards the wall, wheels close to touching at 180mph, Vettel coming through regardless.
Webber hung on around the outside of Turn 1, squeezed himself back ahead into the inside of 2 and compromised his line out of there. Vettel got a better run up through the kink of Turn 3, moving for the outside as they approached the tight uphill right of 4. Webber was pincered in and cautious; Vettel, with the adrenalin coursing, was fast, decisive and ahead around the outside. A clear, defiant breach of team orders.
Webber came back at him around the outside of Turn 1 next lap, but Vettel pushed him across to the edge of the track to prevent him getting the inside line for 2. Even after that he was running his KERS in overtake mode to keep Webber behind, threatening to overload it, with his race engineer imploring him to stop doing so. "Be careful with your left-front tyre," was another warning; in the cockpit was just the steely resolve of a 27-time winner.
So Webber trailed angrily, professionally, behind. Hamilton and the angry Rosberg crossed the line 12s adrift of the Red Bulls. "Remember this one," said Nico into the radio at the end.
Button - on one stop fewer - might have applied some late pressure to the fuel-saving Mercs had he not been released from his final stop prematurely, before the right-front-wheel man had finished his task. A micro-switch in the pitstop lights system erroneously produced a green for 120 milliseconds; Button reacted and was gone - only to then be told to stop. By the time this was sorted, he was nowhere and a tactical retirement beckoned.
Massa, whose day had been defined by the awful graining he suffered on his inters in the early laps, had realised late in the race that Romain Grosjean's Lotus was beginning to pull away from him but that there was still plenty of time to make a fourth stop. He did so on lap 47 and the new tyre advantage saw him quickly past Nico Hulkenberg's Sauber, Kimi Raikkonen's Lotus and Grosjean to take fifth.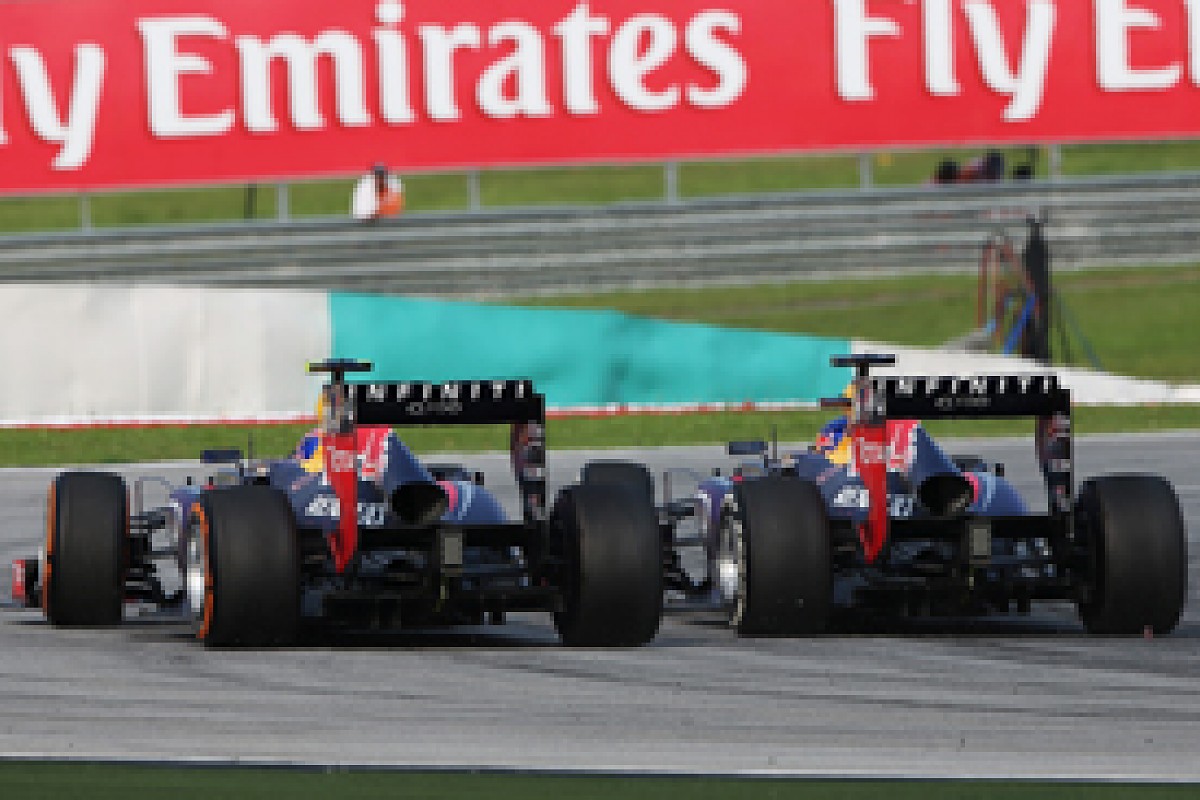 Raikkonen and Hulkenberg had a long battle © LAT
The Lotuses had been similarly poor on inters, just as in qualifying. An oversteer balance was never fully cured, and with that imbalance went their previous tyre advantage. Raikkonen spent much of the race behind an aggressively defensive Hulkenberg before finally prevailing.
Paul di Resta would have likely headed this little group, having flown in the Force India early on. Both he and team-mate Adrian Sutil were forced to retire with wheelrim failures at the second stops.
Ninth-placed Sergio Perez had such a gap over Jean-Eric Vergne's Toro Rosso near the end that he was able to bring the McLaren in for an unplanned fourth stop with just two laps to go, without losing a place. New-tyre grip on an empty fuel tank garnered him fastest lap.
As Vettel removed his helmet, so the ferocious red-eyed monster subsided and the fun, smiling Seb returned - only to be shocked by the reception he received from Webber. As the normal world rushed in and overwhelmed the intense, solitary world of the cockpit, so he had some adjustments to make.
Michael Schumacher in these situations would try to simply plough and bluff his way through; Seb came at least partially clean: "I'm not entirely happy. I think I did a big mistake today. We should have stayed in the position we were. I didn't do it on purpose, I see Mark is upset and I want to apologise to him. Apologies to Mark and now the result is there. The difference in pace at the end wasn't fair because he was trying to save the car and tyres. I took a lot of risk to pass him. I fucked up."
Just to complete the unhappy podium, Hamilton was similarly contrite: "Nico drove a much smarter, more-controlled race than I did and he should be here, not me. It's not the best feeling being here in these circumstances... These tyres make it very hard. It's not fun; I didn't enjoy the race. It's not the same as back in the day when you were pushing to the maximum the whole time and had tyres that would last."
Two years ago, after this very event, we wrote here that this new Pirelli era was just a facsimile of racing, something that looked like it on the surface but which wasn't to be confused with the real thing. Finally the players are breaking ranks to reveal the reality behind the show. As Vettel and Webber have shown, the reality isn't always pretty. But it has the virtue of being real.