HALF A MILLION UP
At the Malaysian Grand Prix, Ferrari became the first team to complete more than half a million kilometres of racing since the inception of the Formula 1 World Championship in 1950. Nearest rival McLaren is more than 135,000km short of this milestone. The leaderboard reads as follows:
1. Ferrari 500,162
2. McLaren 364,503
3. Lotus 304,433
4. Williams 284,741
5. Brabham 198,732
RACE STATS
• Sebastian Vettel's win, his 27th, puts him equal sixth in the all-time rankings of grand prix winners, alongside Jackie Stewart. Vettel is also now equal 14th in the list of podium finishers, tying with Gerhard Berger on 48.
• Mark Webber's second place makes this the 13th one-two finish by the Red Bull drivers, equalling the feat of McLaren duo David Coulthard and Mika Hakkinen. Vettel and Webber need one more one-two to come level with former McLaren pairing Alain Prost and Ayrton Senna, but have some way to go to catch Ferrari's Michael Schumacher and Rubens Barrichello, who finished one-two 24 times.
• This was the 20th pole that Vettel has converted into a win, but compatriot Schumacher is still well ahead, having won from the top spot 40 times.
• This was Red Bull's 35th F1 victory, which puts it in equal fifth in the teams' list with Renault and Brabham. The next target is Lotus, which has 81 wins to its name.
• Webber's 35th podium finish puts him equal 21st in the standings, with Juan Manuel Fangio, Emerson Fittipaldi and Felipe Massa.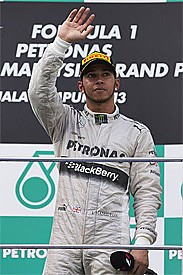 Sepang's was Hamilton 50th F1 podium © LAT
• Malaysia was a milestone for Lewis Hamilton, who took his 50th career podium (he is the 12th driver to reach this goal). His first 49 podiums were for McLaren - this was his first for Mercedes, which hadn't had a top three since Schumacher's third place in the 2012 European GP. Hamilton now needs one more podium to be level with Mika Hakkinen, who scored all his with McLaren.
• Finishing third and fourth was a new experience for Mercedes: before Malaysia, it hadn't had two cars finish in the top four in the same race since its return to F1 as a team.
• Nico Rosberg was back in the points after a seven-race drought, his worst run since his debut year in F1.
• Felipe Massa's fifth place allowed him to edge ahead of Fernando Alonso in the world championship standings. It's the first time the Brazilian has led his Ferrari team-mate on points in three years.
The only other time Massa has been ahead during their 60 races together was after Malaysia 2010, when Alonso had to retire with an engine failure. This was Massa's 70th race since his last win, in Brazil, 2008.
• Ferrari has now had 50 races in a row in the points.
• After Malaysia, Alonso is sixth in the championship standings. It's the lowest position he's been in during his 60-race career at Ferrari.
• Kimi Raikkonen notched up his 19th straight race in the points, which puts him third in the list of men to achieve this, behind Vettel (Brazil 2010-India 2011) and Schumacher, who has 24 consecutive points finishes. Raikkonen has also been classified in each of his past 30 GPs.
• Sergio Perez gained his first points for McLaren. Previously the Mexican had gone eight races without scoring - his worst run in F1 so far. His last points were in the 2012 Singapore GP. He also took the second fastest lap of the career (the first was at Monaco in 2012), and his ninth place allowed McLaren to keep alive its record of garnering points in every one of its past 60 GPs.
QUALIFYING STATS
• Vettel took his 38th career pole. The last time he recorded back-to-back poles was in Canada and Valencia last year.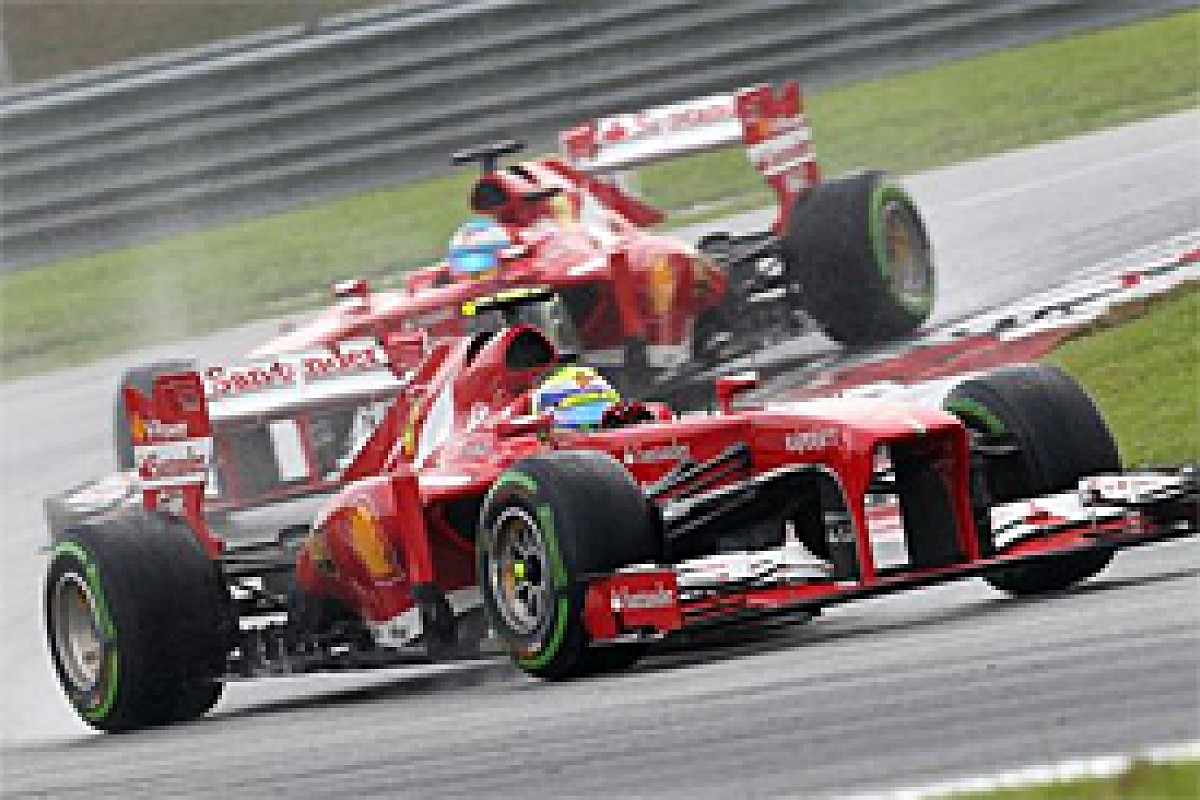 Massa has outqualified Alonso three times in a row, not counting USA 2012 © LAT
• For the first time since they became team-mates in 2010, Massa has outqualified Alonso in three consecutive GPs. He would have achieved this in Australia if the team hadn't changed his gearbox for the 2012 US GP, incurring a penalty so that Alonso could get a better grid slot.
Massa ended a drought of 58 races without a front-row start in Malaysia - the worst record for any Ferrari driver ever (Michele Alboreto has the second-worst record.
He went 54 races without a front-row start between Portugal 1985 and France 1988). The last time he was on the front row was at Bahrain in 2010. This is also the only time the Brazilian and Vettel have started alongside each other.
• Up until Malaysia, Ferrari had not had a car on the front row since the 2012 British and German GPs, whose qualifying sessions were also both affected by rain. With Alonso going to the grid third in Malaysia, Ferrari recorded its best qualifying performance since the 2011 Canadian GP, when its cars started second and third, but with Alonso in front that time.