Drivers
• Sebastian Vettel has scored points and led the race only twice in Malaysia - when he won in 2010 and '11. He adds to that two accidents and an engine failure. Last year he fell back during the race, and his hopes of winning ended when he collided with Narain Karthikeyan's HRT, puncturing his left-rear tyre.
• Mark Webber started from pole in 2010, ahead of his team-mate Vettel, but was pipped at the first turn and had to settle for second, his only podium finish at Sepang. He was fourth twice in the past two editions. His qualifying performances are particularly striking: in the past nine races in Malaysia he always been in the top 10. He has made the top-five of the grid for the past four years. He is also 8-3 up against his team-mates here.
• Last year Fernando Alonso won from eighth on the grid, with a car that was only the seventh in the fastest-laps table. He also won here in 2005 and '07, finished on the podium in '06 and '03, the latter his maiden F1 rostrum. He was also on pole in '03 and '05 and, like Webber, is 8-3 up against his team-mates in qualifying, unbeaten since '07. He recorded his most recent car failure here, in '10, a total of 56 races ago.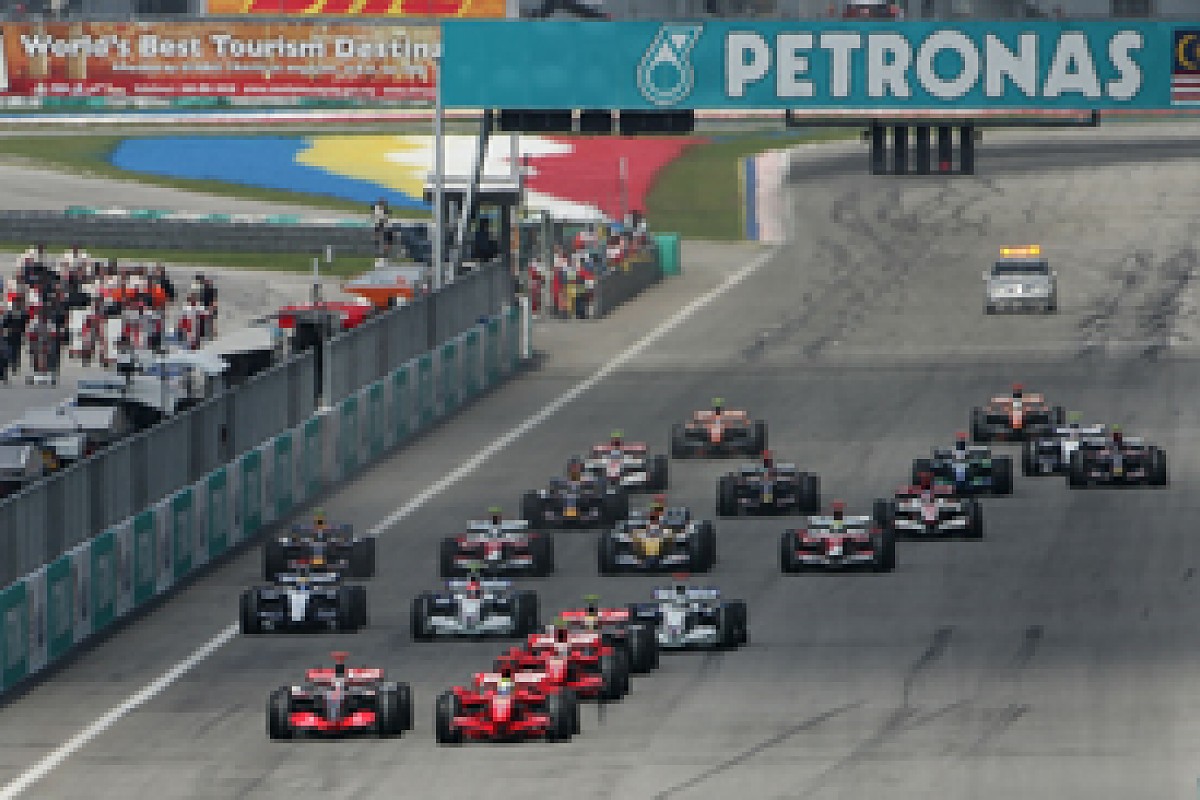 Massa was on Sepang pole in 2007, but didn't lead for long © XPB
• Felipe Massa's highlights in Malaysia are his poles in 2007 and '08, but in the races he has often been the victim of bad luck, with his best result only a fifth place. He made mistakes in '07 and '08, suffered an engine change before qualifying in '06, and in '09 and '10 missed the cut in the first qualifying session due to strategy blunders by Ferrari. His poor luck continued with a pitstop problem in '11 and a dismal race last year, in which he was the last classified finisher among the established teams, almost lapped by his race-winning team-mate.
• Jenson Button scored a weekend hat-trick at Sepang in 2009 with pole, victory and fastest lap for Brawn, and can count three other podium finishes at the track - in '04, '06 and '11. Last year he ran into the back of Karthikeyan.
• Sergio Perez scored his maiden podium at Sepang last year. He was in a position to challenge Alonso for the win, but in the closing stages he went off at Turn 14 and had to settle for second.
• It's 10 years since Kimi Raikkonen's maiden F1 win at Sepang. He took another in '08, getting ahead of his Ferrari team-mate Massa during the first pitstops. He was third in '07 and fifth last year. These four races are his only points finishes out of 10 attempts at Sepang.
His qualifying performances are not brilliant (4-6 down against his team-mates, which relates to a 1-4 in the past five editions) but in the past nine Malaysian GPs he has contested (since '02) he has always secured a top-10 grid spot. Raikkonen was a victim of one of the frequent 'Malaysian mistakes': in '09 Ferrari looked at the radar screens, guessed that rain was coming and fitted his car with intermediate tyres... on a completely dry track. He completed a couple of laps 20 seconds off the pace and came back to the pits with his tyres destroyed.
• Romain Grosjean had a nightmare race last year: in just a few minutes he had rammed Michael Schumacher on the opening lap, then spun out of the race two laps later.
Rosberg finished on the podium at Sepang in 2010 for Mercedes © XPB
• Despite being 6-1 up against his team-mates in qualifying, Nico Rosberg has scored points only twice in Malaysia: finishing third in 2010 and eighth in '09. He was leading in the latter year when the downpour hit the track, but badly-timed pitstops relegated him down the order.
• Lewis Hamilton has won at 16 different circuits in his F1 career (Montreal, Indianapolis, Hungaroring, Fuji, Melbourne, Monaco, Silverstone, Hockenheim, Shanghai, Singapore, Istanbul, Spa, Nurburgring, Yas Marina, Monza, Austin), but Sepang is not one of them. He was second in 2007 behind his team-mate Alonso and third last year after starting from pole. He has always scored points at Sepang and has never been classified below eighth.
From '08 onwards his performances were always dented by mistakes, penalties or mechanical failures, either in qualifying or during the race ('08: five-place grid drop for blocking and a wheel-nut problem in the race; '09: pitstop issue and a spin; '10: team mistake in qualifying - he was only 20th on the grid; '11: 20s penalty after a duel with Alonso; '12: a problem at his second pitstop when leading dropped him to third).
Teams
• Red Bull scored a one-two at Sepang in 2010 and won again in 2011, thanks to Vettel. Last year, however, due to the mixed weather conditions, Webber was fourth and Vettel well down the order after a puncture.
• McLaren's last win in Malaysia came in 2007, when it took a one-two with Alonso and Hamilton. Last year the team secured its only Malaysian GP pole.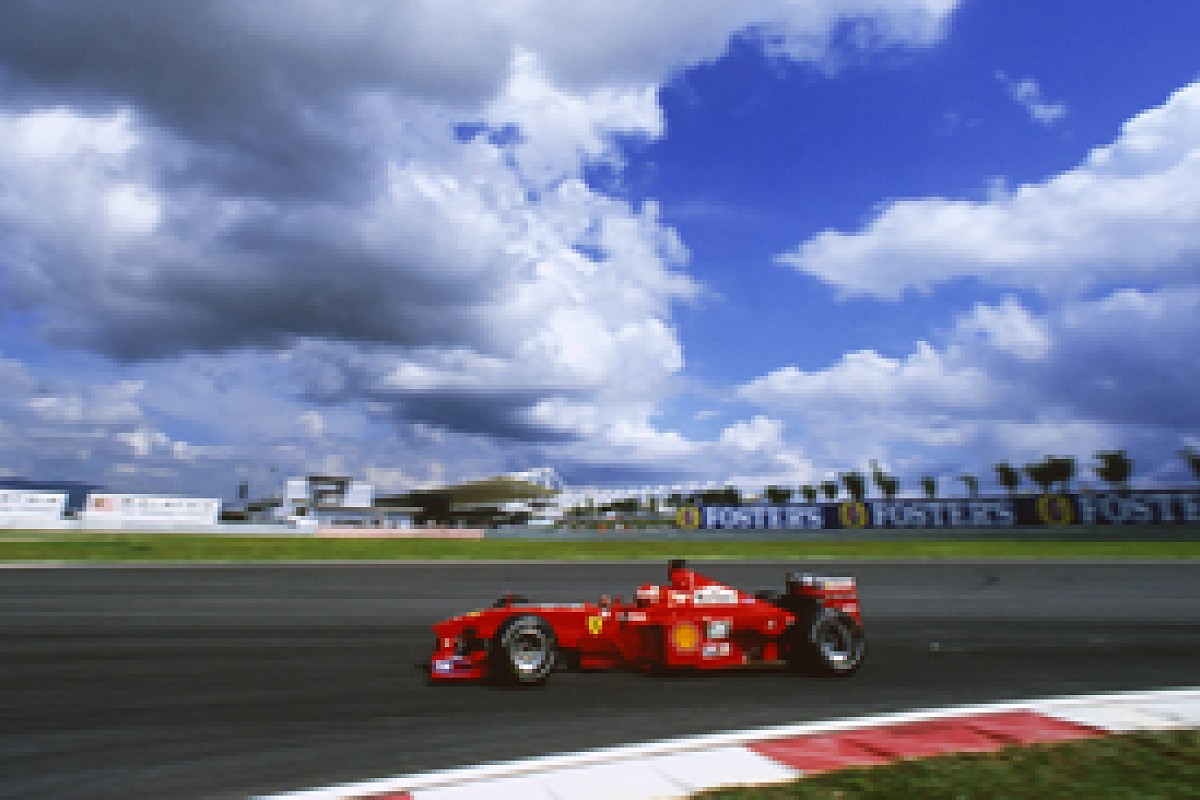 Irvine won inaugural Malaysian GP for Ferrari in 1999 © LAT
• Ferrari is the most successful team in Malaysia, with six wins, to the two of Renault, McLaren and Red Bull. The Scuderia has missed out on pole at Sepang since 2008 (a front-row lockout). In the past five years the only podium finishes for the Prancing Horse have been the victories of Raikkonen (2008) and Alonso (2012).
• Mercedes claimed a podium spot with Rosberg in 2010, but has not fared better than ninth since.
• Lotus has yet to score a podium at Sepang under its new guise, although the Enstone team won as Renault in 2005 and '06.
• Williams took a one-two at Sepang in 2002 with Ralf Schumacher and Juan Pablo Montoya, while its most recent Malaysian podium came in 2005 with Nick Heidfeld.
• Force India has a remarkable points-finishing record at Sepang: it has scored in the past three years, last year with both cars. It has only ever had both cars in the top-10 on the grid in 2010.
• Last year at Sepang, Sauber scored its best result (not counting its BMW years) with second place for Sergio Perez.