A glance at Formula 1's record books shows that rain has regularly stopped or delayed races, with, in fact, the third world championship round of the inaugural season in 1950 having been halted at two-thirds distance due to a storm.
To be fair, though, the race was the Indianapolis 500 at the Brickyard, which until 1960 formed an anomalous part of the world championship. Ovals and rain have never been easy bedfellows.
The sport would wait 21 long years before rain again stopped play, with the 1971 Canadian Grand Prix holding the distinction of being the first true world championship round to be flagged early, after 64 of 80 laps.
Where the sport endured two decades before a repeat, it had a gap of three years to the next - the 1974 Brazilian GP - then a year to Britain 1975.
More recently, Malaysia 2009 was stopped at half-distance, while Jenson Button's winning time for the 2011 Canadian GP was 4h04m39.537s - well over the two-hour maximum stipulated for grands prix, and indicative of how long the race was suspended.
That year also featured a halted Austrian race, and so the trend continues, with races and qualifying sessions regularly postponed or red-flagged.
The latest incident was last weekend's Australian GP qualifying session, which was eventually completed the following morning.
Rain knows no calendar; thus, had a storm of the same severity hit Albert Park 24 hours later, the race would have been truncated before quarter-distance, with no chance of a restart due to failing light.
The 1971 Canadian GP was red-flagged because of the poor weather © LAT
While flooded tracks without doubt influence the decision-making process, another major factor is the trend towards starting events in eastern time zones later in the hope of attracting larger audience numbers through more hospitable transmission times in the rest of the (western) world.
As a result, when races are postponed, officials invariably find themselves backed into darkness - another anomaly of the commercial rights deal struck between the FIA and Formula One Management, for race weekend schedules are the prerogative of the commercial rights holder, yet FIA officials are expected to execute them.
It seems somewhat counter-productive to schedule races at pretty weird hours in host countries, then present viewers with footage of streaming tracks and little else - all in the name of attracting eyeballs across the world... but this is F1, and TV ratings are the sport's lifeblood.
Whatever happened to the dictum 'the show must go on', for F1 is now as much about show as go?
While the sport wrestles with falling TV numbers - certainly live ratings - and teams squeal about diminishing sponsor pots, its global fan base, whether live or TV, is treated with absolute disdain, with little thought given to folk in the stands who have spent the equivalent of a month's salary on their annual pilgrimage to whatever high temple of speed. Let them sit drenched for hours as officials argue about restarts...
However, should the commercial rights holder see reason and adhere to universal 14:00 starts across the world, only the Australian, Malaysian, Japanese, Korean and Indian GPs would gain reprieve, for all others start at 14:00 (or earlier) save for the two Middle Eastern rounds. Obviously these are unlikely to be troubled by torrential storms at dusk.
In common with all races regardless of geographic location, eastern-zone events are vulnerable to the main scourge of wet running, namely aquaplaning, an issue no amount of time-shifting will resolve, for the root causes lies fairly and squarely in the engineering domain: cars too low to negotiate standing water; insufficient drainage; tyre treads too 'shallow' to disperse sufficient water; slippery white (or even invisible black) lines on the track surface.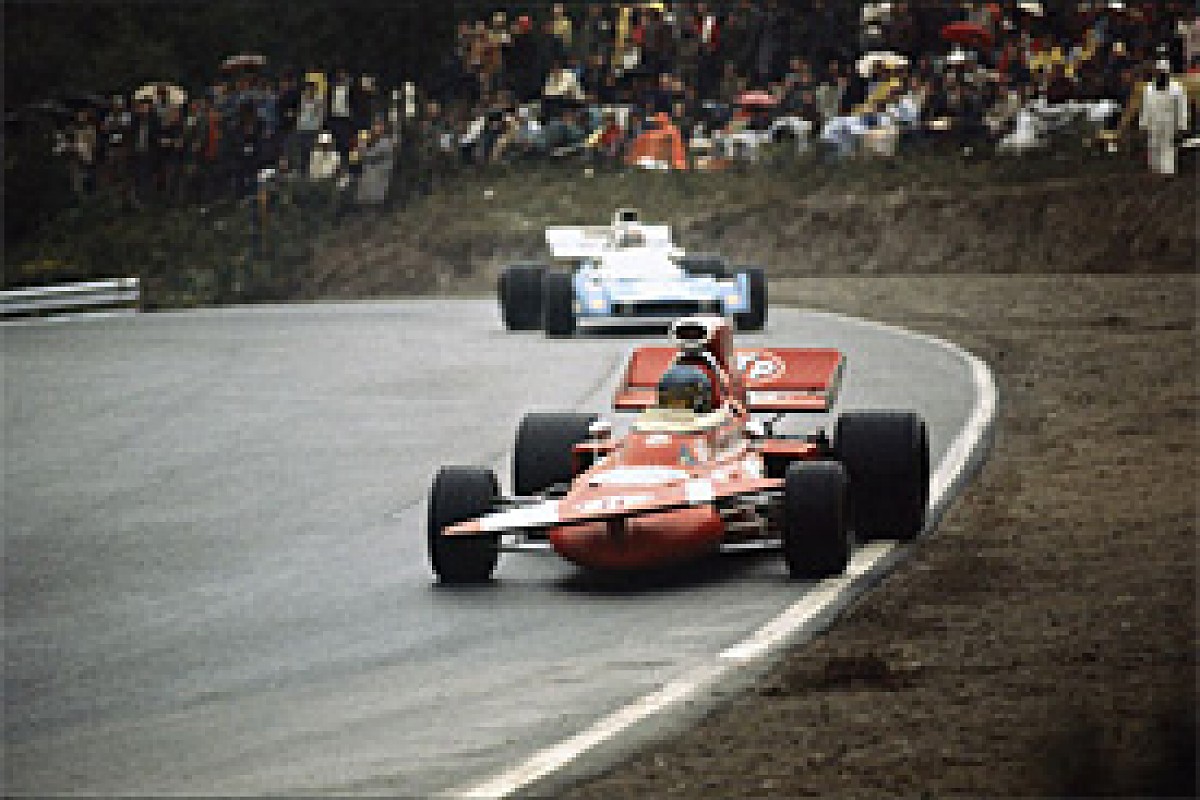 Pirelli's full wets © XPB
Pirelli has unfairly come in for stick for providing tyres seemingly unable to handle such conditions, yet the company supplies regulatory rubber. Bluntly, were the authorities to demand mud-plugger tyres, then Pirelli could just as easily supply those as supersoft slicks.
"You know, you can put a tractor tyre on if you wanted to and go through two foot of water," the company's motorsport director Paul Hembery told this column in Australia. "I'm having a laugh; I'm being extreme. We can obviously design whatever they want, but will we do an extreme wet tyre, and not use it?
"The reason there's no extreme wet tyre is because it wasn't being used, because sessions were cancelled in the past."
Hembery is clear on what F1 needs to do to substantially reduce the number of cancelled or interrupted races: "What I'm saying is, what is realistically achievable, and what do we want to achieve? Most certainly, the ability for teams to change car set-up after a wet session is going to be vital. Because if you have a forecast saying the race is going to be dry on Sunday and you're running on the Saturday in qualifying and it's wet, you're going to be compromised.
"If they can change the car after the qualifying session, then of course it's a different story. This happens in GT racing. You know, you have a wet set-up and you're able to change it."
Seems pretty reasonable. In simple terms all it would require is a change to parc ferme regulations, which currently ban set-up changes except in the event of official change in climatic conditions decisions, which - by their nature - are after the event.
This was the case in Melbourne: Sunday's forecast was for dry conditions, so teams set their cars up accordingly for qualifying - low ride heights, and consequently aquaplaning off.
Although some suggest F1 cars should run narrower wet tyres in order to 'cut' through puddles, Hembery points out that contemporary F1 cars already have narrower front tyres - the major cause of aquaplaning at speed - than supercars.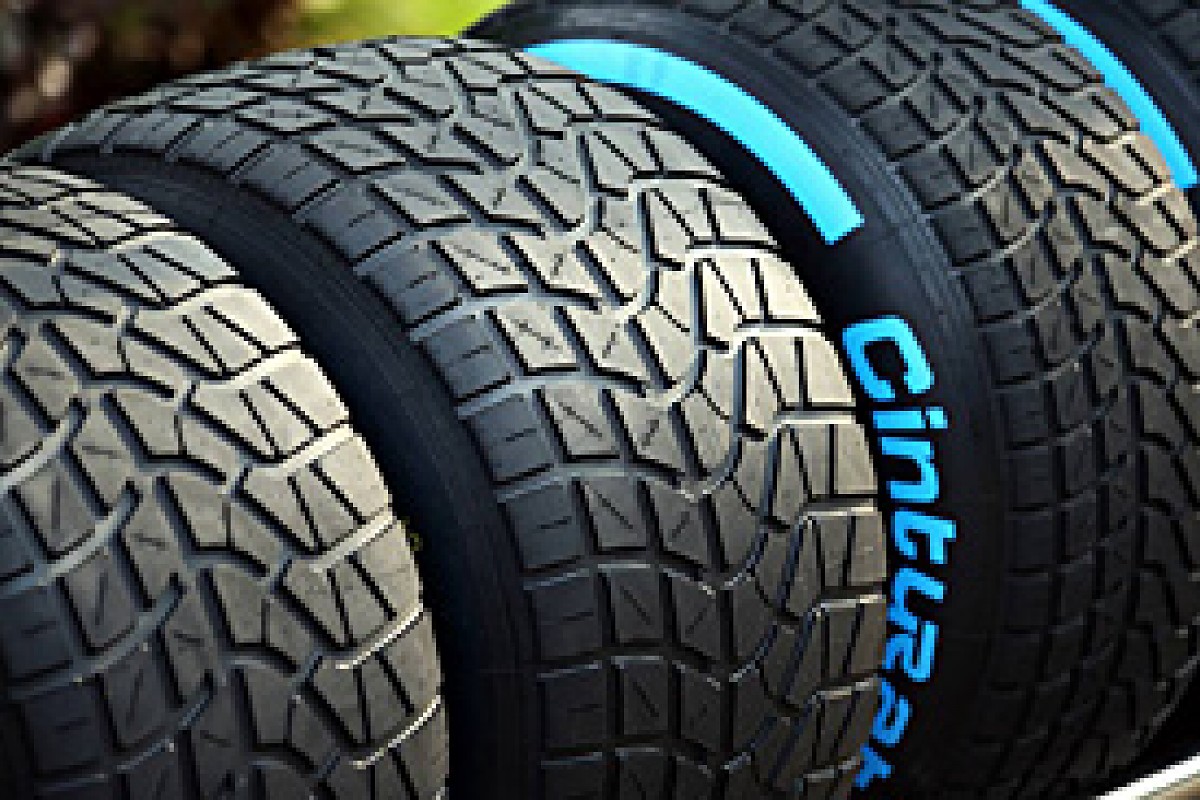 Australian GP qualifying was moved to Sunday © XPB
"If you're on a motorway and you have aquaplaning, it's your front tyres that are going to put you in trouble. The reason you get a front and a rear tyre differential on high-performance sports cars is partly to do with aquaplaning. At the moment you've got small fronts - 245mm width. Supercars have wider fronts than that, so it's not just about width," he argues.
The regulations make provision for wet tyres to have larger diameters than do their dry-weather equivalents, with Clause 12.4.2 of the Formula 1 2013 Technical Regulations stating the "complete wheel diameter must not exceed 660mm when fitted with dry-weather tyres or 670mm when fitted with wet weather tyres."
Hembery believes wet-tyre diameter could be raised further to prevent the flat underbodies of cars surfing on puddles, but reckons a more holistic approach should be taken, one which would also see cars raised via set-up/suspension geometry, complemented by deeper tyre treads.
"Obviously with wet tyres we're trying to raise the height of the vehicle, we raise them by the diameter. So we're already artificially trying to lift the vehicle.
"So if we make the rain tyre at the current diameter of the slick, they'll rocket, they'll fly off everywhere. So we're artificially raising the car," he explains, adding, "It's probably better that we raise the car itself, rather than trying to do it all with the tyre."
"Yes we can," he responds when asked whether it would be possible to gain more ride height through larger diameters. "But it's a combination of making basically a bigger-tread-depth tyre... a couple of millimetres; two millimetres more tread depth."
Then there's the question of painted lines: with F1 increasingly embracing semi-street circuits, drivers face hazards regularly experienced by motorcyclists, namely non-existent grip offered by white lines painted either to demarcate track parameters, or existing lines designed to aid traffic flow during the streets' day jobs.
Worse, though, are the blacked-out lines increasingly found at circuits, mainly for aesthetic reasons.
"At least we can see the white ones... every time you hit a line it's super-slippy," said Jenson Button, who previously complained about the lack of non-slip paint, in Melbourne.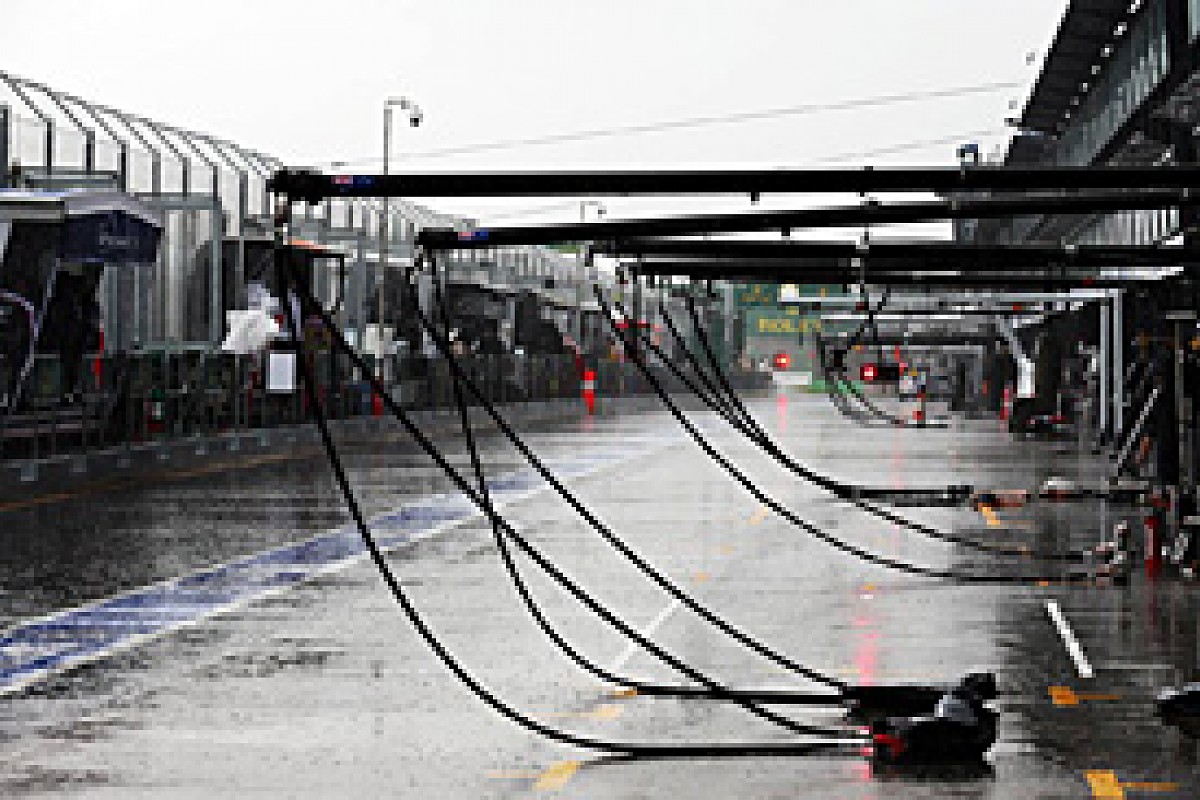 No sweeping was enough in Melbourne © XPB
Surely the sport's authorities have a responsibility to not only lay down minimum standards, but ensure circuits adhere to them. Surely the FIA should, though its institute, foundation and road safety campaigns, commission studies into the coatings used, thereby contributing to safety on road and track.
Thus it is clear the solution does not lie in the hands of any single entity and that various parties have roles to play in ensuring the show does, indeed, go on. One group, though, can be singled out: the teams, for ultimately they shape the rules through technical and sporting working committees - upon which each team is represented.
Effectively the teams need to have the collective will to frame technical regulations that deliver cars able to run on surfaces other than bone-dry tracks. With events in countries such as Mexico and Thailand on the cards, the likelihood of wet races will increase.
AUTOSPORT's technical consultant Gary Anderson, who designed winning cars during his 30-year career, believes the solution lies in reduced aerodynamic dependency and more mechanical grip, in combination with the solutions proposed by Hembery.
"One of the things you have now with the cars is obviously at low speed they have a certain ride height and then down the straight at high speed they press themselves onto the ground because they have so much downforce," he says.
"Reduce downforce, then put tyres on the car... the tyres will make the grip up, and then for the wet you have a bigger tyre." In short, low aero grip and high mechanical/chemical grip.
Studies into the design of alternate underbody 'planks' should also be commissioned, he believes, for the flat versions specified by the regulations turn the cars into catamarans. "A trap of some sort, to break the water up on the ground, at the front of the car; you'll have to do research on that.
"The big thing I would do," he concludes, "and I've pursued it for many, many years - is to get rid of 40 to 50 per cent of the downforce on the car. Just change the underbody of the car, so going back a bit, to a more GP2-type tunnel..."
When the sport faced a 'switch-off' due to a dearth of overtaking, the FIA took the initiative and formed what was called the Overtaking Working Group. Wider front wings and gawky rear wings that facilitated overtaking by reducing 'dirty' air, were the first products of the brains in the OWG; next came DRS, credited for much of the current spectacle.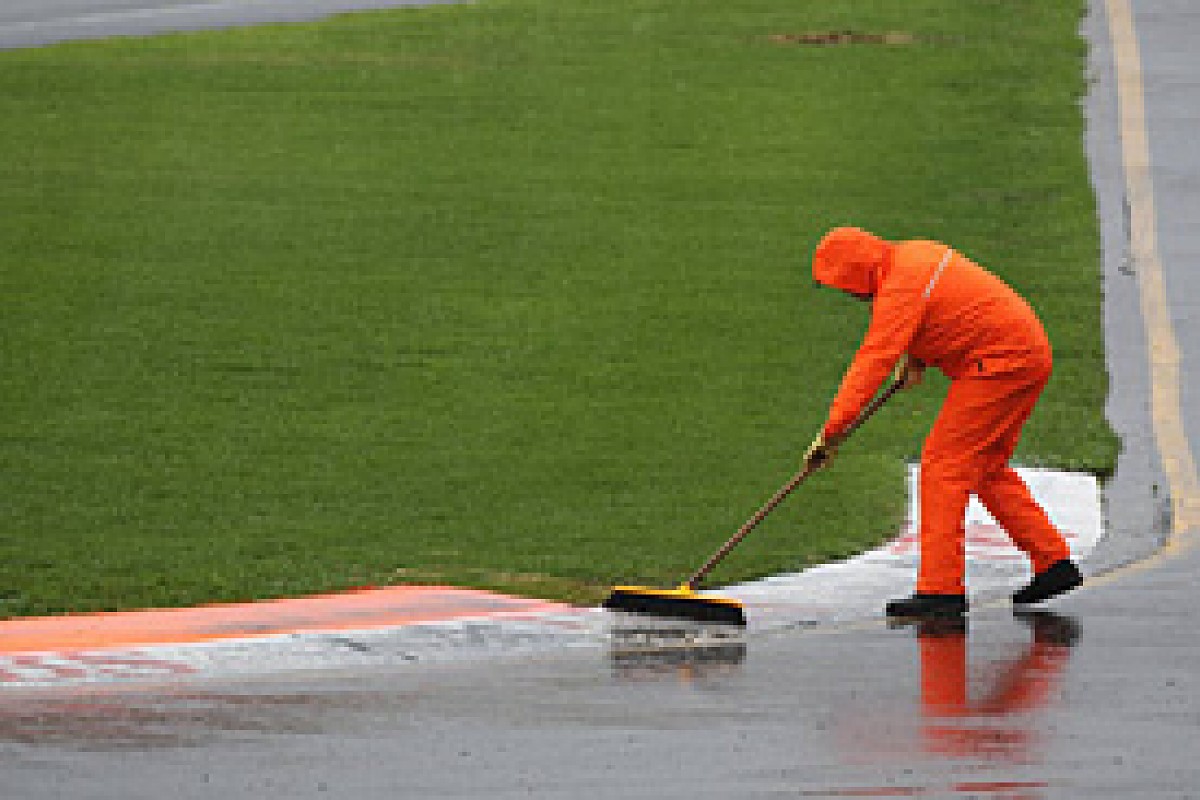 F1 cars are not currently designed for the wet © XPB
Should the sport not be looking at a Wet-Weather Working Group (or similar)? Do the yet-to-be-finalised 2014 regulations not provide a perfect opportunity for change, even if only initially to the sporting regulations (in particular parc ferme) and tyre/set-up technicalities? After all, one of the primary objectives of the '14 rules is to introduce greater road-relevance to the sport.
"We could do a better job," admits McLaren team principal and FOTA chairman Martin Whitmarsh. "But there is a limit to what you can do to pump sufficient water. I suspect we now have 2014 regulations that are sufficiently fixed, but wet weather running is something we must take on board for the future."
It ultimately boils down to appetite, and here the Malaysian paddock made clear that the sport's bigwigs would rather deflect the issue than face it head-on, their get-out cards being that other sports also suffer postponements and delays due to wet weather, and that spray causes the cars to be unsighted.
Yes to the former, but the main difference is that a Wimbledon final can be played on Monday afternoon with little disruption, whereas grands prix cannot simply be run 24 hours later, particularly not in public parks.
No, though, to the latter: is F1 not the pinnacle of automotive engineering; is not engineering broadly defined as a discipline dedicated to delivering solutions to problems? Yet, it seems, F1 would rather skirt this very real issue. After all, do not trucks have anti-spray devices?
That F1 has an increasing wet-weather problem is clear. Equally clear is that a multi-disciplinary approach is required, one involving the rights holder, circuit promoters, Pirelli, the teams collectively and, ultimately, the FIA.
"There's many aspects and facets to it, but ultimately, yes, we would happily work with the sport to create a solution to wet conditions, provided it gets used," says Hembery - in stark contrast to some of F1 's engineers.