Uh-oh! Was the winter-testing picture of a closely-matched fight just an illusion? Sebastian Vettel could have done a lap that was significantly faster than his session-topping effort on Friday afternoon in Melbourne - and even that was 0.4s clear of the best non-Red Bull.
The RB9 appears on track to simply have a lot more grip than even the best of its rivals around Albert Park and on a race-stint simulation appears to be looking after its tyres well, too.
As Vettel was making his low-fuel, supersoft-tyre run, he encountered traffic and so aborted the lap. After completing a further slow full lap to bring the tyre temperatures under control, he let rip with his best effort, a 1m25.908s. The best educated estimates of the lap time drop-off from the supersoft on a second flying lap is around half a second, which suggests that a 1m25.4s was within Vettel's grasp.
The best non-Red Bull time was that of Nico Rosberg's Mercedes at 1m26.3s. That said, Lewis Hamilton had been consistently quicker, run-for-run, than team-mate Rosberg, but then did not get to complete his programme, sliding off as a result of a glitch in the throttle-blipping facility as he downshifted. But even if he had maintained his earlier 0.5s advantage over Rosberg, that would still leave Vettel potentially 0.4s clear of Hamilton.
Mercedes was looking good despite issues © XPB
Looking at pace on the medium tyres, Vettel led the way at 1m26.2s. Next fastest was Hamilton on 1m26.7s, then Felipe Massa's Ferrari on 1m26.9s.
It all paints a picture that looks suspiciously like the Red Bull domination of two years ago. Mark Webber's session didn't go totally smoothly and he lagged a couple of tenths behind even the compromised time of team-mate Vettel. But that was still good enough for second quickest.
Mercedes, Lotus and Ferrari look very evenly matched. Neither Mercedes completed the session, as Rosberg suffered a gearbox problem in addition to Hamilton's glitch, meaning we didn't have a precise take on their likely stint performance. But the Hamilton-Mercedes combination represents perhaps the best chance of splitting the Red Bulls in qualifying.
Looking at Ferrari's race pace, Fernando Alonso did a seven-lap sequence on mediums that averaged around 0.5s faster than Vettel's on the equivalent tyres. But typically Ferrari's baseline fuel weight in these simulations is around 30kg lighter than Red Bull's - suggesting the actual picture has the Red Bull fastest by around 0.5s, thereby backing up the picture suggested by the low-fuel runs.
Romain Grosjean did a similarly fast long run to Alonso and it's clear the compliant Lotus behaves much like last year's car in looking after its tyres. Intriguingly, the Mercedes appears similarly compliant and in both its body language and the pattern of its laps it is very similar. It looks for all the world like a silver Lotus, which is perhaps not too surprising given that chief of Mercedes aero Mike Elliot was recruited from Lotus a year ago.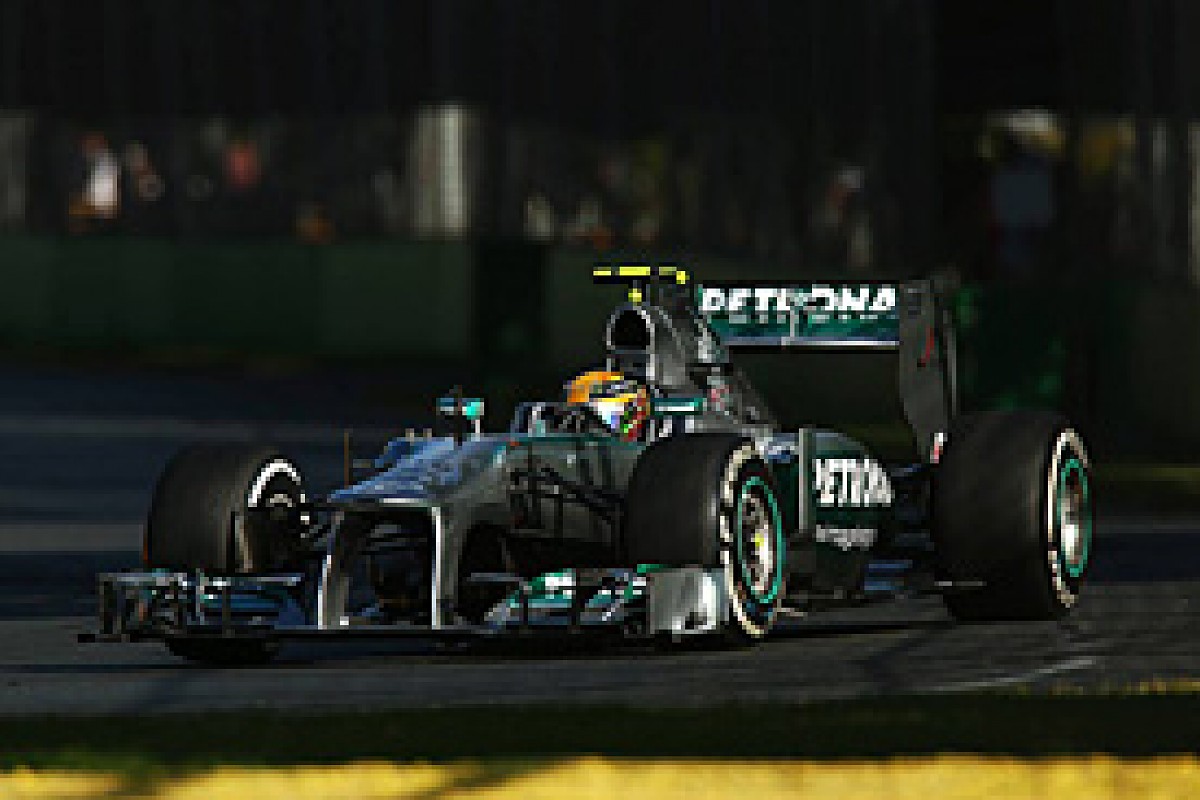 Ferrari looks to be around half a second off the pace © XPB
From the perspective of the first race of the season - and with the proviso that things change very quickly - Lewis Hamilton's move from McLaren to Mercedes looks perfectly timed.
The MP4-28 is a very difficult beast at the moment, with a significant lack of downforce and stubborn understeer problem, a poor ride and heavy tyre degradation.
"From what we saw today it looks as if we are 1.4s away even from making Q3," said Jenson Button, "and over two seconds from pole. The car is just not working as it's supposed to and we need to understand why. But don't forget how Ferrari looked here this time last year."
If there is a glimmer of hope for Red Bull's rivals, it is that Vettel suffered the not-uncommon Red Bull KERS problem in the afternoon. The bad news is that even without KERS it would probably have the performance to beat the field.