Technically, the eighth and final season of Formula 1's 2.4-litre V8 formula may be just a formality while the big challenge of 2014's turbo V6 formula is prepared for, but competitively it's poised to be very juicy indeed.
It's fair to say that, with six titles from six in the past three years, the Red Bull/Sebastian Vettel combination has stamped its position as the dominant force on this formula.
The degree of difficulty in this level of achievement is borne out by the fact that only two other drivers - Juan Manuel Fangio and Michael Schumacher - have won three consecutive titles in the 63-year history of the championship.
Of the constructors, just Ferrari, McLaren and Williams have ever matched it. It's all the more remarkable given that the team was a minnow as this formula was born, and Vettel had yet to even make his F1 debut.
The level of domination that's followed from a team finally properly harnessing the talents of Adrian Newey - arguably the greatest technical brain that the sport has seen - has created consequences. There is only one Newey, and Red Bull is exploiting him so brilliantly that it's created an imbalance: there has been fall-out among the competition.
Lewis Hamilton has despaired of McLaren, heads have rolled at Mercedes, and the tension at Ferrari ratchets up with every title that Fernando Alonso fails to win. There have been constant regulatory attempts to rein Red Bull back in; and last year it almost worked, in that it took the team most of the season to recreate what the 2012 regulations had taken away from its car.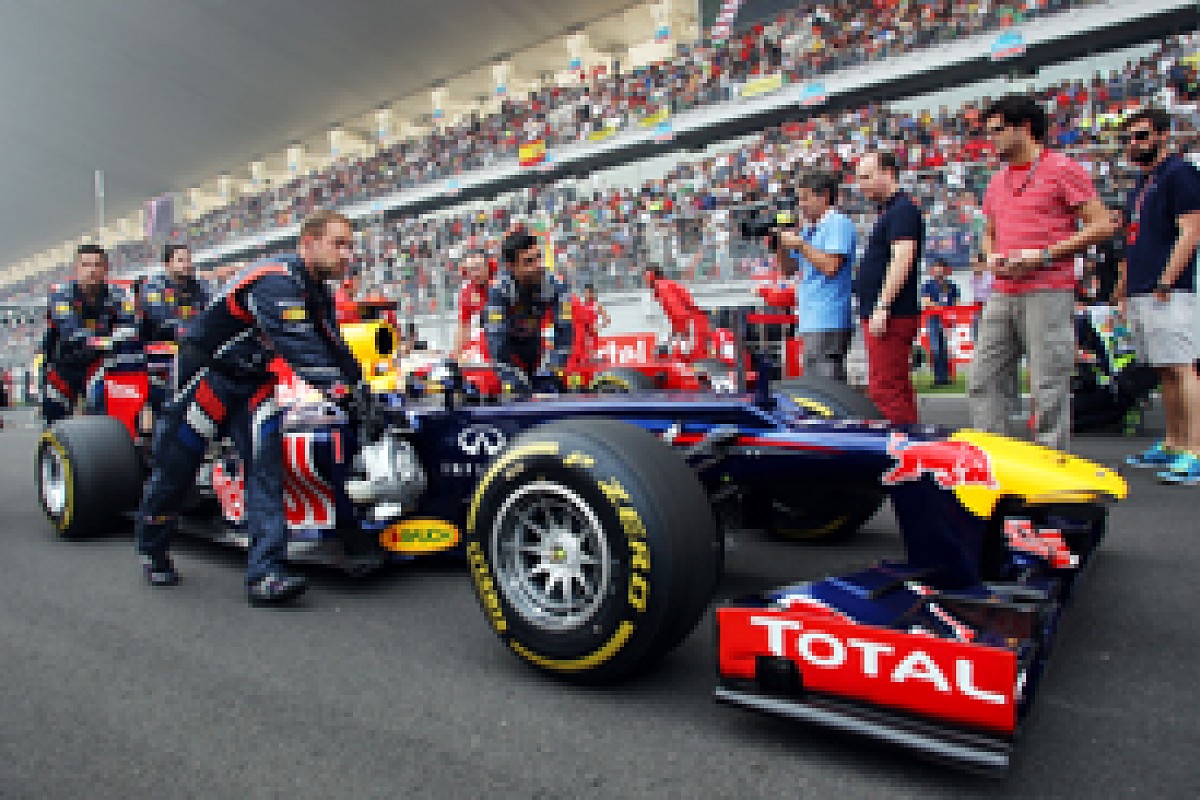 It took Red Bull much of 2012 to recoup performance lost to rules tweaks, but then it dominated again © XPB
This year's no different, really. The ban on double DRS wasn't intended as an anti-Red Bull measure - it was announced before it even had the feature on last year's car - but it may as well have been. A big part of why last year's RB8 responded so well to it was how the car's rear end was configured.
With its downforce relatively immune to rear ride-height changes - aided by the unique bodywork tunnels to the diffuser - it could carry more rear wing. Double DRS was therefore able to dump more drag than it would have otherwise. It enabled the car to have its cake and eat it, and the fitment of the feature coincided with the competitive transformation of the car late-season that allowed Vettel to take control of the championship. But now it's gone.
A small rule clarification about engine maps might also impact more upon Red Bull than any other team. The expectation was that you could specify a new baseline engine torque map; in fact it's been decided that teams must continue with the same baseline map they had in the second half of last season.
This precludes the re-introduction of the controversial Red Bull Hockenheim map. It allowed the driver to get hard on the throttle earlier in the corner to give more exhaust-enhanced downforce, thereby negating a key disadvantage: a rear bodywork design that compromised the Coke-bottle profile for the sake of enhancing the aero effect of the exhaust.
It's just possible that this year's Red Bull RB9 - which follows the same rear bodywork concept, with a big exhaust ramp partially blocking the Coke-bottle profile of the lower bodywork - has been configured around a false assumption regarding engine maps. That alone won't render the car uncompetitive, but it's just another obstacle placed in the way.
As ever, the team will shake its head in exasperation then hunker down and do it some other way. Flexi-wings, blown diffusers, trick engine maps, air-extractor wheels: each tentacle has been sliced off Red Bull's armoury, and each time it's simply grown another. It'll do so again, and it's inconceivable that it won't be a major contender.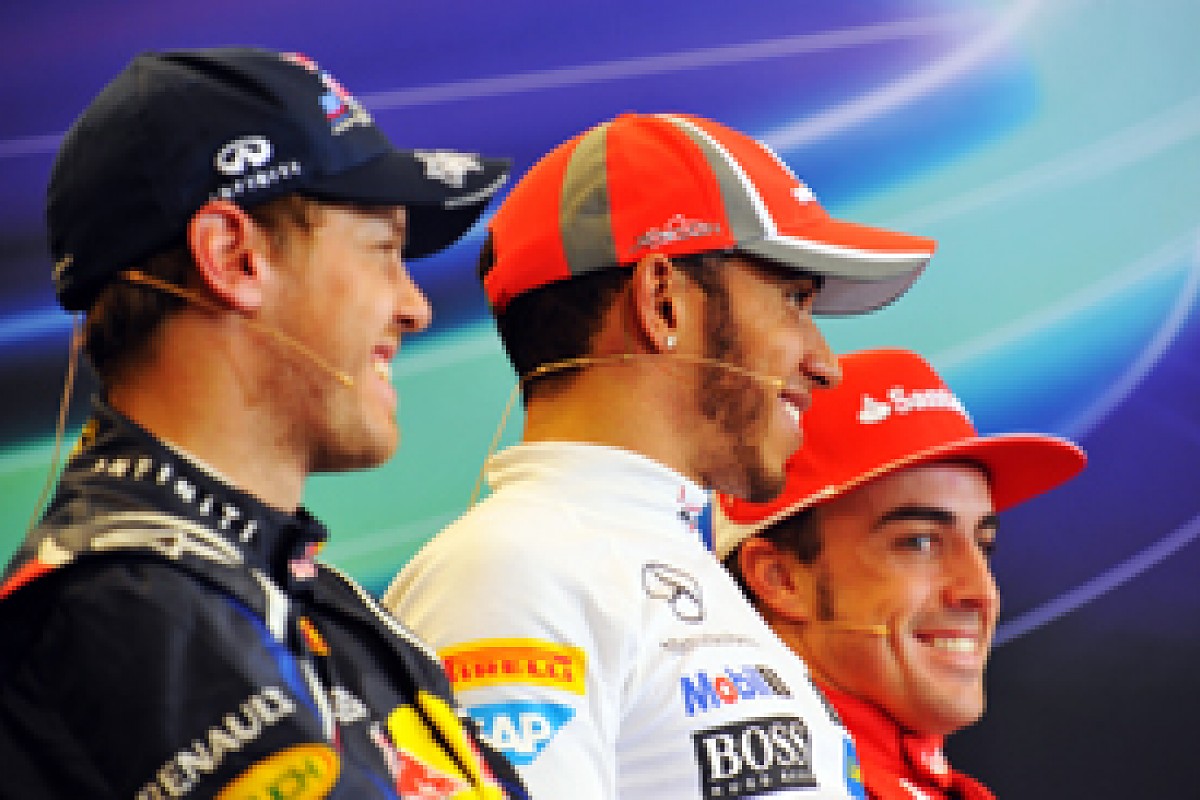 Hamilton and Alonso aren't shy about underlining Vettel's car advantage © XPB
Vettel takes a little bit of heat from Hamilton and Alonso - and a significant section of the sport's fan base - who suggest that he's merely a good driver in a fantastic car; the inference being that they'd beat him in an equal car.
Vettel - who has a remarkable abstract intelligence - simply turns that around. When their reservations were put to him, he effectively said: "Yes, maybe the car is more important. Which is why I will continue to beat you."
It wasn't as bald a statement as that, but the implicit message was the same, and became the perfect way of dealing with the question. His incredible record of achievement - triple world champion, 26 grand prix wins and 36 poles - comes at an age when his team-mate, Mark Webber, was only just making his F1 debut, and when Damon Hill was six years away from his.
He is absolutely on a mission to break more records - he's a savagely intense competitor with a huge turn of speed, sitting in the cockpit of the product of Newey's best thinking. Yet he is still developing. Perceived injustice can sometimes trigger emotion and the occasional lapse, but this is to nit-pick over a quite remarkable performer.
Mark Webber has the unenviable task of trying to compete with the phenomenon that is Vettel, and sometimes with one hand tied behind his back - as was recently underlined by Helmut Marko's comments about him. He gets material equality with Vettel, but Seb's achievements only reinforce the barrier of emotional support around him, leaving Mark forever looking in.
Yet that brings out some of Webber's gritty best. And, if the RB9 drives like a conventional car and not one that demands the Vettel trick of standing on the throttle to tame slow-corner-entry oversteer via exhaust gas - as happened in 2011 and towards the end of last year - then he can compete on level terms. Also the most combative man on the grid, he can never be discounted.
Marko's comments - in Red Bull's own magazine! - that Webber succumbs to pressure had an element of self-fulfilment about them: a lot of the pressure that he faces comes from the feeling of fighting against the will of elements within the team. But he's fully capable of proving Marko wrong regardless, given the right car.
Lewis Hamilton finally accepted last year that Vettel has out-manoeuvred him: that he's stolen the records he'd once assumed were his for the taking by plugging himself into better cars.
McLaren had produced some great cars for Hamilton, but not great enough. And even last year, when the MP4-27 was often quicker than the Red Bull, the team still couldn't convert that into a title campaign. If it hadn't been for that, and if he'd been winning titles at McLaren, Lewis could probably have made himself live with the constraints that chafed at his collar: the burdened relationship with Ron Dennis, the number of corporate days, and so on.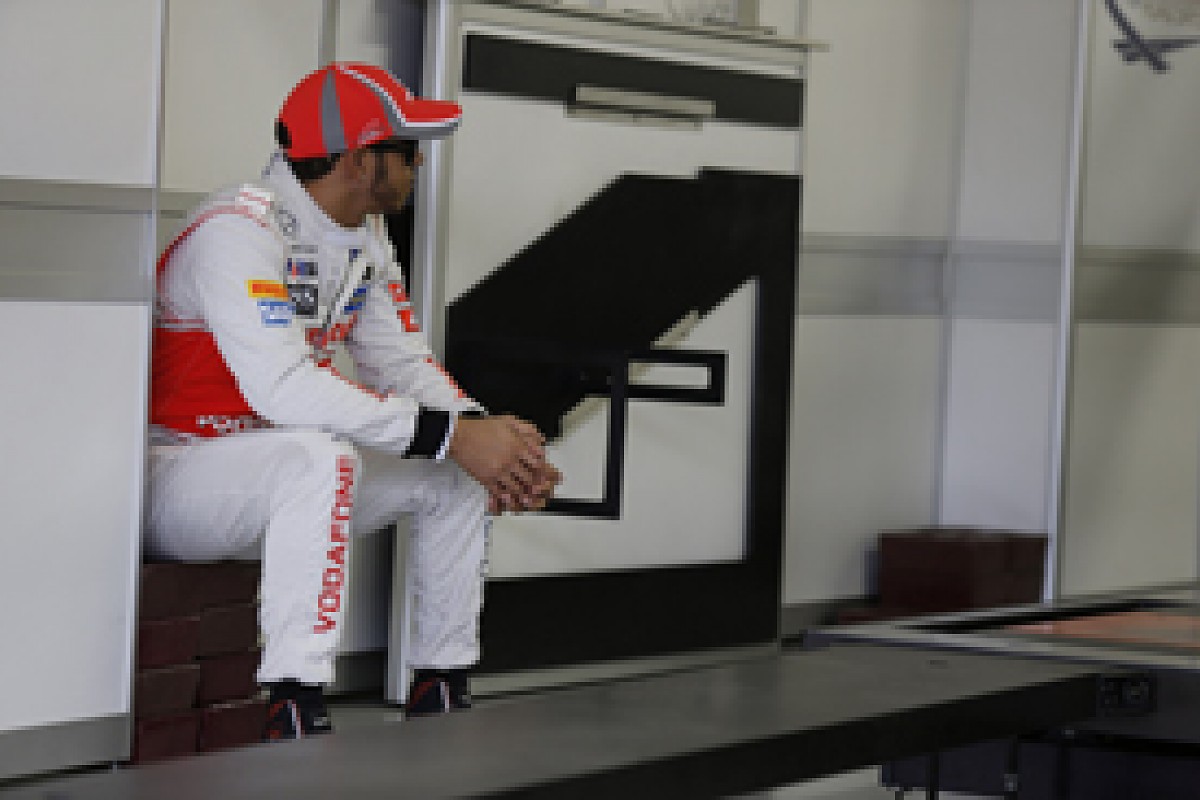 Hamilton has been an unhappy figure at times in recent years © LAT
But he wasn't, and so he made not a career choice but a lifestyle one by choosing to get out. His preference was to race alongside Vettel at Red Bull, where he would have relished betting on his talent to prevail. Failing that, he wanted to go Ferrari to do the same there against Alonso - again. But neither option was available. After each of those teams had been approached for a second time during the summer break and had given the same response, Lewis reluctantly took the next best option: Mercedes.
He cheerfully admitted before testing began that he had no idea how quick a car the team might build him. His feeling after the first week of Barcelona was that it wasn't bad, but lacked the downforce he'd been used to.
He rejects the notion that he's going to be fighting for the 2013 title; but he's quite at ease with that. What we shouldn't bet against is him being able to bridge the gap if the car is somewhere close to the pace on a few occasions. Testing suggests that it's closer than last year's model was by the end of the season.
There have been some big changes here, and they don't seem to have finished yet. Toto Wolff and Niki Lauda buying into the team has provided an aggressive push to get to the bottom of its underachievement, and confirmation that McLaren tech director Paddy Lowe is on gardening leave suggests he is indeed set to join the Brackley team. But in what role? Why would he choose to leave his technical director position at McLaren for the same job at Mercedes?
The suggestion is that he might be joining as team principal, which casts doubt upon Ross Brawn's future there.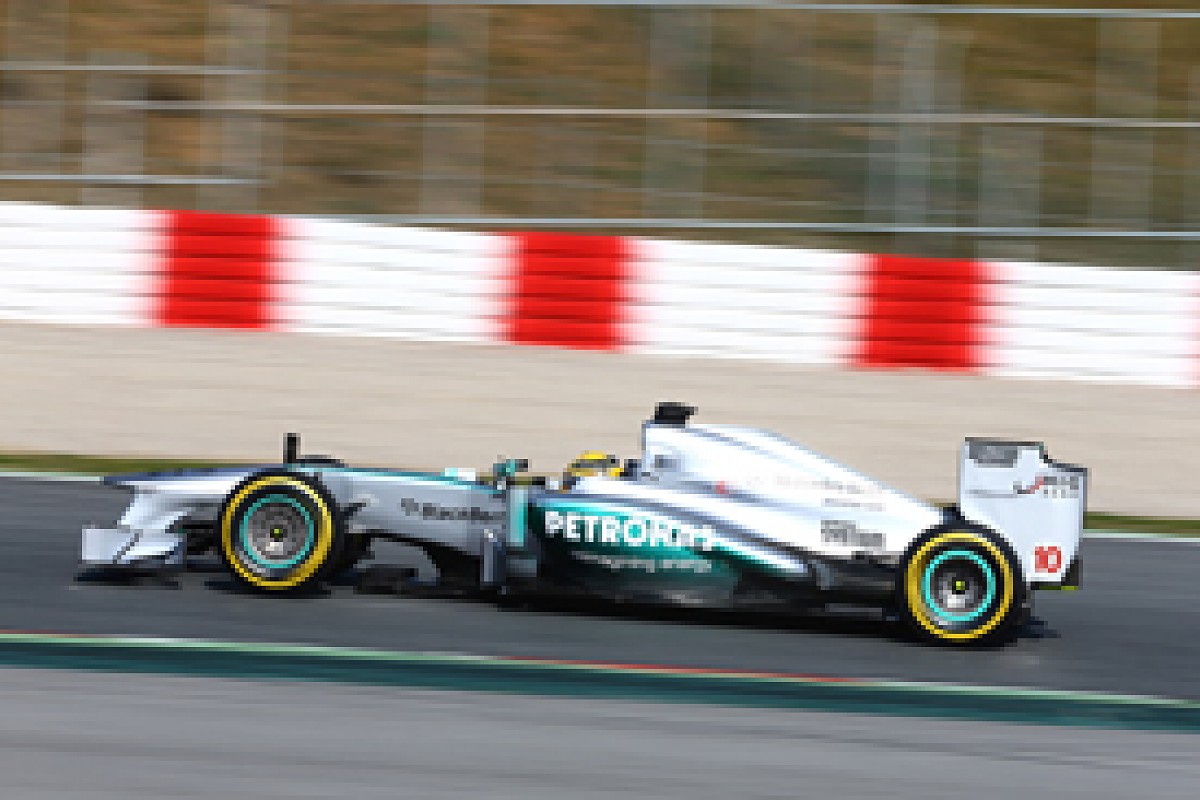 No one expects miracles from Mercedes, so Hamilton faces little pressure © LAT
This isn't the same group of people that Hamilton signed up with, but he's unlikely to let that bother him too much. He's gone in there as a fast gun for hire: one who'll be delighted to pull off the occasional against-the-odds victory or put guys in faster cars under some pressure.
If it turns out to be better than that, then great. If it turns out that Mercedes is the place to be for 2014's new formula, fantastic. But even if it continues just as it has been, Lewis will only be 30 by the time his contract ends - and who knows what alternatives might be available by then.
This isn't a typical driver career move, but then Lewis isn't a typical driver. In the meantime, he can just relax into his seat, knowing that the pressure is off for perhaps the first time in his F1 career. In that state of mind, he just might be at his explosive best.
Nico Rosberg, meanwhile, faces a tough challenge. He proved last year that when the car's quick he can win; and there might not have been a finer 2012 qualifying lap than the one that he conjured up for pole at Shanghai.
The general perception is that of an absolute top-line driver stuck in sub-standard machinery. But is he?
He was internally out-manoeuvred by Michael Schumacher, and in the aftermath his previous performance edge over the latter disappeared; in fact there were several races last year where Michael was the faster Mercedes driver.
Having his old karting team-mate - the man commonly accepted as the quickest in F1 - alongside leaves him absolutely nowhere to hide. This is going to be an interesting one to monitor.
Lewis's move took McLaren by surprise. He was irritated coming into the Monza weekend when he found that his management team had gone ahead and had Mercedes prepare a draft contract without his say so; and at the point when the Mercedes offer came out into the open, he was feeling inclined to stay at McLaren.
Before the Singapore weekend, he was telling people privately that he was going to stay put, and this was the team's understanding at that point.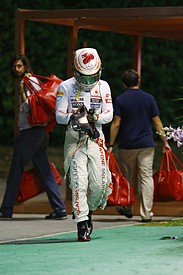 Days after walking away from a failed McLaren in Singapore, Hamilton announced he was leaving for Mercedes © LAT
But something changed during that weekend. He says it wasn't the fact that his car broke down while he was leading; though that can't have helped. The team's relationship with him had been so strained that perhaps it didn't try as hard as it might to keep him, but whatever the reason, after a day of contemplation, he'd made his decision by Tuesday and McLaren had lost 'F1's fastest driver'.
He was the guy who could manhandle a car that was a couple of tenths off onto the front row; now the team doesn't have that. In Jenson Button it has a driver who will maximise any car that can be made to behave exactly as he likes, but who struggles with rear instability.
In Sergio Perez it has someone with a wider operating window than Button, but whose ultimate pace is as yet unclear. Perez delivered some scintillating drives for Sauber last year, but all had a tyre-related explanation; now we'll find out how much he was adding to the mix. As with Rosberg, he has nowhere to hide.
With this driver pairing, McLaren absolutely needs to have a car that can qualify on the front row on merit, without requiring the driver to transcend its level. Does it have this in the MP4-28? Well, sometimes it's looked like that in testing: such as the first day at Jerez when Button stunned with his instant pace, or the Wednesday at the first Barcelona test, where Perez was mighty quick.
But at other times the car has left the team scratching its collective heads, trying to understand why it's graining the Pirellis even faster than the others. This is a time of some tension for McLaren, only underlined by the fact that it's been forced to put Lowe on gardening leave.
The new-for-2013 Pirellis are very different to those that we've seen so far, but in testing their softer range of compounds has been giving teams as big a headache as the old tyres did. Fifteen-lap stints were just about possible at Barcelona - suggesting a three-stop race there - but they were past their best by five.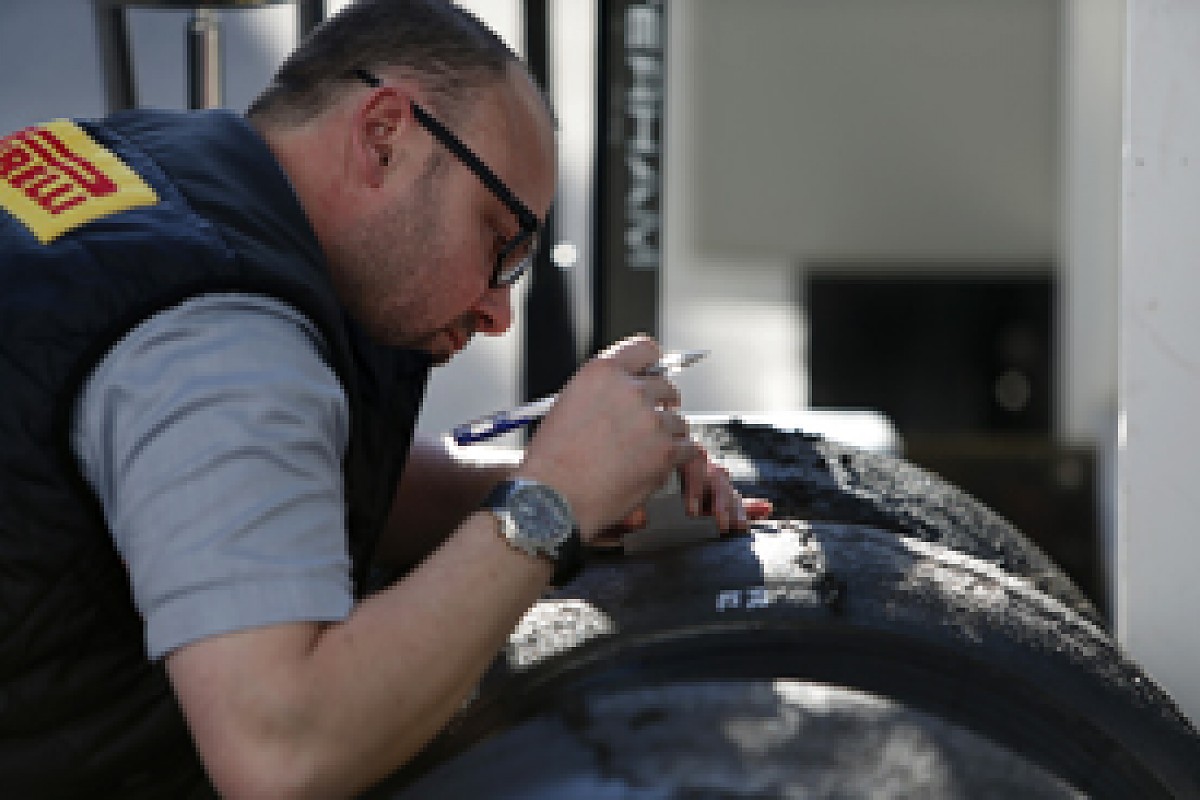 The new range of Pirellis introduces another new challenge © LAT
McLaren wasn't the only team struggling to get a handle on them. But one car was noticeably easier on the rubber than the others, just as last year: the Lotus. There's something about the suspension of this lineage of cars that makes them soft-riding and kind to the tyres, albeit perhaps at the expense of the last couple of tenths of single-lap pace.
How quickly the teams progress their understanding of how to get the best from the Pirellis, and how much the graining situation might be eased once we get to the warmer climes of the opening races, is one of the great imponderables. But if the tyres degrade as quickly as they did in the first couple of tests, Lotus is going to be looking very good indeed.
Kimi Raikkonen will effortlessly take full advantage of this, being the seasoned pro that he is, still with a good turn of speed to unleash when the mood takes him.
Romain Grosjean? It seemed at first last year that to become a major force he just needed to pull back a little. His speed and some of his moves can be breathtaking, but there was a worrying lack of progression to his season.
Also, his qualifying incident at Interlagos with Pedro de la Rosa's HRT at the top of the hill, where he could so easily have been in a sixth-gear interlocking-wheels end-over-end accident, suggested that he simply doesn't recognise the red-alert signals of self-preservation; even afterwards he didn't see it as a big deal.
He admits he saw a psychologist last year in an attempt to eliminate the incidents. It would be terrific to see this bear fruit, and it's great he's been given one more chance by Lotus: he's a very exciting racer and is ultimately a couple of tenths faster than current-spec Kimi. But he has a lot of convincing to do.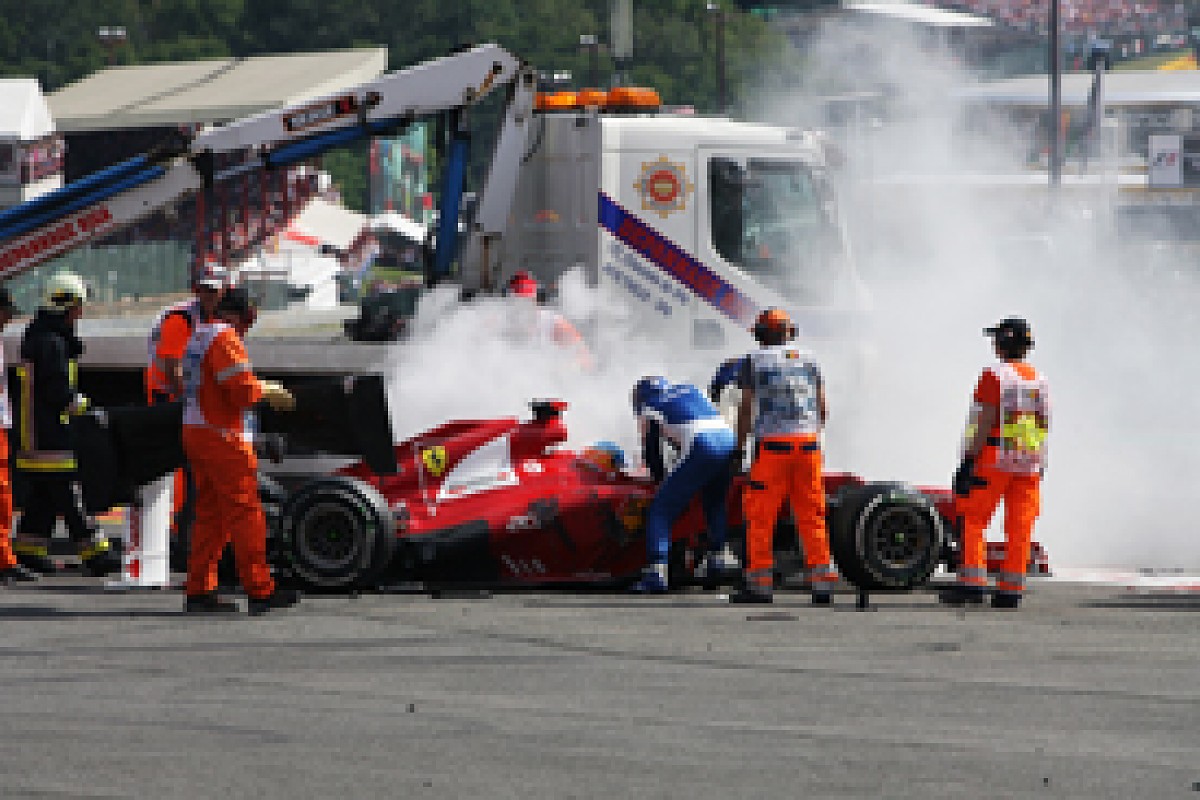 Being wiped out at Spa was critical to Alonso's title defeat © XPB
Had it not been for Grosjean's misjudgement off the startline at Spa last year, it's a fair bet that Fernando Alonso would now be world champion. But instead he goes into his fourth season at Ferrari with only those titles that he secured at Renault a long time ago.
Hamilton considers Alonso his only true rival; a feeling that's mutual. But the heat they created when forced to share a garage through 2007 led to its own fall-out; one that damaged both their prospects.
The last time that Ferrari won a title was as a result of the radioactive Alonso/Ron Dennis pairing, when McLaren was the Scuderia's only rival. Back then Raikkonen was good enough - and immune to pressure enough - to secure that unlikely triumph.
But impressive as Raikkonen was, he couldn't hang on to the drive once Alonso was potentially free. Kimi won for Ferrari at his first attempt, and Alonso has only a couple of lost showdown finales. But since Kimi's time, Red Bull has moved the game on and the task has become more difficult.
Ferrari hasn't been helping itself, however. After the disastrous showdown strategy-call in Abu Dhabi 2010, and failing the blown-diffuser challenge of 2011, there was a title there for the taking last year, despite the team starting with a disastrously off-the-pace car.
Strategic conservatism - a crippling fear that's hung over the team since Abu Dhabi 2010 - cost it dearly. By being so determined not to be wrong by being too adventurous, it achieved failure by not being adventurous enough.
Barcelona, Monaco, Canada and Silverstone were all races where vital positions were lost to timid tactical choices. Twenty-eight Alonso points were squandered in those four races. He lost the title by three. So it wasn't really just Grosjean's fault...
Ferrari is clearly starting 2013 stronger than it began '12 © LAT
But the new car looks incomparably better than the F2012 did this time last year, and the team continues to be absolutely devoted to Alonso. It has conceived the car in the Toyota tunnel rather than the problematic Maranello one, and testing suggests that it is among the fastest; perhaps even the fastest of all.
Nevertheless, part of the reason that Ferrari was in title contention last year was due to Red Bull and McLaren not getting their acts fully together; it's unlikely that it'll be able to count on both of those again. If it's to be won by Ferrari in 2013, you'd suspect that it has to be done on performance, rather than mere reliability.
However, everything suggests that it's starting from a good place, and with Felipe Massa transformed for the last six races back into the driver he was before his accident - and before Alonso came and stole his team - Fernando might be able to count on Felipe to take some heavy points off his rivals.
It's certainly not beyond imagination that we could see Felipe back to the top step of a podium one day; and that looked close to impossible a year ago.
Williams and Sauber took turns at terrorising the top teams last year, and look set to continue to do so. The FW35 is a very neat-looking piece of kit that has been showing almost Lotus-like consistency in testing. Valtteri Bottas joins Pastor Maldonado there for an exciting driver line-up, though the latter's 2013 challenge is similar to Grosjean's.
Both Nico Hulkenberg and Esteban Gutierrez have made the narrow-sidepod Sauber go quickly on occasion; if it's as good as last year's car, then Hulkenberg is quite capable of pulling off an outrageous result.
Thus far, Force India doesn't look quite at its level, nor Toro Rosso, but there's plenty of development scope for both.
Caterham and Marussia, meanwhile, look likely to continue to fight only each other for another year. The bigger question on their horizons is 2014, and the expense of the change of engine formula.
But why worry about the future when there's so much to enjoy in 2013?