When a man with wet weather skills as sublime as Lewis Hamilton admitted that he would rather be walking his dog than taking his Mercedes on track on a sodden afternoon at Barcelona, it seemed unlikely that AUTOSPORT's Friday afternoon trackside wander would deliver much insight.
Indeed, there was a danger of not seeing a single car in action given that the lunch break had featured a smattering of hail amid the downpour, and that all 11 teams had managed a better-than-expected amount of running as the morning delivered an hour of properly dry track on a day when the forecast had been dour.
But though the circuit remained damp all afternoon, the rain halted soon after lunch. And with a decent amount of wet and intermediate Pirellis to try, plus a high chance that at least one of the opening grands prix will feature a cloudburst, the track was soon as noisy as if it had been sunny. Roscoe could return to his bed for the afternoon, his walk no longer topping Hamilton's jobs list.
By the time AUTOSPORT reached the long right-hander of Turn 3, all hint of aquaplaning was gone and the track was in the treacherous transition zone. Like hurrying down a muddy path in inappropriate footwear, it was doable for the drivers, but it required control and balance.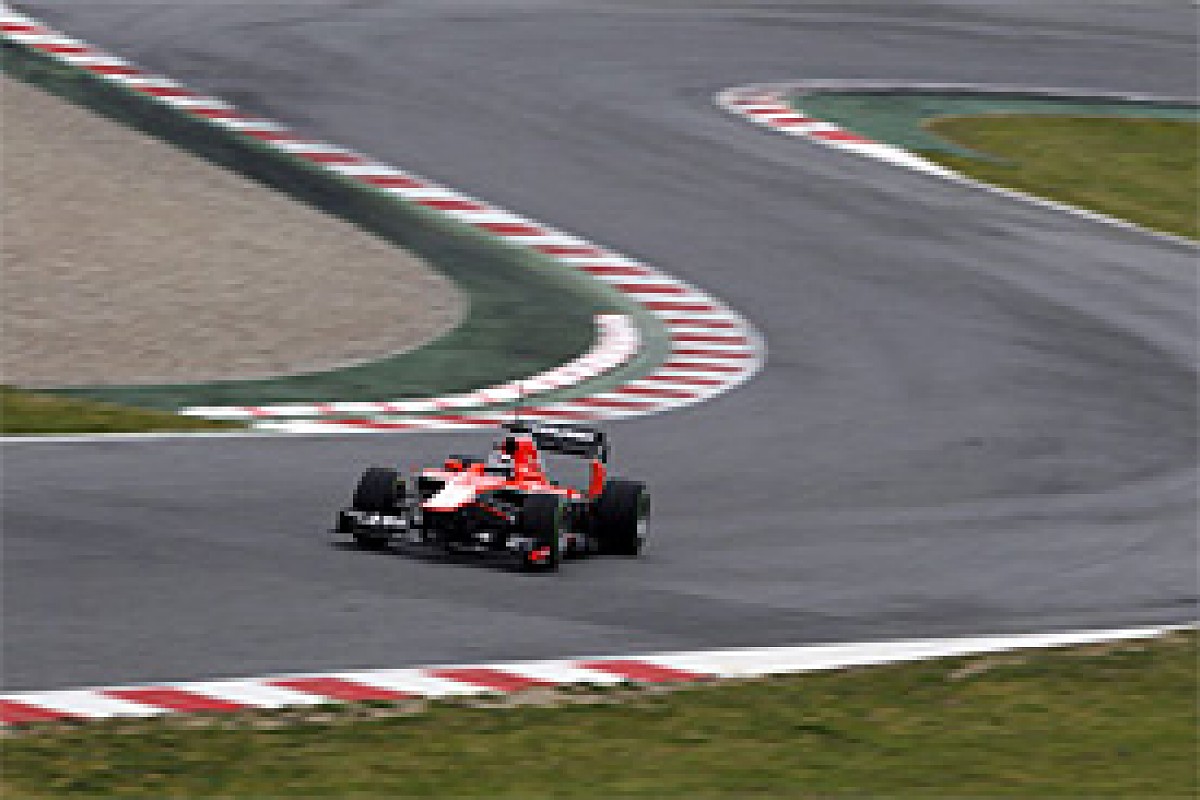 Conditions were far from ideal today © LAT
Although Turn 3 itself, 120mph and fifth gear in the dry, was a challenge, the real tightrope was at the flick from the exit of the Turn 1/2 chicane into the following sweep.
With the rear tyres finding scant grip on the way out of Turn 2, getting the car settled and in the right position on-track for the long curve ahead was not the work of a moment - yet also had to be.
An improvisational approach was required in the midfield cars. Esteban Gutierrez, Max Chilton and Jules Bianchi all had laps where their respective cars slid sideways out of Turn 2 then twitched edgily into Turn 3 like ice-skating children, before being wrestled into approximate shape through the long corner.
For that trio, backing off for a moment to gently regain control felt prudent. Jean-Eric Vergne preferred a more lairy approach, meeting each twitch of his Toro Rosso with inputs as aggressive as the sudden breaks of traction under his wheels. A vicious snap when Turn 3 seemed all but completed on one lap underlined the all-action cockpit approach. There may be little lap time differential splitting the current pupils in Toro Rosso's training school, but the difference in style between Daniel Ricciardo's silky serenity and Vergne's enterprising improvisation is very clear.
All those drivers were having to be reactive and respond to what the track surface was throwing at them. Jenson Button and his McLaren, however, seemed to be a step ahead of the weather.
The sound from the Mercedes engine proved that it was getting wheelspin, but the car's smooth poise almost belied this. Button was managing to get the MP4-28 totally settled on the way out of Turn 2 and minimising the drama into Turn 3. While not every lap was exemplar, his success rate dwarfed that of anyone else on track at the time.
Next up was a stop just before Campsa's dramatic high-speed crest, which also gave a view of the field's traction on the way out of the preceding left-hander.
Keeping well clear of the kerbs was still essential. Romain Grosjean preferred an early turn-in at Campsa, struggled to make it work and had to go wider for a few laps before regaining his ideal line. Button was as textbook here as he had been at Turn 3, and Hamilton was also able to carry plenty of speed in the Mercedes. Still refusing to budge from his scepticism over Mercedes' win chances, Hamilton may yet be able to conjure some magic should it drizzle at an opportune moment.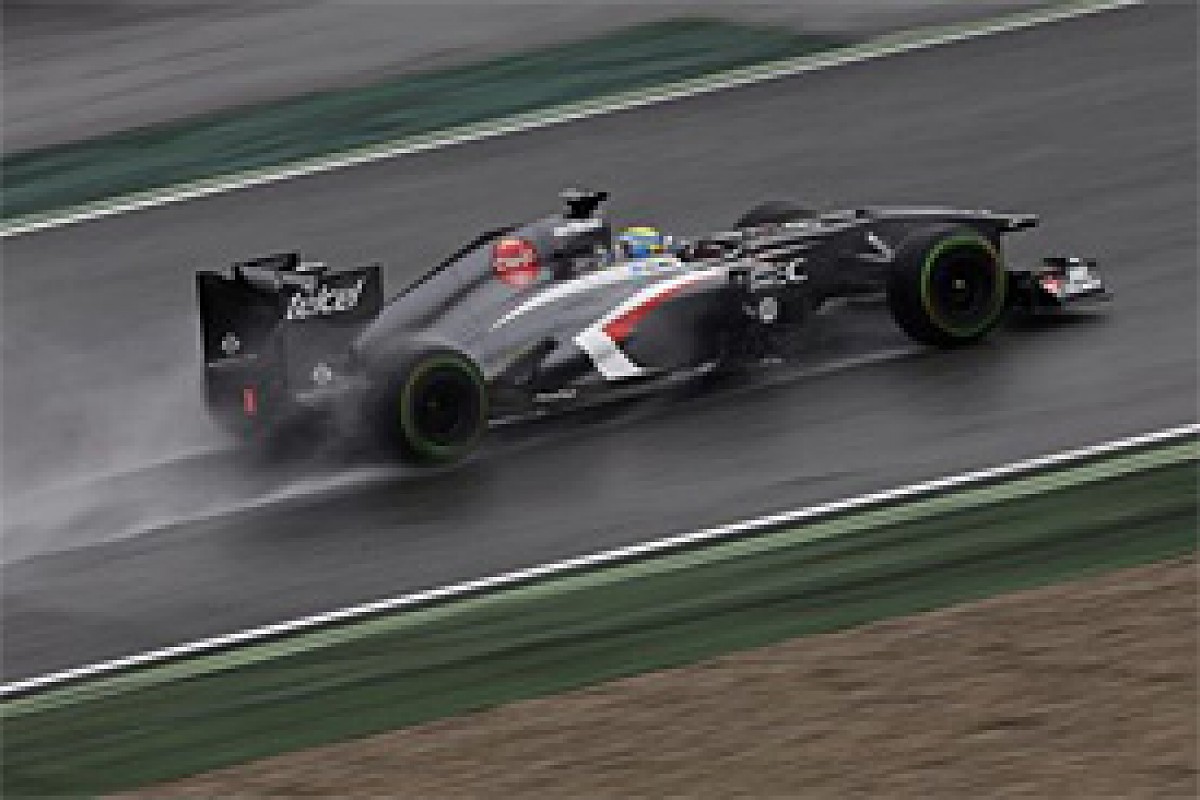 Gutierrez was not dissuaded despite two offs © LAT
There was no chance to see how last year's Barcelona winner Pastor Maldonado was really faring. With Williams focusing on pitstop practice, he was merely cruising between tyre changes and never came through at full pelt. Asked later how his day had been, Maldonado replied "boring!" with a grin and got back to his favourite hobby of the week: eulogising over the FW35's potential and reliability.
Two trips into the gravel into the morning had not dissuaded Gutierrez at all. The Mexican rookie had to catch some slides both out of Turn 8 and through Campsa, not because his Sauber was particularly misbehaving (though it was not the most supple vehicle in the field), but because he was rather enjoying expressing himself.
The most eventful moments came every time Giedo van der Garde drove past. The Caterham managed to get out of shape in a different way every lap, looking as if the front and rear of the CT03 were having a tetchy row with each other about the fastest way around the corner. It was entertaining to watch, but on the basis of those laps, rain would leave Caterham hanging on for dear life rather than surging forward with giantkilling vim.
The plan of finishing up with some observation of the final corners had to be abandoned as the red flags came out. The culprit was Hamilton's Mercedes, parked on the pits straight. Roscoe wasn't going to have to wait all evening for his walk after all.