"I have seen a big part of the film Senna. I did not want to talk about it before, but now I'd like to give my opinion. I want to be precise"
And they don't come much more precise than Alain Prost. The four-time world champion opens up to Maurice Hamilton about why he thinks the makers of Senna didn't do justice to his relationship with his fiercest rival, and reveals why he couldn't bring himself to remain at Williams for 1994.
Talk to the engineers who worked with Alain Prost and you'll scarcely hear a bad word said about him. If anything, they will go out of their way to express just how good he was.
They'll feel you need to know because Prost's manner of driving, despite the results, belied one of the most canny and economical styles in the history of the world championship.
That might seem like quite some claim, but the respect from Renault, McLaren, Ferrari and Williams, the teams he drove for in an F1 career that took in more than 200 grands prix, leaves you in no doubt whatsoever about the diminutive Frenchman's place in the pantheon of Formula 1 greats.
Prost's one drawback, from his point of view if not the media's, was a need to say what he thought in the face of injustice. It got him into trouble with the FIA and, more famously, during his ferocious battle with Ayrton Senna, particularly during the second of their two years together at McLaren.
Never mind the detail of that relationship for the moment; the fact that Senna singled out Prost, to an almost obsessive degree, as the man he simply had to beat, says everything about Alain's prodigious talent.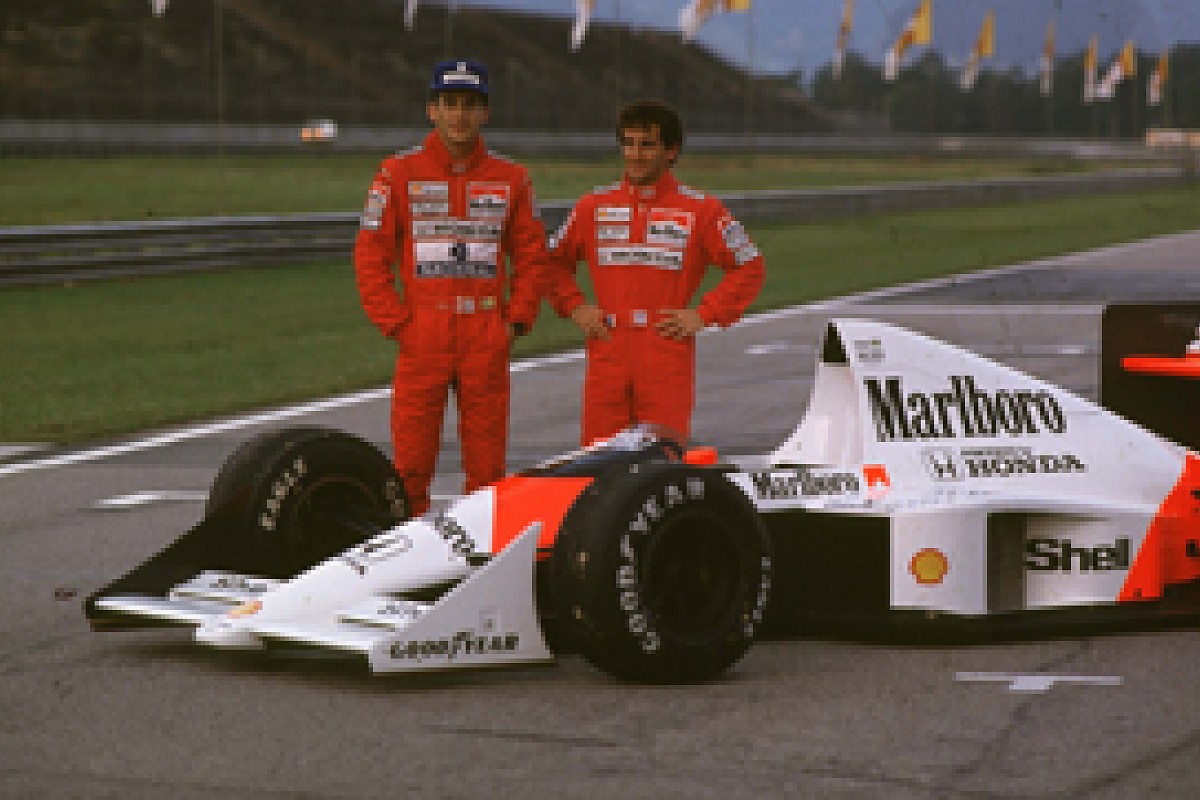 Relations with Senna did not stay congenial for long © LAT
While Senna was succeeding with throttle-blipping, opposite-locking, totally thrilling visions of blinding speed, Prost would slip past, almost unnoticed, to win by stealth.
That approach goes hand-in-hand with the way he presents himself in the paddock; a slight figure merging into the background, but seeing all, understanding it and not being afraid to quietly pass comment if he feels the need.
His relationship with the British media has always been pleasant and functional, more so in later years, whereas some members of the French national press managed to incur his displeasure because of a perceived absence of balance and fairness; core values for Prost both in and out of the car.
Over lunch he had time to reflect on a career that is exceptional by any standard...
Maurice Hamilton: Nice to see you. You're now an ambassador for Renault. Your association with them goes back a long way - a very long way. Thirty years, I guess?
Alain Prost: Longer than that, actually. You're just thinking of Formula 1, but it started with the racing school in 1975. Then it was Formula Renault, Formula Renault Europe, F3 and F1. And don't forget that I came back in 1993 to win the championship in a Williams-Renault.
After that, a year and a half in communications, doing a few things for Renault, especially outside Europe. Even when I was in Formula 1 as a team owner, I always had the link with them on the engine side and there was always a possibility to come back, but that didn't work out.
Recently, I've been involved with the Andros Trophy on ice with [Renault subsidiary] Dacia. So we have always been close; more than 35 years, different periods, different things, but the connection with Renault has always been there. I'm pleased to be doing this now.
MH: That relationship meant you got to drive the Red Bull RB6 recently. How did that feel?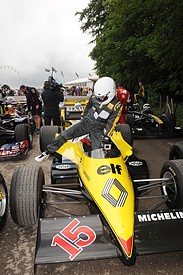 Prost gave his 1983 Renault a spin at Goodwood last year © LAT
AP: The funny thing is, I drove my Renault F1 car from 1983 at Dijon and Le Castellet... [Here we are interrupted by the chef appearing with a choice of roast lamb and couscous salad or monk fish with green salad and balsamic vinaigrette. Alain chooses the lamb; I opt for the fish.]
MH: You were saying you drove the turbo from 1983. You had three poles and won four races with that car. Did it bring back nice memories when you climbed on board?
AP: No, actually it didn't. Maybe with the small exception of the French Grand Prix because the car was exceptional there when I won that race at Ricard. But, other than that, I really didn't remember much about driving this car.
In fact, I found myself asking how were we able to drive these cars at all, especially on street circuits such as Monaco and Detroit.
MH: Because the car was so big and so heavy?
AP: Big is OK. But heavy, yes. It was difficult to brake and I needed to push the clutch very hard. This, combined with the engine response and the gearbox, was really awful.
When I drove the Red Bull, it was more like what I was used to in 1993 with the Williams. I could remember how that was. It's almost 20 years since I drove the Williams and there were similarities, but there was a huge difference in the 10 years between the 1983 Renault and the Williams.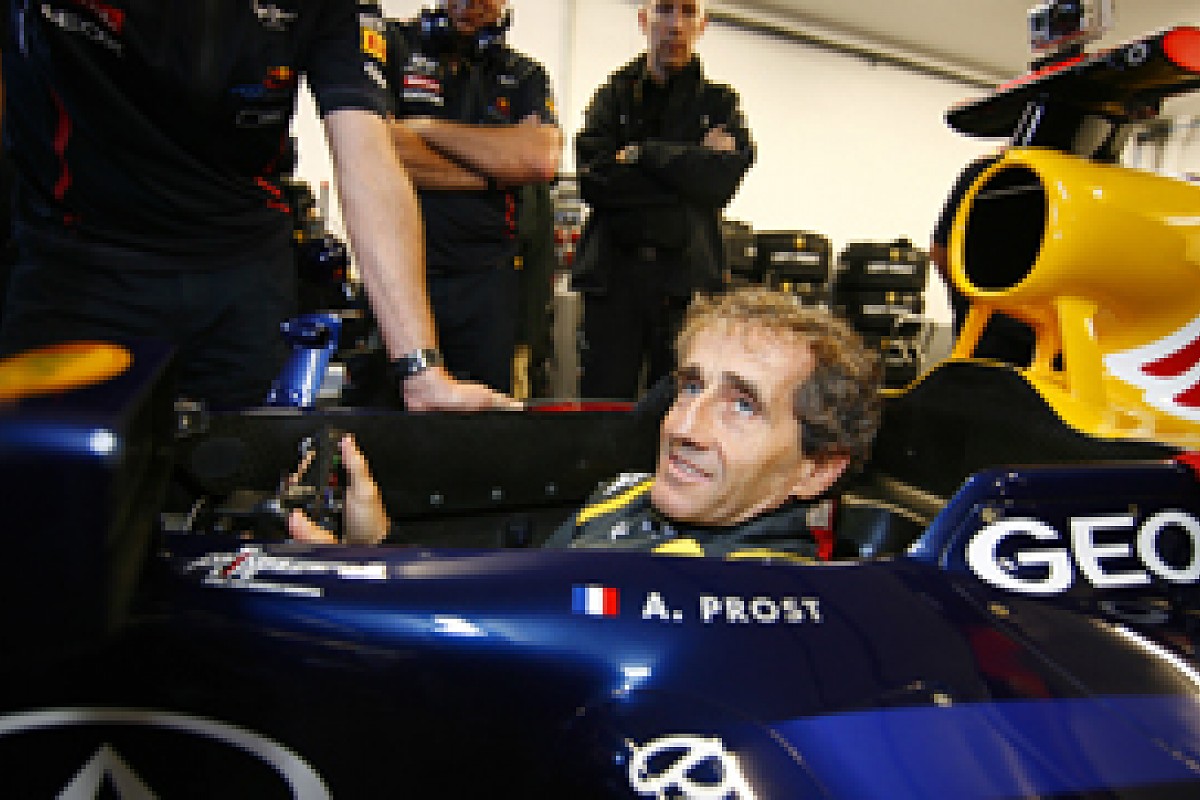 Prost tries the modern Red Bull
I could drive the Red Bull easily but I could not push and go to the edge. First of all, I didn't have my seat. I was not fitting the car very well, so the more I pushed, the less comfort I had.
So the last tenths of a second, the last second... I can't judge. But what I can say is that it felt like... nothing spectacular.
Nothing has changed that much, unlike the difference between the 1980s and the beginning of the 1990s. Everything with the Red Bull was perfect and optimised. The engine was not a surprise at all because it was the same sort of thing that we had a long time ago - not more power, because that's been reduced, but quite progressive; the Renault has always been a good engine for that.
And the gearbox and brakes are exceptional; really good. Previously, when you braked, you could feel the pitch. Now it's stiff, like a go-kart. But I could not get used to braking with the left foot; I'd never done that before. The biggest difference is maybe the driving position.
MH: Is it more comfortable?
AP: You are really surprised in the beginning because you are lying back completely. Visibility is very bad; this was never a problem with the old cars.
Now, the engineers think much more about the ergonomics of the car for the driver. Before, you were told to just get in and drive. At Williams in 1993, I was given Nigel Mansell's seat. Modified - obviously.
The philosophy was focused more on the technology and improving the car; the driver was almost an afterthought. I think it's easier to drive the cars today.
MH: Even with the higher g-forces?
AP: Yes. You are more together with the car and that makes it easier.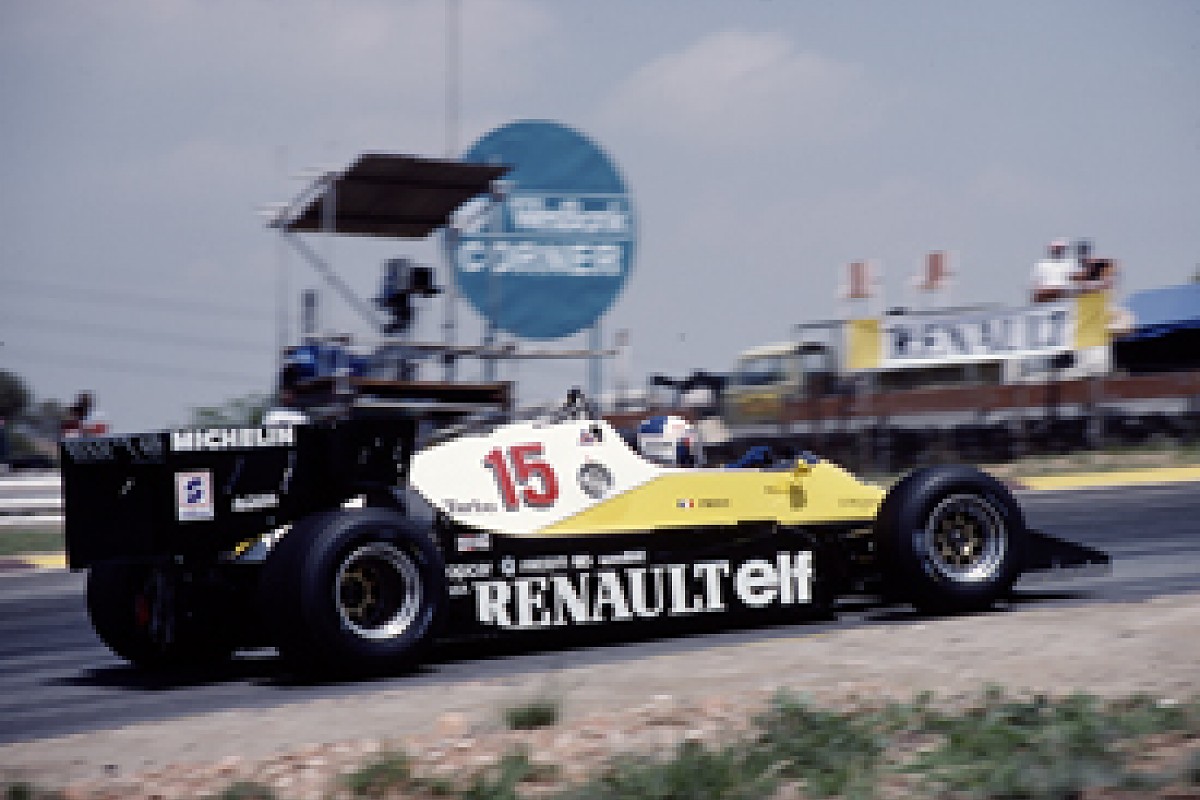 Seating arrangements were very different in the early 1980s © LAT
MH: In 1983, you sat very upright in the Renault and close to the wheel. And close to the front of the car as well, so your legs and feet were very much lower than the drivers experience today...
AP: That's true. I remember in about 1989, when I was working with a big company, Rhone-Poulenc, in France to do some tests in the car for the heart and so on, I asked them to monitor the blood pressure in my legs.
Because the legs were going down, we were having less and less blood pressure as the race went on. We knew a guy from downhill skiing who was working on the flow of blood. He had adapted what everyone now has in sport - bandes de contention.
MH: A sort of elasticated full-length sock?
AP: Yes, I wore them, but I didn't show them to many people. I always wanted to try to improve things like that and have fewer problems.
MH: The relationship with Renault and Elf came to an end when you didn't win the title in 1983. But you did become champion with McLaren in 1985, having lost out to your team-mate Niki Lauda the year before.
Niki was telling me a story concerning you both at the last race of 1984 in Estoril when you were fighting for the title.
AP: There are so many stories... which one?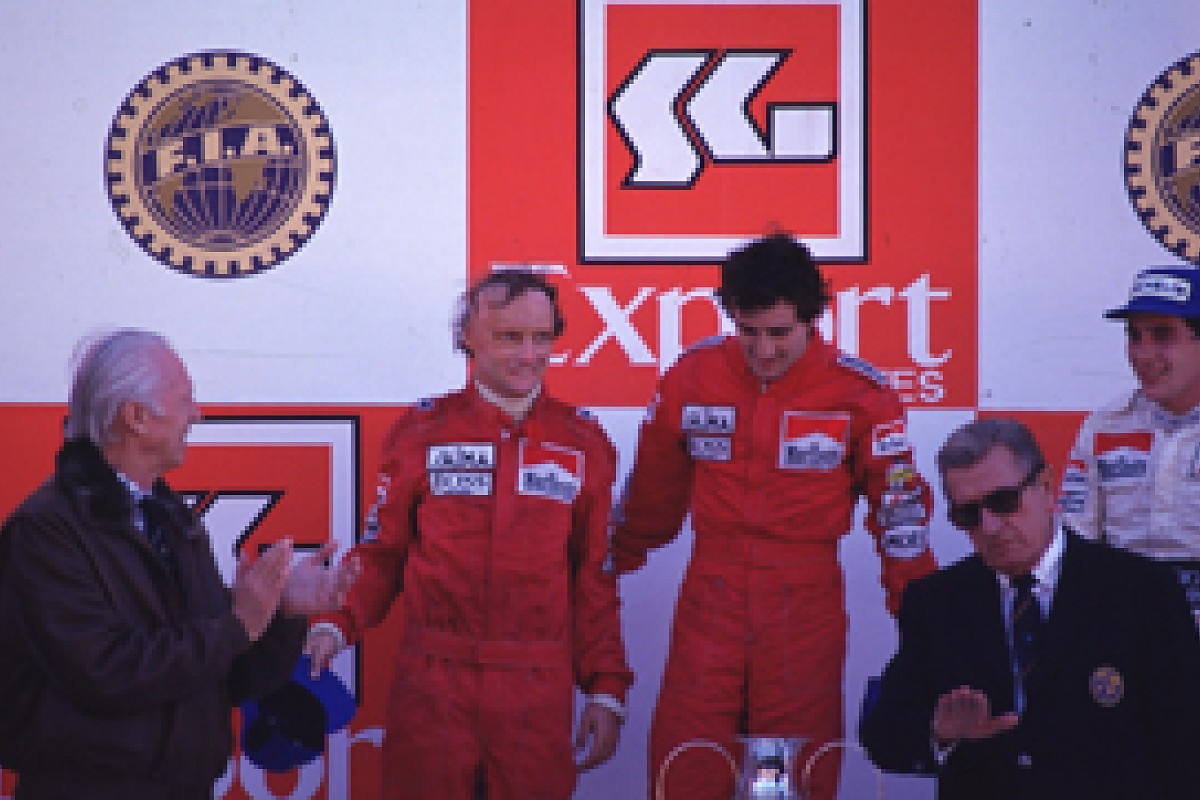 Lauda and Prost on the podium in the 1984 title decider © LAT
MH: Well, Niki says he had been, shall we say, staying out late the night before the race and he was annoyed on race morning because he was not feeling great and he knew that meant you would probably win the championship.
Then he says he saw you on race morning and heard you'd been up to no good as well! Is that true?
AP: It's possible... but that's not why I lost the championship.
MH: I know. You did everything you could by winning the race, and Niki finished second to win by half a point.
AP: But I have to tell you that the evening after Niki won was quite... memorable. I remember Elio de Angelis. It was five o'clock in the morning and we'd had quite a bit to drink.
He asked me to bring him back to his hotel. I stopped in front of the hotel and he asked: "Why don't you bring me closer to the door?" So I said: "OK, you want to get closer?" I reversed the car. Then first gear... there was a big glass door, I went through and down into the lobby. I said: "OK, now ask for the key to your room."
I had to go back to my hotel in a taxi because the car was stuck there, in the lobby. Marlboro were very, very nice, because they took care of the damage.
MH: Great story. That wouldn't happen today!
AP: I think you're right. It's a pity.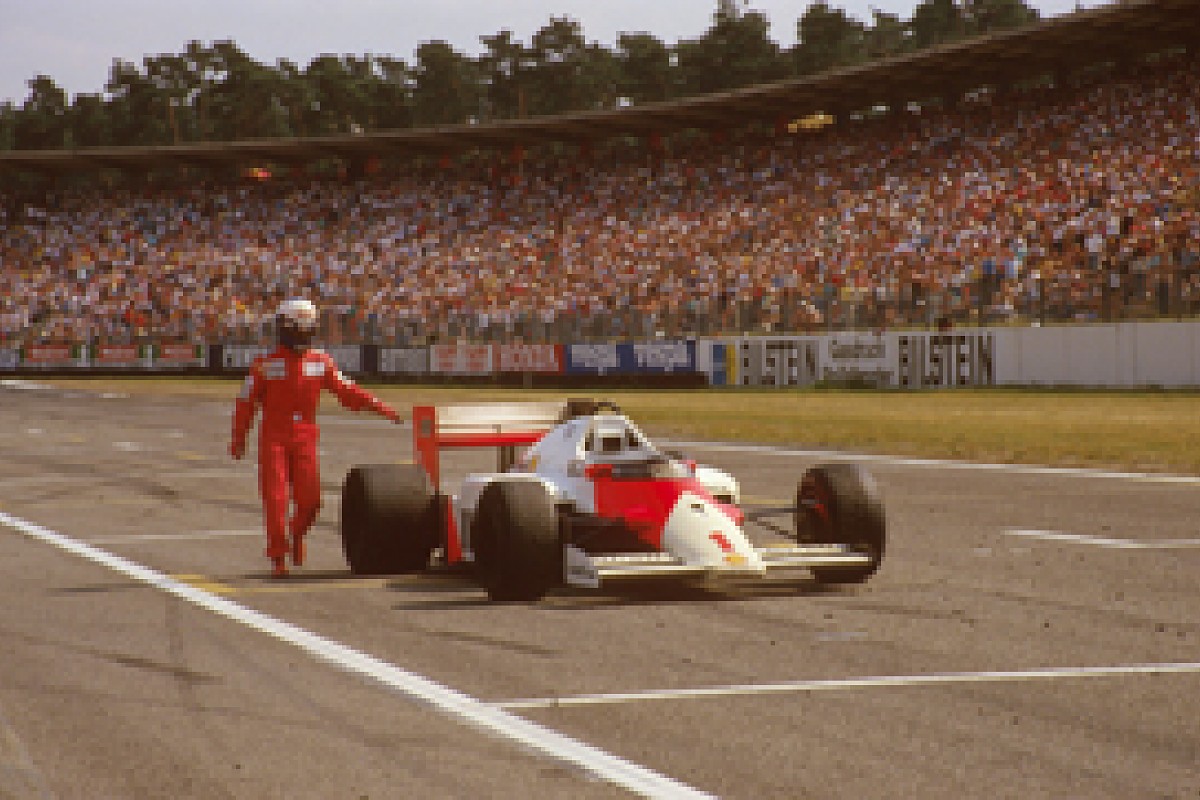 1986 was a struggle against the faster Williams © LAT
MH: Talking about damage to cars, it reminds me of Spa 1986. There was an incident at the first corner and you had to make a pitstop for a new nose. You came from the back to finish sixth and score one point as it was in those days. You said that could be vital in the championship - and it was.
But the thing I remember is John Barnard telling me some time later - and with some amazement - that your car was bent like a banana. The front suspension was damaged and there was damage at the rear. He said he had no idea how you not only managed to drive the car like that, but also managed to somehow finish the race and score a point.
AP: That's why 1986 was my best season; that and 1990 at Ferrari. In 1986, I always thought that we could be world champions even though the Williams [driven by Nigel Mansell and Nelson Piquet] was much better; much quicker.
I really wanted to get this point at Spa. But I was young. Every time I went into Eau Rouge, I was thinking - you don't know what can happen. I had a car for right corners - and a different car for left corners. But I got a point.
When you're racing and fighting for a championship, you know that sometimes you have to take risks - but, even so, this was a big risk.
MH: It certainly was. On the other hand, the 1988 British Grand Prix saw you pull out because the conditions were so bad. Tell me about your thoughts behind that decision.
Was any of this to do with having been right there - in the rain - when Didier Pironi had that terrible accident during practice at Hockenheim in 1982?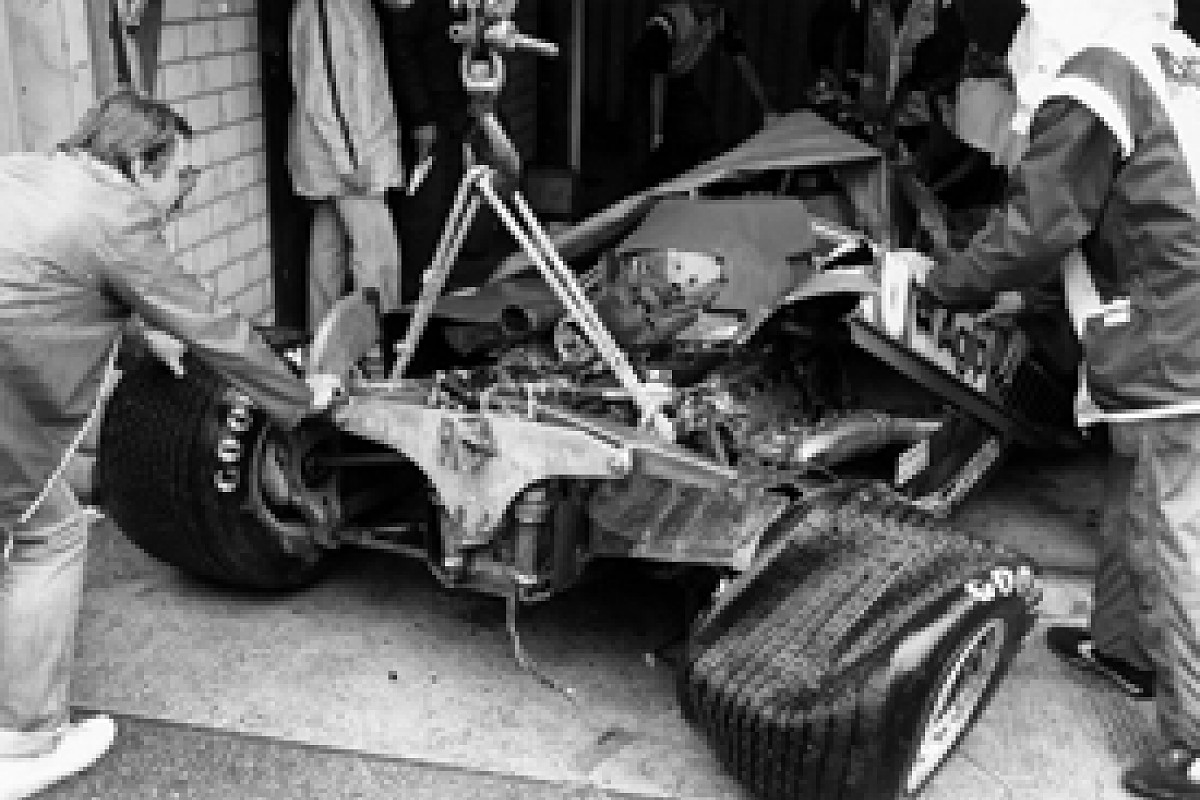 Pironi's damaged Ferrari after the accident that ended his F1 career © LAT
AP: A few months before the accident you're talking about with Didier, we'd had the accident with Gilles Villeneuve at Zolder. You need to remember that in between we'd also had the accident in Canada where Ricardo Paletti was killed when he hit Didier's stalled Ferrari on the grid. I don't want to go into all the detail except to say we'd had a lot of bad accidents.
While we are talking about this, we mentioned Elio earlier. When you think about the accident he had when testing at Ricard [in 1986]. That was terrible and should never have happened because of the lack of proper attention to deal with this. It shows how much safety has improved.
But Didier's accident in 1982 horrified me. [Pironi, lapping quickly, had caught Prost, who had just been overtaken by Derek Daly's Williams. Thinking Daly was moving off line to get out of the Ferrari's way, Pironi powered into the spray and straight into the back of the unseen Renault. The Ferrari took off, landed on its nose and did terrible damage to Pironi's ankles and feet. He never raced again in motorsport.]
I had stopped, of course, and seeing Didier was awful, really awful, I went straight to the Renault motorhome. There was only myself and team boss Gerard Larrousse.
He said I should try to get back in the car as soon as possible. I said: "I'm going to go in the car but I'm telling you, from today, I'm going to do what I want to do when it's wet. I want to be the only judge of the best thing to do."
I always kept this philosophy even though you cannot apply it all the time.
In 1988 at Silverstone, I can't remember if there was a shunt at the first corner or whatever, but the car was not correct and I didn't understand why.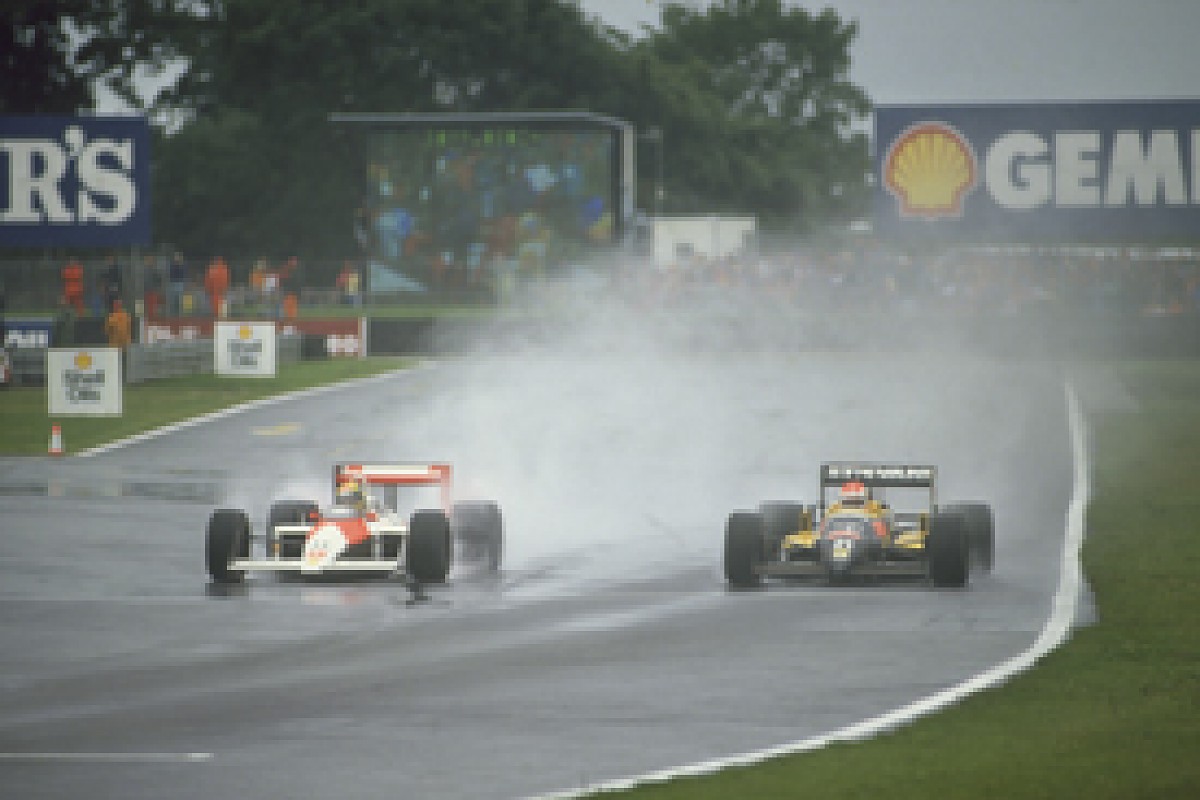 While Senna powered on to victory at Silverstone in 1988, Prost withdrew © LAT
Neil Oatley told me afterwards that the car was bad, which was why I could not drive it. I was nowhere. I decided to stop because you know how it is when it's wet like this; it's fifth gear and you need confidence. I was losing confidence and the car was going nowhere, so I stopped.
People said I couldn't drive in the wet. But I was really good - OK, that's my opinion - when it was wet or slippery. No problem. I like it very much when it's like that.
But when it was wet and you had the combination of aquaplaning and poor visibility, I never wanted to take the risk. I was always thinking of Didier. But how do you say that to the press?
It's hard, but I lived with it even though I was losing a little bit of credibility with the press, but not really with the team.
MH: The team may have understood this, but your relationship with Ron Dennis was quite difficult at times. Particularly that moment at Monza in 1989 when you were on the podium and handed the winner's cup to the crowd below. You knew Ron had a big thing about the team keeping the trophies - and here you were, not just keeping the cup, but giving it to the fans.
AP: It was not premeditated. I had just signed with Ferrari; I had won the race with thousands of people in front of me. To be honest, I don't know what happened. It was like a sort of present for the tifosi.
But Ron was so upset; so upset. I could understand later on. You know, when you have these kind of tough years, tough relations, you lose your judgment - I'm talking about myself, not anybody else.
You have people like Jo Ramirez and your engineers trying to keep the stability, otherwise you do things from your heart and you don't know what you are doing.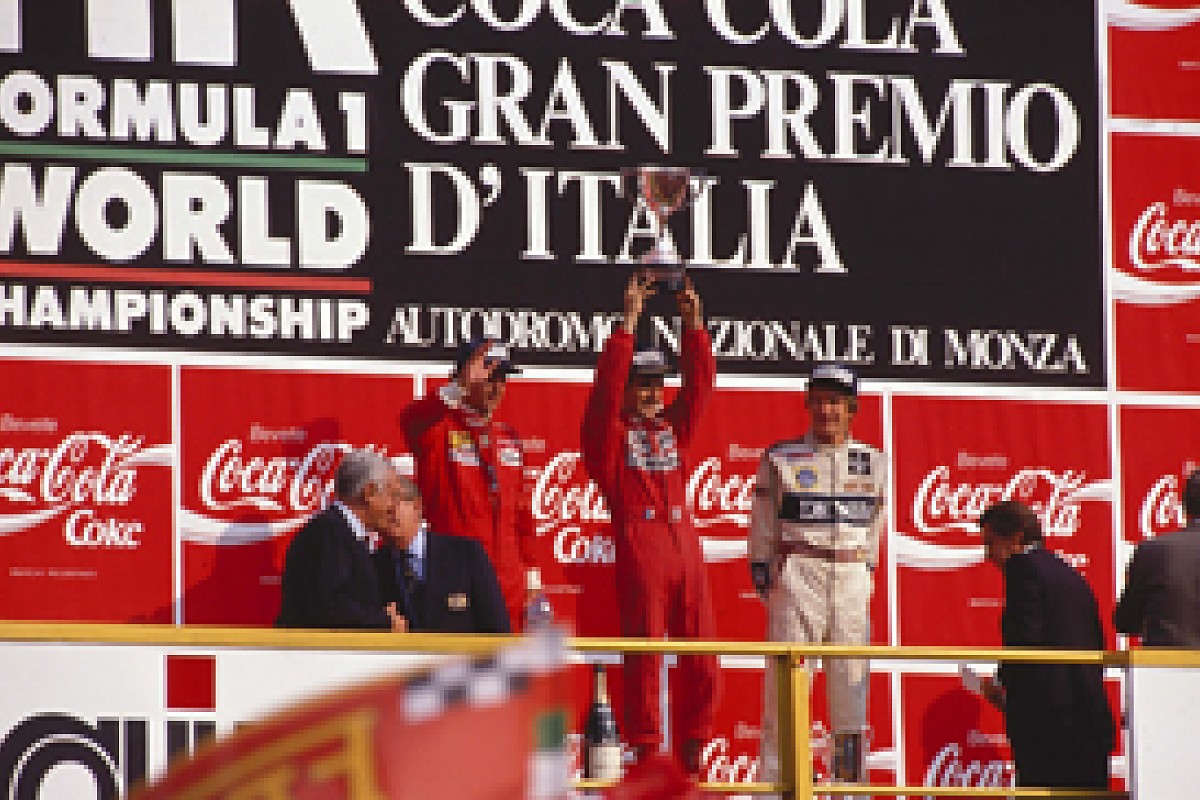 Prost would hand this trophy to the tifosi moments later © LAT
To Ron, the trophies are very important for the history of the company. So there was that and the fact we were in Italy. I had won and he was losing his driver who was now becoming a Ferrari driver. So I can understand that, but I did not do it on purpose at all.
I said OK I am going to make a copy of this trophy - because we could not get the original back, that's for sure. When I was doing things with McLaren in 1995, we had a nice evening, for the whole factory; a Christmas party. That's when I gave him the trophy for that race.
But, you know, nothing was done to hurt anyone. We were losing some spontaneity at the time, because we were so stressed every day.
MH: You were coming to the end of a pretty tense time with Ayrton. Have you seen the film Senna?
AP: I have seen a big part of it. I did not want to talk about it before, but now I'd like to give my opinion. It can be a bit long, but I want to be precise.
MH: No problem. Please go ahead.
AP: I do not like the film, from what I have seen and what I have heard. And I do not want to see it completely because I know what it is like.
When they first talked to me about the film, they asked if I wanted to be part of it. I said: "Sure. Why not?" The only condition - well, it's not a condition but, you need to understand, I told them: "It would be fantastic if you could show the Ayrton before he arrived in F1; what he was like in F1, fighting with me or against me; and the Ayrton after I retired. If you do that, a mix of the nice stories and sport, even when it's hard, the fight, and the human side, then it's going to be a good film."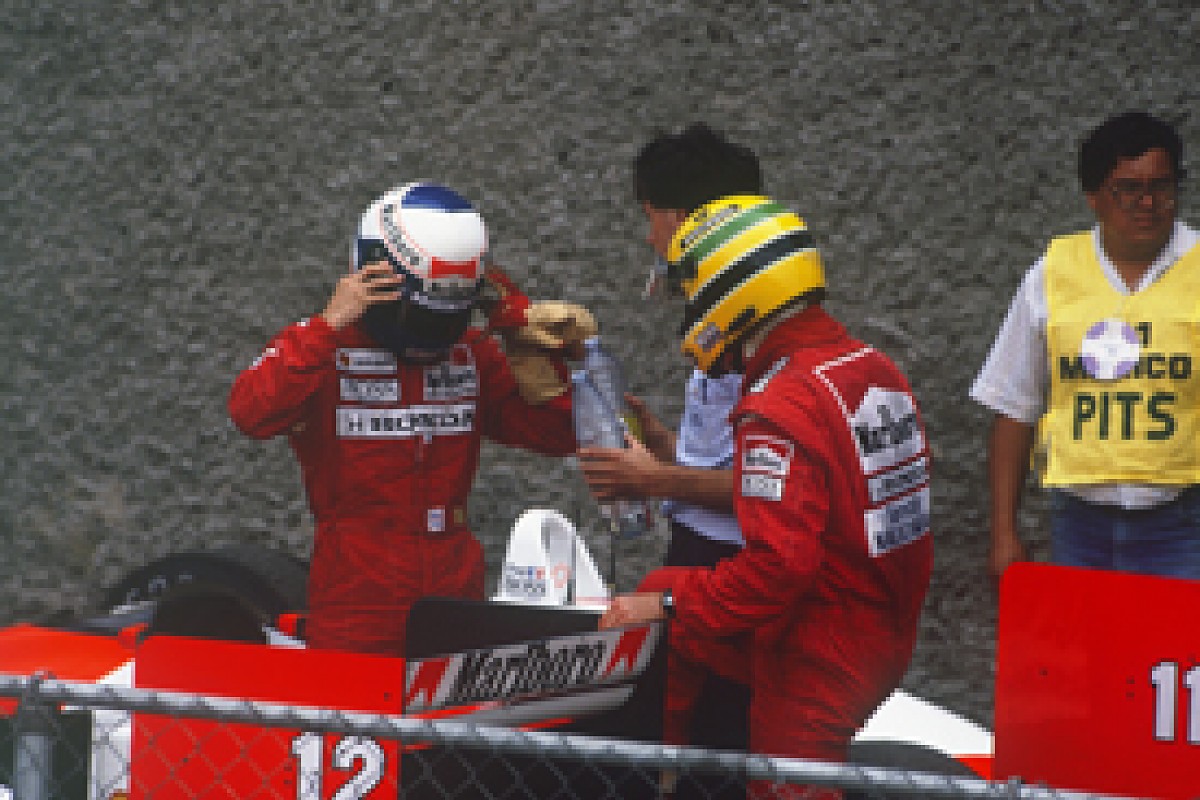 Senna film does not show Prost in an ideal light" src="https://cdn.images.autosport.com/editorial/1361017723.jpg" width=275 height=186>

The Senna film does not show Prost in an ideal light © LAT
Because it is really something unbelievable - in my opinion it was a fantastic story. But you need to mention a lot of things that happened after I retired.
I did almost eight hours of interviews. Eight hours. Talking much more on the human side so that you could understand how he was before - because he also told me, after I retired, how he had been when we were racing.
But I also wanted to make the point that when I retired we saw a new Ayrton Senna. It is a fantastic story in sport, one that only happens, I don't know, four or five times in 50 years. Even if it finished badly for Ayrton, it is really a nice story at the end.
But what I do not like at all in the film - at all - is that this did not come across. You only have one chance to do a film like this because once it has been done, you're not going to do it again.
I find it very bad, and sad. If they wanted to do a commercial film with the bad guy and the good guy, then do not do any interviews; do not ask me anything.
MH: But they did suggest that there had been a rapprochement between you and Ayrton.
AP: Yes, but I was trying to explain what happened a week before Imola when Ayrton called me almost every day. There are things he told me that I would never tell anyone. I would never tell anything about what he said during this week.
When you hear that Ayrton said "Alain, we miss you", that was organised and arranged by French TV [TF1] and it completely misses the point. I cannot be happy about that.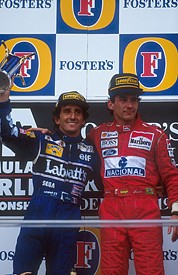 Relations with Senna improved after Prost retired following the 1993 Australian GP © LAT
The reason I cannot be happy is not because I look like the bad guy; I don't care much about that because... I'm alive, I'm OK. But I would like everyone to know who Ayrton Senna was, what exactly our fight was about and also, what happened at the end.
If you want to tell a story, tell the true story; not something arranged like this [referring to the 'Alain, we miss you' TF1 clip].
Our story did not end in 1994. Our story will last forever. And you want it to tell the truth... I'm more upset now than I was when the film came out. That is only the reason why.
MH: I saw the film three times. I enjoyed it very much but I did say: "If you're a fan of Alain Prost, don't watch this film". It wasn't balanced in that respect.
AP: It should have been balanced; that would have been much better. Obviously it is not very good for Ayrton, but it is not bad either. At least you understand the personality or the character at the time. Especially when he was against me.
He was a different person then. Not like when he was fighting against Michael or Nigel or whoever. Fighting against me, he was different. You need to explain that.
MH: A lot of your problems with Ayrton originated from when you had your sabbatical in 1992 and then came back to drive for Williams in 1993 and there was talk of Ayrton for 1994. What's your view on that? Did you refuse to stay if Ayrton came?
AP: In the middle of 1993 when we had discussions about Ayrton, it was difficult for me. Never, at any time, did I ask to be a number one or a number two driver. The only thing I said to Frank was: "You are not going to have Ayrton in the same team."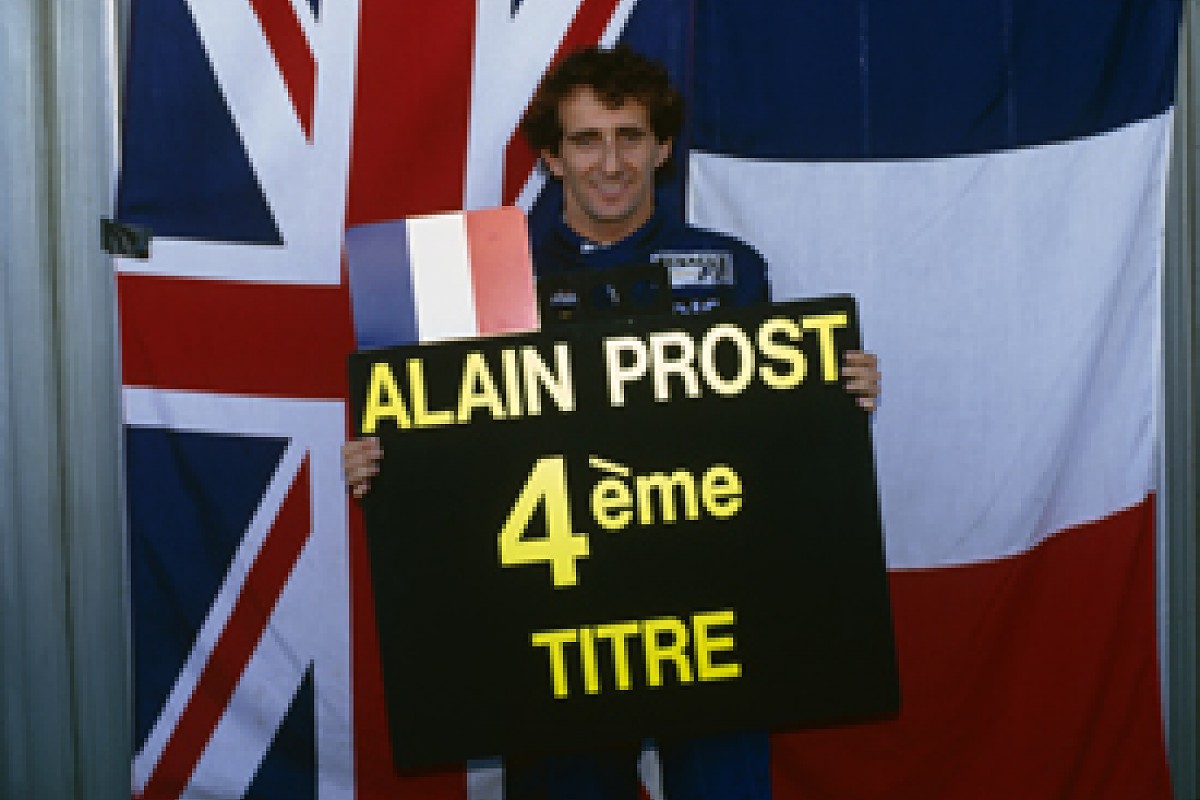 Prost's final title came in a single-season comeback with Williams in 1993 © LAT
Then in the middle of 1993, Frank called me. I knew already from a few weeks before that Williams were under some pressure from Renault to take Ayrton. I was in the south of France and Frank said he would come to see me. I always remember this day. He said: "I have pressure, what can you do, how do you see these things? What do you think?"
I said: "If you want to take Ayrton, you choose. I want to compete against Ayrton - I have no problem about that - but not in the same team. I want to fight on the track; I want to have the best chance possible to beat him on the track. You know that." So he had to make a decision.
I said to Renault: "OK, you are pushing for Ayrton and you gave me aggravation this year because it is not easy. I have a two-year contract; you pay me the second year of my contract and I leave." And that's what happened.
MH: Apart from the Senna business at the end of 1993, you actually had quite a tricky year for various reasons, starting with the FIA causing you problems over your licence.
AP: Yes, it was a difficult year. I felt very well inside the team, but outside the team there was a very strange ambience with the press. When you looked at the press in France, when I was winning it was absolutely normal because I had the best car, I was with the best team, my car had more horsepower than Ayrton's car - and things like this.
Always, always a polemic; it is very difficult to motivate yourself when it is like this. It was day and night all the time. When you lose a race like at Donington Park in 1993, people do not realise there are many, many reasons for what happened.
Ayrton's car, when it was wet, technically, it was a different car. For sure Ayrton was very fast, but in these conditions his car was much better. And there was no point to the French press attacking me over this. Winning is one thing, but you need to win in a good ambience.
MH: You won at Imola with a sticking throttle. Was that one of the best wins in 1993?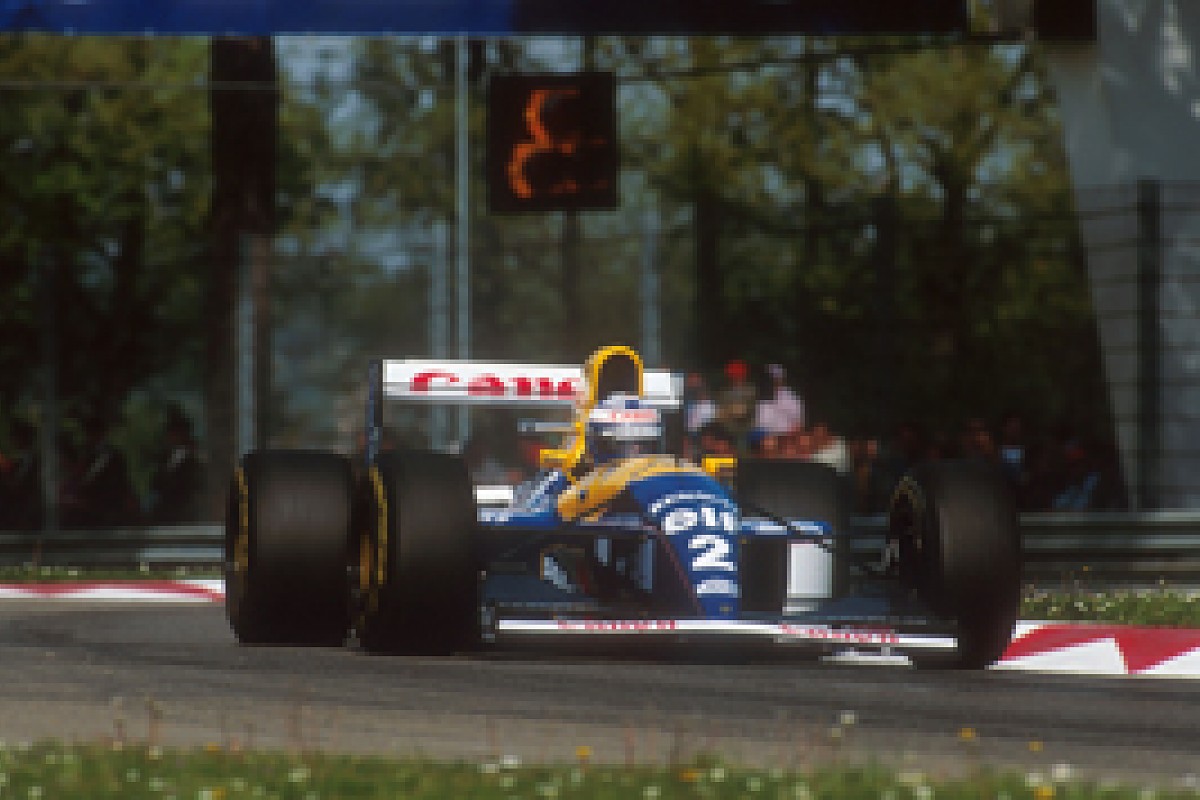 Prost nursed a car with a sticking throttle to victory at Imola in 1993 © LAT
AP: I don't know if it was one of the best, but it was a good one. I realised at Imola that there was no objectivity because I'd had a good win and nothing was said, yet they had criticised me after not winning at Donington Park.
MH: What was your happiest period at McLaren? Was it 1985-1987?
AP: Even 1988 was not that bad, although I felt the difference at the beginning of that year when Ayrton came. But I was not unhappy. I think it was the way to go; to have a new start in the team with Ayrton and Honda engines.
I had the meeting with Honda at the end of the year in Geneva. I remember it like it was yesterday, meeting Mr Kawamoto and three other people from Honda. We said we had a tough year in 1988 but we did not have any problems with Ayrton that year. There were tough moments like Portugal - that happens.
He won one more race [eight to Prost's seven] but, if you remember, I could have won in Hungary when I overtook him and then went a bit wide. I started from seventh; he was on pole. That's part of the game.
But at this meeting at the end of 1988, I said to Honda: "I don't want to enter into any technical consideration, but when I see an engine arriving at the track that is special for Ayrton, then psychologically, that is not easy. He has won the championship and I have come second and we had a good year, but I want to have the same treatment for 1989."
But the fight from the beginning of 1989 was much, much worse. I don't want to go too much into details now, but '89 really was a disaster and I felt very bad.
MH: You've seen things from both sides. Having been a driver, you ran your own team from 1997 to 2001 - and it was difficult. How do you reflect on that now?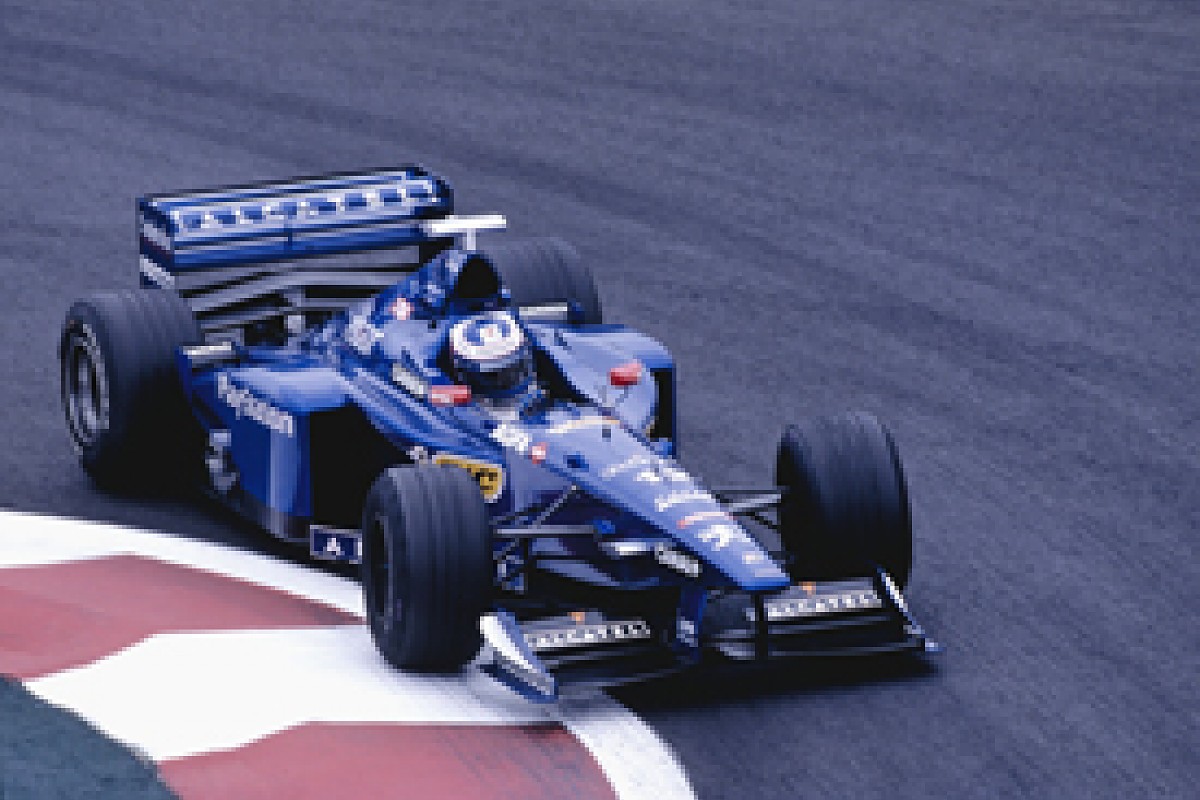 Team ownership and the Peugeot deal were not happy experiences © LAT
AP: Very simple: I didn't want to do it. I knew it would be very, very difficult in France but I was being pushed politically to do it. But, considering all the aspects, I think we did not do so bad, especially if you think about the relationship with Peugeot, which was bad because they did not want to put in any money.
Then I had signed a very good contract with Yahoo, but we could not do it because of the internet crisis. I had also signed a contract with Prince Al Waleed for his son - then we had September 11.
I don't want to go into details, but we were paying $28 million for the engine; we were supposed to pay $32 m the year after. Look at what happened to Brabham and Jaguar and other teams and what's happening today in France: what can you do?
At the end of the day, it was not bad. I really suffered because, again, the image was not good. In fact, I thought it was a good experience. The only thing I regret is that I think we needed one more year to prove we were better. But finding the money to continue would have been very hard.
MH: Was it the most stressful time you've had?
AP: By a long way. No question. I was very happy when we stopped because you cannot do that for ever; work with no consideration for anything else and just attack. My telephone was red hot. I was leaving the factory at 11 o'clock every night.
We had some unbelievable stories about people who wanted to buy the team. One day I'm going to write a book about that.
MH: I'll look forward to it. Based on our chat, it should be a best-seller. Thanks for your time.
AP: No problem.