Click here to read AUTOSPORT's John Surtees special, guest-edited by Dan Gurney and featuring insight into Surtees's relationship with Ferrari, his Can-Am years and a technical analysis of his Ferrari 158.
The unique status of world champion on two wheels and four is impressive enough, but that bald statistic doesn't properly get across just what a giant of a driver John Surtees was.
The history books record his 1964 world title with Ferrari and six grand prix victories; it's a proud CV, but sells his level far short. John's personality, his intense determination always to do things his own way, and his strong engineering aptitude led him down an F1 path that did not fully reward a quite exceptional natural gift.
Consider the following snapshots from his early car career:
November 1959, Goodwood: the reigning 500cc world champion is having his first experience of a racing car - at the wheel of that year's Le Mans-winning Aston Martin DBR1. He laps it faster than it has ever gone around there. Team boss Reg Parnell is proffering him a contract at the end of the run, but he turns it down, still with bike racing business to attend to.
December 1959, Goodwood: Vanwall F1 team boss Tony Vandervell, upon hearing of Surtees's appearance in the Aston, is on the phone to him the next day, demanding to know what the hell he was doing messing about in a sportscar and that, if he had wanted to try a racing car, why hadn't he told him? He will be sending a '58 Vanwall F1 car down to Goodwood and Surtees should show up.
Surtees laps it faster than it has ever gone around there - faster even than its regular driver Stirling Moss has managed. This from a guy who has yet to even race a car.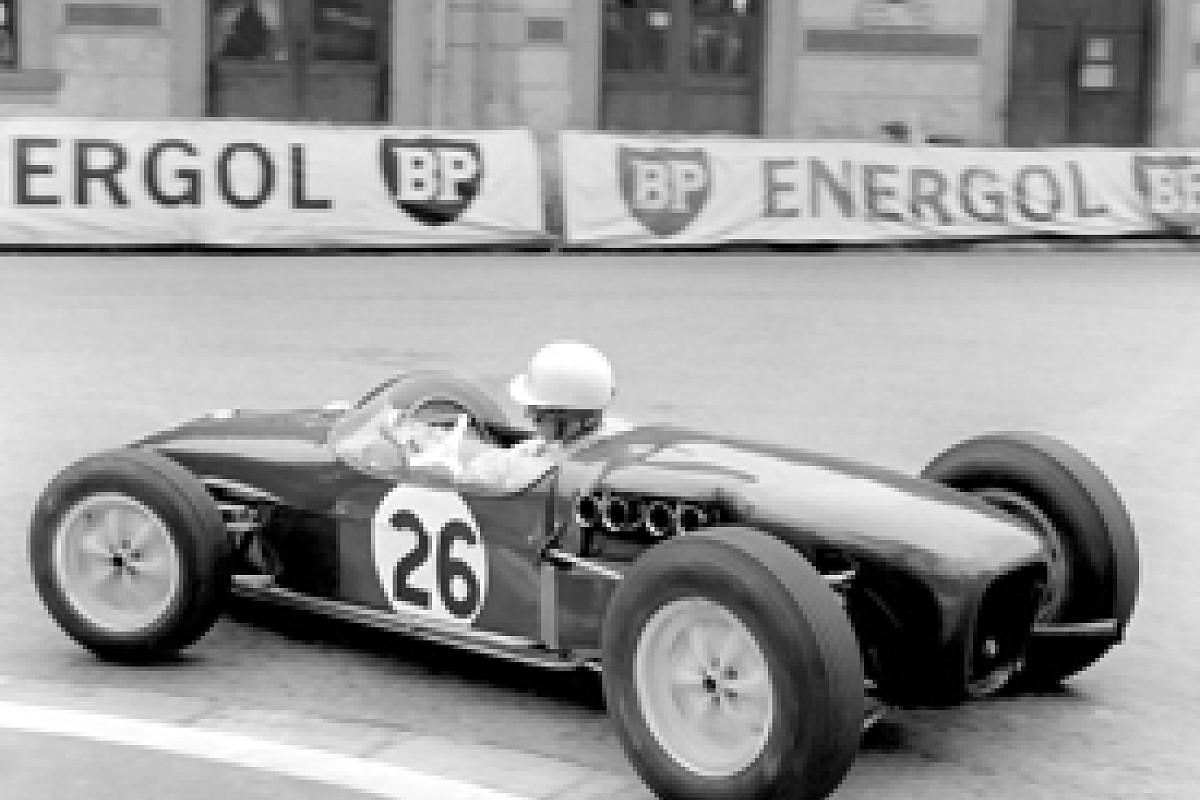 Surtees made his F1 debut in Monaco in 1960 © LAT
March 1960, Goodwood: 26-year-old Surtees is making his car-racing debut, in a Formula Junior Cooper run by Ken Tyrrell. He's set pole position, faster even than the works Lotus of 24-year-old Jim Clark, another supremely gifted rookie, having just his second single-seater race.
In the race Surtees is wrong-footed by a backmarker, giving Clark the opportunity to pass and win. Surtees finishes second. Surtees and Clark were the two outstanding prospects of the time, and in fact Reg Parnell had tested the Scot in the Le Mans Aston just a few weeks after Surtees had tried it.
July 1960, Silverstone: with just a few Formula Junior races under his belt, Surtees has made his F1 debut earlier in the year in Monaco in a works Lotus. He's fitting in a few grands prix in between winning a fourth world 500cc bike title and taking his bike grand prix-winning tally to 38.
Now he's in his home grand prix in the Lotus. He finishes second to that year's world champion, Jack Brabham. It's only his second grand prix.
August 1960, Oporto: the seventh GP of the year's world championship, the Portuguese, is Surtees's third F1 race.
He's on pole, 0.6s quicker than Moss in the same model of Lotus. He leads the race convincingly until leaking petrol drips onto the pedals, his foot slips off the brake and he crashes out.
These performances bore the mark of a true great in the making. Unfortunately the 1960 Lotus 18 would turn out to be the most competitive car of his F1 career.
Surtees' first F1 car was arguably the best he ever got to drive © LAT
Surtees would go on to drive some good Ferraris between 1963 and '66, but over a season none were as quick, relative to the opposition, as that Lotus from his debut year.
He could - should - have stayed there as he took up car racing full time for 1961. Lotus boss Colin Chapman had been enormously impressed and offered him team-leader status - and choice of number two between Jim Clark and Innes Ireland.
Surtees chose Clark - who had driven the 18 when Surtees was unavailable, and who had impressed but without creating the sensation of Surtees - and what in hindsight could have been a golden partnership looked set in place. But that was to reckon without the furore created by Ireland when he found out his services were no longer required.
'Who was this newcomer, fresh out of bikes, to be setting the agenda?', stormed Ireland to the racing establishment. It created such distaste in Surtees that he backed out of the agreement, leaving Ireland to retain his place there alongside Clark.
Ireland would go on to score Team Lotus's first grand prix win at the end of that year, and Clark would claim two world titles and an Indianapolis 500 win - and a reputation as the towering talent of his generation, maybe the greatest of all time. Surtees, meanwhile, spent 1961 and '62 in average F1 cars and only then transferred to Ferrari, where he established himself as one of Clark's strongest rivals and won that three-way '64 title showdown.
But it could surely have been so much more had he stayed with Chapman. What was there to suggest that Surtees wasn't made of stuff every bit as magical as Clark?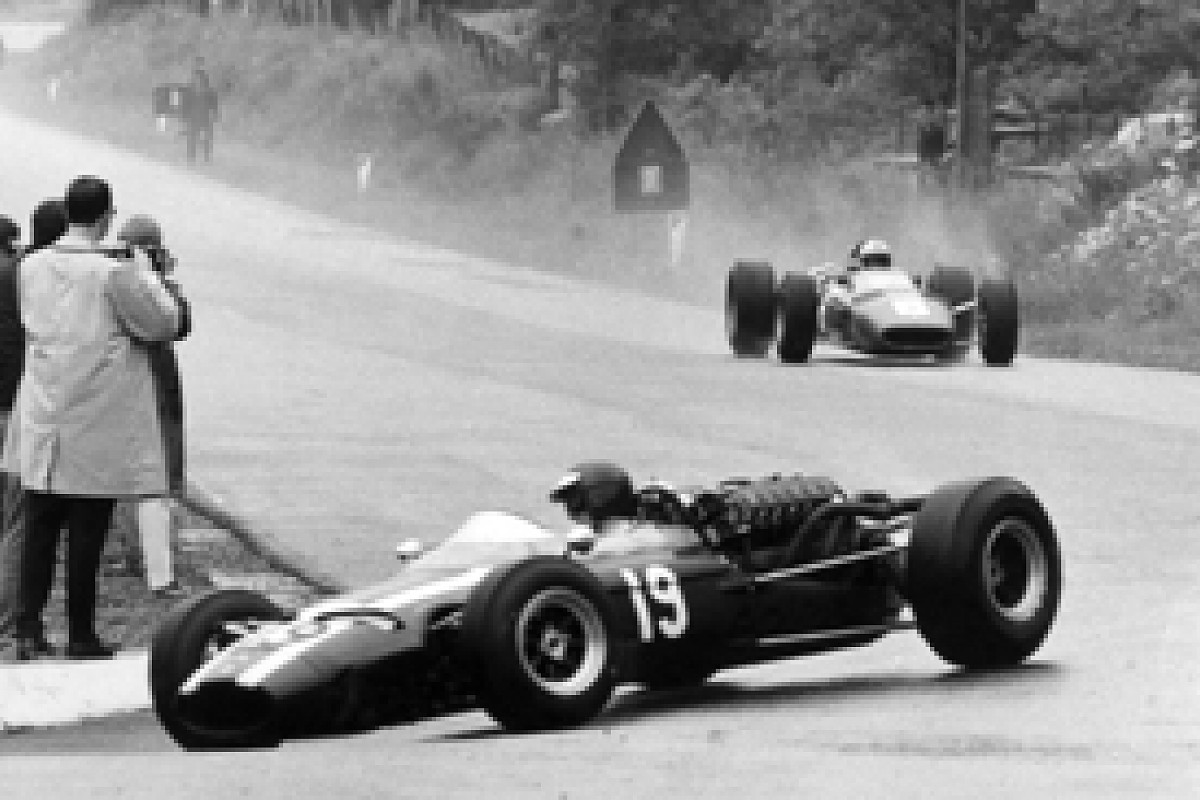 Surtees chases Rindt at Spa in 1966 © LAT
While it's beyond any shadow of doubt that Clark was one of the greatest F1 has ever seen, his talent was translated direct to the record books thanks to the blockbusting series of cars Chapman was able to provide him with. Who knows exactly how Clark and Surtees compared in the depth of their talent?
Whatever that difference was, it had next to nothing to do with the numbers that say Clark 25 grand prix victories, Surtees six.
Ferrari, BRM and Brabham formed the strongest competition to the ground-breaking Lotuses during the 1.5-litre formula but were invariably playing catch-up. What's more, Chapman came to focus his entire competitive will through Clark and the two enjoyed an exceptionally close working relationship. The numbers simply surrendered to their very special partnership.
Surtees instead assumed team-leadership status at Ferrari, completely outclassing an array of quick drivers - such as Lorenzo Bandini - who might have looked terrific had they not had the genius of Surtees alongside as perspective.
But 'Il Grande John' was at the mercy of Ferrari's struggle to match Lotus chassis technology and the bewildering politics of the organisation at the time.
Any sniff of an equal opportunity though, and Clark would feel that inevitable Surtees thorn in his side.
Some more snapshots - of genius unrewarded:
July 1964, Solitude, Germany: Surtees has taken his first championship-status grand prix victory at the Nurburgring in '63, beating Clark's intermittently misfiring Lotus. He will go on to repeat the victory in '64 after outqualifying Clark around the 14 miles by 0.4s, but again Clark suffers mechanical troubles in the race.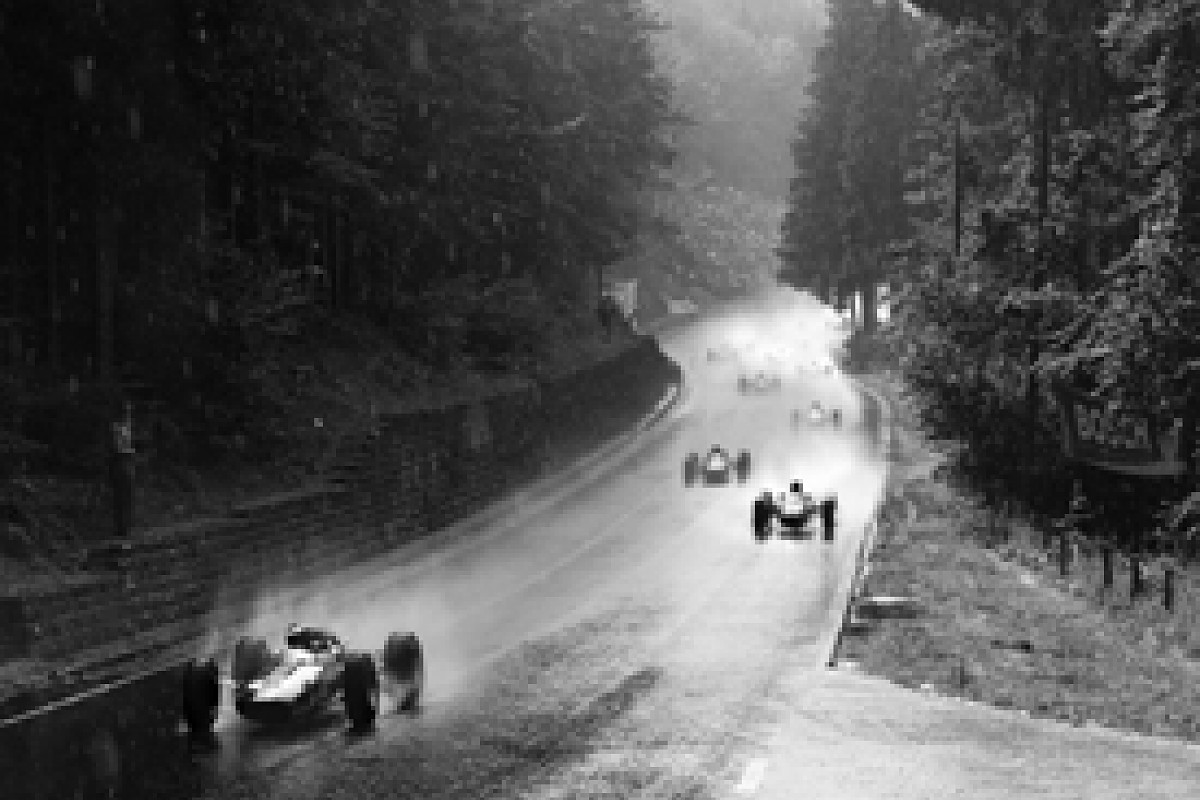 Clark leads away at Solitude © LAT
A couple of weeks before that though, there's a straight fight between the pair at the non-championship South German Grand Prix, around the dangerous Solitude track. Clark's Lotus has been marginally quicker in dry qualifying than Surtees's Ferrari, but in the rain of race day John is in his element, into the lead on the opening lap. The pair pull well clear of everyone else and stage a thrilling duel.
In the changeable conditions, it is noticeable that whenever the track dries Clark and the Lotus are quicker, and he is able to pass the Ferrari and open out a gap. But then as the rain returns Surtees is back upon him, repassing for the lead. Then the rain stops and Clark is able to lead once more, this time for good.
September 1965, Monza: in the new 12-cylinder Ferrari 1512, Surtees qualifies marginally slower than Clark. On the grid his mechanics are working feverishly to fix the hydraulic mechanism of the clutch. It seems to have worked but then as the flag drops he crawls away and, to the dismay of the crowd, he completes the opening lap in 14th place.
Shifting gear without the clutch, Surtees then stages a magnificent comeback and on lap 11 he passes both Clark's Lotus and Jackie Stewart's BRM to take the lead. Then the clutch begins to slip and he falls back to third - and then it breaks and he's out.
Two weeks after that stirring Monza performance, Surtees's life was hanging in the balance. A front upright had broken as he practised his Lola T70 Can-Am car at Mosport and he'd crashed heavily, incurring multiple injuries.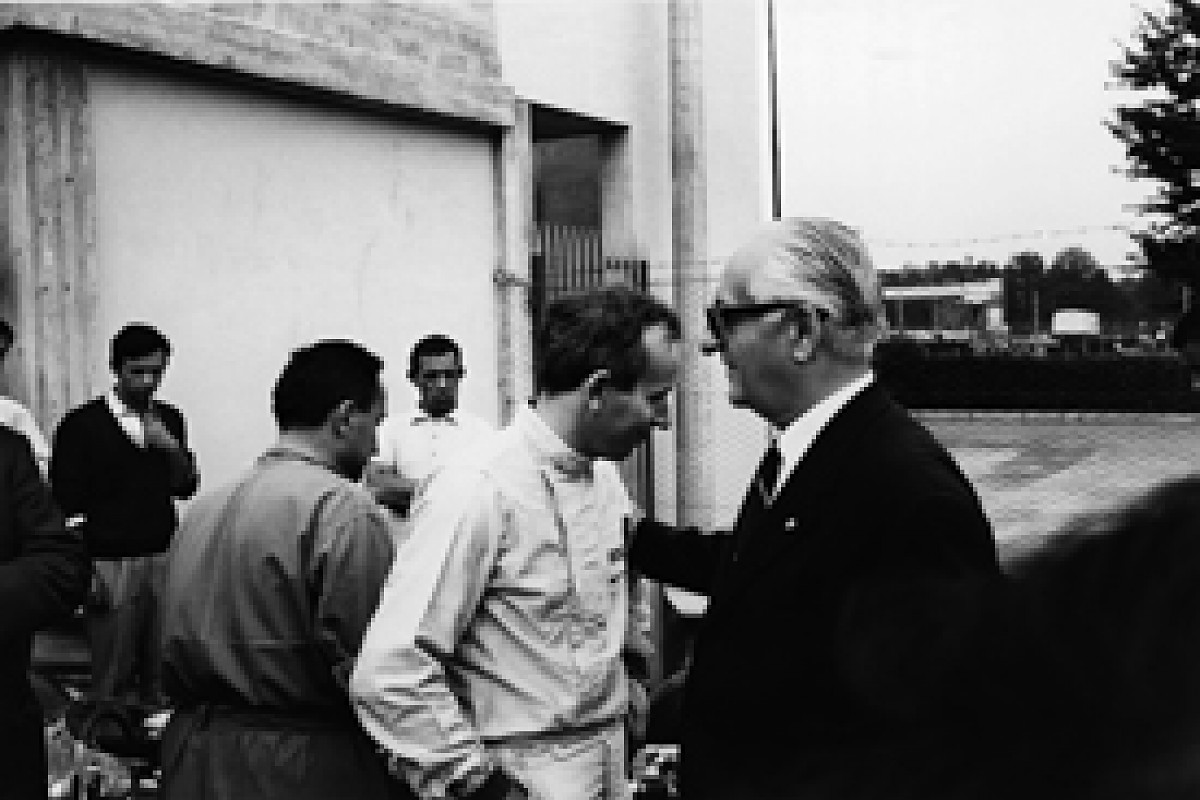 Surtees in conversation with Enzo Ferrari © LAT
What was he doing in a Lola? He had secured Enzo Ferrari's tacit blessing that he could quietly work with the British company in improving Ferrari's chassis technology - in much the same way he would later do with Honda - and at the same time campaign their Can-Am car.
That development illustrates how Surtees was always very active in trying to mould a team around him - he was never merely a driver.
It had been the same in his motorcycle career and his constant campaigning of Count Agusta to make the changes Surtees saw as necessary. Surtees was always attracted to a 'project', something with potential that needed to be sorted, whether that be MV Agusta, Ferrari after an awful season in 1962, Honda's struggle with its F1 programme in the late '60s, right up to the logical conclusion of setting up as a constructor.
Even he will admit this trait was to the detriment of his career, that concentrating simply on getting his bum into the best cars would have brought more success, though not necessarily satisfaction.
Surtees spent the winter recovering and was craned into his Ferrari's cockpit via en engine hoist to begin testing prior to the 1966 season. He received a standing ovation from his devoted mechanics and it's impossible not to admire Surtees's brand of proud, dignified, quiet but intense individualism, that determination to direct his own destiny.
That stubbornness may have compromised his career, left it as a great one rather than a stratospheric one, but it probably also played its part in his amazing recovery.
It also put him at loggerheads with an internal enemy at Ferrari: team manager Eugenio Dragoni.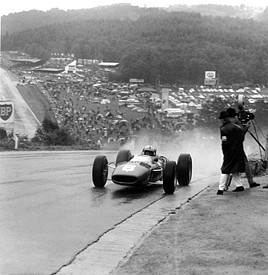 Spa 1966 was one of Surtees's greatest wins, but there was friction afterwards © LAT
There was a quite brilliant Surtees performance in winning the infamous rain-soaked 1966 Belgian Grand Prix. He ran in the wheeltracks of Jochen Rindt's Dunlop-shod Cooper, with its deeper tread grooves than the Firestones on the Ferrari, during the wettest part of the race. Then he simply pulled out and passed to win as the rain eased off.
But Dragoni's only comment was that Surtees had brought shame on Ferrari by allowing a Maserati-engined car to lead for a time. Another row with Dragoni at Le Mans triggered Surtees walking out on both Ferrari and the very realistic prospect of the '66 world title.
He pitched up at Cooper for the rest of the season, in an outdated car powered by a heavy Maserati engine. The incumbent driver there was Rindt, already establishing a reputation as one of the very fastest men of all.
Surtees outperformed him instantly. In their seven races together the qualifying score stood at Surtees 6, Rindt 1 - and Surtees won the final grand prix of the year, in Mexico.
But his best chances of success were already over: he'd now walked away from both Lotus and Ferrari, the two pre-eminent teams. He won one last time with Honda in 1967, but once the Japanese company pulled out at the end of '68 he was running out of projects.
Even so, this was one of the all-time great drivers and it's surely unjust that the sheer brilliance of his talent still does not receive the recognition of that of Clark or Rindt.
One last snapshot: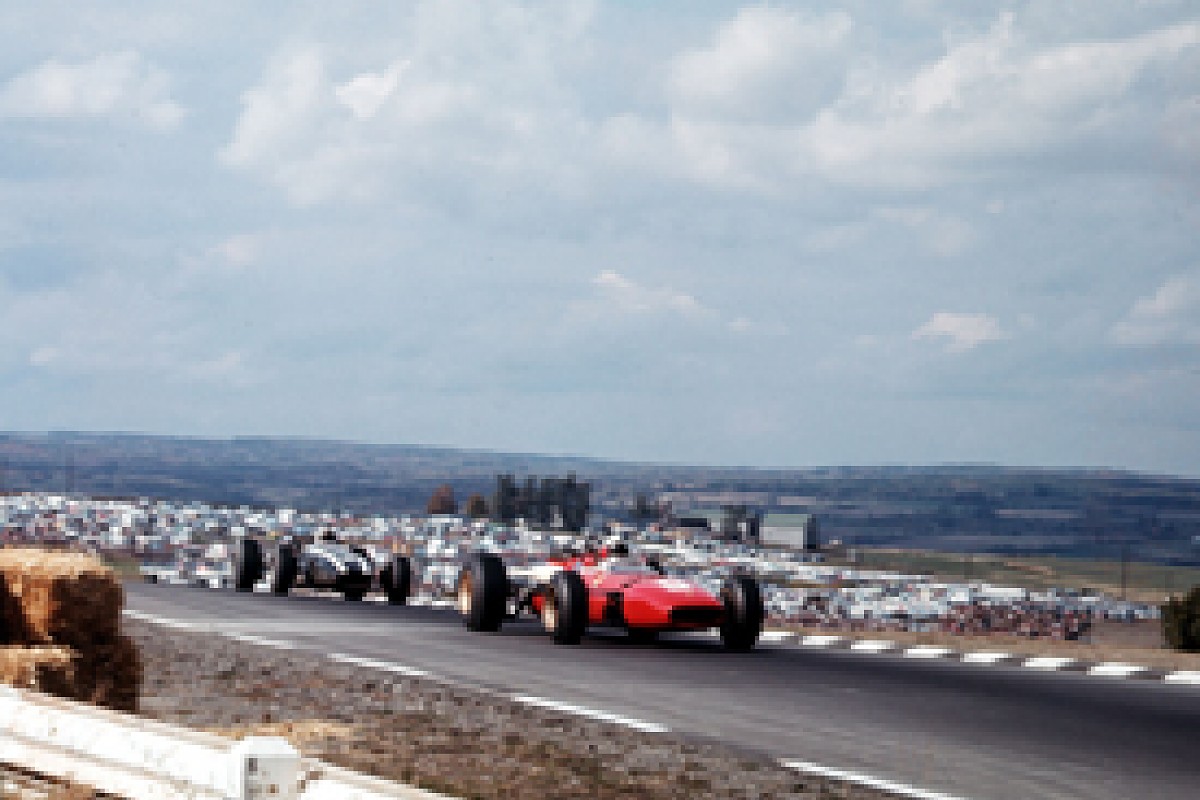 Bandini fends off Surtees early on at Watkins Glen in 1966 © LAT
October 1966, Watkins Glen: Surtees is running nose to tail with leaders Brabham and Bandini on the 17th of the 108 laps as they come up to lap the Lotus of Peter Arundell, who lets Brabham and Bandini through but blocks Surtees for the next two corners and then chops him as he tries to pass. Contact is made and both cars trail to the pits.
Instead of heading to the Cooper garage, Surtees stops at Lotus, erupts out of the cockpit and has to be separated from Arundell by the mechanics. He continues to remonstrate for a couple of minutes before finally getting in his car and driving up to Cooper to have it fixed.
He rejoins two and a half laps down, but begins to drive at a completely different rate to every other car out there. He unlaps himself not once but twice! But that still leaves him only third, a lap down on the winner, Clark.
Had Surtees not wasted all that time shouting at Arundell, he'd comfortably have won, even with a pitstop. As ever, the principle overrode all else - and the result suffered.
But in no way does that detract from his greatness.