Best features of 2012 revisited: As part of AUTOSPORT's celebration of Formula 1's epic 1982 season in the summer, F1 racer turned Le Mans driver Karun Chandhok wrote this column about his experience of trying out the Williams that took Keke Rosberg to the '82 title
Two years ago, I had the chance to drive a Williams FW08 at the Goodwood Festival of Speed and naturally jumped at the chance. It was an eye-opening experience and a fantastic opportunity to have a taste of what grand prix racing was like three decades ago.
The first thing that hits you is how bloody dangerous they were. When I was sat in it, before I put the belts on, I could lean forward and reach the front tracking rods, which tells you a lot about the safety! I couldn't believe how far forward these guys were, relative to the front axle line, and how exposed they were in terms of side-impact protection. It's a bizarre feeling as a modern driver even to sit in one of these cars.
But it is fantastically unadulterated. Any form of racing car today is riddled with electronics, but at one stage with the Williams we were sitting in the collecting area and couldn't get it started. Usually, the first thing to do would be to plug in the laptop, but there was the mechanic chucking fuel on the car and trying to get the engine cranked up. It's a proper, old-school racing car in the best possible way.
There are no buttons on the steering wheel, that's another thing that you notice when you jump in the car. There's no need for a user manual like you have with a contemporary car, running through all of the procedures and operation of each button and function on the wheel. It's a very pure form of racing car that they had in 1982. It's about the car and driver with no other gizmos.
What really impressed me was the five-speed manual Hewland gearbox. For something that was designed and built 30 years ago, I couldn't believe how positive and smooth every gear change was. You couldn't miss a shift and straight away could just go bang, bang, bang through the gears. When you consider the quality of materials and machines for manufacturing, to still be able to produce something so precise is remarkable.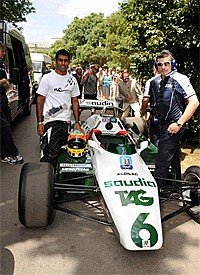 Chandhok poses with the Williams © LAT
One thing that is very familiar is the attention to detail in the FW08 compared with today. You can see exactly why Williams was so successful in that era by looking at how precisely the bodywork is fitted and the neatness of the floor. That was in an era where you only had one or two people looking after the car. In fact, I'm told that the first FW08 was basically built up by Ross Brawn and an assistant before its first test!
This was an era where there was so much more scope for innovative thinking rather than just going through an evolutionary process in an ever-more restrictive box of rules, as we have today. You could be revolutionary, with things like the turbo engines that were starting to become dominant in 1982. Patrick Head came to Goodwood and was talking about solving problems at a test by chopping bits of bodywork off and sending the car back out. You rarely see anybody with a hacksaw going at aero bits in the pitlane today but you could make such dramatic changes then!
Obviously, Goodwood is a demonstration hill climb and not a proper circuit, so driving there doesn't give you the full gauge of the car. They could also run the car lower to make the skirts work to their maximum, something that couldn't be done during races because after 20 laps there would be too much damage from them hitting the ground!
As it was a warm day you could get tyre temperature and a feel for the car during a run. What surprised me was how direct the steering was. You turned the wheel and it would be positive, but not to the point where it was too sharp. It had just the right amount of weight and feedback and was predictable even though the tyre technology was so much less complex, particularly in terms of sidewall strength. While these cars are crude by today's standards, they share a characteristic of being very precise racing machines.
The famous Cosworth DFV engine was very impressive in its driveability. You could pick up the throttle in the corner without the rear snapping and it goes through the rev range very smoothly. It's always progressive and was very nice to drive, which would have been essential when trying to take the fight to the much more powerful turbo engines as you had to make up your time in the corners. The predictable torque curve would have made that so much easier to do.
If I was 30 years younger, I'd have loved to have raced these cars. Yes, by today's standards they are very dangerous and both Gilles Villeneuve and Riccardo Paletti lost their lives during the 1982 season, but you have to look at it in the perspective of that era. In 1982, the drivers probably thought that they were driving the safest cars in the world and looked back at the 1960s cars shaking their heads thinking that those guys were mad!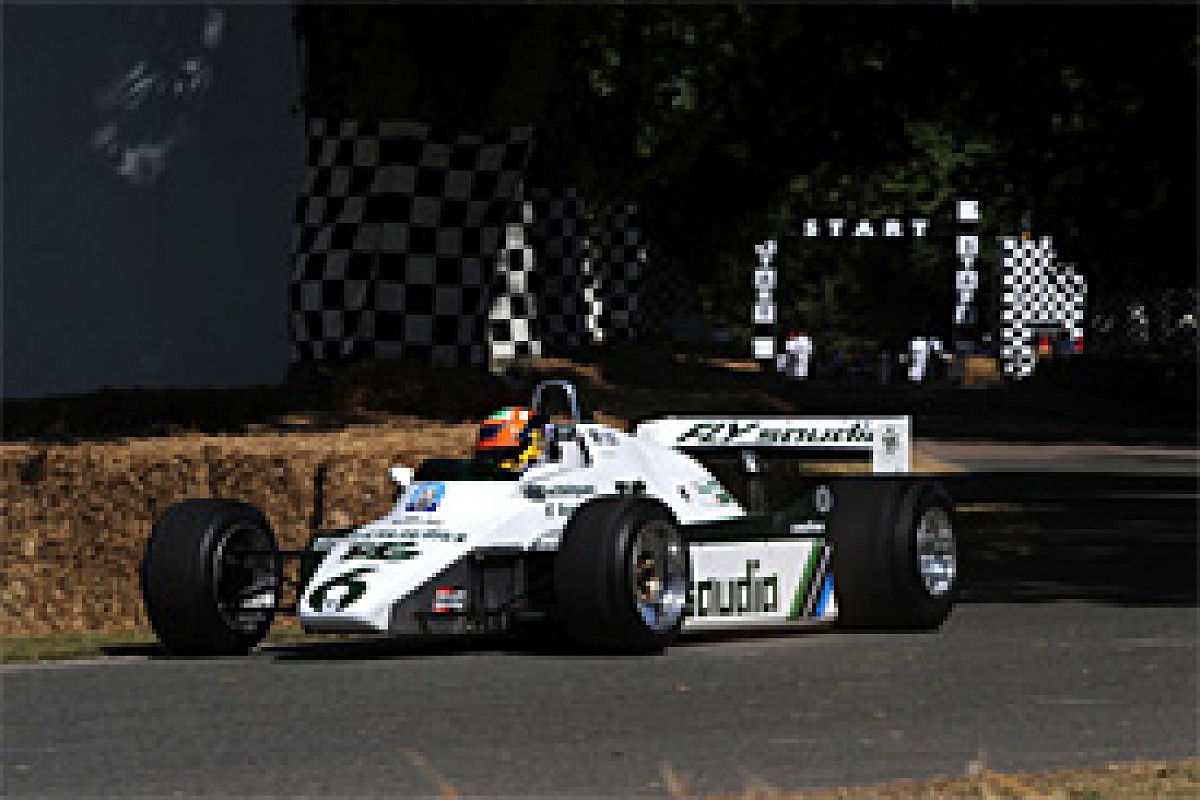 Chandhok in action © LAT
Overall, I thought the car was mega to drive. You feel totally in control of the car without electronic gizmos dictating engine over-run, working on the diff and a multitude of engine maps for different circumstances. From a purist's point of view, I'd have loved to race in that era - just three pedals, a gear lever and a steering wheel!
I have a huge amount of respect for the drivers of that era. Keke Rosberg, who won the championship driving the FW08, was a fantastic driver and I think in any era the top five or so guys are in the same top class as they are today. The big difference today is that things are so much closer when you look beyond the top five. Looking at the grid for the Swiss Grand Prix, which Rosberg won, you notice that 10th place was 2.5 seconds down on pole. Today, if you are that far off you won't get out of Q1.
In so many ways, the Williams FW08 is completely different from the cars of today. But at heart, the cars of 1982 were the same raw, hi-tech racing machines that they are today. No wonder I felt so at home driving one!
* To read more about the 1982 season, including Frank Dernie's guide to the Williams FW08, a detailed analysis of Rosberg's championship season, the truth behind the Pironi/Villeneuve Ferrari feud and much more, check out AUTOSPORT magazine's look back at the year here.