Dieter Rencken's insights into Formula 1's political twists have long been an AUTOSPORT highlight. In November 2012, he argued that F1's biggest threat was actually that the world was beginning to lose interest in motoring altogether...
A variety of studies undertaken of late suggest that car usage across the planet has peaked, that enthusiasm for the automobile is on the down side of the bell curve. In short, indicators are such that the car's time - and, by extension, that of motorsport - has seemingly come.
If so, what steps should the sport, led by world motoring's governing body, the FIA, take to ensure that it doesn't become progressively marginalised as ecological and social lobbies take hold and exert increasing pressure?
First, the studies: Martin Smith, Ford Europe's design boss, was this week quoted in AUTOSPORT's sister publication Autocar as saying that fully one-third of 'Millennials' (future car buyers currently 25 years of age or younger) have absolutely no interest in cars, while another third see them only as basic transport. Only the remainder have an active interest or enthusiasm for cars. These are the findings of a full-on 'car guy'.
The Times on Tuesday published similarly worrying indicators, with figures showing that "years of falling traffic volumes suggest that car use has passed its peak, and may have entered a long era of decline", with the newspaper further finding that nationally the distance travelled annually per person has fallen every year since 2006, and is now six per cent lower than a decade ago.
According to the report, the number of cars in central London peaked in 1990, and has fallen by 37 per cent since 2000, with an ageing population, more single-person households and a proliferation of home working and hot desking (mobile working) and an eight per cent fall in traffic speed being cited as contributing factors.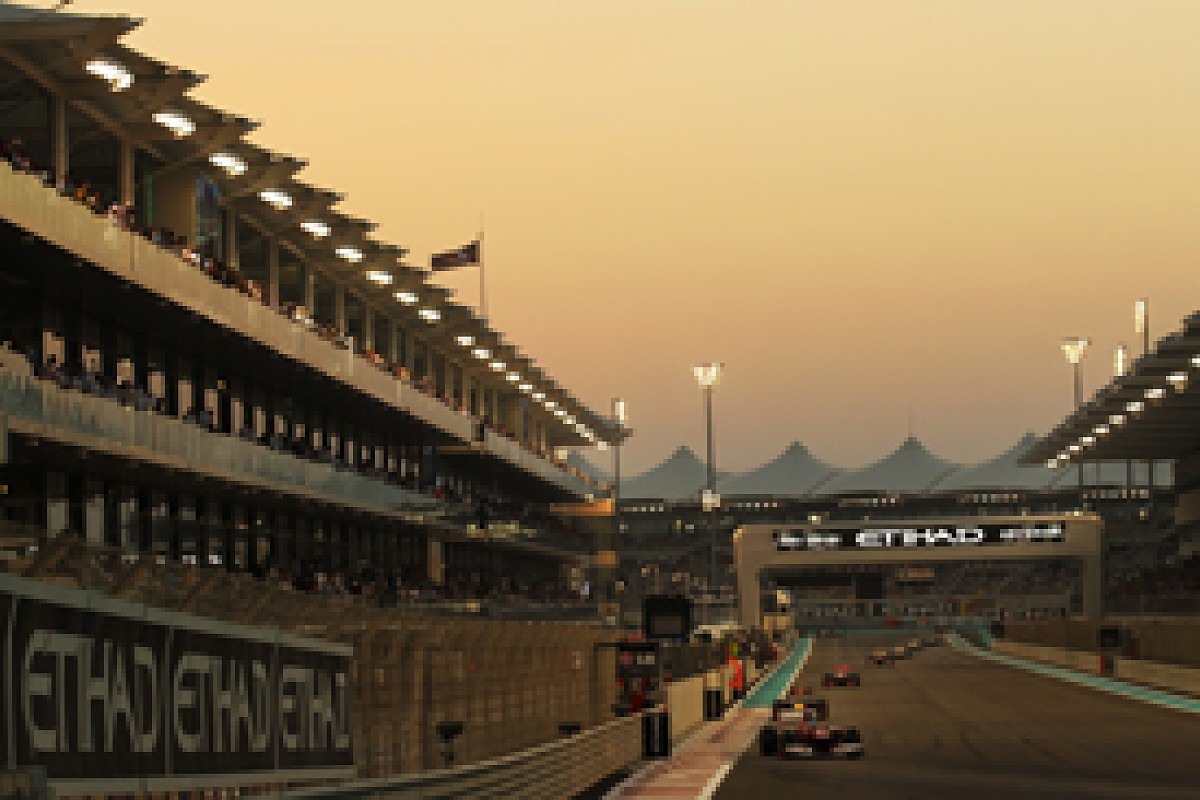 Abu Dhabi has incredible facilities and produced an entertaining race © XPB
The 'sprawl-wall' - too-long commutes, which have forced people back into inner cities, where they are better served by public transport networks - provides another reason.
Similar situations were reported for France, Spain, Italy, Australia, New Zealand, Korea and Belgium in September by The Economist, which found that "all over the rich world [prime F1 territory], they [young people] are getting their licences later, and use other forms of transport more than the young did a generation ago".
Further contributing factors are virtual socialising, internet shopping and other connected activities - plus, of course, the cost of automobile ownership. And it's extremely worrying that the number of carless households in Germany, described as Europe's 'car-culture-vulture', increased from 20 to 28 per cent in a decade.
Young people would rather travel to far-off lands on budget airlines than cruise downtown, with a study by Boston University finding that today's youth consider car ownership akin to being tied-down - as in marriage - while lovingly polishing your car on a Sunday has become a bit passe...
Comparisons of licence-holders in the USA are equally illuminating: in 1983, 45 per cent of 16-year-olds were qualified drivers; 30 years on, the figure has dipped below 30 per cent, while consultancy firm TNS found that young folk increasingly view cars as appliances, not aspirations, while researcher KCR says 18 to 34-year-olds view online socialising as a substitute for car trips.
Like The Times, The Economist suggests that the rich world has reached saturation point on both car ownership and distance travelled, a notion now recognised as 'peak car'. A March 2012 study in Australia reflected a similar trend. Although almost 60 million new cars hit the world's roads in 2011, these were mostly bought in Asia, Latin America and Africa - basic transport, in other words.
That drops in car usage were recorded in virtually every country accepted as having a 'Formula 1 culture' should send shivers down the spines of team executives across the sport. This situation is likely to be exacerbated in the medium to long term by the development of autonomous (driver-less) cars, developed by such as Google and a raft of motor manufacturers, because, says The Economist, these "might further strain the already weakening link between driving and identity and the expression of self and skill".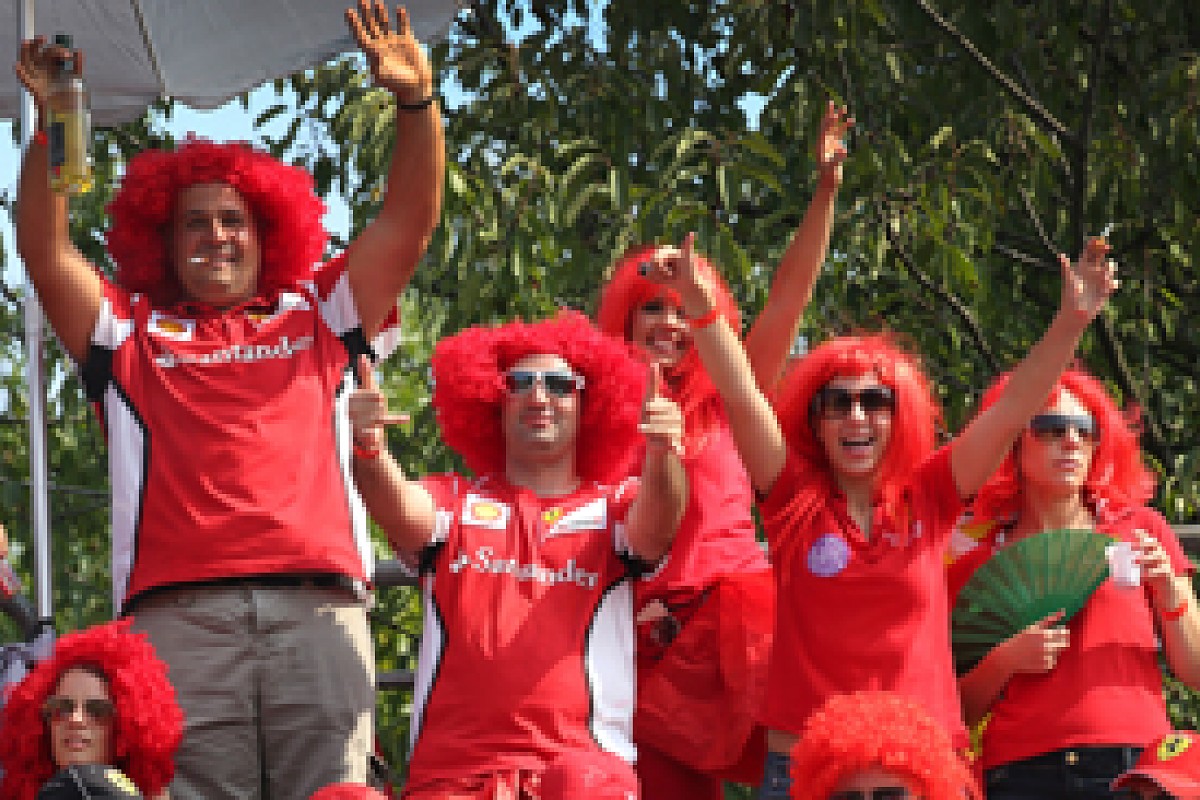 Some fans remain fervent about F1 © LAT
It would be utterly disingenuous to suggest that a driving licence is a prerequisite for grand prix watching, just as music lovers need not necessarily master instruments - although it surely helps in both instances.
It is, though, a fact that fast cars and motor racing are natural bedfellows. Remove skill-driven performance from the equation, and passion dies with it - and it is this passion that, above all else, directly and indirectly fuels motorsport.
Just as budding musicians play air guitars or drums, so many a current F1 driver once lay in his bath pretending to be (F1 hero according to preference), imagining himself strapped in a (red/blue/silver) monocoque, and making all the right noises to animated movements, with gear shifts given extra emphasis.
Imagine Future Kid passionlessly whistling as he/she 'trundles' down the pitlane under electrical power... if he/she is not composing his/her next Facebook post instead.
China, the planet's most populous country, is simultaneously the world's number one car producer (2011: 18m units versus 8.6m in the USA and 8.4m in Japan), yet its passion for, and understanding of, motorsport is lamentable if at all existent.
By contrast, Finland, with its population of 5.5m and no motor industry to speak of save for contracts to build 300 Marussia sportscars and a handful of Fisker hybrids, has delivered three F1 and no fewer than six rally world champions.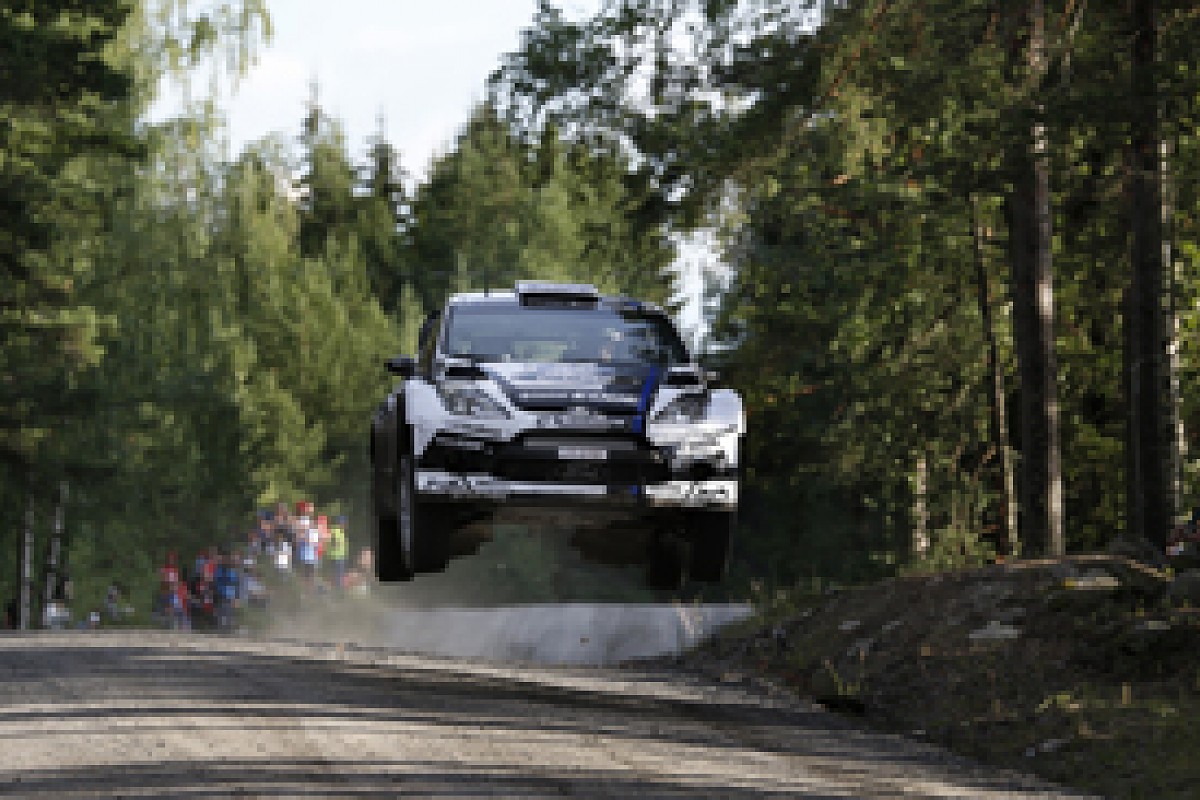 Motorsport and motoring remain integral to Finnish culture © LAT
Combined, Finns have taken 15 world titles in the FIA's top two disciplines, and the reason is not hard to find: so challenging is travel in this Nordic country that driving skill is a matter of not only survival, but, crucially, pride. Accusing a Finn of poor driving skill is akin to insulting his manhood.
Germany provides further proof of the link between high-performance skill and motorsport. The country, home to Mercedes, BMW and Porsche - F1 winners all - has kept many autobahns unrestricted at a time when a host of European countries have introduced stringent limits.
It can be no accident that this millennium's 12 F1 seasons have seen no fewer than seven drivers' world championships head to Germany, with this year's title increasingly destined for there, too. There must be a moral in those two examples.
The fact is that mobility has changed and, with it, mankind's attitude to the car. This in turn impacts on products manufactured by car companies, for their target markets are constantly changing, as are social conditions.
Notwithstanding the recession and exits from F1 by the likes of BMW, Jaguar, Honda and Toyota, the sport's largest current benefactors remain motor manufacturers: Ferrari, McLaren, Mercedes and Renault, all of whom embrace performance at a time when automotive performance is no longer paramount.
Should said motor manufacturers be forced in the near future, as seems highly likely, to downsize their models, downgrade performance or even embrace autonomous cars, this will undoubtedly impact on their attitudes to motorsport, be it F1, the WRC or touring/sportscars.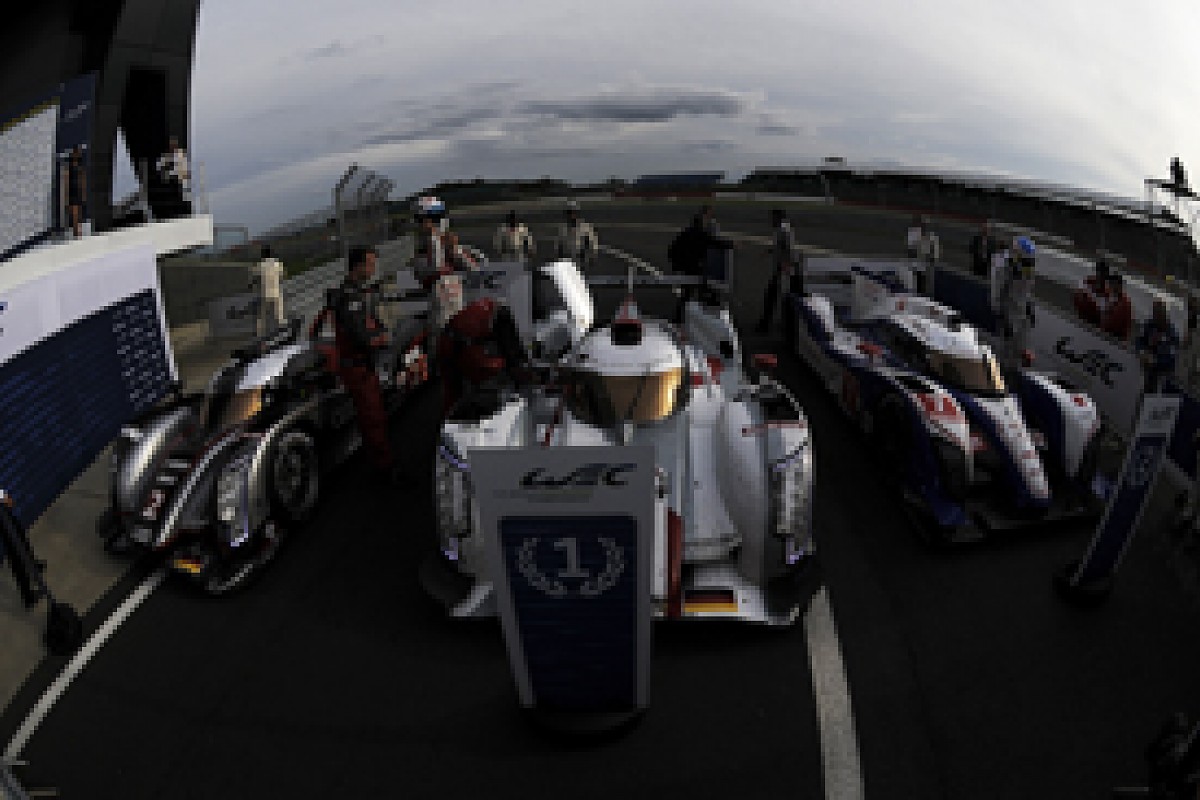 Audi and Toyota have chosen the hybrid-friendly world of sportscars for their main motorsport programmes © LAT
Sponsors, too, are likely to turn away from what is already viewed by many as a comparatively extreme sport, further reducing the sponsorship dollar. There surely is a reason why Audi and Toyota embrace the eco-friendly(ier) World Endurance Championship.
Would Shell invest full dollar in an electric car championship? Does a 20-minute blast in battery-powered cars match up to Philip Morris's image for Marlboro Man? Could Red Bull credibly embrace Formula E, of which more anon?
Whether one likes it or not, the medium to long-term future of top-level motorsport is not noisy, archaic internal combustion engines, if for no reason other than they are hardly compatible with cars of the future, and, as the car adapts to future needs, so too must motorsport teams and their commercial departments.
Already attendances at grands prix are dropping. Despite assurances by Abu Dhabi's promoters that all seats were sold ahead of the race, with the circuit's marketing manager being adamant on Sunday morning that "a black market was operating", the attendance was an estimated 60 per cent of (40,000) capacity, while India ran at a similar percentage. The less said about Malaysia, Korea and China the better.
It seems today's kids have found other pastimes, or cannot face three-hour-long treks to circuits situated in the sticks. The days of folk travelling for hours to attend a two-hour grand prix are obviously over - even in one of the closest seasons on record.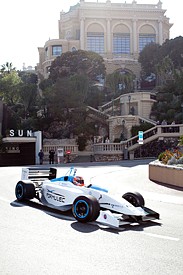 What impact will Formula E have on the rest of motorsport?
If, as Francis Bacon wrote back in 1625, the mountain refuses to come to Muhammad, then Muhammad must go to the mountain, and that is precisely the rationale behind Formula E, the FIA's newly-constituted electric series, due to hold demonstration events next year, with a full FIA-sanctioned championship scheduled for 2014 - not coincidentally the first year of F1's brave new 1600cc turbo world.
The format is for two 25-minute races, with either cars or batteries being changed after the first heat. Circuits in cities such as Rio de Janeiro, New York, Paris, London, Beijing, Sydney and Moscow will enable fans to attend events via public transport - further reducing the series' carbon footprint - while electric power will reduce noise levels to environmentally friendly levels. A lack of combustible fuels and absence of radiators will enhance safety, while the tight nature of inner-city streets should make for spectacular racing.
Don't for a moment believe that the format is not TV-friendly; indeed, two-heat programmes are better suited to today's channel-hoppers. If anything, the format offered by Formula E - most certainly not named after a certain Bernie E - is better suited to today's 'now' generation than a two-hour bore-fest F1 as staged in India...
Yes, petrolheads may shudder at the thought of over-grown Scalextric cars whizzing about the place, but the fact is that many of today's youngsters, who are, forget not, the consumers of tomorrow, shudder at the thought of raucous fossil-fuelled cars, viewing them as dinosaurs from another age. One team principal, who recently tested a Nissan Leaf electric car, told this column that his son found the battery-powered model 'cooler' than the ultra-high-performance sportscars daddy has regular access to...
However, instead of embracing the future, F1 is stuck in the past, constantly bickering about flexible noses and exhaust pipe positioning and such-like. Enormous stadiums, miles from civilisation, stand empty for 90 per cent of the time, and are filled to 60 per cent of capacity for one weekend a year as the sport refuses to heed the pointers springing up all around it.
So astronomical are the costs of going racing that not even the sport's billion-dollar annual revenues cover the budgets of just 12 teams - all of whom require vast amounts of commercial support to stay in business.
Aforesaid studies show that the car has become increasingly irrelevant; that man has fallen out of love with his horseless chariot and views the modern equivalents as he does his toasters or microwaves.
If motorsport in general and F1 in particular does not heed the siren calls it is unlikely to survive beyond the next decade. Even if it does, it's in grave danger of becoming utterly irrelevant - as chariot racing did 2000 years ago. Just as we today explore amphitheatres, so our descendants may one day wander (and wonder) about the ruins of Yas Marina... sooner rather than later.